Nunavut is a spectacular territory I can't shut up about. Although I never want Nunavut to become a hotshot tourist destination, I do want more people to experience its power and beauty.
I hope this list of incredible things to do in Nunavut inspires you to take a trip there. If it does, there are resources at the bottom to help you plan your life-changing trip!
Go Snowmobiling
Snowmobiling in Nunavut is unlike anywhere else – and it's one of my favourite things to do in Nunavut. Speed over the frozen sea ice at 60 km/h or manoeuver your way up and over rolling hills of tundra. The sheer scale of Nunavut becomes incomprehensible when you're out on a snowmobile.
Read More: Snowmobiling over Arctic Ocean & Frozen Tundra in Nunavut
This post may contain affiliate links. If you make a purchase through one of these links, I may receive a small commission at no extra cost to you. Your support is much appreciated! You can learn more by reading my full disclosure.
Go Dog Sledding
Dog sledding originated in the arctic, first in Siberia and then throughout the Canadian Arctic, making Nunavut a fitting place to try it out. Sit on a caribou hide placed over a qamutik (traditional Inuit sled) and relax as the dog team pulls along.
Read More: Ruff Riding: Dog Sledding in Iqaluit, Nunavut
Take a Hike
One of the easiest things to do in Nunavut is head out for a hike. Whatever town or village you find yourself in, there will surely be open tundra surrounding you. Hire a local guide and have them show you the incredible scenery of the Canadian Arctic.
The tundra may look barren from afar, but with your feet planted on the permafrost, you will realize there is an entire kaleidoscope of colours painted on the tundra.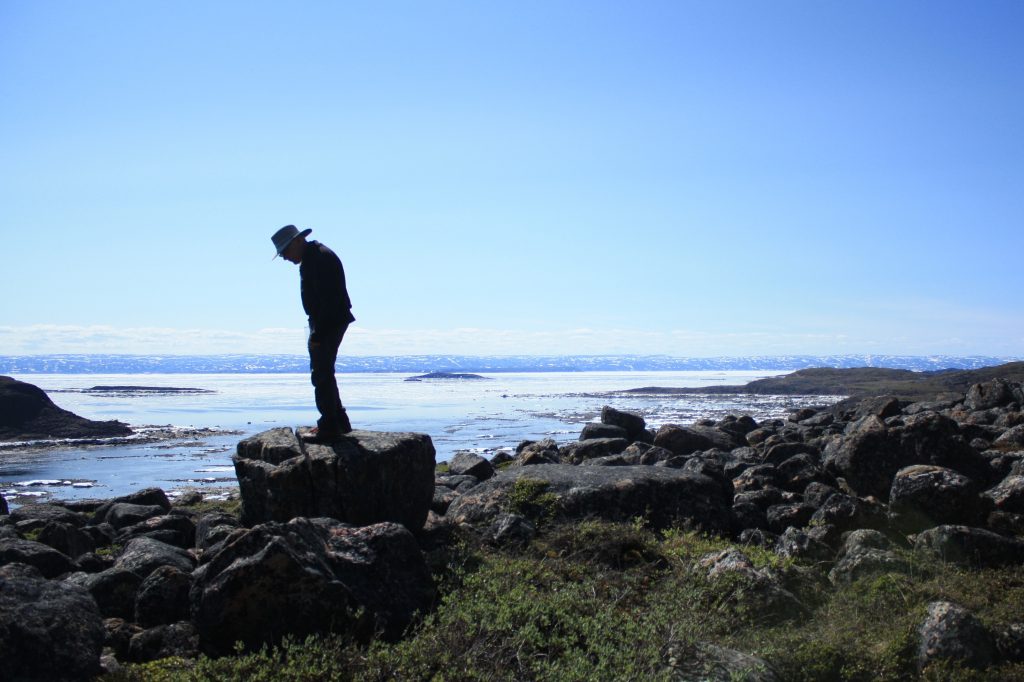 Go kayaking
Sea kayaking is fun anywhere, but sea kayaking on the arctic ocean, surrounded by icebergs the size of office buildings, isn't just fun, it's epic. This is the perfect activity for summer adventurers looking to get a little active.
Go on a boat tour
If kayaking isn't your thing, go on a boat tour. You'll see fiords and icebergs and maybe even some wildlife. The area around the hamlet of Qikiqtarjuaq is a good destination for boating. It is close to Coronation Fiord, Auyuittuq National Park and Iceberg Alley (an area of especially high iceberg activity).
Attend a festival or cultural event
Inuit culture is alive in Nunavut. In Iqaluit, there is the Toonik Tyme festival in April or come in the summer and check out the Alianait Arts Festival. Alternatively, you can visit Nunavut for Indigenous Peoples Day where there are sure to be live music performances in town.
Catch the Northern Lights
Nunavut is exceptionally dark in the winter, but one benefit is the opportunity to watch the aurora borealis for yourself.
The lights tend to be visible from September to April. I recommend visiting in either September/October or March/April because you can see the northern lights at night and do other activities in the daylight.
Read More: Expert Advice: How to Photograph the Northern Lights
Hike the Akshayuk Pass
The Akshayuk Pass is a 97-kilometer route connecting the town of Pangnirtung to the hamlet of Qikiqtarjuaq. The hike takes you through Auyuittuq National Park, where you'll pass sheer granite cliffs and craggy mountains, take in views of Mount Thor and cross the arctic circle by foot. This hike isn't for the faint of heart, but it is well worth the effort. (Or so I've been told – this hike is next on my Nunavut bucket list).
Join an Arctic wildlife safari
If you have eight or nine thousand dollars kicking around, join an arctic wildlife safari (just don't go with me because then you'll never see wildlife!). It is truly a once-in-a-lifetime opportunity.
Stay in a specialized tent or yurt high above the arctic circle, go on day trips to wildlife hot spots and keep your eyes (and camera) peeled for polar bears, narwhals, beluga, caribou and more.
The leader in arctic wildlife safaris is Arctic Kingdom, the company I worked for when I was a guide living in Nunavut in 2015.
Read More: North of the Arctic Circle: A Look Inside a Remote Arctic Base Camp
Additional resources on Nunavut
Here are some additional resources to help you start planning your Nunavut adventure. If you have questions, please leave a comment and I'd be happy to connect with you the information you need to get out to Nunavut yourself.