All My Favourite Camping Gear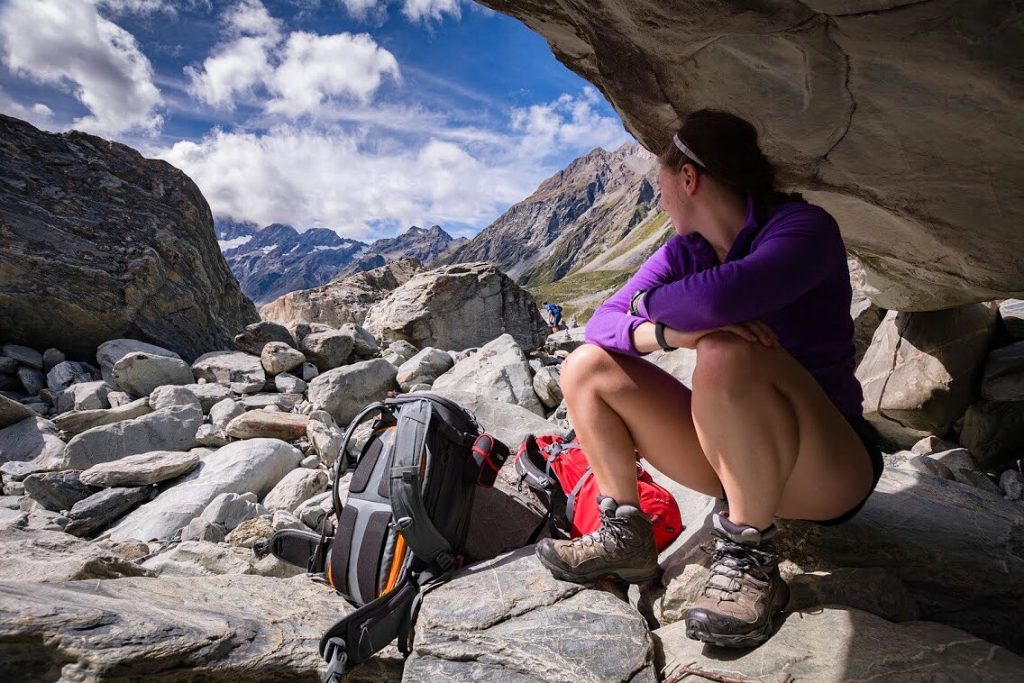 Clothing
---
Puffy / Insulated Jacket
A puffy jacket is such a versatile item I recommend one in any outdoor wardrobe. It's an excellent insulating layer, perfect on its own or under a shell or rain jacket. Puffy jackets are either made of down or synthetic material. Down is much warmer than synthetic, but down also takes a lot longer to dry, should you get the jacket wet. And it's more expensive.
Each excels under a different set of circumstances, so both can hold a place in your outdoor wardrobe.
This is the warmest, yet most compressible, down jacket I have ever owned. The Cerium LT is made of premium 850 fill-power down for exception warmth, but as Arc'teryx loves attention to detail, they've filled moisture-prone areas with a quick drying synthetic down.
The insulation is contained in a patented shell for excellent durability (I can wear it in the forest without fearing a brief encounter with a branch will tear it to shreds). Its warmth, durability and versatility make it well worth the investment.
Check Prices in Canada | Check Prices in US
Gosh, I love this jacket. It's filled with 60-g PrimaLoft (a lightweight synthetic insulation), meaning it packs well, dries extremely quickly and is the perfect amount of warm for the spring, summer and early autumn. I'm also a huge fan of the bivy-pullover style that two pockets – a zippered kangaroo pouch pocket rests on top of an unzippered pocket perfect for chilly hands. But the more popular style is the full zip with two zippered hand pockets.
Check Prices in Canada | Check Prices in US
---
Shell / Rain Jacket
Your shell is what protects you from the elements, so this is not a place to cheap out. That said, I still can't get myself to spend $400+ on a high-tech, fancy-shmansy GORE-TEX jacket. The following two jackets are economical while being highly effective and comfortable.
I can't imagine finding a GORE-TEX rain jacket for a better price. It's true to its name – the minimalist design means you don't get any of the bells and whistles offered by more expensive jackets. It doesn't have a chest pocket or fun design, but it's incredibly waterproof and less than $200. Win-win.
Check Prices in Canada | Check Prices in US
This non-GORE-TEX lightweight and reliable rain jacket has seen me through dozens of trips across three continents. It's a Patagonia staple and often on sale at the end of the season.
Check Prices in Canada | Check Prices in US
---
Fleece Sweaters
Fleece is my favourite material to wear at the end of a long day outside. I like zipping it up all the way and sitting next to a fire while the evening gets chilly. I also find it's a good material to wear during the day because it dries quickly, should I get it wet.
This is a fantastic sweater because it's warm, dries quickly and has so many pockets! I throw it on as soon as I get to the campsite, and keep my matches and headlamp inside the pockets while cooking dinner. (I actually own three of this sweater now – two full zip and one quarter zip – just so I always have one ready to go.)
Check Prices in Canada | Check Prices in US
Patagonia Lightweight Synchilla Snap-T Fleece Pullover
---
Base Layers
For years I hated merino wool base layers because I found them so flimsy and fragile – I ripped two pairs of pants and a shirt over just two seasons. Instead I bought synthetic ones which were much more durable (and less expensive) but only warm-ish. But last year, 8 years after I tried my first set of base layers, I have found the holy grail of merino wool!
And how fast do this bad boys dry? Sometimes when I take my clothes out of the washer to hang them up, these are already basically dry. Damn.
So warm, so soft, so cozy. In addition to a camping base layer, I also sleep in this shirt and lounge in it on the weekends. It wicks moisture well and dries quickly, and ~ miraculously ~ is incredibly durable and machine washable.
Check Prices in Canada | Check Prices in US
The bottoms are just as wonderful as the top. A lot of people go up a size in base layers because they are designed to fit really snug (almost too snug) but I find these ones fit true to size and loosen up a bit after a couple wears.
Check Prices in Canada | Check Prices in US
---
Hiking Shirt
Honestly, a hiking shirt is the last piece of hiking gear you ever need to invest in. I spent six years wearing old track and field quick dry T-shirts (though never cotton) and they all served me well. Now I've invested in a couple nice shirts to wear on the trail or in the canoe (and trust me, they are wonderful) but not necessary if you're getting starting.
At a minimum, just make sure whatever shirt you wear for hiking is comfortable and quick drying. That's all you need!
I didn't know where to categorize this item because its a fleece and a base layer but, for me, its functionality is as a hiking shirt. It's what I wear while paddling, portaging, hiking and all other day time activities. It's fleece lined, so it wicks away sweat amazingly well, but is a synthetic material on the outside so it feels durable enough to wear without a shell or sweater over it.
Check Prices in Canada | Check Prices in US
I really like this shirt for hiking and general day time activities. I brought it on a 25 day canoe trip and for the first two weeks it didn't smell at all. I believe this is due to a combination of being incredibly breathable (less sweating than I'd expect) and its odour resistant properties working as advertised.
Check Prices in Canada | Check Prices in US
---
Hiking Pants
Hiking pants are another item you don't need to invest in when you're starting out (unless of course your first trip is something crazy like the Pacific Crest Trail, in which case I guess you need some starting?). I still haven't settled on the best pair of hiking pants because, ideally, I'd like a single pair perfect for trails and whitewater canoeing (meaning I need them to dry basically instantly). I'll let you know if I find my pair of miracle pants, but until then here are my favourites.
These are my favourite pants for overnight trips, especially long canoe trips where I need something durable and quick-drying. The pants are designed for cold weather, alpine conditions (specifically mountaineering) so me using them on a summer canoe trip does feel a little overkill, but I just like them so much! There's a multitude of useful pockets (I especially love the mid-thigh diagonal zippered one) and they're so comfortable; I appreciate how adjustable the waistband is and, while being really sturdy, they aren't stiff.
Check Prices in Canada | Check Prices in US
I don't wear tights on multi-day trips, but for a day hike I really like the Lululemon Fast and Free. They are lightweight so I don't get too sweaty and they have pockets – perfect for quick-access to snacks or your phone.
Check Prices in Canada | Check Prices in US
---
Footwear
These are my favourite hiking boots I've tried. Even after all these years, they are still comfortable. They're also GORE-TEX, making them insanely waterproof (whatever hiking boots you choose, definitely go waterproof). For hiking boots, I recommend making a bit of an investment to get a good quality pair (which will generally start at about $200). I've written a post about my tips for buying your first pair of hiking boots.
I love the boots above, but early this summer I replaced my hiking boots and tried out a new pair. And it totally worked out – I absolutely love the Merrell Moab! They're a little lighter than the Salomon boots and breathe a little better.
Teva Hurricane XLT2 Sandal
Tevas are my go-to campsite shoes. Completely waterproof, comfortable and can be worn over wool socks. They're also surprisingly durable. I've been wearing the same pair since 2017 and they are still going strong.
Check Prices in Canada | Check Prices in US
This is kind of a random item to through on this list – it's not exactly camping gear. But I got these boots for a weekend in Banff (in the winter) when I was totally unprepared for walking in snow. And they. are. incredible. They aren't big and bulky like normal winter boots and they are rated to -50 C! NEGATIVE FIFTY!! I was outside for hours with toasty warm feet. I've tried Sorrel's and various hiking boots, and often wear my Blundstones in completely inappropriate conditions – but after getting these I will never try another boot in the winter. Ever.
Check Prices in Canada | Check Prices in US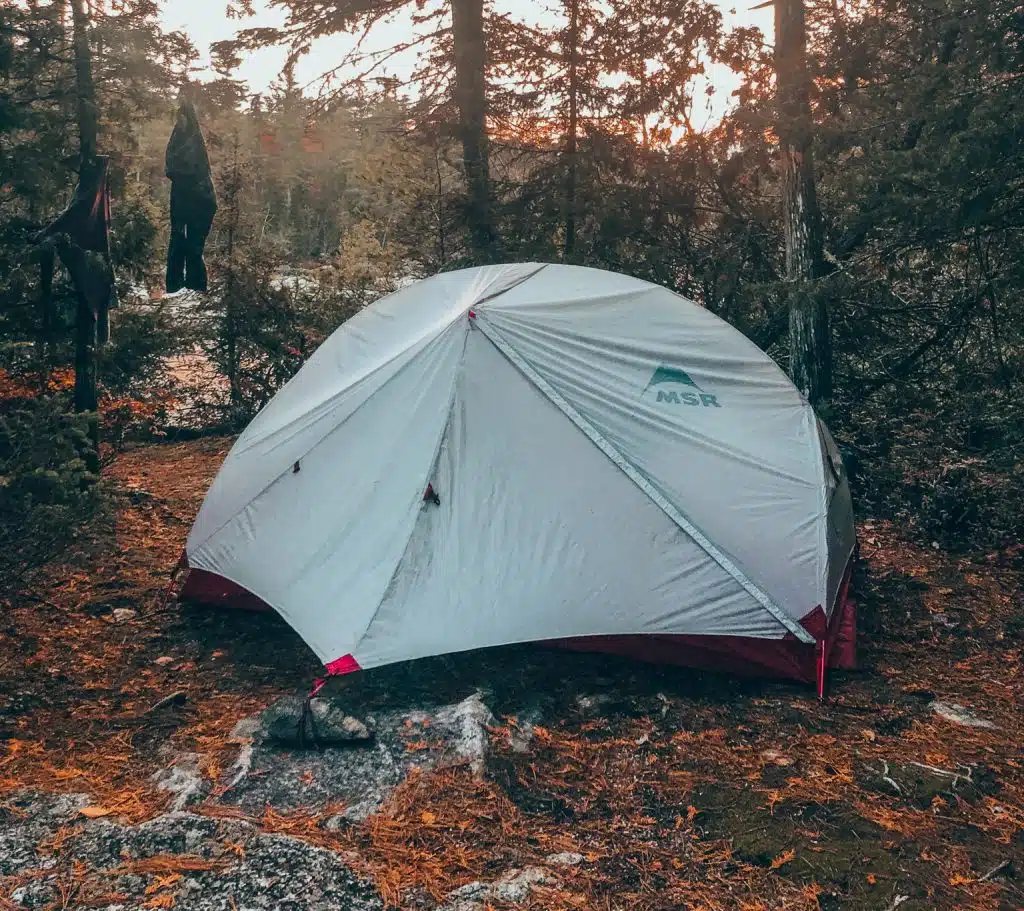 Shelter / Sleeping Equipment
---
Tent
Ah tents. Our home away from home. Over several years of guiding I've spent more nights in a tent than I can remember. Some where exquisite palaces of nylon and mesh, and some were cramped dungeons with walls that sagged when it rained. The following two tents have been my favourites and the ones I eventually purchased for myself.
By far the best tent I've ever stayed in and the most practical one (primarily because it packs so goddamn small). How did MSR do it? It packs smaller than my sleeping bag! I also like that it achieves its small packing size despite having two doors and two vestibules (many other manufacturers get their tents so small by sacrificing such comforts). The poles are all attached so there is no fear of losing one and its relatively easy to set up solo. It is a tad cozy for two people and a palace if you're solo.
I use the Marmot Limelight for canoe guiding. Since I'm not as restricted for space and weight when canoeing, I like bringing a 3-person tent because then my co-guide and I have plenty of space. One of the features I love about this tent is the elbow bend in the poles right above when they meet the ground. Can you see the bend in the photo below? It's so subtle you might miss it, but it makes the tent so roomy, especially right around your head.
Check Prices in Canada | Check Prices in US
---
Sleeping Bag
There are a lot of considerations that go into buying a sleeping bag. Down or Synthetic? And do you go barrel or mummy style? What temperature rating should you go with? So many questions!
Personally, I went with a mummy-style down-filled sleeping bag from MEC (MEC has substantially cheaper down sleeping bags than comparable alternatives) that is rated to -9 C. If you're primarily hiking in the summer, you don't need something this warm. But I tend to get really cold at night and wanted the extra warmth. It doesn't roll up as small as a cooler sleeping bag would, but that's okay because I'm primarily canoe tripping and can carry more gear than hikers.
Essentially, it comes down to your unique needs and preferences.
---
Sleeping Pad
Although many people think the purpose behind a sleeping pad is to keep you comfortable, it's actually meant to keep you warm. The air inside the mat provides some insulation between you and the chilly ground. Sleeping pads have an R-value associated with how much insulation and warmth they provide. Sleeping pads with a low R-value (like 2.0) are only for the summer, whereas a sleeping pad with a high R-value (like 4.2) can be used in the winter too.
The trade off is that sleeping pads with higher R-values tend to be larger and take up more space in your pack. You want to find a good balance between size and warmth for the specific trip you'll be doing.
I have the Therm-a-Rest Pro Lite, which has an R-value of 2.4. This means its great for summer and some late-spring, early-fall trips, but it wouldn't be enough for the winter. As I primarily camp in the summer, this is perfect for me. The pad rolls up super small (like, similar to a loaf of bread).
Note: I would actually recommend getting the NeoAir XLite over the one I have. It's twice as warm and packs even smaller.
Check Prices in Canada | Check Prices in US
Camping Pillow
Call me a backcountry diva, but I always camp with a pillow. There are a few options – down-filled, foam-filled or inflatable – and my personal preference is a foam-filled compressible pillow.
These pillows are incredibly comfortable with a fleece-like fabric on the outside that's soft on your skin. The pillow rolls into a flap (you can see the flap on the right side of the pillows in the photo below) to compress. It still takes up quite a bit of space, about that of a Nalgene water bottom. If space is your biggest constraint, an inflatable pillow would be better. When I'm canoe camping, space isn't usually a big deal so I bring this one.
Check Prices in Canada | Check Prices in US
---
Cooking Equipment
---
Camping Stove
If you are thinking of buying a camping stove, 100% go with one from MSR. They are undoubtedly the best. And while I've seen backpackers on Instagram promoting other brands, I have never met a wilderness guide using anything other than MSR.
A stove that's high quality and reliable isn't just a matter of convenience – it's a matter of safety. Plus, an MSR isn't more expensive than the alternatives.
I love the WhisperLite. It takes a little practice to master priming, lighting and troubleshooting the stove but once you've learned you will fall in love with this stove. It's so sturdy. You can put a massive pot of water on it with confidence. And it boils water extremely quickly. You can control the flame strength by controlling how much fuel is released. The original takes white gas fuel, while the MSR WhisperLite Universal has a few options for fuel type – both are convenient for refuelling.
Check Prices in Canada | Check Prices in US (XGK)
I'm less fond of the PocketRocket because it requires a special fuel type and I'm always afraid it'll tip over, but I can't deny it is exceptionally small and powerful. This is a good choice for lightweight backpackers who are concerned with space and weight.
Check Prices in Canada | Check Prices in US
---
Storage
---
Backpacks
And what will you carry all this fancy gear in?
The Deuter Future 28 is my favourite day trip backpack and I've used it all over the world (it's size makes it just small enough to pass as a "personal item" on flights). It has ample organization – a front zipper compartment with pouches, a main zipper compartment with two sections, and a zipper compartment at the bottom (perfect for a rolled up fleece and rain jacket).
The Futura itself is no longer available and has been reimagined as the Trans Alpine. It has all the features plus a quick stash pocket and pockets on the hip belt, something I wish mine had.
Check Prices in Canada | Check Prices in US
This is the backpack my boyfriend uses (and I am now often stealing it from him). It is 10 L bigger than my Futura 24 L, so you can't use it as a personal item on a flight, but I find the extra space helpful when I want to bring extra layers or some cooking equipment. There are tons of pockets for organization and the straps and suspension make it very comfortable to carry.
Check Prices in Canada | Check Prices in US
The Osprey Ariel AG 65 backpack is the only item on this entire list that I don't actually own myself. Frankly, I don't like my own backpack and wouldn't recommend it. On the other hand, the Ariel has everything I want in a backpack – large J-zip access to the main compartment, quick access mesh pocket for rain jacket or snacks, insane suspension for your backpacking comfort. I'm getting excited just writing about it. Once my current backpack has run its course, the Ariel is the backpack I'm going to get next.
Check Prices in Canada | Check Prices in US
---
Barrel + Harness
A barrel and harness is specifically needed for canoe camping. Usually they're used for storing food (and as such, are often referred to as 'food barrels'). But I like to pack my personal stuff in a barrel too. They're waterproof, easy to pack and with the lid open it's easy to see into the barrel and find things.
My handy barrel has been with my since 2014, and save from a busted handle from the time I naively lent her out to another canoeist, she is as good as new. I have the 60 L size, however there is also a 30 L size.
I have tried a lot of terrible barrel harnesses in my days canoe guiding, so when I purchased my own barrel I made sure to get a decent harness to go with it. This barrel harness has been used with my barrel since day 1 and is still in excellent condition. The straps and hip belt are nicely padded, making the barrel comfortable to carry on portages. And unlike a lot of other harness I've tried, the barrel is really secure which helps with balancing the barrel on a portage.
---
Dry Sacks
Dry sacks are specifically used on paddling trips because they are completely waterproof.
I very rarely pack all my gear in a dry sack (I prefer the barrel), but I am quite fond of this dry sack by SealLine. It kept my gear totally dry and the backpack straps and hip belt offered good support while portaging. It's still a little tricky to access gear that's fallen to the bottom and they're super expensive compared to barrels. But if a dry sack works better than a barrel for your canoe trip, the Canyon is a good one.
Check Prices in Canada | Check Prices in US
For me, a transparent 10 L dry sack is an absolute must on a canoe trip. This stays in the boat with me and contains anything I might need during the day. In addition, I keep small items (like a headlamp or toiletries) inside to avoid losing them inside a 60 L barrel.