What's the difference between the best hiking backpack and the best hiking daypack? Do I need a daypack or will any backpack do? If I need a daypack, which one should I buy? For all those of you asking these questions – I am here to help you out!
When we talk about small hiking backpacks specifically designed for hiking, we typically refer to them as "daypacks". They tend to be are small, with a capacity between 20 and 28 L, but still offer the back support and organizational features of larger hiking backpacks.
In this post, I'll go over some of the best hiking daypacks, including information on style, specs, sizes and more.
Further down, I've also included a section on what to look for in a hiking daypack, including criteria like capacity, frame, comfort and more.
---
Best Daypacks Comparison Chart
You can have a look at the table below to get a quick overview of the specifications of all the daypacks mentioned.
The capacity and number of pockets are taken from the unisex style, however, note that most of the daypacks mentioned below also come in women-specific variants. So the capacity/number of pockets for the women-specific variants may vary a bit from that specified below.
This post may contain affiliate links. If you make a purchase through one of these links, I may receive a small commission at no extra cost to you. Your support is much appreciated! You can learn more by reading my full disclosure.
---
My Top Pick – Best Daypack
Before I write in detail about all the top daypacks for hiking, let me quickly mention my top choice – the one that I consider to be the best day pack here.
Osprey Talon 22 and Osprey Tempest 20
This is the one daypack that delivers overall hiking comfort and outstanding features that make carrying technical hiking gear possible with absolute convenience. Plus, it's comfortable to carry and a great price.
As you may already know, I typically hike with the Deuter Futura 26, but I find it too big for some day hikes. My boyfriend got the Osprey Talon 22 two years ago and I've been using that one a lot recently, and to be totally honest, I actually prefer the Talon now.
The Osprey Tempest 20 is the female version of the Talon.
But you can read the in-depth reviews below!
Update: Osprey just released a brand new version of the Osprey Talon 22 and it looks amazing. Most of the features are the same, however the hip pockets, water bottle pockets and internal size / shape has been improved.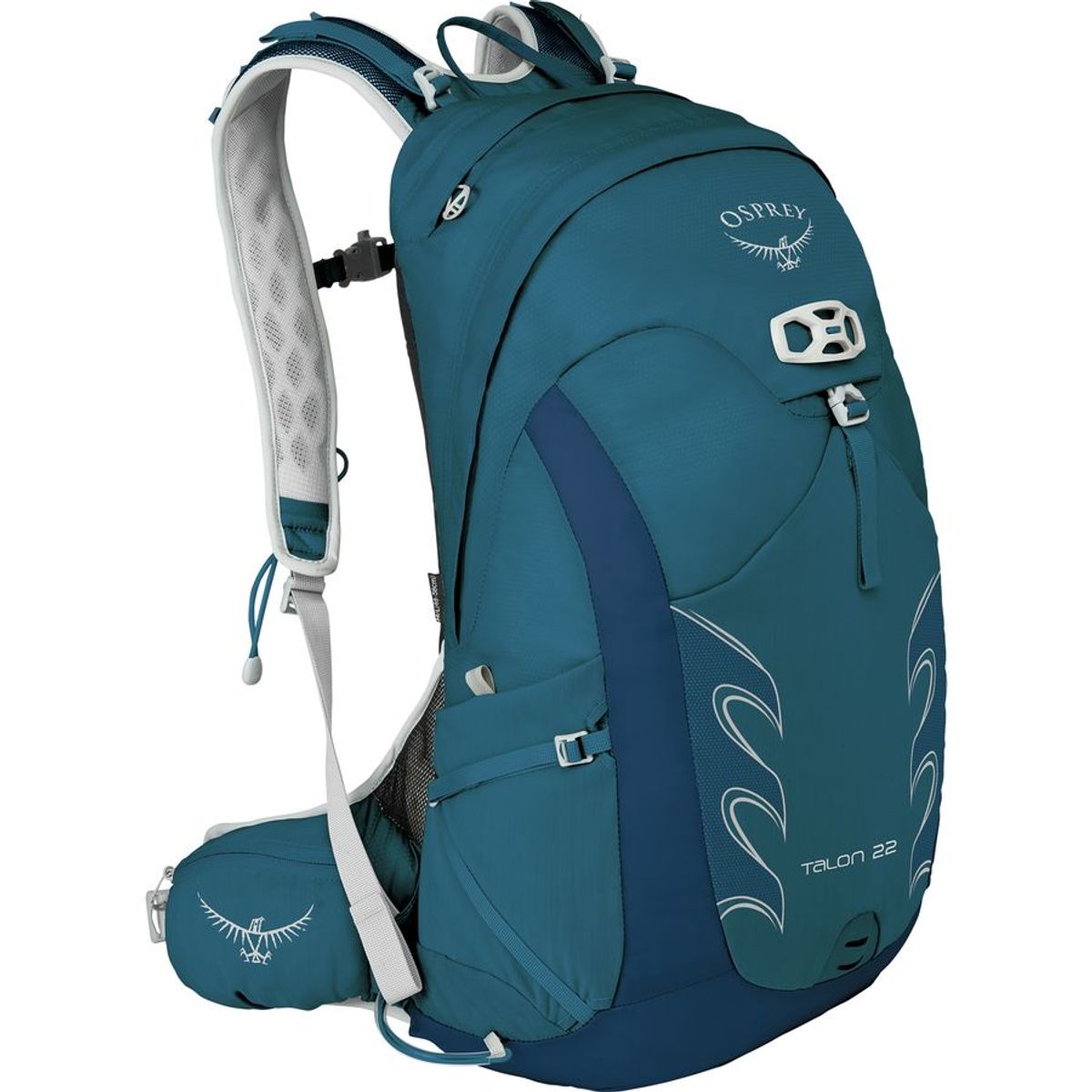 ---
Quick Summary – Best Hiking Daypacks
If you want to know which daypack is right for you without reading the review of all the best hiking daypacks below, here is a helpful roundup just for you –
Best Hiking Daypacks (Overall) – Osprey Talon 22 and Osprey Tempest 20
Best Cheap Hiking Backpack – Deuter Speed Lite 20 and Black Diamond Nitro 26
Best Hiking Daypack for Women – Osprey Sirrus 24
Best Hydration Daypack – Gregory Citro 24 H20
---
---
Top Hiking Daypacks – Reviews
Osprey is regarded by many as the best hiking backpack brand. So it's almost mandatory to include the Osprey Talon 22 in a list of the best hiking backpacks for day trips.
There are a few things that make the Talon awesome, including its comfort offering and that it is loaded with so many useful features.
First, it fits perfectly on the hips and back thanks to its adjustable hip belt and breathable back padding.
In terms of accessibility, the shoulder straps and the hip belts come with small pockets perfect for storing snacks (it's a little too tight for a phone, however). In addition to these pockets, the side mesh pockets are stretchy and make digging out a water-bottle quick and easy (I keep my phone in this pocket).
The daypack is also equipped with an external hydration sleeve. Plus, this excellent hiking daypack has provisions for tucking an ice axe, a bike helmet, and even trekking poles. You could also incorporate a blinker light attachment into it.
The main pocket feels roomy. However, one thing I don't like about this backpack is the flimsy back. It is comfortable to wear, but I find it difficult to load my gear into the backpack when it can't hold its shape – it keeps flopping over!
But once it's loaded and on my back, I like it.
Overall, in my opinion, this daypack over-delivers for its price and is a great investment for anybody serious about day hikes.
Pros
Available in two sizes
Comes with a sturdy yet adjustable hip belt
Pockets are accessible, and pocket distribution is excellent
You can easily tuck in ice axe, helmet, and trekking poles
Affordable
Long-lasting
Cons
Flimsy back is comfortable, but it can be annoying to load gear
Who is the Osprey Talon 22 for?
This is the best hiking daypack for anyone looking for a daypack with a form-fitting structure and full functionality.
Check Prices Here: Osprey Talon 22
Women-Specific Variant – Osprey Tempest 20
The Talon 22 is a unisex backpack, but the Osprey Tempest 20 is intended specifically for women. Besides being 2 L smaller, the Tempest is designed with a back panel and hip belt that better fit with physical characteristics of women's bodies (i.e. curves). I've been using the unisex version, however, and find that suits me just fine.
Check Prices Here: Osprey Tempest 20
---
Gregory Citro 24 (Unisex) & Gregory Juno 24 (Women's)
If you are looking for the best hiking hydration pack, stop right here as the Gregory Citro 24 H20 comes from one of the best brands for hiking backpacks.
The Gregory Citro 24 H20 is the best hydration daypack and an absolute favorite among regular hikers. It comes with a hydration bladder that can be packed neatly in the hydration sleeve. The hose can be attached to the sternum strap on the front with ease, thanks to the addition of a magnetic clip on it.
The backpack has two side mesh pockets for holding bottles (a bit snug), zippered pockets on its hip-belt, and a stretchy front pocket. Just like the Osprey Talon 22, you have the facility of attaching an ice axe or a trekking pole.
The internal frame does not press against the back, and the ventilated suspension keeps your back feeling dry.
There are plenty of small elements that make this daypack impressive such as the 3D molded bladder, a padded hip belt, the sunglass Quickstow feature, and the wide opening main compartment.
Pros
Comes with a hydration bladder
Provides excellent value for money
Fits well on all body types
Comfortable and breathable
Feature-rich (Magnetic sternum clip, Sunglass QuickStow, Bungee closure system)
Cons
Only suitable for use as a hydration daypack
Narrow side pockets
Who is the Gregory Citro 24 H20 for?
This is one of the most affordable and one of the best hydration daypacks for hiking and an ideal investment for hydration bladders fans. This backpack is also available in a 36 L size, which is pretty big for day hikes but would be useful if you want one bag that can double for day hikes and overnight hikes.
Check Prices Here: Gregory Citro 24
Women-Specific Variant – Gregory Juno 24 H20
Check Prices Here: Gregory Juno 24
---
The Deuter Speed Lite 20 features on the list of the best day hiking packs because of its high-quality make, its simplistic design and its super affordable price point. It is one of the best travel daypacks for a light hike or a short trail.
Plus, the fact that it is made by one of the most trusted and the best hiking backpack brands means that despite its low 20-litre capacity, it does not fall short on features.
The daypack is fully hydration-compatible (though it seems kind of unnecessary at this size). Plus, it has loops for attaching hiking gear or a helmet. The unpadded detachable hip belt that comes with this daypack is a handy addition for those who rely on a hip belt for stability. However, in my experience, it is not needed if you are not carrying much gear.
For heavy packers, the compression straps evenly distribute the pack load for a comfortable hike. The impressive characteristic of this daypack is that despite its unisex construction, it feels.
Pros
Affordable
Feature-rich and optimal pocket distribution
Ideal small-sized daypack
Breathable backside and efficient compression straps
Hydration compatible
Detachable hip-belt
Cons
The hip-belt is not padded
Who is the Deuter Speed Lite 20 for?
The Deuter Speed Lite 20 is the perfect small-sized daypack for short hikes and trails or light packers and works well on most body types.
What about the Deuter Speed Lite 22 SL?
The Deuter Speed Lite 22 SL doesn't get much airtime, but despite its limited popularity, I actually prefer it to the Deuter Speed Lite 20. If back support and hip belts are important to you (they are for me), I'd suggest checking this one out. It's almost 50% more expensive, but I think it rivals the best Osprey backpacks.
---
The Osprey Stratos 24 is, in my opinion, the best day hike backpack for technical hikes. Its biggest draw is its excellent ventilation system that keeps the back perfectly dry even during warm conditions. Another reason why I like this daypack is that it comes with a built-in rain cover to protect your gear during rain.
Furthermore, the hip belt can be adjusted to fit all hip-sizes and heights. Additionally, just like the Osprey Talon 22, the Osprey Stratos 24 allows you to attach an ice axe or trekking poles and is also fully hydration compatible.
This daypack's pocket system is also unique in that it comes with dual-zippered access to the main compartment. Thus, the main compartment is accessible not only from the top but also from the sides.
The top panel is enriched with a zip stash pocket over and above the standard zippered front pockets and stretchy side-pockets. Personally, I am not a fan of the vertical front pocket as I find it too snug for quick access of gear. The hip-belt pockets, however, are extremely roomy and hence, quite useful.
The only reason I prefer the Talon to the Stratos is that I prefer the quick stash pocket on the Talon over the front zippered pocket on the Stratos. I find the front zippered pocket is super narrow and hard to access, so I don't really use it.
Pros
Provides excellent value for money
All-season daypack
Sturdy hip-belt and excellent ventilation
Comes with a rain cover
Hydration compatible
Suitable for all body types
Great distribution of pockets
Cons
Front pockets are narrow and inconvenient
Who is the Osprey Stratos 24 for?
The Osprey Stratos 24 is a great daypack for technical hikes and all-season hikers.
Women-Specific Variant – Osprey Sirrus 24
---
Gregory Miwok 24 and Gregory Maya 22
As I have stated earlier in my review of the Gregory Citro 24 H20, I have always found Gregory to be the maker of some of the best day hike backpacks, and the Gregory Miwok 24 is no exception.
The Miwok is packaged as the best daypack for travel, unlike the Citro, which is more popular as a hydration pack. However, that said, the Miwok too is hydration-friendly and is also equipped with the innovative magnetic sternum clip to attach the hose.
Now even though the Miwok is not a small hiking daypack but falls more into a mid-sized variant, its frameless structure does not render it weak for technical hikes. The hiking comfort delivered by this backpack makes it one of the best day hiking backpacks in the mid-sized category.
The Biosync technology compensates for the lack of frame by beautifully adapting to active motion. The hip-belt further ensures an ideal weight distribution.
I am also a fan of its internal security pocket, a rare find in daypacks. The stretchy front and side pockets are also convenient to access. The side pockets are roomy and comfortably hold wide bottles.
In addition to this, just like the Osprey daypacks, the Gregory Miwok 24 is equipped with a stowable pole attachment. However, I did wish it had a helmet hook too.
Pros
Affordable and provides excellent value for money
Biosync technology adapts well to active motion
Comes with plenty of handy pockets and organization options
Made with durable materials
Hydration-friendly and equipped with SpeedClip attachment system
Feature-rich
Cons
Frameless structure may not suit all body types
Helmet hook not provided
Who is the Gregory Miwok 24 for?
The Gregory Miwok 24 is an excellent daypack for versatile use as a hydration pack (reservoir not included) as well as an all-purpose travel daypack.
Women-Specific Variant – Gregory Maya 22
---
Patagonia Nine Trails 28
I can't compile a list of the top 10 daypacks without making a mention of the Patagonia Nine Trails series, which in my opinion, are some of the best hiking bags for general use.
Yes, these backpacks are a bit pricier than most standard daypacks available online, but the added price comes with extra comfort and better durability.
First of all, the Patagonia Nine Trails series is available in a variety of sizes. But the two size-variants that are the most ideal for day trips are the 28L and the 20L ones.
All the Patagonia Nine Trails are made using the extremely durable rip-stop nylon material and layered with a durable water repellent, making them compatible for use on wet surfaces.
Additionally, the part that makes the Patagonia Nine Trails worth the few extra bucks is that they come in two different sizes, and therefore the fit feels custom-made. The fantastic fit and the stability that comes with its broad hip-belt allow free movement even on challenging hikes.
The pocket distribution of Patagonia is also impressive. All the pockets are wide, roomy and the stretchy fabric on the front provides even room for chunkier gear.
Although a bit heavier, the 20L variant of Patagonia feels roomier than the comparable Deuter Speed Lite 20 because of its intelligent pocket distribution.
Pros
Ideal daypack for serious hikers
Comes in two different sizes for a more custom fit
Comfortable and breathable
Made using durable, water-resistant materials
Excellent pocket distribution
Hydration-compatible
Cons
Who is the Patagonia Nine Trails 26 for?
The Patagonia Nine Trails 28 is perfect for a long day out or even for overnight trips, while the Patagonia Nine Trails 20 is better for hikes that require to less gear or layers.
Women's variant – The Patagonia Nine Trails 26 and Patagonia Nine Trails 18. (The 26L is one of the best women's daypack for hiking amongst the large-sized daypacks available in the market)
---
Deuter Futura 26
The Deuter Futura 26 has long been, in my opinion, the best hiking backpack and normally would have been my top pick. However, they redid the design of it and took away my favourite feature. The current model is still nice, but I wouldn't recommend it over an Osprey.
What makes the Deuter Futura 26 a contender for the best hiking day backpack is its adaptability to varying conditions. (This backpack is also available in a variety of other sizes.)
The bag uses the patented Aircomfort technology, which works wonders in keeping you feeling dry even in warm, humid conditions. This technology on the back panel creates a space between the back panel (which your back touches) and the backpack itself. This reduces back sweat considerably.
For wet seasons, the Deuter Futura 26 comes with a built-in rain cover with a reflective logo to help in bad light.
The daypack also employs a solid compression system that stabilizes load whether you fill the daypack up to the brim or leave extra room in it. The pocketed hip-belt, although only lightly padded, does a great job with optimal weight transfer.
The front stash pocket is large and roomy enough to hold wet clothing or small items. On the inside, you will find two compartments to store gear. The hydration system on this is also suited to hold all types of reservoirs.
My Deuter Futura from 2016 doesn't have the stash pocket, but it does have a zipper at the bottom so you can access the main compartment from both sides. There is even a fabric partition, so you can store extra clothing in the bottom and smaller items in the top.
With this feature gone, it's hard to justify the high price point.
Pros
Feature-rich and suitable for technical hikes
Avoid back sweat with Aircomfort technology
All season daypack with custom rain-cover provided
An excellent compression mechanism for load stabilization
Favorable pocket organization
Cons
Removed my favourite feature
Expensive
Who is the Deuter Futura 26 for?
The Deuter Futura 26 is the ideal large-sized daypack for those looking for an affordable day pack variant suitable for all-season use.
---
MEC Foton 28
MEC is one of the best hiking brands with a wide range of the best hiking accessories, and because MEC is exclusive to Canada, it is underrepresented on outdoor adventure websites.
The MEC Foton 28 is as feature-rich and compatible with all-weather hiking as most other daypacks on this list. Thus, you will find a wide front pocket, a zippered internal pocket as well as a mesh pocket on the inside. The hip-belt pockets are also wide and roomy, and the stretchy side pockets can easily hold wide bottles.
Plus, the daypack lets you attach an ice axe, trekking poles and also comes with a super-useful daisy chain. The daypack's other attractive feature is its reflector that is detectable by search crews.
The daypack also comes with a DWR coating similar to the Patagonia Nine Trails, thus repelling water easily in wet conditions. For summers, the ventilation is adequate to let your back breathe.
Like most standard daypacks on this list, you can use almost any hydration reservoir with the MEC Foton as well.
What I find impressive about the MEC Foton 28 is that the backpack does not feel bulky even when loaded completely. While the backpack does come in two sizes, it would be nice if it was made in gender-specific variants instead of its standard unisex design.
A unisex variant works well in small hiking daypacks, but for larger daypacks intended for long day hikes, this daypack may not work with shorter torsos or narrow frames.
Pros
Excellent daypack suitable for all-weather hikes
Fully compatible with most hydration reservoirs
Impressive pocket distribution
Removable hip-belt for adjusting weight load
Available in two sizes
Cons
The unisex version may not be suitable for short people
Who is the MEC Foton 28 for?
The MEC Foton 28 is the perfect all-round, feature-rich yet affordable daypack for longer, technical hikes.
---
Black Diamond Nitro 26
There are not many mid-sized daypacks that maximize internal space as well as the Black Diamond Nitro 26 does. Its main compartment is surprisingly wide when compared to most other comparable daypacks in the market, and you can easily pack in a few extra clothes, a jacket, and snacks.
The other impressive feature of the Black Diamond Nitro 26 is its SwingArm design. The Swing Am is what makes it the best walking daypack as this technology connects the shoulder straps to the hip belt allowing excellent arm movement and a secure shoulder fit. Despite its unisex design, the adaptability of the daypack to different body types is also highly impressive.
The pocketed hip belt that comes with the daypack can be removed for lighter hikes and still does not compromise the fit much.
Moreover, like all the other standard daypacks, this backpack too, has several loops to help you attach poles and an ice axe. It is also hydration compatible should you choose to pack a reservoir in too.
However, the one area where the backpack cuts back in terms of functionality is the external storage. The front pockets feel a bit constricted on account of the wide main compartment.
Pros
Excellent fit despite the unisex design
Allows free movement and optimal carrying comfort
Provides value for money
Hydration-compatible
Wide main compartment
Cons
Front pockets are a bit narrow
Might not be comfortable for tall people
Who is the Black Diamond Nitro 26 for?
The Black Diamond Nitro 26 is the best walking daypack in the mid-sized daypack category.
---
North Face Chimera 24
The North Face Chimera 24 requires a special mention on this list for being one of the best lightweight daypacks. It packs in all the essential features of a daypack without adding the bulk of unwanted compression straps and loops.
The highlight of the backpack is how wonderfully accessible all its compartments are. The design is unique in that regard because of the on-the-go side access to the main compartment. The stretchy side pockets are also easily accessible. What's impressive is how all the pockets can be cinched together using the elastic cinching closure.
In addition to the provision of these standard pockets, the daypack also has shoulder straps that prove to be useful for storing sunglasses or snacks.
Of course, given that the North Face Chimera 24 is essentially a lightweight mid-sized daypack, it does not perform harsh conditions or in technical hikes because of the lack of a reliable loop for an ice axe or poles. But, it is still compatible with standard hydration reservoirs adding a bit to its overall compatibility.
Pros
Lightweight
Employs excellent on-the-fly compression technology
Accessible pockets including accessible on-the-go main compartments
Hydration-compatible
Affordable
Cons
Not suitable for long technical hikes
Who is the North Face Chimera 24 for?
This is the best daypack for anyone looking for a lightweight, versatile daypack for trails or lighter hikes.
---
Buying Guide – How to choose the best daypacks for hiking?
Capacity
The primary specification that helps distinguish a backpack from a daypack is its carrying capacity. Capacity, denoted in liters, indicates how many liters a backpack can carry.
Backpacks with larger capacities are suited for longer hikes. The best daypacks usually range between 15 liters and 30 liters.
Frame
As you would be aware, backpacks for hiking often come with a metallic structure called a frame that helps keep the form of the backpack in place. Frames also ensure optimal weight distribution and prevent your back from taking the weight of the day pack.
Now, there are two types of daypacks available in the market – one that comes with a frame and one that comes without it.
If you are going on a long hike requiring you to carry quite a bit of gear along, it is best to choose a daypack with a frame. Make sure you choose one with an internal frame, as an external frame can keep poking you in your back and can completely ruin your hiking experience.
However, it is best to settle for the best hiking day pack that is frameless for a short, casual hike. The best ultralight daypacks are not only frameless, but they are often much more affordable too!
Carrying comfort
The best day backpacks are those that
ensure that the weight of the backpack is evenly distributed and is not placed on your back and
allow your shoulders and back to breathe
Therefore, when looking for a comfortable backpack, you must check whether the backpack comes with a hip belt. A hip belt transfers the backpack's weight onto your hips and is particularly essential for longer hikes or when carrying a daypack whose capacity is more than 25 liters.
Similarly, for breathability, check if the backpack has a foam padding or a mesh panel that allows air ventilation.
Accessibility
Daypacks are much more straightforward in their design than a full-sized backpack. It usually only comes with a top opening and almost no inner partitions.
However, the best day hiking bag often comes equipped with multiple compartments on the front and the side. Side pockets are essential for quick access to water-bottles while hiking. Similarly, stash pockets on the front are great for storing maps, phones, hats, etc.
Gender-specific design
In the list of daypacks below, you will find plenty of daypacks that come in a men-specific and a women-specific variant.
Is it really that important to choose a gender-specific daypack?
No. But it is essential to understand the difference between the two.
Hiking daypacks for women are designed specifically, taking into consideration women's body structures. Thus, the best womens day packs, unlike regular mens hiking daypacks, cater to shorter torsos and wider hips.
This means that the shoulder straps, hip belts, and the length of the daypack designed for women will be completely different from those designed for men. This also means that gender-specific variants are often more comfortable than a standard unisex make.
---
Final Thoughts
The daypack industry has evolved tremendously over the years, choosing one harder for outdoor enthusiasts. However, I feel that the above guide will give you confidence in making the right choice.
While you can always refer to the quick overview section above for deciding which daypack to opt for if your decision is going to be based exclusively on budget, here are my top picks –
Best hiking daypack ($) – Deuter Speed Lite 20
Best hiking daypack ($$) – Osprey Talon 22
Best hiking daypack ($$$) – Gregory Miwok 24
Best hiking daypack ($$$$) – Patagonia Nine Trails 28