I'll be the first to admit that I was a little reluctant to start hiking in leggings. Surely they aren't durable enough, right?
But then I discovered that there were tons of outdoor brands making technical leggings or outdoor leggings for hiking – with features like water resistance, articulated knees and patented fabrics – and my outlook totally changed. Now I do all my day hiking in leggings.
In this post I'll do a comparison of the seven best hiking leggings currently on the market, outlining the material, features, intended use and more.
In addition, I've included a section on what criteria to consider when buying leggings specifically for hiking, so you can choose the best tights for hiking for your needs.
What are my favourites? I like the Patagonia Pack Out for hiking, but Lululemon Fast and Free is my favourite for versatility.
---
Best Hiking Leggings: Comparison Table
Here is a table comparing all of the products against some of the core criteria. If you're not sure what criteria to prioritize for your own leggings, jump down to the last section where I discuss the criteria in detail.
This post may contain affiliate links. If you make a purchase through one of these links, I may receive a small commission at no extra cost to you. Your support is much appreciated! You can learn more by reading my full disclosure.
---
Quick Picks
In the following section, I'll do a thorough review of nine of the best hiking leggings for women on the market. But here is a quick summary to get you started.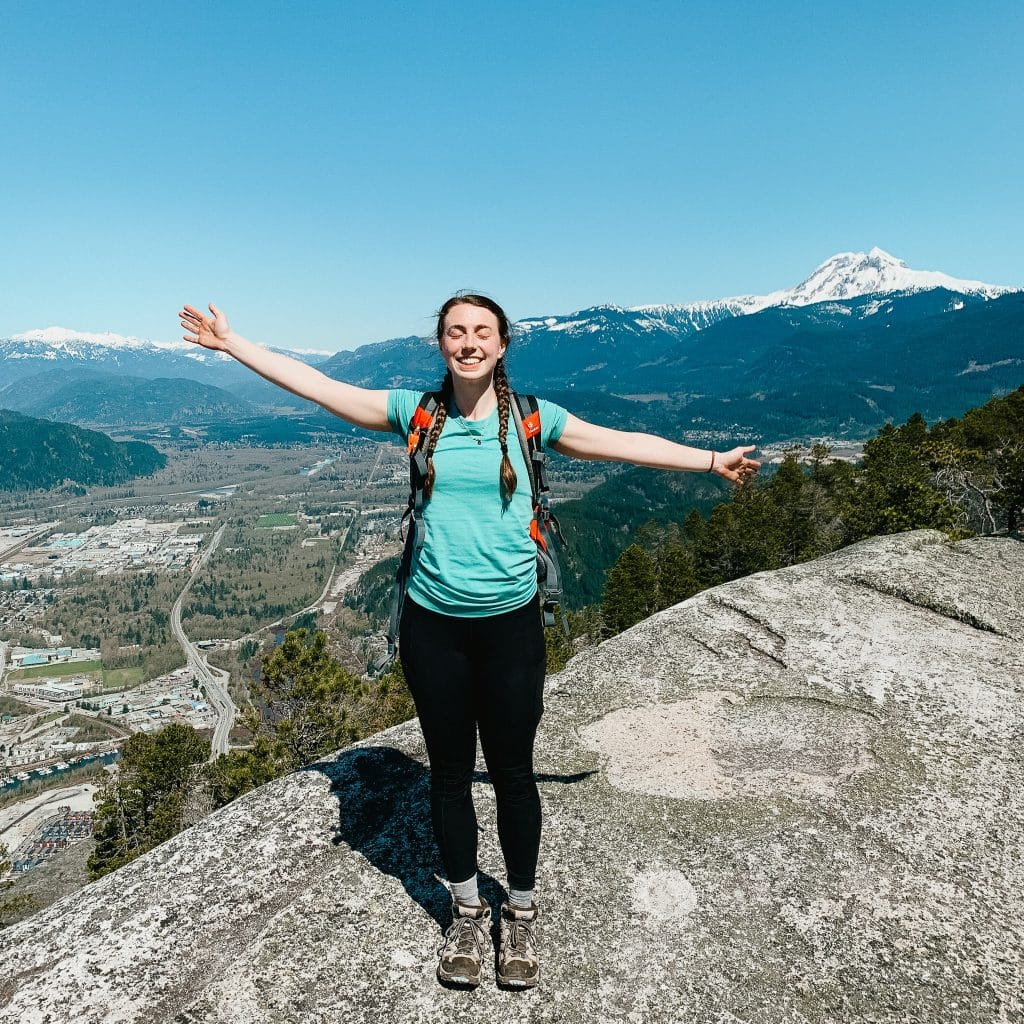 ---
Best Hiking Leggings: Individual Product Reviews
Patagonia's Pack Out Tights are great for day hiking. These hiking tights are stretchy and have a gusset for improved mobility and comfort. And they strike a good balance between durability and breathability – thick enough to hike with confidence but thin enough to keep you cool.
There is a side pocket on each leg and a small zippered pocket along the hip. Plus, these are attractive leggings that offer great versatility because you could easily wear them around town.
However, the reason I don't like these leggings for multi-day hiking is that they lack the durability and weather resistance I would want. They are moisture wicking but don't offer any water repellency. And there isn't any reinforcement in high contact areas, like the knees and butt.
Best For: Day Hiking, Around Town
---
The Arc'teryx Oriel Leggings were designed to be durable enough for rock climbing, but sleek enough for casual use. And I think Arc'teryx has nailed it.
The tights were designed with a material strong enough to be resistant to the kind of abrasion you might experience if you were scaling a rock face, making it durable enough for hiking. Other positive features include two easy to access pockets and a gusset for movability.
One drawback is that the leggings don't offer much weather resistance. They are moisture wicking for sweat, but won't offer any protection against rain.
Best For: Day Hiking, Climbing, Around Town
---
---
The Ineo Pro Pants are by the UK company called Montane, and until embarking on the research required for this post, I'd never heard of them. But I was so impressed by the specs that I couldn't leave these tights off the list!
These sleek and versatile-looking leggings are perfect for hiking and around town. But what makes them so impressive is that the material, Mala Stretch, is abrasion resistant, wind resistant and water repellent (treated with Durable Water Repellency). The Ineo Pro also has a gusset and articulated knees, for increased comfort and better fitting.
These are highly durable and weather-resistant pants, so in addition to day hiking, these could also be suitable for a short backpacking trip.
Best For: Hiking, Around Town, Short Backpacking Trips
---
Fjallraven Abisko Trekking Tights are excellent for backpacking trips. The knees and bottom areas have reinforcements and are treated with Durable Water Repellency. This means you can sit on rocks or kneel on damp ground with confidence your tights can handle it.
There are two leg pockets that are practical for storing small objects. They've been specifically designed to fit a small map on one side and a compass on the other. (You might struggle to fit a large phone inside though.) The trekking leggings have 4-way stretch for improved mobility and the waist has a drawcord for adjustments.
Because the material is quite thick, these are warm leggings for hiking, so I wouldn't recommend them as hiking leggings for hot weather.
Best For: Backpacking / Trekking
---
Mountain Hardware has struck a perfect balance between durability and comfort with the Chockstone Rock Tights. The 4-way stretch fabric has great movability, while the accent panels are abrasion-resistant. Initially designed with durability suitable for climbing, the leggings are also great for hiking.
Unfortunately, these tights don't offer much in the way of weather resistance, so I wouldn't recommend them for backpacking or hiking in rainy conditions. However, their sleek designs mean you could also wear them in urban settings.
Best For: Day Hiking, Climbing, Around Town
---
I think most winter hiking should be done with hiking pants and a pair of merino long underwear underneath. But when you're going out for a quick hike and want to stay warm, there are thermal leggings for hiking that do the trick.
The Winter Warm High-Rise Tights are the best leggings for winter hiking on this list. The material is moisture-wicking and has a brushed fleece interior to keep you extra warm. They're designed for winter running, but would be suitable leggings for cold weather hiking if you covered your ankles with a good pair of wool socks and hiking boots.
Best For: Winter Day Hiking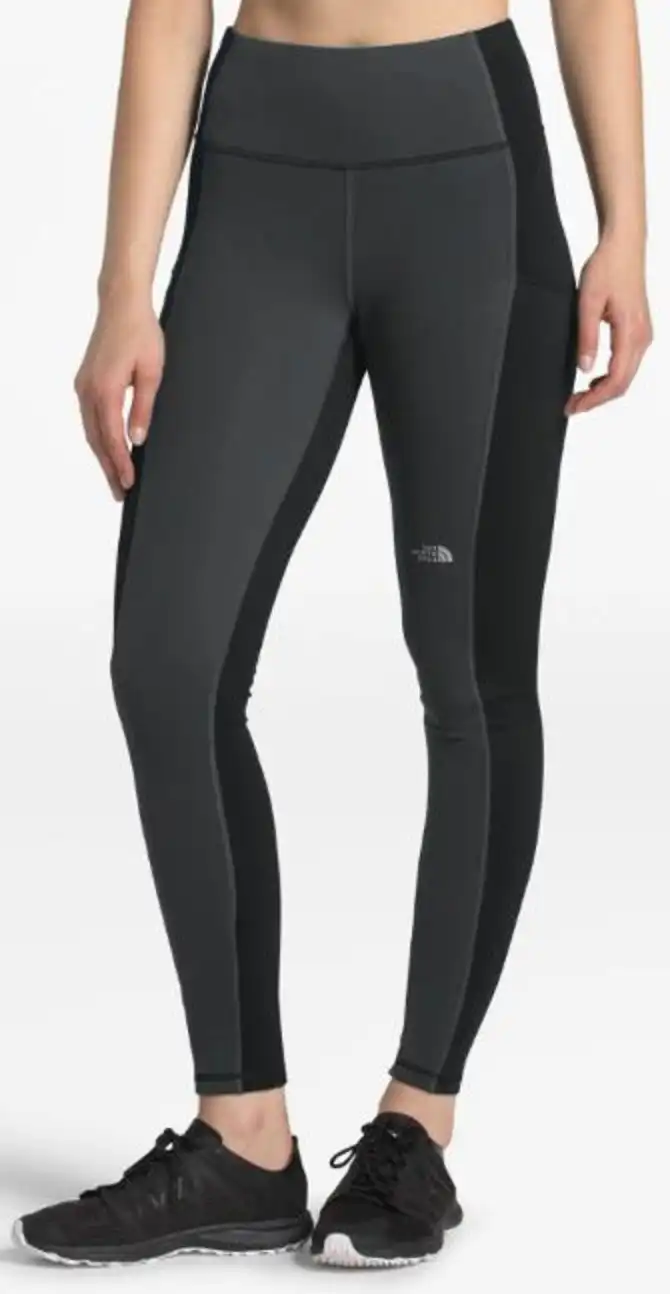 ---
Lululemon's Fast and Free Leggings are the least "hiking" of the leggings included in the list, but I think they are great for day hiking in the summer. At least out of all the pairs I've tried, these are the best Lululemon leggings for hiking.
Over and above using them as summer leggings, their sleek design offers excellent versatility: you could easily wear these around town, to a yoga class or on a run.
The material is very moisture-wicking, although it offers no weather resistance and isn't quick drying. The material is also very thin which makes them incredibly comfortable and why I love them, but does mean these are not durable tights. You'd want to be careful kneeling on rocks in them.
Best For: Day Hiking in Summer, Around Town, Sports
---
How to Choose the Best Leggings for Hiking
Material
Here is a quick overview of the most common materials for womens hiking leggings to be made of.
Elastane: Also known as Spandex or Lycra, Elastane is a common material for leggings to be made out of because they offer a high degree of breathability, moisture-wicking and stretchability.
Nylon: Another common material for leggings, Nylon offers a high degree of stretchability and moderate moisture-wicking and heat retention, however, it has low breathability.
Polyester: Polyester has a high degree of moisture-wicking ability and is very breathable. It has moderate heat retention and only moderate stretchability.
---
Movability
One of the main reasons people start hiking in leggings is because they allow for so much lower body mobility and don't have the stiffness that a lot of hiking pants have.
If you want to maximize comfort and movability, choose a hiking legging with a high Nylon or Elastane content, like Arc'teryx Oriel Leggings or Lululemon Fast and Free Leggings.
In addition to material, a hiking legging that has a gusset will provide more comfortable mobility around your leg area.
---
Breathability
Hiking in leggings can be sweaty real fast, so you want breathable leggings for hiking in hot weather. When looking for the best outdoor leggings, remember that elastane is the best material for breathability, followed by Polyester, while Nylon has low breathability.
In addition to the actual material though, breathability is affected by how tight the pants are to your skin. Wearing loose-fitting pants will help with breathability.
Breathability is important when you'll be hiking in hot climates. If breathable hiking leggings are your priority, I'd most recommend either Helly Hansen Rask Trail Tights or Arc'teryx Sabria Pant.
---
Durability
No pair of leggings offer the same level of durability like a pair of traditional hiking pants. But some pairs are definitely more durable than others. The material itself offers durability, in addition to any reinforcements in high contact areas (knees and butt).
Durability is most important if you'll be doing multi-day trips or you're hiking in a rocky or alpine environment.
The most durable pair of leggings on this list are Fjallraven Abisko Trekking Tights and Montane Ineo Pro Pants.
---
Weather-Resistance
One of the drawbacks to wearing leggings rather than hiking pants is that they aren't nearly as weather resistant.
Waterproofing
I've yet to ever encounter truly waterproof leggings for hiking. Thus, no leggings can truly qualify for the title of the best waterproof leggings., However, many leggings are treated with Durable Water Repellency (the stuff that makes rain jackets and rain pants waterproof) which makes them water resistant leggings. The leggings still won't be as waterproof as rain pants, but they'll be comparable to hiking pants.
Water-resistance will be most important if you hike in rainy environments, like the Pacific Northwest. If you want water-resistant hiking tights or leggings, either Fjallraven Abisko Trekking Tights and Montane Ineo Pro Pants would work.
Warmth
You can get specific leggings for winter hiking. These are often lined with a material like fleece or micro-terry which provide additional insulation.
I had a pair of fleece-lined leggings for hiking in the winter which was great at keeping me warm for a couple of hours at a time. But if I was out for the full day or it was really cold, instead of opting for the warmest leggings for hiking, I find that merino tights under hiking pants work better (read here for more about the layering system).
Choose a warm pair of leggings if you'll be doing a lot of hiking in the later fall / winter / early spring. They can also be helpful if you hike at altitudes where it can still be snowy or chilly. The best warm leggings for hiking are The North Face Winter Warm High-Rise Tights.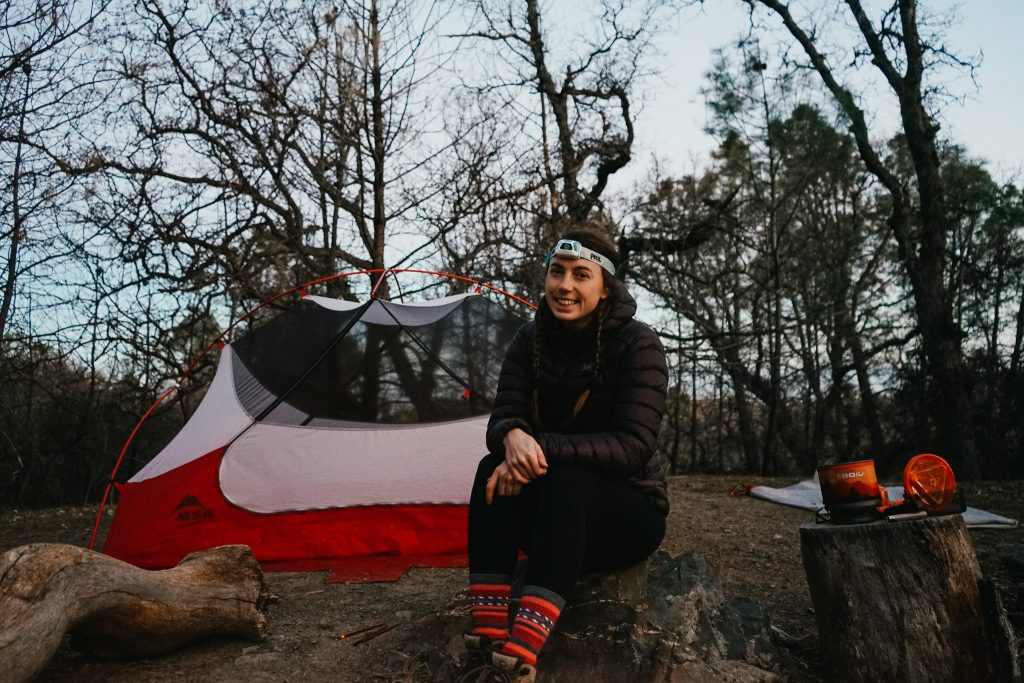 ---
Other Features to Consider
Pockets: I need my leggings to have pockets because I like to hike with my phone in one pocket and a snack in the other. This pair and this pair both have pockets.
Gusset: This is an insert in the crotch area that increased movability. If you've got bigger thighs as I do, a gusset makes the leggings a lot more comfortable. There X pairs all have gussets:
Versatility: Versatility is desirable because high-quality leggings are not cheap. It would be great if the leggings you wore hiking could also be worn casually or for running and yoga. I find Patagonia and Lululemon to be the most versatile leggings, though there are a few others on the list that would suffice.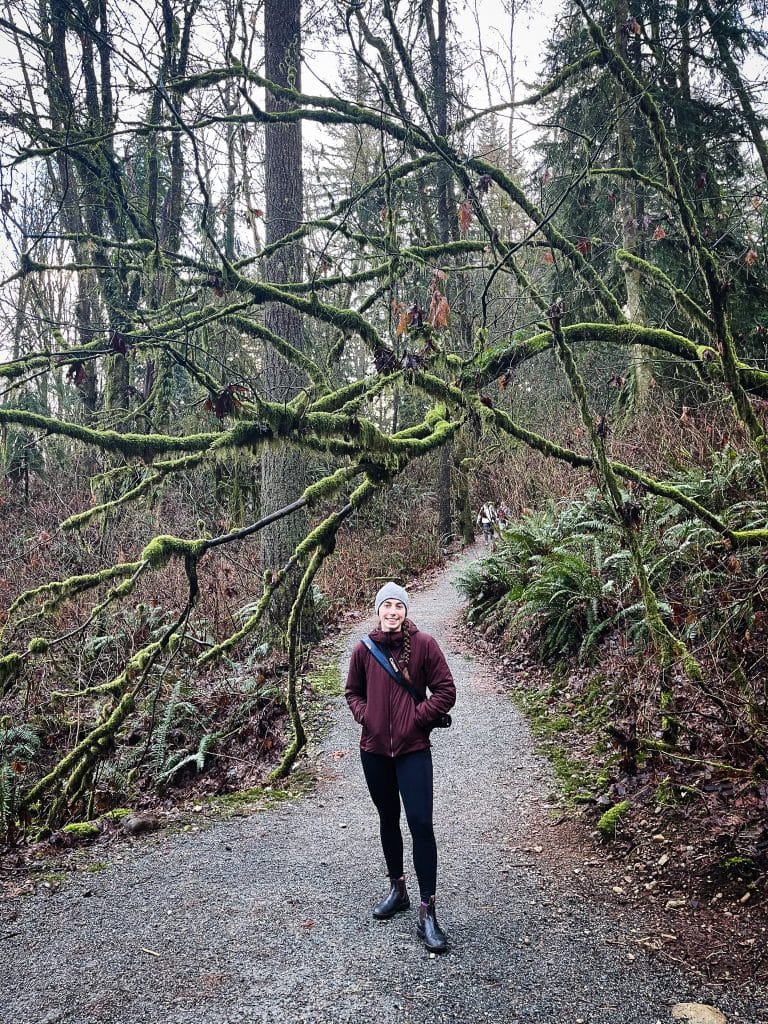 ---
Hiking in Leggings FAQ
Are leggings good for hiking?
Leggings can be excellent for day hiking, as they're comfortable and easy to move around in. Leggings do have their limitations, however. The material isn't waterproof and because they are tight against your skin, they pick up sweat easily (which causes them to smell). Nor are they as durable as traditional hiking pants. For day hikes I think leggings are great, however, I'd recommend using hiking pants for multi-day trips.
Can you hike in yoga pants?
I think hiking in yoga pants is fine if you are doing a short day hike and in good weather. However, I wouldn't recommend them for anything longer. Yoga pants are sometimes made with a cotton blend, and cotton isn't good for the backcountry because it's slow to dry. If you do want yoga pants for hiking, ensure they are a non-cotton material.
In addition, most of the leggings in this list are specifically designed for hiking. The material is quick-dry and moisture-wicking and they often have features to either keep you warm (like fleece-lined leggings in the winter) or for increased durability.
So the short answer is that some yoga pants are okay for hiking, but it's better to get hiking-specific leggings.