I distinctly remember the first time I saw the French River. I was driving north on Highway 69, from London Ontario to Killarney Provincial Park with my family. We approached a large green bridge and as we drove over it I looked down at the calm, flowing river below. The shoreline was rocky on either side of the dark green water, lined with pine trees. I knew the river would eventually spread, divide and meander on its journey to Georgian Bay. And I imagined what else I'd see while paddling on a French River canoe trip.
Later on I would see the granite islands punctuate the edges of Georgian Bay, where the French River meets Lake Huron. Years after I'd read about the history of the voyageurs and how they used the French River for trade. And I'd understand what makes the French River such a popular destination for canoe trips.
In this guide to paddling the French River, I'll go over the following topics:
About the French River & Its History
Permits and Reservation Info
Maps and Resources
French River Canoe Routes
Access Points
Canoe Rentals and Outfitters
Guided Canoe Trips
This post may contain affiliate links. If you make a purchase through one of these links, I may receive a small commission at no extra cost to you. Your support is much appreciated! You can learn more by reading my full disclosure.
---
About the French River
The French River sits in what I affectionately call the 'Near North' of Ontario. It begins its journey at Lake Nipissing, a little east of Sudbury. From there, it flows 110 km to Georgian Bay.
Together with the Ottawa and Mattawa rivers, the French provides a route between Montreal and Lake Superior, which made it an important river for transportation (more on that below!).
The French is just a few hours north of Toronto, so you won't get the remoteness of a truly northern river. But despite its proximity to the hustle and bustle, I think the French River offers incredible scenery, lovely campsites and an escape to a slower pace.
Fun Fact: The French River is considered the dividing line between 'Southern' and 'Northern' Ontario.
In 1986, the French River became the first river to be designated a Canadian Heritage River. Prior to European settlement, the river was used as a transportation corridor by the Algonquin people, who lived in the regions surrounding the river.
The first French explorer to paddle the French River was Samuel de Champlain in the 1600s. From there, the river became a popular route for other French explorers, missionaries, the voyageurs and fur traders. The French named it La Riviere des Francais; the Algonquin people in the region called the river Wemitigoj-Sibi (I found one source that implies this translates to 'French River').
Fun Fact: 'Sibi', more commonly written as 'ziibi', means 'river' in Ojibwe.
In the mid-1800s a railway was built to connect northern and southern Ontario, ending the river's history as a transportation route. However, the area became a popular place for recreational paddling. In 1989, the French was further protected by Ontario Parks.
---
French River Permits and Reservations
The French River is protected by French River Provincial Park and you'll need to book a permit if you're going to camp in the park. Go to the Ontario Parks booking portal and select 'Backcountry Reservation' on the far right side.
Then select 'French River' under the Park dropdown and select your Access Point. There are 7 access points to choose from in the dropdown menu, or you can select 'Other' and enter the river somewhere else.
From here, you can select which Zone you'd like to camp in each evening. There are nine zones in total, stretching along the length of the river (Zone 1 is at the top of the river, in the northeast, and Zones 6 through 9 are in the French River Delta where the river empties into Georgian Bay, in the southwest).
There's nothing to book after you've selected your Zone – you don't have to book specific campsites or lakes like you do in Algonquin Provincial Park.
Read Next: The Ultimate Guide to Canoe Camping
---
French River Maps and Resources
Here are the maps and resources I recommend to help you plan your French River canoe route.
Map: The best canoe route map is the Ontario Parks' French River Provincial Park Map. You can buy it at the visitor's center and many of the lodges in the area, but I recommend picking up a copy in advance. This way, you can get familiar with the map and use it to plan your campsites. You can order it from Chrismar Adventure Maps.
Canoe Route Builder: You can use the interactive Canoe Route Builder to make your own canoe route on the French River. The route shown below is the last one I did on the French. Click here to open the route builder in a new tab and make your own route.
Books: Kevin Callan has an excellent book about French River canoeing called Killarney and the French River. This book details a TON of information (and some helpful insider tips) about planning a canoe route on the French River. There are also some history and geography tidbits about the area.
Trip Reports: Finally, trip reports are a great resource to help you plan a canoe trip on the French River. There are some trip reports available on different blogs across the internet, and there's a bunch on the Trip Reports website (the sister website to this blog), which include campsite locations and a GPS of the route.
❗ Tip: If you join the Ontario Backcountry Camping Facebook Group, you can post any questions about the French River there and Sean (the founder of the group) will likely respond. He's been on the French River dozens of times and knows it better than anyone else I know.
---
French River Canoe Routes
There are dozens and dozens of possible canoe routes on the French River. Here are a few routes of varying lengths and locations to help you get started with the planning process. Most of the routes below are accompanied by a full trip report with campsite / portage descriptions, a map of the route and more.
Put In: Hartley Bay Marina
Take Out: Hartley Bay Marina
Distance: 52 km
Number of Days: 3-5 days
This route is a loop so no need to coordinate a shuttle. It passes through the West and Main channels, with just a few portages around little rapids. The south part of the route provides beautiful views of Georgian Bay.
Wolseley Bay to Highway 69
Put In: Wolseley Bay (Lodge at Pine Cove)
Take Out: Highway 69 (French River Supply Post and Marina)
Distance: 39 km
Number of Days: 2-3 days
This is a super short route perfect for anyone who is tight on time or wants to maximize whitewater and minimize flatwater.
The French River doesn't exactly have an abundance of whitewater, but there is a stretch in between Wolseley Bay and Highway 69 that was a concentrated series of rapids. It starts with Little Pine Rapids and ends with Big Parisienne Rapids – all of the rapids are CI and CII types and have short portages around them. So if you're a new whitewater paddler, this is likely within your skill level (though always read the rapid and conditions and don't blindly trust a voice on the internet!).
Put In: Wolseley Bay Boat Launch
Take Out: Dry Pine Bay
Distance: 41 km
Number of Days: 3-5 days
This route has an excellent series of small and medium-sized rapids to paddle down. There's enough to be of interest to novice and intermediate whitewater paddlers, but each of the rapids has a portage so you can also avoid paddling whitewater if you'd prefer.
❗ Tip: The campsites at Lost Child Bend are awesome, especially site 416!
18 Mile Loop
Put In: Lodge at Pine Cove
Take Out: Lodge at Pine Cove
Distance: 65 km
Number of Days: 5-7 days
This route is a big loop that paddles along the Main Channel and then doubles back to paddle through the North Channel (or in the reverse). The general consensus is that paddling this route clockwise is easier than counterclockwise. There are two big benefits to doing 18 Mile Loop: 1) It's a loop so you don't need to coordinate a shuttle, and 2) There are no portages on this route!
This might be surprising unless you've looked at the map closely, but this route actually goes around an island. Also, if anyone knows why this loop is called 18 Mile Loop, please let me know, as it measured 40ish miles when I plot it.
Put In: Otter Bay
Take Out: Hartley Bay Marina
Distance: 72 km
Number of Days: 4-6 days
This is another great route if you want a little whitewater paddling. For the first 2-3 days, you'll paddle through (or portage around) rapids like Five Mile Rapids and Little Parisian Rapids, and you'll get to visit Recollet Falls. The second part of the trip doesn't have much in the way of moving water, but you will get lots of beautiful scenery and paddle by a lot of cottages and cabins.
Put In: Lichty's Marina
Take Out: Hartley Bay Marina
Distance: 172 km
Number of Days: 7-10 days
Highlights:
This is an absolutely epic canoe route. It starts along the western shores of Lake Nipissing and travels along the entirety of the French River all the way to Georgian Bay. There are tons of rapids, beautiful campsites and scenery.
If you're thinking of paddling this route, definitely check out Pete's video about paddling this route. It is both beautiful and informative.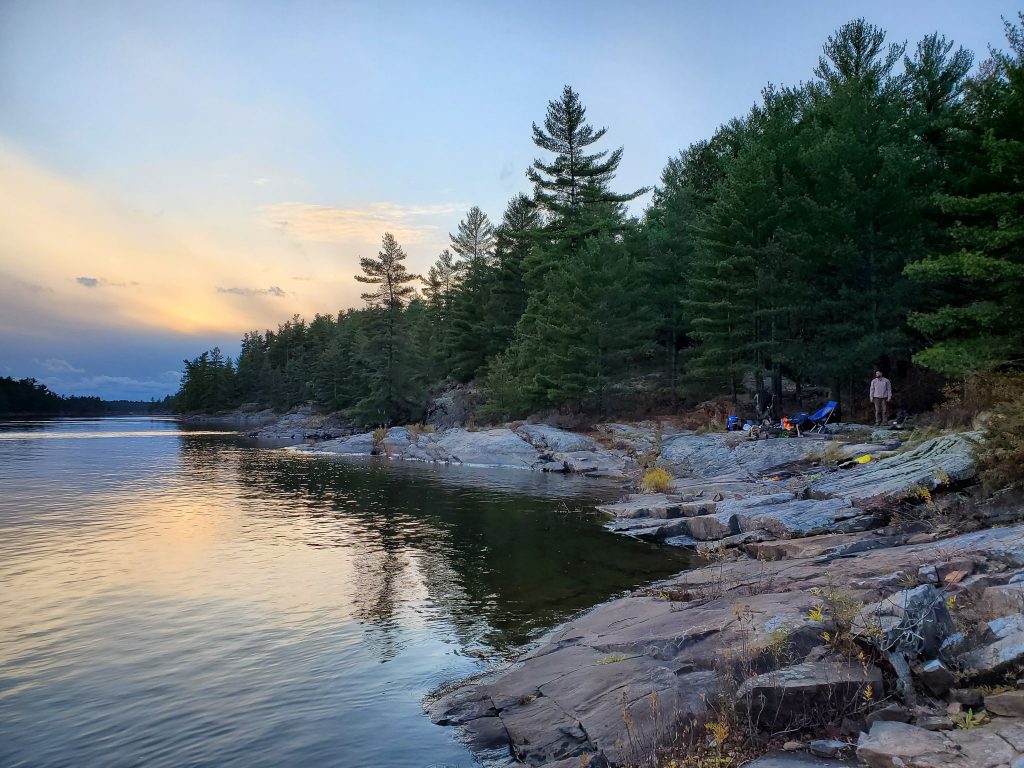 ---
French River Access Points
There are quite a few access points along the French River. Almost all of the access points are on private properties and boat launches, and you'll need to pay for parking.
Lichty's Marina: This access point is along the west side of Lake Nipissing. It's a private boat launch, so there's a parking fee ($10 per night last I checked). If you're nervous about leaving your car unattended, this would be a good option for you.
Sucker Creek Landing: This is another access point on Lake Nipissing, right next to Lichy's Marina. This one is a public boat launch, so there isn't a launch fee and there's usually ample free parking.
Otter Bay: The next access point along the river is Otter Bay. This one is at the end of the long and somewhat-winding Dokis Reserve Rd. Otter Bay is one of the access points actually inside French River Provincial Park, so there isn't a fee for parking.
❗ Tip: Otter Bay is the best place to start if you want free parking, but your car will be more closely watched if you leave it at a marina or lodge. Both options work!
Wolseley Bay: A little further down is Wolseley Bay. Here there are several lodges / marinas to choose from, including Wolsely Lodge, Bryer Lodge and Lodge at Pine Cove. At the time of writing, parking at Wolseley Bay was $6.19 per night.
Dry Pine Bay: Next along our river is Dry Pine Bay with docking at Loon Landing and French River Supply Post & Marina Limited. Parking at Loon Landing is $10 per day.
Hartley Bay Marina: If your route starts or ends around the Delta, then the Hartley Bay Marina is likely your best option, especially if want a route that is a loop.
---
French River Canoe Rentals and Outfitters
If you don't have access to your own boat, there are a lot of outfitter and canoe rental options for canoeing the French River. In addition, some of these outfitters offer shuttle services so you can do a one-way route and not have to do a two-car self-shuttle. I've linked the websites for each of the outfitters, but some don't always have the most up-to-date information on their websites. Give them a call to confirm services and make your booking.
Address: 2870 Hartley Bay Rd., French River, ON
The people at Hartley Bay Marina offer canoe rentals, fishing guides, and all the guidance you could ever need to plan your French River trip.
Address: 193 French River Supply Post Rd, Alban, ON
The French River Supply Post and Marina offers a great place to access the river. With a rental fleet, large parking lot and local expertise, this is a one-stop-shop for getting started. You can also leave your vehicle here for overnight trips.
Address: 1013 Hwy 528A, Noelville, ON
The Lodge at Pine Cove is a great place to get on the river. They offer a range of vacation ideas, including guided French River trips, if that's what you're looking for. They also have beautiful cabins for rent.
Address: Noelville, Ontario
This outfitter offers access to the middle section of the French River and canoe and kayak rentals. They also have big canoe rentals so that you can paddle the river in the traditional style. French River Adventures also offers a water taxi service.
Address: 751 Highway 528A, Noelville, ON
Bryer Lodge is a quiet housekeeping cottage resort located on the shores of the French River. It offers canoe and kayak rentals, including delivery for a charge. Best for trips launching in the eastern section of the river.
---
French River Guided Canoe Trips
The French River is a super easy place to plan a self-guided canoe trip. That said, if you'd rather take the planning and guesswork out, you can join a guided canoe trip.
MHO Adventures
MHO Adventures is my favourite guiding company in Ontario. They run a trip on the French River that features beautiful scenery and a touch of whitewater paddling (small CIs and swifts). You can read more about their trip here.
Black Feather
Black Feather runs a trip on the French River specifically designed for families. It starts at Wolseley Bay and ends at Highway 69, going through a beautiful section of the French River. There are a few sections of small whitewater rapids and swifts. You can read about the specific trip here.
Note: The routes done by MHO Adventures and Black Feather are the same route as what is detailed in this trip report, which you can follow if you want to do it self-guided. You will need to get a shuttle or do a self-shuttle though.
French River Adventures
For something shorter, French River Adventures offers guided part-day and full-day trips. With enough notice, they can also coordinate educational programs with Ojibwe First Nations.
---
The Best Time to Paddle the French River
The French River freezes and is inaccessible in the winter. During the spring (April to May), the flow can be quite high and fast due to meltwater. During this time, it's best to avoid the sections with rapids unless you're an experienced whitewater paddler. The delta isn't as affected by the flow, so if you do want to paddle in the spring, this is a good area to choose.
The French River is best paddled between June and October, and is at its peak popularity during July and August. Although it's not as warm, the area is beautiful in autumn when the leaves start to change colour.
Are there bugs on the French River? Late May and June usually have a healthy black fly population; late June and July have mosquitos.
---
Final Thoughts on the French River
I hope this guide has been helpful and you have a better idea of how to start planning your canoe trip on the French River. As always, if you have any questions please send me a message or leave a comment and I'd be happy to steer you in the right direction!