Frontenac Provincial Park is an excellent destination for camping – specifically for a backpacking trip. There are tons of trails in the park, all of which intersect in different ways to create a network of route possibilities.
In this post, I'll walk you through the basics of Frontenac Provincial Park camping – the permits, the access points, the campsites, and most importantly, some route ideas.
All of the route ideas have a full trip report and map to go along with them. If you want to jump straight to the trip reports, you can find all of the Frontenac Provincial Park trip reports here.
---
Welcome to Frontenac Provincial Park
Tucked away in a pocket of wilderness north of Kingston lies Frontenac Provincial Park. Spanning 55 square kilometers, Frontenac protects 22 lakes with 48 campsites and over 100 km of hiking trails. This park is in the middle of the Frontenac Arch Biosphere, an area of geological significance and biodiversity.
Frontenac sits on the transition from St Lawrence Lowlands to Canadian Shield, so there is a perfect balance between the rocky granite and pines trees you'd expect further north, and the soft, deciduous forests of southern Ontario.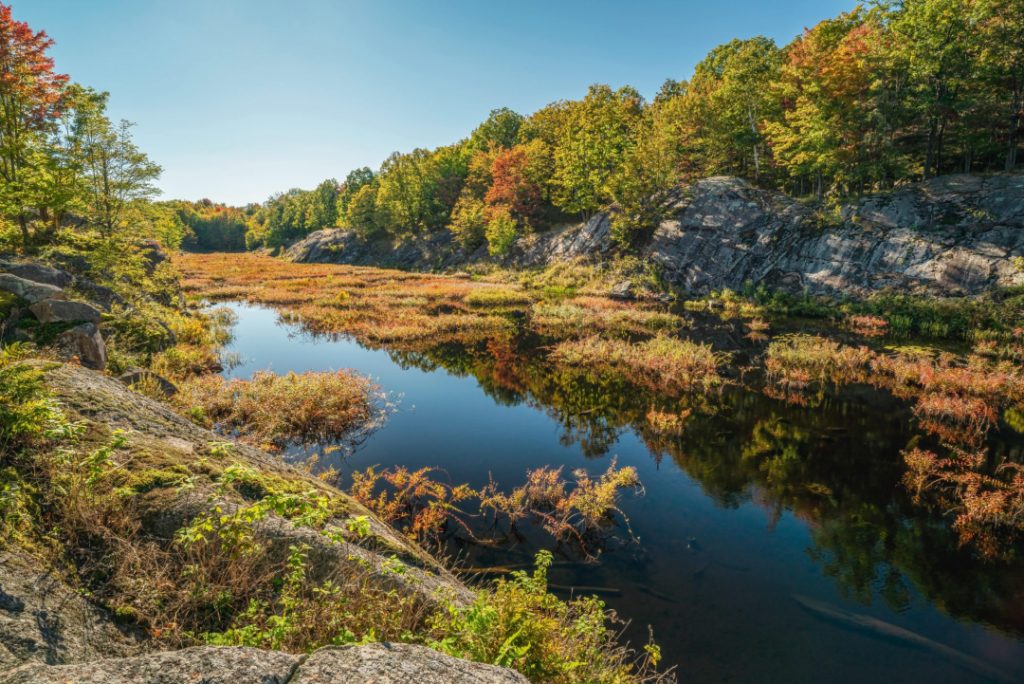 This post may contain affiliate links. If you make a purchase through one of these links, I may receive a small commission at no extra cost to you. Your support is much appreciated! You can learn more by reading my full disclosure.
---
Frontenac Camping: Perfect for Beginners
One of the best features of Frontenac Provincial Park is its accessibility for novice backpackers and paddlers. If you're brand new to either activity, this is a great place to start.
Well-Marked, Well-Maintained Trails
All of the trails in Frontenac Provincial Park are extremely well maintained. They're reasonably wide, fairly gradual, and tend to be free of deadwood and debris. There are regular markers to indicate you're still on the trail, and there are wooden stakes with directions at each trail junction. You'd be hard-pressed to get lost here.
Minimal Elevation Gain
The hiking trails in Frontenac Provincial Park don't have crazy ascents or descents. All of the routes listed below have less than 12 m of elevation gain per kilometer (in comparison, the Highland Backpacking Trail, the moderate trail in Algonquin, has 41 m of elevation gain per kilometer).
Campsites with Amenities
As far as backcountry camping goes, the campsites at Frontenac Provincial Park have some helpful amenities. Each site has a tent platform (no need to worry about sleeping on a slant), a bear box (so you won't have to do a bear hang), a privy (no digging holes to poop), and a fire pit and picnic table for meal time.
Wilderness, But Not Remote
In Frontenac Provincial Park, you're never too far from a trailhead. If you're new to backcountry camping, proximity to rescue services is advantageous because if something happens to you and you need help, they can get to you quickly. Also, there is some cell service. If you read through the various trip reports, you'll see some routes have service while others do not.
---
Frontenac Provincial Park Camping Permits
Campsite Reservations: Reservations are required and made for specific campsites in the park. Go to the Ontario Parks Reservation System, select "Backcountry" then "Frontenac". From there, you can select the specific campsites you want. The Friends of Frontenac Park maintain a list with photos and details of each site.
Permits: You need to pick up vehicle and campsite permits from the Park Office. If you will be arriving after the park office closes, call ahead and the staff can print your permits and leave them on a bulletin board outside the office.
---
Frontenac Provincial Park Access Points
Access Points for Backpacking Routes
Salmon Lake Road enters Frontenac Provincial Park from the southwest and is the primary access point for the park. There is a parking lot at Arab Lake and a parking lot at Salmon Lake. These are the two most popular places to start a backpacking trip.
There is also a parking lot at the end of Kingsford Lake Dam Rd, at the north end of the park. There is a trail from here that connects to the greater network of Frontenac Provincial Park hiking trails, so you could easily start a backpacking trip from this end of the park.
Access Points for Canoe Routes
Within Frontenac Provincial Park, there are two boat launches. The first is at Big Salmon Lake, at the end of Salmon Lake Road. There other one is at Otter Lake, near the start of Salmon Lake Road.
In addition, there are some public boat launches on the boundary lakes: Devil Lake, Buck Lake, Desert Lake, and Otter Lake.
---
Frontenac Provincial Park Backpacking Routes
Despite being such a small park, there are several options for backpacking in Frontenac Provincial Park.
This route makes one big circle connecting Doe Lake, Buck Lake and Big Salmon Lake. It's the perfect backpacking route for novice hikers because of its distance and elevation gain (or should I say, lack of elevation gain!). The 25 km can easily be split over three days of hiking, so you're never doing more than 8 or 9 km in a day.
There are two excellent viewpoints on this route: one at Flagpole Hill and one at Mink Lookout. This route is especially pretty in autumn when all of the leaves are changing.
The photos below were taken by Kathryn for the Salmon Lake to Buck Lake Loop trip report
This route starts at Big Salmon Lake parking lot and heads to Little Clear Lake. From there, it forms a big loop, traveling to the northern edge of the park, around Gibson Lake. Part of the route overlaps with the Tetsmine Lake Trail, which is home to the abandoned Mica Mines.
The photos below were taken by Caledonia for the Big Salmon Lake Loop trip report
Slide Lake Loop is a big circle starting from Arab Lake parking lot on the west side of Frontenac Provincial Park. Although there are a couple of steep sections, for the most part, this route is flat and gradual terrain. This route also goes by both Mink Lake Lookout and Flagpole Hill, so be sure to make stops for those panoramic views. Plus, the stretch between Doe Lake and North Buck Lake is one of the most beautiful in the park.
The photos below were taken by Sarah for the Slide Lake Loop trip report
This route starts and ends at at Arab Lake parking lot and stretches to the northern edge of the park at Devil Lake. It loosely resembles a figure out, with a crossover at Little Clear Lakes, and is perhaps the longest route you could do in the park without backtracking. There's the occasional short, steep climb, but overall the trail is mostly flat.
The following photos were taken by Sarah for the Arab Lake to Devil Lake trip report
---
Frontenac Provincial Park Camping – Conclusion
I hope you have found this post interesting and have some inspiration to plan your own camping trip to Frontenac Provincial Park. There are tons of backpacking routes to choose from, but if I could recommend just one, I suggest you check out Salmon-Buck Lake Loop or Arab Lake to Devil Lake Loop if you want something more challenging. You can find all of the trip reports (and maps) for Frontenac Provincial Park backpacking routes here.