"How do I get started in whitewater canoeing?"
I get this question a lot, and it has taken me some time to arrive at a decent answer because I was sort of thrown into it accidentally. But I gave it some real thought, canvassed my paddling friends and here is how you can get started whitewater canoeing if you've never done it before.
---
1. Ensure you're comfortable with flat water canoe trips
I'm sure the majority of people reading this already paddle flatwater, but just in case you don't I'll say it here.
Before you can take whitewater trips, you need to be comfortable in flatwater and the basics of canoe tripping (if you're totally new, read my guide on canoe camping).
That means being able to steer a canoe (without switching the side you are paddling on) and perform a canoe-over-canoe rescue in flatwater.
In addition, you should have at least a basic understanding of wilderness medicine / backcountry safety knowledge. You don't need any certifications or to have taken courses, however, you should have an idea of how to respond to common medical problems and how to call for emergency assistance.
Read more: The Ultimate Guide to Canoe Camping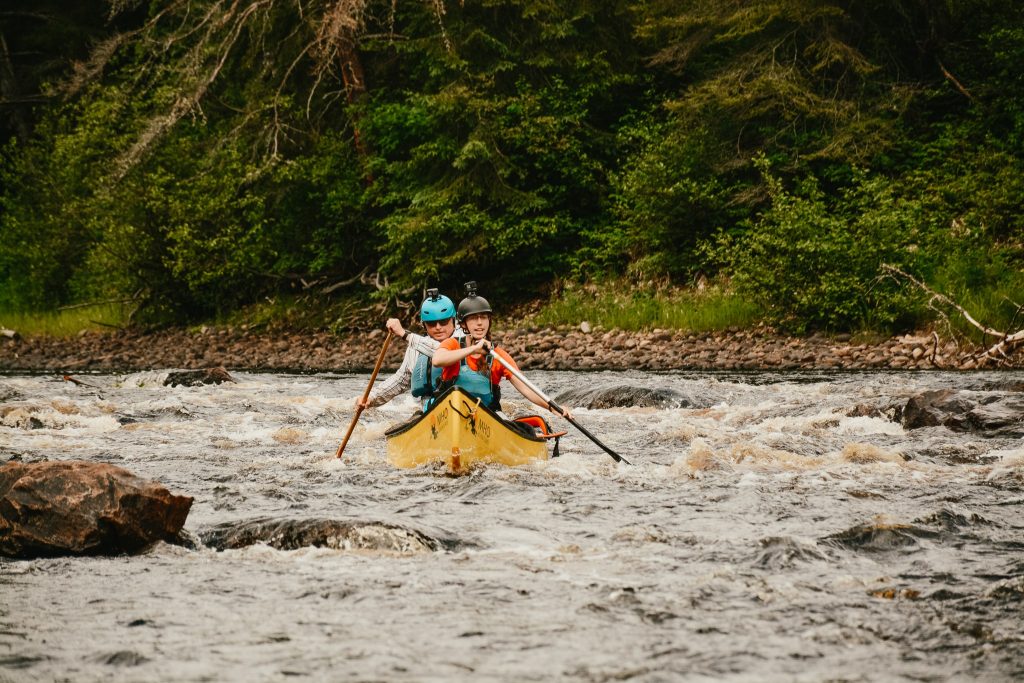 This post may contain affiliate links. If you make a purchase through one of these links, I may receive a small commission at no extra cost to you. Your support is much appreciated! You can learn more by reading my full disclosure.
2. Do a weekend course on whitewater canoeing
Once you're comfortable with canoeing on flatwater, it's time to experience moving water. One of the ways you can do this is by taking a whitewater canoeing course.
Paddle Canada offers some excellent courses to help you get started in whitewater canoeing. You can find instructors and courses on the Paddle Canada website.
I recommend Moving Water I for new whitewater paddlers. The courses often take place over the weekend, and in two days you'll get to learn new paddling strokes and canoe in some seriously fun rapids.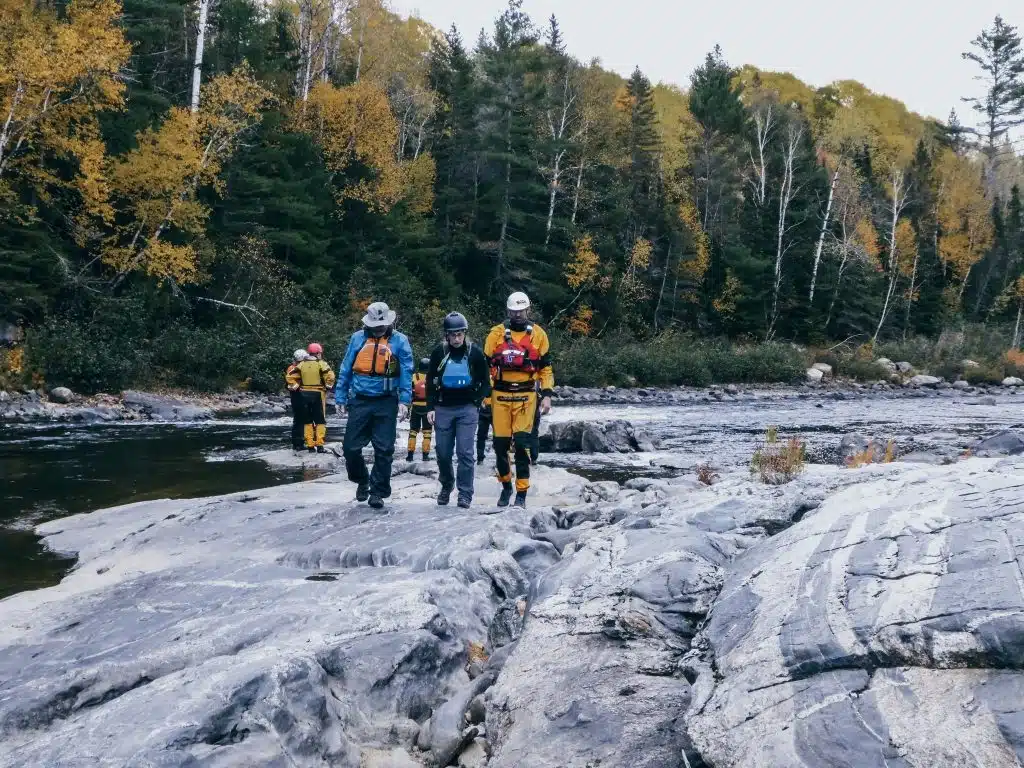 3. Find a whitewater canoeing community
In order to practice whitewater canoeing, you're going to need a canoe outfitted for whitewater. Unless you have a few thousand dollars kicking around to purchase your own, you're going to need to find a boat.
You also don't want to be alone on a river when you don't have much experience. That is a recipe for disaster. So in addition to finding a boat, you're also going to need to find someone who has paddled whitewater before.
That's where canoe clubs and communities come in. You can find people who are more experienced to go canoeing with.
Personally, I am part of the Wilderness Canoe Association, which hosts several outings each year that beginners can join. For example, there is a whitewater weekend where inexperienced paddlers meet at Palmer Rapids and get a lesson on whitewater canoeing.
There are also day trips on the Credit and Grand rivers that are great for novice canoeists.
Usually, these outings are hosted by an experienced whitewater paddler who can help you find a boat partner for the event.
The Wilderness Canoe Association is just one example of this. There are other clubs that also host whitewater outings, often in a specific location.
Note: If you want to learn more about whitewater canoeing and planning canoe trips, download my canoe planning template. It comes with a free ten-part mini-course on planning canoe trips.
4. Consider hiring a whitewater canoe guide
Another way to start whitewater canoeing is to do a novice river with the help of a guide.
In the summer of 2020, my family went on a guided trip on the Petawawa River. Neither my dad nor my brother had paddled whitewater before, and we didn't have any of the whitewater gear. So to make things easy, we went with a guide.
And we all had a fantastic time. They loved paddling whitewater and were able to do so in a safe environment (and I could totally relax because I didn't have to be a sole guide).
One drawback to going on a guided trip, rather than taking a whitewater canoeing course, is that you don't get the same level of instructions. Guided trips are more about paddling down the river and having fun. Courses, on the other hand, will spend more time teaching you the different strokes, how to read water and scout rapids.
You can find a list of guided canoe trips in Ontario here.
5. Get Whitewater Rescue and Wilderness First Aid Training
Once you've done a course or a trip, or have gone out with some experienced paddlers, I think it's time to get whitewater rescue training and wilderness medicine training.
This ensures that if you do run into trouble on the river, you know what to do. If you're unfamiliar with the courses, please read either / both of the following articles:
After you have training on what to do when something goes wrong, you can start taking your own trips. You'll know how to tell if a rapid is beyond your skill; you'll know what to do if someone tips in the middle of a rapid.
Basically, you'll be able to confidently know your limits and paddle within them.
The courses are also a ton of fun!
Get comfortable swimming in rapids: One of the best parts of a whitewater rescue course is that you learn how to swim in rapids. Until you feel good about swimming down a rapid (with a helmet and lifejacket, of course), you shouldn't be paddling in rapids.
6. Choose Drop and Pool rivers near civilization
Now you're ready to start planning your own river trips. I recommend choosing drop and pool rivers that are within a reasonable distance of a national / provincial park or community.
"Drop and pool" refers to the type of river we often see in southern Canada. Along the river, there will be distinct rapids (the drop) and the water will calm immediately afterwards (the pool). The Petawawa, Noire and Coulonge rivers are all "drop and pool" rivers.
There are a few nice things about these rivers, and it makes them great for novice and intermediate paddlers. First of all, the rapids are distinct so you can easily portage around them. If you come to a rapid that looks beyond your skill level, simply go around it.
Alternatively, you can sometimes line a canoe down a set of rapids if you have the skill set to do so, as soon in the photo below.
Second, if you run a rapid and your canoe does tip, you know that there is a calm pool waiting for you at the bottom. Even long rapids on these rivers eventually end in a pool.
Northern rivers, like the Nahanni or Bonaventure, can have a continuous current. That means if you tip your canoe, there isn't a calm pool of water waiting for you. The canoe (and the swimmer) will continue down the river. That's why northern rivers command a much higher skill set.
7. If you can't swim it, don't run it
This is my golden rule for evaluating whether or not I can run a rapid. It was something I decided when I first started whitewater canoeing, and now years later, I'm still doing it.
When I come to scout a rapid I think "If I had to swim down this entire rapid, would I be okay?" I ask myself this because I want to ensure that if I tip, and regardless of where I tip, I will be fine.
This means I don't paddle upriver of strainers (fallen trees) or dangerous holes (recirculating water). If you aren't familiar with what these are, read this post and take a whitewater course.
Whitewater is a serious thing. It's hazardous and unforgiving and ever experienced paddlers are injured (or killed) on rivers. If something seems beyond your skill level, portage around it.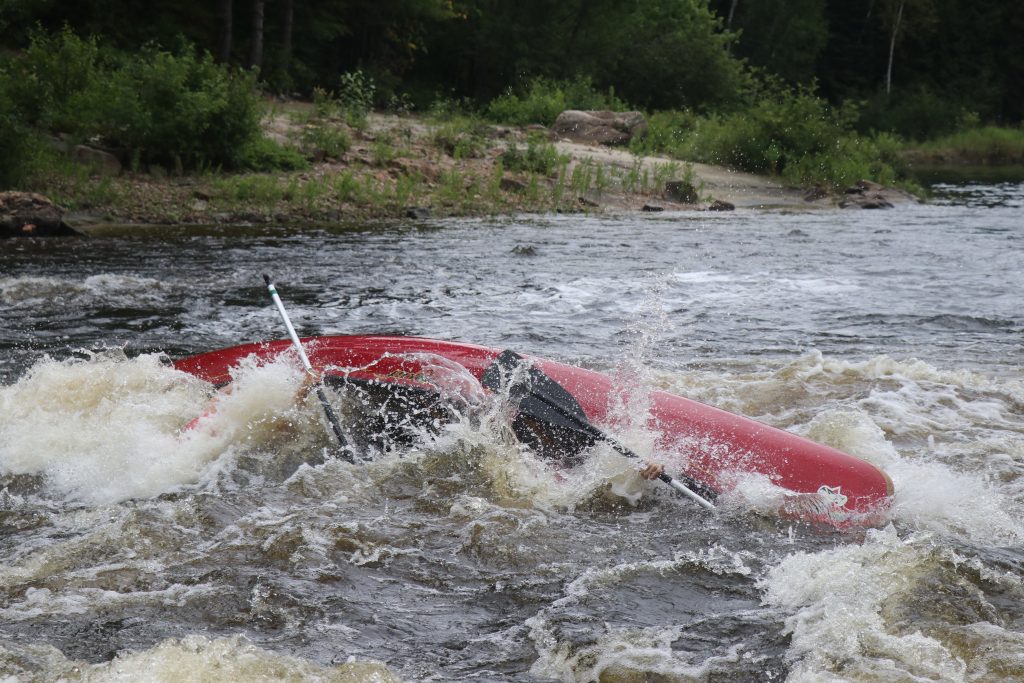 8. Practice, practice, practice
My final tip for you is a bit of a cliche, but important nonetheless. Learning to whitewater canoe doesn't happen overnight. You'll learn something from every outing you take, every river you paddle. I've been doing this for six or so years now, and I'm still learning new things all the time.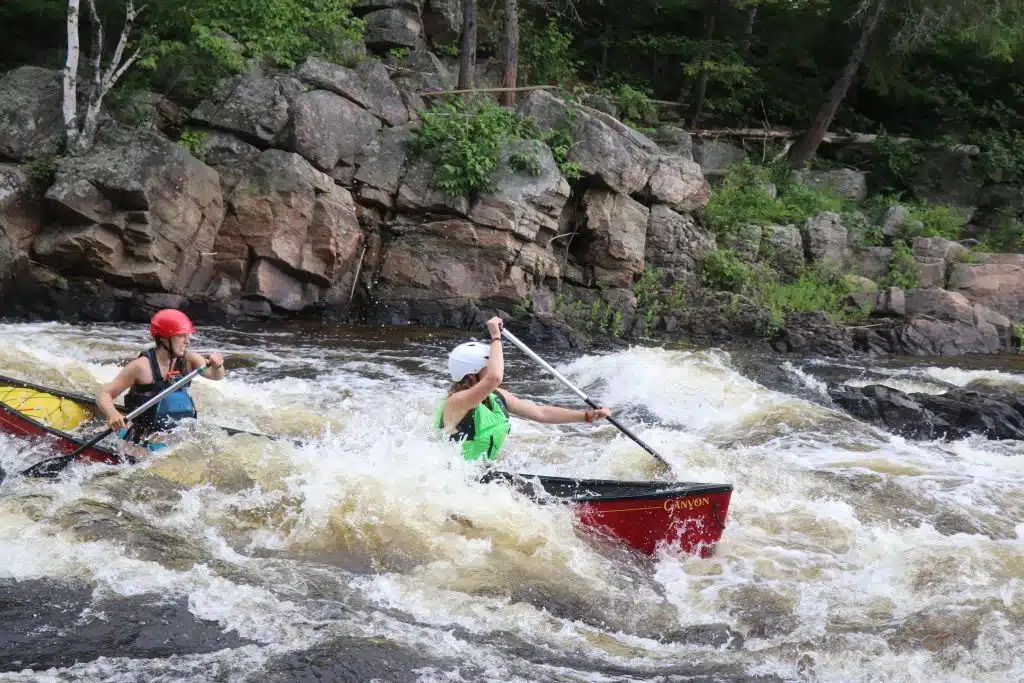 ---
How to Get Started Whitewater Canoeing: Final Thoughts
I really hope this post has been helpful and has given you a road map to start whitewater canoeing yourself.
Here are some additional resources: