Algonquin Provincial Park and canoe camping go hand-in-hand. With more than 2000 kilometres worth of canoe routes and dozens of access points, there are a nearly infinite number of canoe routes. This – combined with excellent campsites, well-maintained portage trails and easy access – make guided trips in Algonquin Park the perfect way to learn canoe camping.
In this post, I'll go over the following topics:
Why Algonquin is the best destination for a beginner canoe trip
Tips for making the most out of your canoe trip
What to look for when choosing a guided canoe trip in Algonquin
In addition, I'll also go over a few Algonquin guided canoe trips by Trip Shed. Trip Shed is a local outfitter led by two brothers from Toronto, and they specialize in guided canoe trips in Algonquin that are specifically designed for beginners who want the skills needed to do their own backcountry camping trips.
Trip Shed has kindly offered my readers a 5% discount on all their guided trips. Use the code VOYAGEUR5 at check out to receive the discount!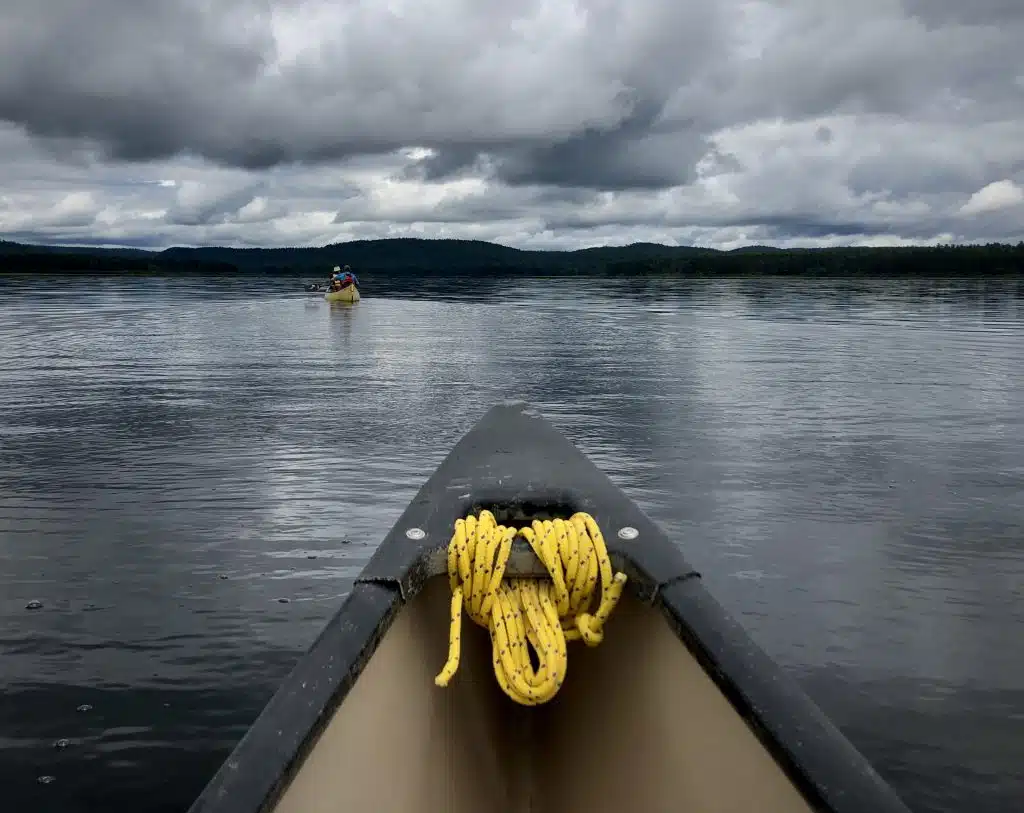 This post may contain affiliate links. If you make a purchase through one of these links, I may receive a small commission at no extra cost to you. Your support is much appreciated! You can learn more by reading my full disclosure.
In full transparency, I receive a small commission for each booking made with the code above. You can read more about my relationship with Trip Shed and my disclosure on my Sponsors page.
---
Why is a guided canoe trip in Algonquin perfect for beginners?
Algonquin Park is easy to access: As far as provincial parks go, Algonquin Park is extremely central. It's a 3-hour drive from both Toronto and Ottawa. This minimizes travel time and maximizes camping time.
Beginner-friendly canoe routes: There are literally hundreds of Algonquin canoe routes. While there are many intermediate and advanced paddling routes, there are WAY more beginner routes that don't require long portages, huge lakes or advanced navigation.
This is an especially important consideration if this will be your first canoe trip or if you'll be taking your kids camping. It's better to have a short, easy route with more time at the campsite. If you're choosing a guided canoe trip, ask about how long the group plans to be on the water for, or select a trip designed specifically for beginners or families.
Well-maintained campsites and portages: A major difference between Algonquin Park and a place like Temagami or a non-operating provincial park is the level of maintenance the canoe routes receive.
For example, over the winter and spring, it's common for trees to get blown down or portage trails to become overgrown. Algonquin Park does an excellent job of clearing these obstacles. Some portages even have structures so you can take the canoe off your shoulders and rest – without having to put the canoe back on the ground.
Another difference is the campsites. In Algonquin, each campsite will typically have a good fire pit, flat tent spots and a thunderbox. The campsites will also be marked with an orange tent sign and be easy to find. In contrast is Quetico Provincial Park, which doesn't have signage for campsites or portages – so half the battle can be just finding the campsite or portage trail at all!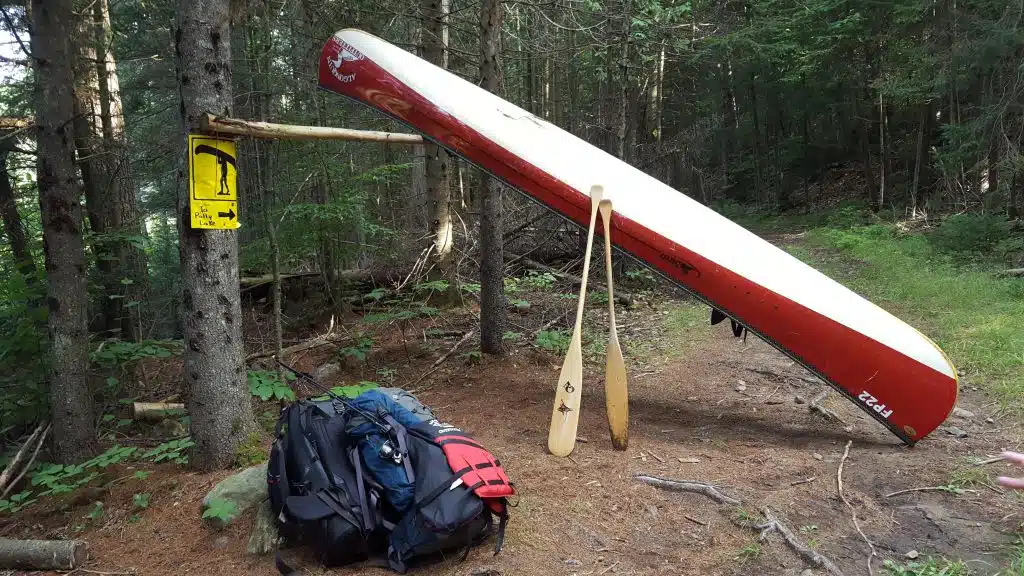 Tons of guiding companies and outfitters: If you would prefer to do your first few canoe trips self-guided, Algonquin has tons of outfitters to choose from. Any of the outfitters will be able to help you with gear rentals (including canoes, waterproof packs, tents, barrels and more).
Some of these companies also offer fully guided canoe trips in Algonquin. These trips provide all the equipment, plus knowledgeable and experienced guide(s) who will lead the trip.
I typically recommended guided canoe trips for beginners because it allows them to focus on getting comfortable paddling, navigating, cooking over a fire and setting up camp in a safe environment.
You don't need to worry about getting lost or making mistakes when you have a guide with you. So it's a safe, low risk way to learn about backcountry canoe camping. I used to work as a canoe guide myself, and absolutely love teaching others these skills!
>>This is the Beginner's Introduction to Backcountry Camping trip that I recommend.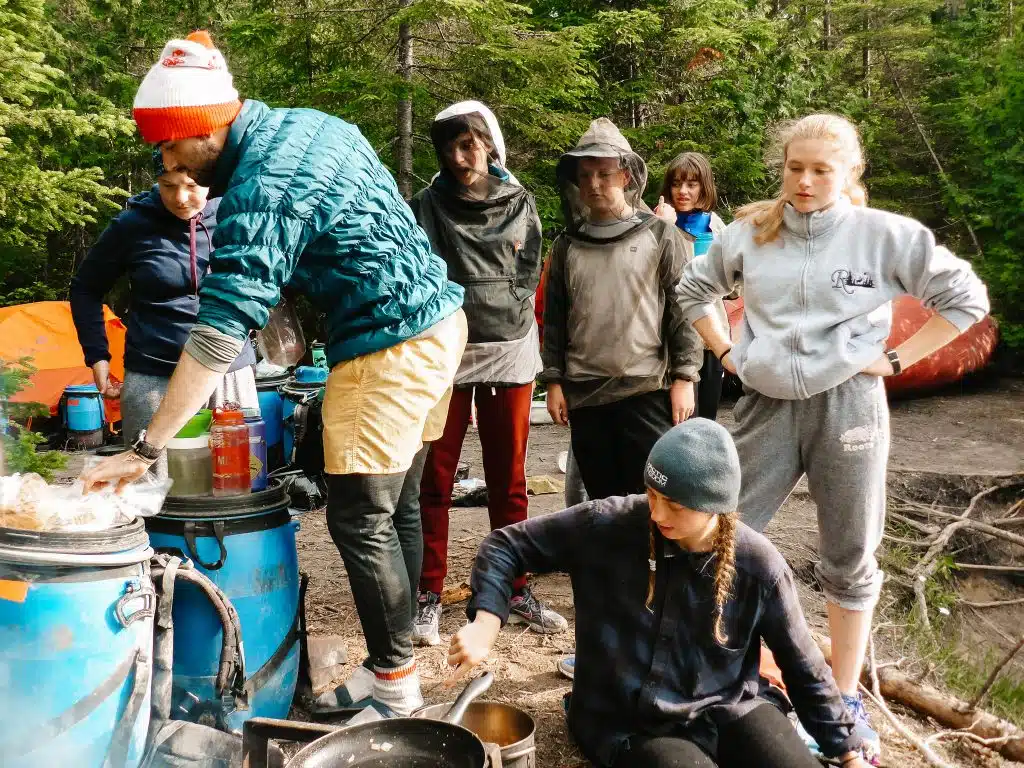 Read More: 11 Algonquin Park Campgrounds: A Helpful Guide to Camping in Algonquin
---
Choosing a Guided Canoe Trip in Algonquin Park
As I said above, there are tons of different outfitters offering guided canoe trips of varying lengths, types and difficulties.
My advice is to choose an outfitter that places a focus on the learning and development of camping skills, as this will enable you to take your own trips in the future.
Some guided canoe trips don't place much of an emphasis on learning and development. And that is usually because the trip either caters to experienced people who already have camping skills, or to people who don't really care about learning the skills because they don't plan on doing self-guided trips.
So if your goal is to build your own camping skills, ensure you choose a guided trip in Algonquin that will place an emphasis on teaching in addition to having a wonderful time.
---
5 Guided Canoe Trips in Algonquin that are Skills-Focused
If you're interested in exploring some options for a guided canoe trip in Algonquin that focus on learning and skill development, here are my recommendations. A quick reminder that you can use the code VOYAGEUR5 to save 5% on any of the trip listed below!
This is a 2 night canoe trip in Algonquin Park that is perfect if you've never been canoe camping before. During this course, you would learn the following skills:
Planning and Permit Booking
Check-list and Packing
Canoe Travel Basics
Navigating Open Water – paddling, reading a map, dealing with emergencies
Campsite Set Up – pitching your tent, hanging a tarp, collecting firewood, dealing with furry visitors
Campfire Cooking – prep, cooking and cleanup – enjoying gourmet meal over an open flame
Setting Off for New Sites
Basic Wilderness Survival Skills & Emergency Preparedness
Local Flora and Fauna Identification
I've highlighted a few skills that are especially important for canoe camping, but can be tough to learn from reading blogs and watching YouTube videos.
For example, it's one thing to watch a video on cooking over a fire, but it's another thing to do it yourself – having someone to show you how to build a cooking fire, set up the grill and keep everything soot-free is super helpful. Likewise, learning how to navigate open water (and big waves) is best done under the guidance of an experienced guide
>>Read more about the Beginner's Intro to Canoe Camping here.
---
If you want to learn how to survive (and thrive) in the backcountry, this is one of the best guided canoe trips in Algonquin. This trip is slightly more advanced than the one above and is perfect for anyone who has been camping before and would like to make the leap to planning and executing self-guided trips with friends.
Primitive Fire Building
Sourcing Clean Water
Shelter Building
Wild Food Foraging
Cordage and Rope Making
Emergency Preparedness
Wilderness Navigation
Animal Tracking and Observation
Plant and Animal Identification
Understanding and Utilizing Bird Language
I've bolded a few skills above that I think are especially important for backcountry camping. Being able to build a fire (without dousing sticks in gasoline) and finding clean water are essential skills for survival. Emergency preparedness and wilderness navigation are often overlooked by beginner canoeists, but could save your if you get lost or injured outside.
>>Read more about Bushcraft & Survival Skills here.
---
Special Interest Guided Canoe Trips in Algonquin: Birds & Botany
There are a few topics where knowledge can elevate your backcountry camping.
This is a 3 night / 4 day guided canoe trip that puts an emphasis on viewing and identifying birds. Have you ever been walking through a forest and heard a bird call, but been unsure of the species or how to see the bird you hear? This trip is all about that. In addition to a classic wilderness guide, this trip is led by ornithologist Matt Iles. >>Read more about the trip here.
I've been canoeing for 10+ years and have worked as a guide myself, and I'm still keen to be a participant on this guided trip. This trip is co-led by Ryan Morin, who works as an ecologist and botanist, and teaches plant identification and ecology in Algonquin Park. If you've ever wondered why certain trees grow here and not there, or the difference between a bog, swamp and marsh (or you're curious about which natural features you can eat), this would be a great trip for you. >>Read more about this trip here.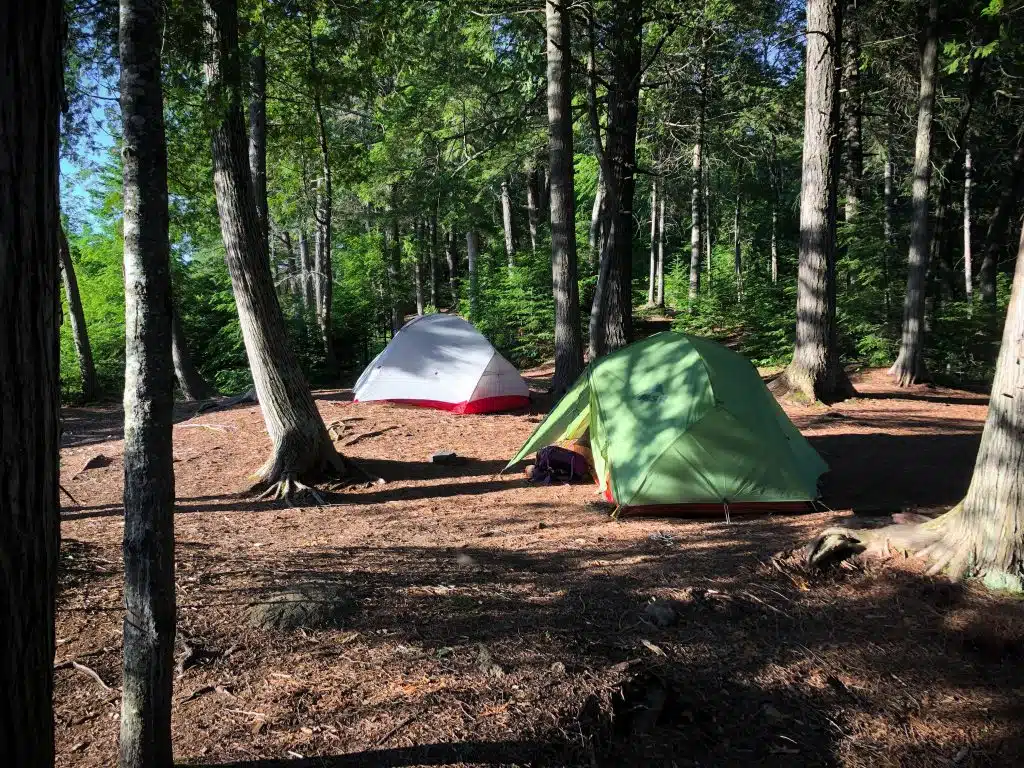 Read More: Canoeing Algonquin: 7 Excellent Algonquin Canoe Routes
---
The final canoe trip I'm going to call out is designed for people who enjoy nature and want to introduce it to their kids in a fun and safe way. The Family Canoe Trip is a 3 day guided canoe trip in Algonquin that emphasizes learning the basics of canoe camping, but in a way that is engaging and entertaining for kids (and parents). There is a strong focus on learning-by-doing, and the canoe routes are designed to suitable for young paddlers (no long portages here).
>>Read more about the Family Canoe Trip here.
---
Guided Canoe Trips in Algonquin – Final Thoughts
I hope you've found this post helpful! The main takeaway is to consider what you want to gain out of Algonquin canoe trips and choose a guided trip that aligns with that. For beginners or novice canoe campers, I strongly recommend choosing a trip that emphasizes skill development. That doesn't necessarily have to be with Trip Shed, but they're a guiding company I have experience with and strongly recommend.
Click here to view all of their guided canoe trips in Algonquin Park. And don't forget to use the code VOYAGEUR5 to save 5% on any of their guided trips!
---
Additional Resources for Camping in Algonquin