I've just come back from three days hiking the Highland Backpacking Trail in Algonquin Provincial Park. Oh man, did this trail test me to my limits! The Highland is a trail of opposing forces: the campsites are beautiful and peaceful, and the trail is rugged and challenging.
And this was my first backpacking trip – I've done my fair share of camping via canoeing, but had never packed a single backpack and hiked out to a campsite. And what a great (though also difficult) introduction to backpacking.
In this post, I'll cover everything you need to know about the trail, including stats, packing, safety, route options, a detailed trip report and video, plus my reflections on what went well and what could have gone better.
I hope you find this helpful in planning your own trip to the Highland Backpacking Trail – it's a challenging hike but well worth the effort.
---
About the Highland Backpacking Trail
Covering more than 7,000 square km and 2,000 km of canoe routes, Algonquin is world-renowned for its canoe camping. Yet many people are not aware that there is great hiking and backpacking within the park as well.
The Highland Backpacking Trail is one of three backpacking trails in Algonquin Provincial Park (the others are The Eastern Pines and Western Uplands).
Quick Facts
Distance: 35 km (shorter loop is 19 km)
Length: 2 nights, 3 days
Elevation Gain: 1549 m
Difficulty: Moderate-Difficult
Type: Loop
The Trail at a Glance
Here is a brief description of the trail sections. I've included a map below to help.
The Highland Backpacking Trail starts at a parking lot at Mew Lake. From there it is 3.9 km to Provoking Lake, during which you will pass Provoking Falls. Here is the first fork in the trail: the direction you choose here dictates whether you will do the trail clockwise or counterclockwise.
If going clockwise, the next section of the trail is 6.6 km, and along the way, there are six campsites. Next, there will be a second fork in the trail; going right will take you on the First Loop (the shorter trail) and the left will take you down the Second Loop (the longer trail).
If taking the Second Loop, from the fork it is 8.1 km to Harness Lake, which has five campsites. Following that, it is 4.1 km to Head Lake where there are another four campsites for backpackers. The final leg of the Second Loop is 7.2 km, along which you will find a lookout point.
At this point, the First Loop and Second Loop reconnect on the westside Provoking Lake. The trail traces Provoking Lake for 1.7 km before returning to the initial fork (where you decided to go either clockwise or counterclockwise). Along this section, there are nine campsites.
For the final leg, the trail retraces its steps for 3.9 km, and passes Provoking Falls, before returning to the parking lot.
This post may contain affiliate links. If you make a purchase through one of these links, I may receive a small commission at no extra cost to you. Your support is much appreciated! You can learn more by reading my full disclosure.
---
Highland Backpacking Trail Trip Video
Here is a short video I made to highlight some of the features and experiences had while hiking the Highland Backpacking Trail.
One thing to call out is that I was a little too distracting on the steep, steep climbs to record them. So there isn't any footage of how challenging some parts of the trail can be. Hope you like the video!
---
Highland Backpacking Trail FAQ
How difficult is the Highland Backpacking Trail?
The trail is incredibly well marked, with blue / yellow markers regularly posted on trees. This makes the trail easy to navigate. What makes the trail difficult, however, is the rugged terrain and steep sections. The trail definitely requires a moderate level of fitness.
Is the trail suitable for first-time backpackers?
Although this was my first experience backpacking, I wouldn't recommend it to other first-timers unless you have a lot of experience backcountry camping (i.e. canoe camping) and a decent level of fitness.
It's a challenging trail, especially with a big backpack on. I think the shorter loop (the 19 km) over two nights is a better trail for beginner backpackers.
Tip: I highly recommend bringing trekking poles on this route, especially if you are a beginner or if you have any tendency toward back or knee pain. The section between Head Lake and Faya Lake was challenging and relied on the trekking poles a lot in this park. I used collapsible Black Diamond Distance Carbon Z Trekking Poles and they were extremely helpful.
Should you do the Highland Backpacking Trail clockwise or counterclockwise?
I thought about this question a lot on the last day while we were navigating the most challenging section of the trail. We chose clockwise because of which campsites were available, however I still think I would do clockwise again.
Although we were most tired when tackling the tough section on the last day, our packs were the lightest (we'd eaten most of our food) and we were acclimatized to the wear and tear of backpacking.
Do you need to book campsites in advance?
Yes you do! When I did the trail, you had to reserve a site at a lake, not a particular campsite. However, you now must reserve a specific campsite.
Do you need to pick up a permit at the Visitor's Centre?
You do not need to visit the Visitor's Center prior to your trip. Print your permit at home and bring it with you. When you signed up for your permit, you would have entered your license plate number – as such, you don't need to leave anything on the dash of your car.
Do you need to do a bear hang?
You need to do something to securely store your food. Bears in popular places like Algonquin can become accustomed to sniffing out human food and getting close to humans. I have an entire blog post dedicated to keeping your food safe from bears on camping trips.
For most people, this will be a bear hang. If doing a bear hang, ensure all your food is tied up in a pack and suspended from a tall branch far from site, out of the bear's reach.
Alternatively, you can pack your food in a bear canister, like the Bear Vault. On this trip, we did a bear hang. However, I've since gotten a Bear Vault and I love it. It's a little bulky, but it's SO much more convenient than doing a bear hang. >>This is the Bear Vault I use.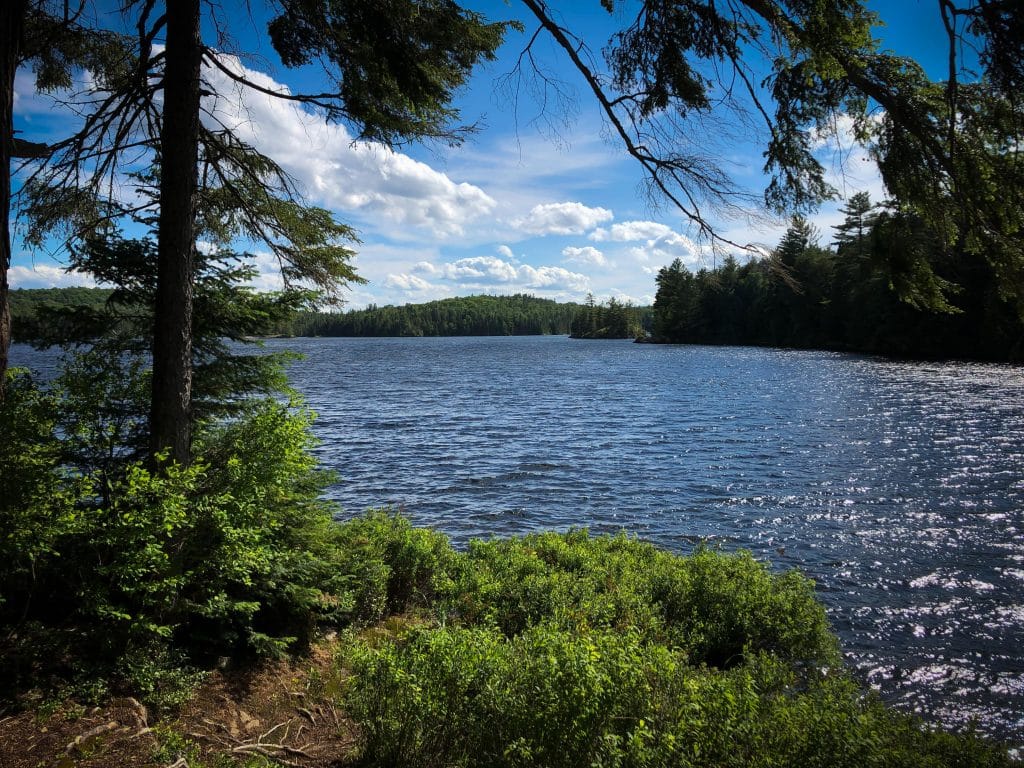 ---
Trail Packing List
Here is the gear we brought for our 3 days / 2 nights on the trail. Honestly, I think there are a few ways I could have gone lighter which would have made the long hiking days more manageable – I think my backpack must have weight 30+ lbs!
I've called out some places on the list below where I could have shaved off some weight. However, if you'd like more information on how to go lightweight, consider reading my post on good backpacking base weight. There are tips on how I've gotten to a base weight of ~14 lbs.
Equipment
3 backpacks – between the three of us, we carried one 35 L, one 50 L and one 60 L
2 MSR Hubba Hubba tents
Two nesting pots, one frying pan & one spatula
Three spoons
One tarp & rope (used for our bear hang)
Water bottles + water pump
Wilderness First Aid Kit + Communication Device
Map
The Voyageur's Backcountry Cookbook (I've written a cookbook with meals perfect for the backcountry)
We relied on campfires and didn't bring a stove. Normally I would bring one just in case it rained the whole trip, but we had enough food that didn't need to be cooked so I wasn't too concerned about it.
Personal Clothing + Footwear
Hiking Pants – I used the Arc'teryx Gamma LT.
Hiking Shorts – Didn't wear these at all, wouldn't bring next time.
Quick-Dry T-shirt – Should have brought a long sleeve because the bugs were bad.
Raincoat – I used the Marmot Minimalist, which is the most affordable Gore-Tex jacket I've ever found.
Fleece Sweater – I used one from Macpac, which was small to pack but warm enough for the summer.
Synthetic Down Jacket – Didn't end up using this except as a pillow
Base Layers – I used a SmartWool merino wool top, which was probably warmer than I needed, and a pair of synthetic leggings from MEC.
2x Sports Bras – This was my first trip using merino wool sports bras and it was so worth the price. Dried way faster than my usual sports bras. I used this one from Patagonia and this one from SmartWool.
Hiking Boots – Tried out new Merrell hiking boots. Wish I'd broken them in more ahead of time (I have a dozen blisters on my feet right now).
Sandals – Tevas are my favourite campsite shoe.
Trekking Poles – These trekking poles saved my life – I don't think I would have finished without them.
Bug Hat – Same with the bug hat. This is the only realized I maintained my sanity in the forest.
Miscellaneous
Toothbrush + toothpaste
Face wipes
Headlamp
Journal + Pen
Book
Phone + Charger + Power Bank
Apple Watch + Charger – I wasn't sure about bringing my watch, but it ended up being hugely helpful. I kept it in airplane mode and started an "Activity" when we hiked. It tracked our hiking time, distance and pace, plus my heart rate and calories.
Tip for buying new gear: I saved a lot of money by buying from MEC (CAN), Backcountry (US) and Atmosphere (CAN) instead of from the brand directly.
Below are the two most important things I brought on this trip: trekking poles and a bug hat. Plus, I look super stylish, don't I?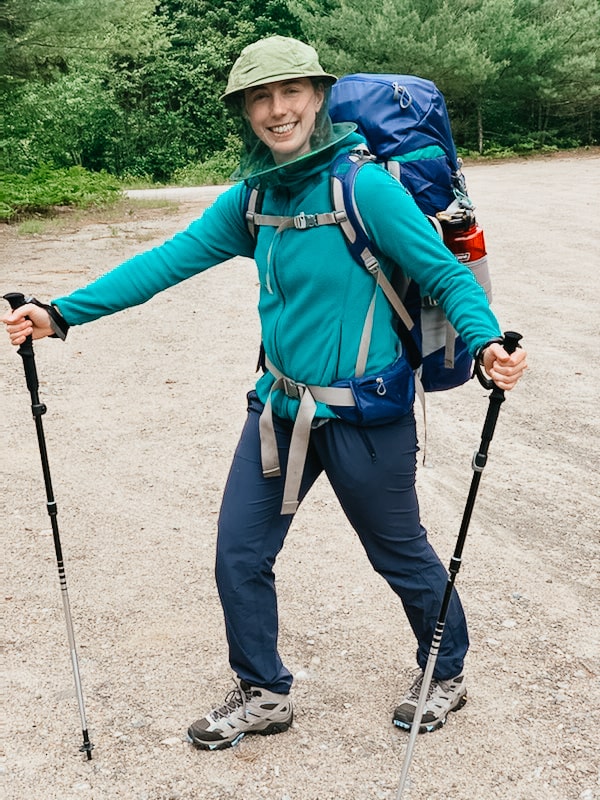 ---
Safety on the Trail
Although this is a well maintained and moderately trafficked trail, it is important to be prepared in case something goes wrong.
Trail Map – We brought the map on our phone, though we ended up purchasing a map of the Algonquin Backpacking Trails for future reference. It was much more detailed than the one we had.
Communication Device – About 75% of the trail has cell phone reception, so we didn't bring a remote communication device. If you have a SPOT / personal locator beacon or are considering buying one, I think it would be good to bring it on the trail. A Garmin InReach would be even better, but those get pretty pricey. I know have a Garmin inReach Mini and bring it everywhere with me.
Wilderness First Aid Kit – Definitely bring a first aid kit! I have a post on how to build your own. For this trail specifically, a few important items to have would be:
Tensor bandage and SAM splint – falling on the trail could easily result in a sprained ankle or fractured foot
Advil / Ibuprofen – To manage swelling and pain if there is a sprain
Foot care – Bandaids, medical tape and moleskin for during with blisters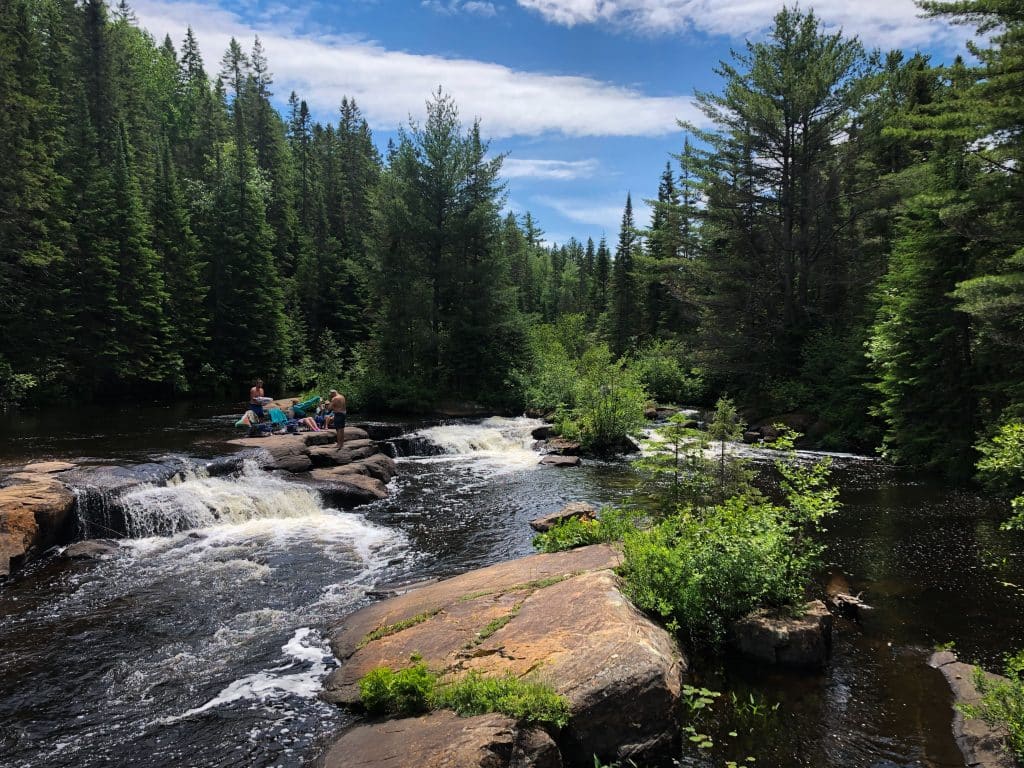 ---
Highland Backpacking Trail – Trip Report
Day 1: Trailhead to Provoking East (6 km)
Driving to the trailhead: We left Mississauga at 7:30 am and were in Algonquin Provincial Park by 11:00 am, having made a brief stop in Huntsville for coffees and a bathroom break, and another stop in Dwight to pick up a treat from an excellent bakery.
We have a friend living in the park, so we made a quick detour to pop by and say hello. It was around 12:30 that we reached the trailhead, had our backpacks on and were ready to start the trail.
Trailhead to Provoking Falls: The first section of the trail was fairly easy. There were some gradual ups and downs, and the trail is very wide here and well maintained. Being midday Thursday, we only saw one other group on our way in.
This part of the trail is the most trafficked because a lot of people visit Provoking Falls for a picnic or swim.
Note: From the trail head until the second fork, the trail is marked with Blue Diamonds stapled to trees. The trail is very easy to follow, but if you ever aren't sure which way the trail goes, look out for the markers.
Provoking Falls to the First Fork: The trail got narrow here and there were a couple of sections where we had to cross a creek, either by hiking over planks of wood on the ground or by going over a boardwalk. At the first fork in the trail, there was a sign that indicates which way is East and West.
The direction you go depends on where you have booked your campsites; we were staying at Provoking East, so we went down the left trail (this means we did the entire trail in the clockwise direction). During this section, there is a lookout for views of Starling Lake and Lake of Two Rivers.
First Fork to Provoking East: The trail to the campsites at Provoking East was fairly level; there weren't a lot of ups and down to climb.
However, the trail got noticeably more rugged, with more exposed rocks and very narrow sections. This is also the section where I became aware of the full force of the mosquitos (or so I thought).
Camping at Provoking East: We stayed at the first campsite at Provoking East. We considered pushing on further to cover more distance on the first day, but the campsite was just so gorgeous so we elected to stay there.
The campsite is on a part of the land that juts out into the lake a little, and we had tons of wind coming off the lake and running through our campsite. This meant no bugs! 
Lunch: We got to the campsite by about 2:30 and had a late lunch and a swim after setting up camp. We had ham and cheese sandwiches for lunch, made the night before.
Dinner: We cooked Thai Red Curry for dinner (this is one of the recipes in my backcountry cookbook). I had cooked the chicken the night before and transported it to the trailhead with a massive ice pack.
Since we didn't have a long walk the first day, I wasn't worried about it spoiling. We fried onions and red peppers, and made a sauce with coconut milk and red curry paste. We served everything over rice.
Day 2: Provoking Lake East to Head Lake (16 km)
Breakfast: For breakfast, we had oatmeal with a plethora of toppings: strawberries, cinnamon-soaked apples, shredded coconuts, brown sugar, chopped almonds and chocolate chips.
Provoking East to the Second Fork: The first section of the trail this day was fairly similar to the other parts around Provoking Lake. There were no major uphill climbs or downhills to navigate (at least not in comparison to what we would later experience).
At the fork, there was a sign directing us to either take the First Loop or the Second Loop. If completing the full 35 km like us, you want to take the Second Loop.
Note: Once you begin the second loop, the trail markers change from being Blue Diamonds to Yellow Diamonds.
Second Fork to Harness Lake: At the fork, we had a long walk to Harness Lake and honestly it was pretty monotonous and quite challenging. There were a lot of steep inclines and declines in this section.
There were several fallen over trees to go around or climb under / over. Although these obstacles looked difficult to navigate with a heavy backpack, they all were manageable to get around.
This section of the trail was of the furthest points from any large body of water. The forest is thick, the bugs were atrocious and the trail was very rugged.
Lunch at Harness Lake: After some 12 km of hiking, we were absolutely exhausted. Drenched in sweat and itchy from bug bites, we stopped for a long lunch break at Harness Lake.
Here we ate Veggie + Humus Wraps and went for a much-needed swim. We hung out here resting our feet and rehydrating for about 45 minutes before we began our final section of the trail for Day 2.
Harness Lake to Head Lake: The final 4 km to Head Lake went by pretty quickly. Since the trail follows along the edge of the lakes, there wasn't a lot of elevation gain here.
Campsite Complication: We arrived at the first campsite on Head Lake and thought about stopping for camp, but I wanted us to get a little more distance in to make the following day a bit shorter.
So we left the lovely, spacious campsite and pushed on for another kilometre. To our disappointment, all of the other campsites were taken! So much for that idea.
We ended up having to double back to the initial campsite, in the end adding 2 km onto the 16 km we had already hiked to get to Head Lake.
Dinner: For tonight's dinner we had super yummy taco bowls (another meal from my backcountry cookbook).
We fried onion, red pepper and tomato and heated up black beans. Then we added crushed tortilla chips, lettuce and cheese to the bowl. It was a warm and hearty meal – perfect after such a gruelling day.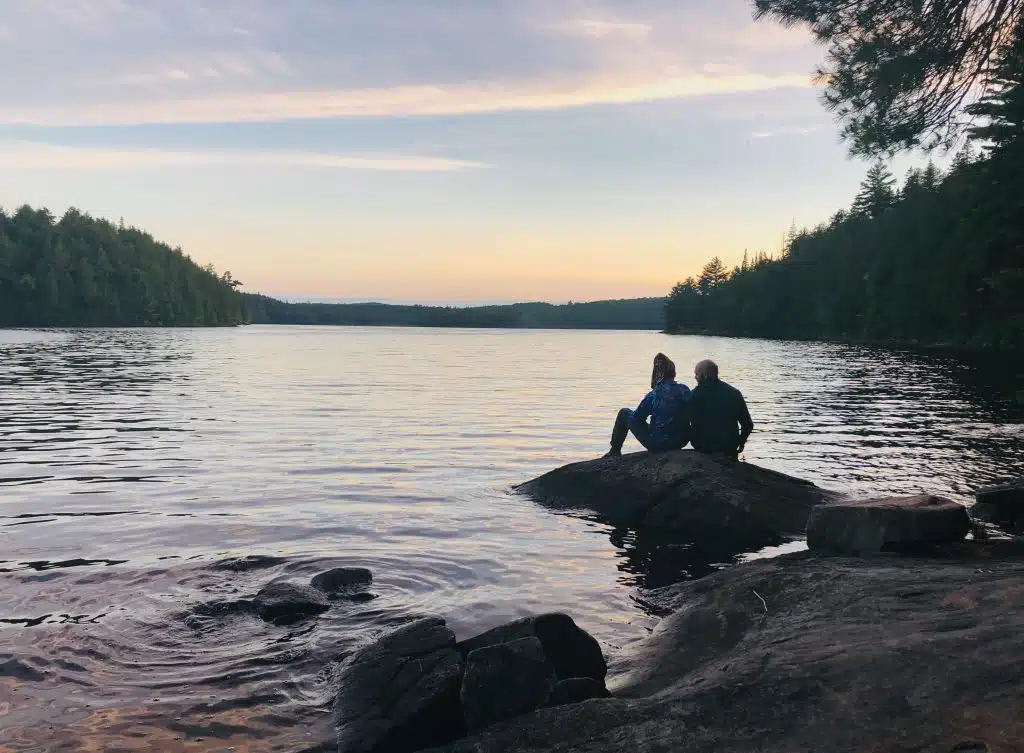 Day 3: Head Lake to Trailhead (13 km)
Breakfast: Oatmeal again. Same as yesterday.
Head Lake to Faya Lake: In my opinion, this was hands down the hardest section of the entire trail. I couldn't believe how steep some of the sections were – and how they just kept going! I'd round a bend thinking "it must level out now" only to find the steep incline kept on going.
For the entire trip, we had been very diligent in stopping for a break every 3 km, but in this section, we had to drop that down to 2-2.5 km. It was absolutely brutal. (The trekking poles made a huge difference though and even my group members were jealous of them.)
Faya Lake to First Loop: Thankfully, things eased up a bit after Faya Lake. There were still some challenging ascents and descents, but nothing compared to what we had just finished in the previous section. There were long stretches of flat ground, although there were a few huge fallen trees along the pathway.
First Loop to Provoking Falls: Once we had rejoined the First Loop and were following along the west side of Provoking Lake, the trail returned to the reasonably mild ups and downs we had encountered on the first day.
During the last two sections, the sky turned grey and I kept expecting it to rain (which would have been a welcome relief – I was drenched in sweat and the bug were having a time and a half on my exposed hands). Unfortunately, the rain did not materialize.
Lunch at Provoking Falls: Instead of basking in a shower of rain, however, we decided to go for a lunchtime swim at Provoking Falls.
Be careful here – although a small waterfall there are some high volume, rocky spots which could be dangerous to fall down. We had Veggie + Humus wraps for a second time and cooled down in the water.
The final stretch! From Provoking Falls, we only had 2.5 km to the parking lot, a hike we did at a quick clip with no stopping. There were one of two steep parts, but overall not too bad.
Finally, we could hear the hum of cars on Highway 60 – never have I been so excited for civilization. The camping and hiking itself was a wonderful experience, but after this final day, my feet, back and knees were sore and I was ready to cut my hands off if it meant the bugs would leave me alone!
---
Reflections
Overall, I'd say the trip went really, really well. Especially considering this was my first backpacking trip. Despite this, there are a few things I'd do differently on my next trip.
What Went Well
The trekking poles were so helpful. I don't know what I would have done without them. They were invaluable in climbing up the steep sections and saving my knees during the steep declines. >>These are the trekking poles I used.
My bug hat maintained my sanity. Never again will I go anywhere without my bug hat. I don't care if it looks silly. My face and neck returned from the trip only slightly bug-bitten, and after the bug apocalypse of 2017, I will never take chances with my face and neck again.
Our campsites were beautiful. Not all campsites are created equal in Algonquin, and we lucked out by visiting three stunning campsites – two for overnight camping and one for a long lunch and swim break.
We made delicious camping meals. For our dinners, we had Thai Red Curry and Taco Bowls (I'll include a recipe for both in a separate post). Having an awesome, hot meal at the end of a long day is a total game changer on a challenging camping trip.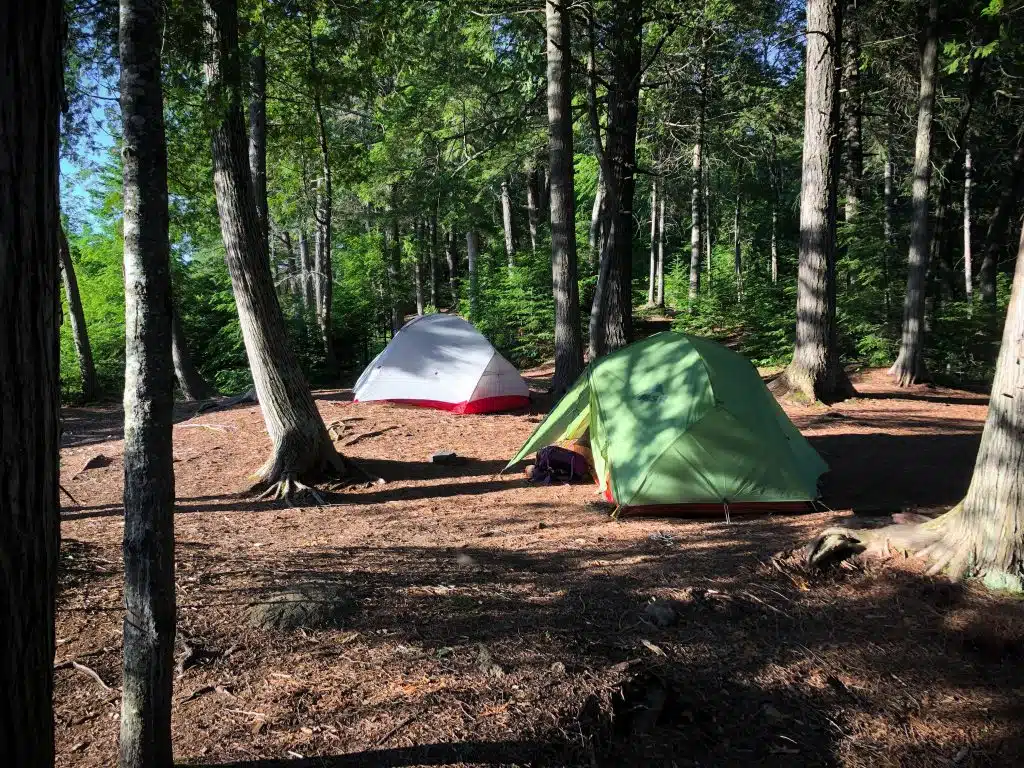 What Could Have Gone Better
The steep sections were so goddamn steep. There were a few times where we'd round a bend, finally finishing the steep section, only to realize that the next part was even steeper. Especially between Head and Faya Lake, the trekking poles saved me.
The mosquitoes were brutal. They weren't always that bad at campsite, but during the day they were unbelievable. Millions of them. Swarming. As mentioned above, the bug hat was a saviour, however I also wish I'd brought mosquito repellent for my exposed hands. I usually carry some Watkins Bug Cream but couldn't find it for this trip. Next time I'll definitely bring some.
I wish I had a breathable, mosquito-proof hiking shirt. I ended up doing most of the hike in my raincoat because the bugs could not bite through, but that made me insanely hot and sweaty. Next time I'll bring a technical hiking top that can withstand mosquitoes.
I got so many blisters. This has little to do with the trail itself (though the rocky steep sections did not help). But I didn't sufficiently break in my new hiking boots and boy oh boy, did my feet suffer. I was not able to sleep the night I returned from backpacking because my feet were in so much pain; walking is a slow struggle because I cannot put my body weight on my entire foot. Don't be like me – break in your shoes ahead of time.
We packed more food than we ended up needing. I brought 2x more rice than was necessary, 2x more apples than we ended up eating and we had 9 extra protein bars and a whole lot of trail mix. I expected to be much hungrier during the hiking portion of the day.
Actually, my backpack was all around heavier than I needed it to be. Next time I'll be more attentive with using strategies for lightweight backpacking to get my pack weight down.
Will you hike the Highland Backpacking Trail?
So what do you think? Will you be attempting this multi-day hike in the future? Leave a comment if you have any questions!