Hey friends. I don't know where you're reading this from and what the situation is like there, but here in Canada we are social distancing. This is Week #5, and I've been getting real cranky cooped up inside this 700 sq foot apartment*. I want to hike. I want to paddle. But more than anything I want to keep our elderly & vulnerable, our health care and essential services workers, our neighbours and friends all safe. And so inside I must stay.
BUT that doesn't mean I can't bring the outside IN. Here are a few ideas and strategies to keep your connection to the outside alive while we quarantine!
*Special shout out to all the people making social distancing work in tinier spaces or spaces with lots of people, those who don't have a space to social distance in at all, and our amazing health care and essential workers.*
---
Host an Outdoor-Theme Movie Night
There are so many great outside-inspired films you can watch during this time. You could host your own film festival and connect with your friends through an app like Netflix Party or Watch2gether.
Free and on the internet:
Some Outdoor Movies / Documentaries on Netflix:
The Dawn Wall: Tammy Caldwell and Kevin Jorgeson take on free-climbing the Dawn Wall in Yosemite
A Plastic Ocean: An investigation into plastic consumption and how this pesky material has found its way into every nook and cranny of our oceans (warning: you will be sad)
Untamed Romania: An entire documentary about legendary animals in true wilderness? Sounds like a good time to me.
Any of these travel shows on Netflix
Some Outdoor Documentaries on Disney:
Planet Earth: I can't even keep track of how may Planet Earth movies there are anymore. I like Frozen Planet the best, and I think next I'll watch Hostile Planet.
America's National Parks: The next best thing to a National Parks road trip, right? Produced by NatGeo so you know it'll be epic.
Free Solo: Hold your breath for more than 100 minutes while you watch Alex Honnold climb El Capitan without a rope.
Outdoor Movies you can Rent:
Into the Wild: One of the most classic outdoor adventure movies, this film follow Christopher McCandless journey from suburbia to the Alaskan outback where we ultimately meets his end.
Wild: Follow Cheryl Strayed's journey as she hikes the entire Pacific Crest Trail and overcomes personal barriers she never thought possible.
---
Create Some Outdoor Inspired Art
Get creative with outdoor inspired. Personally, I've been doing a ton of writing about past trips and I've just gotten a water colour set and am trying to paint canoes and rivers (they aren't that good, but it's very calming). Ideas could be:
Learn a favourite campfire song on the guitar / piano / any instrument
Organize your outdoor photos into a photo book or collage
Paint or sketch your favourite landscape
Join the #OurGreatOutdoors photography project happening on Instagram
---
Cozy Up with an Outdoor Adventure Book
I am reading up a storm in my condo! I'm currently reading Braving It (about a father-daughter journey through Alaska) and my next book will be Beyond the Trees: A Journey Alone Across Canada's Arctic (explorer crosses the Canadian arctic by canoe). If you are in need of some inspiration, consider:
Touching the Void: This absolutely epic survival story will have you in disbelief thinking "no way this guy get's through this" but he wrote the book… so obviously he did. It's incredible.
Welcome to the Goddamn Ice Cube: One of my favourite outdoor books about a rockstar dogsledder and her crazy journey in the north.
Or check out my post 10 Must-Read Outdoor Adventure Books.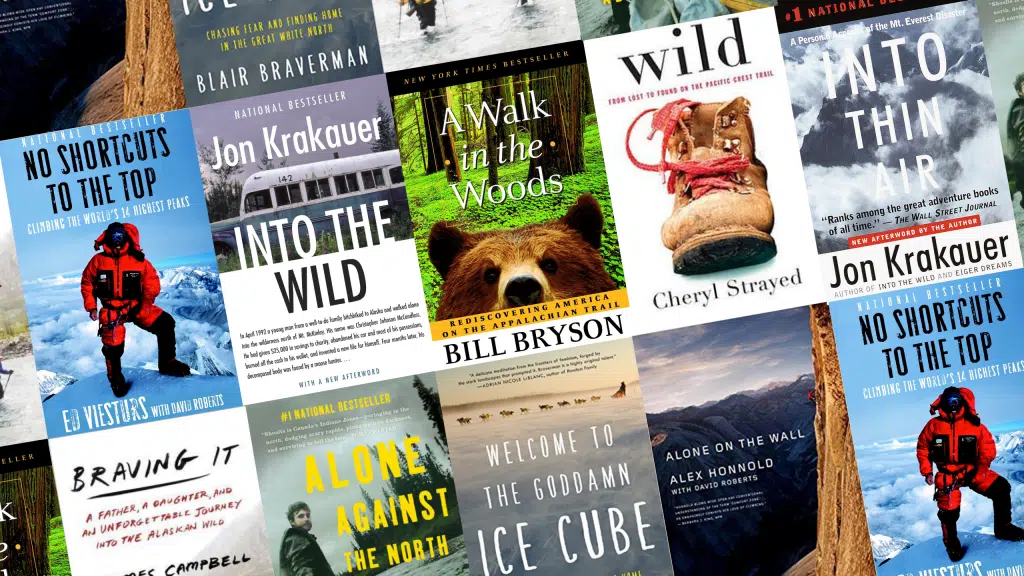 ---
Repair Your Gear
This is a great time to get any gear repairs off your to do list. Re-waterproof your hiking shoes and rain jacket; give your down jacket a wash. Not exactly the most enjoyable to do, but you'll thank yourself once you're back in the outdoors with good-as-new gear!
---
Learn or Touch Up Your Knot Tying
Head over to YouTube and watch some instructional videos for knot tying. Not sure which knots to learn? The Figure Eight is used to tie rope to a climbing harness, but it can also be used for towing a canoe. The Clove Hitch is good for climbers securing rope on a carabiner. I love the Alpine Butterfly for tarp / shelter building. The Bowline is probably the most popular knot and is useful knot for tying a rope around a tree, rock or other anchor. Finally, the Double Fisherman's Knot is good for tying two ropes together to make an even longer rope.
---
Update: September 2020
While stay-at-home orders have been lifted in most of Canada, we are still social distancing and it's probable that we'll go into another round of lockdown as the second wave hits. The most prominent change I've noticed over the past few months is how much the travel industry has changed and the post-pandemic
travel trends
that are emerging. I think outdoor activities, like camping, hiking and paddling, will continue to grow (which is great for someone who runs an outdoor blog). Road trips and local travel will be more popular (and more people will be supporting local tour operators, rather than those overseas). I think it's too early to say what the long term impact the pandemic will have on travel & tourism, but I'm watching keenly.
What else are you doing to bring the outdoors in? Let me know!