If you haven't heard of Nunavut, you're not alone. Many Canadians forget about the territory that encompasses 1/5 of the nation's landmass.
If they do think of it, Canadians often know little about Nunavut. "It's far north and cold" and "isn't that where the polar bears are" tends to be the extent of knowledge.
However, after four months of living in this easily overlooked territory, I'm going to share some interesting facts about Nunavut that might just make you want to visit.
1. Nunavut is (politically) the youngest region in Canada…
Prior to 1999, the land was part of the Northwest Territories. However, on April 1st of 1999, the region became Canada's newest territory and Iqaluit became the newest capital city.
Now, you may recall that regions in Canada are typically called provinces, of which there are ten. However, there are also three territories (all in the north). Thus, one of the most common questions I get asked about Nunavut is:
What is the difference between a territory and a province?
It comes down to the division of power and authority between the federal and provincial/territorial governments.
The provinces receive their power and authority from a Constitution Act, whereas territories get their (lack of) power and authority delegated to them by the Parliament of Canada. Basically, this means that the federal government has much more control over the territories (40% of Canada's landmass).
But I said these would be interesting facts about Nunavut, so if you're interested you can read more on the government's website.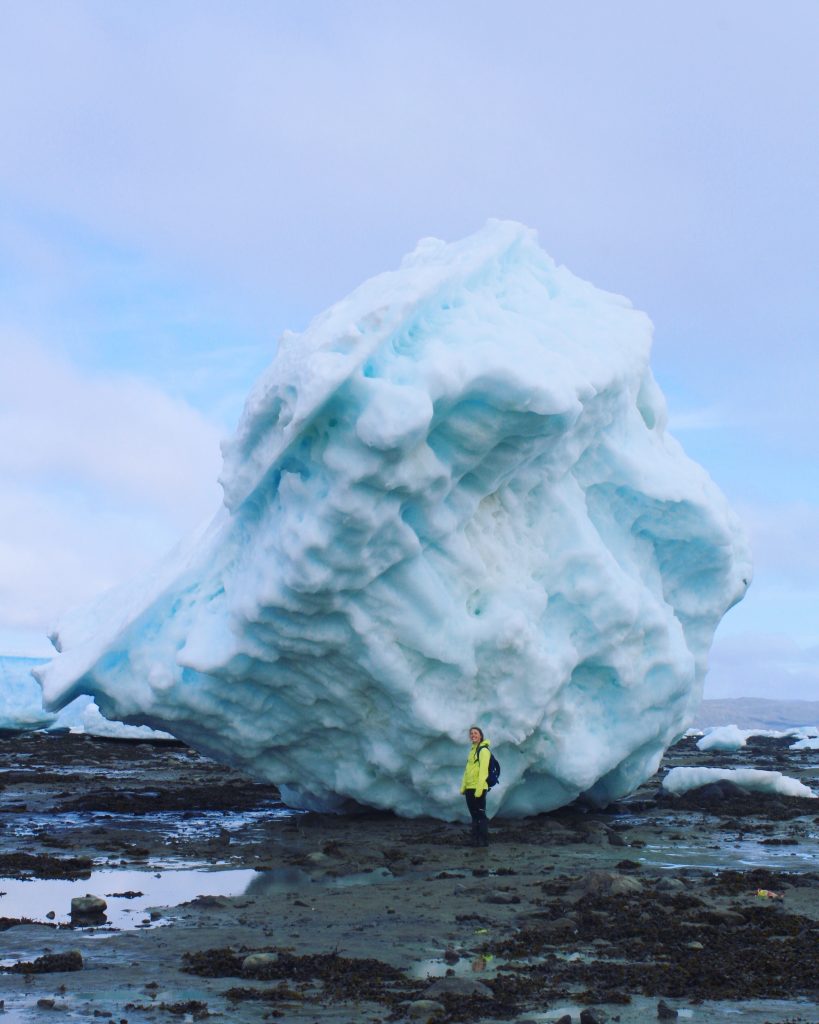 This post may contain affiliate links. If you make a purchase through one of these links, I may receive a small commission at no extra cost to you. Your support is much appreciated! You can learn more by reading my full disclosure.
2. …but Nunavut is (scientifically) incredibly old.
As reported in this article by Radio Canada International, a billion year old fossil was found in Nunavut (specifically northern Baffin Island).
It's a kind of red algae and is believed to be the oldest ancestor of modern plants and animals in the world.
Even more, Nunavut contains some of the oldest rocks in the world. CBC reported in this article that a volcanic rock had been found in Nunavut that is 4.5 billion years old.
Read more: How a flaming wooden dog gave me a social life in the Arctic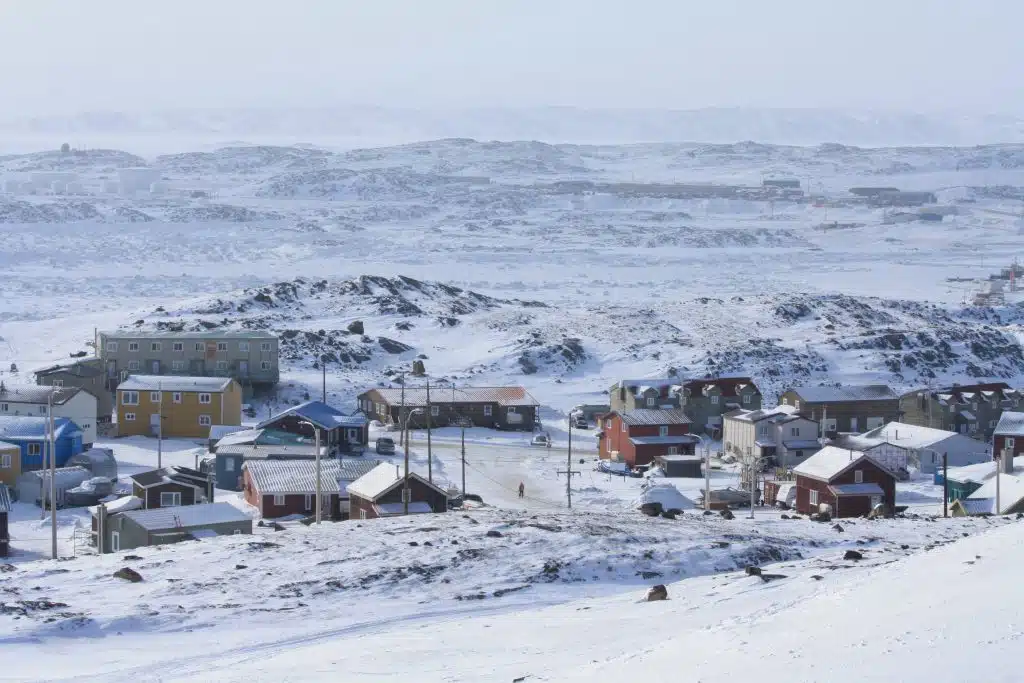 3. The territory has 4 official languages: English, Inuktitut, French and Inuinnaqtun
Stop signs are in both English and Inuktitut, which is pretty cool. Inuktitut is traditionally an oral language (as are many indigenous languages), however nowadays there is a syllabic system for written Inuktitut.
This was introduced in the 19th century by European missionaries.
4. Nunavut means "Our Land" in Inuktitut
And Iqaluit means "Place of Fish". Understandably so, there are lots of fish! If you're in the territory, be sure to try out both fresh and smoked arctic char. Seriously, so delicious.
Anyways, the city was previously named Frobisher Bay but was changed to Iqaluit in 1999 when Nunavut separated from the rest of the Northwest Territories.
Another community to change its name is Qikiqtarjuaq (formally Broughton Island).
You can see on this chart the meaning of all the Nunavut communities' names; my personal favourites include "named for a man known as a fast runner", "big lake joined by a river at both ends", and "the place where people find things" (region, but not actually a community).
5. Nearly 38,000 people live in Nunavut, of which 7,700 live in Iqaluit.
Those actually aren't hard figures either. Both in Iqaluit and the smaller communities, there is a population of temporary workers.
Some stay a few weeks, others a few months (like me) and some a few years before heading back to the south.
In 2015 when I was there, the baseline population of Iqaluit was closer to 6,500, but one local told me that there were more likely 8,000 people in the city that summer.
6. Nunavut makes up 1/5 of Canada's landmass. It also has only 32 km of paved roads and no traffic lights.
In Iqaluit, the major intersection is referred to as "four corners" because that's where the 4-way stop is. Also, even though there is only 32 km of paved roads, there are plenty of unpaved roads.
While this was annoying when I was driving a tour group in a clunky 16-person passenger van, it was totally fine when I hopped on an ATV to pick up groceries. What if you have neither a van nor an ATV?
Read more: North of the Arctic Circle: A Look Inside a Remote Arctic Base Camp
7. Even in the north, wildflowers are abundant
The territorial flower is Purple Saxifrage, and there are dozens of other beautiful wildflowers dotting the tundra as well.
The growing season is so short that they don't get very tall, but they sure do have vibrant colours. My personal favourite is Dwarf Fireweed, pictured below.
8. Iqaluit doesn't get 24 hours of sunlight.
Yes, really. As far north as Iqaluit may seem, it isn't north of the Arctic Circle. In the summer the sun will dip below the horizon for at least 4 hours, and in the winter it will pop above the horizon for at least four hours.
That being said, at the peak of the summer, it still doesn't get dark. On a few occasions, I remember walking (stumbling?) home from the bar with the sun shining (judging?) from above.
The communities north of Iqaluit are above the Arctic Circle, so they do get 24 hours of sunlight in the summer and 24 hours of darkness in the winter.
One thing I'd like to do in my life is experiencing the summer solstice on Ellesmere Island, the most northern part of Nunavut.
Read more: How to Visit Nunavut on the Cheap
9. A taxi to anywhere in Iqaluit costs exactly $8.
This part doubles as an interesting fact about Nunavut and a practical tip for not getting ripped off.
I am ashamed to say that after living in the territory for two months, I was unknowingly scammed: I paid $10 for a taxi! I didn't realize that a taxi to ANYWHERE in the city costs exactly $8 per person.
Don't be like me – if the taxi driver says it's $10 you tell them you know otherwise!
10. Iqaluit has the second-highest tides in the world (between 8 and 12 m)
And the best way to experience them (in my opinion) is to visit when the bay is still frozen with sea ice. The sea ice literally rises and falls with the tides like a breathing chest. When the tide is out, you can see just how far down the ice has fallen because there will be ice cliffs clinging to land for reference.
If you're wondering, the highest tides are in the Bay of Fundy, in New Brunswick.

11. Iqaluit is home to the most northernly Tim Hortons.
Nunavut was also the last territory/province to have a Tim Hortons. Nowadays, Iqaluit has several other coffee options, including The Black Heart Cafe, which is a particular favourite of mine.
12. It's also home to the most northern microbrewery.
NuBrew is a microbrewery located in Iqaluit that opened just a few years back. It hosts live music, craft pints and can the bragging rights as being the most northern microbrewery in Canada.
13. Only some communities in Nunavut have alcohol…
Some communities in Nunavut are dry. This means there is absolutely no alcohol permitted in the community.
Other communities are restricted, meaning that bars and restaurants can serve alcohol, and residents may possess alcohol, but you cannot just go out and buy a bottle of Smirnoff whenever you feel like it.
There are no liquor stores (however I did learn that in the last two years Iqaluit has gotten its own beer and wine store).
14. …the other communities go crazy for soda.
Everyone is always shocked to hear this. For a few nights during my summer in Nunavut, I stayed with a wonderful family in Qikitarjuaq (a community on the east coast of Baffin Island). As a thank you gift, I was instructed to bring a 6-pack of Pepsi. At least in the dry communities, folks in Nunavut are crazy for soda.
So why bring it as a thank you gift? Getting soda in Nunavut is either super-inconvenient or seriously expensive. Imagine how much it costs to fly heavy cans of pop out to Nunavut?
It costs an arm and a leg in the grocery store. Alternatively, people will order pop to be brought up on the sealift (a ship that delivers goods and fuel to the northern communities twice in the summer).
That summer the sealift was late due to the late break up of the ice, so communities were low on pop (I saw people auctioning pop off on Facebook for up to $15 a pop and more!).
15. A lot of people don't consider travelling to Nunavut, and that is a mistake.
If you ever have the opportunity to visit this amazing territory, take it. You will not regret experiencing Nunavut. If the opportunity never presents itself, make it happen yourself! Nunavut is much more accessible than people give it credit (you can fly to Iqaluit from Ottawa in four hours).
Interesting Facts about Nunavut: Experience them for yourself