Hi everyone! Another Friday, another expert interview. This week, I'm sharing an interview with Dane Jackson. Now, if you haven't heard of Dane, I'd highly recommend taking a quick look at the videos on his Instagram page so you understand just how extreme his kayaking is. He throws himself off of waterfalls on the regular. It's insane(ly cool).
This post may contain affiliate links. If you make a purchase through one of these links, I may receive a small commission at no extra cost to you. Your support is much appreciated! You can learn more by reading my full disclosure.
Tell us about yourself and how you got started in kayaking.
My name is Dane Jackson, I travel the world looking for the best whitewater and biggest waterfalls. Whenever I am not on the water I am still looking for anything that gets me outside. Whether its golf, surfing, snowboarding, disc golf, etc.
My dad is a multiple world champion and got me into it right away, didn't waste any time. I was hooked pretty much right away, even if it was just playing in the river by the kayakers.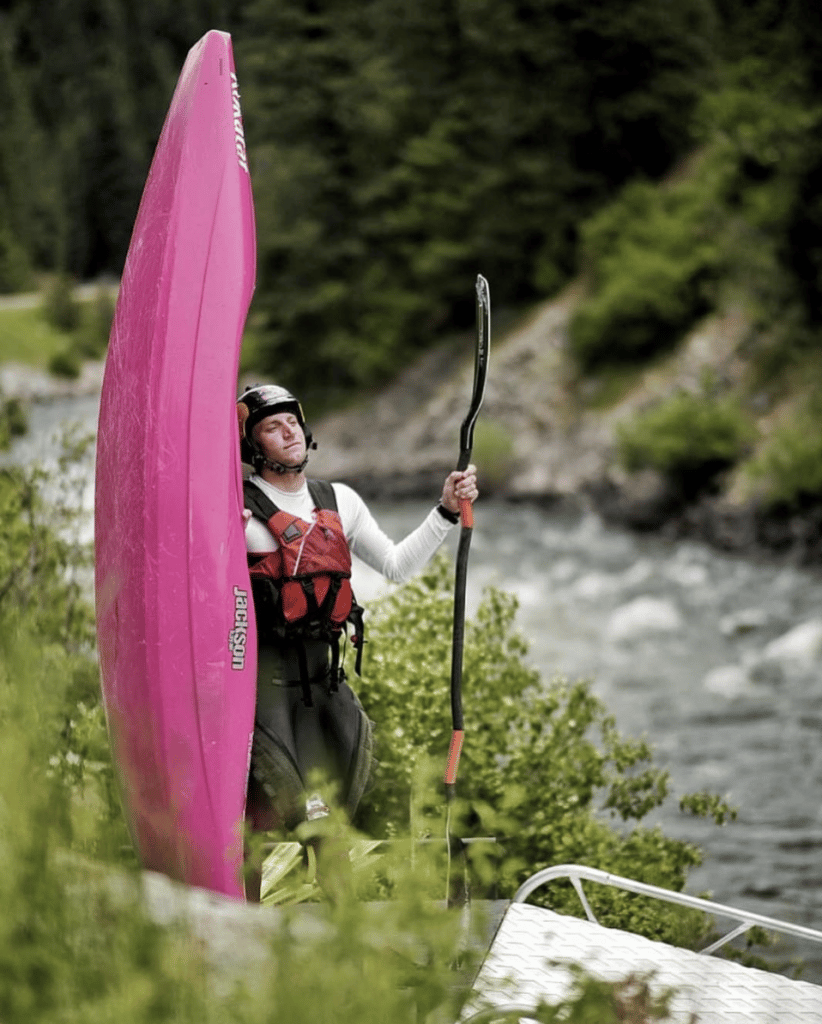 The kayaking you do – throwing yourself off waterfalls for example – looks very dangerous. Have you ever had a near death experience or close call?
Like a lot of sports there are definitely risks. I just trust my judgment and the people I paddle with whether or not to send something potentially dangerous. I have had a few close calls, one of the biggest ones was getting stuck in the backwash of a waterfall in Newfoundland when I was 14. But luckily I came out as I was blacking out, and just tried to learn from that experience.
What training or experience do you have to make whitewater kayaking a calculated risk, rather than reckless behaviour?
I make sure that I see the line and believe I can hit that line to the best of my ability, and can envision it in my head. Then I make sure I know where the dangerous parts of the line are, and have safety ready to go in case something were to go wrong.
Are there any misconceptions or myths about whitewater kayaking? Anything you wish others knew or understood about your sport?
Like any other sport, there are professionals who know what they are doing. When we run a waterfall, or something that looks dangerous and reckless to the non kayakers, it's because they haven't seen it before. Give us the benefit of the doubt like many other sports that we actually know what we are doing, and know that we understand the risk. That's why we always have safety and a plan. Maybe then we will stop having so many people calling the cops on us or making so many perfect sections and waterfalls illegal.
When you see a surfer go to Jaws, you trust that they know what they are getting into, obviously things can go wrong, but they trust their skills enough to make that call. Like a person sending hard in a squirrel suit, you might never want to do it, but trust that they know what they are doing. Hopefully kayakers won't just be looked at as idiots sending 100 footers in inner tubes by lots of the public one day.
What's it like being sponsored by Red Bull? Does it cause additional pressure or encourage you to push yourself further?
Not at all, they are supportive of the goals that I have, and want to help reach those goals in any way they can. Of course it motivates me to push myself in the sense that I have an amazing brand behind me to accomplish something. But I never have to go a do something I don't want to do just cause they are pushing me.
What advice do you have for people who want to get started in whitewater kayaking or try out bigger rapids/more difficult sets?
Go at your own pace, don't feel the pressure to run something just cause it's whats in front of you, or someone else runs it. Try to find a crew at similar skill levels and motivation as you, so you can progress together and push each other, but all at the same skill level.
What is it about whitewater kayaking that makes you so passionate about it?
It keeps me motivated to travel and keep experiencing the outdoors and nature. But it also allows me to see the greatest places in the world with my friends and family, places you can only get to by kayak.
Ever considered whitewater canoeing?
I have done it a few times! I used to do it lots in freestyle and have done creeking a few times, and I think it's great if that's what people are into! But I just am not a big fan of having to empty out all the time haha!
You can check out more of Dane Jackson and his crazy kayaking on his Instagram and Youtube channel.
Interested in more expert interviews and advice?
Polar Bears and Paddling: inside AKOR Expedition's incredible 1600 km journey
Expert Interview: Extreme Slacklining with Heather Larsen
Expert Advice: How to Get Started in Backcountry Skiing