Hi friends, Mikaela here with an incredibly comprehensive guide to layering clothing for hiking. In this post, I'll introduce you to the "layering system", answer some common questions about types of hiking clothes and materials to layer with, and provide some recommendations on the best base layers, mid-layers and outer layers I've experienced.
---
What does 'Layering Clothing' mean?
If you aren't familiar with the Layering System, you might be confused why so many people are talking about 'layering clothing'. Simply put, when going outdoors – whether it's for a day hike or a multi-day mountaineering expedition – you want your clothing to keep you warm, dry and protected from the elements.
By dressing in layers, you can easily respond to your environment, adding or subtracting layers as you get warmer or colder.
Base Layer: The base layer is right against you and wicks moisture away from your skin.
Mid Layer: The mid layer (also called an insulating layer) retains the body heat you generate.
Outer Layer: The outer layer protects you from the elements (like wind and rain).
If the sun is out, you don't need to wear your outer layer. If it starts to get windy, however, you can put the outer layer back on with little fuss. The beauty of layering is that you can adapt to the weather around you.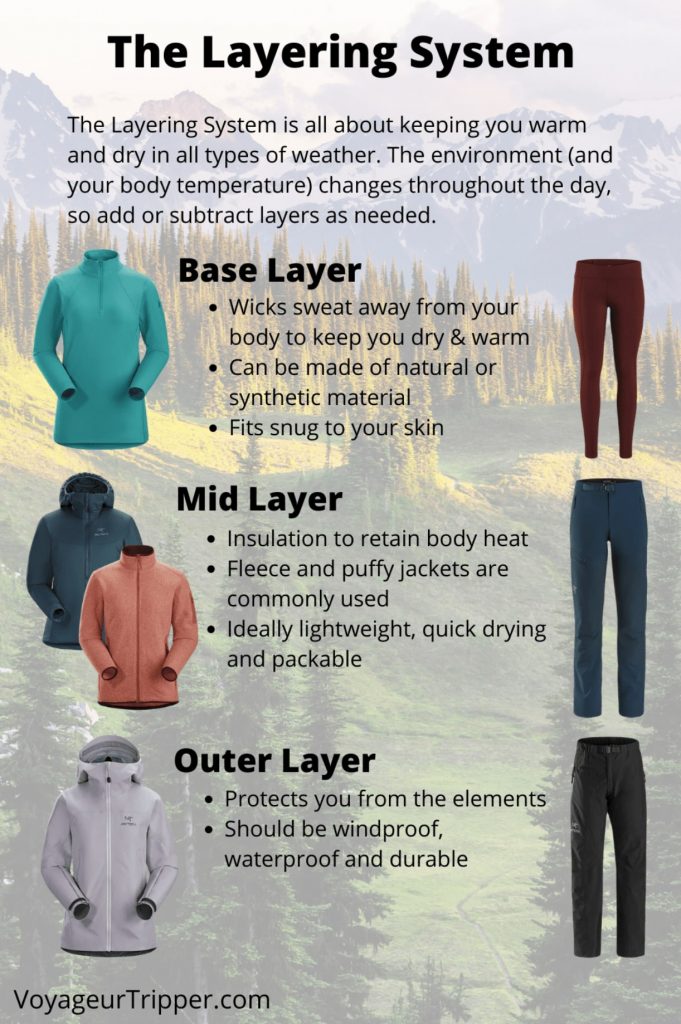 This post may contain affiliate links. If you make a purchase through one of these links, I may receive a small commission at no extra cost to you. Your support is much appreciated! You can learn more by reading my full disclosure.
---
Why is layering clothing important?
Layering clothing is important because it keeps you warm and dry from the inside and the outside.
Example: Say you're going out for an autumn hike and you decide to wear a t-shirt underneath a thick fall jacket. You will be dressed appropriately at the trailhead, but as you start to walk and use energy, your body temperature will increase. Now the jacket is too warm. But you only have a t-shirt underneath, and it's too cold for that.
Here is another example. Let's say you decide to wear a cotton long sleeve instead of a proper base layer top. As you move your body will produce sweat. Cotton absorbs moisture and your shirt will stay damp, chilling you from the inside. Now it doesn't matter that you have a fleece sweater and rain jacket – your own sweat is making you cold.
Knowing how to layer (in addition to what clothing to layer) is important for keeping you warm and dry.
---
How to Layer for Hiking & Camping
Now that you know the basics of layering clothing, let's talk about how to layer clothing for hiking and camping specifically. The concept is the same for other outdoor activities (i.e. mountaineering, paddling and trail running), but those require slightly different pieces of gear.
---
Base Layer Clothing
As I said above, your base layer fits snug and directly on your skin, and its purpose is to keep you dry and warm from the inside.
Base layers come in two materials: wool or synthetic (or sometimes a hybrid). Wool is natural, has a higher warmth-to-weight ratio and is incredibly odour-resistant. Synthetic, on the other hand, offers better moisture-wicking and is less expensive. The best material for your base layer will depend on what you want out of your base layer.
I've owned several pieces of both merino wool and synthetic base layers, and I typically choose merino for base layers when it is REALLY cold (i.e. skiing or sleeping at night) and synthetic when it's a bit warmer and I'll be really active (i.e. hiking and canoeing).
Here is a handy little illustration of how the two materials compare.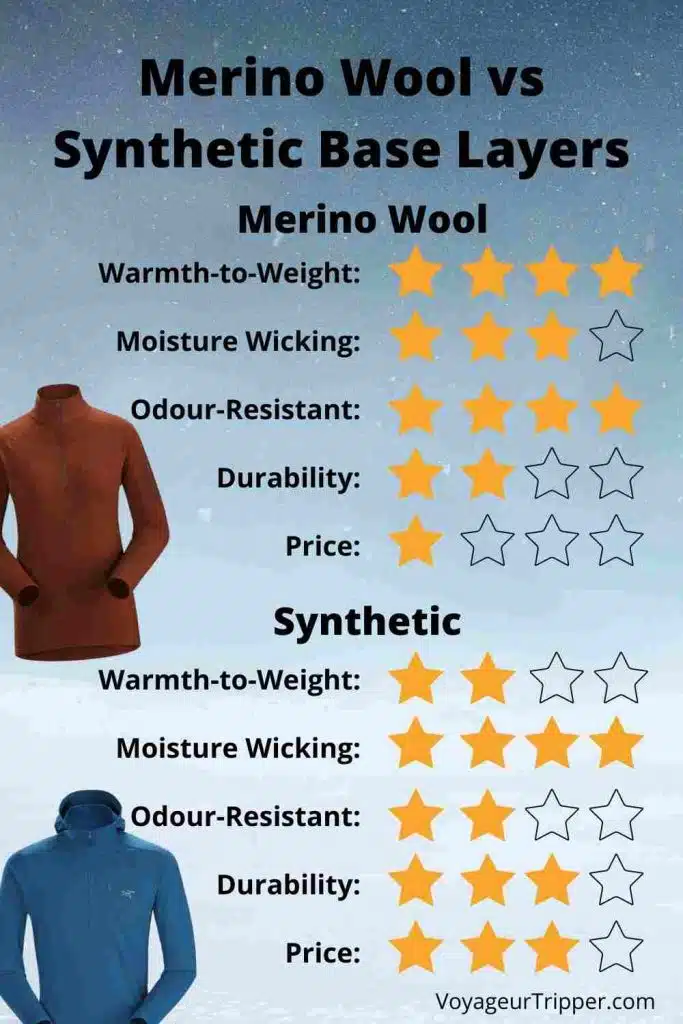 Best Base Layers for Hiking
For merino wool, I always buy base layers from Smartwool. I have the Smartwool Merino Wool 150 Long Sleeve, the Smartwool Merino Wool Classic Base Layer Top and the Smartwool Merino Wool 250 Bottoms - Womens (together these are perfect for sleeping on a cool night).
For synthetic base layers, I like the Arc'teryx Rho LT Top - Women's (this has become my go to shirt in the spring and autumn) and Arc'teryx Rho LT Bottoms - Women's. The Rho series is fleece lined, so even though its synthetic it is still really warm. I also find them really breathable and better for wicking away sweat.
The examples I've listed above are quite pricey, but there are also budget options like Mec Base Layers. They aren't as high quality, but are good enough to get you started outside.
---
Mid Layer Clothing
As said above, the mid layer provides insulation and retains your body heat. On the top, the most common mid layers are either fleece sweaters or puffy jackets. On the bottom, hiking parts are typically worn as a mid layer.
Even if you don't think it'll get cold, bring a mid-layer if you'll be out for more than a few hours. A mid-layer is one of the 10 essential pieces of hiking gear.
A fleece sweater makes for an excellent mid layer. Fleece is warm, dries quickly and can be very lightweight. Puffy jackets, either down or synthetic, are also great mid layers. They can be incredibly warm and pack down very small.
Whether you go with a fleece or a puffy jacket will come down to your preference. On long trips I typically bring both, and if it gets really cold (like at night) I wear the fleece sweater underneath the puffy jacket for two insulating layers.
For bottoms, durable and weather resistant pants are the go to mid layer. Commonly referred to as hiking pants (though you can use them for other outdoor activities) they are loose fitting enough that you can wear a pair of base layer tights underneath.
And they are usually weather-resistant enough to protect against light rain and wind. Higher end pants (like mountaineering pants) will have even better durability and weather proofing.
Best Mid Layers for Hiking
I definitely have a problem with buying puffy jackets and fleece sweaters. Each season I add one to the collection (knowing they all will last multiple seasons) so I've accumulated quite the collection now!
For fleece sweaters, my absolute favourite is the Patagonia Synchilla Lightweight Fleece, closely followed by the Patagonia Better Sweater Full Zip (the full zip is better than the 1/4 zip because it has three pockets instead of one). That said, for many, many seasons I only ever bought no name fleece or if it was a generic brand on heavy discount. Fleece is not somewhere you need to splurge right away.
For puffy jackets, I love love love the Arc'teryx Cerium LT - Women's, however it's super warm (and overkill for summer season) so the Patagonia Down Sweater - Womens is more suitable if you'll usually be own in the summer. Alternatively, the Arcteryx Atom AR - Womens is a great option for a synthetic-filled jacket.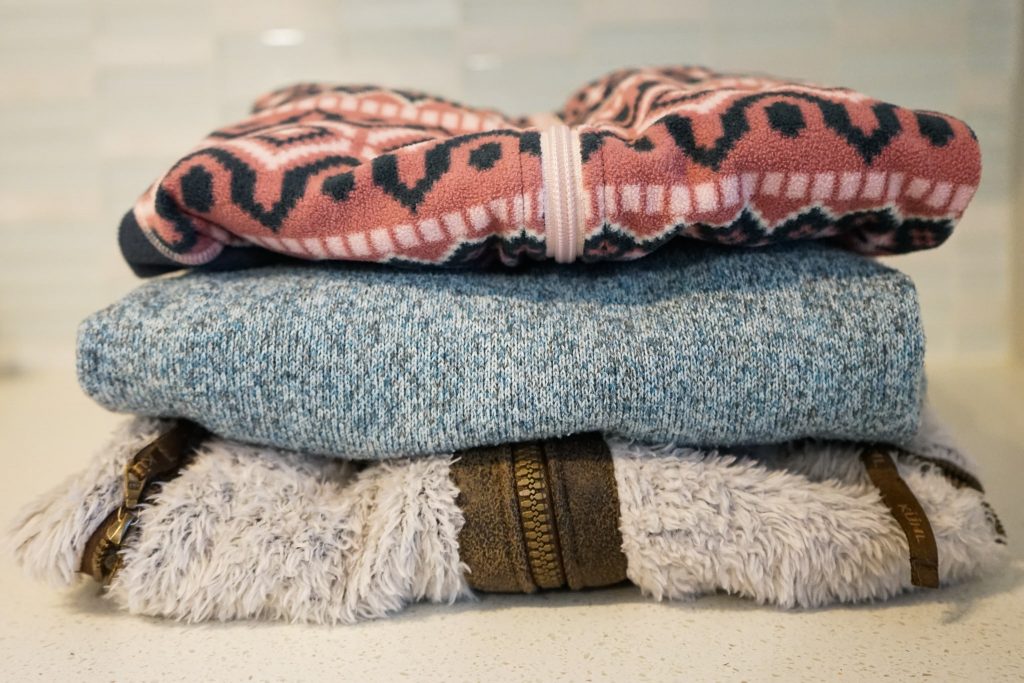 My favourite pair of hiking pants are the Arcteryx Palisade Pants - Women pants. They're very comfortable, durable and have good pocket placement. Plus they hold up great against light rain and have a really smooth clasp for adjusting the waist band. For a more economic option, I've used the MEC Terrena Stretch Pants pants for five years now and recently bought a second pair. They aren't quite as good against rain and the waist band is a tie, but still a great option for hiking.
For day hikes, I like both the Lululemon Fast & Free or Patagonia Pack Out Leggings. Both are lightweight and have two pockets. I find the Lulu tights to be more comfortable (they're thinner and lighter weight), but the Patagonia tights feel more durable since they are thicker.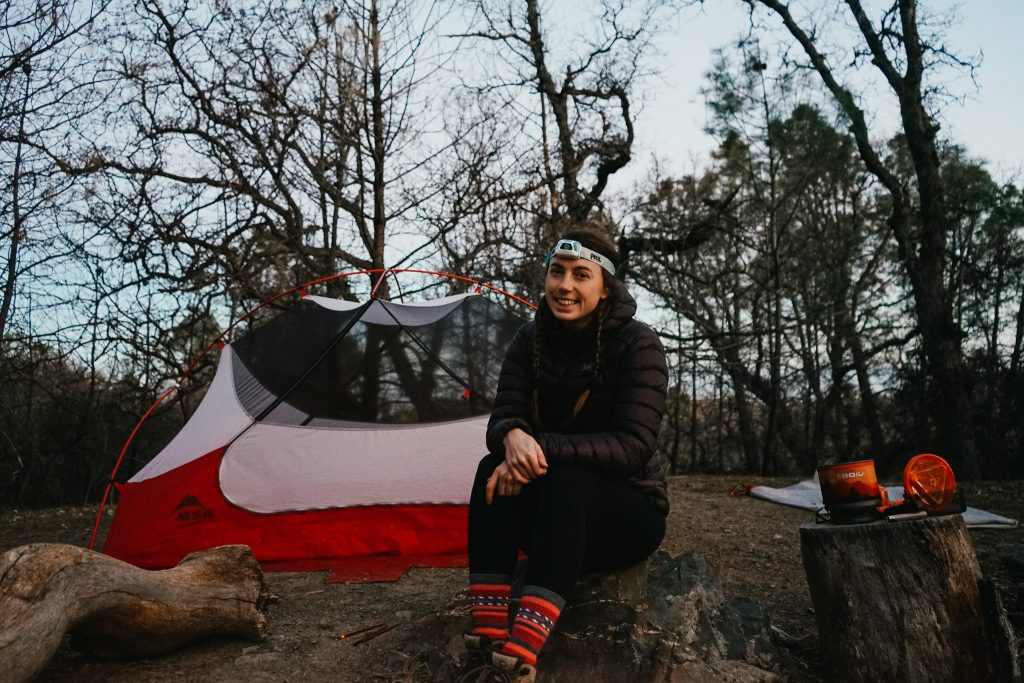 ---
Outer Layer Clothing
The outer layers protects / shields you from the elements. There are many options for an outer layer, starting with a simple wind breaker and going all the way to fancy mountaineering jackets. Almost all outer layers are treated with durable water repellent (DWR), and most have some degree of breathability.
Breathable & Waterproof: This is the best option if you're traveling somewhere with temperamental weather, including heavy downpours or snow squalls, or will be out for multiple days at a time. To have both breathability and waterproofing in an outer shell is the ultimate goal, however these jackets tend to be more expensive. The most basic will come in around $150-200, but could get as high as those $700 Arc'teryx jackets.
Technically the next two types of jackets are outer layers, but since they aren't waterproof I don't like them, personally.
Wind Jackets: These jackets are nice on day hikes when you want some protection from the wind, but still want something breezy and breathable. Although some are treated with a little DWR, these jackets are definitely not waterproof (I wouldn't even call them water resistant) so they aren't suitable for hiking that could involve a lot of rain.
Soft Shells: These jackets emphasize breathability and can hold up to light / moderate rain, but are insufficient in storms. I like a soft shell for around the city, but never take them hiking.
I recommend buying one decent breathable & waterproof jacket that'll serve you on both day trips and multi-day trips in all kinds of weather.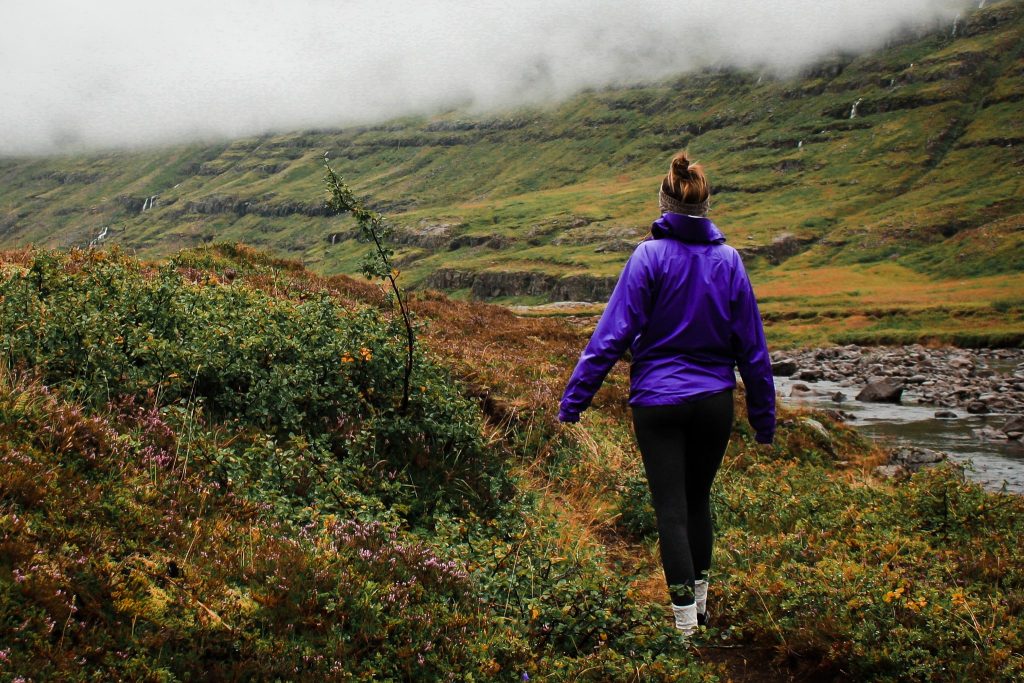 Best Outer Layer for Hiking
It's hard to objectively say what the best outer layer for hiking would be, since most people have a strong preference to a specific brand (and most of the out layers are all incredibly similar). That said, here are a few I've had great experience with.
I've used the Patagonia Torrentshell on three different continents and it's always performed really well, despite not being Gore-Tex. When I did upgrade to a Gore-Tex jacket, I went with the Marmot Minimalist Rain Jacket - Womens because it was an excellent quality rain jacket, but totally affordable too. I would love to someday get the Arc'teryx Beta AR Jacket, but it's just so expensive.
As I said above, when I'm on a trip I usually wear a pair of soft shell hiking pants as a mid layer and bring a pair of rain pants to slide over as an outer layer if it really starts to pour. I've used an inexpensive pair of MEC Aquanator Pants for a while and like them. They're super loose fitting, so good over pants (they're kind of like the pants equivalent of a poncho).
The Marmot Minimalist Rain Pants are another awesome rain pant, but I find they're too thick and stiff to wear over regular hiking pants. These are better for wearing directly over base layer pants.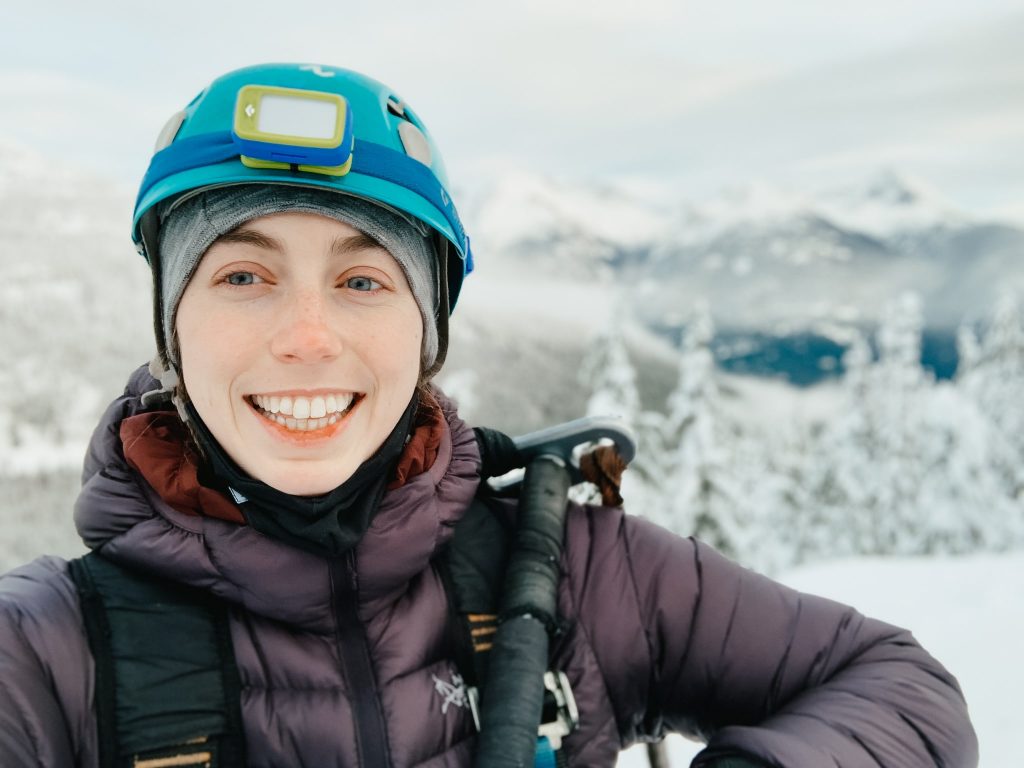 ---
Common Questions about Clothing & Layering
Q: What is the correct order of the three layers of clothing in hiking?
The base layer is the first layer you put on; this one goes right against your skin. The next layer is the mid layer (or insulating layer) which is typically either a fleece sweater or a puffy jacket. The final layer you put on is the outer layer (or shell), which is typically a waterproof, windproof jacket.
Q: Should your base layer be tight or loose?
You want your base layers to be snug to your body without feeling restrictive, so base layers should be tight but not uncomfortable. The base layer is warmest when it is right against your skin; if there are gaps between your skin and the base layer fabric, you will feel colder.
Q: How should a mid layer fit?
A mid layer should fit to your body, leaving enough room to wear a base layer underneath and enough room to wear an outer layer on top. Mid layers are designed for this, so you will usually fit whatever your true size is. When trying on a mid layer at a store, try it with a base layer underneath and outer layer over top to see how it all feels.
Q: Why is cotton bad for hiking?
The first reason cotton is bad for hiking is that it retains moisture and is incredibly slow drying. Since water conducts heat away from your body 25 times faster than air, wet clothing will make you very cold very quickly. The second, though less important, reason is that cotton is quite thick and heavy, taking up more space in your backpack.
Q: Can you wear jeans hiking?
Jeans are made of denim, which is made of cotton. So for the same reasons you shouldn't wear cotton hiking, you shouldn't wear jeans hiking either.
Q: Can you wear yoga pants or leggings hiking?
Yoga pants or leggings, specifically those made of spandex or nylon (and no cotton), can be worn for day hiking. For multi-day hiking, or backpacking, hiking pants are recommended because they are much more durable and weather resistant. If it starts raining, your yoga pants / leggings will not wick water away nearly as well as hiking pants.
Q: What options are there for ethical outdoor clothing?
I make an effort to only buy gear from companies that have a sound sustainability program, but it can be hard evaluating exactly what companies are sustainable and what companies are greenwashing. I am definitely not an expert in ethical outdoor clothing.
If you're interested in learning more about ethical outdoor clothing, I highly recommend this comprehensive blog post. I learned a ton from it and am trying to become more educated on how the gear I buy effects the environment.