Social media is an incubator for trends, the latest of which being outdoor and adventure photography. Despite an infinite supply of outdoor landscapes available, certain locations come up more frequently than others. You'd be hard-pressed to spend time on Instagram's nature page without seeing a disproportionately high number of photos from locations such as Lake Moraine (Canada), Lauterbrunnen (Switzerland), and Grand Teton (USA), just to name a few.
Another destination increasingly coming into focus is Alaska (USA) – with photos of snow-peaked Denali glossing Explore pages daily. It can be easy to forget that there's more to these places than the handful of landscapes we see on social media.
But one photographer – Nathaniel Wilder – is changing that. Born and raised in Alaska, Nathaniel's work takes on a very different approach: he is a lifestyle photographer capturing moments from the people who live in Alaska's most remote communities. This alternative perspective make Nathaniel and his lifestyle photography the stars of this week's interview.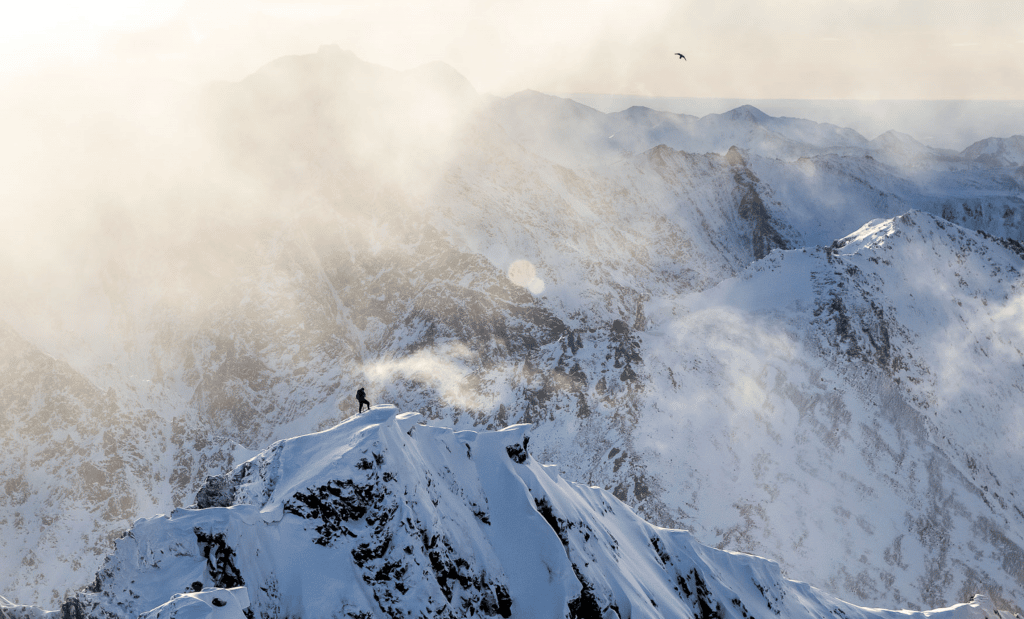 This post may contain affiliate links. If you make a purchase through one of these links, I may receive a small commission at no extra cost to you. Your support is much appreciated! You can learn more by reading my full disclosure.
Alaska: the feeling of wilderness
Over the course of his photography career, Nathaniel Wilder has accumulated an impressive client list. Patagonia, Osprey Packs and Google casually grace the list; his work has been featured in National Geographic Proof and Outside Magazine.
He's made a name for himself in outdoor commercial photography, and while his work could persuade even the most recluse city dweller to purchase hiking boots, it was his numerous side projects that brought him to my attention. Nathaniel was born and raised in Alaska. To many, the state remains a mysterious environment, the last frontier of wilderness.
But for Nathaniel this wilderness was his backyard: the place he learned to adventure and the backdrop for some of his most accomplished photographic achievements. "The early memories that I'm really fond of all involve wilderness as I knew it then. We fished salmon a lot —my dad, older brother and I—and we all went berry picking as a family. Both of these activities involved remoteness in the mountains (remote as I knew it then) or along rivers with crude fishing trails beside them."
"My idea of wilderness expanded as I got older, but at that time wilderness for me was being in bear country, with little sign of man's footprint. I remember taking a ferry used to carry fishermen across the Kenai River. On the other side, instead of walking upstream to where another river [the Russian] came in, and fishing from there, we crossed an open area in dense bear habitat to access a higher part of the Russian River. I must have been going slowly (I was maybe 7 or 8 at the time) because my dad eventually walked ahead of me and my brother and somehow along the way I got separated from my brother."
Through experiences like this, Alaska introduced Nathaniel to the concept of wilderness – not just the geographic place, but the feeling of wilderness.
"Being alone there was the first time I can remember that I had a feeling of being in the wilderness – without the protection of my dad or presence of my older brother. It was a little frightening then. Now I crave that feeling." Nathaniel recalls one of his favourite memories: rafting on the Kongakut River in northeast Alaska.
"This river runs north through the Brooks Range onto the coastal plain in the Arctic National Wildlife Refuge. It is some the most remote I've ever felt. The pinnacle of the trip was the last day on the coastal plain, walking in the sun at two in the morning, watching shorebirds and foxes, paddling through the fog to a barrier reef island at the end of the river delta to find polar bear tracks and the Beaufort Sea full of icebergs. We camped out on the sandy reef for a couple of days during which time a herd of musk ox passed through our camp in the fog early one morning. We all woke up to watch them pass."
"The entire trip was a surreal and holy wilderness experience. It was the fulcrum that turned my compass north to pursue storytelling in the arctic."
Stories from the north
Photographers are flocking to Alaska at unprecedented rates. The snow-covered peaks of Denali, the likelihood of spotting polar bears, bison or caribou, the sheer magnitude of pine trees – all provide ample material for landscape and wildlife photographers to work with and explore. But Nathaniel's work takes a different approach: much of his photography is centered on capturing the lifestyle of remote Alaskan communities.
His photos communicate the thrill of a whale hunt, the excitement and challenge of the Iditarod dog race, the inner workers of a remote fishing community. They are examples of a lifestyle unfamiliar to many. "I've always been interested in how people off the road system in Alaska survive. What I'm drawn to is subsistence lifestyles and the importance of combining the knowledge and capability required for survival."
"So much of Alaska is very wild and very remote. Subsistence hunting, fishing and trapping laws (and an abundance of fish and game in some places) still allow for a lifestyle long gone from the rest of the country and much of the world. I'm curious about this; [sharing stories] about these people and their communities helps satisfy that curiosity."
Nathaniel uses his photography to translate these experiences into sometime he can share with people who would also be curious.
Through capturing the lifestyle of remote Alaskan communities, Nathaniel illustrates a life very different to that in the Lower 48. In one project, Nathaniel photographed whaling culture in northern Alaskan communities. Global whaling practices have changed drastically, with more and more backlash against it.
I asked Nathaniel if any of his work has ever elicited controversy, and I was surprised at his answer of "no, not really."
"In one instance, a set of photos from this project ended up in an online journalism piece. I think I remember reading a negative comment about how this whaling community was backwards and didn't need to be killing whales for survival.
"But when I see comments like this, it's hard to value them because it's often an armchair critic making this statement from a comfortable and warm environment somewhere geographically south of this whaling community (and likely close to reasonably priced food at a grocery store) and doesn't really have an understanding about the necessary nourishment and cultural significance a whale brings to a community."
But besides the occasional comment, "I don't think I've ever received any personal emails about it."
At home in Alaska
Outside of Alaska, Nathaniel has done significant work in some of the most beautiful countries in the world: Iceland, New Zealand and Switzerland to name a few. But despite working in and travelling to some of the most photogenic countries in the world, Nathaniel always returns back to Alaska.
"I've never been anywhere else where the feeling of wilderness and isolation is so palpable. Growing up here I had the feeling that wherever we were, rather than a road or a town on the other side of the mountains, there were more mountains. There was a promise of infinite wilderness here and that has always motivated my desire to travel around the state. To be in more places like this."
"But so far every place I've been feels smaller or tamer than remote Alaska. I can't completely explain it. Alaska is and has always been home to me."
You can view more of Nathaniel's work on his website or by following him on Instagram.