"Matt, help! HEEEAAALP! I am on the ground! I am stuck!"
As Matt, my co-guide, made his way toward me, I was of two minds. First, I was conflicted because part of me was having an out-of-body experience and could clearly see the situation from an outsider's perspective. And the situation was pretty funny.
But the second part of me, the part that was stuck on the ground strapped to an 60 pound food barrel, was really freaking pissed.
Moments before, I'd lost my balance on a steep section of a 2.9 km portage in Killarney Provincial Park. With my center of gravity so skewed by the barrel, efforts to catch myself were futile. The barrel just kept falling and falling and falling – taking me with it. In this position, lying on top of a barrel like a turtle on its shell, I called out for help.
And so started my first trip as a canoe guide.
Let's back up a bit.
It was the start of my third year on staff at an overnight camp in Ontario. I had been hired as the Voyageur Tripper. This position involved taking campers on two week canoe trips. My first trip was to Killarney Provincial Park with six campers between the ages of 13 and 16.
I was eager to do well on my first long canoe trip as the leader. I was excited to share my love of camping and wilderness with young, impressionable youth keen to explore.
This post may contain affiliate links. If you make a purchase through one of these links, I may receive a small commission at no extra cost to you. Your support is much appreciated! You can learn more by reading my full disclosure.
The campers, however, had another idea.
Two of my campers did not want to be there – not in the slightest. They didn't want to be at camp. Didn't want to be in a canoe. Didn't want to be in a tent or on a portage or outside at all. Basically, they were primed for a bad experience. These two – let's call them Albert and Heather – started off trip with about as much enthusiasm as if we were going on a two week trip to the guillotine.
One of my campers despised me. I'll call him Steve. He didn't like being told what to do, especially by a woman. Steve was the oldest in the group and had some canoeing experience of his own.
Three of my campers were heaven-sent angels. A gift from the canoeing gods! However, they were also a bit more timid and the three youngest in the group. I'll call these campers Dustin, Amy and Claire.
The trip started without any hiccups (well, other than me forgetting to pick up our permits). We put in at Johnny Lake, an access point in the northeast corner of the park and less frequently traveled than other access points. Everything was going (relatively) smoothly. There was constant complaining from the two who didn't want to be there. Steve routinely criticized me and every decision I made. But overall, things were okay. That is, until we came to our first long portage.
Welcome to the portage from hell
Killarney is known for having difficult portages. This 2.9 kilometer portage was no exception. A real beast, it is rugged and steep and narrow in many sections. It was still early in our trip, so all of our food barrels were pretty full. I had an inexperienced and (mostly) unenthusiastic group of teenagers with me. This portage was the only thing we had to do today.
In total, we had thirteen major things to carry: four canoes, three food barrels, six equipment packs.
First we took the canoes. Matt, Dustin, Steve and I each took a canoe (despite being one of the youngest, Dustin was 6 foot 2 and a football player and easily the strongest). Partway through the portage, Dustin became uncomfortable navigating through the narrow sections, so Matt would later need to double back for this canoe. Likewise, Steve would decide he was "over this" and leave his canoe for me to finish. Meanwhile, the other campers carried equipment packs.
On the second trip, Matt took the remaining canoe. I took a barrel and quickly doubled back for Steve's forgotten canoe. Steve insisted he would take the heaviest food barrel, and at this point I didn't feel like arguing. "Sure, Steve, you can take the barrel." What could go wrong?  I naively thought.
When we had finally reached the end of our last trip of the portage, I did a gear count to ensure we had everything. Four canoes… nine paddles… five equipment packs… five equipment packs? We should have six equipment packs. I looked around. Yes there were only five. I counted the food barrels. Two food barrels… we should have three.
This didn't make any sense. I'd already swept the start of the portage – no gear was there. I also hadn't see anything on the trail during my last trip.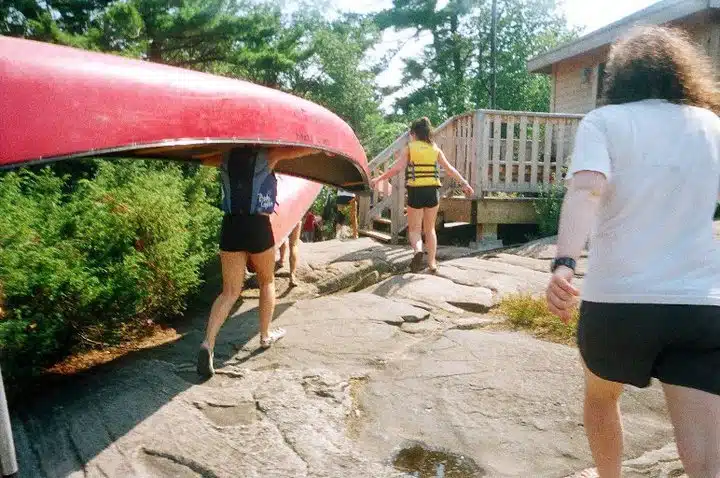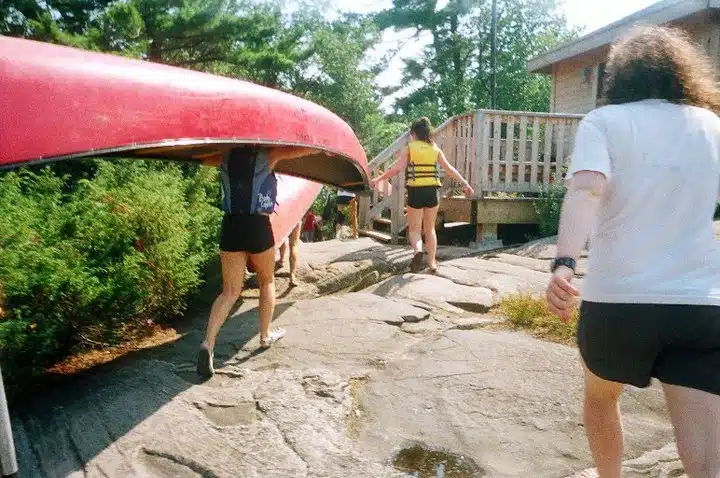 I turned to the campers – where was the last equipment pack and food barrel?
That's when Steve turned to me. "Oh it, uh, sort of fell down the side of a cliff on the portage. The equipment pack is probably around there too."
Then Heather started giggling. The alliance between Heather and Steve was growing. This act of defiance bonded them further. I could've boiled water with the heat I felt inside of me.
"Uh, come again, Steve? What's this about a CLIFF?!?!"
"Yeah I think it's, like, somewhere down the portage trail. I don't know. It was really heavy."
I tried to get one of the campers to come with me to retrieve the equipment pack and food barrel, but none of them would come. So, I gave them each a granola bar, told them to stay with the stuff and Matt and I would return shortly.
Walking along the portage trail for what felt like the hundredth time, I was fuming. How far along the trail was the food barrel? How far down had it fallen? Would we even be able to retrieve it? How would I deal with two weeks of this shit?
Thankfully, it was only a few hundred meters before we spotted the food barrel and equipment pack. It wasn't off a cliff exactly, more it was nestled on the side of an incredibly steep hill that led down to a creek below. I'm sure the campers had hoped it would fall down further.
Suppressing my anger, Matt and I began climbing down the hill. Matt helped me get the food barrel onto my back and got me started up the hill. In my mind, the hill was at a 80 degree angle and I was essentially rock climbing Alex Honnold-style but with a 60 pound barrel strapped to my body. (In reality, it was probably more like 45 degrees and there were roots for me to hold onto).
Matt followed behind with the equipment pack. Still fuming, still pissed off at Steve and Heather, I walked quickly and with purpose. The distance was increasing between Matt and I, angry thoughts swirling around my mind, when I caught my foot on something and fell. Like a Jenga tower, I went down, down, down.
When Matt reached me, turtle position as all, he couldn't keep from laughing as he helped me up. Once I was standing I had to laugh as well. Falling had one benefit – it shook me out of my negative mental state.
When we returned to the group I wasn't mad anymore. Steve was going to throw whatever he had at me and I was going to let it roll off me, unaffected.
The trips continues…
As much as I tried to be unaffected the remainder of the trip, Steve and Heather still got on my nerves. They routinely ignored instructions and contradicted everything I said. One night, after telling Steve again why he could not bully the two younger campers…
Steve hit me with the not-so-subtle death threat
Steve proceeded to call me a name I should not type and say something along the lines of "I know where the knife is. And I'm not afraid to use it."
Those may not have been his exact words, but whatever he said it was 100% a death threat involving our kitchen knife.
And all I could think was "Come on, man? Why must you make my job so hard? I am a university student making $2.67 per hour and responsible for keeping you alive. Give me a break."
Obviously the death threat did not materialize, and I somehow made it to the end of the trip with 90% of my sanity intact.
Lessons from the river
The biggest lesson I learned on this river was that it does no good to get mad about anything. Not the weather, not the portage and especially not over what your campers do. Safe to say, all my canoe trips since them have been remarkably easier (except that one time I had to do a rescue in rapids…).