I hadn't realize I'd missed the smell of salt water until I was standing at Matthew's Head in Fundy National Park, overlooking the powerful and expansive Bay of Fundy. If asked about my heavy breathing, I would have said I was trying to take in as much salty air as possible (but in truth, I was wiped from the hiking). It was morning on the second day of my New Brunswick road trip. I'd woken up at 4:45 am in hopes of catching a sunrise. The sky, as overcast as they come, had another idea.
My determination unshaken, I set off for Matthew's Head, a 4.5 km trail marked as moderate. This loop trail takes you to the edges of coastline cliffs, with the Atlantic Ocean crashing into the rocks below. It was here I smelled the salt water, could taste it on the air. After a few more deep breathes "taking in the aroma of the sea", I continued on my way…
---
Why Visit New Brunswick?
Prior to leaving Toronto, my friends and family asked why I was making a solo trip to an unpopular province like New Brunswick (or, as some of them referred to it, "No Fun-swick").
I understand the skepticism. If asked to rank all ten provinces for perceived enjoyment, Canadians would likely rank New Brunswick in 8th or 9th place. Probably less enjoyable than PEI and Manitoba, but definitely more enjoyable than Saskatchewan.
The poor ranking is in part due to its lack of mountains and major cities, but largely because few people outside New Brunswick know anything about New Brunswick.
Like how there are two national parks in New Brunswick. Or that it is the only bilingual province in Canada. Personally, I had only known New Brunswick for the Hopewell Rocks, iconic flower pot rocks standing in isolation, victims to the raging force of the highest tides in the world.
I'd always wanted to kayak at the Hopewell Rocks when the tide was in and stroll around them when the tide was out. And so, despite the skepticism from my friends and family, I made my journey east.

---
Road Trip Map
All of the destinations I visited on my road trip are featured in the map below. This includes trail heads, cafes, campsites, directions – basically everything you would need to know if you were to do a road trip along the New Brunswick side of the Bay of Fundy yourself.
---
Road Trip Itinerary
Note: The following itinerary is what I did, however there are a few modifications I would make if I was recommended it to someone else. I've added call-outs throughout the itinerary on recommended adjustments.
Day 0 Evening: Arriving in Saint John
I flew directly from Toronto to Saint John late Wednesday night. Canadians will no doubt be familiar with Saint John, the infamous city tripping them up in history class; remember, Saint John is a city in New Brunswick and St. John's is the capital of Newfoundland.
But Canadians might not know Saint John is most populous city in New Brunswick, and is situated on the north coast of the Bay of Fundy.
It boasts a UNESCO Geopark (the first in North America), a nature preserve, and a nautical-themed city center. Yes, Saint John is a common starting point for travellers visiting the Bay of Fundy. I was no different.
Note: As of my visit, there was no Uber in Saint John. Either pick up your rental car immediately from the airport or catch a taxi to your hotel / hostel / Airbnb.
Where to Stay: Saint Johns
Day 1 Morning: Sea Caves at St. Martins
On the morning of my first day I doubled back to the airport to pick up my rental car. Public transport isn't available in all the places on this road trip, so best to have your own vehicle.
Following Saint John, my first stop was a tiny town to the east named St. Martins. Located on the Bay of Fundy, St. Martins is perched above rust-coloured cliffs vulnerable to the powerful tides. What drew me to St. Martins was the result of this power – sea caves.
When the tide is out, you can walk along the beach to where parts of the cliffs have been eroded away by sea water. Left in the cliffs' place are sea caves.
Should you desire a look at the sea caves (and surrounding cliffs) when the tide is in, Red Rock Adventure, a Bay of Fundy tour operator, will take you on a guided kayaking trip. I arrived when the tide was out, so instead of kayaking I grabbed an iced coffee and wandered on the beach.Coffee Break: Nearby by the sea caves is The Shipyard Cafe, which had a stellar iced latte.
Day 1 Afternoon: Fundy Trail Parkway
After the sea caves, I drove to the start of the Fundy Trail Parkway, a 30 km stretch of road which follows the curve of the coastline. Entry to this scenic drive is less than $10 and paid upon arrival.
On the Fundy Trail Parkway, there must have been three dozen places to pull over – be it for lookouts, hikes, picnic tables, and more. I had received a map on arrival, which I quickly scanned and threw onto the passenger seat.
With no possibility of getting lost and no way to gauge what would be of most interest, I took a choose-your-own adventure approach. I stopped often, sometimes for half an hour, other times only to look out the car window, shake my head and continue on my way. Some of my favourite lookouts were :
Fox Rock Lookout

Melvin Beach Lookout

Fuller Falls

Black Point

Big Salmon River Suspension Bridge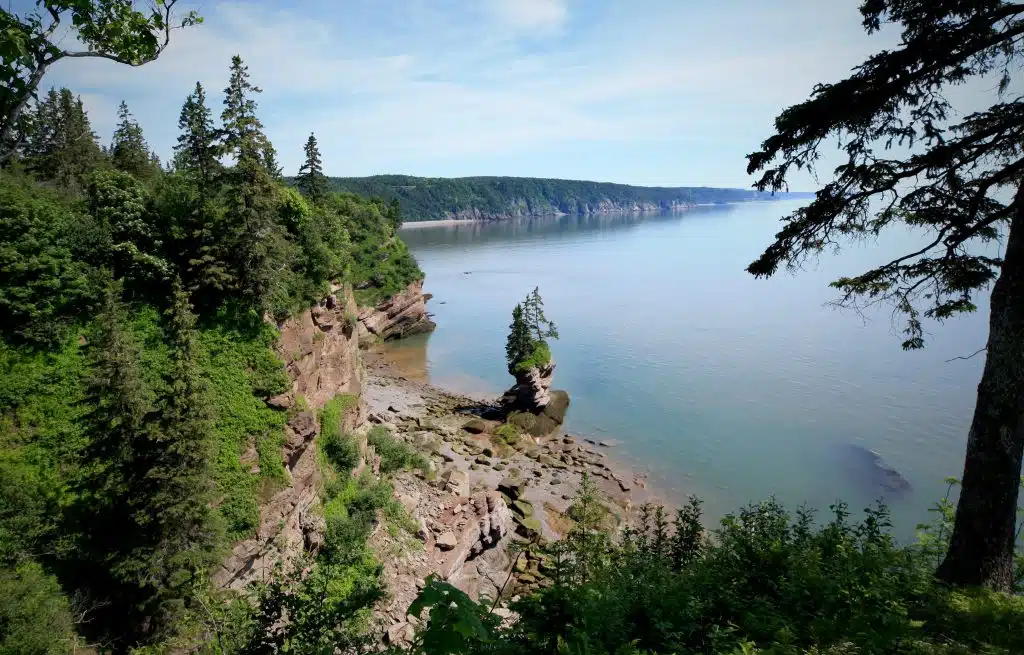 I had one miscalculation on the Fundy Trail Parkway. The parkway is intended to be a through-route, eventually returning you to the main road. However, when I visited, the final portion of the parkway was not yet complete.
Upon reaching the end of the road, I realized I was going to need to drive all the way back to the start of the parkway and rejoin the main road from there.
One benefit to this unexpected detour is that, when passing through Sussex, I came across the incredibly cute Knocks Cafe, which served me the most amazing late lunch / early dinner sandwich.
Following my food stop, I continued driving to Fundy National Park, where I would be camping for the evening. (If camping is not your thing, the town of Alma is right outside the park. It has several hotel and B&B options.)
The Fundy Trail Parkway thwarted my initial plan for Fundy National Park. Already tight for time, I lost an hour backtracking and arrived at the park a little before 7 pm. (I also took a wrong turn when my GPS lost service, so I guess I can't blame the parkway entirely).
The plan had been to stay at the one campground in the park which surpasses all others: Goose River. There are three campsites here (GR6 is the best I've heard and the one I'd reserved).
The campsites are about 16 km from the trail head, over challenging, rocky terrain. I'm sure there are others who wouldn't think twice about a feat like this, but when hiking alone I always stay cautious. I opted for a front country campsite instead.
Where to Stay: Fundy National Park
Day 2 Morning: Hiking at Fundy National Park
Despite the previous evening's set back, I awoke eager to see other parts of Fundy National Park. I visited Butland Lookout for the (lack of) sunrise, hiked Matthew's Head, wandered around Herring Cove and ventured to Point Wolfe to see where the Pointe Wolfe River meets the sea.
Looking back on the trip, I think the morning spent in Fundy National Park was my favourite part of the trip. Something about the scenery and the solitude. I loved how the red rocks contrast against the evergreen trees and the dark teal water. I didn't see another person that morning, so instead I heard birds in the bushes and wind in the trees.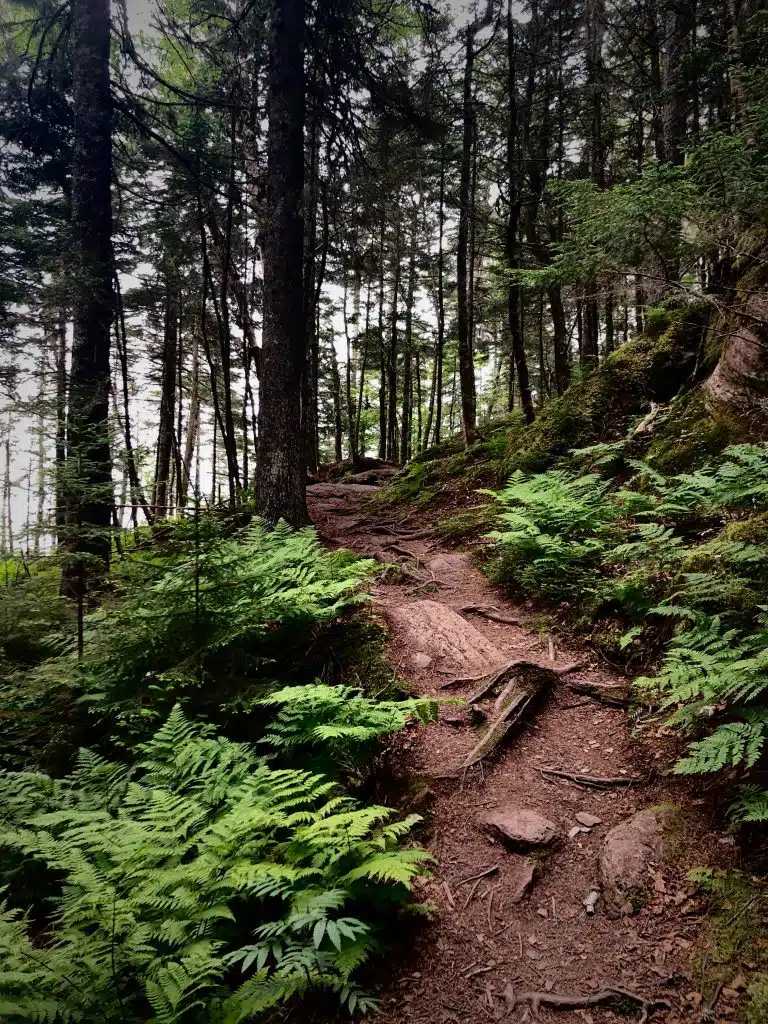 Even though I arrived at Fundy National Park late, I actually ended up leaving early. I'd intended to do the 3 hour Moosehorn-Third Vault Falls hike, an inland route which brings you to three waterfalls.
However, I was keen to stay on the coast, never losing sight of the Bay of Fundy. Waterfalls are nice and all, but I didn't fly 1400 km to see waterfalls. I came to see the tides.
Note: I did not spend very much time in Fundy National Park, but I imagine that others would prefer to spend more time here. I recommended spending the afternoon in Fundy National Park as well, so you can so an additional hike or two, and then driving to Hopewell.
Day 2 Midday: Cape Enrage and Mary's Point
After Fundy National Park, I began the drive to Hopewell Cape (home to the Hopewell Rocks and my ultimate destination). Since I had some extra time on my hands, I checked Google Maps for alternatives to the main highway.
It was here, pulled over on the side of a secondary road, that I noticed a sign ahead. The sign featured the Lighthouse and Lookout symbols. I closed Google Maps and became driving down this mysterious road.
The drive itself was beautiful. Each side of the road was lined with wildflowers in yellows, pinks, purples and whites. There were hills in the distance and narrow bridges over rivers. I came across entire beaches of perfectly smooth pancake rocks. I took a break from driving to skip some rocks on the glassy sea water.
The lighthouse and lookout destination, I soon learned, was called Cape Enrage. Upon my arrival, I was surprised to hear it is actually a major destination for travelers to New Brunswick. For $6 you can visit a lighthouse perched on a cliff or climb down steel stairs to the beach below.
I was surprised firstly because I hadn't come across it when I was researching for the trip. Secondly, in all honestly, I found Cape Enrage to be underwhelming.
It was pleasant and a decent stop along the way, but I probably wouldn't have made a dedicated detour had I not had the extra time from skipping the waterfall hike in Fundy National Park.
That said, I enjoyed the drive so much I would have paid $6 entrance free just to take this alternative to the highway.
Luckily, my road to Cape Enrage did rejoin the main road, following a quick drive through an area called Mary's Point.
Similar to Cape Enrage, there wasn't much to see or do at Mary's Point. The road continues to trace the coast, and takes you by a shipwreck, decorative lighthouse and spattering of shops and houses.
I went into an art studio and cafe, and both owners were startled to see me. Here I was, visiting their OPEN business on a Friday and they were surprised. Talk about a sleepy town.
But again, Mary's Point had some beautiful views which made the detour worth the while (even though the weather remained cloudy and uncooperative).
My long awaited arrival in Hopewell was met with rain, fog and then a little more rain for good measure. I stopped for some mediocre clam chowder at what appeared to be the only restaurant in the town of Hopewell (town is an overstatement, clustering of buildings would be a more appropriate term).
I chose to wait out the heaviest rain (and charge my GoPro) in a cute cafe 13 km north of Hopewell. At Cinnamon Soul, I was greeted with cheery decor and a long list of specialty lattes.
Regretting the clam chowder, I ogled at the fancy looking cafe food – sandwiches, soups, salads – being served to the patrons around me, and ordered myself a hazelnut-cinnamon latte. It was delicious, and the perfect contrast to the dreary weather outside.
Day 2 Afternoon: Walking around Hopewell Rocks
When the rain had stopped and my GoPro was nearly charged, I drove back to Hopewell. I arrived an hour before low tide, leaving ample time to the explore the famous rocks I'd been so keen to see.I was not disappointed.
The Hopewell Rocks, monoliths left standing in isolation after years of erosion, stood tall before me. Their bases, which met the force of the tides twice each and every day, were narrow. The tops remained fat and wide, high enough to be spared the relentless wrath of the waves.
For two hours I wandered between the standing giants, marveling at their impossible shapes. "Have any rocks toppled over?" I asked one of the interpreters. "Not since the park was established in 1956.
Though that one over there is predicted to fall within the next ten years." I learned the following day that there had been a rock slide a few years back. It still amazes me that those narrow bases can support such giant rocks.
When my wonderment was satiated and my jacket tired of the rain, I went to Ponderosa Pines Campground to set up camp for the evening. I pitched my tent.
The owner, a wonderfully kind women born and raised in New Brunswick, drove firewood to me and I bought a s'mores kit from her store. I fell asleep with a full stomach and the light pitter-patter of rain hitting the nylon tent fly.
Where to Stay: Hopewell
Note: For me, low tide (for walking) was in the early evening, so I did the walk around the Hopewell Rocks on my second full day. High tide (for kayaking) was 10 am the following morning, so I did the tour bright and early on the third day.
However, I'd recommended doing it all on the third day of your trip so you can spend more time in Fundy National Park on the second day.
Day 3 Morning: Kayaking at the Bay of Fundy
The following morning, my alarm went off earlier than I would have liked. A tad sluggish, I packed up my tent in final burst of east coast rain. I then changed into kayaking clothes (a quick dry outfit and waterproof sandals) and drove to the meeting place for 7:15 am.
Upon arrival at Hopewell Rocks Park, I was greeted by my tour guides. Baymount Adventures is the only guiding company in the park and it is one of the post popular Bay of Fundy tour companies.
To my relief, their monopoly over Hopewell Rocks had not compromised their service. Despite the groggy morning, things quickly picked up. I was outfitted with a kayaking skirt and life jacket, and handed a paddle. As a group, we walked over to the kayaks.
Being the only solo traveler in the group, my kayaking partner was another guide. This turned out to be to my benefit; I could stopped paddling to take photos whenever I liked, knowing we wouldn't fall behind or run into a rock.
Over the next two hours, we traced the coastline, maneuvering around the flower pot rocks and through covered passageways. And honestly, it was everything I'd hoped it would be. If you're looking for thrill seeking I wouldn't recommend sea kayaking. However, if you enjoy being active and seeing alternative sights at a slower pace, then you would love kayaking on the Bay of Fundy.
Note: If you were doing both the walking and kayaking on the same day (as I'd recommend doing) you'll have plenty of time in between the two activities to get food and change your clothing. This would be a great time to visit Cinnamon Soul. Depending on where you're going next and the amount of driving you have, you can leave Hopewell anytime in the afternoon.
See you next time, Bay of Fundy!
Once the kayaking was over, I had essentially exhausted all activities on the Bay of Fundy. I had been to Saint Martin's sea caves, driven the Fundy Parkway Trail, visited Fundy National Park, stopped by Cape Enrage and now walked and paddled around the Hopewell Rocks.
Satisfied with my time on the Bay of Fundy, I took one last look at the Hopewell Rocks. I got in my car, opened Google Maps and navigated to my new favourite cafe. This time I ordered chocolate latte.
I thought about sitting down, grabbing some breakfast and spending the rest of the morning here. But deep down, I knew there was more to see. Returning to my car, I opened Google Maps and set a new destination. It was a place I'd only recently learned of.
I didn't have accommodation booked or know what there was to do or see. Yet despite this, I turned on the radio and started driving, eager of what I might find.