With the increased popularity of campgrounds at Ontario Parks, a lot of people have been asking me about private campgrounds in Ontario. How do they differ from public campgrounds, how do you find them, etc? So today I thought I'd answer these questions.
In this post I go over:
Differences between public and private campgrounds
How to find private campgrounds in Ontario
Bonus: Tips for finding spots at Ontario Parks despite the popularity
This post may contain affiliate links. If you make a purchase through one of these links, I may receive a small commission at no extra cost to you. Your support is much appreciated! You can learn more by reading my full disclosure.
---
Private Campgrounds vs. Provincial / National Parks
Before we dive into the specifics of finding private campgrounds in Ontario, I'd like to go over the major differences between campgrounds that are privately owned vs those managed by Ontario Parks or Parks Canada. I'll also briefly touch on crown land camping as a free alternative.
Reservations and Pricing
Reservations: One of the reasons private campgrounds can be so popular is that the reservation process is much easier than that of the most popular provincial parks. It's become so difficult to book a site at a campground in a popular provincial park that people are turning to private campgrounds instead.
Private campgrounds just don't get the same demand, so it can be much easier booking a site, especially at the last minute.
Pricing: The price of both public and private campgrounds in Ontario can vary a lot – especially when you consider the size of the site you need, electric vs non-electric, the popularity of the area and the facilities. I've seen rates anywhere between $20 per night to $80 per night.
Seclusion and Privacy
The degree of seclusion and privacy you'll find at a private campground in Ontario is largely dependent on a few things:
Location: All campgrounds – private or public – that are in close proximity to major cities tend to be busy, but public much more so than private. This would include parks like Algonquin, Thousand Islands, Bon Echo, Killbear, etc. It can also happen at private campgrounds around Muskoka Lakes, Kawarthas and more, but not to the same extent.
Popularity: Some campgrounds are hidden gems (i.e. Driftwood) while others are insanely popular (i.e. Algonquin). And when there are lots of campgrounds in close proximity to one another, there are more options for campers so some might not be busy. On the other hand, when you get somewhere really remote – like around Lake Superior – there are fewer people travelling there, but there are also far fewer campgrounds available.
Type: Large private campgrounds that have many sites and can accommodate a wide range of vehicle types tend to be very open, with not a lot of trees to act as barriers between campsites (more on this below).
One thing I've noticed from personal experience is that campgrounds in parks tend to do a better job at promoting privacy even when the campsites are close to one another. You'll often have a wall of trees in between sites, so you can't see your neighbours.
When I've stayed at private campgrounds, they more often have resembled big fields and there isn't nearly as much privacy. This is fine if you're camping in an RV, but can be a little annoying when you're in a tent.
Amenities and Facilities
Both Ontario Parks and Parks Canada are fairly consistent with the amenities and facilities offered at each of their campgrounds, and they usually specify them on the website.
Typically, all of the sites at frontcountry campgrounds will have a flat area for tents and a fire pit; many will also have a picnic table. Nearby there will be a comfort station, with washrooms and running water, and sometimes laundry and showers.
At a private campground, there is much more variability in what is amenities / facilities are provided. Larger campgrounds often have all of the facilities mentioned above, but may also have communal recreation facilities like swimming pools, game rooms, boat rentals and more.
On the other hand, smaller campgrounds – especially those land owners who offer camping on their property – don't have any facilities at all.
So be sure to check what facilities are provided at the campground you are considering.
Read More: Camping 101: The Ultimate Guide to Camping for Beginners
---
How to Find Private Campgrounds in Ontario
The campground directory on the Camping in Ontario website is the #1 place to start when looking for a private campground in Ontario. Choose your criteria (i.e. site type, location, facilities) and the website will show you a map of private campgrounds that match your criteria.
The website is very comprehensive and typically has photos, contact information and a complete list of facilities available.
This is another campground directory that has information on hundreds of private campgrounds in Ontario. The site doesn't have the same filtering abilities that the resource above has, but it's still a useful resource. The listings bring you to the campground's website, where you can make reservations directly.
KOA is a franchise with campgrounds all over Canada and the US. I've stayed at a few in the past, and they tend to be very consistent with facilities and overall quality. You can search for campgrounds near you directly on their website.
Hip Camp is like Airbnb but for landowners. I signed up when I was looking for campsite options around Algonquin Provincial Park, but not actually in the park. The listings are most often for drive-in individual campsites on large plots of land; some have water access and many allow you to explore trails / forest in the surrounding area.
Since each campsite is so different, you'll want to thoroughly read the description to ensure you're booking the type of site you want. There are some great hidden gems listed on the website!
Although, one downside is that the campsites tend to be a bit pricey if you're solo or in a small group. For example, the AWESOME campsite I want to book near Algonquin is $80 per night, for up to 6 campers. That's a lot for an individual, but great for a group.
It's free to sign up for an account and browse the listings. Use this link for a $10 credit when you sign up.
Campertunity is very similar to Hip Camp. Campers can book individual campsites on land that is privately owned, rather than sites at established campgrounds. I think Campertunity is less established than Hip Camp, as there aren't as many listings. However, there are a few nice campsites listed on the site right now.
Boondockers Welcome helps you find free places to park overnight, so long as you have a self-contained RV. These aren't destination campsites – there aren't facilities and you don't want to spend the day hanging out in someone's driveway. But if you are doing a long drive and want a free place to camp for the night, Boondockers Welcome is perfect.
This is a less reliable option, but you can sometimes find private campgrounds in Ontario listed on sites like Booking.com and VRBO.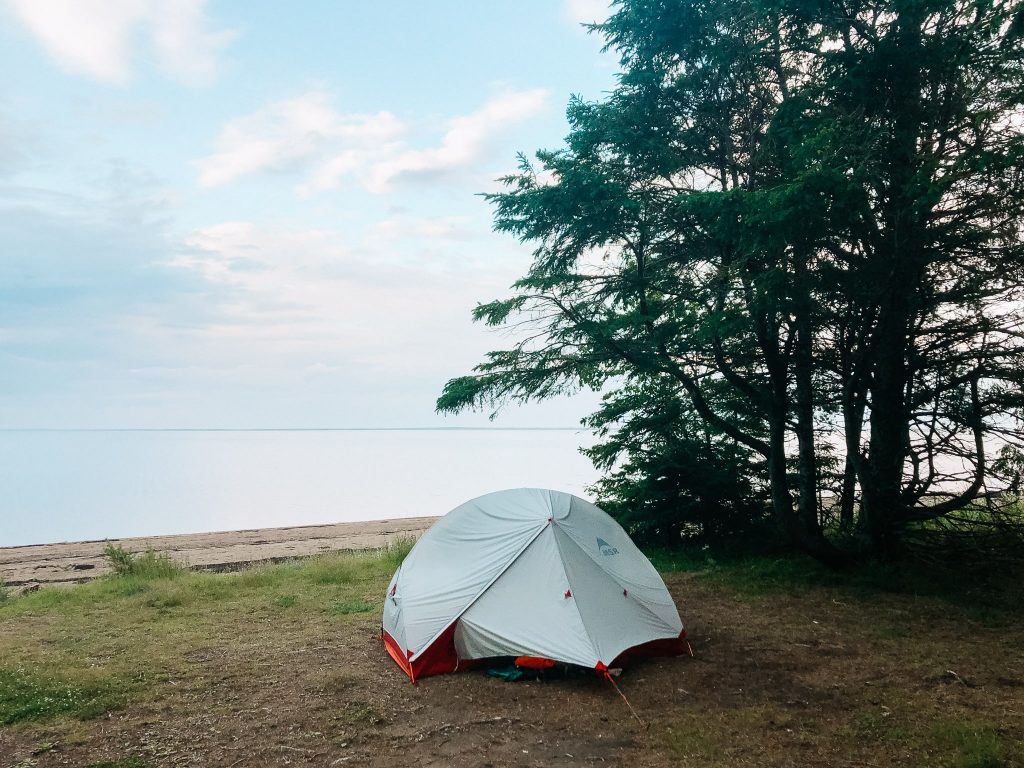 ---
Alternatives to Private Campgrounds in Ontario
Although there are some awesome private campgrounds, sometimes you want to camp in a provincial or national park. Maybe that specific destination place is on your bucket list or you don't want to pay the slightly elevated fees of a private campground.
Here are some things to keep in mind if searching for alternatives to private campgrounds in Ontario.
If you're looking at private campgrounds because a specific Ontario Parks campground is sold out, you'll definitely want to consider Camp Nab. I haven't used Camp Nab before, but I'm really intrigued by the concept. Basically, Camp Nab will notify you when a sold-out campground has new availability from a cancellation.
For example, let's say you'd like to go to Achray Campground in Algonquin Provincial Park in July, but the park is sold out. Camp Nab will regularly "scan" the Ontario Parks website to search for cancellations and any new availability. If it find any, you'll receive a text notification about it. You can then head to Ontario Parks to reserve the campground.
The website does charge a small fee based on how often you want it to "scan" a park for availability (i.e. every 20 minutes vs every 5 minute).
Read More: 22 Best Ontario Provincial Parks for Camping, Hiking and Paddling
Non-Operating Ontario Parks / Crown Land
Non-operating campgrounds and crown land don't require reservations, and you can camp for free here. Locating campsites in these areas is beyond the scope of this blog post, but to get you started I'd recommend looking at Ontario's Crown Land Use Policy Atlas and grabbing a copy of a Backroads Mapbook for your region in Ontario (you can also order them from MEC).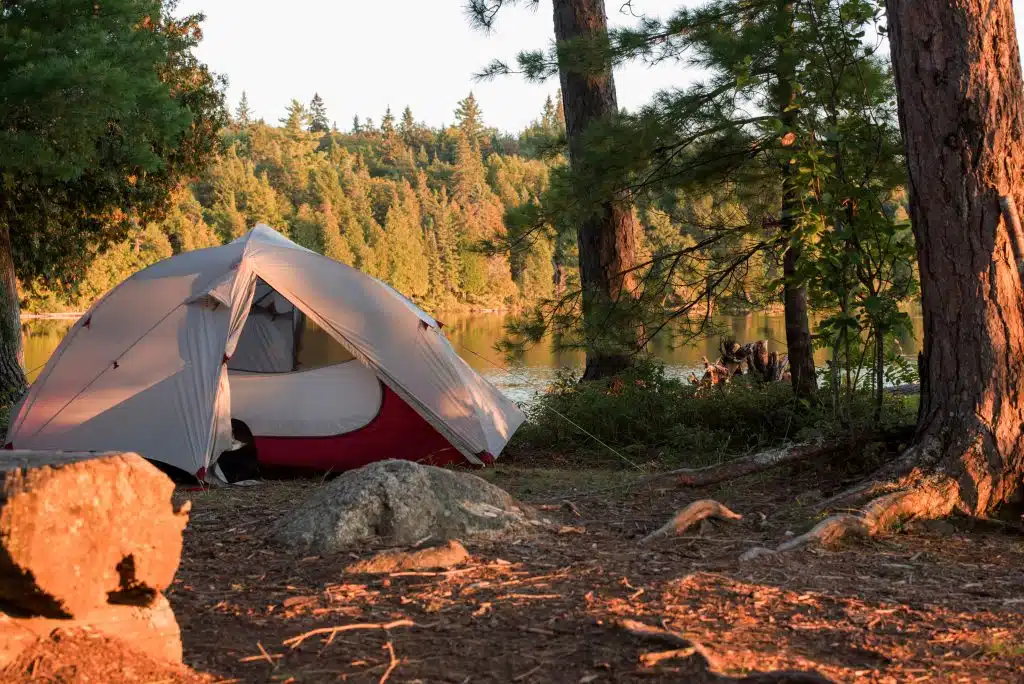 ---
Final Thoughts on Private Campgrounds in Ontario
I hope you've found this helpful and have a better idea of what to expect and how to book private camping in Ontario! As always, if you have any questions please leave a comment below!