A wonderful and completely overlooked region, The Catlins, New Zealand is an absolute gem on the South Island. Golden coastline, penguins and sea lions; lush forest and waterfalls; sea caves and a petrified forest – all within a two-hour drive. What more could you want?
You really only need a day to see the highlights, and two days to go to the off-the-beaten-path places. That being said, I enjoyed The Catlins so much I visited multiple times while living in New Zealand.
In this post, you'll find all the destinations I recommend visiting (and which ones to skip over if you're short on time), plus accommodation and a few helpful tips. Okay, enough chit-chat. Let's get adventuring.
This post may contain affiliate links. If you make a purchase through one of these links, I may receive a small commission at no extra cost to you. Your support is much appreciated! You can learn more by reading my full disclosure.
---
About The Catlins, New Zealand
The Catlins is a region in Southland, South Island. The region starts about an hour south of Dunedin and follows the Southern Scenic Route all the way to Slope Point, the most southern point on the South Island of New Zealand.
The Catlins encompasses the southeast coast and surrounding forest, offering sprawling beaches, lush forest, roaring waterfalls and wildlife opportunities.
French Polynesians found their way to New Zealand over 1,000 years ago and settled throughout the southeast coast, including in The Catlins. Many destinations here are called by their Maori names (don't fret if you have trouble pronouncing them!). In Maori legend, The Catlins was home to Maeroero (meaning "wild man of the forest") who was feared by the nearby tribes.
In addition to natural wonders, there is an abundance of shipwrecks scattered throughout the coastline. Due to the dense forest, until the 1800s transportation to the Catlins was by sea. Waves could surge; storms could hail. Some ships didn't make it to the harbour.
Overall, The Catlins is a beautiful region with an interesting history. I'm sure you'll have a great time exploring it.
---
Getting to the Catlins, New Zealand
The Catlins is located just a little south of Dunedin. Follow Highway 1 south the Balclutha, and then instead of going left to continue on Highway 1, go right onto the Owaka Highway. From here you'll be travelling on the Southern Scenic Route. Most of the destinations you'll want to visit in The Catlins will be along the scenic route.
---
Things to do in the Catlins, New Zealand
The Official Website of the Catlins contains all the information you need to plan your trip (most importantly, they have this excellent illustrated map). The map has an overwhelming amount of information, and it's hard to tell what the highlights are.
That's where this post comes in. I've listed all the destinations I recommend, plus some accommodation and food options, and I've even thrown them on a handy Google Map for you. Use the two maps in tandem when planning your trip.
A typical Catlins itinerary would be either one full day or two. I recommend doing two full days, which would allow you to visit every sight / destination listed in this post.
Note: This is a self-drive Catlins itinerary, which means you will need either a car or a camper van. Since I was living in New Zealand with my own flat, I had a car. If I were to return, however, I'd travel New Zealand in a camper van (check out this post on what you need to know about driving New Zealand by camper van).
Nugget Point Lighthouse at Sunrise
Nugget Point is a 20-minute walk to a great viewpoint and lighthouse. You've probably seen photos of it on Instagram (I think it's the most photographed place in the Catlins) and let me assure you it's more incredible in person. Especially at sunrise – I've visited during the day and at sunrise, and I definitely recommend the latter. Even on a foggy morning, it was a stunning scene to witness.
When tourists visit the Catlins, it is usually to see Nugget Point and then move on to something else. If you go during the day, this is the place you are most likely to see other people. Despite the slight busyness, visiting Nugget Point was still one of my favourite things to do in the Catlins.
Penguins and Seals at Roaring Bay
Roaring Bay is adjacent to Nugget Lighthouse and is good for a quick trip while the sun is rising. Roaring Bay has a lookout from which you can try to spot penguins. Going early in the morning gives you a better chance at spotting the penguins than during the day, however, it is also dependent on the time of year, lighting and a plethora of other factors, so I, unfortunately, did not see any penguins here (though I did see a lot of seals).
Tip: To avoid a long drive in the wee hours of the morning, spend the night in Kaka Point (a few minutes drive from Nugget Point Lighthouse). There are quite a few cute options (Seascape Accommodations is a popular choice) with ocean views. Catch the sunrise, then mosey on back to your B&B for breakfast and coffee at The Point Cafe before heading out.
Surat Bay Beach
If you're doing a single-day trip in The Catlins, skip over Surat Bay Beach. If you have more time to wander and explore, then make your way to New Haven, a very tiny town on the coast, where you can park your car and access the trail. The beach doesn't attract many people because, frankly, New Zealand has a lot of beaches and this one just isn't as beautiful as the others. That said, the reduced popularity means you're more likely to see wildlife. We saw dozens of humongous sea lions when we were there. (Remember to always stay at least 10 m away from them!)
Witness Jack's Blowhole
Next on the list is Jack's Blowhole, a blowhole 55 m deep and 200 m from the coastline. When there are heavy swells out on the Southern Ocean, waves get compressed through an underground tunnel and explode up and out of the blowhole.
From the car park, Jack's Blowhole is a 30-minute walk (one hour return). Honestly, I was pretty underwhelmed by it because we didn't see the wave explosion (apparently it's not actually that often). That said, the views of the coastline were gorgeous. If you only have one day, I'd skip over Jack's Blowhole.
Tip: Visit when the sun is high in the sky to best see down into the blowhole (between 12 pm and 1 pm for example). I went in the late afternoon, so the sun was casting shadows inside the blowhole, making it dark and difficult to see.
Purakaunui Falls and Campsite
If you continue driving south, you can make your way to Purakaunui Falls. It is a 20 minute walk from the car park to the falls. Dropping 17 m over three tiers, Purakaunui Falls is an excellent photography spot. In the area is also the Purakaunui Campsite. It's a pretty low facility campsite but it was also the location of the most spectacular sunrise of my life, so I'm very fond of this campsite. There's great surfing here if that is something you are into.
Matai Falls
Our next stop is Matai Falls. The 30 minute return trail takes you through a regenerating podocarp and broadleaf forest to a 10 m, cascading waterfall.
View Points at Tautuku
As you drive from Matai Falls to the Cathedral Caves, you will pass through the town of Tautuku, situated on Tautuku Bay. There are a few lookouts where you can make a quick stop to see views of the bay. From North to South, there are: Skeleton Point, Florence Hill and the Tautuku Viewing Platform.
Tip: In this area, there is a really cute place called Hilltop Accommodations. I haven't stayed there myself (since I had a house in Dunedin to return to). It's situated on farmland and offers some really nice views of the bay.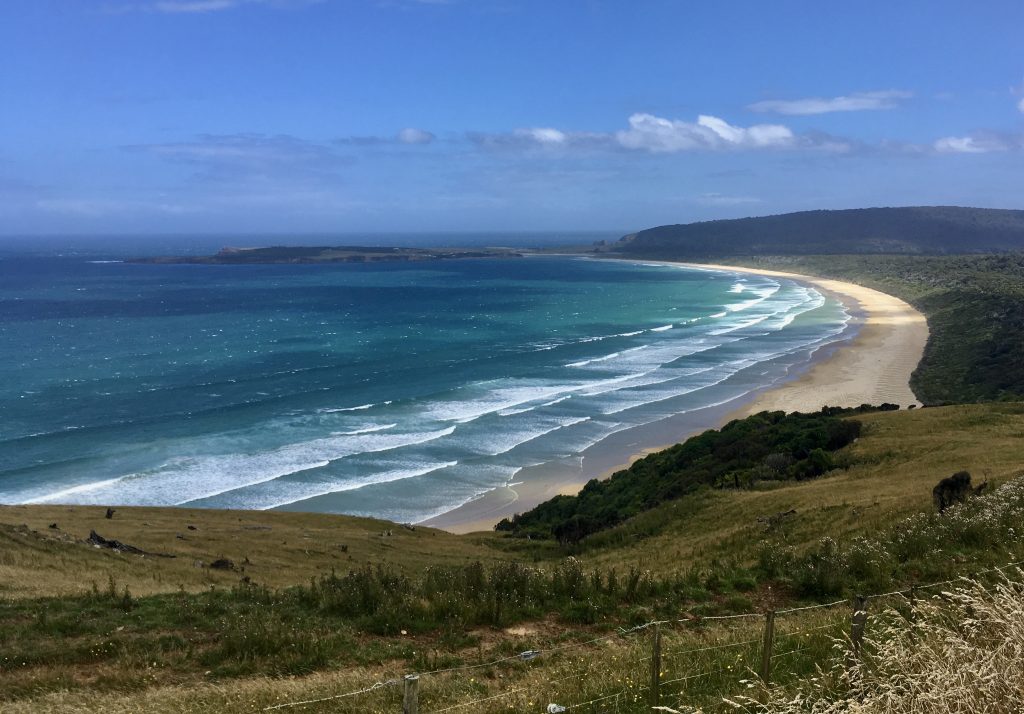 Cathedral Caves
When the tide is in, this area of the South Island coast would look pretty unassuming. However, when the tide goes out there's a wicked cave you can explore. And what's cool is the cave has two entrances, so it's not like you enter and then turn around; you actually walk the length of the cave and come out in a different place from where you came in.
Tip: the Cathedral Caves official website has a page dedicated to tracking the tides to help you plan your trip and ensure you arrive at low tide (remember the caves are not accessible from high tide).
McLean Falls
McLean Falls was my favourite of all the waterfalls in The Catlins. The trail is 20 minutes each way, through forest and over even terrain. Water from McLean Falls tumbles 22 m down.
When searching McLean Falls on Google Maps, ensure you search "McLean Falls Walkway". This will bring you to the start of the trail. Searching just "McLean Falls" brings you to the wrong destination!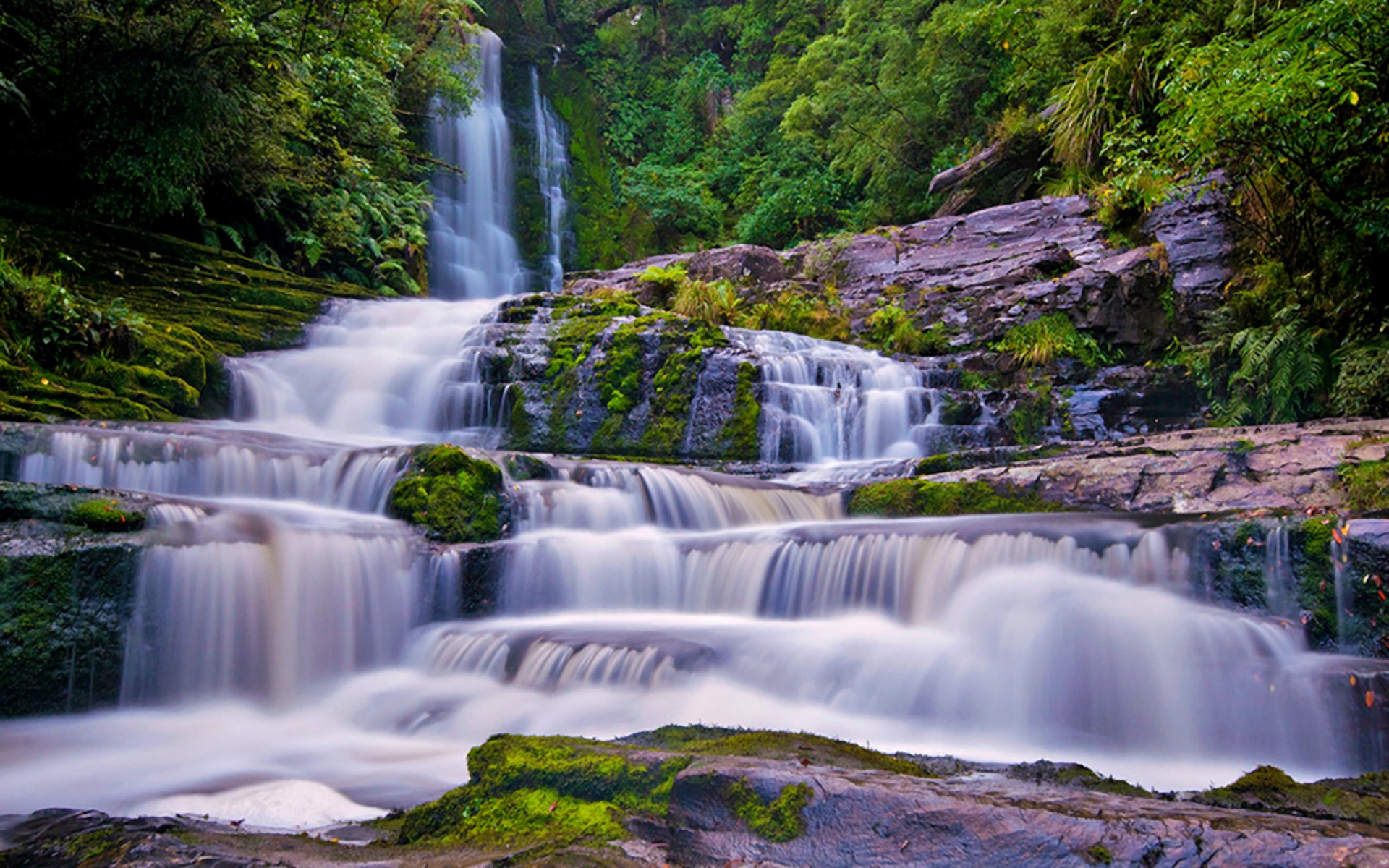 Curio Bay
From McLean Falls, the drive to Curio Bay is 40 minutes. Curio Bay is home to a 180 million year old petrified forest. Basically, all the organic materials have been replaced by minerals. Whereas a fossil is an imprint of organic material in 2D, a petrified forest is like a stone forest in 3D. You can walk right to the forest during low tide (so pay attention to your tide chart from the Cathedral Caves).
Curio Bay has Tumu Toka Curio Scape, an interactive museum and cafe. Considering the size of Curio Bay, I was so impressed with this museum. The Gateway Experience is an audio-visual learning experience about the history, geography and wildlife of the area. I'm not really one for museums, but this one was so cool!
Apparently, you can also see yellow-eyed penguins and dolphins around Curio Bay, but I didn't see any myself, unfortunately. Oh well, guess I'll need to make yet another trip to The Catlins!
A little north of Curio Bay is Waipohatu Walk, a 6 km walk through the forest. It's a beautiful walk, but at this point, if you're tired of forest walks and want to skip it I wouldn't judge you.
Slope Point
Slope Point is the most southern tip of the South Island. That's really its whole claim to fame, though it is a pretty destination. You can an unreal view of the Southern Ocean and you'll see A LOT of sheep. Go even if it's just for a photo of the sign.
Waipapa Lighthouse
If you have a little extra time on your hands, continue driving west to Waipapa Lighthouse. This beautiful lighthouse was constructed after the SS Tararua shipwreck in 1881. The lighthouse sits on farmland with views out into the Southern Ocean. It's a bit out of the way, but was actually one of my favourite destinations in the Catlins. The clouds made the whole scene feel rather ominous, and I couldn't help but wonder about the shipwreck and how terrifying it must have been out in the ocean when a storm was rolling in.
---
Accommodation in The Catlins, New Zealand
Disclaimer: So I typically only recommend accommodation I've personally stayed in, and whenever I was in The Catlins I camped at Purakaunui Bay Campground, stayed at an inn in Owaka I wouldn't recommend or drove back to my house in Dunedin. That is to say, I don't have personal-lived experience with most of the places below. I've included some places I've heard good things about, but can't attest to them myself!
Camping in the Catlins
Here are three campgrounds in the Catlins area. All of them can accommodate tents or camper vans. Department of Conservation campsites is $8 / night per adult.
Hostels in The Catlins
There aren't a lot of hostels in the area as this isn't a particularly popular area in New Zealand.
Hotels in The Catlins
There aren't any resort-style or luxury hotels in The Catlins, but there are a lot of cute locally owned and operated Inns and Bed & Breakfasts.
---
Ready for an adventure in The Catlins?
I really hope this guide has been helpful for planning your trip to the Catlins, New Zealand. As always, drop a comment below if you have questions or if you've been to any of these destinations yourself!
Additional Resources