I was pretty reluctant to get into backpacking. Walk for long distances carrying heavy things? No thanks!
But over time I started to love backpacking and at this point, you can safely call me obsessed. Now I go every few weeks on a mix of solo, tandem and group trips. And through this time, I've learned a lot about backpacking. I also have worked as a wilderness guide, leading hiking and paddling trips in various places.
So in this post, I'm detailing everything I know to help other women backpackers learn exactly what they need to know to hit the trail themselves – with confidence!
This is a super long post (sorry, I just have so many tips and lessons and guidance to dispense that I couldn't stop writing!). So here are the section headings that you can use to navigate the post.
Tips for Planning Your Backpacking Trip (finding people, choosing a destination, mental and physical preparation)
Safety for Women Backpackers
Hygiene Tips for Women
Gear Tips for Women
Note: If you're totally new to backpacking, I encourage you to sign up to my free backcountry camping course. This will give you the basics you need to get outside safely.
---
Tips for Planning Your Backpacking Trip
👯 How to Find People to Go Backpacking With
If you don't have friends who are interested in backpacking, here are a few resources for finding hiking buddies.
Facebook Groups – I'm a member of a lot of female backpacking groups on Facebook. Many of them host groups hikes or have ways for people to meet up for hikes in their area. I find it's best to look for groups specific to your location, but there are also some that are nationwide.
Non-Profit Clubs / Associations – You can also join hiking non-profits or associations like the Sierra Club. These groups often organize group trips where you can join and meet other people.
Friend Apps – I'm on a female friend-making app called Hey Vina (Bumble BFF is another popular one). They basically work like dating apps, connecting people with similar interests. My bio says that I'm looking for hiking friends and that's how I've made some hiking friends since moving to California.
Memberships – There are also backpacking membership you can join which host group trips. In the Bay Area, for example, we have Urban Diversion which organizes backpacking trips each month for its members. Although I'm a member, I haven't taken one of their trips yet. But my friend did the Catalina Trail with them earlier this year and really loved it. It's especially helpful for backpacking in destinations with hard-to-get permits, as the group organizers handle it.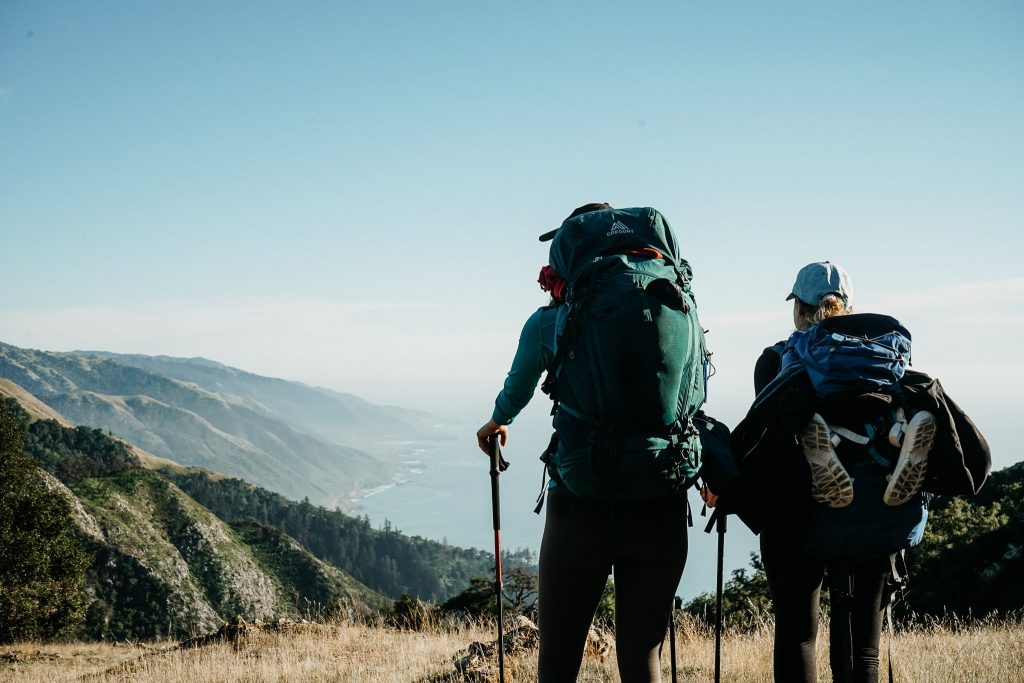 This post may contain affiliate links. If you make a purchase through one of these links, I may receive a small commission at no extra cost to you. Your support is much appreciated! You can learn more by reading my full disclosure.
🗺️ How to Choose a Backpacking Destination
When considering a destination for your first backpacking trip, keep these points in mind:
Choose a popular, well-marked trail: Choose a park in a popular destination that is well-marked, maintained and easy to follow. This will help you avoid getting lost or needing to bushwhack. National or state parks are excellent for finding trails like these.
Consider the elevation profile: If you're new to backpacking or your hiking fitness needs improvement, keep elevation gains to a minimum. I typically recommend keeping elevation gain to less than 2000 ft each day.
Avoid wildlife hotspots: When you're getting started, you may want to avoid backpacking in areas with lots of wildlife, specifically, grizzly bears and mountain lions. While you should still take proper precautions (more on that below), it can provide some peace of mind knowing you're not camping in an area frequented by large animals.
Keep it short: No need to go too far into the wilderness on your first trip. When you gets started, you'll be adjusting to hiking, carrying a backpack and being self-sufficient in the backcountry. No need to add on 15 mile days on top of that! I generally recommend trail under 5 miles each way for novice women backpackers.
Avoid roads and residential areas: That said, avoid camping too close to a road or a residential area. Ideally, keep at least one mile in between you and any road accessible areas. This will prevent running into non-backpackers.
Consider a destination with cell service: If you won't be bringing a satellite communication device (more on that below), choose an area that has reliable cell coverage. That said, my recommendation is to always bring a satellite communication device as cell coverage can be unreliable even in popular parks.
🧠 How to Mentally Prepare Yourself
Whether you're solo backpacking or going with a group of friends, getting started in backpacking can be intimidating. This is especially true for women backpackers, as there are additional safety concerns and some negative messages come from other people and the media.
I've also experienced a loud and growing narrative on social media about how women shouldn't go into the wilderness without men (if you're in a Facebook Group like that, leave now!). That is its own can of worms that I'll address in a subsequent blog post.
So with all of these messages presenting the obstacles to backpacking, how do you mentally prepare yourself?
🩹 Take a wilderness first aid course
One of the best ways to increase your confidence in the wilderness is by knowing exactly what to do if something goes wrong. I've taken several wilderness first aid courses, most recently to become a Wilderness First Responder.
These courses teach you about the common injuries and illnesses that arise in the backcountry and teach you the signs and symptoms and corresponding treatment plans.
My confidence in the outdoors skyrocketed once I know what to do if I twisted my ankle or suffered from a burn.
🧭 Learn navigation and map reading
Another common fear people have in the outdoors is getting lost. I've been lost before, and it can be really terrifying.
Take a course (in person or online) about navigation and map reading. Topographic maps can be confusing at first, so it's easier to rely on GPS and AllTrails. But if those fail you and you get lost, what will you do?
Always pack a topographic map (a paper copy or electronic copy) and learn to read contour lines and water features. Learn how to use a compass and set a bearing. Once you have those tools in your mental toolkit, you can feel a lot more confident about 1) not getting lost in the first place, and 2) getting out if you do get lost.
🌟 Follow and engage with positive role models
There are a lot of bad backpacking role models on social media, but there are also a lot of excellent ones. Follow and engage with women who are doing the kind of trips you want to do – who make you feel inspired rather than envious.
And don't be afraid to message them! I absolutely love chatting with women about their backpacking ambitions (send me a message!). I get tons of questions about routes and gear, gaining confidence and building strength. And I love getting those messages! It's so nice to know that something I've written or said is positively impacting another person.
Now, I'm not saying I need to be your role model. All I'm saying is you should seek out your own; someone you identify with and want to learn from!
💪 How to Physically Prepare Yourself
In addition to mental preparation, it helps to be physically prepared. One thing I've learned during my time backpacking is that women backpackers come in all shapes and sizes, but they all strive to improve their cardio and strength so they can tackle bigger trails.
🥾 Practice hiking with your gear
Before setting out on your first backpacking trip, try doing a day hike with your gear. This will give you an idea of how much weight you need to carry. If the backpack feels way too heavy, you may be packing too much gear. As you do more hiking and backpacking, you'll get used to the weight.
🚲 Improve your cardio
You can improve your cardio with any type of movement. Running or incline walking on a treadmill is great; elliptical or biking can work as well. I like to alternate between high intensity workouts (like running or stairs) with lower intensity workouts like the elliptical.
🏋️ Build core and lower body strength
A great way to improve your strength is to incorporate weight training or resistance training into your weekly routine. Lower body exercises like squats, lunges, and step-ups can prepare your leg muscles (glutes, quads, hamstrings and calves) for hiking.
Don't forget about core exercises as well – it takes a strong core to support a full backpack! I also like to do yoga regularly to balance strength with flexibility.
🏕️ Getting the Gear
I have a section below about women-specific backpacking gear, but before that, I want to talk about the process for getting gear in general.
When you're getting started in backpacking, it can seem really expensive, really quickly. High-quality backpacking gear is not cheap!
BUT there are a lot of ways to get around this. You can rent gear from places like REI and Sports Basement. This is an excellent way to test out gear before your commit to a purchase. You can also find second-hand gear at thrift stores, Poshmark and the REI Outlet (check here for a full list of places to purchase discounted outdoor gear).
Also, you don't need a lot to get started, especially if you go with another backpacker or a group.
Basically, my hope is that acquiring gear is not the limiting factor in getting women into backpacking. If you're stuck on how to find a particular piece of gear in a cost-effective way, send me a message!
⚖️ Lightweight vs Comfort
One of the biggest challenges when backpacking is the trade-off between comfort on the trail and comfort at the campsite. Having an ultralightweight setup is really comfortable on the trail (you don't have much to carry), however, having the full spread of backpacking gear will make you comfortable at the campsite.
This may seem a little counter-intuitive, but for beginner women backpackers, I recommend they start off with more gear than they think they'll need. If you choose a short route, you can take plenty of breaks and carrying a heavy backpack isn't awful. But if you're cold all night and have an uncomfortable sleep system, or you have bad food or wet clothing, you will hate backpacking.
In my opinion, it's better to get the hang of the camping portion of backpacking before you get good at the hiking portion of backpacking.
---
Safety Tips for Women Backpackers
I wish I didn't have to have an entire section explicitly addressing safety tips for women backpackers, but unfortunately, gender-based violence is prevalent in our society.
📝 Leave Your Itinerary with Someone
Whenever I'm going backpacking, I create a Route Card with details about my itinerary. It includes details on my location (park name, trailhead) and specific coordinates for my intended campsites for each night (you can find these on Google Maps or a topographic map).
I'll also include details about when I expect to be back and when I'll check-in. Finally, I leave instructions for what to do if I don't make the check-in.
🧭 Carry Navigation Tools
This may seem obvious, but you should always carry navigation tools. For most of my short backpacking trips, this means having a topographic map downloaded on my phone.
Thus far, I've found downloading AllTrails maps to work fairly well. I keep my phone on airplane mode and carry a battery pack to ensure I have enough battery for the duration of the trip. I've also found AllTrails and my phone to be fairly accurate as a GPS for tracking where on the trail I am.
Should that fail, I usually keep a compass in my backpack for emergencies.
If I'm on a longer backpacking trip or on a less established trail, I'll also bring a paper map. At national parks, you can usually purchase a paper map (and they typically have a lot of information about the area which is interesting!).
Otherwise, I'll print the AllTrails topographic map. I still use the app on my phone, but I bring the paper copy in case my phone dies or gets lost.
🛰️ Bring a Satellite Communicator
In addition to navigation tools, I'll also bring a satellite communication device. Specifically, I carry a Garmin inReach Mini. The primary reason I carry one is for the SOS button. If I was in a true emergency and didn't have cell service, I could use the SOS button to alert Garmin's emergency response team of my location and then they contact the appropriate rescue authority.
Most satellite communication devices also have GPS and navigation capabilities.
🧑 Be Vague When Discussing Your Route with Strangers
I love chatting with other hikers on the trail, but I don't like to offer up much information about my plans (especially if I'm solo). When asked where I'm camping, I'll usually say "I haven't decided yet – depends on how far I get!"
That doesn't work if I'm camping in a place that requires specific reservations, in which case I'll usually give a vague lie: "I can't remember but the name, but it's the third one after the creek," when I'm actually staying nowhere near the creek.
Now, this is a little stereotypical, but if the group I'm talking to is made up of women, I'm much more likely to give a straight answer.
🔥 Tip: If you're ever uncomfortable on the trail and come across a solo woman or a group of women, feel free to ask if you can hike with them. I've had a few encounters where a solo female hiker was feeling uncomfortable about something and asked to hang around me. I've also done this myself on two occasions where I was feeling a little uneasy myself. In all of my experiences, I've found women to be very accepting and accommodating.
🏞️ Start with Popular, Developed Routes
When they're getting started, I usually recommend women backpackers choose a popular, well-defined trail in a national or state park. For starters, it's much harder to get lost when you have a clear trail to follow. Second, if you were to get injured or need help, other backpackers, the park staff and rescue services aren't too far away.
The last reason, and this is especially true for solo women backpackers, is that it can feel safer when you're camping around other people. You're solo, but not too solo. If there was to be an animal or a sketchy person, you'd have plenty of other people around you.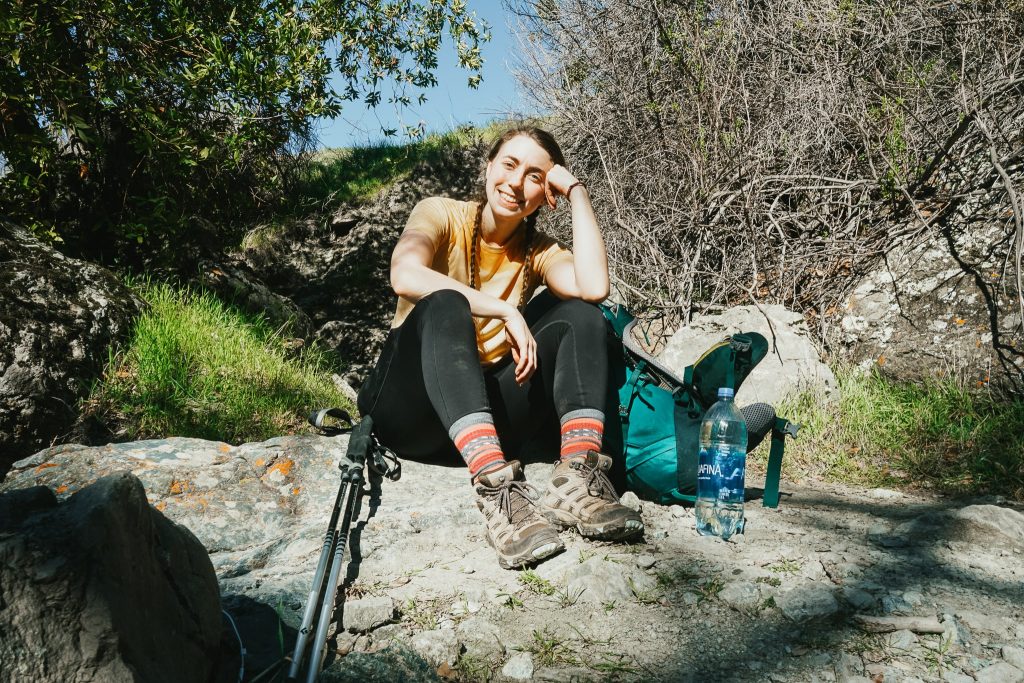 ⚔️ Optional: Carry Protection
Statistically, it is very uncommon that women backpackers are attacked on the trail. Women are much more likely to be attacked in their own home, on their commute or in their community (all of which is terrible). It does mean, however, that you don't need to take too many extra precautions when backpacking.
Once I started solo backpacking in California, I started carrying bear spray with me. Used properly, bear spray is an effective deterrent against most wildlife encounters. Like pepper spray, it can also be used against people in self-defence, though the laws on that vary by state and by country (so do your research!).
Beyond that, you can also carry a knife (I usually have a pocket knife on me) but those typically aren't an effective form of protection. I've met a few people who carry tasers (most often people who hike or run in parks adjacent to busy urban areas).
Generally speaking, firearms are only permitted in specific polar or grizzly territories. To my knowledge, there are no national and state parks that allow visitors to carry firearms.
💕 Know Your Limits and Play Within Them
Be honest about your skills and experience, and choose a route that aligns with them. If you're new to backpacking, maybe don't choose a route that is 15 miles each way and involves several major river crossings! Nor do you need your first backpacking trip to be a solo one – find other cool women backpackers and go out with them!
As you do more trips and gain more experience, your 'limits' will increase and you'll be able to do bigger trips.
🌲 But Still Get Out of Your Comfort Zone (If You Want)
When I worked as a wilderness guide, I usually gave the advice above (know your limits and play within them) to the men I guided or worked with, as I've found men much more likely to overestimate their abilities.
Women backpackers, on the other hand, have a tendency to underestimate their abilities. Women take a lot longer to determine they're ready for a solo trip, or to tackle a high altitude trail. They're more likely to say that don't have enough experience or enough stamina to do something, despite evidence that they definitely can!
(I am NOT saying there aren't women who push themselves – I do all the time! Many women do. I'm just saying that, in my experience, women underestimate themselves – it's like they have imposter syndrome on the trail!)
Growing your skills requires getting out of your comfort zone, so there's a fine line to walk between pushing yourself and going beyond your limits. As you do more trips, however, you'll learn exactly what this means for you. If you have questions about what you're ready for, talk to someone experienced!
🔒 Trust Your Gut
At the end of the day, trust your instincts. If something feels wrong, you can always bail. During my first attempt at solo backpacking, I got less than a mile into the trail before bailing. I felt unprepared and I'd gotten a later start to the hike than I'd planned. I trusted my gut and turned around, finding a place to car camp in the park.
If there's ever a moment when something doesn't feel right, don't hesitate to change your route, take a rest day and cut your trip short. We've all been there!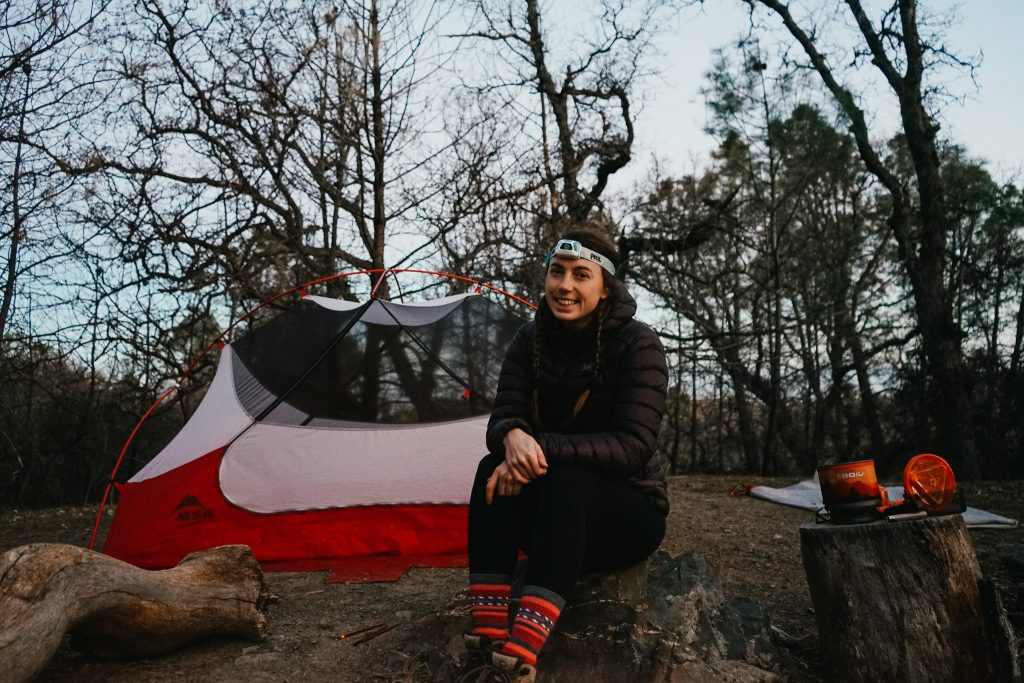 ---
Female Camping Hygiene Tips
🩸 Pack Re-Useable Period Products
I am a huge fan of reusable period products, especially on camping trips.
The most popular option, from what I've heard, is menstrual cups. These are silicone cups that you insert into the vagina and which collect blood. Throughout the day, you empty the cup, rinse it off and reinsert it.
It's important when rinsing it off that you use clean water!
Personally, I've never been a fan of them. Instead, I use period-proof underwear. I have a bunch of pairs from Thinx and recommend them.
On a short trip, I'll bring a few pairs – enough for one during the day and another at night (so usually six pairs in total). I'll bring a Party Bag (see below) and keep the used ones inside until I can bring them home and wash them.
For long trips, on the other hand, I will wash and rinse them in the backcountry. If you haven't read my post on camping hygiene, I go into washing clothing in the backcountry in more detail.
I know a lot of women have heavy flows and can't get away with only period-proof underwear, so there are other reusable options as well. In that case, a menstrual cup or disposable products may work better.
---
🎉 Or, Bring a Party Bag for Disposable Period Products
When I first got into camping, my camp counsellors introduced me to a Party Bag; basically, it's a ziplock bag covered in duct tape so it was no longer transparent. This is what we used to hold our used period products throughout the trip.
In addition to the Party Bag, we'd pack lots of small plastic bags (the kind with an open top that you close by tying a knot, not with a ziplock). We'd put individual tampons and pads inside its own plastic bag, and then put it inside the Party Bag.
This does two things. First, it keeps the Party Bag from smelling disgusting. Second, if your Party Bag was to accidentally open inside your backpack, you won't have bloody period products all over your bag.
If you're using disposable period products, I encourage you to build your own Party Bag!
🩹 Have a Well-Stocked First Aid Kit
In addition to general safety, a well-stocked first aid kit is helpful when you're on your period. I keep a variety of pain meds inside mine, including acetaminophen (Tylenol), ibuprofen (Advil, Motrin), and naproxen sodium (Aleve).
Whatever medication you're used to taking for your period, include some in your first aid kit.
🌞 Bring a Heating Pad for Cramps
In addition to pain meds, a heating pad can help to alleviate period pain. If you're packing lightweight, you can fill a Nalgene water bottle with hot water and make a mini hot water bottle.
Alternatively, there are chemical heating pads that, once activated, get hot and stay hot for a while. These tend to be a little bulky and can only be used once on your trip.
Personally, I'm a big fan of the hand warmers used for cold hands while skiing. They're super small and lightweight and most stay hot for up to eight hours. Unfortunately, they're single-use so not very environmentally friendly.
🍃 Pack a Pee Rag
I'll admit I was reluctant to use a pee rag but now that I've tried it, I'm a total advocate! My issue with toilet paper was 1) packing it out, 2) bringing enough. As a refresher, you cannot bury toilet paper in the backcountry. You need to either pack it out, put it in an outhouse or trash can or burn it.
Usually, I burn mine. But if I'm camping somewhere with a fire ban, then I have to pack it out and I don't like doing that.
So I recently bought a Kula Cloth, which is an anti-microbial and anti-bacterial, reusable pee rag. It's extremely quick drying – it completely dries in between uses. Every day or so, give the Kula Cloth a rinse in a creek or river. Once home, I give it another rinse and then put it in the washing machine with my underwear.
This has proven to be an excellent, low-waste way of peeing outdoors!
🧻 Or, Pack Extra Toilet Paper
But, some people don't like the notion of a reusable pee cloth. In that case, bring toilet paper. Lots of it. Always pack a little more than you need (you can save space by leaving the cardboard part of the roll at home).
Unless you know you'll be able to burn your toilet paper in a fire, bring a separate bag to pack the toilet paper out. I use a small, durable Ziploc bag.
🛁 Bring Face Wipes for Backcountry Baths
Face wipes (or baby wipes) are super helpful for getting clean when you don't have water available. I'm used to camping in Ontario, Canada where there was always a river or lake nearby, so I'd swim twice per day every day and always feel clean.
Now that I'm camping on the West Coast, most often in California, swim spots are harder to come by. I like running baby wipes over my body (specifically, my face, feet, groin and armpits) before putting on my sleep clothing.
👧 Style Your Hair in Braids
One of the easiest ways to manage hair while backpacking is to style them in braids before you leave and just leave them like that.
When I was on the Missinaibi River for more than twenty days, I wore French braids the entire time. At the halfway point I took the braids out, went for a swim and immediately redid them. In my experience, this is the easiest way to keep long hair tangle-free. I'd reckon that in 95% of the photos of me camping I'm wearing braids.
If you do want to bring a brush, that's okay. It will add more bulk and weight to your pack (not much, but some) so I don't personally bring one.
Me wearing braids over the last 12 years…
🧴 Bring Dry Shampoo
I'm fortunate that I can go several weeks without washing my hair without it bothering me. However, some people find that after two or three days without a shower, the grease in their hair starts to bother them. Specifically, some people find it makes their head feel itchy and this can be both annoying and distracting.
If you fall into that camp, you can bring some dry shampoo to use throughout your backpacking trip.
🧼 Create a Backcountry Hygiene Kit
Many of the above items can go inside a backcountry hygiene kit (not the pee cloth – that goes outside your backpack – or the Party Bag – keep that separate). In addition, I like to keep the following things in mine:
Vaseline
Small backcountry trowel (for digging a hole to poop in)
Hand sanitizer
If there are other hygiene items that make you feel comfortable, you can bring those too.
That said, anything with a scent to it should be stored in a bear canister or bear hang if you are camping in bear territory!
---
⚙️ Gear Tips for Women Backpackers
💤 Women-Specific Sleeping Bags
Here is a seriously underrated tip for women backpackers everywhere: temperature ratings are different for men/unisex sleeping bags versus women sleeping bags!
In general, women's bodies run a little colder than men's bodies. Sleeping bags typically have two ratings, one of which will be advertised in the title of the sleeping bag: a comfort rating and a lower limit rating. Men/unisex sleeping bags will generally use the lower limit. Women's sleeping bags, on the other hand, will generally use the comfort rating.
From what my research has told me, this distinction is because of how temperature rating is determined. The comfort rating is defined as the minimum temperature an average-sized woman could stay comfortable inside the sleeping bag with a single base layer and appropriate sleeping pad. The lower limit, on the other hand, is the same measurement except with a man instead of a woman (because women sleep colder than men).
Can women backpackers use men/unisex sleeping bags? Yes! Just be aware that you'll likely need a bag rated to a temperature lower than the conditions you'll be experiencing.
I use the MEC Delphinus -9C (unfortunately, only available in Canada) that is made specifically for women. Honestly, this sleeping bag is so incredible that I think it's worth the trip to Canada! I use it three seasons of the year and add a liner for early spring and later autumn.
👚 Pack Extra Layers
As I mentioned above, women tend to run colder than men. For your first few trips, bring extra layers. As you do more backpacking trips, you'll better understand your body and how it reacts to different temperatures. When you're first getting started, however, bring extra layers.
For your base layers, I recommend merino wool over synthetic because they are warmer and better at wicking away moisture. But, they're also more expensive, so don't worry if you can't get merino wool initially. Synthetic also works, but you might need to pack something thicker! >>This is the merino wool shirt I sleep in (very warm!).
For the insulating layer, I like to bring both a fleece sweater and a puffy jacket. As soon as the sun goes down I tend to get really chilly.
🎒 Properly Adjust Your Backpack Straps
Okay, so maybe this is embarrassing to admit seeing as I've been camping for 12 years and have worked as a professional wilderness guide and blogger… but it was only two years ago that I learned how to properly fit a backpacking backpack!
There are a bunch of straps on backpacking backpacks. How you tighten them affects how the bag fits on your body and how the weight of the backpack is distributed.
I'm not even going to attempt to explain this in writing. But, Miranda from REI has a great video explaining it:
⚙️ Gear for Plus Sized Women
Long overdue, there are some outdoor brands that have started making outdoor gear specifically for plus-sized bodies. I haven't used any of the products personally, but these are the products generally by my plus-sized female friends.
---
📋 Packing List for Women Backpackers
✔️ Safety
Map + Compass
First Aid Kit
✔️ Sleep & Shelter
✔️ Cookware & Food
Backpacking Stove + Fuel + Lighter
Pot
Spoon + Bowl
Bear Canister
High Energy, Nutritious Meals and Snacks
✔️ Clothing & Footwear
Sweater (wool or fleece)
Rain Jacket or Poncho
Puffy Jacket (depending on weather)
Sleep Clothing (avoid cotton – I like base layer top and bottoms)
Underwear
✔️ Entertainment (Optional)
Playing Cards
Journal
Headphones
Book / eBook
Camera
✔️ Miscellaneous
Sunscreen / Hat / Sunglasses
Toothbrush / Toothpaste
Period Products / Pee Rag / Toilet Paper
Bug Spray / Bug Hat
Power Bank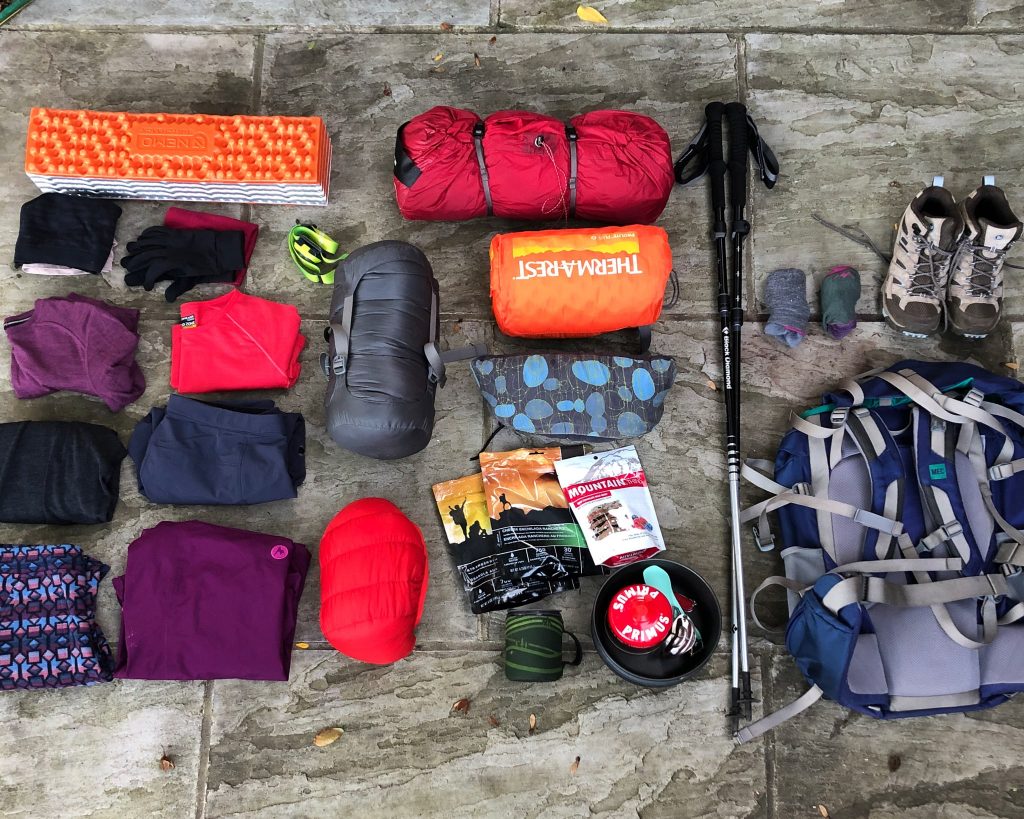 ---
Final Thoughts on Tips for Women Backpackers
I hope you've found this guide helpful and are ready to hit the trail. At the end of the day, it all comes down to 1) getting started, and 2) doing what makes you comfortable. Honestly, the first few trips are the hardest but once you get started you'll get the hang of it really quickly.
Then you'll be hooked on backpacking just like me!