Are you interested in experiencing the land of the midnight sun? A vast tundra of wildflowers, towering cliffs and meandering icebergs bobbing along freely in the arctic ocean? If this intrigues you, it sounds like you would be interested in travelling to Nunavut.
I spent four months living in Nunavut in 2015, made another visit in 2019 and I anticipate many more visits to come. In this post you'll find everything you need to know to visit Nunavut yourself, as well as all the resources I've written about my favourite territory. Plus, throughout this post you'll find external resources to provide even more information. If after all this, you have any additional questions, please leave a comment below!
This post may contain affiliate links. If you make a purchase through one of these links, I may receive a small commission at no extra cost to you. Your support is much appreciated! You can learn more by reading my full disclosure.
---
Welcome to Nunavut
Nunavut is a destination as off-the-beaten-path as they come. Nunavut receives just 14,000 visitors each year; it is often forgotten by foreigners and Canadians alike. So if you aren't familiar with Nunavut, you are not alone. Here are some quick facts and reasons why Nunavut is a great place to visit.
Quick Facts about Nunavut
Country: Canada
Demographic: Approximately 85% of the population is Indigenous, ~12% is Caucasian and the remaining ~3 % are visible minorities.
Language: Four official languages (English, Inuktitut, French and Inuinnaqtun)
Size: 2 million square kilometers (20% of Canada's landmass)
Regions: Nunavut is divided into three regions:
Qikiqtaluuk (Baffin) Region includes Baffin Island, Ellesmere Island and surrounding islands on the eastern and northern parts of Nunavut
Kivalliq Region extends north from Manitoba and includes most of the land along the coast of Hudson Bay
Kitikmeot Region is the land around the center and western border of Nunavut
Communities: Iqaluit is the capital city of Nunavut; it is the largest community with approximately 7,500 people. There are 25 other communities, with populations ranging from 100 to 2,500. None of the communities have road access between them, nor are they connected to southern Canada.
Read more: Interesting Facts About Nunavut
Reasons to Visit Nunavut
You visit Nunavut to experience life at the top of the world. Witness magnificent wildlife – polar bears, narwhals, beluga, caribou – in their natural environment. Watch lonely icebergs floating in the frigid arctic ocean. Catch the northern lights as they dance across the sky. Learn about Inuit traditions and modern ways of life. There is so much to do and experience in this territory.
Read more: The Honest Reason Why No On Visits Nunavut
---
Logistics of Traveling to Nunavut
Planning a trip to somewhere so off-the-beaten-path can be daunting. Here are the answers to the most common questions you may have about planning a trip to Nunavut.
What is the best time of year to visit Nunavut?
The best time of year to visit Nunavut depends a bit on the activities you are interested in doing. If you want to go snowmobiling on the tundra or dogsledding on the frozen arctic ocean, mid-February to April is the best time to visit Nunavut. If you want to go hiking or kayaking, I'd recommend visiting in August or September.
However, if you are interested in doing an arctic safari or staying at a fly-in lodge, hiking the Pang Pass or seeing particular wildlife, the best time to visit is a little different. I have a comprehensive post coming out soon on this topic.
Read more: The Best Time of Year to Visit Nunavut
How long should you spend in Nunavut?
Forever! Kidding, kidding (though after visiting you might want to). How long you spend in Nunavut will depend on whether you are doing a guided tour or visiting on your own.
Many guided tours are seven to ten days in length, though they can be much longer too. Regardless of the duration, you'll want to arrive at your tour's meeting place one or two days early, and depart one or two days after your tour ends.
Weather can be unpredictable in the arctic, and sometimes flights don't get out exactly when planned.
If you're visiting one of the communities on your own, you generally need less time. For example, I recommend people spend three to four nights in Iqaluit (you can read more about visiting Iqaluit below).
How do you get to Nunavut?
Getting to Nunavut is actually quite straightforward. You can fly to Iqaluit from Ottawa or Montreal, or to some of the larger communities from Yellowknife.
There are several small airlines operating in the north, with the two major airlines being First Air and Canadian North, both of which offer flights from the south. I recommend using Google Flights to see what airlines fly to the exact destination you are looking to travel to.
Read more: How to get to Nunavut, Canada's Seemingly Inaccessible Territory
---
Things to do in Nunavut
There are plenty of activities to do in Nunavut, though they differ depending on whether or not you are going on your own or with a tour operator.
With a tour operator, you could visit a fly-in lodge or join a floe edge arctic safari for great wildlife viewing. There are tour operators in Nunavut who offer heli-skiing, cruises, dive trips and more. Going with a tour operator will be pricey, but can be an incredible experience. If you have the means, I highly recommend joining an arctic safari.
If you visit one of the communities in Nunavut on your own, here are some activities you could do (though it will vary by community). You could go snowmobiling or dogsledding in the winter, kayaking and hiking in the summer, visit cultural centres and attend a festival. You cansee the northern lights or check out Inuit art. There are lots of things to do in Nunavut!
Alternatively, Nunavut has four national parks you could plan a trip to. This would be on the pricier end and usually you need to have some experience camping in a remote area (or, of course join a tour operator).
Read more: Snowmobiling, Kayaking & More: 10 Incredible Things to Do in Nunavut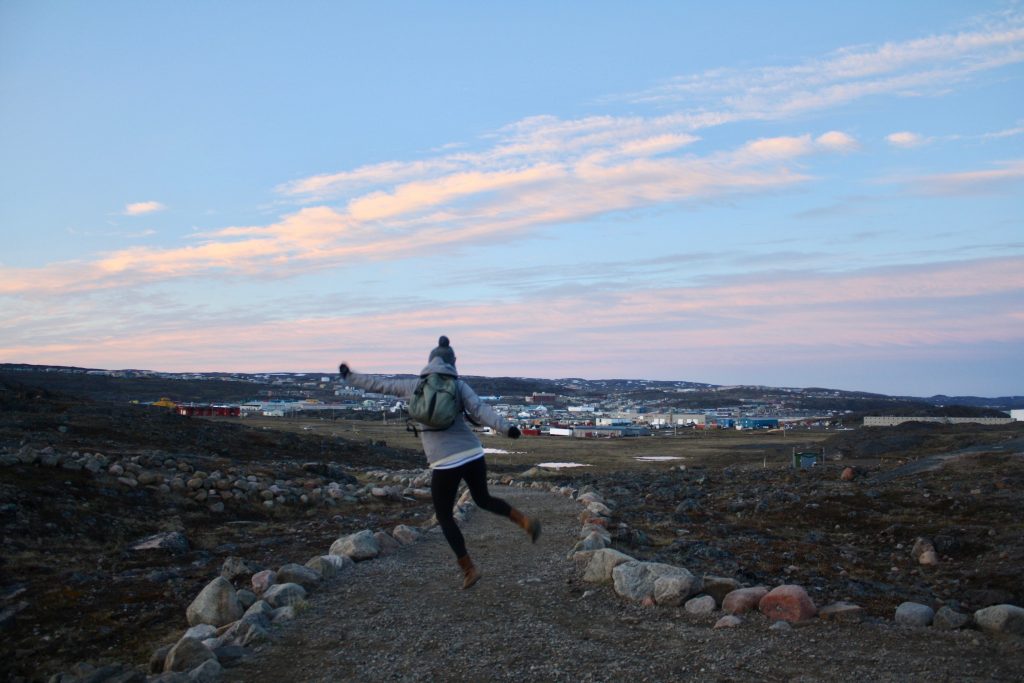 What are the best tour companies in Nunavut?
Note: I am not sponsored by any tour companies.
AK is the best tour company for arctic safaris. On their trips, you stay at a base camp where the land or sea ice (depending on time of year) meets the open ocean. These areas are hotspots for all different kinds of wildlife (polar bear, narwhal and beluga, to name a few). AK is the company I worked for when I was living in Nunavut and I assisted with Glaciers & Polar Bear trip.
Quark are the experts in Antarctic travel, however they've been gaining ground in the Arctic as well. Their trips tend to be on large cruise-like ships, which I've heard are very comfortable but the boat itself can be quite noisy. A Quark representative told me that if you want to see arctic wildlife, go with Arctic Kingdom not Quark (the loud boats will scare away the wildlife).
Inukpak is your guide for short trips in and around Iqaluit. They offer half and full day snowmobiling, dogsledding, hiking and kayaking trips. Inukpak also has some short multi-day trips leaving from Iqaluit.
Weber Arctic offers two fly-in lodges in Nunavut. If you're interested in seeing the caribou migration, I recommend choosing Weber Arctic. They also offer fat-biking and heli-skiing trips if you're looking for something more active.
Black Feathers offers backpacking tours in Nunavut, specifically in Auyuittuq, Quttinirpaaq and Sirmilik national parks. In addition, they also do multi-day canoe trips on Nunavut rivers like the Hood and Coppermine.
There are numerous tour companies in addition to the ones I've listed above. The Destination Nunavut website lists tour companies for specific communities, plus additional resources to make travelling to Nunavut as smooth as possible.
---
Planning a Visit to Iqaluit, Nunavut
What if I don't have a ton of money? Can I still visit Nunavut?
Because of how remote Nunavut is, going on a multi-day tour (like an arctic safari or fly-in lodge) is extremely expensive. Does this mean a lack of funds will prevent you from ever travelling to Nunavut? Heck no! Luckily, travellers can visit Iqaluit (the capital city of Nunavut) for a taste of the arctic without breaking their budget.
How do you get to Iqaluit?
As mentioned above, you can fly to Iqaluit from Ottawa or Montreal with Canadian North airlines. Flights will generally cost about $700 each way, In my post How to Visit Nunavut on the Cheap, I have some tips for getting cheap airfare to Iqaluit.
How long should you spend in Iqaluit?
I recommend travellers spend four nights in Iqaluit. Three nights would allow you to do all the major activities, however weather can be unpredictable in Iqaluit so I think it helps to have a one day buffer.
Read more: 21 Unique Things to do in Iqaluit, Nunavut + The Ultimate Iqaluit Travel Guide
Where to Stay in Iqaluit
Iqaluit has four hotels, of which I recommend Accommodations by the Sea or The Discovery. However, as restaurants are extremely expensive in Iqaluit, I suggest looking at Airbnbs where you'll have access to a kitchen. This is also a great way to meet residents in Iqaluit and learn more about life there.
What are the food options in Iqaluit?
There are two main grocery stores in Iqaluit – Arctic Ventures and North Mart. I think Arctic Ventures is better for produce, whereas North Mart has a greater selection of non-grocery items (it's sort of like a Walmart in the north).
There are also some good restaurants. The Frobisher Inn has the Frob Kitchen & Eatery, and The Discovery Lodge Hotel has The Granite Room. These two options would be a little more high-end. Yummy Shawarma is also really good.
My favourites include The Storehouse (for the pool tables, though the food is decent) and Black Heart Cafe which has great lattes and amazing breakfast sandwiches (they put a hashbrown IN the sandwich – it's heavenly). There is also a new (to me) brewery called NuBrew Co. in Iqaluit that my friends speak highly of, though I've never been there myself.
What activities are there to do in Iqaluit?
Many of the activities listed in 10 Incredible Things to do in Nunavut can be done in Iqaluit. This includes snowmobiling, dogsledding, kayaking, hiking, ATV-ing and cultural activities. I've written posts dedicated to my favourite activities and linked them below. I recommend contacting Inukpak Outfitting, as they lead most of the tours in and around Iqaluit.
Over Arctic Ocean & Endless Tundra: Snowmobiling in Iqaluit: If you're visiting between February and April, one activity I recommend is snowmobiling on the arctic ocean. Whether you've snowmobiled before or you're brand new, you'll have an unreal experience snowmobiling here.
Ruff Riding: Dogsledding in Iqaluit: Thinking of going dogsledding in Iqaluit? Read about my experience dogsledding and all the information you need to book this experience yourself.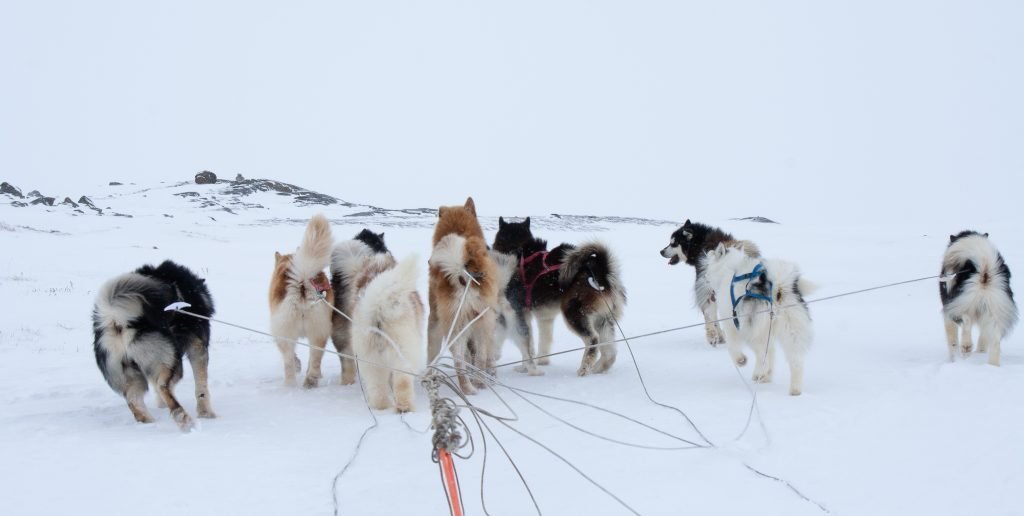 ---
Stories from Living in Nunavut
As I said, I lived in Nunavut for four months when I was working as a tour guide. I led groups to hike onto the tundra, kayak around icebergs and more. It was a crazy summer and I picked up a few stories from my time living there.
How a flaming wooden dog gave me a social life in the Arctic: The story of a lonely girl trying to make a home in the arctic, and how one unexpected night changed everything.
North of the Arctic Circle: A Look Inside a Remote Arctic Base Camp: Go behind the scenes and into the inner workings of a remote arctic basecamp. I had the pleasure of working at one for ten days and I wish I could have stayed there longer. You can stay at one as a guest on an arctic safari.
The reality of arctic tourism, as explained by the youngest explorer to the North Pole: In this post I interviewed Tessum Weber about the harsh realities of tourism in the arctic. Astonishingly expensive trips, contributions to climate change and keeping the territory a seldom-traveled destination are all topics Tessum answers with refreshing honesty.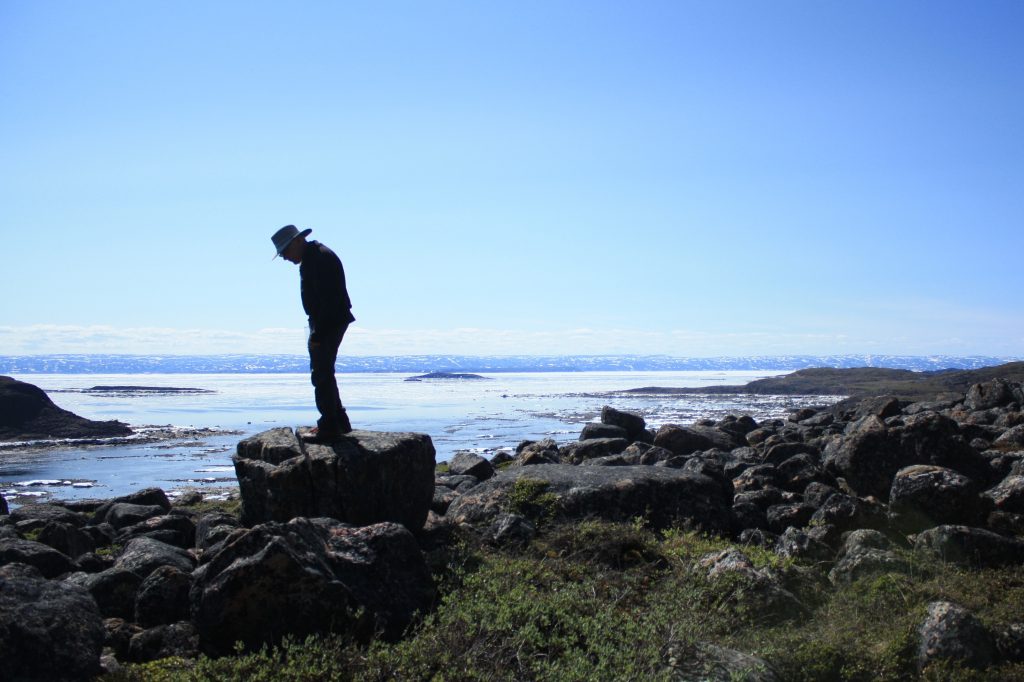 ---
Travelling to Nunavut: Additional Resources
There are two destination marketing websites in Nunavut: Destination Nunavut and Nunavut Tourism. Both websites provide information to help you plan and book your trip.
I hope this has been helpful. Should you have any other questions, please comment below.