Camping is one of the best activities out there. Who doesn't want to hike away from the hustle and bustle of the city, pitch a tent under the stars and cook a delicious meal over the fire. Camping – be it at campgrounds, in the mountains or on the river – is something I think everyone should try, at least once in their life. But if you've never been before, your first time camping can be overwhelming or intimidating. That's why I've put together this comprehensive guide on camping for beginners.
In The Ultimate Guide to Camping for Beginners, you will learn:
How to plan your first camping trip

How to camp (packing, setting up your tent, lighting fires, cooking and more)
Camping gear for beginners
Sample packing list and meal planner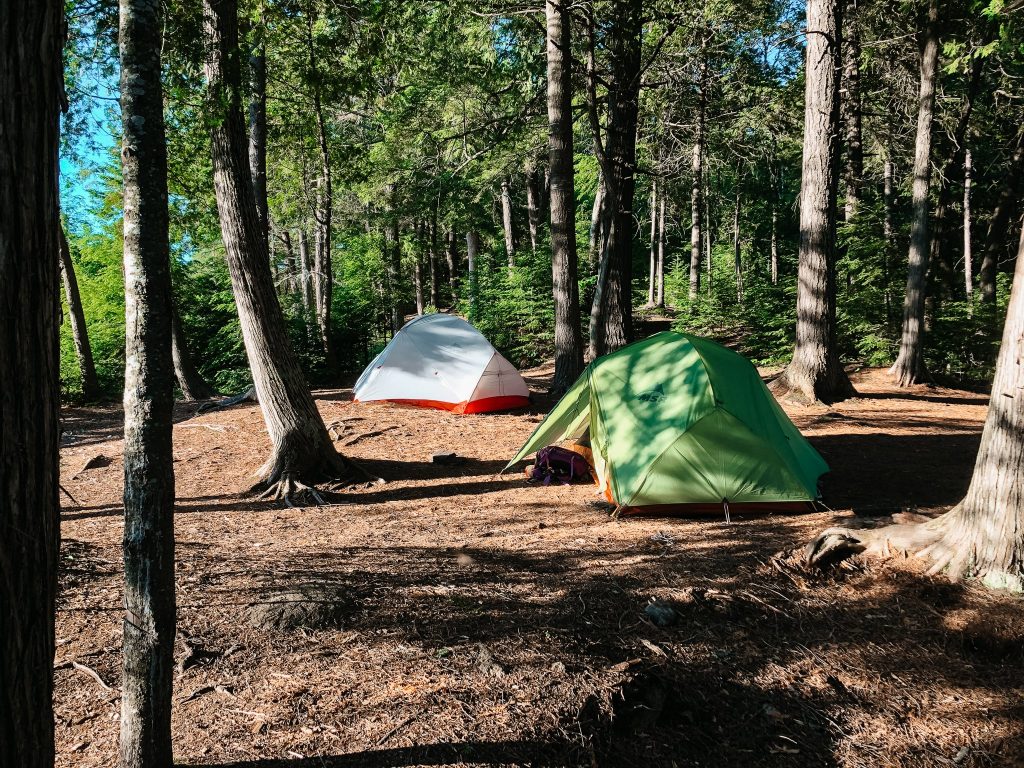 This post may contain affiliate links. If you make a purchase through one of these links, I may receive a small commission at no extra cost to you. Your support is much appreciated! You can learn more by reading my full disclosure.
---
Camping for Beginners: Introduction
This guide will give you the knowledge and tools on how to camp and enable you to plan your first camping trip. The easiest way to get good at camping is to go with someone more experienced than you. If this is an option, definitely take it! But if you don't have someone to go with, do not fret. By reading this guide you should have everything you need to get started.
I've written this guide with camping experience from Canada, New Zealand and Iceland and I know it's largely applicable to the US as well. If you are camping in other countries, most of the information should still apply but ensure you do your research.
Note: Camping 101: The Ultimate Guide to Camping for Beginners is specifically designed for tent camping for beginners. This post does not cover RV / trailer camping.
---
Section 1: The Basics of Camping
In this section, I will go over the basics of camping – specifically, the different types of camping and how you find campsites to begin with.
1.1 Different Types of Camping
There are broadly two ways we can categorize camping. The first is by the proximity to road access / civilization, and the second is by the type of land.
Proximity to Road Access
Front country camping – Also known as 'car camping', front country camping is when you drive somewhere and pitch your tent near your car. Front country camping is typically done at campgrounds, and there are often facilities like washrooms, sinks and sometimes laundry and showers.
Backcountry camping – Backcountry camping occurs away from road access, and typically requires some element of human power to access. This could be hiking, kayaking, canoeing, biking, climbing or another activity. Because backcountry camping isn't accessible by road, you can't just get in your car and leave if something goes wrong. As a result, backcountry camping is higher risk and requires more experience than front country camping.
Type of Land
Publicly Managed Land – This is camping on land that is publicly managed by the government (i.e. a national/provincial/state parks). Usually, there are camping fees proportional to the number of services provided. If you are at a car camping campground with washrooms and showers, you can expect to pay $20 – 40 per night per site. Meanwhile, backcountry camping sites could range from $0 to $40 per night.
For example, many "non-operating" provincial parks in Ontario do not have fees. Likewise, you can camp in many National Forests for free in the US.
Wild / Freedom / Dispersed Camping – This can be either car or backcountry camping, but it occurs outside national/provincial/state parks and that usually means it is free.
There are some countries that let you camp in any wild space in the public domain. For example, in Canada we often call this Crown Land Camping and it allows Canadian residents to camp on the land for up to 21 days. Many places in the United States allow for free camping too. New Zealand and Iceland allow freedom camping in many areas if you have a self-contained camper van.
Private Campgrounds – These are car campgrounds that are owned privately. Sometimes they're owned by a family who lives on the property, or it could be a chain, like KOA campgrounds. These campgrounds tend to be $30 – $50 per night and often have better facilities than parks. Some even have swimming pools, activities and free boat rentals.
1.2 Finding Campsites
So with all those types of camping, how will you ever find a campsite? Well, it helps to start with what you want out of your trip. Camping beginners will likely want to start with front country camping (car camping) so they can be close to their vehicle and don't need to carry all their gear themselves.
I've found camping beginners also tend to prefer camping in national/state/provincial parks over wild/freedom camping because it's really easy to find campsites and book reservations. Finding free camping is a bit of an art and takes some practice.
So I recommend Googling parks near where you live and then booking a campsite through their reservation portal.
Note: If you live in Canada and really want to do backcountry camping, head over to Trip Reports where we have compiled detailed guides for tons of beginner canoeing and hiking routes. They have literally all the information you need to plan the trip (maps, reservations, itinerary, tips and more).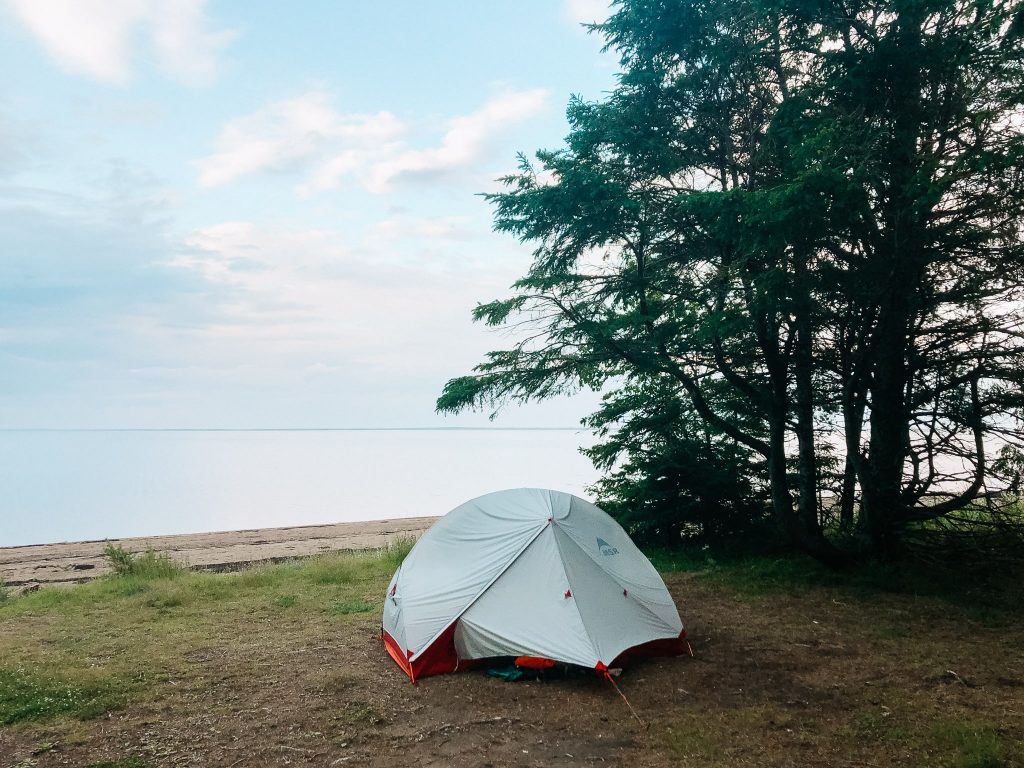 ---
Section 2: Planning & Preparation
2.1 Choose a Destination & Book Your Sites
As I stated above, a great starting place is searching for parks in your area. When you're considering different parks, consider the following:
How far away is it? Parks further from the city tend to be less busy, but they also involve more driving.
What facilities are there? Decide what facilities you want and what is available.
What things are there to do? While camping is itself an activity, search for hiking / paddling / activities in the area.
How popular is it? I suggest Googling something along the lines of "most popular parks" in your location. There is usually a reason a park is so popular – be it beauty, facilities, proximity. Decide how much solitude you'd like on your camping trip, as popular parks tent to be busier.
Depending on your destination, you will likely need to make a reservation in advance. If this is the case, book your campsite or camping permit.
2.2 Choose a Time to Go
The exact time of year will partly depend on your geography and interests, however, this advice applies to the broad United States / Canada / Western Europe regions. If this will be your first time camping, I highly recommend going in the summer.
Other considerations:
Climate: Perhaps the biggest driving is climate, specifically temperature and precipitation. Most people go camping when it's warm out and try to avoid particularly rainy seasons.
Wildlife: Some people will time their camping trips with when they're most likely to see wildlife. For instance, many people go camping in the winter or early spring for moose spotting.
Scenery: Different seasons provide sceneries. Autumn is a popular time to go camping due to fall foliage, but the chillier temperatures mean you need more gear and experience.
Pro Camping Tip for Beginners: In Canada and much of the US, I specifically recommend beginner campers plan their trips for early August. As it's summer, the weather is warm so you don't need much gear and there's little-to-no risk of things like hypothermia. June and July are even warmer but many regions have higher levels of mosquitos and black flies at this time, making for a less than enjoyable time.
2.3 Choose How Long to Make Your Trip
If this will be your first camping trip, I typically recommend going to a campground for two nights. I think planning a camping trip is too much work for a single night; with driving, setting up camp, cooking and cleaning, you just don't get enough time to actually enjoy the camping trip.
On the other hand, if you will be backpacking or paddling out to you campsite it may make more sense to go for a single night. That way, if you are uncomfortable or need something, you're relatively close to home. My first backpacking and paddling trips were all single nights. Keep the distance you travel short so you have time to enjoy being at the campsite.
2.4 Prepare Your Route Card
This is something not nearly enough people talk about! Whenever you go out into the wilderness, you should build a route card and leave it with a friend or family member not on the camping trip.
What is a route card?
A route card is a list of where you will be camping each night and when you intend to be back home. For long and remote trips, a route card might have information on the GPS coordinates of campsites and emergency access points, emergency contacts and more. For short trips, a route card is simply where you'll be camping (i.e. Mew Lake Campground, Algonquin Provincial Park) for which days (i.e. June 12th and June 13th) and when you'll be home (i.e. June 14th).
You should also leave instructions for what your friend/family should do if you don't return on time. For example, this could be the phone number of the park office.
Why does this matter?
You leave a route card in case you get lost or injured on your camping trip, or if your car gets a flat tire and you don't have cell service. That way, someone knows you're missing and can take steps to get you found.
I've always done this for backcountry camping trips, but one time my boyfriend and I were driving to a car camping site and blew a tire on a mountain road without cell service. I hadn't told anyone where we were, so no one had any idea. Thankfully everything worked out, but since then I always leave a route card with someone.
2.5 Gather Your Tent Camping Essentials
Okay, so you've got your first camping trip planned. Now it's time to gather all the gear you're going to need. Since there is a long list of things you need to camp, I've dedicated all of Section 3 to this topic. There you will find exactly what the tent camping essentials are and how to get them inexpensively if it's your first time camping.
2.6 Go For a Test Drive
As much help as I can provide over in a beginners camping guide, the best way to learn how to go camping is to go out and do it – in a low risk environment. So before you go out on your first camping trip, try spending the night in your backyard. This will show you a few things:
Do you know how to use all your gear?
Is there anything you're forgetting?
Are you warm enough?
Are you comfortable?
Because you're in your backyard, you can simply go inside and grab something you've forgotten. Or, say your sleeping bag is not nearly warm enough, you can move inside for the night. Camping is all about testing and refining what works for you.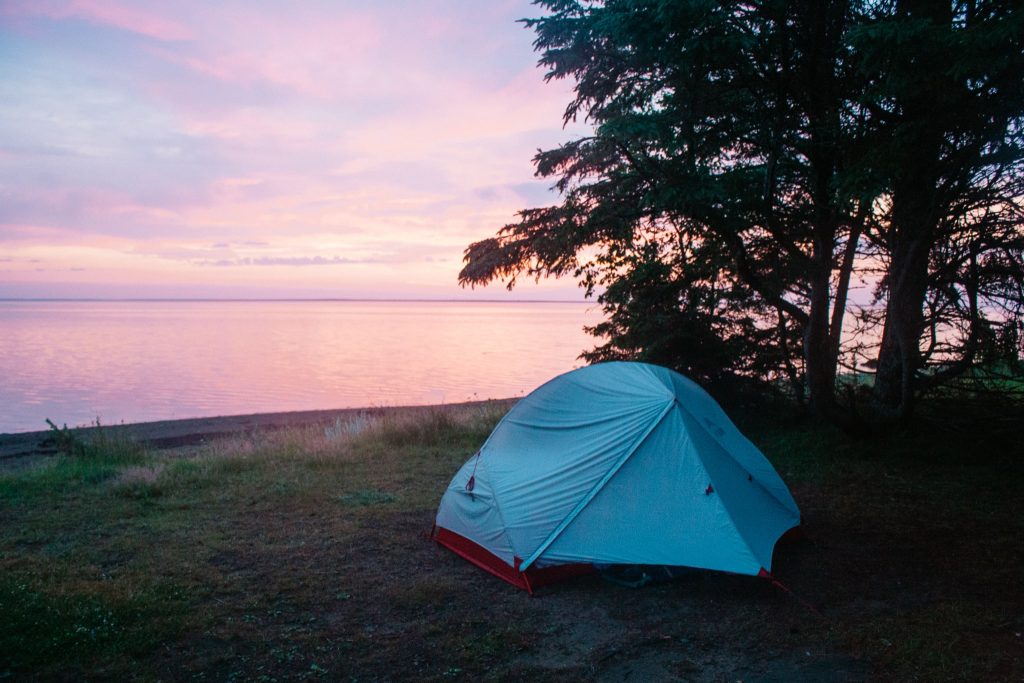 ---
Section 3: Clothing & Gear – Things You Need to Camp
In this section, I'm going to go over the essential things you need to camp. This includes both the gear and clothing you need to stay safe, as well as the gear and clothing you should bring to be comfortable.
3.1 Safety Gear
First Aid Kit – You should always bring a first aid kit. I have a full post on how to build your own wilderness first aid kit, but the basics are this: pain killers, allergy medication, wound kit (bandages, gauze, polysporin), blister kit (bandaids, moleskin, medical tape).
Satellite Communication Device – If you will be camping somewhere without cell service, bring some form of satellite communication device. These are pricey and not always feasible for camping beginners. Some places allow you to rent them. If you don't have one, stay somewhere with cell service. >>This is the one I highly recommend.
Map & Compass – If you are hiking or paddling to your campsite, ensure you bring a map and compass.
Pro Beginners Camping Tip: Even some drive-in campgrounds don't have cell service. Download your map and directions to your phone so you can still access them if you lose service.
3.2 Shelter Gear
Lightweight Tent – If you will be camping at your car, your tent doesn't need to be lightweight. However, if you are hiking or paddling to your campsite, you want it to pack small and be light to carry. For camping beginners, I typically recommend they choose an inexpensive tent, even if it's a bit bulky. As you do more camping, though, you'll want to upgrade. >>This is an affordable backpacking tent I previously used.
Sleeping Pad – Your sleeping pad adds a layer of air in between you and the ground. They typically pack small and are light to carry, and they can be inflated with your mouth.
Sleeping Bag – Finding a warm sleeping bag that packs small can be tricky for beginner campers, as they tend to be expensive. If car camping, don't worry about it being light. If backpacking, try renting a sleeping bag or choose one made from synthetic material, as this tends to be cheaper. >>Here is an inexpensive, but lightweight, sleeping bag.
Camping Pillow – This is optional, but will improve the comfort. >>I recommend an inflatable pillow to cut down on space.
Note: Many of these items are essential things you need to camp, and are part of the 10 Essentials. If you're not familiar with the 10 Essentials, read this post.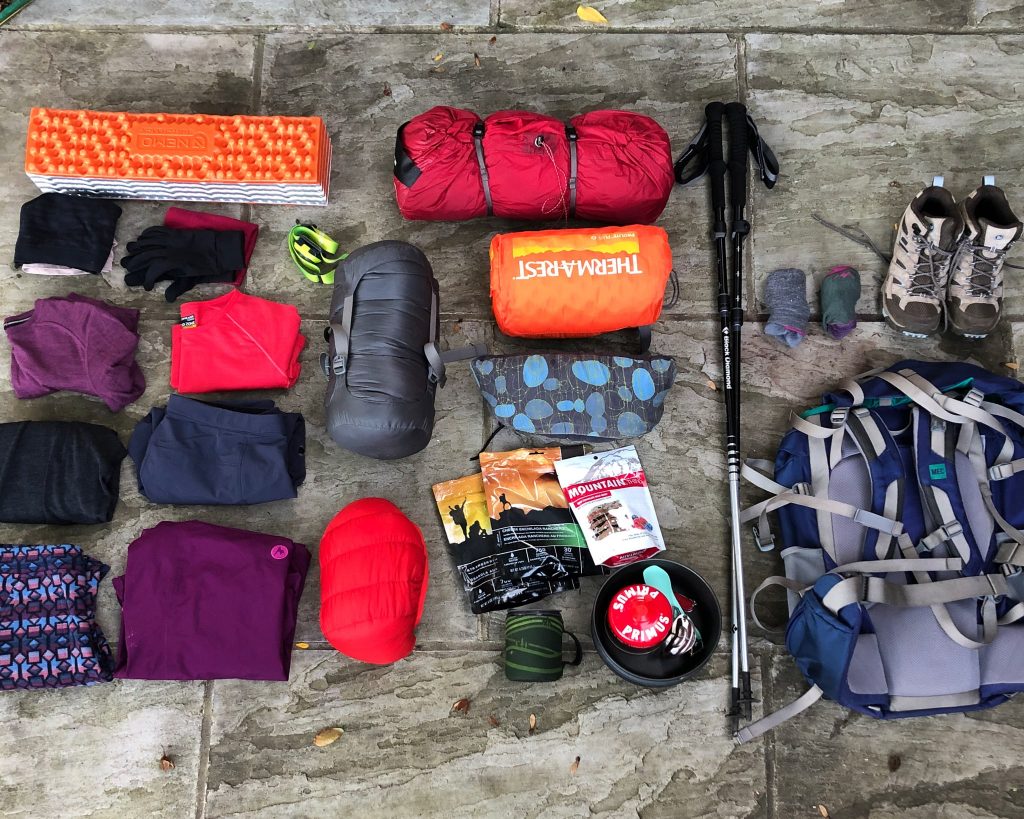 3.3 Cooking Gear + Food
Here are the items you need to cook basic meals on camping trips. Feel free to bring other gear if space allows and get creative with your cooking!
Water
Water Bottle – Bring a reusable one to cut down on single use plastic!
Water Purification – Needed if you will be camping somewhere without running water. This could be water filtration tablets, a Sawyer Straw, water pump or similar device.
Fire
Matches / Lighters
Camping Stove – For car camping, you can use a larger 2-burner stove. For backcountry camping, you can use a backpacking stove.
Grill – Some fire pits come with a grill, but if you know you want to cook over the fire and don't know if your fire pit will have one, you can bring a cheap, lightweight grill.
Cooking Gear
Pots and / or Pans
Big Spoon / Spatula
Bowls and Cutlery
Knife
Dish Kit
Biodegradable Dish Soap & Sponge – Use this to wash your dishes after eating.
Garbage Bags – Unless garbage facilities are present, you must pack out everything you pack in. So bring a few garbage bags for waste.
Food
There's a lot that goes into planning food, so I've included a separate section for meal planning in the appendix.
3.4 Clothing
The clothing you wear camping can roughly be categorized into four groups.
Day Clothing – This is the clothing you wear during the day and when you're on the move. It needs to be durable and comfortable, as you'll be moving a lot and don't want anything to rip or tear. In addition, it should be moisture-wicking and weather resistant (so not cotton or denim).
Durable Hiking T-shirt or Long Sleeve Shirt – Any athletic / gym shirt works when you're getting starting.
Durable Hiking Pants or Shorts – Any athletic / gym pants work here too.
Wool Socks – These will keep your feet warm, even if they get wet. Wool is much better than cotton for socks.
Underwear / Sports Bra – You know what to do here.
Campsite Clothing – Many people like to change out of sweaty / dirty clothing once they get to the campsite. Campsite clothing should still be durable, but tends to be a little more comfortable and warmer. If you're going ultra lightweight, you probably won't bring a second outfit for the evening.
Comfy Top – This could be a flannel shirt and something made from wool or fleece. Again, we want to avoid cotton.
Comfy Pants – I like to bring leggings or fleece pants for chilly evenings.
Sweater or Jacket – Personally, I like to bring both a fleece sweater and a synthetic down jacket. Ideally, avoid bringing cotton.
Sleep Clothing – This is the clothing you wear in your tent, and only in your tent. When you're getting started, any comfy sleep clothing will technically do. Some people may wear cotton to bed, but I advise against this because if the clothing gets wet it will never dry. Synthetic or wool layers are better for sleeping. And if you're worried about being cold and have a little money to invest, I highly recommend getting a pair of merino long underwear to sleep in. >>This is what I wear.
Rain Clothing
Rain Jacket – This is an incredibly important piece of beginner camping gear. Your rain jacket will keep you dry (and warm) even if you have to set up your tent in the rain. You don't need a fancy Gore-Tex rain jacket when you're still starting out. My first rain jacket was excellent, lasted for three years and cost less than $80. >>This is the first rain jacket I had.
Rain Pants – Rain pants are less common, however I really like having rain pants and recommend them for anyone camping in rainy climates. They are loose enough to go over top of hiking pants and are 100% waterproof (unlike hiking pants, which are typically water repellent).
3.5 Footwear
The shoes you bring camping will be somewhat dependent on whether you are driving, hiking or paddling to your campsite. For my first few car camping trips I just wore running shoes.
Hiking Shoes / Boots – If you will be hiking to your campsite, where a sturdy pair of hiking shoes or hiking boots. Most hiking shoes tend to be waterproof, or at least water resistant, so you'll still be comfortable if it rains. I recommend the hiking boots as excellent beginner hiking boots.
Sandals – Whenever I'm at the campsite, I like to wear sandals with wool socks. Especially if I've had to hike to my campsite, my feet just want to breathe! So in addition to your sturdy hiking shoes, bring a comfortable pair of shoes for around the campfire.
Read More: 10 Best Women's Hiking Boots (2021) + Guide to Buying Beginner Hiking Boots
3.6 Miscellaneous
Backpack – If you are hiking or paddling to your campsite, you'll need something to put everything. Backpacking backpacks can be expensive, so see if you can rent or borrow one for your trip.
Dry sacks / Ziploc bags – I like to bring some small dry sacks and zip lock bags to store items. This keeps them dry no matter what.
Toiletries
Biodegradable Toothpaste – Many car campgrounds have washroom and sink facilities, but if you are hiking/paddling to your campsite you will need to spit your toothpaste into the bush. Please use biodegradable toothpaste.
Sunscreen – Gotta be sun safe!
Bug Spray / Bug Hat – This is perhaps one of my most important first time camping tips. Bring a bug hat. Nothing ruins a camping trip more than mosquitos and black flies. A bug hat will keep you sane.
Optional Personal Items
Books, journal, pen
Cards
Eye Mask
Headlamp
Camping Chair
---
Section 4: Camping Tips for Beginners
This section is about how to camp – that is, how to actually execute a camping trip! There's only so much I can explore though. The only way to really learn how to go camping is to get out and do it!
4.1 Getting to Your Campsite
Depending on the campground you're at, you may need to check in with a park office or visitor's centre to collect your permits / reservations. Many parks are moving away from this and allowing campers to download an electronic version of the permit when they make the reservation. Check what you need for your destination.
4.2 Pitching Your Tent
A integral part of learning how to tent camp is knowing how to set up your tent in the first place! Hopefully you did a test drive and already know how to set up your tent, however I always find the first few set-ups with a new tent take some time (and patience).
When choosing where to pitch your tent, choose relatively flat ground. You don't want to be sliding in your tent or sleeping on an angle. If there is a slight angle, ensure your head is on the slightly higher ground.
I always recommend pegging out your tent. Once I hadn't pegged by tent, went on a hike and came back and my tent was a 100 m away and upside down (and had a broken pole). I had no idea a huge wind storm would happen!
Be mindful of where you put the doors. For example, you probably don't want to put the doors right next to a tree / bush (that could get annoying) or where people watching by could see into your tent.
4.3 Setting Up Your Sleeping Area
Once the tent is set up, I like to set up my sleeping area. I first inflate my sleeping pad, then unpack my sleeping bag and place it on top. Next, I set up my pillow and place my pyjamas on top of my sleeping bag. I also like to take out anything I might need over the night (i.e. toiletry bag, book, journal, headphones).
I do this so that I can keep my backpack / bags outside the tent. If they've touched the ground, they may have dirt on them and I don't want this inside my tent. You can either leave your bags under the tent vestibule (this is the area right outside the door that is covered by the tent fly) or in your car.
Tip: Don't leave any food in your tent!
4.4 Staying Dry and Warm
Hopefully, you get wonderful weather for your first time camping, but if it is chilly or raining there are a few things you can do to stay warm and dry. First, ensure you aren't wearing any cotton and put on your rain jacket. Keep all your gear either in the tent, under the vestibule or in the car.
Tip: Bring a tarp and some rope to build a cooking shelter. There are tons of Youtube videos showing how to set up an easy tarp. This gives you a dry place to cook and hang out.
4.5 Lighting Fires
Before you leave for your first camping trip, watch a few Youtube videos on fire building. It's pretty easy, but it helps to have a demonstration. It helps to bring some newspaper to help the larger pieces of wood to catch. I also sometimes from fire starter.
Remember, campfires should only be built in designated fire pits. If there isn't a fire pit, use a stove instead.
A Note on Firewood: Check the firewood rules for where you'll be camping, and double-check if there is a fire ban. Invasive species can live in firewood, so many parks forbid people from bringing their own firewood and thus campgrounds often require you to buy firewood there. If you're not at a campground, you can usually collect dead branches from the area.
4.6 Cooking Over a Fire or Stove
Cooking Over a Stove
I have a TON of beginner camping tips specifically targeted at camp cooking. So many that I actually have a cookbook (shameless plug).
If you're car camping, cooking on trip is really similar to cooking at home. You can bring a 2-burner camping stove that functions very similarly to a gas stove at home. The only difference is that you need to connect the fuel to the camping stove yourself.
If you're backcountry camping, you will likely want to bring a much smaller stove. With backpacking stoves, there is an attachment that sits on top or beside the fuel canister. Similar to the above, you open up the flue valve a little and light it with a match or lighter. Now you have heat! >>I recommend this backpacking stove.
Once you have your heat source, you are ready to cook your food. There are tons and tons of camping recipes on various blogs and YouTube channels that you can experiment with. Though I recommend choosing something simple for your first time camping.
Cooking Over a Fire
If you want to cook over a fire instead of a stove, will need a grill. If you're camping at a campground, there may be a grill built into the fire pit. If you're backcountry camping, you will likely need to bring your own grill. >>Here is an option for a cheap, lightweight grill.
4.7 Camping Etiquette
Camping etiquette is so important! Here are a few things you can do to ensure you're respecting other campers:
Don't play loud music and be quiet after ~10 pm
Don't walk through others' campsites
Be mindful taking a photos if you're near someone else's campsite
Keep dogs on a lease unless you are in an off-lease area
Clean up after yourself, your group and your pets
I'm working on a full guide to camping etiquette, so stay tuned for more tips!
4.8 Leave No Trace Camping
It's so important that we respect the environment and wildlife when we are camping. This means 'leaving no trace' – ensuring you leave the site as you found it (or leave it better than you found it). There is a lot to cover here, so I recommend reading my post on Eco Camping: Your Guide to Environmentally Sustainable Camping.
But here are the highlights:
Don't alter your campsite at all: Do not build new fire pits, tear down branches, making tent clearings
Pack out everything you pack in: Bring a garbage bag or use the provided garbage facilities. Absolutely no trash should be left at the campsite (and this includes in the fire pit). Be especially mindful of plastic wrappers and food packaging.
Correctly dispose of grey water and human waste: Check what the specific requirements are for the place you will be camping and follow them.
Use all natural, non-toxic products: Wear all natural sunscreen and use all natural toothpaste (I like Tom's).
---
Camping for Beginners: Conclusion
I really hope you've found this guide helpful and have the confidence to take your first camping trip! If you have any questions on how to camp, please leave a comment or send me a message.
Camping 101: Meet Your 'Instructor'
I thought it'd be helpful to introduce myself. My name is Mikaela and I used to work as a wilderness guide throughout Canada. My first long camping trip was a two-week canoe trip in 2010, and since then I've spent hundreds of nights in the wilderness.
And through guiding, I've spent a lot of time teaching kids and adults how to camp, so I'm acutely aware of the questions and challenges that come with camping for the first time. I am sure this beginner's camping guide will give you the knowledge and resources to go on your first camping trip!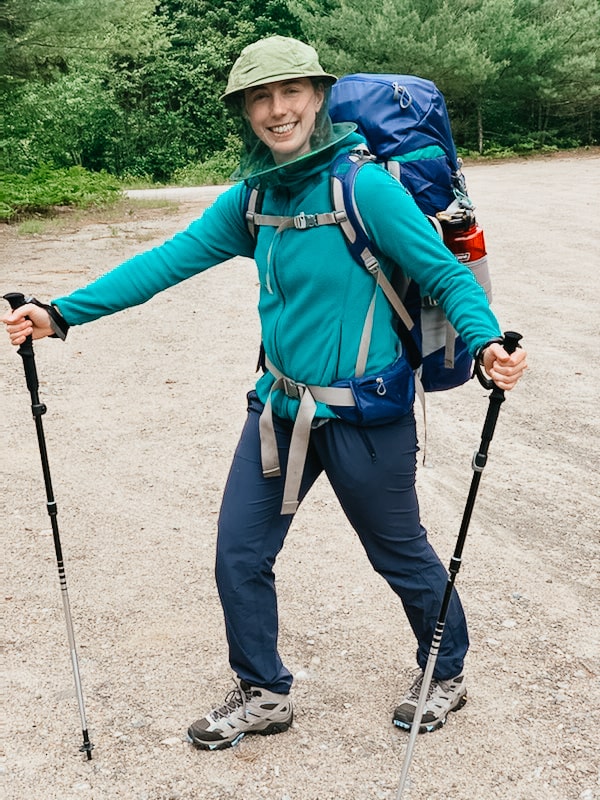 ---