In the summer months, you can pretty much get away with any clothing on the trail. Grab some running shoes and a pair of gym shorts and you're good to go. However, what you wear for hiking in the winter matters a lot more. The temperature much is colder, so hypothermia is more likely. Storms, snow and ice can soak your clothing, chilling you further. And with all that warm winter hiking clothing on, how do you keep yourself from sweating up a storm on every incline?
When written out like that, it sounds overwhelming. Why would anyone go hiking in the winter then? But once you have an understanding of what to wear hiking in the winter to stay warm and dry, you'll find it's actually pretty simple and easy to do.
In this post I'll go over:
---
The Most Important Thing is the Stay Dry
Before we dive into specific winter hiking clothing, I want to take a moment to explain why we dress in a particular way in the winter. Choosing what to wear for hiking in winter is all about strategizing how we'll stay warm… and dry.
Staying warm outside comes down to understanding heat transfer. Heat transfer occurs in four ways:
Conduction: Heat transfer by touching a cold object, like the ground.
Convection: Heat transfer when air or water passes over your body, like when it's really windy.
Radiation: Heat transfer through infrared rays (this is how the sun warms you up).
Evapoation: Heat loss when water evaporates off your skin.
Our outdoor clothing helps us prevent heat loss. For example, one of the first pieces of clothing I'll talk about is base layers. Base layers are meant to wick sweat off your body and prevent you from losing heat loss through evaporation (when the sweat evaporates). Mid-layers act as insulation and keep us from losing heat to our surroundings through radiation and convection.
But the most important thing to remember is, above all else, you need to stay dry. Water transfers heat 25x faster than air. That means a wet person can lose body heat up to 25x faster than a dry person.
We need to stay dry from the inside (with our base layers wicking away sweat) and from the outside (with our outer layers protecting us from the elements).
One of the biggest mistakes a new winter hiker can make is getting their clothes wet. The most obvious way this happens is rain and snow getting through your jacket. But it can also happen from melting snow, or stepping in slush or through a piece of ice. And it can happen if you sweat too much.
Winter hiking is a balancing game. You want to be warm, but not too warm that you sweat much.
This post may contain affiliate links. If you make a purchase through one of these links, I may receive a small commission at no extra cost to you. Your support is much appreciated! You can learn more by reading my full disclosure.
---
Winter Hiking Clothing
When deciding what to wear when hiking in winter, we need to think about warmth, moisture management (both from the inside and the outside) and how we'll layer our clothing as the temperature and conditions change. Let's start with base layers and work our way out.
Note: If you're totally brand new to the layering concept or need a refresher, check out this post: Layering Clothing for Hiking.
Base Layers – Underwear
When it comes to winter hiking, many people will wear whatever underwear they normally wear in their day-to-day lives… and this is usually cotton. The issue with cotton is that it absorbs moisture and never dries. So if you work up a sweat while winter hiking, you're going to cool down much faster. I find this especially true with sports bras.
To avoid this, you can invest in a pair of merino wool underwear. Merino wool is soft and (if high quality) non-chaffing. I have a full post on choosing underwear for hiking, but my favourites are Patagonia Barely Hipster Underwear and the Smartwool Merino Racerback Sports Bra.
Base Layers – Tops
When choosing base layers, you typically have the option between merino wool and synthetic. Merino wool is softer and offers more warmth for its weight, and it'll wick moisture better than synthetic. On the other hand, synthetic base layers are considerably cheaper and can be more durable than merino wool.
Since our primary concerns when winter hiking are 1) staying dry, and 2) staying warm, I always opt for a merino wool base layer.
When you're evaluating base layers, you'll often see a number in the title or early in the description. For example, Smartwool Merino Wool 250 Base Layer Top. That number represents the grams per square metre – essentially, the thickness of the material.
In the winter, you want to go with something thicker, as this will provide more warmth. However, remember that you want to avoid sweating, so don't go with something that would be too warm to wear under a jacket if you were hiking uphill. On casual hikes, I like the Smartwool shirt below, but on full-day hikes or hikes in the mountain, I prefer the Icebreaker Merino 250 Vertex Long Sleeve Half Zip.
Base Layers – Bottoms
If you've read any of my earliest blog posts, you'll know I was anti-merino wool for base layer bottoms for a long time. I found they never fit well and were extremely prone to tearing and holes. Well, over the years I've found more durable pairs and have come to appreciate the warmth provided by merino wool.
I typically wear a pair of base layer bottoms under my hiking pants. Out of all the clothing items to wear when winter hiking, choosing what I'll wear under my hiking pants always proves the hardest. Changing pants is much harder than changing shirts mid-hike. Here is what I do, in general:
For half-day hikes when the temperature isn't too cold, I typically wear one pair of thick base layer tights (Smartwool Merino Wool 250 Bottoms) directly under my hiking pants.
On colder or longer days, I'll wear a thinner pair, like the Kari Traa Floke Pant, then a pair of fleece pants over top and finally my hiking pants.
If it's really cold and I'll be in the mountains, I like wearing snow pants. Underneath snow pants, I usually only need a thin pair of base layer bottoms.
Now, that's just me. Try whatever pair of base layer bottoms you have an adjust as you get more experienced and better understand your body in the cold.
Mid Layers – Fleece / Wool Sweater
After your base layer is your mid-layer, also known as your insulating layer. Base layers provide some warmth, but their primary objective is moisture management. Your mid-layer, on the other hand, is designed to keep you warm.
Since I'm a chilly person who also sweats a lot, I bring a lot of layering options to mix and match throughout the day. In the winter, this usually means two separate mid layers: a sweater and a puffy jacket (see next section). I'll usually start with a base layer + fleece + shell, and keep a down jacket in my backpack in case the temperature drops.
In general, I prefer pullover fleece sweaters (like the Micro D Snap-T). However, I recently started wearing the Covert Cardigan and it has become my favourite fleece. So soft and cozy, with lots of zippered pockets. If I get warm and don't want to sweat, I'll take off my outer layer and just wear this fleece sweater (so the pockets are nice to have).
Mid Layers – Puffy Jacket
As a second line of defence against the cold, I'll also bring a puffy jacket. The puffiness provides amazing insulation and will keep you warmer than a sweater can.
If you're stuck between down and synthetic down, here is a quick overview. Down comes from the fluffy bits between a bird and its feathers (so it is not vegan). It is very warm and compresses really well, however, it loses all of its loftiness and warmth if it gets wet. Synthetic doesn't compress as well and won't be quite as warm, but it stands up better to moisture. Synthetic is also cheaper and is made from plastic, not animals (vegan).
Remember to always purchase down products from a reputable company with cruelty-free policies and a transparent supply chain!
When it's winter, but not super cold, I like to wear the Arcteryx Atom AR. It's extremely versatile. It has synthetic insulation inside a durable nylon shell, so it can work as an outer layer when it isn't that cold or when you've been working up a sweat and need to cool down a bit. It's also slim fitting so it fits under a shell (or another down jacket, see below) very well.
For truly winter conditions, I don't think the Arc'teryx Cerium LT can be beaten. It's extremely comfortable and very warm (though you will look like the Michelin man wearing it). And it compresses really small, making it easy to pack in my backpack when I'm not wearing it.
On one trip I actually forgot my shell and wore base layers + fleece sweater + synthetic down jacket + down jacket. Was still a little chilly, but I made it work!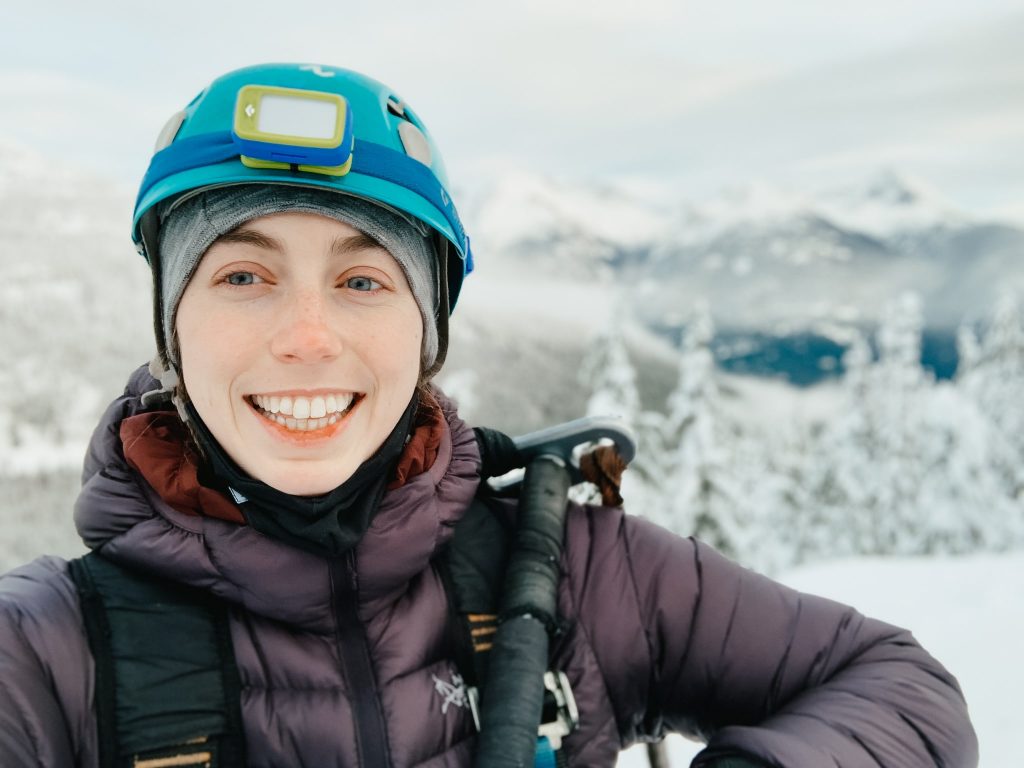 Mid Layers – Fleece Pants
Depending on the temperature, you may be able to get away with thick, merino wool tights under hiking pants. If the weather will be really cold, however, it might be worth wearing (or at least bringing) a pair of fleece pants. Typically, if it's cold enough that I'm considering wearing fleece pants, I just wear snow pants instead.
Just remember you'll need a pair of hiking pants big enough to accommodate both a base layer and a fleece layer underneath.
Outer Layer – Jacket
Finally, we've arrived at the outer layers. The purpose of your outer layers is to protect you from the elements: wind, rain, snow, etc. You want them to be comfortable and breathable, but you also want them to be waterproof, windproof and durable.
On the top, this will usually look like a waterproof shell jacket. As the name implies, this is a waterproof jacket that doesn't provide any of its own insulation but acts like a durable shell around your body, protecting you from wind and water. You can also find shells that have some insulation, especially around the chest and back area.
I use the Marmot Minimalist and I'm really happy with it. It's a no-frills shell jacket that is very affordable considering its GORE-tex. Since I'm doing more hikes in the mountains now, if I had an unlimited budget I'd probably go with Arc'teryx Beta AR Jacket.
What about an insulated winter coat or parka? The issue with wearing a winter jacket that has a lot of its own insulation (like a Canada Goose jacket, for example) is that you can't adjust the amount of insulation as the temperature changes. If you get tired hiking uphill and start working up a sweat, you can remove a down jacket underneath a shell, but you can't remove the insulation from your winter coat.
Outer Layer – Hiking Pants
Choose a pair of durable hiking pants in the winter. And I personally like my winter hiking pants to be of a thicker material than my summer hiking pants. I also recommend you choose a pair with an adjustable waist so you can go a full size up (you want to be able to comfortably fit your base layer bottoms or fleece pants underneath if necessary).
I use the Arc'teryx Gamma LT for winter hiking and I like them a lot, though they aren't quite as water resistant as I'd like them to be. I wouldn't want to kneel or sit in the snow in these pants, which is part of the reason I also bring waterproof pants (see below). Another great pair is the Fjallraven Keb Curved Trouser because the pants are made with a durable and weather resistant fabric.
Can you wear leggings for winter hiking? In general, I discourage people from wearing leggings on winter hikes. I've owned fleece-lined leggings specifically made for winter hiking, and I still don't find them warm enough for most hikes. I also don't like that it is just a single way between you and the moisture-filled snowy surroundings. However, if it's warm enough and within your comfort level, you can wear leggings if you want.
Outer Layer – Waterproof Pants
Waterproof pants, or 'rain' pants, aren't the first thing to come to mind when most people are choosing what to wear for winter hiking. Many hiking pants, especially those designed for four seasons, are water-resistant and will hold up reasonably well against light snow. Hiking pants, however, are not waterproof. That said, I absolutely love waterproof pants and always pack them on longer hikes.
If I'm going to be out hiking for the better part of the day, or if it's possible my legs will come in contact with deep snow, I wear rain pants over my hiking pants (and tucked into gaiters). Rain pants are 100% waterproof and will keep snow from melting through your hiking pants and getting you wet.
Alternatively, you could wear shell pants. These tend to be more expensive and
Outer Layer – Snow Pants
Occasionally I wear snow pants when winter hiking. I'll do this if it's going to be really cold or I'll be in the mountains. My snow pants are pretty warm, so I usually only need a single pair of base layer bottoms underneath (either the Smartwool or Kari Traa pairs). They're also waterproof and insulated, so sitting in the snow during breaks is more comfortable.
---
Winter Hiking Accessories
Hat / Toque
Bring a warm hat. Or, if you're Canadian like me, bring a warm toque. I personally like wool hats lined with fleece and the Fjallraven Byron Hat. I also love the Smartwool 250 Cuffed Beanie, which is made from merino wool (one of the best things I've stolen from my boyfriend).
Mittens / Gloves
You'll also want a pair of mittens or gloves. I personally prefer mittens because they keep your hands warmer (and they're easier to use with hand warmers). For winter hiking, choose a pair that is waterproof so you can touch snow throughout the day and the snow won't melt through.
Trekking Poles
Some people choose to use trekking poles when they're winter hiking. I do occasionally, but only if the trail is steep in the mountains. I have a pair of Black Diamond Trekking Poles which are fantastic.
---
Footwear for Winter Hiking
Deciding what to wear when hiking in winter doesn't stop at clothing. The type of winter hike you'll be doing will affect the type of footwear you use. Lots of deep snow? You probably need snowshoes. Ice and elevation? More likely ice cleats. But in all cases, you'll need a great pair of wool socks around your feet and a waterproof, insulated boot to put them in.
Wool Socks
If there is ever a time to invest in a nice pair of wool socks, it is for winter hiking. Wool socks have come a long way from the scratchy, ill-fitting socks of the past. Now you can get soft, cozy and beautiful wool socks specifically made for winter hiking.
When selecting a pair of wool socks for use in the winter, I like to go with a pair that has a lot of cushioning because it provides additional warmth. I also choose socks that go higher on my calf than my hiking boots.
When I'm wearing winter hiking boots, I go with Smartwool Everyday Snowflake Crew Socks (it has cushioning all around the sock for extra warmth).
If I'm wearing my insulated rubber boots (see below), I go with Smartwool Snow Full Cushion Over The Calf Socks (technically they are snowboarding socks, but they're excellent for moisture management and go all the way over my calf).
Should you wear two pairs of socks? Actually, no! Your boots are designed to fit your foot and one pair of wool socks. And wool socks are meant to fit around a naked foot. When you wear two pairs of wool socks in your boots, you'll compress your foot. This compression can restrict blood circulation and made your foot get colder, faster. Also, part of what keeps your foot warm inside your boots is having some air around it (air is insulating!) so wearing two pairs of socks takes up more space inside your boot.
Winter Hiking Boots
The biggest problem with wearing summer hiking boots in the winter is that most summer hiking boots are designed to be "breathable" and keep your feet from sweating. This breathability, however, does a poor job of insulating in the winter. If it isn't that cold, like when you're hiking in early winter or the springtime, regular hiking boots with warm socks may be enough. But in the dead of winter, or if you are hiking in the alpine, you may find your regular hiking boots are not enough.
Most hiking boot brands offer specially designed winter hiking boots. These boots are usually made from leather and rubber (for waterproofness) and are lined with fleece / wool on the inside (for warmth).
My favourite pair of boots for winter activities aren't actually hiking boots. You see, hiking boots can only be so warm. When I was living in Nunavut (high arctic) we wore insulated rubber boots that were meant to keep our feet warm to -50C (-58F). They are amazingly warm, extremely waterproof (they're rubber, after all) and not very expensive. I have a pair of Bogs Whiteout Fleck boots and they are what I wear on most cold-weather hikes. They don't provide as much ankle moveability, but I've used them with both snowshoes and microspikes and have found they work well (and they are SUPER warm).
Gaiters
Even if you're wearing waterproof hiking boots, the tops of the boots are still vulnerable to snow. Imagine your walking through a foot of snow – it's like some of that snow will fall into the top of your boot and get your socks wet… and then make your feet cold. Gaiters are meant to protect the tops of your boots!
The biggest decision you'll need to make about gaiters will be the height. For most winter hiking, a shorter pair, like the Outdoor Research Rocky Mountain Low Gaiter will work well. If you think you'll be plowing through deep, deep snow, you can try a taller pair like the Outdoor Research Crocodile Gaiters.
Snowshoes
Snowshoes are perfect for trails with a low gradient and lots of snowfall, as they'll keep you from post-holing (where you break through the snow and sink down thigh deep!). Snowshoes work by distributing your body weight across a larger surface area, decreasing the amount of weight in one particular spot. This is what keeps you from breaking through the snow. Modern snowshoes will also have spikes under the foot to help with traction. The Atlas Access Snowshoes is an excellent pair of beginning snowshoes.
If you'll be snowshoeing in the mountains, ensure you get a pair of snowshoes designed for a steeper gradient. These snowshoes will usually have crampons (deep metal spikes underneath for traction) and be lighter weight (so you don't get as tired going uphill). The MSR Evo Ascent Snowshoes are excellent entry snowshoes for mountain trails.
Microspikes
Another option is wearing microspikes. Microspikes have a rubber part that slips over your boot and a metal part that makes contact with the ground. The metal part has cleats or spikes that puncture the ice as you walk, providing traction (even on slippery surfaces!). In general, microspikes are better than snowshoes on steeper trails with less snow and more ice.
If you'll be doing shorter hikes with low elevation, you can start off with a pair of Yaktrax. These don't have the actual spikes that other microSPIKES have, but they do provide good traction on flat trails and are considerably cheaper. For steeper trails or if there will be a lot ice, you should go with a pair of true microspikes. I like the Kahtoola MICROSpikes (nice balance of traction and price).
Crampons
Crampons resemble microspikes, though they do serve a distinct purpose. They were originally designed for ice climbing, mountaineering and ski touring, and that's still their most popular use. However, there are some crampon styles that have been adapted for hiking.
Unlike microspikes, crampons have their own foot frames – your boot goes on top and is fastened to the frame. Crampons also have much bigger spikes than microspikes (usually between 1/2 – 1 inch long) and the spikes are on the outside of the foot (whereas microspikes usually have spikes in the centre of the foot as well). The downside is that the extra hardware makes crampons heavier than microspikes.
I don't wear crampons personally, though I know Hillsound Trail Crampons are very popular. As I know live near the Sierra Nevada, I'll probably get this pair for the upcoming winter season.
---
Tips for Staying Warm Outside
That covers everything you could have ever wanted to know about winter hiking clothes! Before we wrap up though, here are some additional tips for staying warm outside (and the next section has some safety tips too).
Be bold, start cold!
In choosing what to wear for winter hiking, we tend to get excited about all the different layering options. Once we hit the chilly trailhead, we throw the fleece sweater and puffy jacket on and zip it all up inside a shell. But then we get moving… and we start the first incline… and now we're sweating.
All those layers feel right when you're standing still at the trailhead, but it's way too warm for an active body.
As difficult as it can seem, start your hike with fewer layers. Be bold, start cold. If you're still cold after 15 minutes of hiking, throw another layer on. But give your body a chance to warm itself before you do – this will help you avoid sweating (and getting wet from the inside).
Bring hand warmers (and feet warmers)
There's nothing wrong with getting a little chemical help to stay warm. Those hand warmers and feet warmers you see at ski chalets can often be purchased at outdoor gear stores or online. Pack some in your backpack and if you find your hands or feet getting cold throughout the day, throw them in your boots and gloves. One thing I like about the feet warmers is that they have a sticky side that sticks to the sole of your boot so it stays in place.
Don't forget about sun protection
Spoiler alert: you can get a sunburn even in the winter – even more so at higher altitudes. The sun reflects off the snow and hits your face, burning it. So don't forget to bring sunscreen and a hat or sun glasses!
---
Safety Reminders for Winter Hiking
There are more risks when you are hiking in the winter, so it's extra important you take the necessary precautions and be smart while you're winter hiking.
Brush up on your hypothermia knowledge
Hypothermia is the greatest risk when you are outside in the winter. All the winter hiking clothing in the world is not enough to keep you safe if you don't know the signs and symptoms of hypothermia, and how to treat it if you do start becoming hypothermic.
This article by the former Medical Officer with the British Antarctic Survey is a great resource for learning about hypothermia in the wilderness. Although the text is a little long and dry, this article provides a really good overview of the science of treating hypothermia.
Bring a Sat Phone
If you'll be hiking somewhere without cell service, bring a satellite phone. I have the Garmin inReach Mini. It has an SOS button that I can press if I'm in trouble and the device will send my GPS coordinates to the nearest Search & Rescue station.
A girl my age died north of Vancouver last year because she got lost on a mountain trail in winter. Her phone battery died while trying to call for help (she could barely get a signal and used up her battery trying to get through). I don't want this to ever happen again so, if you're hiking in the wilderness, please bring a satellite phone.
Tip: I also like to bring a power bank and charger so I can recharge my phone (or my inReach, though it has a monster battery life and has never needed recharging in the field). Keep the power bank inside your extra layers so it doesn't get too cold.
Tell somewhere where you're going and when you'll be back
This is true for all outdoor adventures, but warrents a reiteration. Always tell someone where you're going, when you'll be back and what they should do if you don't make it back on time. Here is an example of what I'll leave with my boyfriend and my mom:
Where I'm Going and What I'm Doing: I'm hiking the Dog Mountain Trail in Mount Seymour Provincial Park. Here is a link to the route on AllTrails. I'm wearing a green sweater, purple jacket and carrying a red backpack.
When Will I Be Back: I am starting at 8 am and I expect the route to take me 6 hours, so the earliest I'll be back is 2 pm. I'll probably take extra time at the lookout and stop for photos, so I am aiming to be back by 4 pm. If I'm not back by 5 pm, please contact authorities.
Who to Contact: Here is the number of the conservation authority at Mount Seymour Provincial Park. Here is the number for Search and Rescue. You can also call 911 and give them this information.
All of that detail makes it much easier for Search and Rescue to find me.
Don't hike alone (unless you are very experienced)
Frankly, if you're reading this post, you are not experienced enough to be hiking alone in the winter. Now, it's fine if it's a small trail near your house. But don't attempt a 4-hour hike up a mountain on your own.
Pack as if you'll be spending the night
There are a few stories of hikers who got lost or stuck and had to spend the night on the trail… and got hypothermia and died. It happens at least once in Vancouver's North Shore Mountains every year. Put the 10 Essentials in your backpack (especially the headlamp, fire starter, emergency shelter and extra food) before you leave on your hike. Being able to stay dry (shelter) and warm (fire) will literally save your life while you wait for help (because you were able to call SAR because you brought your satellite phone, right!).
When in doubt, head out!
There's nothing wrong with turning back early and calling it a day before you even start the hike. If the conditions are beyond your skill level or something feels wrong, don't hesitate to bail. I love to advocate for #nobadweather, but that only works if you have the right gear and experience to be outside safely. I've bailed on two big hikes because, shortly after starting, I realized it was far colder than what I was prepared for.
In the winter, your margin for error is much smaller. When in doubt, head out!
Be very careful around ice
I strongly discourage people from hiking on ice unless they are very familiar with the area. It's hard for novice hikers to judge ice thickness – and breaking through ice is one of the easiest ways to get hpothermia. Be very careful around ice.
---
What to Wear Winter Hiking – Final Thoughts
I hope this post has given you a better idea of what winter hiking clothing you need. Remember, the most important thing is to stay dry and insulated. And I hope I haven't scared you off winter hiking with all the safety talk. Most of us will never have to call SAR or unexpectedly spend the night winter camping. But I want you to stay safe and, if you do find yourself in that situation, be prepared!
Here are some additional resources on winter activities: