Hi friends! Talking about camping gear is one of my favourite activities, so I love it when people come to me for gear advice. This summer the Number 1 piece of gear I've been asked about is tents. Specifically, what is the best 2 person backpacking tent?
Well, I figured I'd write a whole post about it. So if you're looking for the best 2 person tent for your next hiking or canoeing trip, you've come to the right place! In this guide, I cover my favourite 2 person backpacking tent options and go over (in excruciating detail) what to look for before buying one.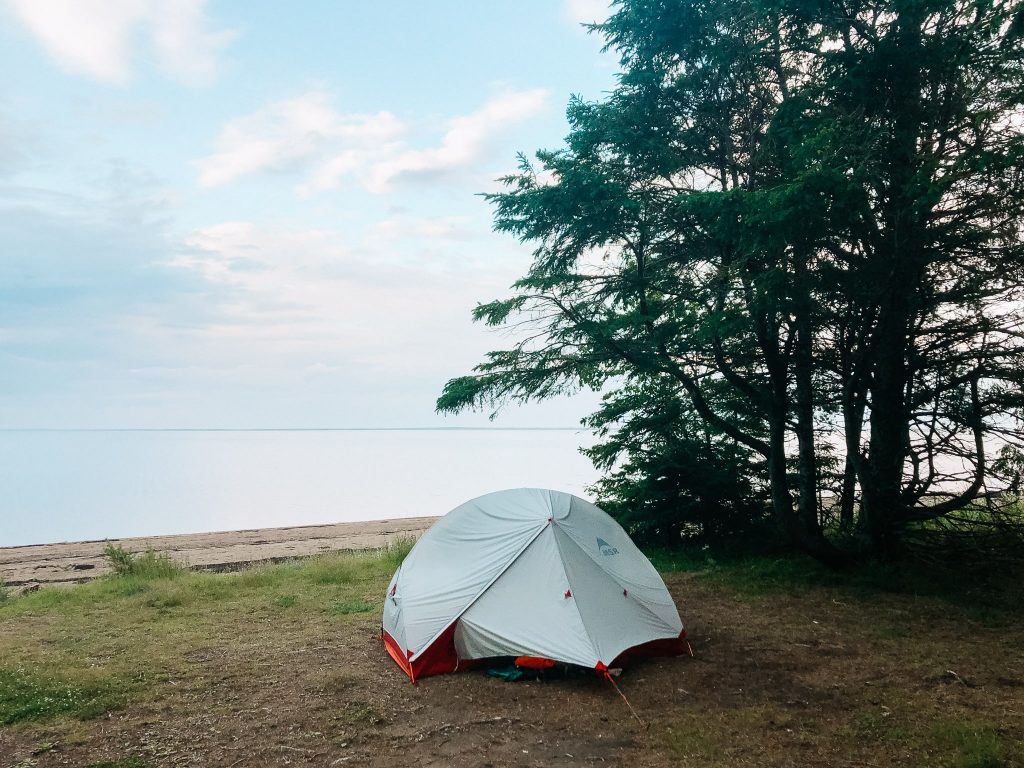 This post may contain affiliate links. If you make a purchase through one of these links, I may receive a small commission at no extra cost to you. Your support is much appreciated! You can learn more by reading my full disclosure.
---
Best Backpacking Tent – My Top Pick (2020)
Personally, I love the MSR Hubba Hubba. Thanks to its generous inside headspace for 2, easy set up and packing, this tent achieves a great balance overall between weight, price, size and quality.
What I really like is how versatile this tent is. I've used it on canoe trips from May through October and on solo and group backpacking trips across Canada and California.
Overall, this is an all-around rock star tent.
Top Pick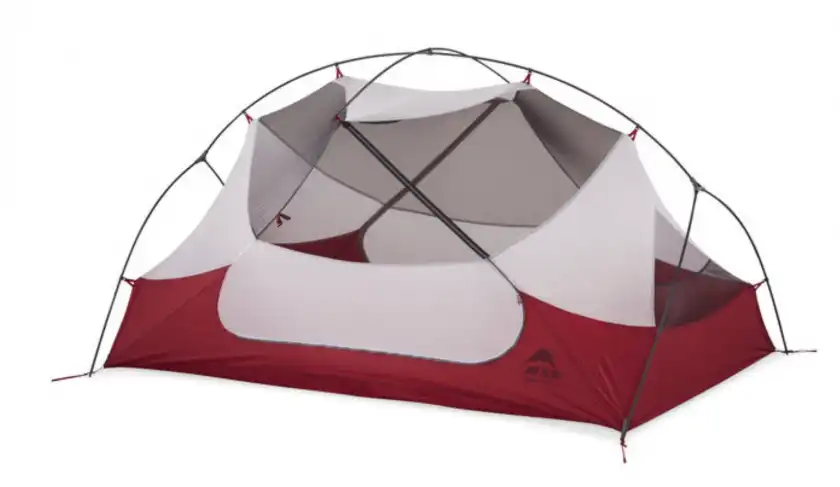 ---
Backpacking Tents: An Overview
When looking for the best two-man tent there's a lot to consider. What kind of conditions will you be camping in? How will you be travelling with your tent? How much space do you comfortably need (will you be using it solo or with a fellow backpacker?).
Then there are the technical specifications of the tent – what fabric you are looking to have, do you want a freestanding tent or one you can support with your hiking poles, how easy the tent is to set up and takedown, and a host of other things that I'll discuss.
Follow the backpacking tent reviews, I'll take you through the different things to look out for and how to choose the best 2-person lightweight tent that's right for you. So if you aren't totally sure what to look for in your tent, jump to that section before reading the product reviews.
Do I need a specific backpacking tent? Or will any tent work? The short answer is yes. If you're going to be hiking, trekking or carrying your gear for any length of time, you will really want a lightweight tent that has been designed with backpacking in mind. Not only will they pack up smaller, but your back will really thank you for the extra weight saved!
---
Backpacking Tents Summary
---
Backpacking 2 Person Tent Comparison Chart
---
Best Two Person Tent for Backpacking Reviews
The MSR Hubba Hubba NX 2 person backpacking tent is my top pick and is one of the best rated and best selling tents on the market.
This is a great backpacking tent for 2 people. It has a packed weight of 3lbs 13oz and has plenty of space to fit 2 people as the floor is a proper rectangular, instead of tapered at the feet. As far as lightweight 2 person backpacking tents go, it's spacious. But if you're used to car camping, you'll find this tent (and the others on this list) a little snug.
However, there's also plenty of space to sit up comfortably inside the tent, with 39" of headspace at the centre which tapers down to around 34" at the end.
This tent is super easy to set up (there's also a fast fly option with no footprint/inner tent) if you need a quick shelter. The 2 doors make for easy access and the 2 vestibules are large enough to store a pack in without it obstructing the door – although one thing to note is that the vestibules do definitely need staking out for use and are not free standing.
Made from nylon, the MSR Hubba Hubba NX 2 person lightweight backpacking tent features a Durashield coated rain-fly and bathtub style floor, optimized inside space with a no-tapered floor, and adjustable rain fly for roll-up or stargazer view. It's my top pick to consider for your next backpacking trip!
Pros:
Spacious with plenty of height
Easy access and space for storage in vestibules
Easy to put up
Fast fly only option
Cons:
On the heavier side compared to some other UL tents in this guide
Top Pick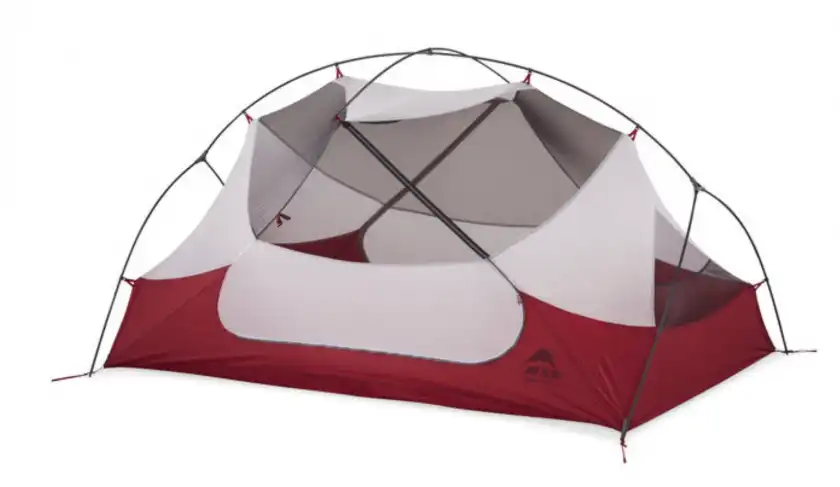 ---
The Big Agnes 2 person backpacking tent is another of my favorite tents in this guide, and the updated version includes some great features and enhancements that make it super easy to set this tent up, even if you're doing it solo.
Although the Big Agnes 2 is slightly tapered towards the feet end, it feels roomy and spacious inside thanks to its 40" head height and clever internal storage pockets in the inner tent to store water bottles, electronics and head torches. These "gear lofts" are one thing I love about this tent that the MSR Hubba Hubba doesn't do as well.
The tent has been well designed and features the "Tip Lok" tent buckle – a new feature which makes sure your corners stay where they're meant to be by securing the pole tip effectively. By far my favourite feature of this tent, though, is the 2 spacious awnings which fold up from the roomy vestibules on either side and can be secured with hiking poles – perfect if you want to sit out without getting rained on or in the direct sun, or just claim your outside space!
Weighing in at 3lb 2oz, the Big Agnes is a great weight for the size and space that she provides. This 3 season tent is another highly-rated option that is worth considering.
Pros:
Great interior space and handy storage 3D bins
Unique awnings
Easy setup
Cons:
Pricier than the Hubba Hubba
Fast fly option requires purchasing a separate footprint
---
This REI 2 person backpacking tent is another great two person tent for backpacking.
This REI ultralight tent provides impressive space inside for the weight, at 28.7sq feet inside, you're almost getting as much space inside as either of the previously reviewed options, but at several ounces less of the weight, and at a great value price.
Its tapered design gives you plenty of space to get in and out on either side at head height, while saving on space at the bottom end of the tent. You'll get an inch or two less of headroom at 38", so it's not the best tent if you are super tall. That said, unless you're over 6ft, the difference in headroom shouldn't be that noticeable.
This REI 2 person dome tent is packed full of features, such as smart pockets to store electronics or head torches, a door and vestibule either side of the tent for easy entry/exit, easy assembly, and a stuff bag to make everything compact to carry. There's even color coding to make set up super clear and simple. All in all, if you're looking for the best tent for backpacking lightweight, you'll definitely want to consider the REI Quarter Dome SL2.
Pros:
Easy set up
Great product for the price
Cons:
Lower headroom makes this not ideal for tall people (over 6ft)
Heavy, but reasonable if carrying for two people
---
If you're looking for one of the roomier backpacking tents 2 person options, the Marmot Tungsten 2P UL is well worth a look, as the 32 sq feet of interior space gives it the most inside space of any of the tents in this list.
Although the tent is made from Polyester rather than Nylon, it has been tested to hold up to most weathers well. The 2 large doors make this tent the perfect option for taller people and make it easy to get in and out, and there are 2 (slightly small) vestibules to store gear, too.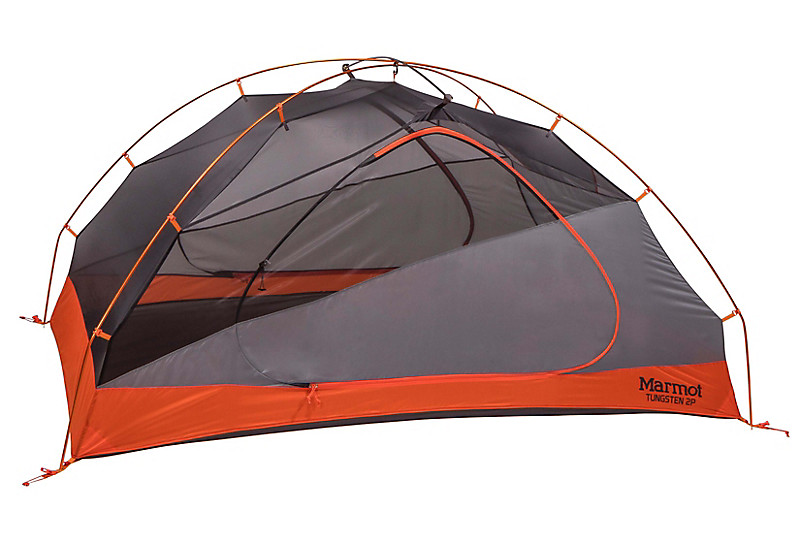 This is not the most lightweight 2 person backpacking tent on this list at a whole pound extra than the REI Quarter Dome, but it is still a great camping tent, especially if you value having a little more room inside over carrying a few extra ounces.
I think this is a great tent for versatile outdoor adventurers. Its size and roominess make it perfect for car camping and canoe camping, but its weight makes it suitable for short backpacking trips.
Pros:
Great room inside
Easy to set up and take down
Polyester fly is not vulnerable to UV deterioration
Cons:
Heavier than some models
Some of the stakes and accessories could be better quality
---
The Marmot Superalloy is a seriously underrated tent in my opinion. I haven't had experience with this one specifically, but I was so impressed by the specs that I had to include it on this list.
Weighing in at 2lbs 4oz, this is the second lightest tent on this list and the lightest free-standing tent. With 28 sq ft of floor space and 39 inches tall, it's also impressively large for its weight and packs up very small. The placement of the external clips on the tent are quite strategic, giving it even more roominess.
Usually a tent with these specs would be quite expensive, but Marmot has managed to offer it at a reasonable price (well, reasonable compared to other tents on this list).
The Marmot Superalloy has several great weather features, including vented seam-taped full-coverage fly and bathtub floor. One point of caution is that you'll definitely want to purchase a ground sheet for this tent (though I recommend it for most tents), because I've read reviews that it's easily punctured.
There's a small gear loft for a headlamp, but other bells and whistles are absent in an effort to save weight. This will likely be the next backpacking tent I purchase, and I'm hoping it'll make a decent (and roomy) one person tent for future adventures.
Pros:
Extremely lightweight
Packs small
Value price
Cons:
Lightweight fabric is susceptible to tears
Most Underrated
---
Weighing in at 2lb 6oz, the Nemo Hornet 2 is one of the best compact 2 person lightweight backpacking tent options in these reviews, especially if you're not fussed too much about having extra inside space.
The tent features a premium 10 denier nylon ripstop fly (ultra lightweight), 2 large doors and vestibules for easy access, and a clever "volumizing guyout" system which pulls the inner tent out at the storage pockets to avoid sagging and maximise space. There's also an innovative and good quality stuff sack that allows the tent to be carried separately from the poles.
However, while the Nemo Hornet 2 tent is great in so many ways, the size makes it better for one person hiking alone who is looking for something with more space than the Nemo Hornet 1 person tent. Although technically a 2 person tent, with its tapered end and slanting walls, it gets pretty cosy inside and you might find yourself tight on space. If you like the design but want a little extra room for 2 people, you could consider the Nemo Hornet 3 person tent.
Pros:
Super lightweight
Great fabric and good quality
Innovative stuff sack
Cons:
Space – it's a tight squeeze for 2
---
If you're looking at lightweight backpacking tents 2 person and want plenty of space, this Dagger 2 person tent may well be your answer. Unlike the Hornet (above), the Dagger has plenty of space inside, and although it is heavier, weighing in at 3lb 14ozs, it's still light enough to split between 2 people on a backpacking trip.
A symmetrical floor area with plenty of space for two sleeping mats side by side and an impressive 42" of head height mean that you can sit up inside this tent pretty much anywhere without your head touching the ceiling.
Other features of this Dagger 2p tent include a unique Divvy stuff sack which allows you to split the tent between 2 people for carrying easily, gear pockets and overhead light pockets to store your stuff, pre-bent poles for better space, and white no-see-em mesh on the sides for privacy while the top is black mesh for stargazing on dry nights. All in all, if you're looking for the best 2 person backpacking tent, this might just be the one for you!
Pros:
Plenty of space
Easy to carry between 2 people
The 2 vestibules are generously sized
Cons:
Price a little higher than some options
---
The lightest 2 person tent in these reviews, the ZPacks Duplex is a trekking pole tent made from Dyneema composite fabric. This is also the only single wall option in this 2 Person Backpacking Tent Review, which explains why it's so much lighter than other options as well, weighing in at just 1 lb 2oz.
Given the use of trekking poles, this tent creates an impressive head height along the centre of up to 48". The interior space is on the tight side for two large people though, with 28 square feet of floor space. This tent is built with strength in mind and the manufacturers state that a separate groundsheet or footprint is not needed, even when camping on rough terrain, which will further save you space and weight (and money!).
The tent features storage pockets, bathtub style floor and flexible ventilation options through the 2 doors (which each have 2 opening portions, meaning you can open and close 4 doors independently as the weather conditions dictate). The 2 vestibules provide good space for storage for your gear as well. If you're looking for a great quality compact 2 person tent that's super light weight, look no further than the ZPacks Duplex.
Pros:
High quality Dyneema fabric
Super lightweight
Great ventilation & spacious vestibules
Cons:
Pricier than other tents in this list
Inside space is tight – it's a great space for 1 person but could be tight for 2
---
What to Consider When Buying 2 Person Backpacking Tents
Especially if it's your first time looking for two man tents to buy for your backpacking trip, it's well worth spending some time to learn about the most important features that go into making the best lightweight 2 person tent. Depending on your own style of travel and needs, you'll want to consider the factors I've laid out below for what will make the best 2 person tent for you.
Weight
One of the most obvious requirements for any lightweight 2 man tent is going to be its weight.
In this guide, the recommended tents weigh between a very impressive 1lb 2oz through to nearly 4lbs. It's important to know that different brands use different measurements for the weight of their tents, sometimes you'll find a "trek weight" or "fast and light" weight but it's important to understand what these really mean. Marmot Superalloy 2P
Sometimes the trek weight does not include the weight of the fly sheet, or necessary equipment such as tent stakes and guy ropes – which you're certainly going to need to pitch your tent! For this reason I've taken the packed weight and used that wherever possible in this guide to give as realistic an expectation as possible for what weight you'll need to carry.
One advantage backpacking with 2 people is that in case you decide to go for one of the heavier camping tent 2 person options, you can always divide the weight of the tent between the two of you, or switch over who is carrying it.
When it comes to ultralight backpacking tents, there's always going to be some trade-off whether that's a reduced amount of floor space or height, but fortunately tent technology is so advanced that it really is possible to have a great lightweight tent for backpacking that meets all of your needs.
---
Floor Area & Size
If you're looking for lightweight 2 person tents, you can forget about the idea of it being super spacious. Backpacking two person tents really do only have space for 2 people, and sometimes in a top-tail configuration to save that extra space. Don't expect to be able to keep your pack in the tent with you or to have enough room for your air bed as well. (Larger packs and cooking equipment can be stored in the vestibules, which is why having these is super handy). Nemo Hornet
Lightweight 2 person backpacking tents usually have enough space for 2 people to lie right next to each other – so that's fine if you're traveling with your partner and plan on cuddling in the night, but if you're traveling with a friend who you might not feel like sleeping right next to, then you could consider buying a 3 person tent instead.
To get a good idea of what minimum floor size you'll need and to avoid being miserably cramped on your backpacking trip, I recommend getting out your camping mat/pad (or whatever you'll be sleeping on), measuring it, and doubling that (or measuring both mats if you have them) to make sure you know what square footage you'll need inside the tent.
Remember you'll need to keep enough space between your kit and the sides of the tent to avoid contact between the tent inner and the fly (bad news when it rains!). So always factor in a few extra inches of space compared to the size of your sleeping mats.
In these tent backpacking reviews I'll go through the size and area of each tent so you can see which one would be the best for you.
Ease of Set Up
The last thing any camper wants is to be trying to work out how to pitch a tent after it's started raining, got dark, or at the end of a long day trekking. So the simpler a tent is to pitch – the better – especially if you're new to backpacking and camping.
Fortunately, the vast majority of 2 person tents for camping have been designed for ease of set up, and can be put up in just a few minutes. The best tip I have is to practice setting up your tent at home in your garden (or close to home if you don't have a yard) to get the hang of it – the last place you want to be learning how to set up your tent is in bad weather on your trek!
It's also worth watching a few videos on topics such as how to set up the guy lines for your tent for maximum stability in windier conditions, how to find the best spot to pitch your 2 person hiking tent and whether to invest in a Footprint for under your tent as well (recommended for rougher terrain to protect your tent).
---
Doors & Vestibules
When searching for the best 2 person camping tents, I highly recommend buying one that has 2 doors and 2 vestibules (also referred to as a porch).
All of the 2 man backpacking tent options that I've included in this guide have these, and it's important because not only will it avoid you having to climb over each other to get into / out of the tent, but the vestibules will also give you important storage space for your kit to keep it protected and dry.
Most of the 2 man tents for sale have doors on opposing sides of the tent, meaning each person sharing the tent can get in and out on their respective side of the tent without having to climb over their buddy. Doors open out onto vestibules on either side of the tent, giving each occupant a place to store their kit. In some models of two person backpacking tent, hiking poles can be used to support the vestibules, helping to save some weight from regular tent poles.
---
Weather Resistance
Another of the most important features when comparing the best 2 person tents for backpacking is weather resistance. At the most essential level, all 2 man tent for backpacking options should be waterproof – meaning that the tent comes with a waterproof fly sheet. MSR Hubba Hubba
Unless you're going to be camping somewhere with little moisture in the air, I always recommend putting up your tent with the outer fly sheet or shell – as even if there's no rain forecast, morning dew can seep through your tent's inner shell and make you, your things and your tent wet!
If you're going to be camping in exposed conditions such as in national parks or hiking in the mountains, you'll want to choose the best lightweight tent for backpacking that's also highly wind resistant.
For colder weathers, there are winter backpacking tent options available, often referred to as a 4 season backpacking tent. 3 season backpacking tents can be used Spring through to Fall, whereas 4 season backpacking tents should be good for use in winter, too, and there are some great 2 person 4 season backpacking tent options on the market.
The most important thing is to think ahead about the conditions you're most likely to be backpacking in, and make sure to buy the appropriate type of tent – as a summer backpacking tent will not have the level of weather resistance needed for winter use.
---
Trekking Pole vs Freestanding Tents
Most of the 2 person ultralight backpacking tent options that I've included in this guide are freestanding tents, but if you really want to save as much space and weight as you can, it's also worth considering backpacking shelters that use your trekking poles to support them instead of a freestanding frame. ZPacks Duplex
The lightest two person tent in this guide uses trekking poles to support the shelter, thus saving you the weight and space of carrying a freestanding tent frame. The major plus behind trekking pole tents is the weight you save, and trekking pole tents can be just as sturdy as their freestanding counterparts.
The downside to a 2 person trekking pole tent is that if the pole gets knocked or kicked, it can destabilize the whole tent. It's also not possible to move around or lift up to shake out once assembled like you can with a freestanding tent. Some freestanding tents use your trekking poles for the vestibules such as the Big Agnes Copper Spur UL2.
Unless you're super tight on space and really love the idea of a trekking pole tent, for beginners I recommend starting with a 2 person freestanding tent.
---
Price
As with most backpacking and outdoor gear, you tend to get what you pay for when it comes to quality and features for the best two man tent for backpacking. That said, there are some good deals to be had when you're looking for the best budget 2 person tent. Marmot Tungsten
At a lower price range, it's possible to get some decent quality 2 man expedition tents for around $200-250. Where you'll need to pay more is if you're looking for an ultra-lightweight backpacking two person tent, if you're looking for a 3 or 4 season tent, or if you are looking for additional features such as quiet zips that don't rattle in the wind, great design, state of the art weather-proofing, transparent tops for star-gazing, and the like.
Tents at the higher price range tend to be made from better fabric and tested in a range of conditions or have a more specialist design. They tend to feature things such as stronger groundsheets which can make all the difference to the life of your tent.
Durability
When looking for the best two person tent, durability is definitely something to factor into your decision making, unless the tent is only for occasional use. When looking for a durable tent for use in different weathers, or just that you'll be able to rely on over and again, there are a few things you should consider.
Fabric
The most common fabrics used for tents at the cheaper end of the spectrum are Polyester and Nylon. Polyester is considerably heavier than Nylon and you'll generally only find it in the cheapest tent models.
Nylon is lightweight and offers a great strength to weight ratio, plus it's relatively cheap. However, Nylon does come with a couple of downsides. It can overstretch, causing your tent to wrinkle and lose some of its shape over time, and it is also not great with UV exposure: Frequent sun exposure can cause the Nylon to degrade. Nylon also absorbs water on its own so in order to be waterproof, it relies on chemical coatings.
Dyneema Composite Fabric is a relatively new and higher end alternative which delivers superior water protection (it is naturally waterproof) and strength. It also doesn't degrade under repeated sunlight exposure, and so many of the best 2 person backpack tent options on the market today use Dyneema.
Floor
I recommend buying a tent with a bathtub-style groundsheet (floor) as this will help any dampness from seeping into your tent from a wet ground. If you're going to be sleeping in rugged terrain then it can be worthwhile investing in an additional ground liner or groundsheet to put below your tent and protect the built in tent floor. It will add additional weight but can be worth it for preserving the life of your two man tent.
---
Additional Features
The best lightweight 2 man tents come with a host of extra features that may come in handy – so it's worth having a look through your favorite tent's specifications to see if the extra features are what you need. Most tents come with a compression sack which is super handy if you want to get the tent as compact as you can to carry.
One of my favorite best two person backpacking tent features is an adjustable fly sheet, meaning you can roll it back for stargazing in dry weather. Other features you may like include black out fly coating (no more people being able to see you in your tent when you have a light on).
Some 2 person tents for sale feature vestibule awnings which are handy if you want some extra shelter and protection, too.
Many of the tents in these two person backpacking tents reviews come with a host of extra features – have a look and see which ones are right for you!