When my friend from Canada came to visit me in California, I asked her what she wanted to see while she was here. Her answer: landscapes unlike anything you'd find elsewhere.
One of the most incredible elements of California is its diversity of landscape. Within a single day of driving you can be surfing on a sandy beach, snowshoeing in the mountains or, as we found ourselves, camping on the rocky, shrubby desert that is Alabama Hills.
Alabama Hills camping is wonderful in that it is 1) Free, and 2) Beautiful.
Plus, from our experience, it looks like the people who are camping here truly respect the land (or at least, the locals have been very diligent in its upkeep). In many areas where I've found free camping, they've been covered with crap (both of the garbage and human variety).
That's not the case in with camping in Alabama Hills.
So today I want to share all the information I think you'll need to camp for free in Alabama Hills yourself (or find the established Alabama Hills Campgrounds, if that's more your style).
In this post, I'll go over:
Alabama Hills Dispersed Camping (Free)
Alabama Hills Campground
Things to do around Alabama Hills
Tips for Camping Here and Leave No Trace
This post may contain affiliate links. If you make a purchase through one of these links, I may receive a small commission at no extra cost to you. Your support is much appreciated! You can learn more by reading my full disclosure.
---
Location & Map for Camping in Alabama Hills
Where is Alabama Hills?
Alabama Hills lies in the valley between the Sierra Mountains and Inyo Mountains. The land is owned and managed by the Bureau of Land Management (BLM).
The nearest town to Alabama Hills is Lone Pine and Death Valley National Park is one hour away.
Distances from major cities:
Distance from Los Angeles to Alabama Hills: 3.5-hour drive (211 miles)
Distance from Las Vegas to Alabama Hills: 4-hour drive (231 miles)
Distance from San Diego to Alabama Hills: 5-hour drive (300 miles)
Or if you're used to long driving (and a little crazy), it's a 7-hour drive and 450 miles.
Map of Alabama Hills Camping & Activities
I've listed the paid campgrounds and activities in the map below, in addition to the dispersed campsite that we camped at.
I've also listed a few dispersed campsites where we saw other people camping (in grey), though this is an estimate. There were at least 2 dozen vehicles parked throughout Alabama Hills, and I've only listed a couple.
Also, beware that some of the dirt roads are quite rugged and require a 4×4.
---
The Complete Alabama Hills Camping Guide
Alabama Hills Dispersed Camping (Free)
Where You CAN Camp
In my opinion, the best part about visiting Alabama Hills is that you can camp almost anywhere… for free! Once you turn onto Movie Flat Road, you'll see several dirt roads leading away from the paved road on either side. You can camp on most of the dirt roads leading away from Movie Flat Road on the EAST side.
You can drive down these dirt roads and basically park / camp just about anywhere. That said, some spots are quite obviously campsites. There have fire rings in front of boulders in many different places – any of which would be a suitable campsite.
If you're car camping (like we did) or you have a van / truck / small trailer, you'll probably be able to access most of the potential campsites. If you have a large trailer or an RV, don't venture too far down the dirt roads. There were a few super rugged sections that our 4×4 couldn't even do.
You can find more information about free recreational use of Alabama Hills on the Bureau of Land Management website.
Where You CANNOT Camp
As you're driving, you'll see small signs that say "Day Use Only" or "No Camping". Obviously, you cannot camp here.
You also cannot camp WEST of Movie Flat Road.
Alabama Hills Campground (Paid)
The biggest drawback to dispersed camping at Alabama Hills is the lack of facilities. If you have an RV or campervan, you may find it important to be connected to electricity and water, or a dumping station.
In that case, you have three options: Lone Pine, Tuttle Creek and Portagee Joe.
Since I have neither an RV nor a campervan, I prefer dispersed camping and can't speak to any of these campgrounds myself.
| | Lone Pine | Tuttle Creek | Portagee Joe |
| --- | --- | --- | --- |
| Price | $24 – $65 | $8 | $14 |
| Reservations | Yes | No | Yes |
| Number of Sites | 40 | 83 | 20 |
| RV friendly | Yes | Tent / Trailer | < 30 ft |
| Open Dates | April 29 – Dec 31 | Year – Round | March 22 – Dec 21 |
| Vault Toilets | Yes | Yes | Yes |
| Electricity | Yes | No | No |
| Water | Yes | March – October | Yes |
| Dump Station | No | Yes | No |
---
Things to do while Camping in Alabama Hills
Hike to Mobius Arch (and other Arches and Rocks)
Mobius Arch is the most popular arch in the area, perfectly framing the Sierra Nevada mountains in the distance. From the trailhead (marked on the map), Mobius Arch is 0.5 miles away.
There are other distinctive arches and rocks as well, like Shark Fin, Eagle Head and Bishop.
Drive or bike Movie Flat Road
Movie Flat Road is the road you'll take to access a lot of the dispersed camping. But even if you don't end up camping there, it's still worth the drive.
A ton of Western movies have been filmed around Alabama Hills, hence the name "Movie Flat Road". In addition to Westerns, you may recognize the landscape from the first Iron Man movie (the part where Tony Stark blows up a bunch of stuff in a desert in front of mountains… this is the desert! Those are the mountains!).
Drive or bike Whitney Portal Road
Whitney Portal Road is the road used to access the trailheads leading to Mount Whitney. From the road, you get a beautiful view of the valley below. From that distance, you can see the boulders that form the landscape within Alabama Hills – though they look like pebbles from that height.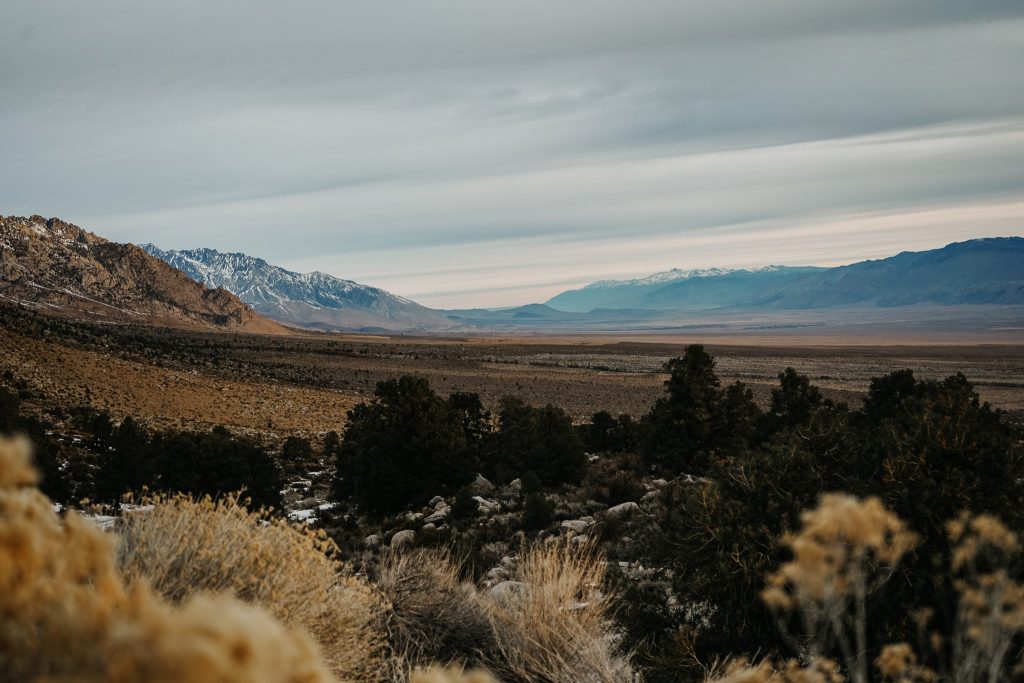 Hike to Lone Pine Lake
If you're visiting between June and November and up for a serious challenge, you can hike to Lone Pine Lake. The trailhead is down Whitney Portal Rd (marked on the map above). Round trip, the route is 13 miles and covers over 5000 ft of elevation gain – not for the faint of heart!
If you're attempting this hiking trail, please review this guide by the Inyo County Search and Rescue. This is a difficult trail in the alpine, so proper equipment and experience is needed to safely complete the hike.
Get breakfast at the Alabama Hills Cafe & Bakery
The Alabama Hills Cafe is in the town of Lone Pine and it's the best place to get breakfast after a night of camping. I got the Humphrey Bogart Skillet (amazing) and my friend got the Eggs Benedict (also amazing). They have a great selection of baked goods as well – I got a pecan cinnamon bun with creme cheese icing.
And if you're feeling a little wild, they also have a mean strawberry mimosa (you're on vacation, live a little!).
Visit to Museum of Western Film History
I didn't check out the movie personally, but if you're into history there is an excellent museum about the Western film industry in Alabama Hills. There are relics and set pieces, costumes and old movie posters – all telling the story of Western film over the years.
---
Tips for Camping in Alabama Hills
Brush Up on the Leave No Trace Principles
Here are the seven Leave No Trace principles.
Plan Ahead and Prepare
Travel on Durable Surfaces
Dispose of Waste Properly
Take only Pictures, Leave only Footprints.
Minimize Campfire Impact
Don't Disturb Wildlife
Be Considerate of Others
While all of these principles are important, there are two specific ones I want to call out: Waste and Campfires.
Find a Port-a-Potty Toilet or Pack Out Your Poop
If you're used to camping in the woods, you'll know the protocol is to bury your poop in a cat hole. You cannot do this in the desert. Instead, you either need to find a port-a-potty or pack out your poop in a WAG bag.
When I was camping in Alabama Hills, there were a few porta-potties on the east side of Movie Flat Road.
Pack out all Garbage
This likely goes without saying, but ensure you pack out all of your garbage. Bring extra garbage bags and keep them in the car. Also (and I know this will sound over the top), don't dump liquids out onto the desert. There are so many chemicals in a bottle of Coke or a Starbucks iced coffee. The desert is fragile.
Campfires
If you're planning on having a campfire, the first thing you should do is confirm there are no fire bans in place. You can do this by calling the number below or checking this website: BLM California Fire Restrictions.
The number to call for fire bans in Alabama Hills is: (760) 876-6200
If there is no fire ban in place, you'll then need to submit a permit. It's really easy to do (and it's free), but there is a two-minute video to watch and an 8 question quiz.
The permit is emailed to you. Although unlikely, if you were to run into a BLM park ranger, they'd ask to see your permit and check that you have water and shovel with you (to safely put out the fire).
There are firepits built throughout the area. Only build a fire if you can do so in one of the existing firepits. And please do not harm the scarce vegetation that grows here by picking in for firewood (it won't work, by the way). You can get firewood in town.
Bring Lots of Water
Unless you're in one of the campgrounds, there is no water anywhere around Alabama Hills so you'll need to bring in all your water. We bought two 4L jugs of water in town and brought them with us.
Set Up Camp among Large Boulders
When you're seeking a place to camp, choose a spot under the cover of some large boulders (there are tons). The area gets impressively windy (which in turn, makes it quite cold) and the boulders will protect you from the wind.
And on that note…
It'll Be Colder (and Hotter) than Your Expect
I don't know what it is about deserts, but they're always way hotter during the day and colder at night than I'm expecting.
Even though it was early January, during the day I was warm while wearing leggings and a t-shirt. I knew it would be warm, but I didn't expect the sun to feel so hot and intense on my skin, even in the winter.
As soon as the sun set behind the mountain, however, I was freezing. I wore long johns under fleece pants. On top, I had a long sleeve shirt, fleece sweater and a down jacket.
---
Final Thoughts – Alabama Hills Camping
And there you have it – everything you need to know about camping in Alabama Hills. I hope you've found this post helpful. If you have any questions, send me a message on Instagram and I'll do my best to send you in the right direction!