If you're new to hiking, the best investment you can possibly make will be buying hiking boots. If your feet aren't comfortable walking 100 feet, you'll never want to try a longer distance or multi-day hiking. I've been hiking and camping for the better part of my life and can safely say that a good pair of hiking boots make all the difference.
But if you're new to hiking, it can be a little overwhelming. I get it! So in this post, I've gone over 10 of the best beginner hiking boots available and have provided a guide on how to choose the best boots for you.
You can use the list below to navigate this long post:
And if you're wondering: My first pair of beginner hiking boots were the Salomon X Ultra 3 Mid GTX Hiking Boot and I'm currently hiking in the Merrell Moab 2 Mid Vent Hiking Boot (the best entry-level hiking boots for those on a budget)
---
Best Beginner Hiking Boots: Quick Overview
Here's a quick overview of the best female hiking boots. You can choose one that meets your requirements.
Best Beginner Hiking Boots (Overall): Salomon X Ultra 3 Mid GTX
Best Budget Beginner Hiking Boots: Merrell Moab 2 Mid Vent Hiking Boot
Best Lightweight Hiking Boots: Vasque Breeze LT Mid GTX
Best Leather Hiking Boots: Zamberlan 320 Trail Lite Evo Gore-Tex Hiking Boots
Note: I can only personally attest to women's hiking boots, so this guide will focus on those products. However, I'm sure the male equivalents are also great!
---
Best Beginner Hiking Boots: Comparison Chart
Whether you are looking for lightweight women's hiking boots for beginners or the best waterproof hiking boots for women, all that you need to do is go through the quick comparison chart below. The chart contains a helpful round-up of all the women's hiking boots mentioned in this post.
This post may contain affiliate links. If you make a purchase through one of these links, I may receive a small commission at no extra cost to you. Your support is much appreciated! You can learn more by reading my full disclosure.
---
Best Hiking Boots for Beginners – Reviews 2022
You will find plenty of articles on the internet providing in-depth reviews of hiking shoes and coming up with a list of the top-rated women's hiking boots and the best hiking shoes for beginners. However, the feedback that I have got from beginner hikers is that most of those reviews are too technical and leave them feeling confused instead of giving them clarity on the best women's hiking footwear.
Thus, with that in mind, I am going to do my best to write about my favorite hiking boots for women in simple terms so that a beginner hiker can easily decide which women's hiking shoes to buy.
So here are the best starter hiking boots reviewed for you:
Top Pick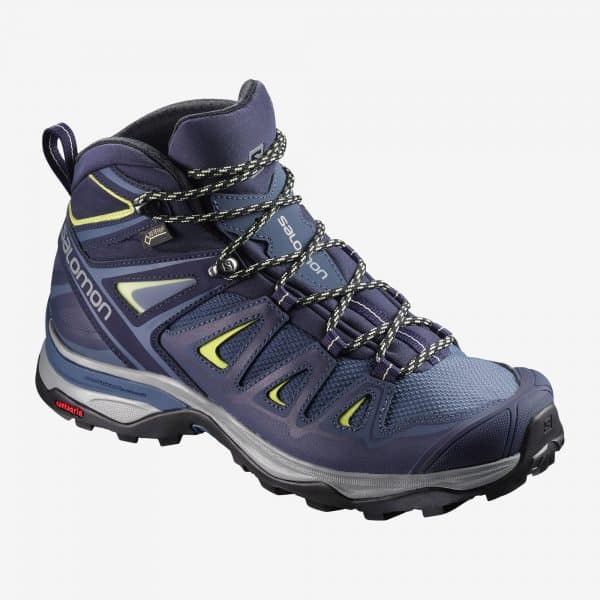 Almost every list on the internet declares the Salomon Women's Hiking Boots to be the best beginner hiking boots. I'm sure every person who has tried these boots on will assure you that these hiking boots are the best ones available in the market. I used these boots for over five years, and I absolutely love them.
So what makes these hiking boots so great?
To begin with, these Salomon women's hiking boots are super comfortable. You will not need to spend much time breaking into these boots.
Plus, despite being one of the most lightweight hiking boots for women, they provide enough ankle support.
They work well as the best hiking boots for beginners as well as advanced hikers. These boots will support you in all conditions as they are waterproof and also come with solid non-slip soles.
You will feel confident hiking in these boots no matter the type of terrain. On wetter terrains, they tend to hold on to your ankle with ease, and even on downhill slopes, these boots do not slip or put excessive pressure on the toes.
Your feet will always feel clean and dry in these boots thanks to the protective mud guards, toe caps, and dust-repellant lacing system. Breathability is not an issue even though the Salomons are made of polyurethane-coated leather.
In terms of durability, these boots definitely overdeliver, making them absolutely worth the buck.
---
My Current Hiking Boots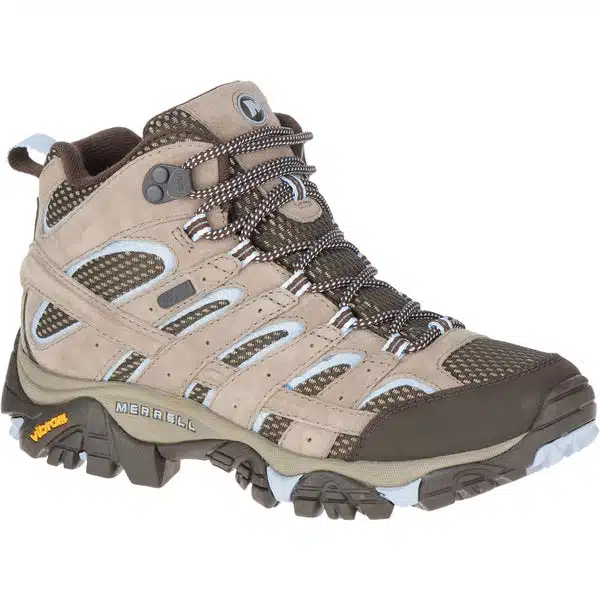 The Merrel Women's hiking boots are the most popular hiking boots for those on a budget. As mentioned above, it is almost impossible to find high-quality good hiking boots for beginners under $150. But these hiking boots may be the only exception to that rule.
Of course, given that these boots are inexpensive, you should not expect them to last you as long as most other boots on this list would. I've had mine for 2.5 years and they still work great, but I don't know that they'll make it five years like my other pair did.
But except for durability, these boots have all the qualities and features that most modern-day hiking boots come equipped with.
The Merrell Moab 2 boots are comfortable right out of the box and come in a wide range of sizes. Moreover, the Merrel Women's Moab 2 vent mid hiking boots also come in a specifically designed wide size for those with extra-wide feet.
The Moab scores well even on the breathability front too. They are the perfect hiking boots for multiple-day hikes in dry weather conditions.
For non-technical trails and smooth terrains, they at times even outperform most pricey boots on this list because of their mesh uppers and the smooth Vibram TC5+ sole.
However, you should note that these boots will not be reliable on wet surfaces as they are not waterproof. If you are looking for waterproof budget boots, you could consider the Merrel Women's Moab 2 Mid Waterproof Hiking Boots.
Why did I switch my hiking boots?
I was really happy with the Salomon X Ultra 3 Mid GTX Hiking Boots, but when it was time to retire them, I wanted to try something different. I first bought the Zamberlan 320 Trail Lite Evo Gore-Tex Hiking Boots and then learned I didn't like leather hiking boots that much. So then I bought the Merrell Moab 2 Mid Vent Hiking Boots and have been really happy with them!
---
The Keen Targhee III is an advanced version of the cheaper Keen Targhee II. The two main reasons why I have included these boots on this list are that they are the best women's hiking boots for wide feet and that their performance in wet conditions is exceptional.
The boots use the trademark Keen waterproof membranes that let your feet breathe even in wet and humid conditions. The wide toe box provides extra comfort to the wearer on rough terrains as well as tricky slopes.
The support provided by these boots is adequate for harsh terrains. For even trails, the boots do not feel bulky and allow for swift movement. Moreover, just like the Salomon X Ultra GTX Mid, the leather used on these boots ensures excellent durability making them one of the best women's hiking boots for beginners.
---
Vasque Breeze LT NTX
Pros: Extremely lightweight, fantastic ankle support, water-resistant and breathable
Cons: Not suitable for extremely wet conditions, not as durable as leather boots
Quick summary: Best lightweight hiking boots for women
Find in US
Find in Canada
The Vasque Breeze LT Mid GTX is one of the best pairs of boots of the Vasque Women's hiking footwear collection.
These boots are incredibly lightweight (at least half a pound lighter than most standard hiking boots). In times when hikers choose the best lightweight hiking shoes instead of boots and are willing to compromise on ankle support only to hike in footwear that feels light on the feet, these boots prove to be a fantastic solution.
The boots use a microfibre upper, a cushioned mid, and Vibram Megagrip outsoles. This construction combination makes these boots feel like running shoes on the feet while also providing exceptional stability during tough hikes.
The outstanding ankle support of these boots and the cushioning under the feet allow for free yet steady movement on hard terrain, uphill climbs as well as in slippery areas.
The breathable uppers with moisture-wicking technology are enough to keep your feet dry during moderately wet conditions and shallow river crossings. For rainy hikes, though, these boots will not hold up against the water.
---
Let me begin by stating that the Lowa Women's Renegade GTX Hiking boots are one of the heaviest hiking boots you will find in the market. But the reason why they still make the cut is that they are dependable.
Although these boots come with a higher price tag, you should note that these boots' nubuck leather makes them ultra durable.
The leather upper with gore-tex liners allow breathability and works effectively at keeping your feet dry. Plus, these boots perform remarkably well in wet conditions and would not prove to be a problem in rainy hikes and snowy conditions.
Unlike several modern-day hiking boots, these boots complement wide feet perfectly.
The USP of these boots, however, has to be the unmatched ankle support that they offer. You will feel confident to take on challenging hikes wearing a pair of these boots. However, the extra pounds on the Lowa women's hiking boots can result in considerable foot fatigue if worn on day-long hikes.
---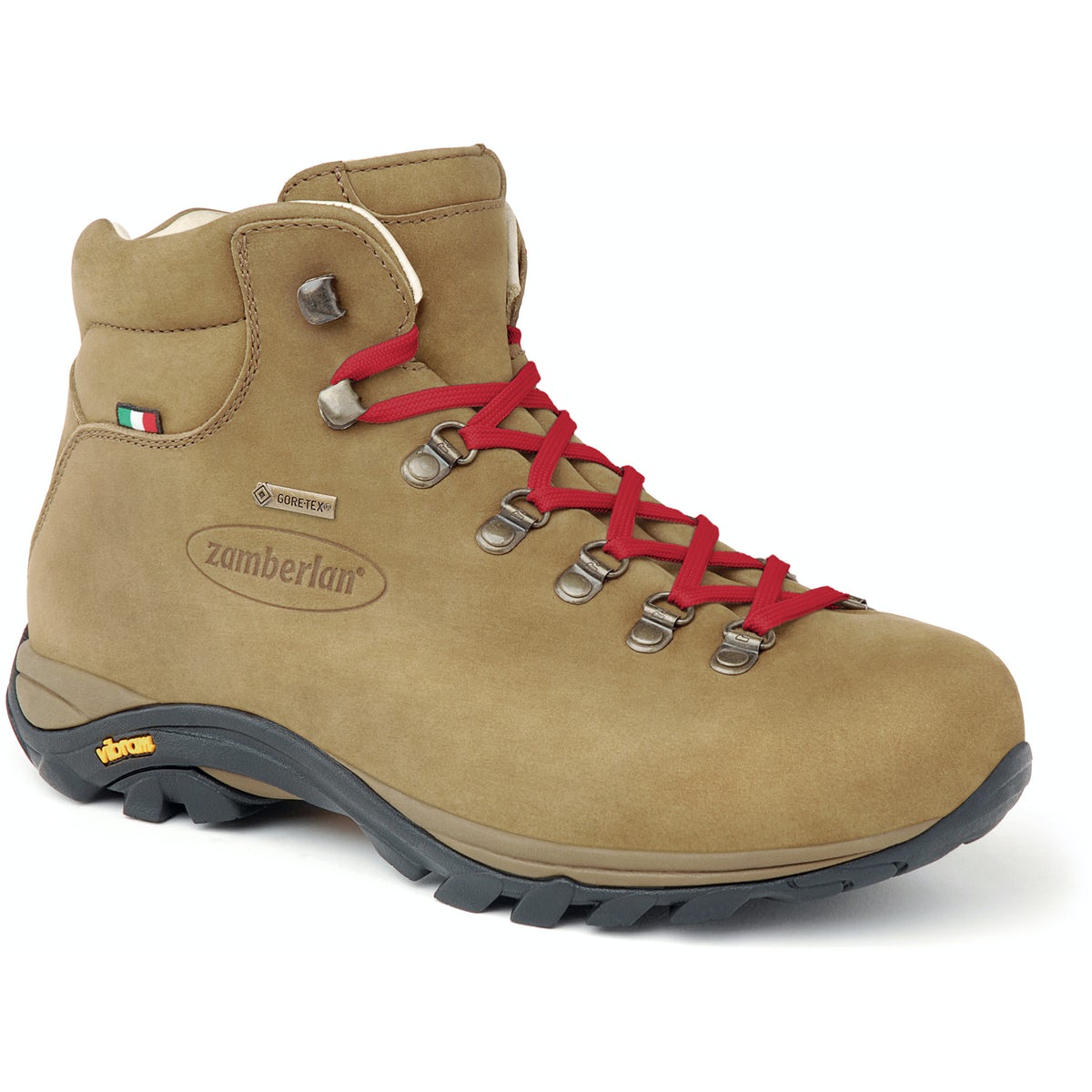 By now, you would have noticed that most ladies hiking boots on this list fare adequately in terms of breathability, ankle support, and overall stability. But every boot shines in specific areas.
The Zamberlan 320 features in the list of the top women's hiking boots on account of their excellent performance in the comfort and durability department. I tried out these beginner hiking shoes for a few hikes and couldn't believe how comfortable they were – partly due to the flexible midsole that doesn't strain your foot as much and the EVA wedge midsole that provides added cushioning.
I found that leather hiking boots didn't offer as much breathability as I was used to and I found my feet sweating. Plus they were quite expensive and were a little outside my budget at the time. Ultimately, I was able to trade them in for my current pair of hiking boots.
That said, if breathability isn't as big a factor for you, I would definitely recommend these boots. They are so comfortable! They definitely need to be broken into, but once they are this is an excellent pair of boots.
Also, this is by far the most durable pair of women's hiking boots on the list. Zamberlan has been making hiking boots in Italy for over 90 years and has perfected the leather hiking boot. While other boots might last you 3 – 5 seasons at best, Zamberlan hiking boots will easily last 10+ years if you take good care of them.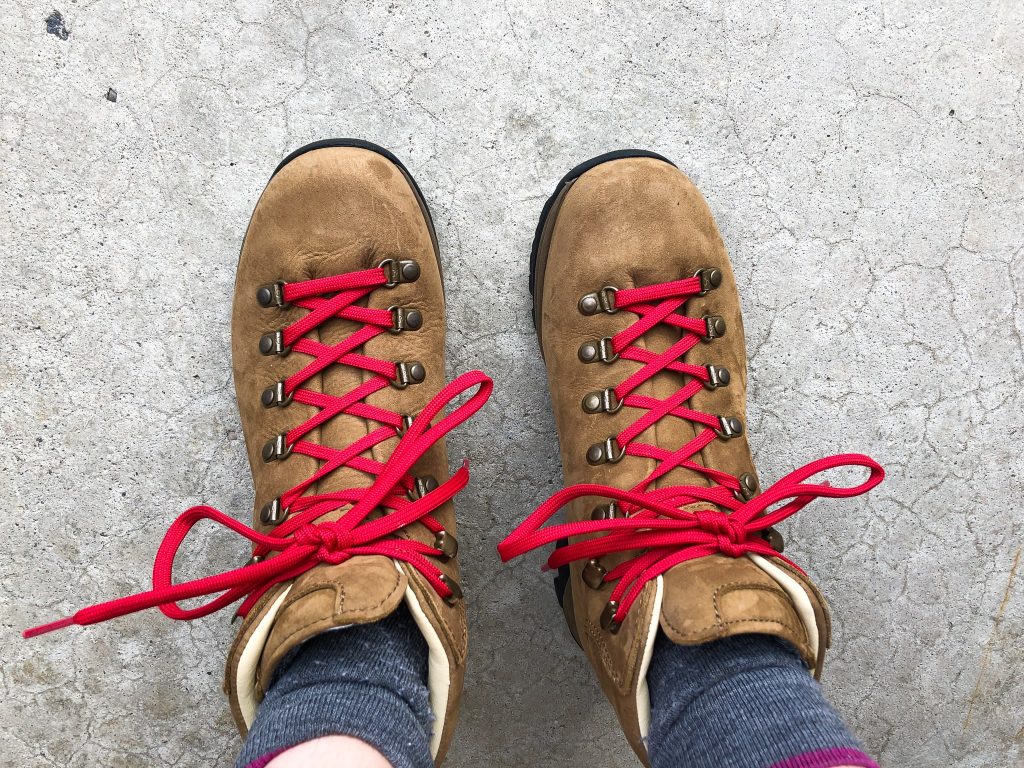 ---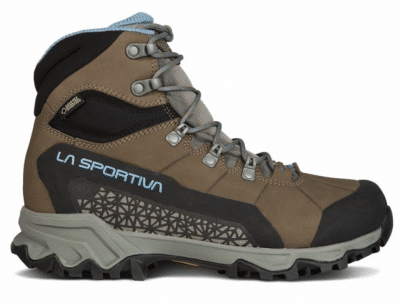 La Sportiva Women's Hiking footwear is popular for its great looks. So if good looks are your primary criteria when choosing boots, these stylish hiking boots for women should be on top of your list.
Thankfully though, La Sportiva Nucleo hiking boots for women go beyond their great looks and also impress with their on-hike performance.
Just like the Lowa Renegade, these boots employ nubuck leather as their primary raw material. However, in sharp contrast to the Lowa Renegade, these boots are much more lightweight.
Although made of leather, the nano-technology prevents heat-trapping and keeps the feet feeling dry. The fit of the boot is also roomy enough and adds comfort without feeling loose.
The height of these boots coupled with the excellent lacing system blocks water effectively when crossing deeper creeks.
These boots combine the impressive traction that comes with a Vibram sole with an Impact Brake system. This combination ensures that the boots grip well in wet, muddy, and tricky conditions.
Overall, once you spend enough time breaking in these boots, these women's lightweight hiking boots could prove to be your best hiking investment.
---
If you are a fan of Merrell ladies hiking boots and want to upgrade from the Moab 2 Ventilator, the Merrell Chameleon would be your best bet.
Unlike most leather hiking boots for women, these boots provide extraordinary out-of-the-box comfort as they require almost no break-in time. Merrell Air Cushion technology in the heel absorbs shock and adds stability, helping you on downhill slopes especially.
In addition, they have a wide-toe box that can accommodate thick wool socks and swollen hiking feet at the end of a long day. Of course, these boots often do not work for extra wider feet because of their constricting mould. But for narrow and regular feet, these boots fit like a charm. 
On the hike, these Merrell women's waterproof hiking boots are grippy on tricky surfaces. Their midsoles are flexible and do not restrict movement even on steep inclines.
The overall breathability of these boots is also remarkable, even though they are made using Nubuck leather. However, these boots are not as tall as some of the other boots on this list.
---
These Oboz women's boots are one of the best outdoor boots for women. The Oboz Sapphire Mid Bdry is specifically made for women and therefore provides an excellent fit. These boots come in a vast range of sizes, and the wide size variants easily accommodate the needs of women with extra wide feet.
The ankles always feel supported in these boots, no matter the difficulty of the trail. Likewise, the articulated uppers and sleek soles allow ample freedom on slopes.
The nubuck leather repels water effectively. The narrow top of these boots can be cinched down further by a reliable lacing system to prevent water from entering the shoe from the top. The nubuck leather also contributes towards enhanced durability.
However, just like other nubuck leather boots, initially, these boots will not feel comfortable. The stiffer midsoles may even repel beginners. But if you are willing to give these boots enough time to be broken in, you will fall in love with the quality of support these boots offer.
---
Summary
I hope that you find this guide on hiking boots helpful. Given that a good pair of hiking boots can go a long way in determining how much you enjoy your hike, it is best to buy a pair after proper consideration.
Nevertheless, here are my top hiking boots for women (based on budget and value for money):
Best hiking boots for women ($) – Merrell Moab 2 Mid Ventilator
Best hiking boots for women ($$) – Salomon X Ultra 3 Mid GTX
Best hiking boots for women ($$$) – Zamberlan 320 Trail Lite Evo Gore-Tex Hiking Boots
Best hiking boots for women ($$$$) – Lowa Renegade GTX Mid
---
Beginner's Hiking Boots: What to Look for in a Hiking Boot
Comfort and Fit
Comfort is probably the most important criteria when choosing your first pair of hiking boots. That's what we wear them for! Different hiking boots will fit better if you have wide or narrow feet, shallow or high arches.
Typically, hiking boots aren't super comfortable when you first get them, especially stiff hiking boots. But after a few weeks of breaking them in they get a lot more comfortable. If you keep scrolling down this post, I have some tips for trying on boots.
Weight
The weight of hiking boots on your feet may not seem like a big deal, but the extra weight on each step adds up to a lot of energy expenditure. You muscles won't get tired as quickly, you'll feel more nimble, and ultimately you'll prevent knee pain and hip felxer problems (trust me, you don't want this – I already have both).
Ankle Support
Ankle support helps you feel more secure in the hiking boot, but it also reduces the amount of work the muscles around your ankle have to do. This means your ankle won't feel sore or tired as quickly.
Durability
All hiking boots tend to be very durable and last many seasons before showing major signs of wear and tear. (I used my first pair of hiking boots for five years before replacing them.) However, if durability is one of the most important criteria for you, go with a leather hiking boots.
Waterproof / Non-Waterproof
Waterproof boots are excellent when hiking in rainy environments or on muddy trails. The drawback, however, is that waterproof boots don't breathe well (making your feet sweaty and wet from the inside) and if they do get wet it takes ages to dry.
So if you'll be hiking somewhere super dry, like the Badlands, you don't need waterproof boots. If you'll be hiking somewhere in the Pacific Northwest, you'll want waterproofing. If you mostly hike somewhat with moderate conditions, like the Mont Blanc trail, you can choose.
My first pair of hiking boots was waterproof, and I've long advocated for them. But more recently I tried a non-waterproof pair of summer hiking boots for summer backpacking and I prefer them.
Price
In order to get high quality hiking boots, expect to pay at least $150. Anything less than that and you are seriously sacrificing quality.
That said, some hiking boots can be north of $400, which isn't necessary unless there is a particular hiking boot you like for a very specific reason. Top Pick for Budget: Merrell Moab 2 Mid Ventilator Hiking Boots.
---
Pro Tips to Help You Buy the Best Hiking Boots
Pro Tip 1: Don't be cheap
If you want to a solid pair of good hiking shoes for beginners, take a deep breath and accept that you will pay around $200. It can feel like a big investment (especially with a market full of cheap hiking boots) with an unknown payoff, but think of how much more adventuring you can do if your feet are comfortable.
And if you buy good quality and take care of them, they will last you for years. I used the same Salomon hiking boots for six years and absolutely loved them.
Pro Tip 2: Get an expert employee to help you
This is going to sound weird, but I seriously recommend it. Before you even head to the store, call the outdoor store you're going to. I find independent outdoor retailers to be the best, but MEC / REI / Sail are also good options. Avoid calling a general sports store, as they aren't likely to have a hiking boot expert.
Tell them you're looking to buy a pair of hiking boots and would like to know when there will be an employee at the store who is an expert on hiking boots. You don't want an employee who is three weeks on the job – you want the seasoned hiking boot department expert who will tell it to you straight.
Go to the store when they are working. I know – seems weird. But I've encountered some amazing and experienced employees with this method and they've seriously helped me make gear deciscion.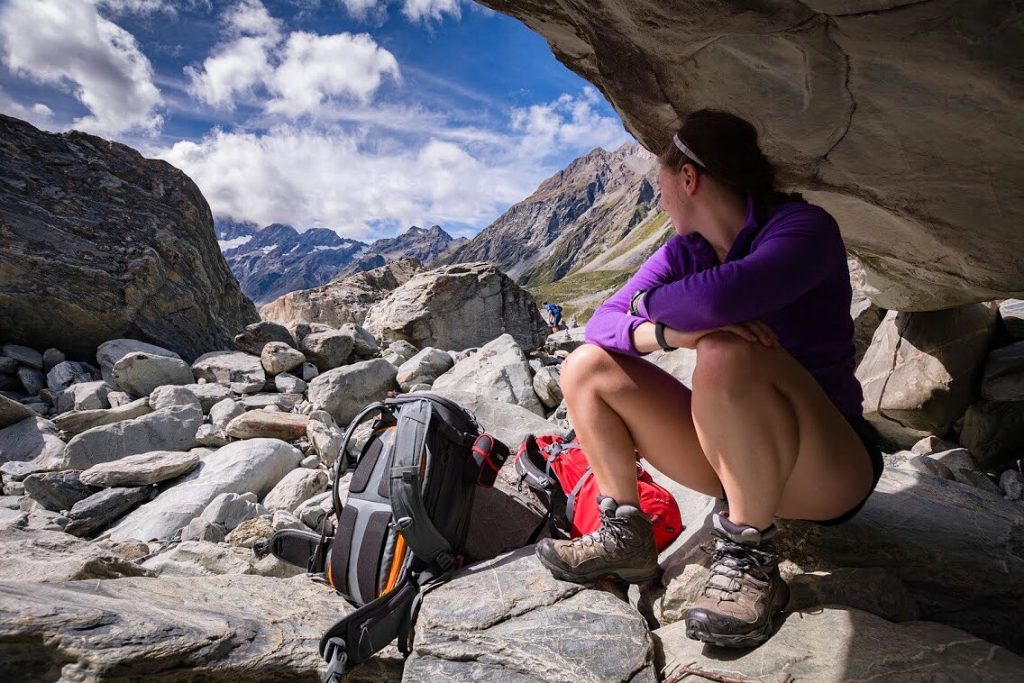 Pro Tip 3: Take your time
Don't be in a rush. Give yourself plenty of time to try on the boots, and walk around the store.
Bonus pro tip – Bring a pair of tall, wool socks to wear when trying boots on. It isn't much help to know the boots fit over little cotton ankle socks – you need to simulate the real hiking environment!
Tell the employee you're looking for good beginner hiking boots and describe the types of hikes you're hoping to use them for. Get a little chatty – these people are very experienced and very helpful. Now, walk around the store a few times. If you feel pressure on parts of your foot or if something feels too tight/too loose, tell the employee. Some feel
Pro Tip 4: Test your hiking boots out
Once you've found the pair you like, bring them home to test them out. Don't go on a muddy hike through the woods (then you can't return them), but walk around the block or wear them to the grocery store.
Do keep in mind that hiking boots need to be broken in, but if there is any persistent pain or discomfort, bring them back to the store and try again.
Pro Tip 5: Break in your hiking boots before a big trip
If you have a specific trip coming up, make sure you give yourself at least 2 weeks (at a minimum) to break in your hiking boots. Go for walks in the park or short trails near your house, and work up to longer distances. Breaking in your boots can be uncomfortable – do it ahead of time to avoid pain on your trip.