If you make one investment in your entire camping/hiking/outdoor life, let it be hiking boots! If your feet aren't comfortable walking 5 km in your boots, you'll never want to try a longer distances or multi-day hiking. Here is a short and sweet post offering you my best advice for buying beginner hiking boots.
What to Look for in a Hiking Boot
Comfort and Fit
Comfort is probably the most important criteria when choosing your first pair of hiking boots. That's what we wear them for! Different hiking boots will fit better if you have wide or narrow feet, shallow or high arches. Typically, hiking boots aren't super comfortable when you first get them, especially stiff hiking boots. But after a few weeks of breaking them in they get a lot more comfortable. If you keep scrolling down this post, I have some tips for trying on boots.
Weight
The weight of hiking boots on your feet may not seem like a big deal, but the extra weight on each step adds up to a lot of energy expenditure. You muscles won't get tired as quickly, you'll feel more nimble, and ultimately you'll prevent knee pain and hip felxer problems (trust me, you don't want this – I already have both).
Ankle Support
Ankle support helps you feel more secure in the hiking boot, but it also reduces the amount of work the muscles around your ankle have to do. This means your ankle won't feel sore or tired as quickly.
Durability
All hiking boots tend to be very durable and last many seasons before showing major signs of wear and tear. (I used my first pair of hiking boots for five years before replacing them.) However, if durability is one of the most important criteria for you, go with a leather hiking boots.
Waterproof / Non-Waterproof
Waterproof boots are excellent when hiking in rainy environments or on muddy trails. The drawback, however, is that waterproof boots don't breathe well (making your feet sweaty and wet from the inside) and if they do get wet it takes ages to dry. So if you'll be hiking somewhere super dry, like the Zion or Badlands national parks, you don't need waterproof boots. But if you'll be hiking somewhere in the Pacific Northwest, you'll want waterproofing.
My first pair of hiking boots was waterproof, and I've long advocated for them. But more recently I tried a non-waterproof for summer backpacking and I prefer them.
Price
In order to get high quality hiking boots, expect to pay at least $150. Anything less than that and you are seriously sacrificing quality. That said, some hiking boots can be north of $400, which isn't necessary unless there is a particular hiking boot you like for a very specific reason. Top Pick for Budget: Merrell Moab 2 Mid Ventilator Hiking Boots.
Pro Tips to Help You Buy the Best Hiking Boots
Pro Tip 1: Don't be cheap
Take a deep breath and accept that you will pay around $200. It can feel like a big investment with an unknown payoff, but think of how much more adventuring you can do if your feet are comfortable. And if you buy good quality and take care of them, they will last you for years. I have used the same Salomon hiking boots for six years and they are still going strong.
Pro Tip 2: Get an expert employee to help you
This is going to sound weird, but I seriously recommend it. Before you even head to the store, call MEC (or REI or Sail – any store that specializes in camping gear, rather than a general sports store). Tell them you're looking to buy a pair of hiking boots and would like to know when there will be an employee at the store who is an expert on hiking boots. You don't want an employee who is three weeks on the job – you want the seasoned hiking boot department expert who will tell it to you straight. Go to the store when they are working.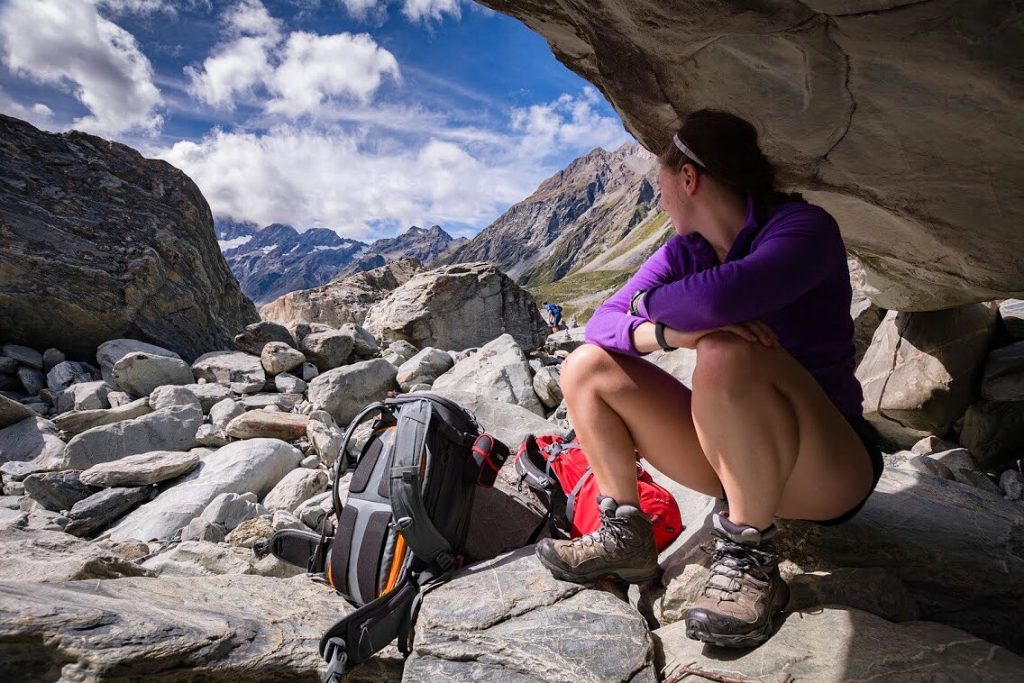 Pro Tip 3: Take your time
Don't be in a rush. Give yourself plenty of time to try on the boots, walk around the store (bonus pro tip – bring a pair of tall, wool socks to wear when trying boots on. It isn't much help to know the boots fit over little cotton ankle socks – you need to simulate the real hiking environment! Tell the employee you're looking for beginner hiking boots and describe the types of hikes you're hoping to use them for. Get a little chatty – these people are very experienced and very helpful. Now, walk around the store a few times. If you feel pressure on parts of your foot or if something feels too tight/too loose, tell the employee. Some feel
Pro Tip 4: Test your hiking boots out
Once you've found the pair you like, bring them home to test them out. Don't go on a muddy hike through the woods (then you can't return them), but walk around the block or wear them to the grocery store. Do keep in mind that hiking boots need to be broken in, but if there is any persistent pain or discomfort, bring them back to the store and try again.
Read more: The outdoor gear that is (and is not) worth an investment
Pro Tip 5: Break in your hiking boots before a big trip
If you have a specific trip coming up, make sure you give yourself at least 2 weeks (at a minimum) to break in your hiking boots. Go for walks in the park or short trails near your house, and work up to longer distances. Breaking in your boots can be uncomfortable – do it ahead of time to avoid pain on your trip.