If you're looking for a backpacking sleeping bag, I have got you covered! After trying out various options and spending way too much time researching, I have come up with a list of what I think are the best backpacking sleeping bags in the market.
It took me a few tries to find a sleeping bag I was totally happy with. My first one was way too bulky and took up 50% of my backpack. The next backpacking sleeping bag was extremely small and lightweight but was not warm enough so I shivered throughout the night (even in the summer).
So when I began the hunt for my most recent sleeping bag, I was incredibly thorough in my research of sleeping bags. I read up all about the warmth-to-weight ratio of sleeping bags, how important temperature rating and the material was in sleeping bags as well as about what to look for in the best lightweight sleeping bag for backpacking.
To help you avoid the mistakes I made, I've compiled a list of ten excellent backpacking sleeping bags that satisfied all my criteria (and the reasons I went with the options I did). This will help you make an educated decision when buying your own sleeping bag.
Quick Summary of Best Backpacking Sleeping Bags
If you do not have much time to read the detailed reviews of all the sleeping bags, here's a quick overview to help you choose the best sleeping for your requirements:
Best sleeping bag for backpacking OVERALL – Western Mountaineering Alpinlite 20°
Best BUDGET backpacking sleeping bag – Marmot Trestles Elite Eco 20
Best LIGHTWEIGHT backpacking sleeping bag – Therm-a-Rest Hyperion 20°
Best WOMEN'S backpacking sleeping bag – Feathered Friends Egret UL 20°
Best down sleeping bag for BACKPACKING – Western Mountaineering Alpinlite 20°
Best SYNTHETIC backpacking sleeping bag – Marmot Trestles Elite Eco 20
Best backpacking sleeping bag for SIDE-SLEEPERS – NEMO Riff 30
This post may contain affiliate links. If you make a purchase through one of these links, I may receive a small commission at no extra cost to you. Your support is much appreciated! You can learn more by reading my full disclosure.
---
My Top Pick: The Best Sleeping Bag
Western Mountaineering Alpinlite 20°
The best backpacking sleeping bag in terms of all-around performance is the Western Mountaineering Alpinlite 20°. The reason why it is undoubtedly the best sleeping bag for hiking is that it uses premium-quality material, is extremely lightweight, packs ridiculously small and yet delivers full functionality.
You can check out the detailed review of the Western Mountaineering Alpinlite 20° in the review section below.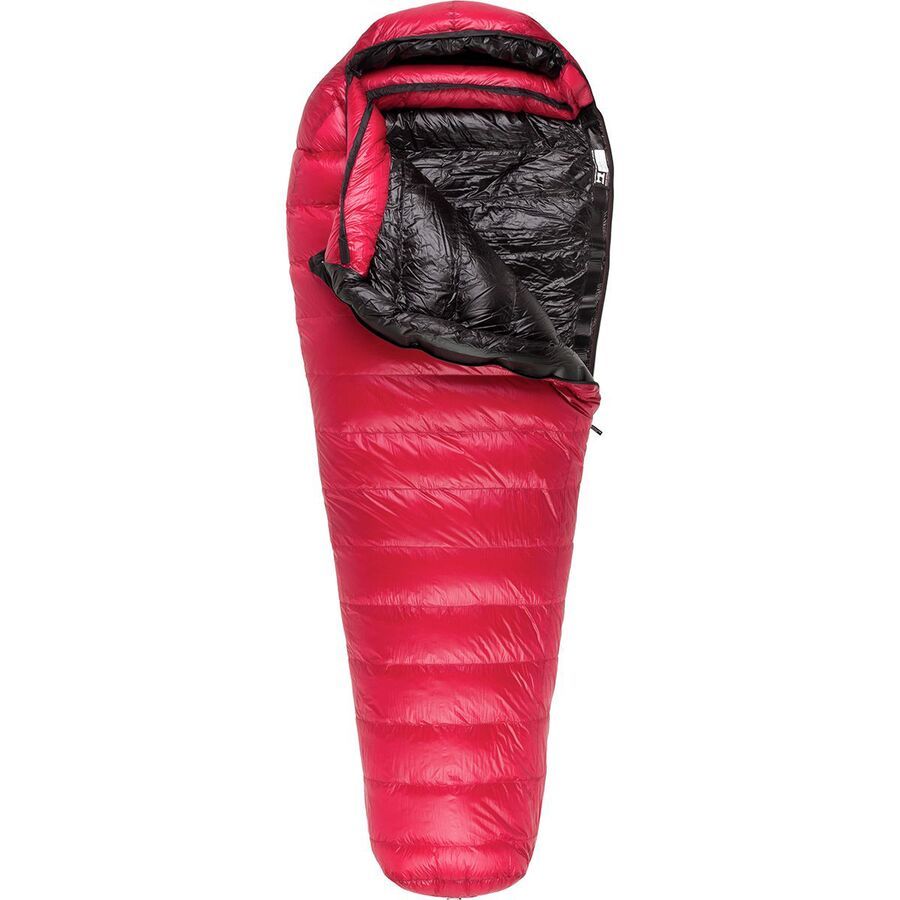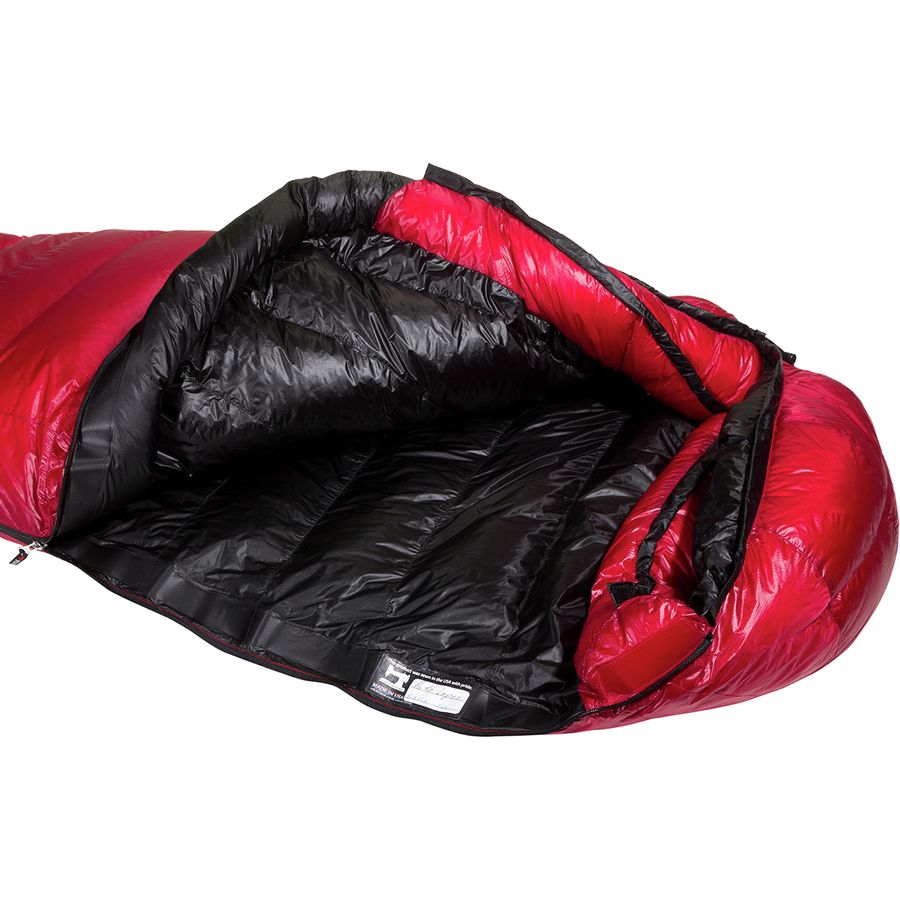 ---
Comparison Chart – Best Sleeping Bags for Backpacking
Here's a quick comparison chart to help you figure out which is the best backpacking / camping / hiking sleeping bag for your needs. I have given an overview of all of the significant factors that must be considered when choosing a sleeping bag for backpacking.
(If you are looking for the best sleeping bags for camping and not specifically backpacking, give less importance to the weight factor.)
---
How to Choose the Right Sleeping Bag for Backpacking
Fill Material
The fill material in the sleeping bag is what provides insulation. This material is also what eventually determines the overall weight of the sleeping bag and is, therefore, more critical. Sleeping bags come in down and synthetic fill materials.
Down fill, or in loose terms, feather fill is more advantageous than synthetic fill. It provides excellent insulation, and its fill power is higher compared to synthetic fill. To put it simply, down weighs lighter than synthetic and therefore proves to be better when backpacking as well as when compressing or folding down. The best down backpacking sleeping bag is Western Mountaineering Alpinlite 20°
So does that mean that one should only opt for a down sleeping bag? No. Down is more expensive than synthetic and may at times seem unaffordable to backpacking newbies or those on a budget.
In fact, synthetic sleeping bags for backpacking also provide excellent insulation in wet conditions and dry much faster. The only real drawback of a synthetic sleeping bag is that it runs heavy and carrying it around and compressing proves to be more of a hassle. The best synthetic sleeping bag is Marmot Trestles Elite Eco 20.
Warmth-to-Weight
Instead of looking at the backpacking sleeping bag weight alone, you must take into consideration the warmth-to-weight ratio of the backpacking sleeping bag. In my opinion, this is one of the most important factors to be looked at when buying a sleeping bag.
As a thumb rule, note that more the weight better the warmth of the sleeping bag. Therefore if you are going to be backpacking in sub-zero conditions, looking for lightweight backpacking sleeping bags could prove to be disastrous. But that also does not mean that you should buy heavy sleeping bags for better warmth.
That is precisely where the warmth-to-weight ratio comes into play. It determines how much warmth the sleeping bag offers for its weight. Usually, a higher fill-power offers the best warmth-to-weight ratio and is therefore used in some of the best hiking sleeping bags. But other factors such as the length of the zipper, bag dimensions, shell quality etc. also play some role in determining this ratio.
Temperature Rating
What is temperature rating, and why is it important? A temperature rating will let you know the temperature at which the sleeping bag can be used. The temperature rating is specified usually as per the EN or ISO standards.
Accordingly, there are two types of ratings – comfort and limit. Comfort rating specifies the temperature at which cold sleepers will sleep comfortably in that sleeping bag. The comfort rating is usually used on women's sleeping bags. Limit rating is the temperature at which warm sleepers will sleep comfortably in a sleeping bag. Thus the limit rating temperature is lower than the comfort rating and is used in men's sleeping bags.
But simply put, the limit rating is usually the lowest temperature at which you can use the sleeping bag. To use it at temperatures lower than the limit rating temperature, you may have to use other strategies such as piling leaves and used clothes under the bag, wearing jackets, thermal socks, etc.
A 0-degree backpacking sleeping bag will usually provide ample warmth in cold conditions. Whereas a 35 to 20-degree backpacking sleeping bag will prove to be ideal for use as a 3-season sleeping bag. In my opinion, the best 20 degree backpacking sleeping bag is Western Mountaineering Alpinlite 20°
Budget
Finally, it all comes down to what your budget is when deciding which sleeping bag you need to buy. As I have mentioned earlier, a synthetic fill sleeping bag is usually cheaper than a down sleeping bag.
However, as goes with most products, a budget backpacking sleeping bag will compromise on the quality of fill used, may not be as durable and will probably bulkier to carry around. That is also one of the reasons why a cheap backpacking sleeping bag is only preferred by backpacking newbies or by car campers. Most regular backpackers invest in a quality product.
The best budget backpacking sleeping bag is Marmot Trestles Elite Eco 20 or MEC Delphinus (down fill).
---
The Best Backpacking Sleeping Bags – Reviews
While all of the sleeping bags listed in this article are good quality sleeping bags that you can safely rely on, the backpacking sleeping bag reviews given below will only help you determine which one is appropriate for your needs.
Temperature rating: 20°F
Weight: 1 lb. 15 oz.
Fill: 850-fill down
This pricey sleeping bag by Western Mountaineering is by far the best all-round sleeping bag available in the market. The warmth and comfort of this sleeping bag are unparalleled. Some even compare their experience of sleeping in this bag with that of sleeping in their own bed.
It's mind-boggling to see how beautifully the makers have rolled up all of the finest possible features into one premium-quality sleeping bag. The bag uses a powerful 850 down fill. Despite the power, the bag folds up nice and small and weighs just 1 lb. 15 oz.
But the smaller details on this sleeping bag are what set it apart from the competition. For example, the no-snag zipper of this sleeping bag works flawlessly every single time. The fabric of this sleeping bag feels soft all across. The design of the footbox also allows your feet to breathe comfortably without feeling constricted. Similarly, the full collar and the draft tube loaded with down make the sleeping experience incredibly warm and cozy. You can read more about the features here.
To sum it up, the bag does not fall short in any area whatsoever. Yes, it is also one of the most expensive sleeping bags in the market, but with the 20°F temperature rating, it is a worthwhile investment for serious backpackers.
Unfortunately this sleeping bag was out of my price range, so I don't currently own it. But if you can afford it, this is my top recommendation.
Pros
Best warmth-to-weight ratio
Made using high-quality material
Lightweight and packs small
Features a full-collar, a full-length draft tube and a no-snag zipper
Cons
Note – Western Mountaineering has a wide range of lightweight hiking sleeping bags for varying weather conditions and body types.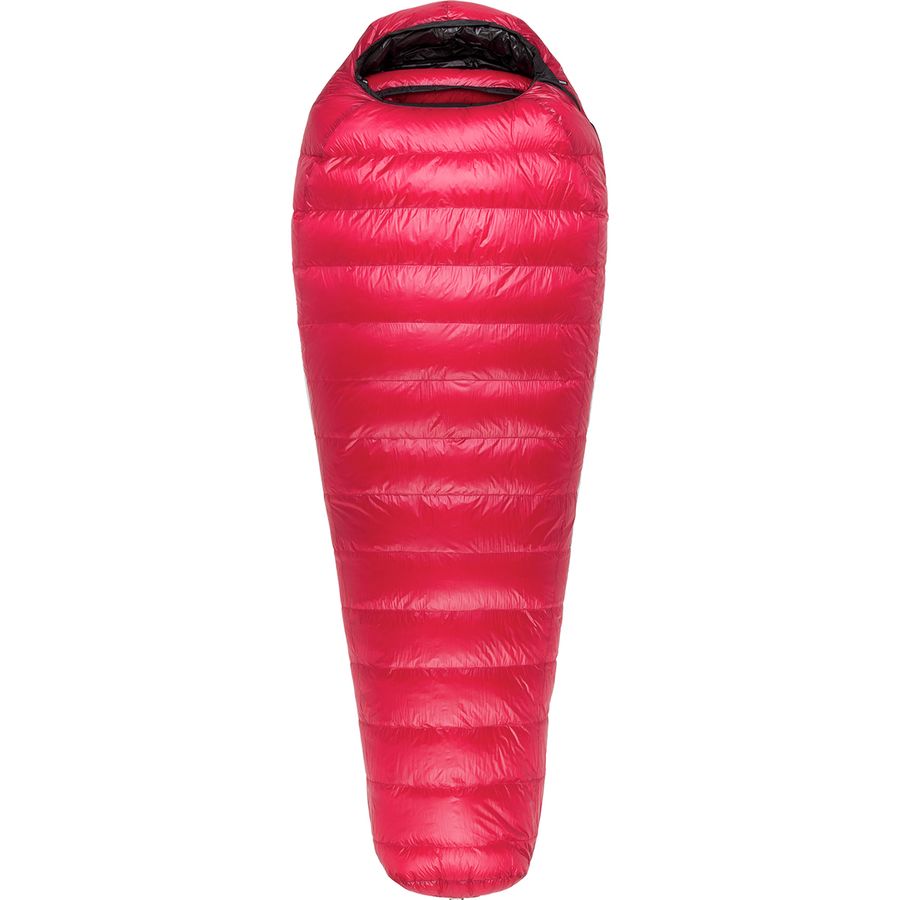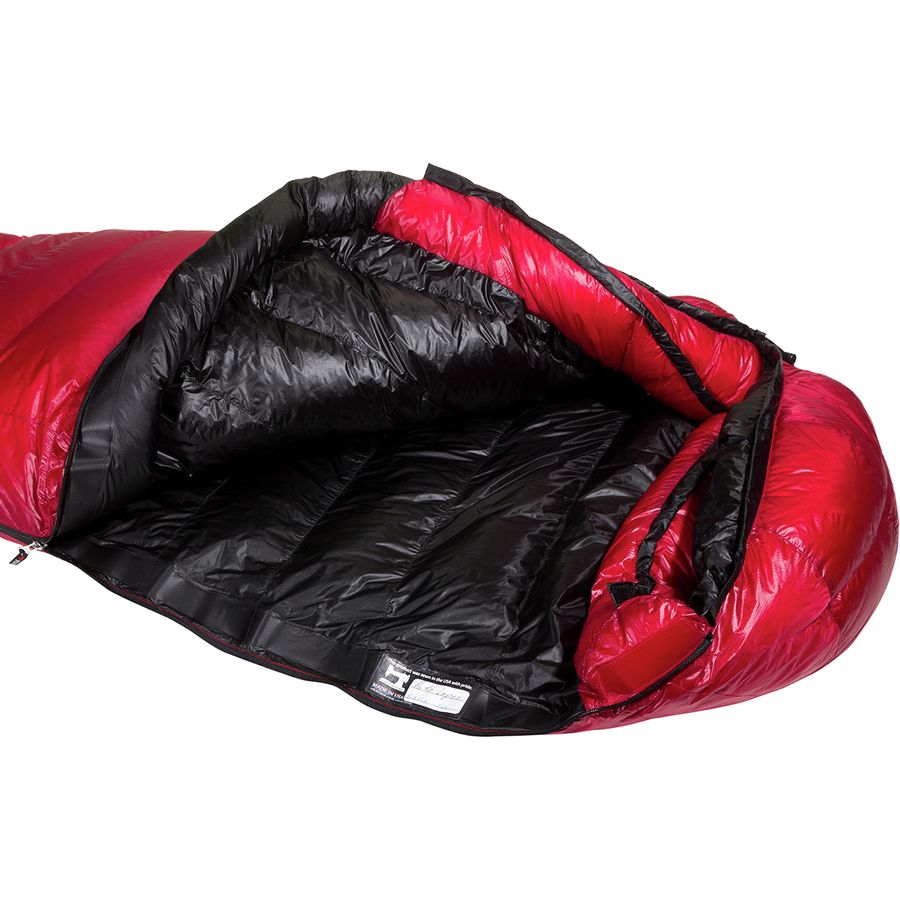 ---
Temperature rating: 21.2°F EN Comfort
Weight: 2 lbs. 13 oz.
Fill: 650-fill goose down
As I have stated in my post on how to sleep in a tent, my favourite sleeping bag is the MEC Delphinus -9°C (Women's) / Draco -9°C (Men's).
With a comfort temp rating of approximately 21°F, this sleeping bag folds relatively small. It also stays within the moderate weight range of sleeping bags, thus providing an impressive warmth-to-weight ratio. However, ultra-light or long-distance backpackers should go for a lighter sleeping bag.
The Pertex Quantum ripstop comes with a DWR treatment which means that the sleeping bag does a reasonably good job at shedding moisture. This bag features a solid 30D shell (the toughest of all the sleeping bags on this list) that makes this sleeping bag long-lasting and reliable (something a clumsy person like myself needs to consider).
What's appealing about this sleeping bag or the Draco sleeping bag is the width. It's a perfect cut for comfort but also not too wide to dilute the insulation. You will definitely not feel claustrophobic!
I've used this bag down to -10 C (14 F) but needed to sleep in a down jacket to stay warm. You should also watch out for the occasional shedding of feathers.
But despite these minor drawbacks, the reason why I have added the MEC Delphinus review right at the outset is that I consider it to be a good backpacking sleeping bag. The MEC sleeping bag ticks all the important criteria of durability, warmth, comfort and compression, and is also very affordable.
Pros
Comfortable with a good warmth-to-weight ratio
Long-lasting
Made for colder conditions but works perfectly well as a 3-season sleeping bag
Moderately priced
Cons
May not perform well in harsh winters
Sheds feathers
(Note – It also comes in a 0° variant)
Check Women's Prices at MEC | Check Men's Prices at MEC
---
Temperature rating: 20°F
Weight: 1 lb. 4 oz.
Fill: Hydrophobic Down
The Therm-a-rest Hyperion is an exceptional sleeping bag that is widely popular among those looking for a lightweight backpacking sleeping bag. The warmth-to-weight ratio that this sleeping bag provides is outstanding.
The bag weighs a meagre 1 lb. 4 oz despite being filled with 900-fill hydrophobic goose down. Thanks to the hydrophobic goose down, you can safely carry it with you even in wet conditions without having to opt for a heavier synthetic sleeping bag.
What blows my mind is how beautifully this sleeping bag packs down super small to a compressed volume of just 3 litres. Check here to see how large it is compared to a water bottle.
This optimisation of weight is achieved by a concentrated distribution of the fill towards the top of the sleeping bag, making it one of the best backpacking down sleeping bag in the market.
However, one point that must be specified in the Therm-a-rest Hyperion backpacking sleeping bag review is that the bag works best with back sleepers. Side sleepers may be disappointed with the top-heavy distribution of the fill and the constricted internal space.
Pros
Extremely lightweight with an optimal warmth-to-weight ratio
Folds down small
Hydrophobic down fill ensures protection in wet conditions as well
Treated with DWR to repel moisture
Certified to Responsible Down Standard
Value for money
Cons
Not suitable for wider bodies
Side sleepers may not feel warm enough in this sleeping bag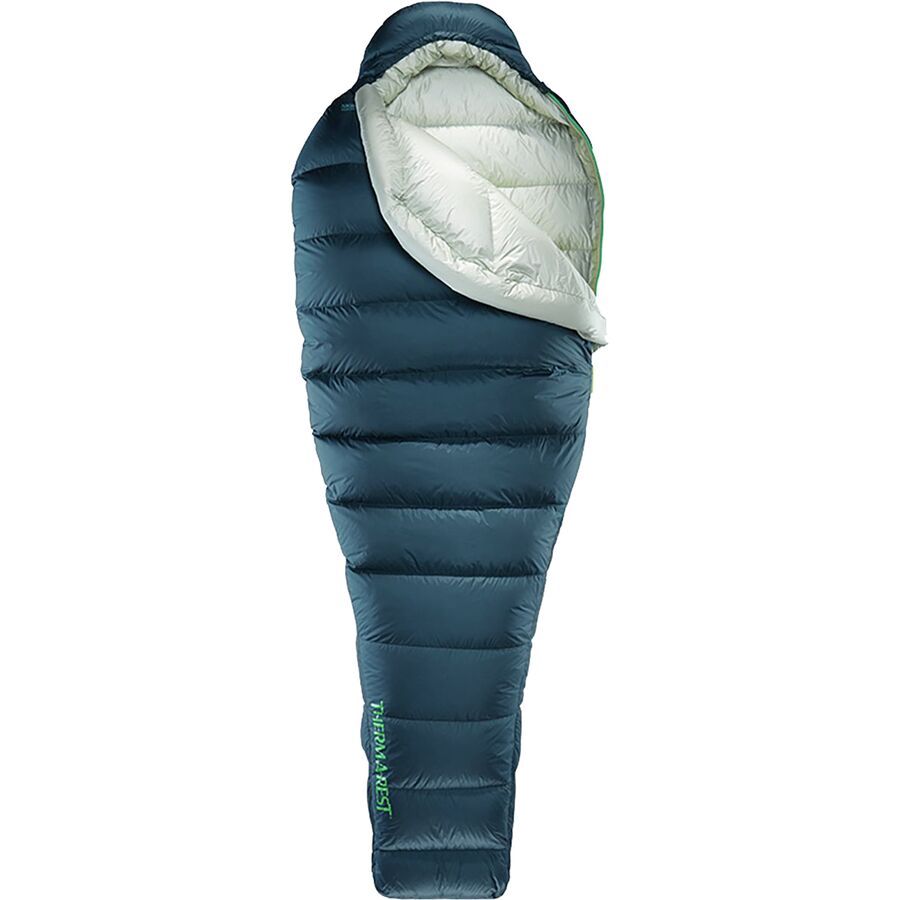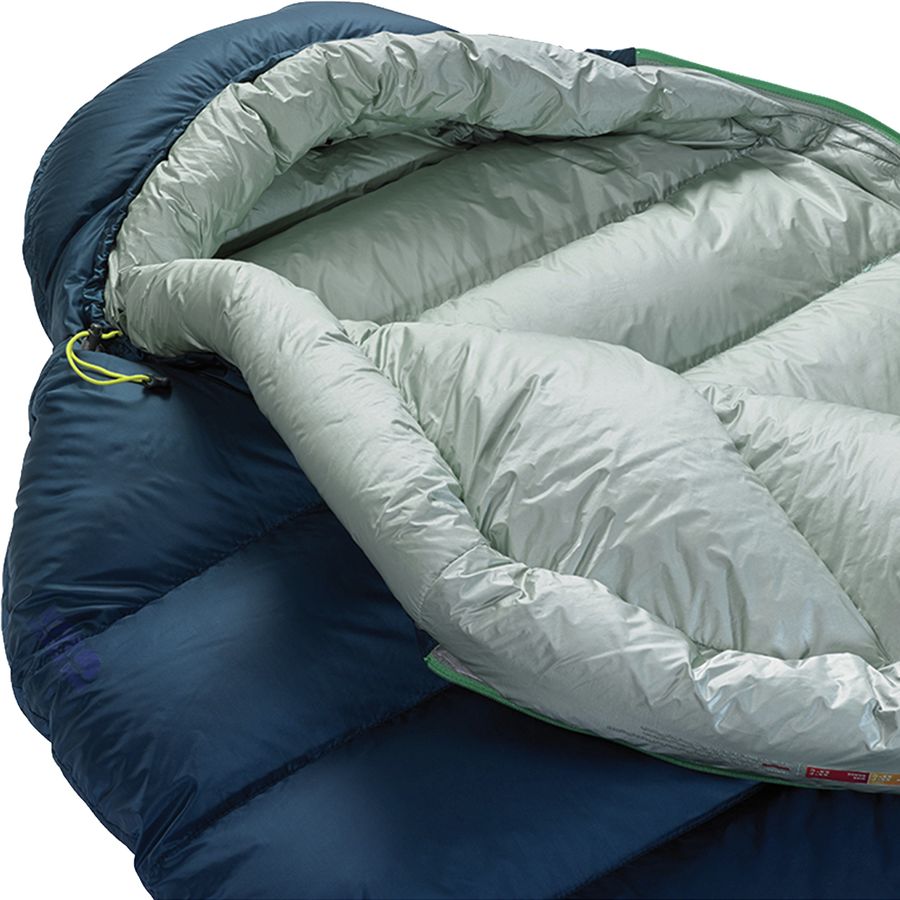 ---
Temperature rating: 30°F
Weight: 2 lbs.
Fill: 85-fill goose down
Patagonia sleeping bag is trying to make its mark as one the best premium-quality hiking sleeping bags available in the market. In view of the same, the company has generously stuffed this sleeping bag with an impressive 850-fill goose down. The comfort limit of this sleeping bag is set at 30°F making it the best 3-season sleeping bag.
In addition to this, the sleeping bag is enriched with many user-friendly features such as a roomy foot box and a unique centre zipper. However, the highlight of this sleeping bag is definitely the ergonomic hood that provides a comfortable cushioning to your head.
One of the downsides of this bag is that it weighs a bit more when compared to other premium models. Additionally, back sleepers could end up losing some much-needed insulation if they open the centred zipper on warm nights.
However, for side sleepers, Patagonia is definitely one of the best down backpacking sleeping bags available online.
Pros
Premium quality power-fill
Perfect for use as a 3-season sleeping bag
Ideal for side sleepers
Feature-rich
Cons
Check Prices at Patagonia CANADA | Check Prices at Patagonia US
---
Temperature rating: 32.2°F
Weight: 2 lbs. 6 oz.
Fill: Synthetic
The Marmot Trestles is a 3-season sleeping bag with a synthetic fill. The reason why this sleeping bag features on this list is that it doesn't fall short in any of the critical areas despite its affordable price tag and synthetic fill. 
Now it is a known fact that the primary reason why backpackers choose down over synthetic is that it is lighter in weight and the sleeping bags pack down small. But the Marmot surprises by not only being a lightweight backpacking sleeping bag but its small fold also makes it a compact backpacking sleeping bag. Check out additional features here.
Furthermore, the brand prides itself in using only recycled synthetic fibres for sustainability, thus ensuring eco-friendliness and optimal insulation.
In addition to this what truly makes this one of the best sleeping bags for hiking in a variety of conditions is that it provides adequate bottom insulation and a double zipper mechanism – a primary anti-snag zipper and a secondary zipper for better ventilation.
Moreover, its warmth, coupled with its additional features such as an internal pocket, hang loops make it the best cheap backpacking sleeping bag.
Pros
Affordable
3-season sleeping bag
Compact lightweight sleeping bag (despite its synthetic fill)
Feature-rich
Cons
Heavier than down sleeping bags
Check prices at Marmot |Check Prices at Atmosphere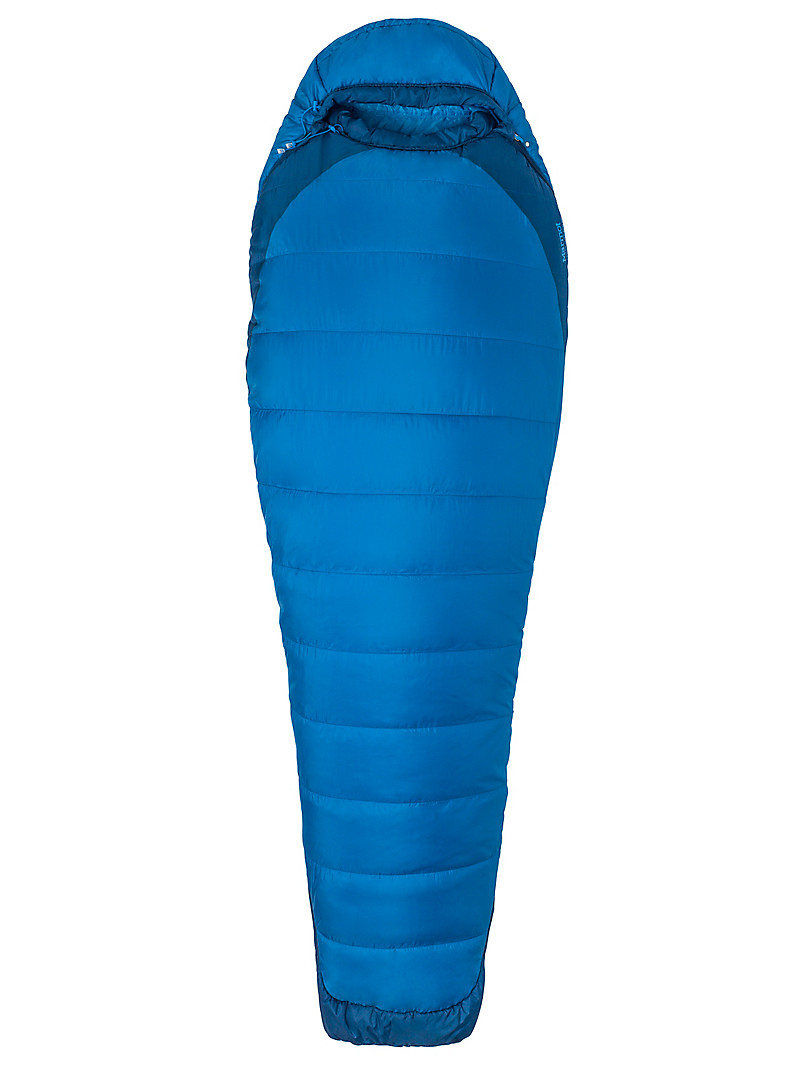 ---
Temperature rating: 28°F
Weight: 2 lbs. 2 oz.
Fill: 700-fill duck down
The one aspect that I want to highlight in the REI Joule or REI Igneo review is that these REI sleeping bags are the perfect mid-range sleepings bags. Backpacking gear, over the years, has evolved immensely. Unfortunately, that has meant that most sleeping bags are either racing to be the best in the premium-quality market or are cutting down on features to meet the needs of budget backpackers.
The REI Igneo 17 sleeping bag and the Joule 21 are an exception to that rule in the sense that while they may not be premium-end sleeping bags, they provide exceptional comfort, warmth and durability. The comfort-rating of 28°F means that the bag is ideal for summer hikes and with a little bit of layering can also be used up to freezing temperatures. 
The 700-fill duck down is Responsible Down Standard certified, which means that you don't have to worry about it not being ethically sourced. Plus, the fill is powerful enough to make it relatively lightweight and compact.
The DWR finish keeps moisture away. The highlight, though, is the rare use of waterproof fabric on the hood, sides and footbox. These are the areas that give away sooner when exposed to dampness and this thoughtful addition by REI, in itself, goes a long way in making the sleeping bags more durable.
Pros
Perfect mid-range sleeping bags
Relatively lightweight and compact
Comes with waterproof fabric on the hood, sides and footbox
Durable
Cons
Not the most ultralight backpacking sleeping bag and regular backpackers may have to opt for a premium variant.
Note – Wider variants are available.
Check Women's prices at REI | Check Men's prices at REI
---
Temperature rating: 20°F
Weight: 1 lb. 11 oz.
Fill: 950-fill goose down
These popular sleeping bags by Feathered Friends are an ideal investment for regular backpackers. The Egret (for women) and the erstwhile Osprey that has now been rebranded as Swallow (for men) are powerhouse performers in terms of the comfort, warmth and ease-of-use that they deliver.
For a 950-fill goose down, it's remarkable how the makers have managed to limit the overall sleeping bag weight to just 1 lb. 11 oz. At that weight, the Swallow makes the cut as being one of the best lightweight sleeping bags for backpacking only second to the Therm-a-rest Hyperion.
However, for only a few ounces more, it scores much better than the Therm-a-rest Hyperion in the comfort department. Unlike the Therm-a-rest, these sleeping bags feel roomier without compromising on insulation. The 15 denier shell is not crunchy, and the soft fabric and the passive collar bring in some extra warmth around your neck, thereby providing a top-notch sleeping experience.
The 20°F temperature makes the sleeping bags an all-round choice for all plus-0 temperatures. Note that the brand does not provide EN or ISO ratings. The only downside of these sleeping bags is that they are expensive.
Pros
lightweight and compact
Comfortable and the best women's sleeping bag
Made using high-quality down fill
Impressive warmth-to-weight ratio
Cons
Egret: Check prices at Feathered Friends
Swallow: Check prices at Feathered Friends
---
Temperature rating: 28°F
Weight: 2 lb. 7 oz.
Fill: 700-fill Dridown
This product by Sierra Designs comes with an affordable price tag, is unique in several ways and makes use of good-quality material.
To begin with, it comes with a 28°F sleeping bag making it quite ideal for 3-season use. It uses a 700-fill duck down that treated with polymer which Sierra Designs has named 'DriDown'. The DriDown, in essence, is hydrophobic down that adds moisture-resistance to down. Thus, while a synthetic fill would perform much better in wet conditions, the DriDown does work much better than other backpacking down sleeping bags.
The unique feature of this sleeping bag is that it is entirely zipperless. This feature makes it an ideal option for both back-sleepers and side-sleepers. The inbuilt comforter adds to the sleeping bag the coziness of a backpacking sleeping quilt.
This sleeping bag is also equipped to offer exceptional ventilation on warm nights thanks to its self-sealing foot vent and the adjustable comforter.
However, you must take into consideration the fact that on account of the being the cheaper sleeping bags available in the market, does not stand up to the lightweight down sleeping bags listed above.
Pros
Uses hydrophobic down
Zipperless sleeping bag to provide quilt-like comfort
Ideal for use in summers
Self-sealing foot vent and adjustable comforter allow enough ventilation
Great for side sleepers
Affordable
Cons
Less impressive warmth-to-weight ratio
Check prices at Sierra Designs |Check prices at MEC
---
Temperature rating: 30°F
Weight: 1 lb. 13 oz.
Fill: 800-fill PFC-free down
One of the standout features of Nemo sleeping bags is its unique spoon shape. Mummy bags are often uncomfortable for side sleepers and people with wider and taller frames.
However, the unique spoon shape leaves enough room on the elbows and knees, making it an ideal backpacking sleeping bag for big and tall men and women. This shape also leaves enough room to roll around a bit during the night. Moreover, despite this extra space, the Nemo Riff falls within the lightweight category and hardly takes up much room in the sack.
The Nemo Riff also features the Thermo Gills, which is a unique technology that allows you to unfasten the gills to let out extra heat on milder nights.
The 800-fill down is ethically sourced, and the added hydrophobic treatment makes it effective even in wet conditions. This sleeping bag particularly impresses with its little extras in the form of pillow pockets and a distinct blanket-fold external draft collar.
Of course, note that if you are a cold sleeper, this sleeping bag may not be ideal for you because of its extra room.
That said, thanks to its 30°F temperature, for warmer nights and summer hikes, this backpack will feel much more comfortable than some of the stuffier options available in the market.
Pros
Ideal sleeping bag for wide and tall frames
Comfortable for side-sleepers
Uses hydrophobic down
Lightweight and compact
Comes with pillow pockets and Thermo Gills
Perfect for summers
Cons
Not ideal for cold-sleepers
Check prices at NEMO Equipment | Check prices at Backcountry
---
Temperature rating: 30°F
Weight: 1 lb. 8 oz.
Fill: 850-fill down
This Western Mountaineering sleeping bag is useful not only as a backpacking sleeping bag but also as one of the best car camping sleeping bags. It is ultralight and a perfect companion for summer outings and hikes.
Powered with an 850-fill down, the Megalite provides the best warmth-to-weight ratio. In fact, despite its lightweight, the sleeping bag comes with a wide-frame, full-length draft tube and a continuous baffle system. The full functionality ensures that on colder nights, the sleeping bag remains heat efficient while on milder ones, adequately ventilated. In addition to this, the sleeping bag implements a water-resistant coating to retain the down loft.
The ExtremeLight fabric used by Western Mountaineering has always been my personal favourite for how soft it feels against the skin.
Of course, like other Western Mountaineering sleeping bags, this bag is also quite expensive but delivers excellent value for money.
Pros
Ultra-lightweight without compromising on useful features
Best warmth-to-weight ratio
Also suitable for large folks
Uses high-quality material
A perfect investment for use in warmer temperatures
Cons
Check prices at Western Mountaineering | Check prices at MEC
---
Final Thoughts on Backpacking Sleeping Bags
I have written this guide to help you decide which sleeping bag to settle for from the wide range of options available in the market. Also, I have mostly chosen sleeping bags that would be suitable for all seasons.
But if you are still feeling overwhelmed, I am listing down a few of my personal favourites based on your budget –
Best Sleeping Bag ($$$$) – Western Mountaineering Alpinlite 20°
Best sleeping Bag ($$$) – Therm-a-Rest Hyperion 20°
Best sleeping Bag ($$) – REI Joule 21 & Igneo 17
Best Sleeping Bag ($) – MEC Delphinus (Women's) and MEC Draco (Men's)