After I moved to California, my very first backpacking trip was in Big Sur. I rented a car and drove down the iconic Highway 1 to Big Sur Station. From there I solo backpacked 9 miles to Sykes Hot Springs, a trail I'd only learned about a few days prior. I soaked in the warmth, sulfuric water and slept in my tent under the redwoods.
It was a wonderful introduction to the Big Sur backpacking trails.
Since then I've returned to Big Sur again and again. Los Padres National Forest, which lies adjacent to the Big Sur coastline, has dozens of campsites and potential routes. I typically seek out a particular feature – a hot spring, a peak, a waterfall – and find a backpacking route to get me there.
I'm publishing this post now, after four backpacking trips in Big Sur. I've included those trails (all of them are excellent!) and the ones I have on the schedule that I haven't completed yet.
As I hike more and more Big Sur backpacking trails, I'll update this list with my views!

This post may contain affiliate links. If you make a purchase through one of these links, I may receive a small commission at no extra cost to you. Your support is much appreciated! You can learn more by reading my full disclosure.
---
Resources for Planning a Backpacking Trip in Big Sur
AllTrails: All of the trails on this list can be found on AllTrails. The routes tend to be pretty accurate, though there are a few times where the map has been wrong (and resulting in a lot of annoying route finding). But, you can download the maps for any of the Big Sur backpacking trails listed below, so that's a big win.
Hike Los Padres: This website has a giant map with all of the features in Los Padres National Forest: trails, campsites, rivers, waterfalls, and more. I find it's great for verifying the information on AllTrails, but it isn't great for navigation.
Trip Reports: I'm in the process of typing up my trip journals for all of my backpacking trips. These provide detailed accounts of the terrain, campgrounds, trailheads, amenities and more. Read them for a more detailed description of the routes below.
---
Kirk Creek Campground to Vincente Flat Camp
🌄 Top Feature: Epic views of the Big Sur coastline as you hike into the mountains.
I'd argue that Vincente Flat Camp is the most popular campground in Los Padres National Forest. The trailhead is located across the highway from Kirk Creek Campground. Due to the trail's popularity, you'll want to arrive at the trailhead early to get a spot – we were there at 7:30 am and it was almost full.
The Vincente Flat Trail kicks off with a steep incline, but you'll be too busy looking at the coastline or the wildflowers to notice the strenuous climb.
After 4 or so miles, the trail descends down a ridge and toward a stream. Along the stream are large flat areas for tents – Vincente Camp can accommodate at least 50 people comfortably!
As an out-and-back trail, the next day you hike back to the trailhead the way you came. You could also do a rest day at Vincente, but personally, I don't think there is enough to do at the campsite to warrant a full rest day.
⭐️ Overall, this is an excellent Big Sur backpacking trail and a great choice for novice backpackers!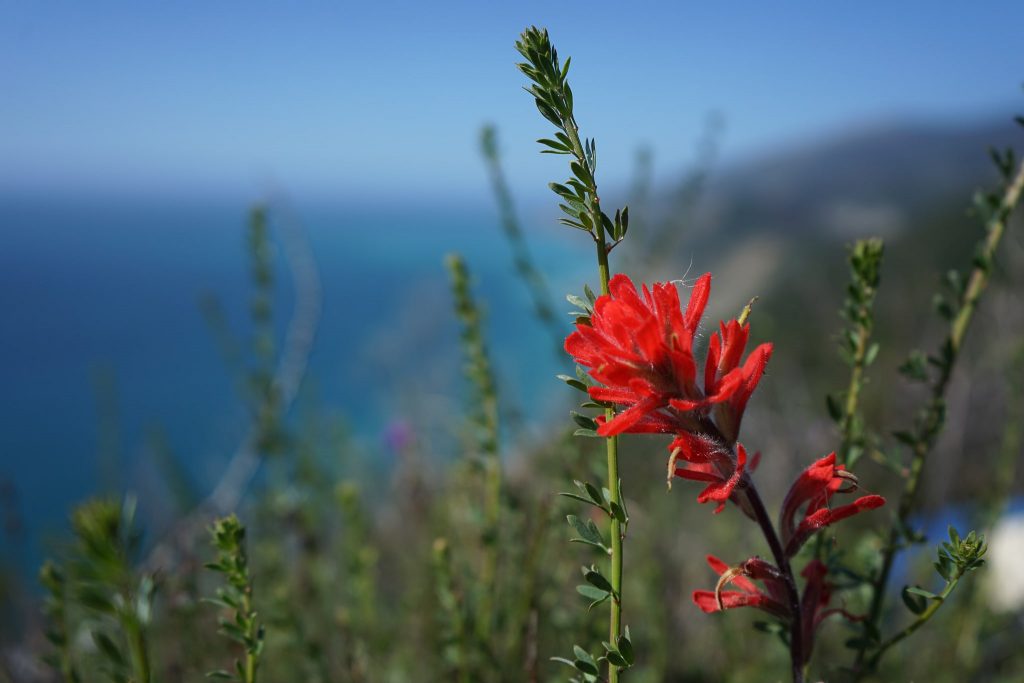 ---
Pine Ridge Trail: Big Sur Station to Sykes Hot Springs
💦 Top Feature: Soaking in the natural hot springs at Sykes Camp.
There are few things I like more than ending a long hike with a soak in a natural hot spring. With my feet sore from the 9 miles of trekking, it was sweet relief to take off the hiking boots and ease into the hot (not warm, hot!) water and relax. Truly a wonderful feeling.
But how do you get there?
The Pine Ridge Trail kicks off at Big Sur Station. From there, you'll hike 9 miles up and down, up and down, following a ridgeline toward Big Sur River. After crossing the shallow river, you'll continue on to Sykes Camp, where the trail intersects with Big Sur River once more.
There are spots for tents on either side of the river. To reach the hot springs, you need to walk along the river (in the direction of the flow). The hot springs will be on the left side. If you're going to the hot springs in the early evening, bring a headlamp – it gets dark quickly and you'll need to headlamp to find your way back to camp!
📚 You can read my full trail guide here: Sykes Hot Springs: Backpacking Pine Ridge Trail to Big Sur Hot Springs.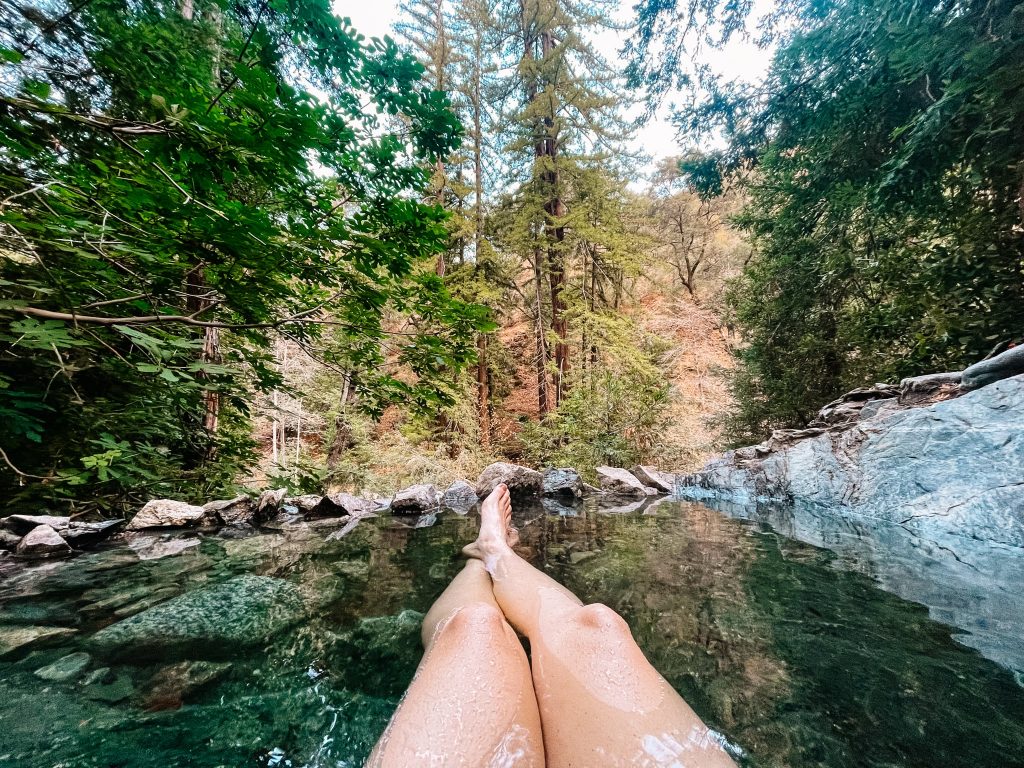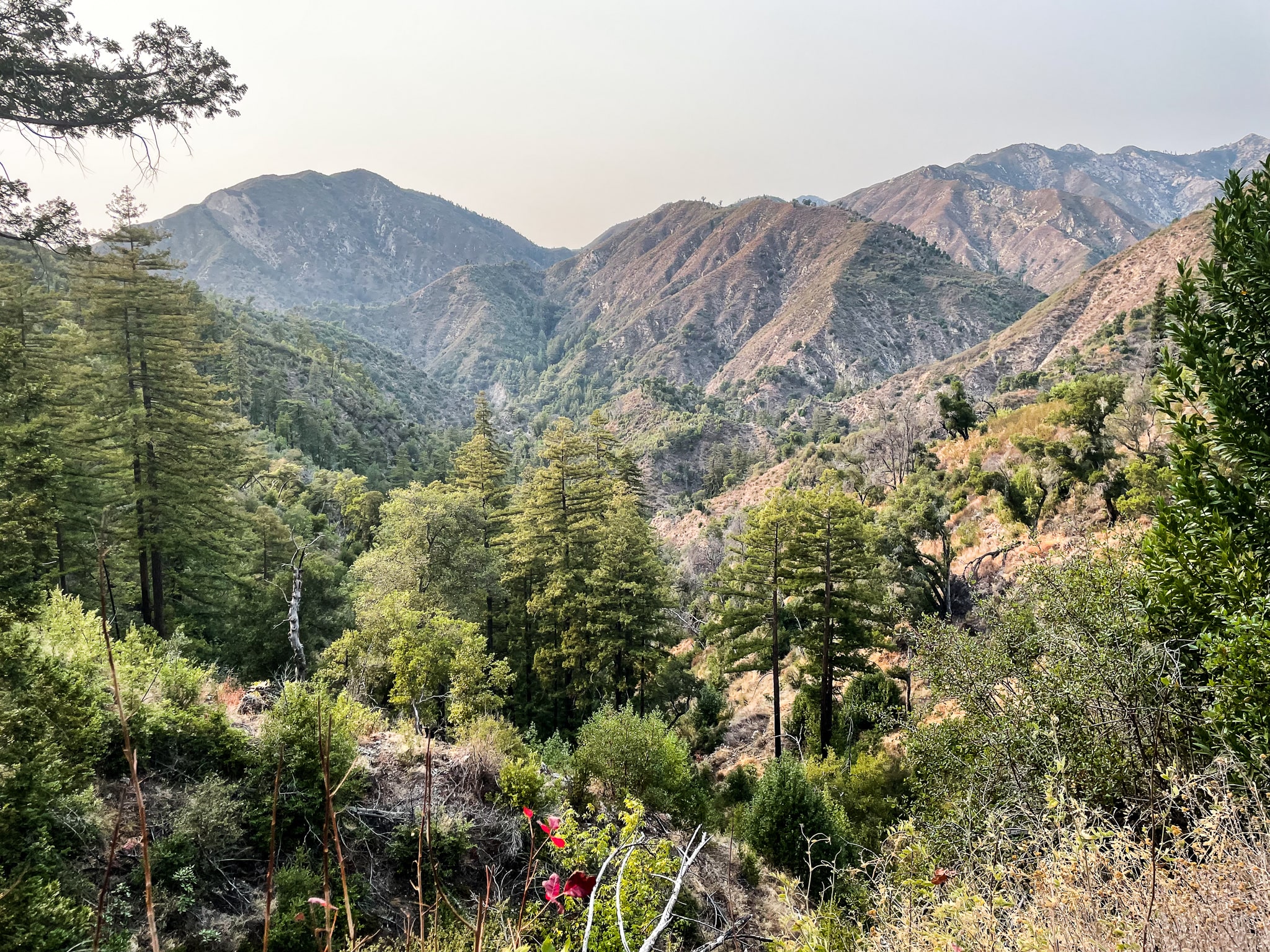 ---
Cone Peak Loop
⛰ Top Feature: Incredible panoramic vista of the Pacific Ocean and Santa Lucia mountains from the top of Cone Peak.
I'm not going to sugarcoat it – this loop is a real challenge. The section in between Goat Camp and Cone Peak has experienced a lot of forest fire damage and has a lot of blowdown. You'll need to go through bushes, find your trail amid burnt trees, and climb over, under and around fallen redwoods. It is not for the faint of heart.
But if you're up for some Type 2 fun, this is a rewarding trail. Not only will you challenge yourself physically and mentally, but you'll see some gorgeous views – most notably, the views from the top of Cone Peak.
Cone Peak is one of the highest peaks in Coastal California. You get a 360 view of the surrounding Santa Lucia Mountains and can see all the way to the Pacific Ocean.
Sure, there are easier ways to read the peak, but isn't the beauty of backpacking in the struggle? (Or at least that's what I told me two hiking buddies who unknowingly joined me on this route.)
Due to the difficulty, you likely won't see many other hikers after Vincente Camp. We saw only a handful of groups on day one and three, and just one group on day two – until we got to the peak which had *gasp* five other hikers. Compared to other peaks in California, I'll take single digits at the summit any day!
⭐️ All in all, this backpacking trip has incredible views and gets very little foot traffic from other backpackers.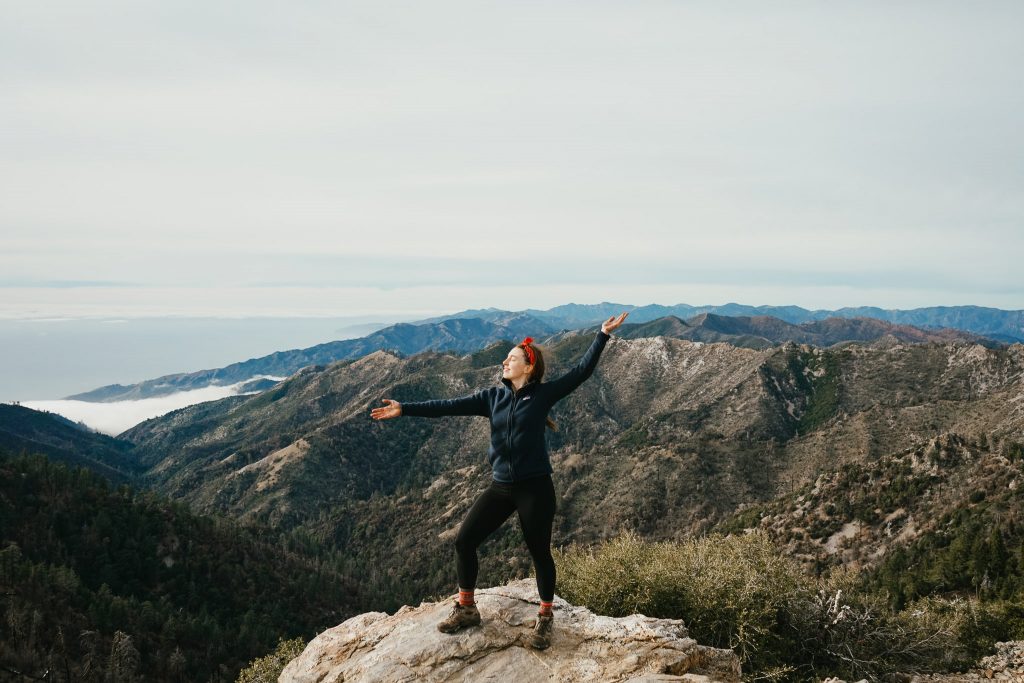 ---
Pine Ridge Trail to Pine Falls
💦 Top Feature: Swim in the Carmel River under Pine Falls.
This is a wonderful backpacking trail in the eastern part of the Ventana Wilderness. From Monterey, you'll drive southeast to approach the wilderness from the east side.
After passing through some small towns and some farmland, you'll take a rough and bumpy forest road up and up and up. The road has plenty of potholes and the occasional puddle, but it was (surprisingly) doable in a Nissan sedan so it can't be that bad!
The trail itself is very straightforward. The first day is all downhill toward Pine Valley. It's only about 6 miles from the trailhead to the campground. Once in Pine Valley, there are huge boulders and rock formations on either side of the trail, plus super tall trees – the valley is just beautiful!
If you want to go to the falls (you do), ditch most of your gear at one of the campsites in Pine Valley before hiking the additional 0.7 miles to the falls.
The trail between the campground and the falls is less defined and it's quite difficult. There are a few places where it's hard to tell where you should walk next (AllTrails is pretty good, but not perfect).
Plus, there is one particular section with a big rock on a ledge that will require your hands to climb over. If you're a novice hiker or not confident with your hiking fitness, maybe skip the falls.
If you do make it, you'll see the beautiful Pine Falls in all its glory. I dare you to swim in the water – it's very chilly but very satisfying after a long hike.
On your second day, the route out of the valley is the same as the day before however everything is uphill. Surprisingly, the uphill isn't that difficult (or at least, it's not as difficult as you're expecting). The trail gains elevation constantly, so there are no extremely steep sections.
Although there are no views of the Big Sur coastline, this remains one of my favorite backpacking trails in the Big Sur area.
📚 Read my full guide: Backpacking from China Camp to Pine Falls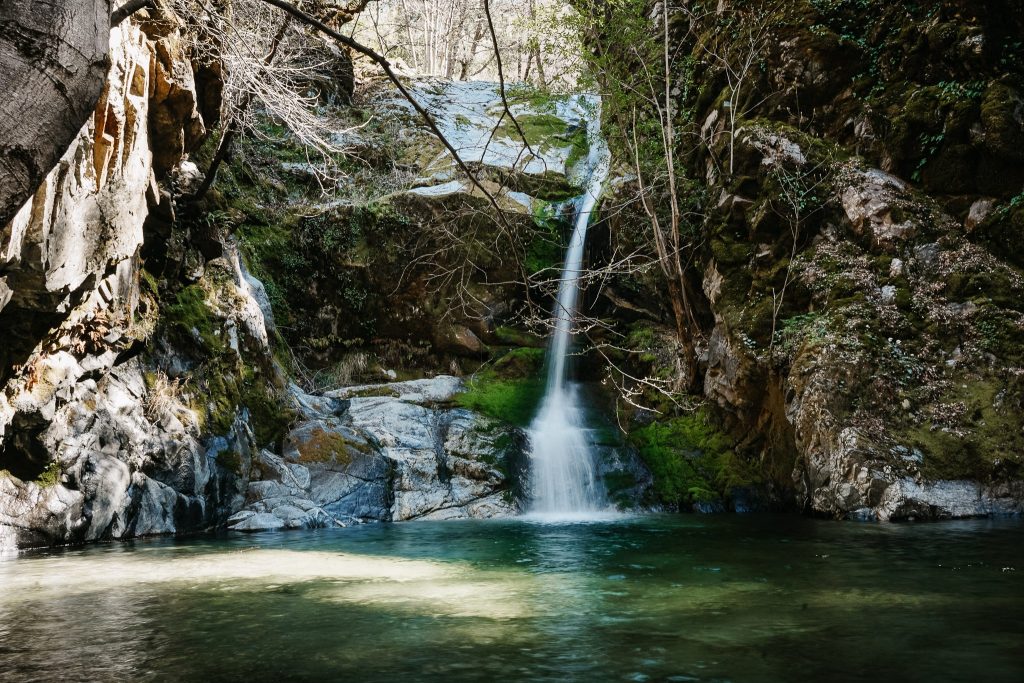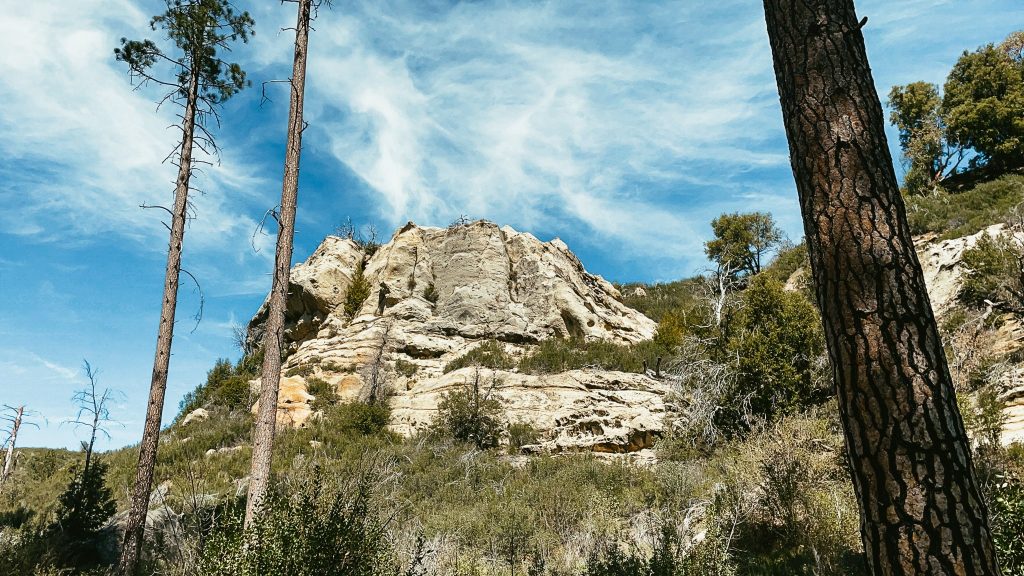 ---
Santa Lucia Trail to Last Chance Falls
💦 Top Feature: The view of Last Chance Falls tumbling over the cliff and into the river below.
This is the next Big Sur backpacking trip I have planned. Last Chance Falls look very cool, though I've heard the trail to the falls is overgrown and not that pretty. I'll let you know what I find!
---
Big Salmon Creek – Silver Peak Loop
🐠 Top Feature: Start your journey at Salmon Creek Falls, an epic double waterfall!
This trail gets a lot of hype (though I'm not sure how great it is besides Salmon Creek Falls, which is visible from the trailhead). Is it worth your effort, I will find out for you!
---
Cruickshank Trail to Upper Cruickshank Camp
🌸 Top Feature: Incredible coastline views, fields of wildflowers and a shorter route perfect for beginners.
The final route on my to-do this is this one in the Silver Peak Wilderness. Known for its incredible views, this route maximizes beauty while minimizing unnecessary miles. There are several campgrounds to choose from around the 2.5 mile mark.
---
Considerations for Backpacking in Big Sur
📋 Do You Need a Permit to Backpack Big Sur?
No you don't! All of the backpacking trails in Big Sur are within Los Padres National Forest, which does not require permits or reservations. Some of the car camping sites will have a drop box for you to pay a nominal campsite fee (usually $10) but the hike-in campsites do not. Big Sur Station requires you to pay for parking.
🔥 Can You Have Campfires in Big Sur?
You can only have a campfire in some designated areas within Big Sur. In Los Padres National Forest, you can have a campfire if there is no campfire ban going on. If you want to have a campfire, you'll need to get a permit from Ready for Fire and carry the required shovel and water.
Note: If you'll be using a backpacking stove, you also need to get a permit. The permit is free and valid for the calendar year in which you get it.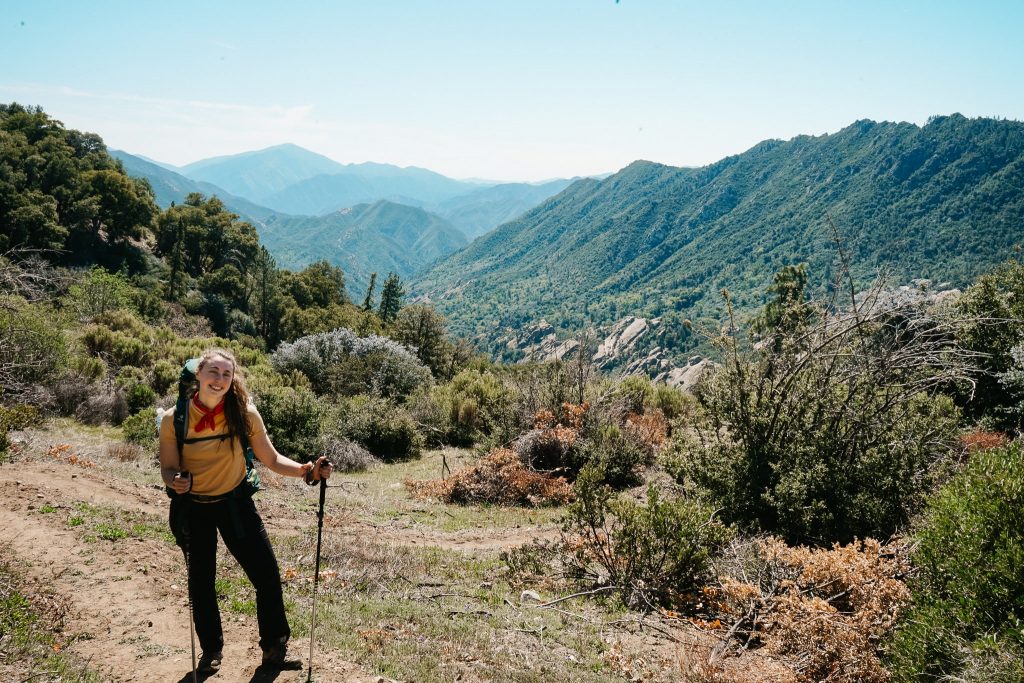 💦 Be Mindful of Water
There are some areas within Los Padres National Forest that don't have any water. Campgrounds don't have water taps, so you'll be relying on streams.
Pay attention to where there are streams on the map, but also know that don't all streams will be flowing. Big Sur River and Carmel River are safe bets – anything else is variable.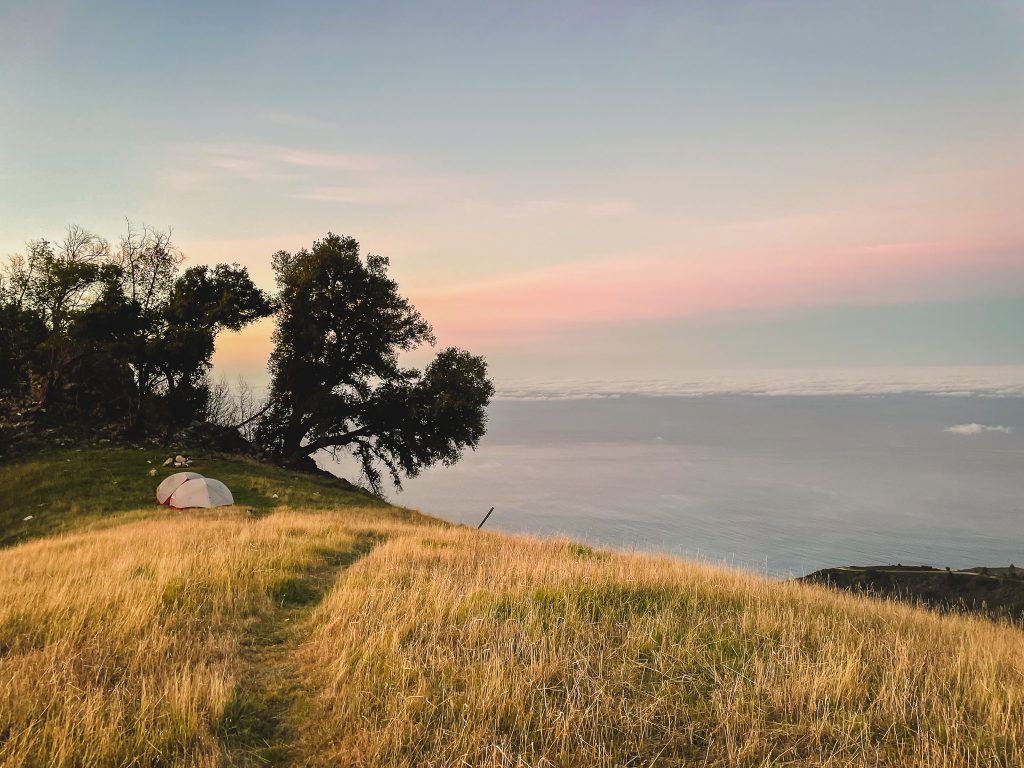 🐻 Do You Need Bear Canisters in Big Sur?
You do not need a bear canister in Big Sur. There aren't any major predators in Big Sur – you won't see mountain lions or bears. That said, you should still pack your food in a suitable container and store it away from your tent and cooking area.
Although I haven't encountered any rodents myself, they can get into your food. I've found that, because there are no large animals, people are super careless with their food storage and food waste. Don't be like them – store correctly, keep a clean campsite and pack out your trash!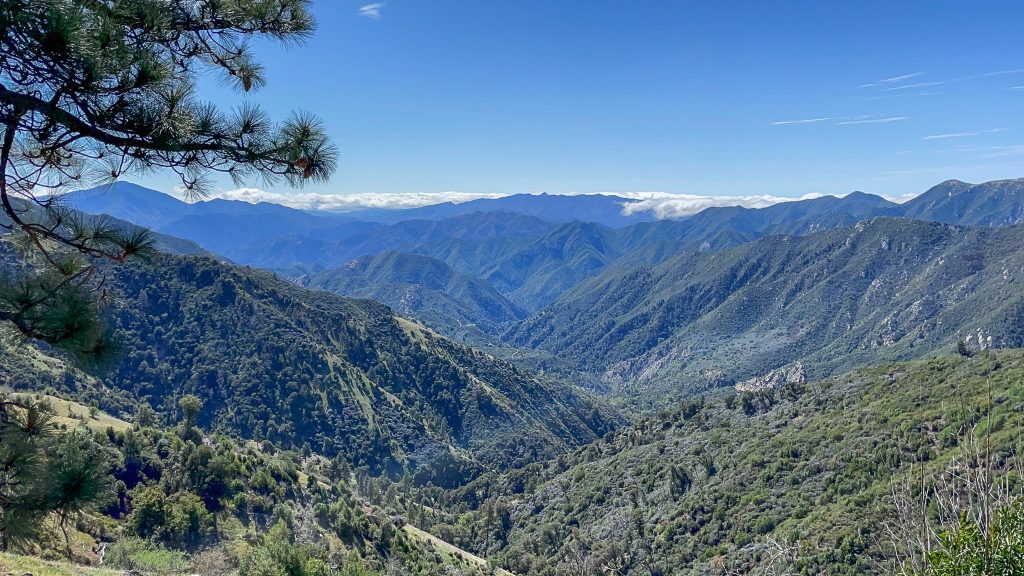 ☀️ It Gets Super Hot
My goodness, it gets hot. I hiked all of the above Big Sur backpacking trails between October and March, and it was still very hot – easily over 70 F during the day.
And some trails have minimal coverage, so you're fully exposed to the sun. Pack lots of sunscreen and maybe a hat and sunglasses.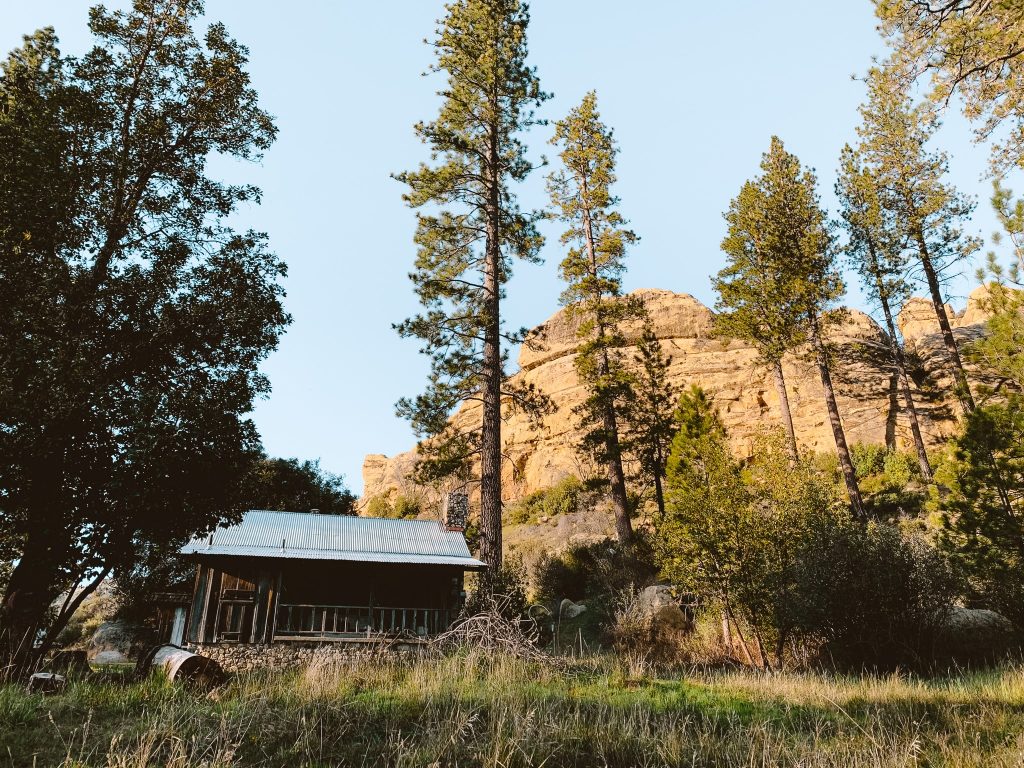 📵 There is No Cell Service
This may depend on your specific cell carrier, but I (and my hiking buddies) have never had cell service while on the Big Sur coastline or on the backpacking trails. I always carry a satellite communicator (it has an SOS button if I were to need help while backpacking).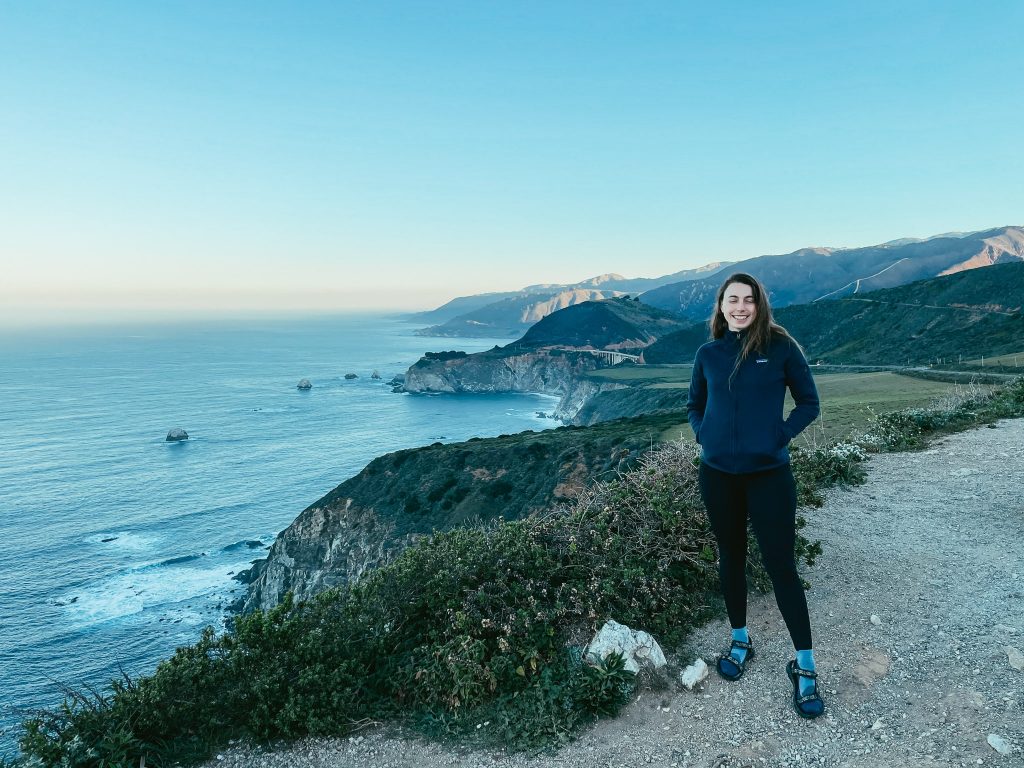 ---
Final Thoughts on Big Sur Backpacking
I hope this list has helped you decide on which Big Sur backpacking trip you'd like to take next. If you've never been to Big Sur, I think the route Vincente Camp is an excellent starting point: you'll get maximum views for minimal distance.
That said, if you want something a little more off-the-beaten-track, Pine Valley is perhaps the most underrated backpacking trail in Big Sur! Even on a Saturday, there were very few people and it was such a gorgeous place.
As I said, this is an evolving list. I typically do 1-2 backpacking trips per month, so hopefully it won't be long before I can check the remaining Big Sur backpacking trails off on my list.