While it might be tempting to exclusively bring pre-packaged, freeze-dried meals on your camping trips, I'm a firm believer that the best meals are those you cook yourself. In order to do that, however, you're going to need some equipment, like a stove for boiling water, a dutch oven for baking or a camp mess kit to keep all your utensils and dishes compact.
Therefore, in this post, you will find a review of the best-rated camping mess kits available, a handy comparison chart to quickly overview the features of each, as well as some tips and considerations to keep when buying camping mess kits.
---
Comparison Chart: Best Mess Kits for Camping
If you want to buy a mess kit online, you need to consider factors like the weight of the mess kit, the number of mess kit utensils and pieces that come in the kit and the number of people it serves. Similarly, the total weight of the mess kit is an important factor for those that need to keep the total weight of the backpack in check (like me in my ultralightweight packing endeavours).
In this comparison chart, you will find a quick overview of all these key factors
This post may contain affiliate links. If you make a purchase through one of these links, I may receive a small commission at no extra cost to you. Your support is much appreciated! You can learn more by reading my full disclosure.
---
Top Pick: Best Camping Mess Kit
My favourite camping and backpacking mess kit is the GSI Outdoors – Halulite Microdualist. In my opinion, it gives the most bang for your buck for its lightweight yet sturdy construction. It also includes cookware, bowls, mugs, lids and a handle – all cleverly designed to facilitate a hassle-free experience.
You can read the detailed review below for more information.
---
---
Camping and Backpacking Mess Kit: Reviews 2021
In this section, I will be reviewing several mess kits and cooking sets. I haven't personally owned everything single mess kit on the list, though I have tried a lot of them and for those I chose not to purchase, I explain exactly why it didn't make the cut.
I love everything GSI makes for cooking (so you might have noticed how many of their camp mess kits I've included on this list). They are incredibly strong in construction and have feature-rich elements. The GSI Outdoors Halulite Microdualist is thus no exception to this.
The mess kit includes a 1.4-litre pot with a locking handle, a strainer lid, 2 bowls, 2 mugs, 2 sip-through lids, 2 foons and a stuff sack that doubles up as a sink.
It is similar to the GSI Bugaboo and the GSI Pinnacle (both of which I've used), except that the pot size that comes with this kit is a bit smaller. But this makes the kit much more compact and lightweight than the other models. Despite the slight drop in the pot volume, it is still large enough to hold a small backpacking stove.
The bowls and the mugs, too, are wonderfully designed. The bowls do not lose their shape when exposed to boiling water, and the size is perfect for holding meals enough for 2 people. Moreover, the bowls can be stacked on top of one other to store leftover food properly. The mugs are insulated to protect the hands from burning (which I would have appreciated when I burned myself on my last trip lol), and the lid is extremely secure.
All this to say, this is the best camp mess kit in my opinion. The only reason I own another GSI kit right now is that this one was a little out of my price point.
Pros:
Lightweight
Sturdy, long-lasting

Attractive

Stove fits inside the pot
Cons:
Ideal for: Those that are looking for the best backpack mess kit that is made to last long
---
The MSR Quick 2 is an excellent 2 person mess kit that works as a versatile camping cook set. It includes a 2.5-litre anodized pot, a 1.5-litre non-stick pot, a lid that doubles up as a strainer, 2 deep dishes, 2 insulated mugs and a flipping talon handle shared between the 2 pots.
All the pieces nest inside the large pot making the mess kit extremely compact for carrying around. The weight of the total kit, however, is 1.76 pounds and is not great for ultralightweight backpacking. That said, you don't have to bring the big pot on every trip, which would cut down on the weight. For paddling trips, when you can have more weight, the second pot adds a lot of convenience for backcountry cooking.
The most impressive aspect of this mess kit is the quality of materials used. The large pot comes in an anodized surface that is excellent for cooking meals for bigger groups. The smaller pot is non-stick to add versatility to your cooking. The dishes double up as bowls and can also hold leftover food easily (the snap-on lids are actually really secure!). The construction of the dishes is heat-resistant, and the shape holds up well whether you place solid food or soup in them.
The mugs are super convenient as well, as it's hard to find mugs that don't have a handle and can nest inside a pot, but are insulated enough that they don't burn your hands.
Similar to the above, my biggest qualm with this mess kit is the price point. I loved using this kit on one of my guided trips, but I can't justify the price point for myself (at least not yet). Regardless of the price point, it is the best camping cookware mess kit for regular campers that do not carry pre-packed frozen meals. The cookware supports a diverse range of cooking requirements, and its great quality makes it an ideal long-term investment for regular campers.
Pros:
Complete cook set
Lightweight
Compact
Excellent quality
User-friendly design
Cons:
Ideal for: Those that want a lightweight, durable, compact, comprehensive cook set for versatile use
---
Okay, now we're onto the kit I actually have! The GSI Pinnacle Dualist is very similar to GSI Outdoors Bugaboo (which I've also owned) in terms of its offerings and elements. However, the core material used in Pinnacle is tougher, and the Teflon coating doesn't flake easily.
The mess kit includes a 1.8-litre pot, a strainer lid, 2 mugs with sleeves, 2 lids, 2 bowls, 2 spoons and a stuff sack. Just like the Bugaboo, the stuff sack doubles up as a sink for cleaning (though I've never actually used it for that). The 1.8-litre pot is an ideal size for cooking diverse meals. The quality of the pot is also excellent as it does not burn or melt when exposed to high temperatures. That said, you should not use it on an open flame and this is my biggest criticism for the mess kit. On a backpacking stove, go nuts. But don't use it on an open fire.
The mugs come with a comfortable koozie to prevent burns, and the lid on the mugs is super tight. It keeps the beverage hot for a long time and also helps keep bugs away (one of my pet peeves is mosquitos in my coffee).
Overall, the GSI Pinnacle is a great addition to your camping kit if you exclusively cook over stoves.
Pros:
Compact
Fits a stove and fuel canister
Durable
Feature-rich with a design that gives attention to detail
Lightweight
Cons:
A bit expensive
Flimsy spoon
Can't be used over a fire
Ideal for: Those that are looking for a 2-person mess kit that is highly compact
---
This GSI Mess Kit is a reliable mess kit meant to serve hard-core campers who want to carry cookware and serveware compactly. The kit includes a 2-litre pot with a folding handle, a frypan, a strainer lid, 2 mugs with 2 sip through lids, 2 nesting bowls and a stuff sack.
For the most part, the Bugaboo has similar elements to the mess kits above. For example, the mugs in this kit are insulated. The lids on the mugs fit snugly, and the sip holes do not cause the beverage to accumulate on the rims, causing spillage when the lid opens.
The pot and the pan too are the perfect sizes for cooking for 2 people. The strainer-equipped lid is a great addition to improve cooking versatility. The handle attaches to the pot firmly. The other great feature of this mess kit is the stuff sack that doubles up as a washbasin for cleaning the pots, bowls and mugs (but again, I never do that personally).
My favourite feature of the Bugaboo, however, is that it HAS A FRYING PAN. I had no idea it was going to be so hard to find a camp mess kit with a frying pan. With the Bugaboo, I can fry eggs for my breakfast sandwich while boiling water for my coffee, without carrying the bulk of two full pots.
Okay, now the downsides. For starters, don't put this system on the campfire. I did and the blue coating started to peel off and the inside of the pot is now permanently smokey. I can't boil water for drinking unless I add coffee or tea to it because the water tastes so smokey. Also, it is far too heavy for my backpacking trips. It is better suited for camping, rafting and other outdoor activities where weight is less an issue.
Pros:
Impressive quality
Feature-rich
Compact
Ideal size for 2 people
Cons:
Can't be used over a fire

A bit heavy
Ideal for: Those that want a long-lasting, compact mess kit ideal for 2 people
---
As a camping cookware brand, Overmont doesn't get a ton of airtime despite making some really solid products (if you've read my post on dutch ovens, you'll know what I mean). The Overmont Camping Mess Kit is a one-of-a-kind mess kit because it comes with a cooking pot, frying pan AND a kettle over, plus basic cutlery and bowls. Moreover, the price point of this kit is super budget-friendly too. I don't know of another comparable kit in the market that delivers so much value for such a low price point.
The other impressive factor is that this is a compact mess kit. All the pieces of this mess kit fit comfortably inside the large pot that can then be packed inside a mesh bag. The compactness is a huge point of attraction for backpackers. The sizes of the pots and bowls are quite small but still ideal for a solo backpacker. The pot size is also sufficient for a camping couple.
The cutlery set is also well designed. The fork provided with this kit is much better than the spoon that comes in most mess kits these days. The cutlery also folds down well. The bamboo spoon is also sized perfectly for cooking using the small pot and pan.
Now given that this is a budget camping mess kit, it does have a few shortcomings when compared with the more expensive giants. This means that the pot walls are thin and that the kettle's handle heats up a bit. But these deficiencies will not impact your overall experience using the kit.
Pros:
Most value for money
All-in-one kit to meet all your cooking requirements
Compact as all pieces fit inside the pot
Lightweight for the number of pieces it includes
Easy to clean
Cons:
Not suitable for using cooking spray
Handle of kettle heats up a bit
Ideal for: Those that want a compact all-in-one budget-friendly cook set
---
When it comes to stainless still kits, very few kits in the market are better than the trustworthy Coleman mess kit. Stainless steel makes this kit highly durable and suitable for long-term use. Moreover, because the kit is made by a reputed brand like Coleman, you will notice a lot of attention to detail being placed in the design (they also have a solid refund policy if you don't like the stove for any reason).
In this kit, you will get a stockpot that, when deconstructed, works as a frying pan and a saucepan (wooh!). So many options mean you can make super creative meals in the backcountry. In addition to this, the kit comes with a bowl, a handle and a cup that can all be packed inside a mesh bag.
In terms of the design, the mess kit looks far more basic than other kits on this list. Yet, its performance matches some of the best mess kits in the market and it comes in at a lower price point.
Given that the kit uses stainless steel as its primary material, it can withstand a lot of heat. It is suitable for rough usage and is quite easy to clean. The pot is perfectly sized to cook for two people and is also large enough to hold the bowl and the cup. It does not take too much space when packed inside the mesh bag. However, steel is usually heavier than other materials, and hence at 1.3 lbs, backpackers would prefer lighter mess kit variants.
Pros:
Tough, durable
Budget-friendly
Compact
Allows versatile cooking
Cons:
Ideal for: Those that are looking for the best stainless steel mess kit for camping
---
Next on our list of stainless steel mess kits is the Glacier. This GSI Mess Kit is an excellent choice for a solo backpacker or camper looking for high-quality, durable cooking equipment. The kit only comes with a pot, fry pan, bowl and a cup. But the sizes are perfect for the meal requirements of one person.
Given that the pot and the pan are made using stainless steel, the pot can be cleaned easily. It does not leave any food odours as well after cleaning (sorry, bears). The cup included is the perfect size for a large cup of coffee, but without insulation or a lid, your coffee won't stay hot for very long.
But in addition to its great quality, the reason why I think this mess kit would be great for backpacking is that its handles fold down to pack into one easy-to-carry compact mess kit. You simply need to place the bowl and the cup inside the pot and then press the pan down on top as a lid. You can even fit in small spoons inside the cup, but you will need to buy them separately as the same are not provided with the mess kit.
One thing I don't love about this kit (and ultimately why I chose the Pinnacle over this one) is that I don't like the mug and I find the bowl super awkward looking. That may just be an example of me being picky, but I like my bowls to have taller walls and, preferably, have a lid I can store leftovers in for lunch the next day.
Pros:
Budget-friendly
Durable
Easy to clean
Lightweight
Open-fire friendly
Cons:
Cutlery not included
Awkward bowl without a lid
Ideal for: Those that want a high-quality camping mess kit for use on stoves & open fires.
If you have an integrated stove system (a stove that comes with a pot), you only need a mess kit that contains bowls and utensils. Hense, the MSR 2-Person Mess Kit is an ideal plastic mess kit for you. The bowls are deep enough to hold a sufficient amount of food.
The mugs are shaped innovatively to give a better feel when drinking through the sip hole and keep liquids hot. The material of the mug is also layered to keep your hands safe from burning. You will also find neat graduations on the mugs to help you measure your quantities when preparing your beverages.
Now there are a couple of things I don't love about the kit. I wish that the sporks that come with the mess kit weren't so flimsy. The other issue with this mess kit is that the bowls don't nest, which would be such an easy thing to design for and would save even more space. Except for the mugs, you could probably buy plastic dishes from the Dollar Store for 1/5 the price and be served just as well.
Pros:
Durable
Easy to clean
Lightweight
Innovative design enhances ease-of-use
Cons:
Cutlery is flimsy
Bowls don't nest
Ideal for: Those that want a lightweight, plastic mess kit that is easy to clean
---
The Sea to Summit DeltaLight Camp Set is one of the most lightweight mess kits. It includes two bowls, cutlery, two mugs and two lids. Polypropylene makes these bowls and mugs foldable but also sturdy enough to hold hot meals and liquids. You can pour boiling water directly into the mugs without any risk of damage to the mugs.
The mugs are also protected with an insulated koozie. The lid also remains in place and prevents the beverage from cooling down too quickly. The mugs are also neatly marked with measurements and can double as measuring cups for baking.
The fork/spoon/knife situation, however, is quite basic. The serrated side isn't too sharp to cut anything that's thick. The other problem that I face with this kit is that the bowls do not nest. But this is an affordable alternative to the kits above, especially if you already have a pot, and as such I've put it on this list.
Pros:
Extremely lightweight
Easy-to-clean

Durable

Affordable
Cons:
Ideal for: Those that are looking for the best lightweight backpacking mess kit
---
The MalloMe Camping Mess Kit is my favourite 1 person mess kit. Camping or backpacking solo becomes convenient when you carry this small mess kit with utensils that are the perfect size to meet all of your cooking requirements.
This mess kit includes one pot, a pot cover, a frying pan, a handle, 2 bowls, a cleaning loofah, a soup spoon and a stainless steel spork. The cookware is made using anodized aluminum that heats up evenly and survives regular rough usage without getting burned or leaving black stains.
The stainless steel sporks are far more reliable than the flimsy plastic ones that you get with most kits. The other element of this kit that is particularly impressive is the handle. It is sturdy and does not heat up with the pot or the pan, thus preventing accidental hand burns.
Finally, I consider this the best mess backpacking mess kit because of how lightweight it is and how well it packs down into the large pot. The only small complaint I have with this kit is that it does not include a mug – which would have been a perfect addition for coffee lovers (like me).
Pros:
All-in-one cookset
Lightweight
Super durable
Affordable
Cons:
Does not come with mugs
Not suitable for open fires
Ideal for: Those that want a lightweight, compact cook set for 1 person
---
Buying Advice – How to Choose A Camping Mess Kit
As you would have seen above, camping mess kits come in a variety of materials and elements. Each camp mess kit is designed to meet a specific objective. So how should you figure out which is the best camping mess kit for you?
Here are some aspects that you should consider-
Material
Camping mess kits are primarily available in aluminum, stainless steel and polypropylene.
Aluminum:
Aluminum is the most popular metal choice in camp mess kits. Anodized aluminum is tough, durable, heats fast and allows for a satisfactory user experience due to minimal chances of burning and warping. But not every aluminum mess kit can withstand direct contact with open fire or directly on coals. But if you intend to use the mess kit on stoves or camp grills, most aluminum mess kits on the list above should perform well.
Stainless steel:
Stainless steel is the toughest, most durable and wear-resistant metal for cooking. It is also fairly easy to clean. The only downside of steel is that it is heavier than aluminum or polypropylene and hence often preferred for camping instead of backpacking.
Some stainless steel mess kits, such as the GSI Outdoors Glacier 1-Person Mess Kit, are also safe for use on open fires and hence far more versatile and suitable for all types of camping.
Polypropylene:
Polypropylene is an excellent lightweight choice for backpackers. The polypropylene used for making mess kits is often the type that is reinforced with glass. It is heat-resistant, BPA-free and highly durable. Polypropylene utensils can also be folded down and can save considerable space. They are also incredibly easy to clean.
The only negative of a polypropylene mess kit is that it is not as tough and rugged as metal mess kits. But for backpackers for whom weight is a huge consideration, it is often the most suitable mess kit material.
Weight
As a backpacker, I am always looking to cut down on as much weight as possible from my backpack to enhance my overall backpacking experience. That is why I prefer mess kits that pack more value in very little weight. For this purpose, a polypropylene mess kit like the MSR 2-Person Mess Kit or the Sea to Summit DeltaLight Camp Set 2.2 is often my go-to choice.
Compactness
When backpacking or camping, I like mess kits that allow all the pieces to fit inside the large pot and still leave enough space to fit in a small stove like the MSR Pocket Rocket. Therefore, mess kits that come with bowls or mugs that do not nest or are designed in a bulky shape are my least favourite.
One of my favourite compact mess kits is the GSI Outdoors – Halulite Microdualist. It is not only compact but is also lightweight and sturdy.
Number of People
Mess kits are designed to serve a specific number of people. The size of the pans, pots and the number of mugs provided in the mess kit varies depending on this number. Thus, if you're a solo backpacker, it would not be wise to carry a mess kit that serves 2-3 people as it would only add unnecessary weight and take up prime real estate in your backpack.
In my opinion, a mess kit that serves 2 people is the most weight and space-efficient mess kit even when travelling in larger groups. You can have multiple people carry 2-person mess kits and cook in batches instead of carrying bulky cookware meant to serve a large group.
Type of Utensils
Mess Kits provide a wide variety of utensils. Some only come equipped with serveware, while some also come equipped with cookware. If you plan to cook most of your meals with food that you collect along the way, you need a mess kit that comes with a deep pot, a frying pan or a saucepan.
But if you plan to carry a lot of packed, dehydrated food with you, you only need a mess kit that includes bowls, mugs and some cutlery.
My favourite all-in-one mess-kits are the Overmont Camping Mess Kit and the GSI Pinnacle Dualist. But when I don't need to cook much, I opt for a lightweight option like the Sea to Summit DeltaLight Camp Set 2.2.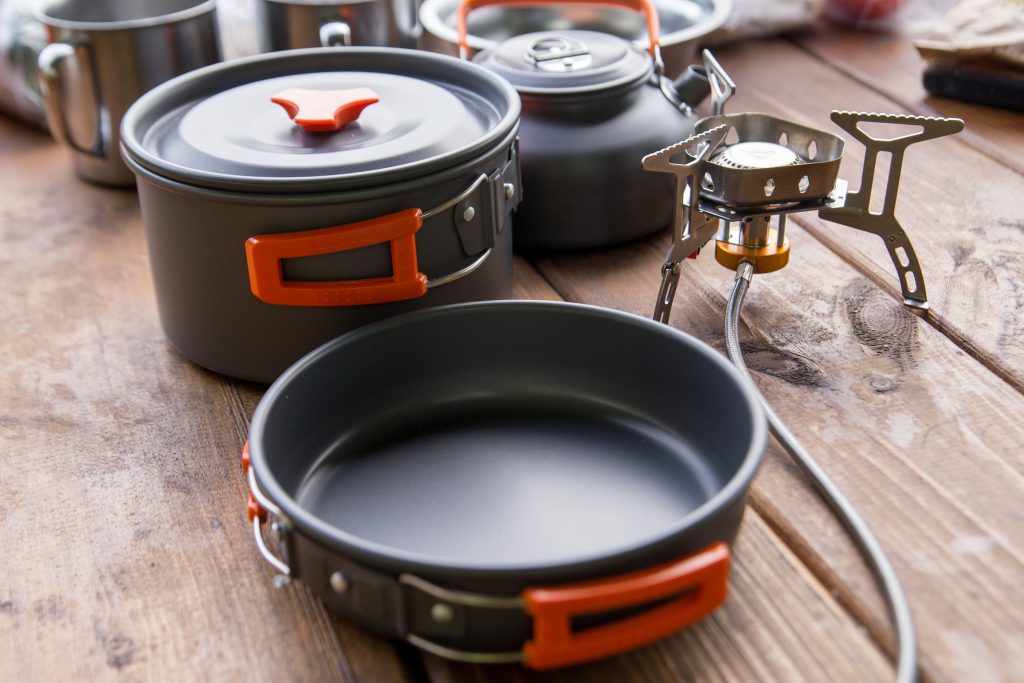 ---
Final Thoughts
I guess that by now, you must have a pretty clear idea about which mess kit to opt for. If you are still confused, think clearly about whether you intend to use a mess kit for backpacking or for camping and for how many people you plan to use it for.
For camping, I love the budget-friendly Overmont Camping Mess Kit as well as the GSI Pinnacle Dualist for two people, while I love the GSI Outdoors Glacier 1-Person Mess Kit and the Coleman Stainless Steel Mess Kit for one person.
For backpacking, I find the lightweight camp mess kits – MalloMe Camping Mess Kit the best for one person, while the MSR 2-Person Mess Kit most ideal for two persons.