Finding the best eco-friendly shampoo can be an absolute game-changer. It will improve your hair health while reducing your environmental footprint… a win-win. As my hair has gotten longer (it's touching my low back now!), I've become very particular about what substances are allowed in my hair – I've found eco-friendly shampoos are actually kinder to my hair and leave it feeling softer and more moisturized.
In this guide, I am going to share with you some of my most favourite eco-friendly shampoos.
What makes a natural eco-friendly shampoo? It should be free of sulphate, SLS or other chemicals that leave behind an environmental trace. It should either be biodegradable or nearly biodegradable. Ideally, it's also vegan and has plastic-free packaging. Finally, it still needs to perform well, leaving hair clean and soft!
For more information on what to look for in an eco-friendly shampoo, jump down to the product considerations section.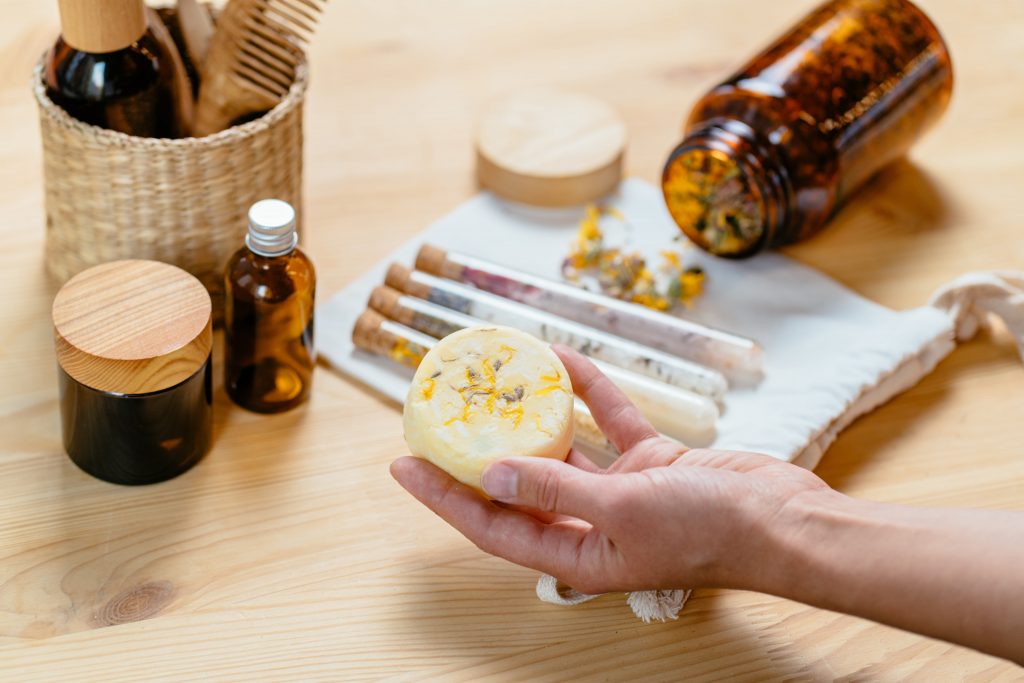 This post may contain affiliate links. If you make a purchase through one of these links, I may receive a small commission at no extra cost to you. Your support is much appreciated! You can learn more by reading my full disclosure.
---
Comparison Chart: Best Eco Shampoo
Check out the chart below for a quick summary and overview of all the environment-friendly shampoos reviewed in this article.
---
Top Pick: Best Eco Friendly Shampoo
In my opinion, the best sustainable shampoo is Ecoroots because it is biodegradable, vegan AND has plastic-free packaging – a read triple threat! A shampoo bar takes a little getting used to, but once you've tried to you won't look back. You can read my full review of the Ecoroots shampoo bar below.
Hot Take Update: The best eco-friendly shampoo is… NO SHAMPOO! Earlier this year I stopped washing my hair entirely. I know most people would never consider that an option, so I've kept my list of top picks here. If you're ever interested in ditching the shampoo, I'll do a separate post on why/how I did that.
---
Quick Recommendations: Best Environmentally Friendly Shampoo
In addition to my top pick above, I have a few more favourites, too, based on different criteria as enlisted below:
Best zero-waste shampoo: Ecoroots
Best eco-friendly shampoo bars: Ethique, Ecoroots
Best eco-friendly shampoo bottle: Plaine Products, Public Goods
Best eco-friendly shampoo for everyday use: Yarok
Best multipurpose eco-friendly liquid: Dr. Bronners
Best shampoo for the outdoors: Campsuds, Sea to Summit Wilderness Wash
Note: It is perfectly acceptable to use soap/shampoo in the woods, however, you cannot simply lather on the shore and rinse yourself in the lake. If you will be using your product in the woods, jump down to the section on using shampoo in the woods.
---
---
Reviews – Which is the best eco-friendly shampoo?
Eco-friendly shampoos come in many different types. They may be packaged as an eco-friendly shampoo bottle or may even be sold as an eco-friendly shampoo bar. Some are also a combination of environmentally friendly shampoo and conditioner, while some double up as dish soap and mouth wash as well.
The eco-friendly shampoos reviewed below cover all these different types, and each shampoo enjoys some unique advantages that could prove to be particularly beneficial to you. Thus, do not choose a shampoo hastily without reading all the eco-friendly shampoo reviews.
Ethique is a renowned brand known for producing some of the best eco-friendly shampoo bars in the world. A single conditioner bar is equivalent to five bottles of liquid conditioner and is fortified using key materials like cocoa butter, coconut oil, lime oil, and vitamin oil.
It works well on all types of hair and particularly on dry and damaged hair and beautifully tames frizz, and makes hair look shinier and healthier. It is also particularly easy to use. You should first use the shampoo bar and then follow it up with the conditioner bar. For conditioning, simply rub the bar over the tips of your hair.
Also, what makes it highly compatible with outdoor travel is that Ethique's products are vegan, cruelty-free, do not employ palm oil and are also made using a plastic-free policy. Moreover, since it is a bar, it takes up hardly any space in the backpack.
Thus, overall if you want the best environmentally friendly shampoo and conditioner for both everyday and outdoor use, Ethique should be your go-to product.
Ethique
Pros:
Affordable

sustainable

Environment-friendly

Compatible with all types of hair
Cons:
Not entirely chemical-free (even though it is SLS-free shampoo)
Find in US
Find in Canada
---
One of the main reasons why I love Plaine Products is its eco-friendly shampoo bottles. Plaine products come in separate shampoo and conditioner bottles that are refillable. To refill, you order an eco-friendly refill bottle, insert the pump into the new bottle and ship the old one back (the company bears the cost).
Apart from the reuse of bottles, the shampoo and conditioner are also designed bearing environmental footprint in mind. The products are sulphate and paraben-free and are entirely vegan. The products use natural ingredients like aloe, coconut seed, green tea, etc. The shampoo does not lather as much as SLS-shampoos do but still leave the hair feeling nourished and smooth.
For outdoor use, the products may prove to be a bit space-consuming. But if used with due precautions such as not using the products close to the campsite or a water source, they can prove to be an excellent eco-friendly solution for outdoor use as well.
---
Dr. Bronner's liquid soap boasts of a massive 18-1 use diversity. Not only can it be used as a shampoo, but it can work wonderfully for dishwashing, cleaning, washing pets, laundry cleaning and more. The bottle contains concentrate that you need to dilute for use as a soap or a shampoo (or just use a really tiny amount in the shower).
Thus for outdoor use, you can leave the bottle home and only carry a small quantity that you can dilute while in the woods. One bottle, when used this way, will last FOREVER. (I tried a new scent that I don't like and, three months later, I am still using it because I can't go through it fast enough to replace it).
Plus, because of its versatility, you need not carry any other soap and can save considerable space in your backpack.
As far as the ingredients are concerned, the concentrate is made using well-sourced ingredients such as coconut oil, organic olive oil, palm kernel oil, etc. The brand doesn't test on animals, and the product formula is entirely cruelty-free.
The only downside is that most options are scented, so it is not suitable for use in the woods as its strong scent can bears or other larger animals. For such scenarios, opt for an unscented product. (I believe you can order it unscented, but I've never seen it in stores.)
---
Prior to ditching shampoo entirely, I loved Lush Shampoo bars. The primary job of shampoo should be to leave your hair feeling clean without drying them out or causing irritation to the scalp. Even though not an SLS-free shampoo, the Lush shampoo bar excels at moisturizing your hair without drying out your scalp. The hair feels noticeably softer and volumized after a gentle wash using a Lush shampoo bar.
This shampoo bar is not my choice for the woods for its dose of scent and non-natural ingredients. But for general outdoor travel in dry weather conditions, the oil-rich shampoo seems to help protect my hair from frizz and drying out.
Plus, the shampoo also lasts for a substantially longer time than regular shampoo bottles. It takes up less space and is thus a fantastic little bar to carry in your grooming kit!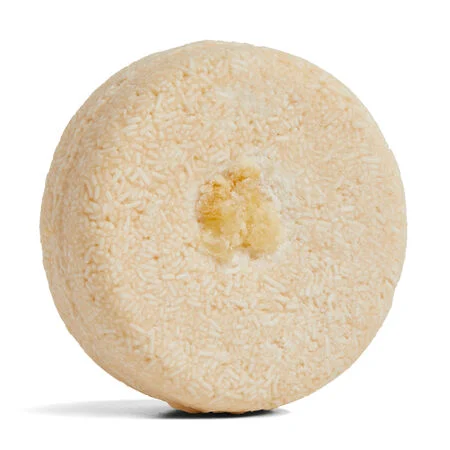 ---
I love brands that care about the environment and are thoughtful enough to package it in environment-safe substances. Unfortunately, many eco-friendly shampoo and conditioner bars are packaged using materials that are not zero-waste or eco-friendly. But Ecoroots is an exception as it uses no packaging, and the bar itself is a zero waste shampoo.
The bar is handmade using vegan ingredients that are entirely free of silicone, phthalate and paraben. They do not use palm oil, and the bar is travel-friendly.
It also lathers well and helps clean greasy hair effortlessly. For conditioning, you can pair this bar with an Ecoroots conditioner bar, and your hair will feel soft and nourished.
Just like other bars, it is long-lasting, travel-friendly and compact. It isn't great for camping though: it's scented which can attract animals and shampoo bars are a little bulky.
The Public Goods shampoo is the best eco shampoo on this list for how well it lathers. The shampoo does not strip away essential oils from your scalp. In fact, the essential-oil-rich shampoo made using oils of orange, rosewood, grapefruit, etc., leaves your hair feeling soft, strong and well-hydrated.
I also love this eco care shampoo because it uses a natural scent that is not too overpowering but still feels refreshing. Synthetic scents not only affect the health of your hair, but their strong fragrance does not suit outdoor use.
Thus, if space is not a concern for you, or you don't mind packing some shampoo in a travel-sized bottle, this is a great shampoo for everyday and outdoor use.
Public Goods
Pros:
Vegan-friendly

Gluten-free, paraben-free, sulphate-free

Only uses natural fragrance

Affordable
Cons:
Not too compact for travel
Find Now
---
Acure is one of the eco-friendly shampoo brands that produces shampoos and conditioners that are excellent for everyday use. The emphasis is on using all-natural, toxin-free ingredients that retain the scalp health and complement all hair types.
Even a small quantity of the product is enough for getting a good lather, and the conditioner leaves the hair beautifully moisturized.
Acure can be a great starting point for those who want to opt for an earth-friendly shampoo and conditioner that comes at an affordable price.
It can also be used in the woods and on hikes of shorter durations where versatility or compactness of the shampoo is not an essential requirement.
---
Honestly, Yarok is kind of a designer-style eco shampoo. It's quite expensive, but it still makes the cut simply because of how wonderful it is as a shampoo. It uses 100% natural ingredients and nourishes your hair well. It primarily uses grapeseed, macadamia nut and primrose fortified with vitalized water. This combination does not leave your scalp dry and inflamed.
Animal lovers would appreciate the fact that the shampoo is cruelty-free and entirely vegan. A portion of the proceeds of this shampoo is contributed towards the protection of the Amazon rainforest.
Thus, if you are genuinely considering making a switch to the best eco-friendly shampoo, do not look beyond the Yarok. And even if you can't take it with you to the woods, you can use it to rejuvenate your hair once you're back from an outdoor trip!
---
If you want the best biodegradable shampoo that is truly cut out for the woods, you shouldn't look beyond Campsuds. It is an excellent multipurpose liquid that can be used as a shampoo, soap, dish cleaner or clothes cleaner. Its formula suits all types of water.
Even a small drop lathers well, making even a small 2 oz bottle last a substantial amount of time. The all-natural ingredients clean the greasy outdoor hair effortlessly. It uses natural fragrances that are mild yet refreshing. Overall, the use of safe ingredients means that it suits all types of skin and hair and can also be used by children.
Since Campsuds is made for the outdoors, it comes in small bottles that can easily fit inside a backpack. The versatility of Campsuds also prevents the need to carry multiple cleaning products.
Campsuds
Pros:
Versatile

Ideal for outdoors and backpacking

Budget-friendly

Works on all types of hair

Compatible with all types of water
Cons:
None, if you want to use it outdoors
Find in US
Find in Canada
Sea to Summit is yet another brand that produces some of the most useful outdoor-friendly products. The Sea to Summit Wilderness Wash is similar to Campsuds as it can be used to clean your hair, body, dishes and fabric. Both Campsuds and the Sea to Summit Wilderness Wash are biodegradable and do not employ any harsh chemicals or added scents.
The small difference between this product and Campsuds is that this one lathers a bit less. The lack of a good lather leaves the hair feeling less dry and does not irritate the skin. But for other uses like cleaning dishes or washing clothes, particularly in saltwater, it takes a bit longer and a bit more liquid concentrate to get it to lather well.
The Sea to Summit Wilderness Wash is also a bit more expensive than Dr. Bronners or Campsuds. But for use on hair and skin, I find the Sea to Summit Wilderness Wash feels slightly better than generic all-purpose cleaning concentrates like the Dr. Bronners' or Campsuds.
---
Product Considerations for the Best Eco-friendly Shampoo
This section goes over what to consider when choosing an eco-friendly shampoo.
Ingredients
There are many ingredients in particular that we try to avoid when choosing an eco-friendly shampoo: sulphates, phthalates, palm oil, parabens, ammonium and more. Below I'll dive into detail on three in particular.
Sulphates
Sulphates are a chemical often used in household cleaning products. In shampoo, there are two common sulphates: sodium lauryl sulfate and sodium laureth sulfate (known as SLSs). These are what give shampoo its lather, which is why environmentally friendly shampoos don't lather as well – they don't have the SLS chemical specifically added for lathering!
SLSs are irritating to the eyes, which is why getting regular shampoo in your eyes stings so much. Besides that, SLSs do not pose a health risk if used as directed. SLSs also aren't terrible for the environment; it will biodegrade (break down into nontoxic chemicals naturally) and it doesn't bioaccumulate either (build up in water sources or inside a person).
That said, most SLSs are derived from petroleum (a small portion are derived from 100% plant sources). Typically when we're considering environmentally, we want to stay away from chemicals that are synthesized from petroleum, as the act of extracting oil and refining it into everyday chemicals is terrible for the environment (hello oil spills and greenhouse gases!).
You can read more about sulphates in this post and this post.
Phthalates
Phthalates are chemicals used to make plastic more durable and are also called "plasticizers". Phthalates have a few functions in shampoo; most notably, they improve spreadability and make fragrances last longer.
Phthalates are an "environmental concern because phthalates are hepatotoxic, teratogenic, and carcinogenic by nature" (source). They do not readily biodegrade and
There are a few documented side effects of prolonged contact with phthalates, like hormone disruption, immune suppression and heart conditions (source). Some forms of phthalates are already being removed from consumer products in Canada, the US and the EU over health concerns (source).
Palm Oil
The biggest issue with palm oil is that its demand is fueling deforestation and habitat loss across the world. Palm oil comes from the fruit of oil palm trees, which are grown across huge acreages of recently cleared forests. This, in turn, in fueling the number of species at risk in these regions and contributed to greenhouse gases (source). Overall, let's stay away from palm oil!
Vegan Ingredients
In addition, you may see products listed as "vegan" and/or "cruelty-free". If the product is listed as vegan, that means there are no animal products in the product. If the product is listed as "cruelty-free", that means the product was not tested on animals.
Packaging
Consider the packaging of the shampoo. There are some great eco-friendly shampoos that, in addition to using natural ingredients, also package their products without plastic. Meanwhile, there are equally great shampoos that are still using plastic packaging. At the end of the day, in environmental stewardship it is more important to make the good choice most of the time than it is to make the best choice some of the time. So if your favourite natural shampoo comes in plastic, well, it's still better than Pantene!
---
Product Considerations for Camping Shampoo
Size and Compactness
If you'll be going into the wilderness: When travelling in the backcountry, the biggest factor you should consider is the size and weight of the products you put into your backpack, and shampoo is not an exception to it. For this, it is best to carry shampoo in the following ways:
Bar
Shampoo carried in a small travel-sized container/bottle
All-purpose soap concentrate in travel-sized bottle
Versatility
When backpacking, a versatile multipurpose product is preferable to even the most lightweight single-use product Thus, an all-purpose cleaner like the Campsuds or Dr. Bronner's liquid concentrate or the Sea to Summit Wilderness Wash that also serve as a body soap, dish cleaner and fabric cleaner is far more preferable than carrying individual small travel-sized containers of each of these items.
Ingredients
When venturing in the woods, you should ensure that you do not carry any material that leaves behind a toxic or chemical footprint. For this reason, it is imperative to choose a shampoo that uses 100% natural ingredients and is fully biodegradable (like Campsuds).
Scent
Artificial fragrances are highly overpowering and can easily attract unwanted visitors like bears. Therefore, for the woods, it is best to take along an unscented shampoo or a shampoo that uses mild natural scents. For this purpose, carrying Public Goods shampoo in travel-sized containers or a non-fragrant outdoor-friendly Sea to Summit Wilderness Wash is your best bet.
---
How to use Shampoo in the Woods
Using the shampoo with proper care in the woods requires a lot of practice and mindfulness. Most people just don't wash their hair. But if washing your hair is what helps you feel comfortable in the woods, then go for it – just follow Leave No Trace principles:
Even eco-friendly shampoos that are marked as 'biodegradable' cannot be used directly in the water. Here is how you can wash your hair in the woods when you're on long trips. Make sure you use an eco-friendly, fully natural, biodegradable shampoo. I recommend Campsuds for this.
Get your hair wet. This can be done directly in the lake/river.
Take a TINY bit of shampoo and lather away on land. I really mean tiny – a dime-sized drop or smaller. This stuff is really concentrated so you need a very tiny amount.
Rinse. Now for rinsing… this is the hardest part. You can either bring a camp shower (more on that below) or use a pot/barrel and rinse your hair out like you're at the hairdresser.
Camp shower method: A camp shower is basically a big bag you fill with water and hang from a tree. It has a nozzle at the bottom that opens and water pours out. You can rinse your hair out underneath the water. If you're doing this, ensure you've set up the shower at least 200 ft away from the water and have dug a small hole underneath the shower. That way, when you're done, you can bury the soapy water.
Hairdresser method: Alternatively, you can use two pots / barrels to rinse your hair. One has clean water in it and the other catches the soapy water. This method is difficult if you're solo, but if you have a partner/friend it works well. Your friend pours water over your head while you scrub the shampoo out of your hair.
Although I call it hairdresser style, this method works better if you're kneeling, rather than on facing upwards. I'll make a video demonstrating this.
---
Final Thoughts on the Best Eco-friendly Shampoos
Using the best eco-friendly shampoo is a great way of improving the health of your hair. It also helps reduce chemical discharge that impacts marine life and causes other environmental hazards. Thus, whether you want to start by using an eco-friendly shampoo for camping and hiking trips or whether you want to make a permanent switch even in your daily life, I hope that this article helped you figure out the best sustainable shampoo and conditioner for your needs.
To recap, my favourite environmentally friendly shampoo is by Ecoroots because it is biodegradable, vegan, plastic-free and works super well. For camping trips, I prefer Campsuds because it is scent-free and biodegradable.