In comparison to any major city, the restaurants in London, Ontario may appear underwhelming. That's largely because a Google search for "restaurants in London Ontario" will do one of two things:
Moxies? East Side Mario's? Here are ALL the chain restaurants you could find in any other mid-sized city
Do you mean London England?
But I am here to tell you London punches above its weight in restaurants – you just need to know where to look. Having lived in this city for the majority of my life, including my high school and university years, I've accumulated a great list of underrated and overlooked restaurants in London, Ontario. Try out these joints for great food in fun places at good prices, and support some local businesses!
---
18 Best Restaurants in London, Ontario
All of the restaurants in this post can be found on the map below. I've also included my favourite cafes in London on the same map. Since I spend the bulk of my time in Old North, Old South and downtown, the majority of the restaurants and cafes are there as well.
---
Brunch & Lunch Restaurants in London Ontario
Brunch is my favourite meal of the day, so I've tried just about every brunch/lunch spot in the North/Old North/Downtown/Old South vicinity. Here are my five favourites.
I love The Early Bird for brunch. They have delicious eggs Benedict options and crazy French toast orders. The staff are friendly and the vibe is refreshing. It's located downtown near Budweiser Gardens and the Greyhound station. It's a bit expensive so I don't go often ($20 for a meal and coffee), but a fun place to go to catch up with friends or uncover the events of the night before.
This diner was a staple in my childhood. You're sure to see a large gathering of middle aged and older Londoners (the place has been around for some 40 years and once you start going, you don't stop), but it's also a popular place when you need a good recovery meal after a night out. Huge portions, cheap prices, delicious food. It's north of campus across from Masonville mall.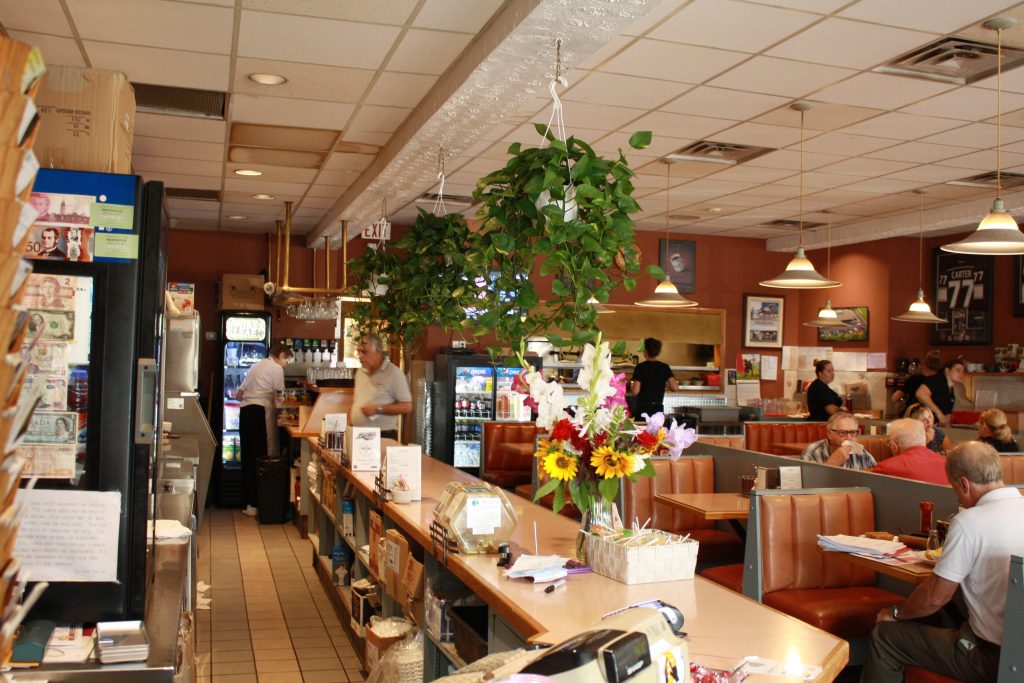 Rumour has it The Bag Lady is licensed to be a convenience store, not a restaurant, so it's a tiny, tiny eclectic place. The furniture and wall decorations look like they've been acquired from various yard sales and over the last few decades. Every dish and tea cup is different; you'll find classic 90's childhood toys all about, and the food is really, really good. Wholesome sandwiches, homemade soups and salads. This one is a bit harder to access without a car – it's at Maitland and Pall Mall (a ten minute walk from Richmond and Oxford).
This was my favourite lunch spots in high school – humungous, healthy sandwiches, tons of salads and desserts and all reasonably priced (I usually get a huge sandwich and bean salad under $10). Being located off of Queens and Richmond, it's a quick bus ride from campus, but considering how busy everyone seems to be during the week, most don't leave campus for lunch. But if you need to go downtown during the week, I'd highly recommend stopping here.
The main floor of the market has tons of different food stalls you can choose from. There's Chinese, Indian, fish and chips, a great gourmet salad place, plenty of nice desserts and much, much more. There's also a ton of local produce, meat and eggs to buy. Around the perimeter and on the second floor mezzanine you'll find seating. The prices range from $6 to $12 for a meal, depending on what you're eating. The market is across the street from Budweiser Gardens and the 2 Dundas bus goes right by it.
Shmokey BBQ
Shmokey BBQ does the best BBQ in London. Period. If you're vegetarian, vegan or not a huge fan of meat, skip this place. But if you like sweet ribs, tender steak sandwiches and juicy pulled pork, this is the place for you. I like to round out my meal with a glass bottle of coke. Plus, the owners are incredibly sweet (or maybe I just go there too often…).
---
Dinner Restaurants in London, Ontario
This restaurant has great food and all, but I like going for the huge selection of craft beers and ciders. A meal with one drink will come in at about $20-$25. This fun place is on Talbot, kitty-corner to Budweiser Gardens.
Wortley Village is a quirky neighbourhood just south of downtown. There's a lot of food places and cafes, but my favourite is Plant Matter Kitchen. As the name suggests, the food is plant based, but more than that it's fresh, healthy food without additives or preservatives, and their aim to operate sustainably. So, it's good food for your body and the planet! I'm not vegan myself, and a lot of the friends I've gone with aren't vegan either, so don't let "plant-based" scare you off. Being sustainable and healthy, it's a bit pricey. Expect to pay $20-$25 for a meal and drink.
David's Bistro is the #1 rated restaurant in London on TripAdvisor, and the food lives up to the hype. The European-style bistro has incredibly friendly staff (and sometimes you'll see David himself) and each of the dishes is delicious. David's also has an excellent selection of wine. I often came to this restaurant with my parents before shows at the Grand Theatre (which is stone's throw away). It's pricey, but is well worth it.
The Church Key is a little cliche since it is epitome of dinner date / special occasion dining – classy but not unaffordable, good wine selection, intimate mood without being overtly romantic. But hey, they make great food. The lamb dish I had here is one of the best I've ever had. This restaurant is located across the street from the Grand Theatre, so it's a popular pre-show dinner. I've also heard their brunch is good, though I've never tried it myself.
This is Thai food with a twist. The food itself is amazing (springs rolls and street-style Pad Thai are top notch) but it's got a suave and sophisticated atmosphere to boot. And since it's right downtown, it's a good choice for a meal before a night out with friends. It's a touch pricey (or at least, pricier than other Thai restaurants) but I think the location and interior make up for it. Also they have some rocky desserts and cocktails.
This is a great place for locally sourced, organic meals that are super delicious. But unlike Plant Matter Kitchen, the food isn't exclusively plant based – there's free range chicken and water buffalo on the menu and a really good goat cheese salad. The Root Cellar also has some great craft beers. And the interior is super cozy – the brick arch makes you feel like you're really in a root cellar.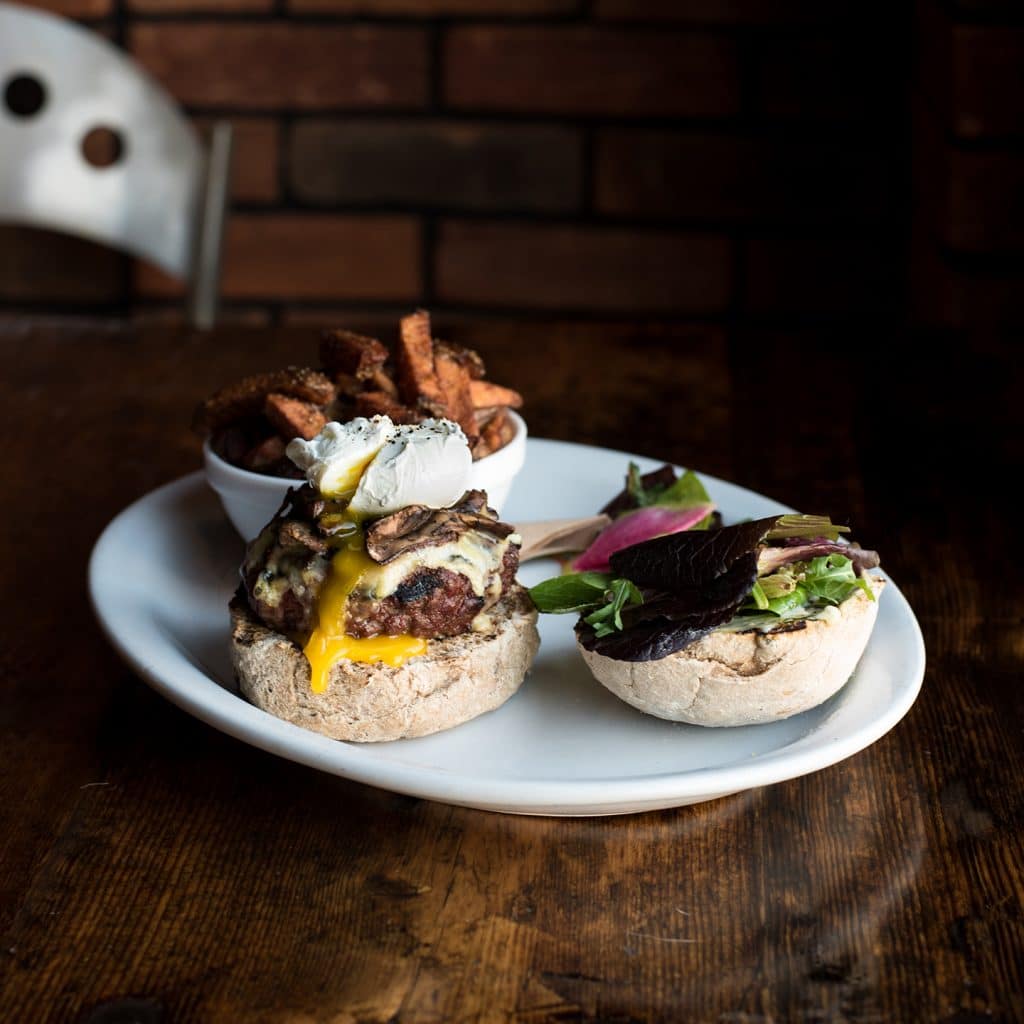 The Tasting Room is like a wine bar that happens to have great food. There's a great selection of red and white wine, a delicious artichoke dip, and a few awesome entrees (I like the duck and the beef tenderloin). The ambience is nice (a tad upscale) and it's located right downtown, so perfect for dinner before hitting the town.
Garlic's is another staple in the London Ontario restaurant scene. Apparently it's considered the most romantic restaurant for date nights. Wish I could say I was that classy – my favourite things on the menu are the Garlic Frites and the Lamb Shank (not exactly the cutest date meal). Some of my friends say it's overpriced, but I actually find it one of the more reasonable restaurants for fine dining, especially out of those in the downtown core.
Definitely don't come to Spageddy Eddy's if you're on a low-carb diet or avoiding gluten. This Italian joint has HUMONGOUS portions of creamy pasta, succulent meatballs, chewy garlic bread and more. The decor is cute with a touch of hipster vibe, and the cozy booths are perfect for a date (my first real date with my boyfriend was actually here!).
Another classy fine dining restaurant in the downtown core (is the market saturated yet?) is The Black Trumpet. They have an awesome garden for seating and an extensive wine list. There are some classics here that I like (the beef tenderloin and lamb, of course) but I was surprisingly pleased by the Lamb Shank Shawarma. Personally, I think it's a tad overpriced and I've only gone the last few times for company-related events, but I definitely think it's worth it in the summer when you can sit in the garden.
Apparently this is the best restaurant in London for authentic Thai food – no North American style Pad Thai here.I I say 'apparently' because who am I to judge if food is authentically Thai? I love that the restaurant is locally owned and operated, and how cozy the inside of the restaurant is. Plus, the dishes are super affordable for what you get. Personally, I love the green curry.
One meal still on my to-do list is brunch at Idlewyld Inn. The inn is modelled after a Victorian Mansion and has a beautiful patio. It is a bit pricey, but I'm willing to make the splurge for the patio. Will check it out as soon as I can and update accordingly!
---
To close, I hope this inspires you to try out a new restaurant or cafe in London. Maybe you'll find your new favourite restaurant in London, Ontario and the city won't seem quite so dull anymore. This is an evolving list, so check back for additions.