When it comes to clothing, I have a singular guilty pleasure: fleece jackets. I love them for the comfort and coziness that they provide; they add warmth, feel incredibly soft on the skin and are super easy to layer. Plus they are relatively quick-drying, making them excellent for camping trips.
But finding the best fleece jackets for women is not easy (unless you're like me and resolve to just buy them all). So in this article, I have reviewed the 12 best fleece jackets for women and given pointers on factors to consider when buying fleece jackets.
As I stated earlier, I love fleece jackets, and therefore each of the best hiking fleece jackets listed here has been personally tried and tested so that you can benefit from my experience and only spend on ones that are right for you.
---
Comparison Chart: Best Fleece Jacket for Women
Before we dive into the many high-quality fleece jackets in greater detail, you can go through the comparison chart below for a quick overview of my top picks. I have added my notes on what I like about each fleece jacket.
The fleece weight stated below does not indicate the jacket's weight but is an important factor that determines the warmth and breathability of the fleece jacket. You can read more about it in the section on 'Buying Advice' below.
This post may contain affiliate links. If you make a purchase through one of these links, I may receive a small commission at no extra cost to you. Your support is much appreciated! You can learn more by reading my full disclosure.
---
My Top Picks for Fleece Jackets
⭐ Best Fleece Jacket Overall: Arc'teryx Covert Cardigan / Patagonia Better Sweater Full Zip
🎒 Best Backpacking Fleece Jacket for Ultralight Backpacking: Patagonia Micro-D Snap T
🏋️‍♀️ Best Heavyweight Fleece Jacket: The North Face Denali 2
☁️ Best Lightweight Fleece Jacket: Arcteryx Kyanite AR Hoody
💸 Best Budget Fleece Jacket: Kari Traa Olga Fleece / The North Face TKA Glacier Full Zip Jacket
💜 My Favourite for Cozy Days: Kuhl Flight Jacket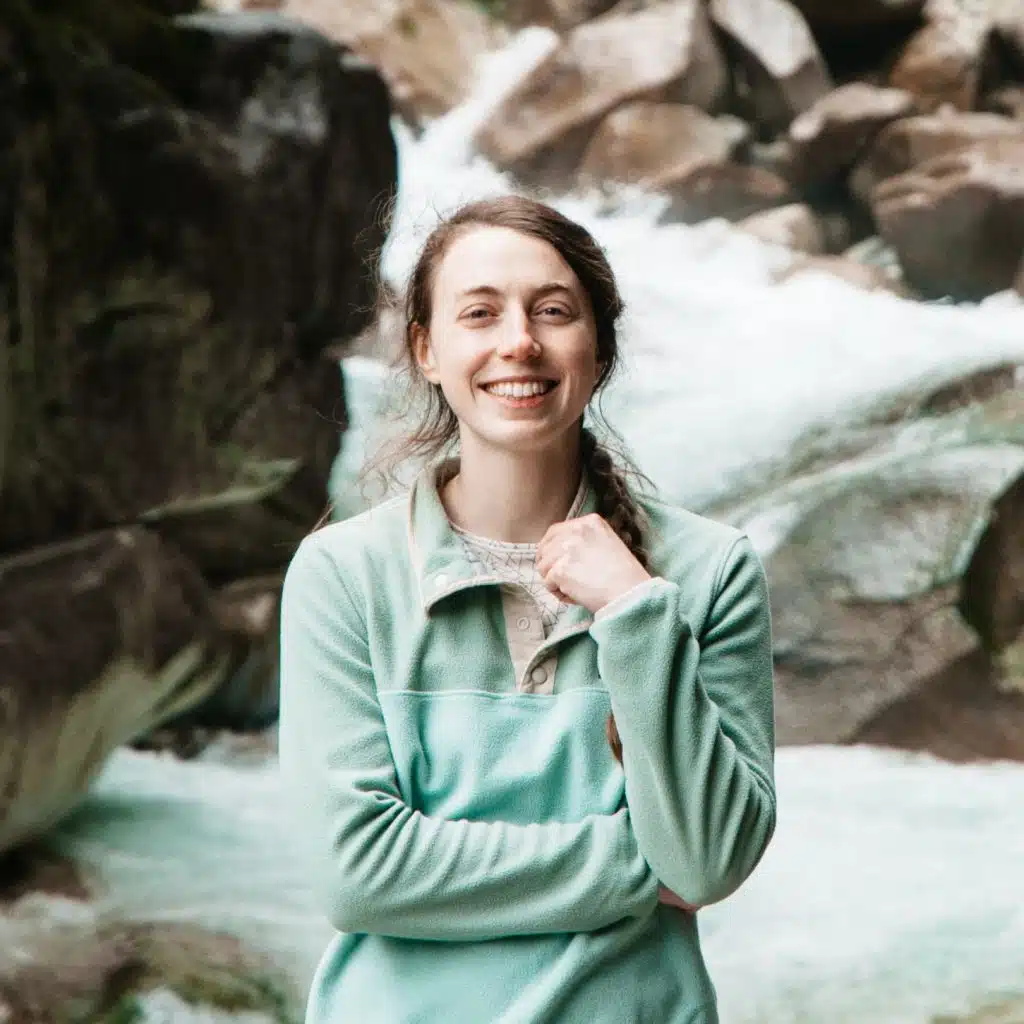 ---
Best Fleece Jackets for Hiking: Buying Advice
When looking for the best hiking fleece jacket, it is important to take into consideration the following factors:
Fleece weight denotes the thickness of the fleece. It is measured in g/m2 and is generally categorized as follows:
Fleece weight
Lightweight fleece (100 g/m2): This fleece is the thinnest and hence often the most lightweight, breathable and suitable for high output activities. It allows excellent air ventilation while also providing adequate warmth. My favourite lightweight fleece jacket is Arcteryx Kyanite AR Hoody.
Midweight fleece (200 g/m2): This fleece thickness combines the best of warmth and breathability and is often the most ideal for hiking and backpacking. It is also far more versatile than lightweight and heavyweight fleece jackets, and hence it provides the best bang for the buck. This fleece jacket also makes layering easy and can be used on its own or even as a mid-layer. Most midweight jackets reviewed below will prove to be excellent investments, but my favourite ones are the Arc'teryx Covert Cardigan and Patagonia Micro-D Snap T.
Heavyweight fleece (300+ g/m2): This fleece thickness is best for trapping maximum warmth inside the jacket but is also the least breathable. It is excellent for battling chilly weather conditions but will make you clammy when used in high output activities. A heavyweight fleece jacket is thus most suitable for camping around a fire.
⭐ I rarely wear a heavyweight fleece jacket, but the one I am fond of for autumn camping is The North Face Denali 2.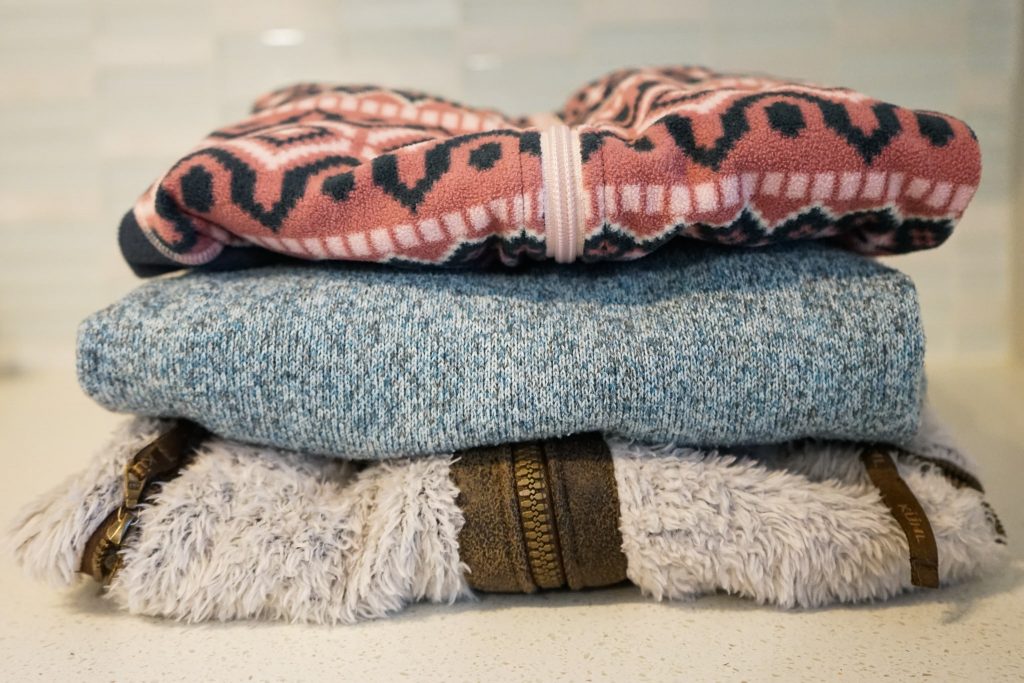 Zipper vs Pull Over
The best fleece zip-up jacket employs a full zipper as closure and adds a lot more versatility to the jacket. You can regulate the warmth inside the jacket by partially or fully zipping down the jacket as per need. It is also incredibly easy to take off and wear. More often than pullovers, full zip fleece jackets have hands pockets.
The Arc'teryx Covert Cardigan, which is full zip and had three zippered pockets, is my most favourite camping fleece jacket.
Pullover jackets, on the other hand, are usually cheaper than zip-up jackets. They pack super small and are lightweight. When I'm doing a long hike, I prefer pullovers because I don't like how the full zipper feels against my stomach underneath a hip belt.
⭐ Patagonia Micro-D Snap T is one of my favorite pullover fleece jackets, especially for ultralight backpacking.
Fit
The jacket's fit is an important consideration, especially when determining the use of the fleece jacket and the ease of layering.
A regular fit or a standard fit jacket considerably improves ease of movement. It makes the fleece jacket feel super comfortable for extended use. A regular fit also rarely rides up during outdoor activity and suits most body types.
As far as standard fits go, I most often Arc'teryx Covert Cardigan or The North Face TKA Glacier Full Zip Jacket
On the contrary, a slim-fit jacket is easier to layer and does not feel too bulky. However, getting the size right requires thoroughly going through the size chart and the jacket reviews. Some slim-fit jackets are also beautifully designed to promote mobility.
⭐ My favorite slim-fit jackets are Kari Traa Olga Fleece Jacket and Patagonia R1 Pullover.
Additional Features
In addition to the three primary factors above, it is worthwhile to look into the features added to the jacket to enhance its user experience. The two features that I consider important are:
Pockets: The number of pockets and the placement can immensely enhance or diminish the camper experience. Having at least two pockets on the front and one on the sleeve is excellent for stashing frequently used and easy-to-lose items (like your phone or lighter). The Arc'teryx Covert Cardigan has three excellent pockets and is amongst the best fleece jackets for hiking.
Hood: A hood is an excellent addition for extra coverage and warmth, especially if you frequently hike in chilly, windy conditions. But the addition of a hood adds extra weight to the jacket, makes it harder to layer and can often prove to be an unnecessary burden, especially if you hike in areas that do not need the added head coverage.
Hence, I do not normally opt for fleece jackets with hoods. But, my one favourite hood jacket is Arcteryx Kyanite AR Hoody. It stays fairly lightweight even with the addition of the hood.
---
Best Hiking Fleece Jackets: Reviews (Personally Tried & Tested)
Now that you have all the information on choosing the best fleece jackets let's look at how the 12 best fleece jackets fare. Go through the fleece jacket reviews thoroughly for more clarity on the unique advantages of each of these best-rated fleece jackets.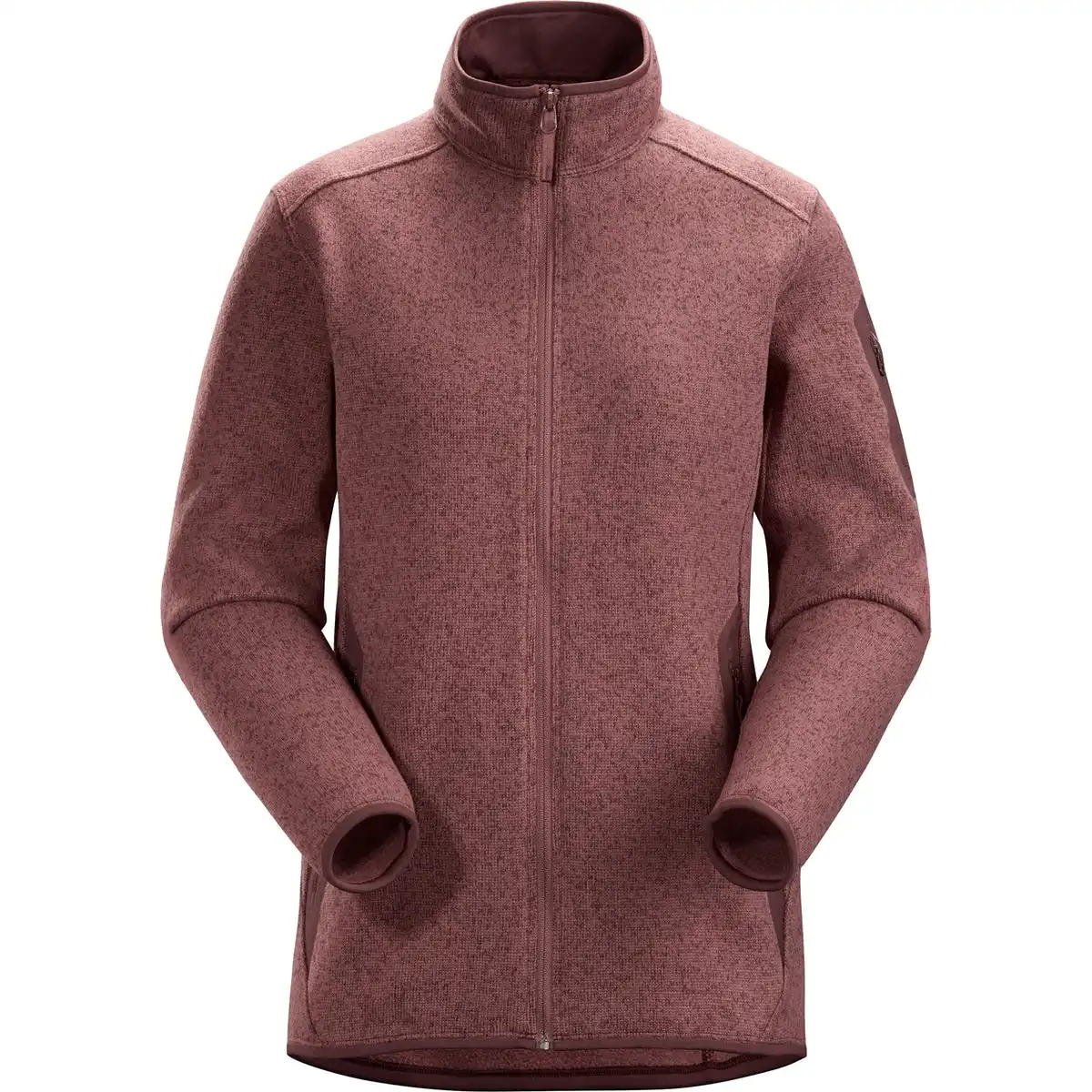 Arc'teryx Covert Cardigan
Material: Alpenex II (100% polyester)
Fleece Weight: Midweight
This is my favourite sweater for camping trips. It gives just the right amount of warmth, doesn't feel heavy at all and looks clean and elegant.
Find in US
Find in Canada
The Arc'teryx Covert Cardigan is one of the best women's fleece jackets in the market. It's my favourite fleece jacket for camping trips. It gives just the right amount of warmth, doesn't feel heavy, and looks clean and stylish.
In fact, this fleece sweater feels soft and comfortable. You can easily wear it for hours together without feeling too warm or stuffy. Its thermal regulation with its midweight fleece functions effectively even on chilly nights.
You can move freely wearing this fleece jacket thanks to its underarm gussets, body-aligned sleeves and a simple regular fit.
The pockets on this jacket are also really handy and look super stylish! Thus, if you are looking for quality fleece jackets from a trusted brand, you can trust the Covert Cardigan to deliver.
---
Top Pick
The Patagonia Better Sweater Full Zip Jacket is my second favourite camping sweater. I love its wool-like finish and fleece-like comfort packed in beautifully using recycled fabrics and fair-trade certified sewing.
In fact, what makes this the best women's fleece jacket for outdoor use is its effective thermal regulation. On chilly days, its cozy handwarmer pockets come in handy, and the wind flap that blocks away the chilly breeze feels like a lifesaver. But what's awesome about this jacket is that it's not too heavyweight and hence can also be relied upon in warmer spring conditions.
Plus, as the jacket features Raglan sleeves, you can also use it while backpacking. The seamless shoulders will prevent any chances of chafing on account of friction with your backpack.
Thus, overall, this jacket by Patagonia is one of the best outdoor fleece jackets for camping, backpacking and round the year use. (And travelling – for years this was my go-to sweater for flights since it has so many zippered pockets).
---
The number one factor that makes a fleece jacket the most suitable for hiking and backpacking is its lightweight. The Patagonia Micro-D Snap T is one of the lightest jackets on this list, weighing just 6.9 oz – mst fleece jackets weigh around 12-16 oz. At this point, I bring this sweater on 90% of my backpacking trips.
Thus, this is the best outdoor fleece jacket for those of you who love ultralight backpacking. But even if the overall weight of this jacket is low, the fleece used is still midweight. This means that you can trust it to keep you warm on cool spring evenings as well.
On warmer days, you can undo a couple of snap buttons and keep yourself well-ventilated.
I do miss having pockets, so if I'm not concerned about wear or size, I go with one of the sweaters above.
In terms of feel, the fabric is super soft and cozy, and you will love wearing this colourful fleece jacket, not only while hiking but also to keep you warm at home on cooler, laid-back evenings. But when ordering this jacket, you may want to consider sizing up as you may find that it runs small. Check the sizing guidelines before ordering.
---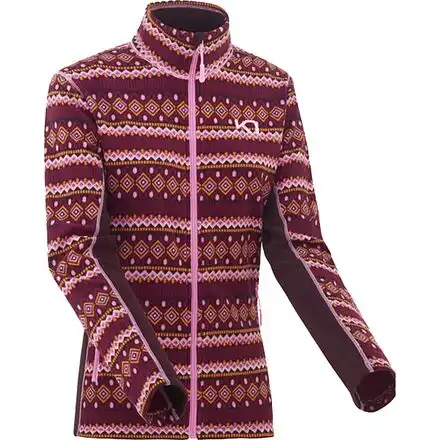 There are very few budget fleece jackets that perform as well in the outdoors as the Kari Traa Olga Fleece Jacket. I like it so much I have it in two colours.
This fleece jacket is super soft on the skin – one of the softest on the list – and fits really well when layering. Even with its full-sleeves and slim-fit design, the fleece jacket feels ultralight when worn. What's amazing is that it packs super small and can be easily stuffed inside a medium-sized backpack for multiday outings.
The midweight fleece is capable of keeping you warm in the winters but only when supported with more layers. I find it the most suitable for summer backpacking. Its high collar aces at keeping icy breeze away and securely locking warmth inside the jacket.
---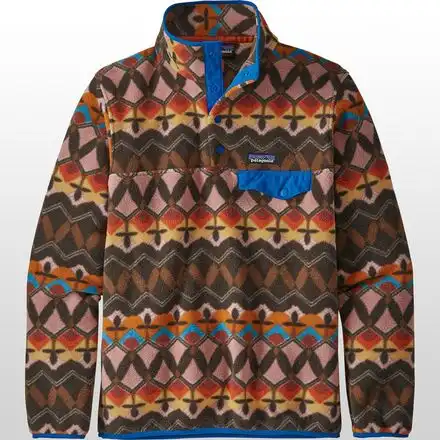 The Patagonia Synchilla Lightweight Snap-T is considered by many to be the best Patagonia fleece jacket for its design, feel and comfort. (I do not share that opinion.)
Thanks to the use of snap closure on the neck, this fleece jacket allows you to vent on toasty afternoons or button up to prevent the chilly breeze from getting in.
The fabric used is recycled double-faced fleece and hence feels super soft. The spandex on the cuffs effectively locks body heat. The design and the style are also quite attractive.
Personally, I find the oversized structure a bit bulky for hiking and camping. I would never take it on a backpacking trip as it packs way too big. I also don't like it for layering, as again, it is super bulky. That said, it's a cozy fleece jacket for sitting around the campfire and the designs are super fun.
---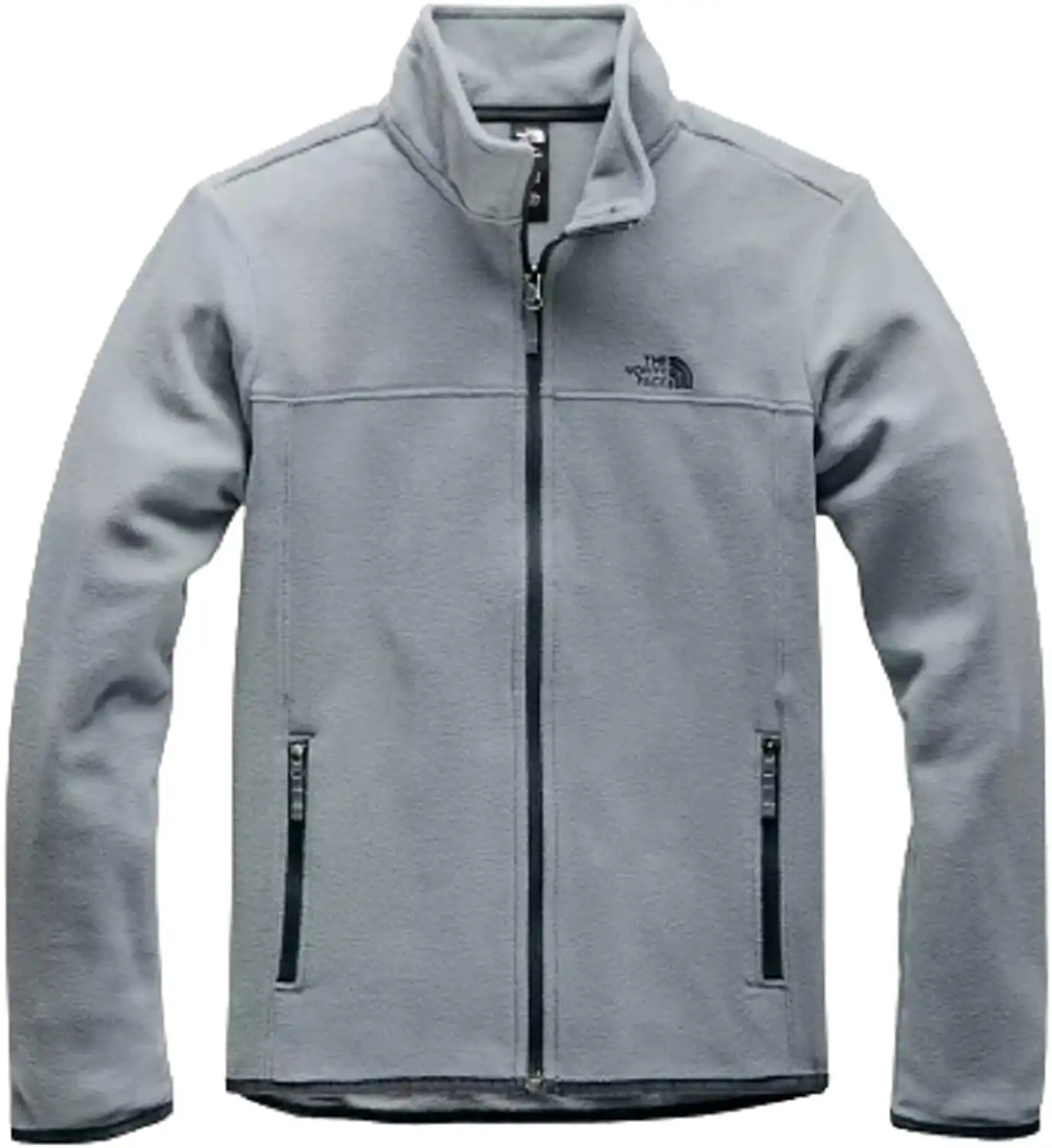 The North Face TKA Glacier Full Zip Jacket is the best cheap fleece jacket with a full-zip design. It was one of the first fleece jackets I had before I started guiding. This means that it is an excellent budget alternative to the pricier Arc'teryx Covert Cardigan or the Patagonia Better Sweater Full-Zip reviewed above.
Just like those two sweaters, this sweater locks body heat well with its elastic cuffs and hem. It even comes with two clean zippered pockets for quick access to frequently needed items.
The standard-fit of the sweater makes it super comfortable, and the casual style can also suit everyday use.
The only major area where it differs from the other sweaters is its fleece weight. The North Face TKA Glacier Full Zip Jacket uses a 100-weight fleece. Thus, it feels lightweight, is breathable and specifically complements hiking and backpacking.
Overall, it's a terrific budget fleece jacket option for hiking enthusiasts. At least when I had this fleece, it also came in a style without any zippers and this was an excellent sweater for layering. I can't find it online now, but keep your eye out for it.
---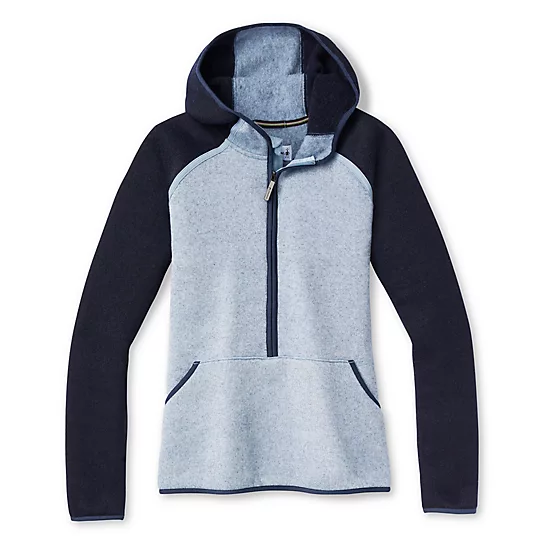 The Smartwool Hudson Trail Fleece Anorak uses wool fleece to pack a cozy and comfortable feel like no other pure fleece jacket.
It uses a zipper-pullover design. Thus, you can unzip the sweater to let in the air on warmer evenings or zip right up to lock your body's warmth inside the sweater. What's impressive is that even with the zippered closing, the sweater doesn't feel bulky and is also excellent for layering.
The sweater also features a kangaroo hand pocket to keep your hands from freezing in chilly weather conditions.
Plus, the combination of merino wool fleece and Polyester allows incredible breathability. Thus, even when performing strenuous physical activity while hiking, it won't lock your sweat inside the body of the jacket.
Thus, if you are looking for an unconventional fleece jacket and don't mind a wool fleece blend for extra comfort, the Smartwool Hudson Trail Fleece won't disappoint you.
---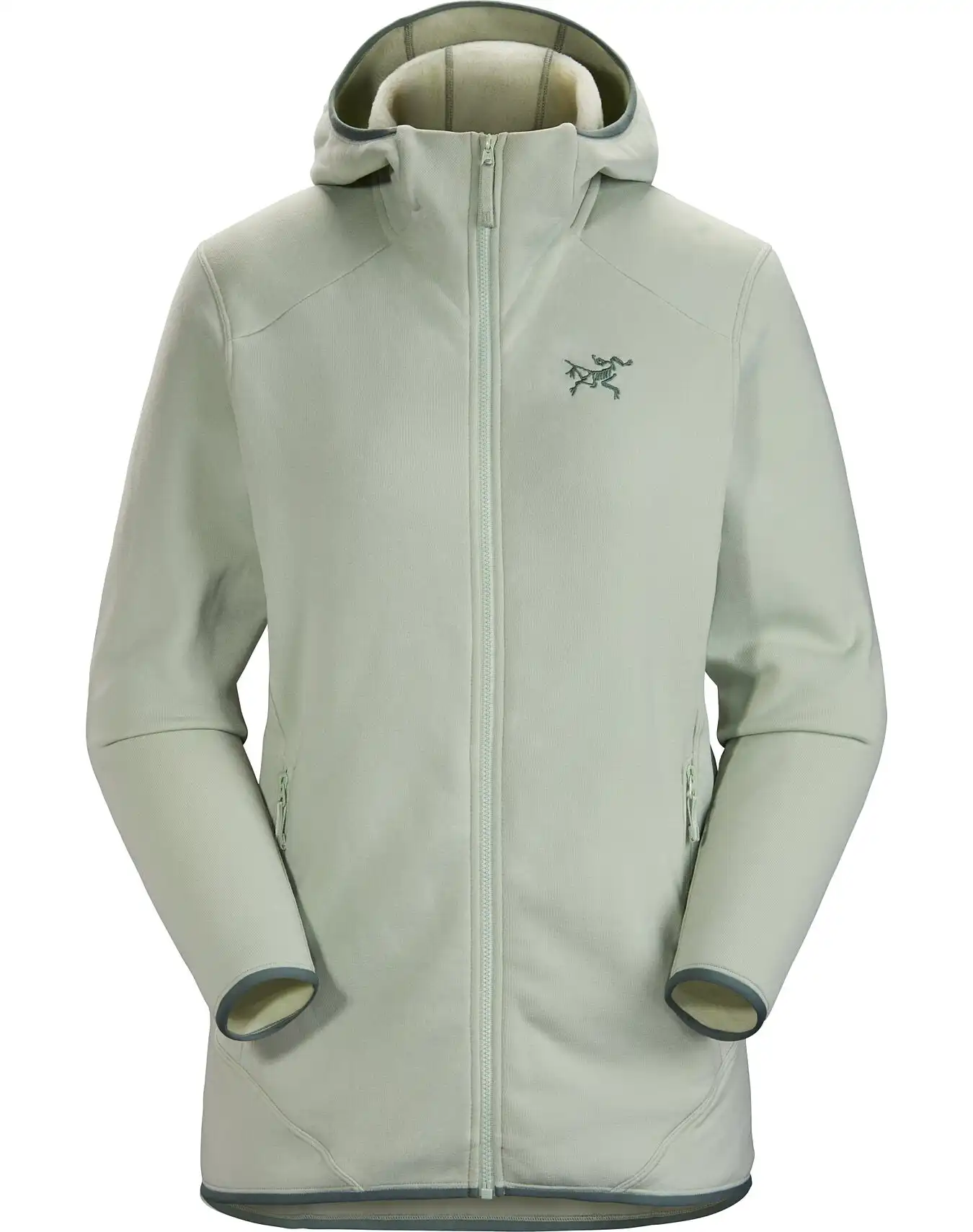 If you want a fleece jacket for trekking, you should definitely try out the Arcteryx Kyanite AR Hoody. This jacket is one of my most favourite hiking jackets for its outdoor-friendly design.
To begin with, this fleece jacket offers the best warmth and breathability. The combination of these two qualities, by themselves, make this jacket fit for chilly camping days, backpacking and hiking. Plus, the fabric is also stretchy and promotes impressive freedom of movement.
The formfitting structure of this fleece jacket allows easy layering. Moreover, on days when you don't intend to layer up, you can seek comfort in the added warmth of its in-built hood.
The only thing I don't love is the texture on the outside of the jacket. I know all fleece is made from plastic, but the smoothness of this hiking fleece feels… extra plastic-y to me. Not a deal breaker, but not as cozy as many of the other fleeces on this list.
Overall, if you want an outdoor hiking fleece jacket that provides ample warmth, comfort and allows easy layering, the Arcteryx Kyanite AR Hoody will give you your money's worth.
---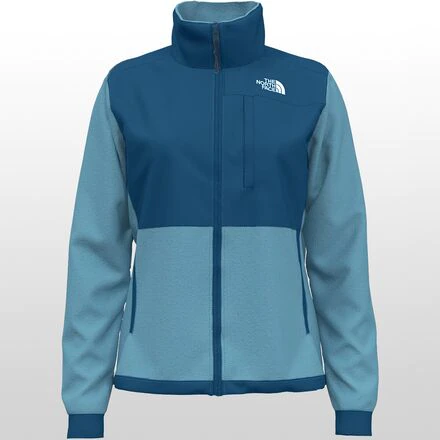 The North Face Denali 2 is a heavyweight fleece jacket made using a solid 350/m2 100% recycled polyester. A heavyweight fleece jacket is extremely warm and much less breathable than a lightweight or midweight fleece jacket. This means, that it does not support the physical movement as it has a tendency to keep sweat locked inside.
However, The North Face Denali 2 has effectively reduced the issue of trapping too much warmth inside the jacket by keeping the fit relaxed to allow air circulation. Moreover, the use of full zip also makes customizing ventilation needs much more convenient than a pullover.
This heavyweight jacket, thus, may not suit active backpacking like the other fleece jackets on this list, but it is an ideal companion for autumn camping around the fire. I really like to wear mine underneath a puffy vest in the late spring or early fall. I don't like how bulky this fleece feels underneath a full jacket, so it isn't a great one for layering in colder months or when it's raining.
Thus, if you are looking for the warmest fleece jacket to wear solo for casual camping or everyday use, that is durable and comfortable, The North Face Denali 2 is perfect for you.
---
The Patagonia R1 Pullover employs a midweight Polartec Power Grid (93% recycled polyester) fleece to offer great warmth and breathability. The fleece wicks moisture effectively and improves the versatility of this outdoor fleece jacket. I wear it as a sort of fleece sweater – base layer hybrid, as it's light and comfy enough to be worn without anything underneath.
You can use it for a number of outdoor adventure activities like skiing, snowboarding, trail running, in addition to employing it as a hiking and backpacking fleece jacket.
The jacket is slim-fitted, which makes layering easy. You can use it as a great mid-layer by pairing it with a thin base. But even if you use it on its own, its tall neck will keep you warm against chilly winds.
---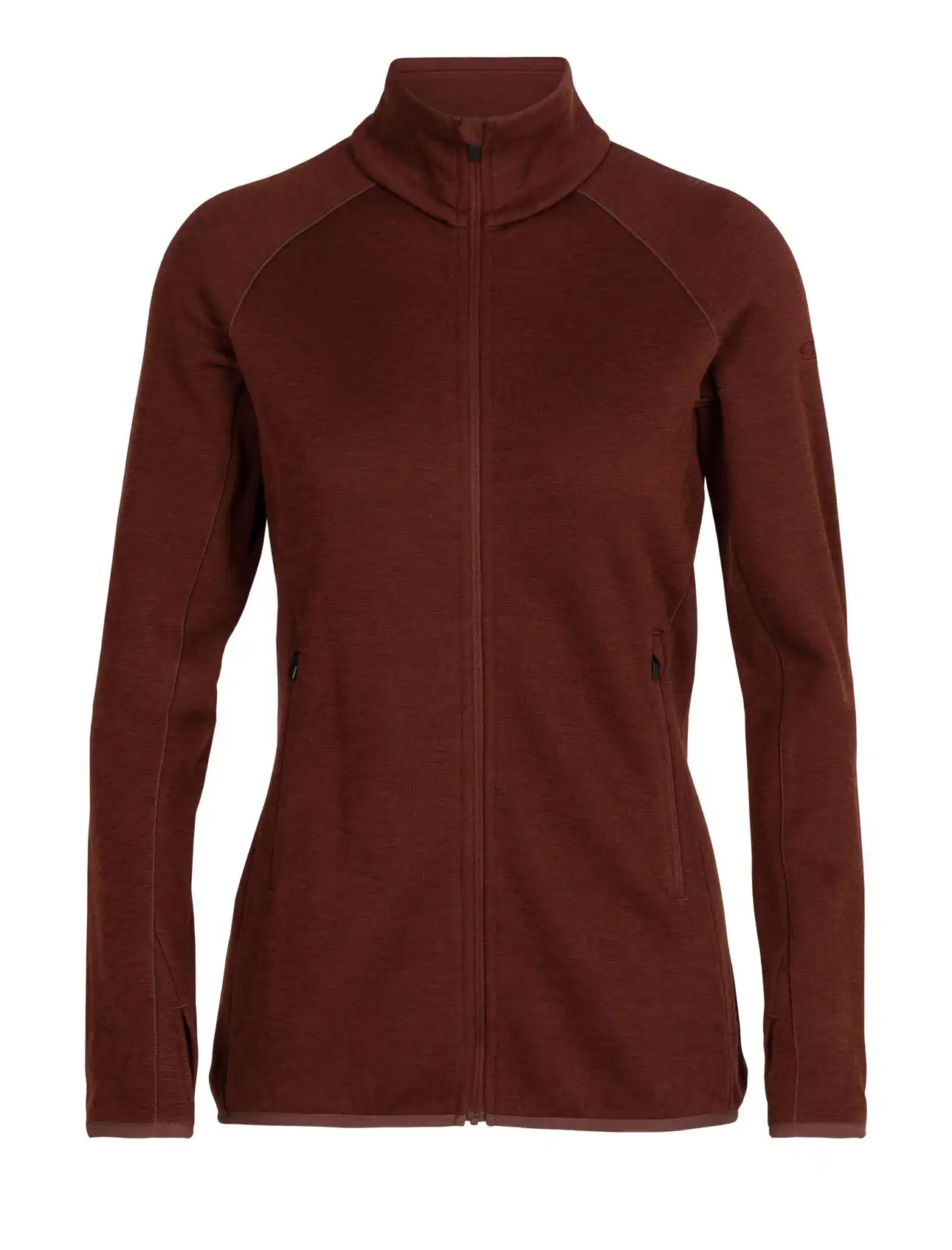 The Icebreaker RealFleece Jacket is not technically a fleece jacket and hence does not earn a place in the top 10 best fleece jackets for women listed above. I got this one in an attempt to improve my environmental footprint, after it was pointed out to me that fleece is made from plastic and not good for the environment.
It is made using RealFleece which is a fabric developed by Icebreaker. It is essentially made from merino wool, strengthened with fine elastane to act like fleece.
The real benefit of RealFleece is that it combines the goodness of the classic merino wool while also adding the practicality of fleece. Thus, the jacket feels extremely soft on the skin, can easily be layered and provides abundant warmth to help you tackle sub-zero conditions as well.
In addition to this, the fabric dries fast, comes with in-built anti-odour properties and excellent breathability.
The only downside of this 'fleece' jacket is that it won't last as long as a regular fleece jacket (fleece is made from plastic and inherently outlasts natural materials). But for those wanting to invest in an environmentally-friendly fleece-like sweater that fits well, supports outdoor activities and offers excellent warmth, opt for the Icebreaker RealFleece Jacket.
---
I'm kind of cheating by putting this one on the list as it's definitely too bulky to be a hiking fleece jacket. That said, it is the coziest, comfiest fleece I've ever owned. It's the fleece I wear on Sundays mornings or on long flights. I'll also bring it on short camping trips if I don't need to pack light.
The Kuhl Flight Jacket uses the softest ever midweight Italian fleece for optimal warmth and breathability.
The jacket enhances its style quotient to make it fit for flights with a two-tone design and micro-suede accents (at least, that's what I tell my friends – in reality, with the food on, I look like a cute little Yeti). To trap the body heat inside the jacket, the jacket has a smooth zip closure. For extra warmth in cold climate conditions, you can use the stowaway hood and thumb loops.
Thus, in my opinion, if you want a general travel jacket that could also work on a short camping trip, you should definitely opt for this ultra-cozy fleece jacket.
---
Best Hiking Fleece Jackets for Women: Final Thoughts
I hope that this article helped you gain better clarity on the different fleece jackets for women and that you know which one to use for hiking, backpacking, camping and everyday use. As stated earlier, my favourite fleece jacket for camping is Arc'teryx Covert Cardigan, and for ultralight backpacking, I use Patagonia Micro-D Snap T.