Are you looking for the best shirts for hiking? Well, I am here to help you with a thoroughly detailed guide on the best hiking shirts for women! I've been hiking and camping for the better part of my life and have used everything from old gym shirts to extremely fancy technical hiking shirts.
With two exceptions, I have personally tried and tested all the shirts for hiking listed in this post and therefore feel confident I can help you make the right choice.
If you already follow the blog, you'll know I started wearing merino wool hiking shirts almost exclusively, so I've dedicated a section specifically to merino wool. That said, there are also excellent synthetic hiking shirts I still love so I still have some recommendations there too.
---
Best Hiking Shirts for Women – Comparison Chart
Finding the best hiking shirts for women doesn't have to be hard. Simply go through the comparison chart below, where I have neatly laid out all the key specifications and zero down on one that meets your requirement. Then you can jump down to the detailed hiking shirts reviews below.
Best Merino Wool Hiking Shirts
---
Best Synthetic Hiking Shirts
---
Best Hiking Shirts for Women – My Top Pick
Best Merino Wool Hiking Shirt: Icebreaker Tech Lite II SS
This is a 100% merino wool hiking shirt that is durable, moisture-wicking, odour-resistant and oh so comfortable to wear. It's a bit expensive, but in addition to hiking you can also wear it casually with jeans or leggings.
Best Synthetic Hiking Shirt: Lululemon Swiftly Tech 2.0 T-Shirt
As I said above, I still prefer merino wool, however this is my favourite non-merino wool hiking t-shirt when I'll be doing really sweaty hikes in hot weather.
Best Synthetic Long Sleeve Hiking Shirt: Eddie Bauer Mountain Ripstop
The lightweight shirt with its thick fabric is excellent for protection against ticks and mosquitos. I'll usually bring a merino t-shirt to wear underneath and I put this on when going through brush or wooden areas that have bugs.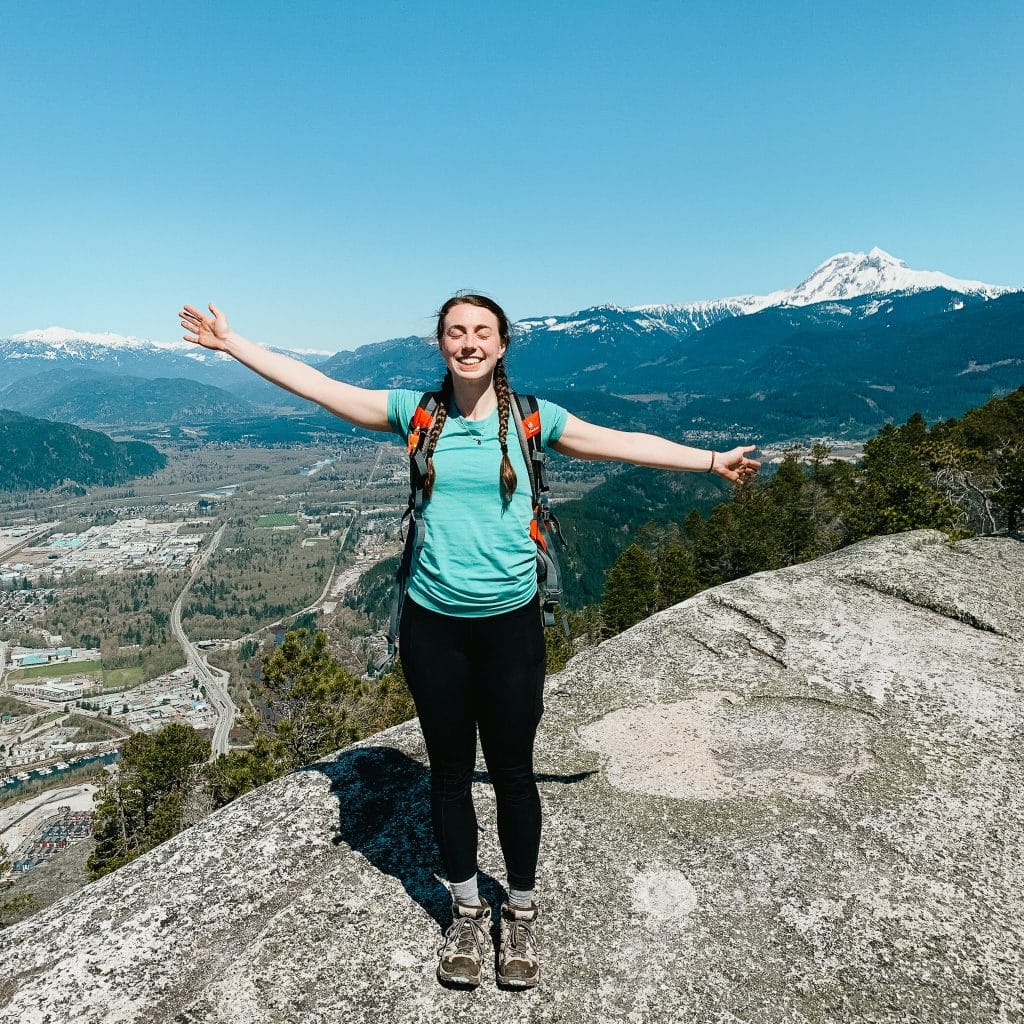 ---
Reviews – 12 Best Hiking Shirts in 2022
In this section, I will be reviewing 12 hiking shirts and discussing the benefits and unique features of each one of them.
I currently own every shirt on this list except for the Arc'teryx Remige Sleeveless Top and the Patagonia Sun Stretch. I don't like wearing loose sleeveless tops, however, if that is your style I've included the Remige for your consideration. Likewise, I tried on the Sun Stretch and didn't like it, but I know a lot of people do really like it so I've included it on the list.
The Icebreaker Tech Lite II SS Low Crewe is one of the best women's hiking shirts. It's made with 100% merino wool, so its naturally moisture-wicking and odour-free.
Its short sleeves, breathable material make it a great all-weather hiking t-shirt. The design is ideal for layering up in winters without the t-shirt feeling bulky. In summers, it works well on its own, thanks to its lightweight fabric and breathable construction.
The t-shirt uses an off-set seam pattern. This means that there is no friction between the seams and your shoulders, and you can easily wear it under heavy backpacks and thicker top layers. This is one of my regular-use shirts for backpacking.
Even though the design does not employ a nylon core, the body-hugging fit reduces the chances of the t-shirt stretching and getting stuck in pointy surfaces.
The merino wool t-shirt is a great fit for everyday use, thus, helping you get the most out of it. Also, its earthy colour tones look great in the outdoors and in town!
---