Hello friends – Mikaela here with more recommendations to keep you paddling safely. If you are looking for the best life jacket for kayaking, canoeing or any other kind of paddling sport, you have come to the right place. 
In this post, I'll review some of my favourite kayaking (though more specifically) canoeing life jackets to help you figure out which life jacket would work best for you. Further in the post, I'll also go over some critical information that you should consider when buying a life jacket – not all life jackets are created equal!
This post may contain affiliate links. If you make a purchase through one of these links, I may receive a small commission at no extra cost to you. Your support is much appreciated! You can learn more by reading my full disclosure.
---
Best Paddling Life Jackets – Quick Summary
Size: 33"-52"

Buoyancy: 15 - 17 lbs

Highlights: Best budget life jacket

Find in US Find in Canada

Size: 33"-50"

Buoyancy: 16.3 lbs

Highlights: Best life jacket (overall)

Find in US Find in Canada

Size: 31"-51"

Buoyancy: 16.4 lbs

Highlights: Most versatile life jacket with pullover entry

Find in US Find in Canada

Size: 30"-56

Buoyancy: 16.5 lbs

Highlights: Best life jacket with front entry

Find in US Find in Canada

Size: 32"-55"

Buoyancy: 16 lbs

Highlights: Best life jacket for women or broader body shapes

Find in US Find in Canada

Size: 31"-51"

Buoyancy: 16.5 lbs

Highlights: Best rescue / expedition life jacket

Find in US Find in Canada

Size: 31"-51"

Buoyancy: 18.6 lbs

Highlights: Super comfortable and roomy pocket

Find in US Find in Canada
---
Top Picks – Best Life Jackets for Canoeing, Kayaking & Paddling
Are you wondering which are the best kayaking life jackets or the best life jackets for canoeing? The top life jackets are –
Best Overall Life Jacket for Kayaking/Canoeing: Stohlquist Edge
Best Life Jacket for Sea Kayaking: Astral BlueJacket
Best Life Jacket for Women: Kokatat Hustle
Best Rescue Jacket: NRS Zen Rescue / Astral GreenJacket
Most Versatile Life Jacket: Astral BlueJacket / Astral GreenJacket
Personally, my favourite is the Astral GreenJacket for its excellent fit, rescue features and versatility (and it has a huge pocket for snacks).
So those are my quick recommendations, but I'd encourage you to read more in order to find the best life jacket for you. A life jacket can save your life, and for it to work effectively in an emergency, you should not buy one hastily!
---
Comparison Chart
Here is a look at the key features of all the life jackets mentioned in this article.
Name
Best For
Buoyancy/Floatation
Entry
Pockets
Straps
Price
Stohlquist Edge
Budget / General Paddling
15 – 17 lbs
(depending on size)
Side
1 deep front pocket
4
$
NRS Ninja
General Paddling
16.3 lbs
Side
1 front pocket with organizers
6
$$
Kokatat Hustle
General Paddling
16 lbs
Side
1 front pocket with organizers
8
$$
MEC Fulcrum
Budget / General Paddling
15.5 lbs
Side
1 front pocket with organizers
6
$$
Astral BlueJacket
Sea Kayaking
16.4 lbs
Side and Pullover
1 front pocket with organizers and 2 side pockets
6
$$$
NRS CVest
Kayak Fishing
16.5 lbs
Front
6 pockets
6
$$
Astral GreenJacket
Whitewater
16.5 lbs
Pullover
1 Front pocket with organizers and 2 side pockets
8
$$$$
NRS Zen Rescue
Whitewater
18.6 lbs
Side
1 Front pocket with organizers and 2 side pockets
6
$$$
---
Top Life Jackets for Kayaking and Canoeing – Reviews
In this section, I will be writing about and reviewing my favourite life jackets.
As always, I am going to start by reviewing one of my favourite life jackets. The Stohlquist Edge definitely takes the title of the best kayaking life jacket for how well it fits against your body while allowing ample freedom of movement.
The Stohlquist Edge uses the signature Wrapture technology, which ensures that the shape of the life jacket aligns with the torso. The life jacket comes with four adjustable straps (2 on the shoulder) to further fine-tune the fit to your body shape.
The sticky tape on the bottom end of the life jacket holds the jacket firmly against your body while also preventing your clothing from sliding up. The opening of the jacket is on the side, but unlike most jackets can be easily accessed without twisting your body. The pull tab runs smoothly, making the jacket very easy to put on and take off.
The jacket is equipped with a deep front pocket and a lash tab for a whitewater rescue knife. That said, I don't find it has enough space to carry all the whitewater rescue gear I like (pulley, some carabiners and presecs).
The design, technology, and functionality of this life jacket make it an ideal choice for canoeing, kayaking, sailing, SUP, and most other water activities!
Pros:
The design provides excellent comfort and fit
It comes with a deep front-loading pocket and lash tab
Ideal jacket for all body types
Suitable for a variety of outdoor activities
Affordably priced
Cons:
Not enough space for carrying whitewater rescue gear
---
NRS Ninja – Excellent Overall Life Jacket
NRS Ninja is an excellent canoeing life jacket whose design has evolved tremendously over the years. In fact, the latest Ninja design is one of their most functional, low-profile designs ever.
At the outset, what instantly impresses is the fit that can be easily customized using six adjustable straps. The shoulder straps, in particular, make the Ninja sit perfectly against your torso no matter your body type.
The closure system uses two side buckles. (Mind you, they aren't as smooth as the single tab of the Stohlquist Edge but still offer decent convenience)
The life jacket's front pocket comes with internal organization that can be a boon for those that need it. The lash tab on the front is also very handy and is integrated into the body of the life jacket. This prevents it from breaking easily.
The inside foam is partitioned to create the much-needed hand warming pockets (An area where it scores above the Stohlquist Edge). The inner foam comes with a sticky liner that stops the jacket from riding up your body even when you move your arms vigorously.
However, you should note that while the unisex design works perfectly as an ideal men's life jacket, heavily built women may find the fit uncomfortable.
Pros:
Excellent open design for total freedom of movement
Handy front pocket with internal organization
It comes with hand-warmer pockets
Comfortable for most body types
Cons:
Not suitable for heavily built women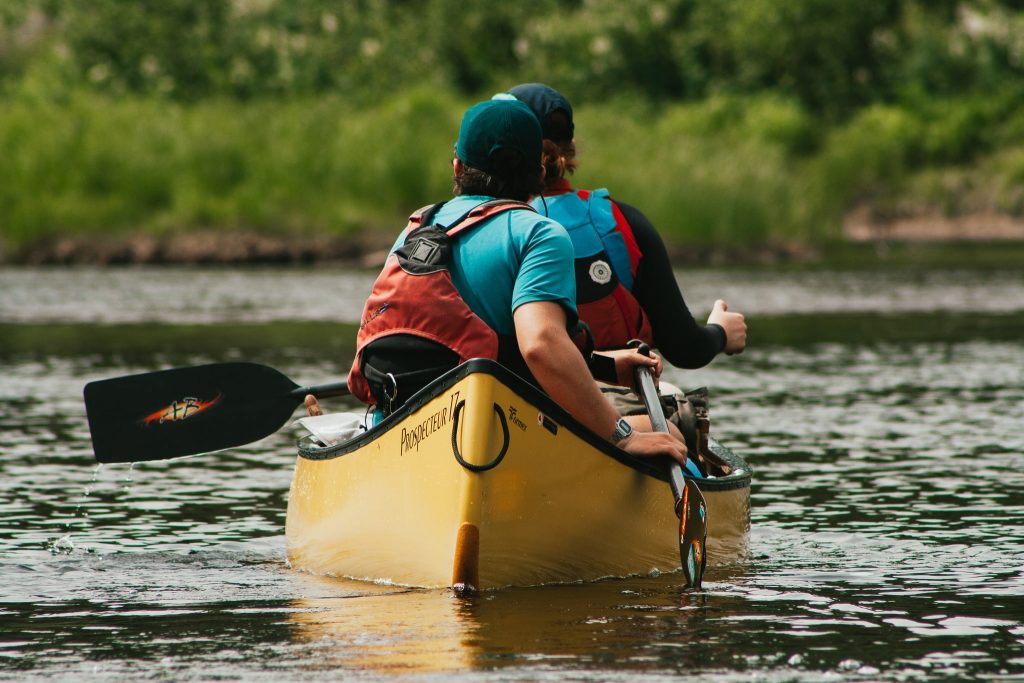 ---
Kokatat Hustle – Great Life Jacket for Women
This life jacket redefines comfort. It is one of the most comfortable life jackets for paddle board or use as a kayak life jacket.
The primary reason it ranks so high on comfort is that it uses the GAIA foam – a high-quality, PVC-free foam that feels like a feather on the skin (basically, it isn't nearly as stiff). You won't even feel like you are wearing a life jacket when you put on your Kokatat Hustle (perfect for those people who don't like wearing life jackets!).
The Kokatat Hustle also uses a side-entry design similar to the Stohlquist Edge and the NRS Ninja. Though the Stohlquist Edge opening is much easier to access, the Hustle feels more secure.
Also, the Kokatat Hustle has a low-profile design but comes with a full back. In addition to the full back, the Kokatat Hustle also employs a side-panel to protect your entire core, which can be particularly useful in sea kayaking.
In terms of design, the life jacket scores well with its bright, attractive look. On the front side, the Kokatat offers a deep clamshell pocket with neat organizers that can easily store a wide phone and some additional accessories. The lash tab also stays out of the way of the zipper. It has a quick release for rescues, though honestly I've never considered it to be a rescue life jacket.
I think that the Kokatat Hustle leans a bit on the wider end in terms of the fit, and men with thin, narrow torsos may find it difficult to adjust it to their liking. Women, on the other hand, will love the fit.
Pros:
Outstanding comfort
Durable, breathable material
Excellent pocket organization
Full back and side protection
Cons:
Not suitable for use with high chair back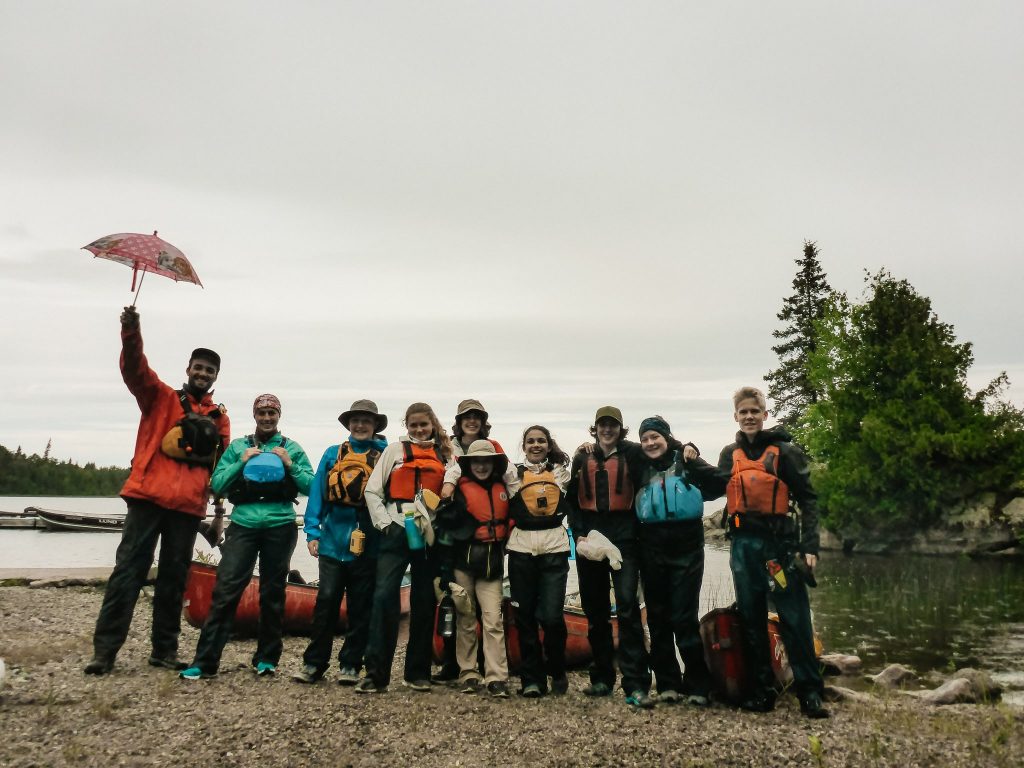 ---
MEC Fulcrum – Best Budget Life Jacket
This was my first paddling life jacket! And if you have read my other buying guides, you will know that I love MEC products. I find that MEC products get the job done while coming in at an affordable price point.
The MEC Fulcrum is no exception to this. This life jacket uses a panelled front padding that makes the life jacket extremely roomy and adaptable to movement. This multi-panelled design makes it one of the best kayaking life jackets for women (wooh!).
That said, it also fits men perfectly. The adjustable straps on the side also keep the life jacket snug. This life jacket also uses PVC-free GAIA foam that meets environmental sustainability standards.
The jacket has a front pocket with internal organizing compartments. However, unlike the Kokatat Hustle, the pocket feels too tight to store wider-framed objects (limiting how many snacks I can bring).
The other attractive feature of this life jacket is its high waist back that prevents ride-ups while kayaking. The full-body mobility that this jacket allows together with a comfort-fit means that the MEC Fulcrum is one of the best life jackets for boating, fishing, kayaking, and canoeing. Overall, I love this canoeing life jacket and recommend it to any new paddlers!
Pros:
Durable, breathable material
Extremely comfortable
Excellent choice for women thanks to the multi-paneled foam
High-waist back
Cons:
Tight front pocket
Slightly uncomfortable side opening
---
Astral BlueJacket – Best Life Jacket for Sea Kayaking
The Astral life jackets are quite expensive compared to the other life jackets available in the market. But unlike the other cheap life jackets available and listed above, the Astral BlueJacket goes above and beyond in terms of its material, design, and versatility.
The BlueJacket has been designed to support all disciplines of kayaking and canoeing, but it is especially popular for sea kayaking. It is incredibly lightweight, and the PVC-free material ensures comfort even if you use it for long hours.
The life jacket allows both pull-over entry as well as an entry using the side-release buckle. The life jacket uses two foam panels – one on the front and one on the waist. This construction prevents ride-ups. The sides are roomy enough to let you perform full paddle strokes.
What makes this jacket truly unique is its in-built hydration sleeve. The pocket on the front is deep enough to hold all your essentials without adding bulkiness to the overall feel (this is my favourite part of the Astral jackets, actually).
Plus, to make this jacket versatile and suitable for all your needs, it has the necessary attachment points for your rescue gear as well. However, for its steep price, this jacket may not be suitable for infrequent use.
Pros:
Most versatile jacket
It comes with a hydration sleeve
Allows side-entry as well as pull-over wearing
Durable, breathable material
Excellent fit
Cons:
---
NRS CVest – Best Life Jacket for Kayak Fishing
The NRS CVest is an excellent paddling life jacket with an insane number of pockets. That makes it a hugely popular kayak fishing life jacket.
Unlike all the other life jackets mentioned above, this life jacket has a front-zippered entry design that makes it super easy to put on or take off.
However, a front-zippered life vest takes away space for a large front pocket. But the NRS Cvest makes up for this by providing six pockets on the life jacket. Thus, it comes with two deep front pockets to hold more oversized items and two clamshell pockets for quick access.
Personally, though, I still prefer having a huge clamshell pocket on my canoe life jacket instead of multiple pockets. But if you like to keep your accessories spread out and stored neatly, multiple pockets will work better for you.
The life jacket also employs reflective accents for visibility, even in low-light conditions. Also note that the life jacket runs big. Therefore you may have to buy a smaller size for a better fit. Bustier women may find more comfort in buying a jacket as per the size chart and then adjusting for a more refined fit using the adjustable straps.
Pros:
Easy front-zippered entry
Multiple pockets
Affordably priced
Breathable due to mesh back construction
Cons:
---
This is my current life jacket! I know Astral life jackets are expensive, but I think they do an excellent job of making a rescue life jacket functional and comfortable. What sets it apart from the rest is that it is fully equipped to deal with any situation while you are on the waters.
The design uses the Foam Tectonics systems, which lets the outer front panel work independently of the inner panel. This allows a snug finish and full-mobility comfort even while paddling vigorously. The fit can be further adjusted using eight adjustable straps. The front straps, which are rare, are particularly useful for refining the fit to suit your specific activity.
The material used is PVC-free. The lining and the fabric are highly durable, even if used in rough conditions.
For organization, the life jacket features a front clamshell pocket with excellent organizing solutions. SO MUCH ROOM FOR SNACKS (and rescue gear, of course). Besides this, the side pockets can also hold in extra gear. The life jacket has a rescue harness stitched into it for better strength during rescue functions. The jacket also provides multiple knife storage solutions for both regular and emergency use.
Thus while the life jackets listed above are good life jackets for kayaking and canoeing on flatwater, this one packs multiple rescue function features, making it excellent for moving water.
Overall, it's an excellent investment for regular whitewater paddlers.
Top Pick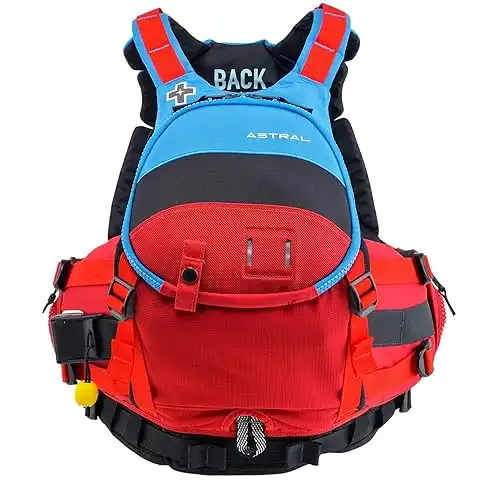 Pros:
Excellent design
Comfortable even during vigorous movements
Multiple pockets, including a clamshell front pocket with neat organizing solutions
Excellent for use as a rescue life jacket
Cons:
Expensive
The pull-over entry makes it difficult to put on and take off (you get used to it, but it looks a little silly)
---
The NRS Zen Rescue is not like other regular canoeing life jackets. This life jacket has been specifically designed for rescue situations. You should also note that this is a Type V jacket, while all the others on this list are Type III.
This life jacket has a superior buoyancy in comparison with other life jackets. The design is based on the NRS Ninja. Thus, you will find the same low-profile cut as well as a side-entry similar to the NRS Ninja. This design ensures ease of movement as well as convenience of wearing.
However, the Zen Rescue takes the functionality a few notches higher than the Ninja. First, this life vest is equipped with a rescue belt and a releasable attachment point for a tow tether. On the front end, the clamshell pocket allows for the neat organization of rescue gear (I find the zipper doesn't stay closed well though – lots some snacks and a nice buff to the river when the pocket unzipped while swimming in rapids).
I do like how accessible the rescue knife on this life jacket is, thanks to the angled lash tab. The side pockets are deep enough to store additional rescue gear, including webbings, ropes, carabiners, etc.
Finally, I love the fact that they have retained the hand-warmer pockets of the Ninja in this design. However, this design will seem to be too complex for those looking for more coverage or newbies simply looking for the best life jackets for paddle boarding, kayaking, or canoeing.
Pros:
Allows excellent freedom of movement
It comes with front and side pockets
Equipped with hand-warming pockets
Extra buoyancy
Designed specifically for rescue situations
Cons:
Too advanced for a regular user
---
How to Choose a Life Jacket – Basics Explained
Before you buy life jackets, you must ensure that you are clear on the basics. So let's get started!
PFD Vs. Life Jacket
Okay, so the vast majority of people use the two terms interchangeably (I do too). But for the record, there is a slight difference. The full form of PFD is 'portable floatation device.' On the other hand, a life jacket is a flotation device designed to save a life. Thus, all life jackets are PFDs, but all not PFDs are life jackets.
Types of Life Jackets
During your research on life jackets, you may have often seen the words the best 'type 1' life jackets or 'type 3' PFDs been thrown around a lot. If that has left you confused about the type you need to buy when looking for canoeing life jackets or what category the best life jackets for paddleboarding fall into, don't worry:
According to the US Coast Guards, PFDs are classified as follows:
Type
Description
Key features
I
Off-shore life jacket
Highest buoyancy
Can keep unconscious person face-up
To be used in rough, deep waters
Can restrict movement
II
Nearshore buoyancy vest
Moderate buoyancy
May or may not keep unconscious person face-up
To be used in calm waters with quick rescue options available
III
Floatation Aid
Moderate buoyancy
The wearer will have to turn to keep face up
To be used in calm waters with quick rescue options available
Allow some freedom of movement
IV
Throwable devices
A long protective device in the form of a ring or cushion
Good buoyancy
V
Special use devices
PFDs approved only for use in specific activities
Life jackets for kayaking or canoeing, or paddling are mostly Type III. They allow freedom of movement while also protecting the wearer by keeping them afloat.
However, in some cases, you could also find life jackets for wakeboarding or life jackets for sailing fall in the Type V category of PFDs for their specific adaptability to the activity.
If you don't know how life jackets work, you might find this short article a helpful read.
Size
Unlike most other outdoor gear, life jackets do not have standard sizing. Each brand uses its way of sizing its life jackets.
Bear in mind that life jackets for adults are sized based on chest circumference (or the widest part of your torso), and life jackets for infants are sized based on weight.
Also, you should always remember that when looking for the best life jackets for kayaks or the best life jackets for watersports, the fit of the jacket is way more important than the size. Thus, at times, you may find that a size larger or smaller than the recommended one would fit you better.
Life Jacket Fit
Of all the factors that you need to take into consideration when buying life jackets for paddling, canoeing or kayaking, the one that is the most important is the fit.
The fit of the jacket will determine how well the jacket stays in place when you get down to doing the activity for which you intend to buy it.
The fit also determines how comfortable you will feel in it.
Remember that a life jacket only protects you if you can wear it all along. If you constantly feel like taking it off, you are either not wearing the life jacket correctly, or you are not wearing the right life jacket.
Try on the life jacket in the clothes you would wear while canoeing or kayaking. Get the fit right by pulling in all the straps so that they feel snug. The life jacket should stay in place even when you raise your hands.
Instead of opting to buy one of the coolest life jackets, prioritize getting the fit right.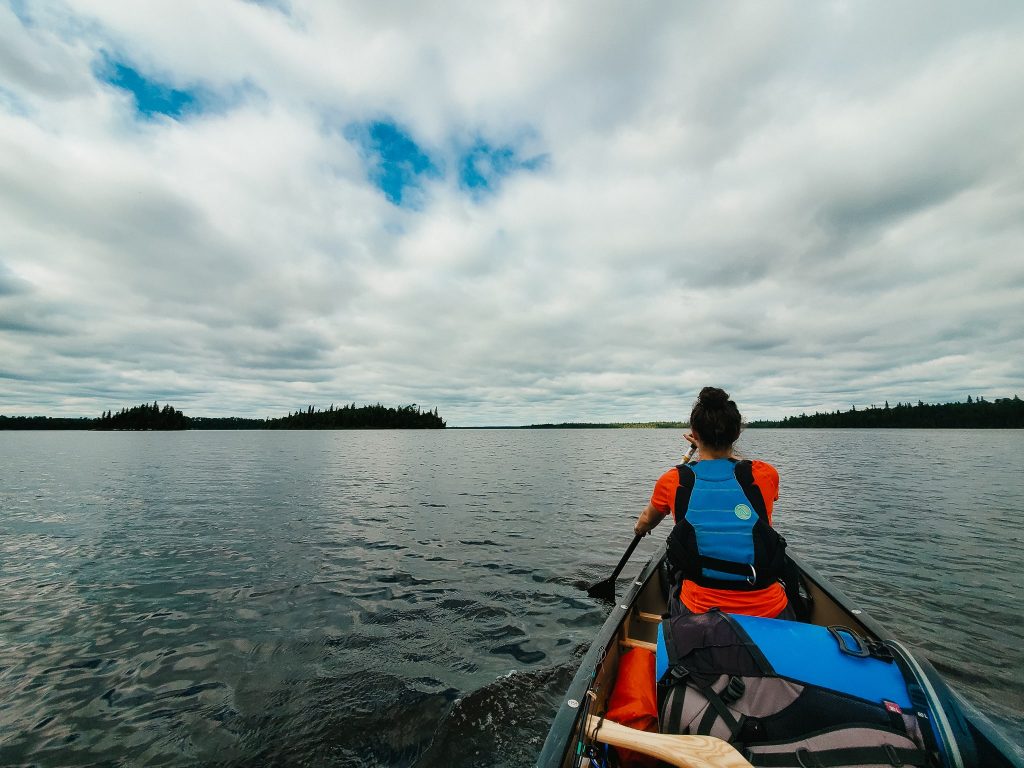 Unisex Jackets / Women-specific Jackets
Most life jackets you will find online or in stores are unisex jackets. There is very little difference between life jackets for women and life jackets for men.
Thus for most parts, if you are a woman, a unisex jacket will work well for you. You can adjust the fit of a unisex jacket as per your body type by buying one with a suitable chest circumference and then pull the straps for a proper body-fit.
But, it is also true that women with a heavier bust area and narrower shoulders tend to find the women-specific variants of life jackets more comfortable.
This is because women-specific life jackets usually have thinner padding in the bust area or come with specific cutouts for the bust area. The arm openings also tend to be narrower. Life jackets for girls also work better for shorter and thinner women.
Price
Price often tends to be the most influential factor when buying outdoor gear. But with life jackets, do not be solely guided by price. A life jacket can save your life – it's worth a little investment.
Always look at the fit and the comfort of the life jacket first before comparing the price tags of life jackets.
Remember that spending little money on a life jacket that you'll never wear is more expensive than spending a lot of money on a comfortable life jacket.
That said, the pricing of the life jacket usually varies depending on its material. Nylon life jackets tend to be cheaper than neoprene life jackets for adults. Nylon jackets also last longer and offer more value of money in terms of durability. But in terms of comfort and user experience, a neoprene jacket often over-delivers for its price.
---
Best Life Jackets for Kayaking & Canoeing: Final Thoughts
Before you decide on a life jacket, let me quickly reiterate that choosing a life jacket is an important decision and choosing one with an ideal fit is of utmost importance.
If you are a beginner or are going to be an infrequent user, you could choose from the following-
However, more advanced users should consider buying one of the following.