It's important for whitewater paddlers to carry a river knife whenever they're in moving water – whether it's for kayaking, canoeing, or rafting. A high-quality river rescue knife ensures that people do not get, among other things, tangled in ropes when performing a rescue in moving water.
In this post I'll go over the uses, types and features of a rescue knife, as well as information on the best rescue knife I've used (hint: it's this one) and other ones I've tried (plus the one I have my eye on for next time).
This post may contain affiliate links. If you make a purchase through one of these links, I may receive a small commission at no extra cost to you. Your support is much appreciated! You can learn more by reading my full disclosure.
Note: A river knife is an important tool for paddlers, however it is just as important to have the proper whitewater rescue training. Read this post for information on whitewater rescue courses.
---
Utility Knives vs. River Knives
Before I go into more details about river knives, I want to quickly go over the difference between a utility knife (i.e. a pocket knife or multi-tool) and a river knife. A river knife serves as a rescue knife, and as such has specific features. Utility and river knives cannot be used interchangeably.
Utility Knives
I carry a utility knife on any backcountry trip, regardless of whether there is whitewater. A utility knife, like a pocket knife or multi-tool, is meant to have a few components and perform a few different tasks well. A utility knife might include.
I have the Swiss Soldier's Knife (find on Amazon or Victorinox)
Knife Blade
Saw Blade
Screw Driver
Awl
Can Opener & Bottle Opener
Pliers (not shown)
A utility knife can have nearly infinite uses – including, but not limited, to slicing food, cutting sticks, and as part of a first aid kit.
---
River Knives
River knives, on the other hand, have few functions, but perform those functions exceptionally well. Primarily, a rescue knife will have a sharp, serrated edge specifically designed for cutting rope.
A rescue knife will also come with a sheath. Usually the sheath will be designed to attach to a rescue PFD. This provides the rescuer with quick access to the PFD knife at all times.
A river knife will be made of a metal that is rust resistant, typically stainless steel. It will also have a grippy handle that is easy to hold when wet.
They might have additional features too, like a glass breaker or bottle opener on the NRS Pilot pictured here.
Further down in this post is a more thorough explanation of the features of a river knife.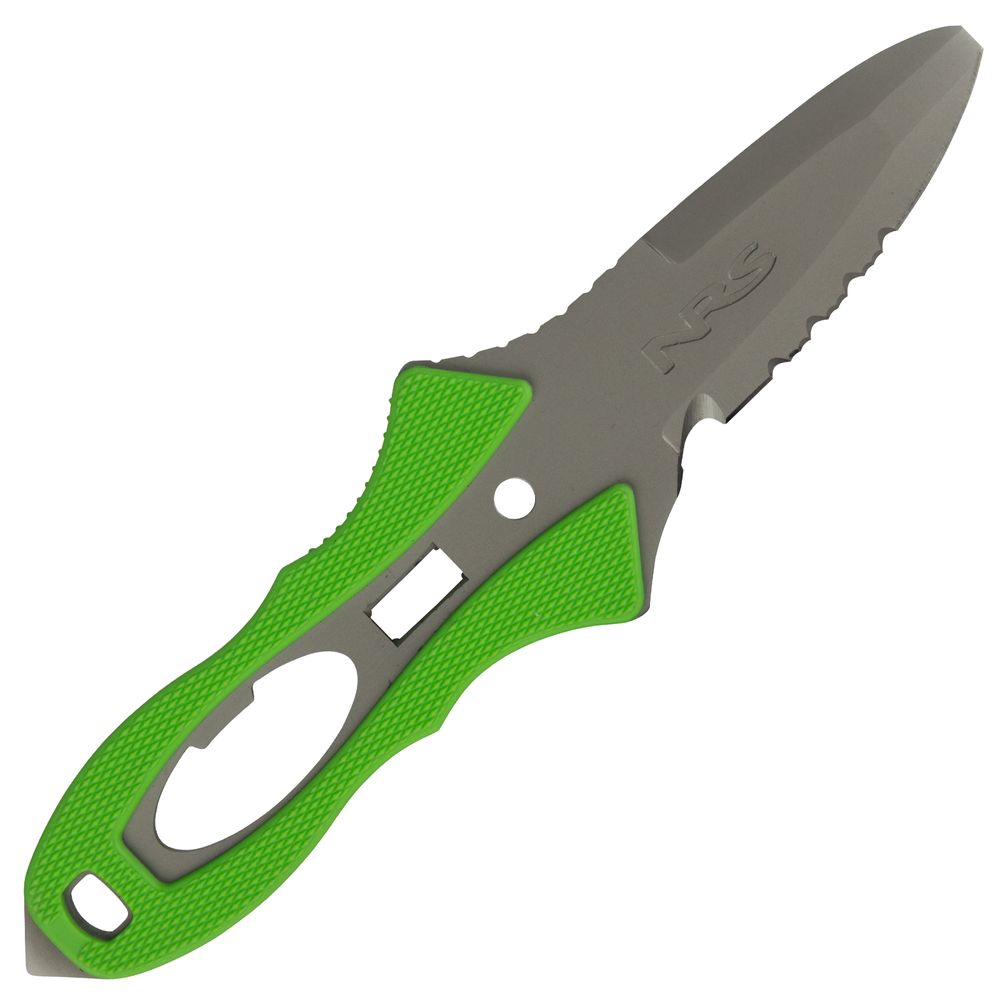 Because the function is so specific to cutting rope in wet conditions, I only bring a rescue knife on a whitewater trip.
Note: This type of knife can be referred to as a "rescue knife", "kayaking knife", "paddle knife" or "river knife" – different names all for the same thing.
---
Do you need a River Knife?
You should always have a knife on you when you're in the backcountry. However, in most cases a decent utility knife will do. You only need a river knife if you are paddling in whitewater ( that's why often referred to as a whitewater knife)
Uses for a River Knife
To illustrate why you would use a river knife, here is an example.
Let's say you pin a canoe or kayak on a big rock in the middle of a rapid. Two of you are at the boat, securing ropes to it and will try to get the boat free from the rock. The rest of your group is on the shore, holding onto the other end of the rope. When the boat comes free, they will pull it to shore.
You're trained in whitewater rescue, so you're being really careful about safe rope management. But something goes wrong and one of the rescuers gets tangled in the rope and pulled underwater.
If the other rescuer can't get them untangled or reach them, it may be necessary to cut the ropes to free the trapped rescuer.
Whenever there is rope involved, you should have a rescue knife.
Cutting rope is the main use for a river knife. However, as you become more experienced in whitewater rescue and wilderness first aid, you'll find even more ways to use your river knife.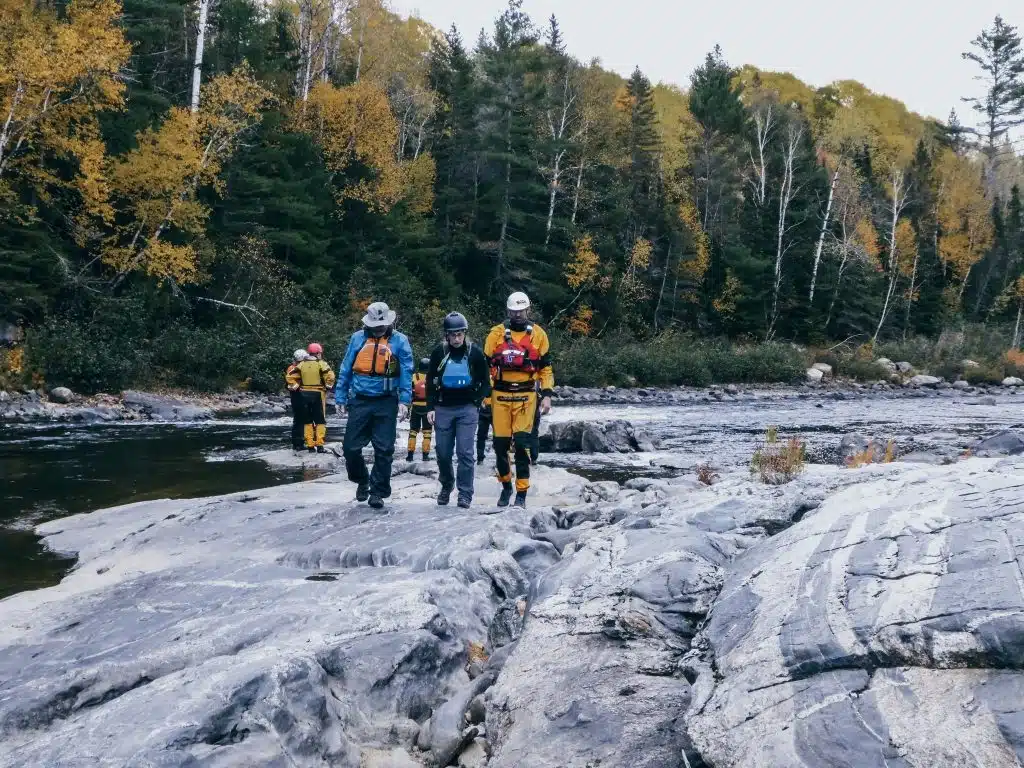 ---
Who Should Carry a River Knife?
There's some debate on whether everyone in the group should carry a river knife.
In all cases, you should definitely have more than one person carrying a river knife in the group.
However, should people untrained in whitewater rescue techniques carry a whitewater rescue knife?
Personally, I don't think it is necessary. When I was guiding teenagers on river trips, I didn't have them carry rescue knives because they wouldn't have known how to use them. However, we also didn't paddle big whitewater because they weren't experienced or trained enough to handle it.
If you are in a group that is paddling big whitewater, everyone should be trained in whitewater rescue techniques. In that case, everyone should carry a paddling knife with them.
---
How Should you Carry your Rescue Knife?
There are a few different opinions on where to carry a rescue knife.
Many people will attach it to the outside of the body of the lifejacket. Most whitewater rescue life jackets have a square attachment (called a Lash Tab) for the sheath. I love my lifejacket, however I don't like the placement or design of the lash tab, so I haven't been wearing it there.
I was taught in my whitewater rescue course to carry it on the strap of my PDF (as seen in the left photo). This makes it easy to access with either my right or my left hand. However, this puts the tip of my knife especially close to my jaw, so I've stopped carrying it there.
Sometimes I keep the knife inside the big life jacket pocket in the front. The upside of this is that the knife is in the safest possible place, however the downside is that it is harder to access in a rescue situation.
---
Features to look for in a River Knife
There are a few features to look for in a river knife:
Sharp, serrated edge: For cutting through materials (like rope) very quickly
Full tang, non-folding
Stainless steel with a grippy, textured handle
Sturdy and reliable sheath
Optional: finger hole, blunt tip
Serrated Edge
Pretty much all whitewater rescue knives will have a serrated, or jagged, blade. This makes cutting rope easier and fasting.
However, some knives will be serrated only for part of the blade, and be smooth on the other part. This is the case with the NRS Pilot. Having part of the knife be smooth allows for more versatile uses (i.e. preparing lunch on the river).
Blunt Tip: Many whitewater rescue knives have a blunt tip. This is in case the knife pops out of its sheath or is accidentally dropped – a blunt tip is less likely to puncture a raft, or a person's limb.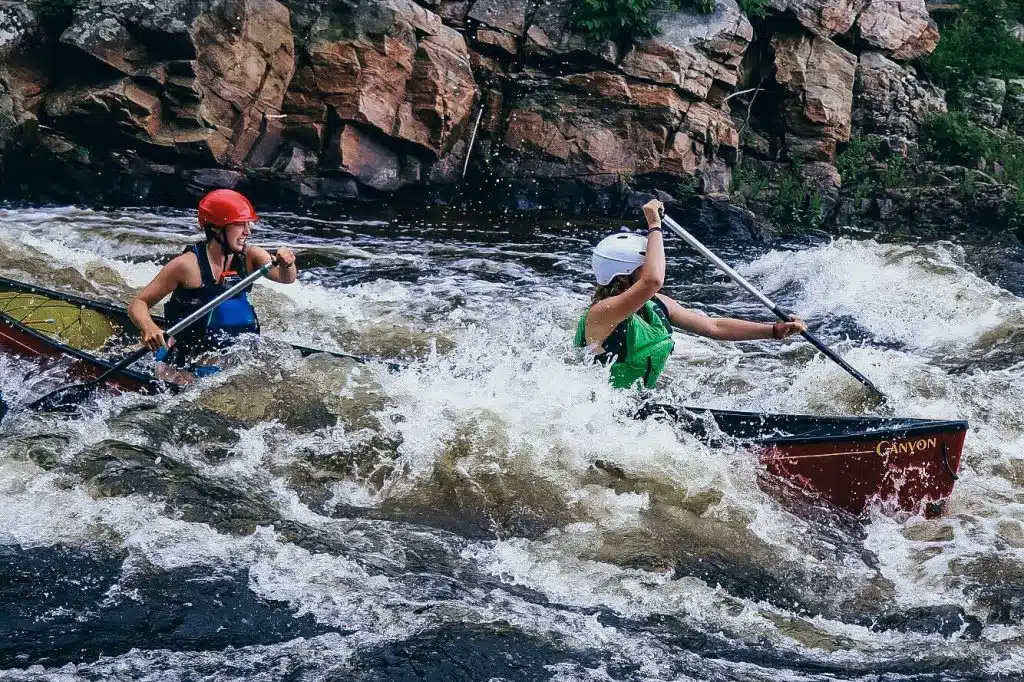 Folding vs. Non-Folding
Many utility knives are folding knives; that is, the blade folds into the handle to reduce size and keep the blade covered.
However, you usually don't want a folding knife for a river rescue knife. For starters, a folding rescue knife isn't as strong and reliable because it has an additional point of failure (the hinge where the knife folds). I'll go into more detail on that in the next section.
The other reason you don't want a folding knife is that you will usually be using your rescue knife in and around water – meaning your hands will likely be wet. I don't know about you, but I'd rather not have to unfold a knife with wet, slippery hands. I'd rather just remove a non-folding knife from a sheath.
Full Tang
A knife with a "full tang" is a knife that is a single, solid piece of metal from tip to end. The handle is comprised of a plastic overmold built around the metal (think of it like the plastic mold that goes over the metal). This makes the knife stronger and more reliable; you don't need to worry about the handle breaking off from the blade during use. Full tang knives, by design, are not folding knives.
Material
Since you will be using the knife in water, you should go for a metal that is rust resistant. The vast majority of river knifes are made with stainless steel. Stainless steel performs well in water and isn't prone to rusting.
For the handle overmold, the most common material is plastic, though there are a few different types.
For example, the NRS Pilot Knife handle uses Thermoplastic Polyurethane, which is kind of like a hybrid between conventional plastic and rubber. This makes it comfortable to hold (especially when wet) and durable.
The CRKT Bear Claw handle, on the other hand, is made of Glass-reinforced Polypropylene. This provides a smoother handle (which can be a little more slippery), but is even more durable than the polyurethane used above.
Sheath
Finally, in addition to protecting your from the blade, a sheath protects the knife from damage and secures it to the PFD. There is considerable versatility in sheath design for river knives (depending on whether it is used as a kayak rescue knife, a rafting knife, etc.) and some are more secure than others.
A kayak knife, for example, needs an especially sturdy sheath because kayakers typically move in and out of moving water a lot more than whitewater canoeists. (This is because they typically paddle bigger, more technical rapids and can regularly flip over and right themselves.)
---
Best Rescue Knife: Reviews
NRS Pilot Knife
This is a very popular whitewater rescue knife and the one I personally own. The knife is made out of a 400-series stainless steel, making it rust resistant and very sharp.
The handle is made with a texturized thermoplastic polyurethane; this give it a rubber-like texture that is grippy and easy to hold in the water. However, I'm finding little bits of plastic peeling off with prolonged use. This is a pretty minor flaw on what is otherwise the best river knife I have used.
Personally, my biggest issue is the sheath itself. It doesn't secure to my PFD nicely and when checking out general rescue knife reviews from other paddlers, I read that the sheath breaks with any kind of impact. I'm not too concerned with this for canoeing, but if I were a kayaker or rafting I would be.
Specs: Blade
Blade Length – 3″
Blade Edge – Blunt Tip Smooth and serrated w/ Rope cutting hook
Blade Material – 420 HC Stainless Steel
Full Tang: Yes
Specs: Handle and Sheath
Handle Material – TPU Overmold
Sheath Material – Fibreglass-Reinforced Nylon
Spec: Dimensions
Length – 187 mm
Knife Weight – 3.5 oz
Sheath Weight – 2 oz.
Compare prices at Backcountry and SAIL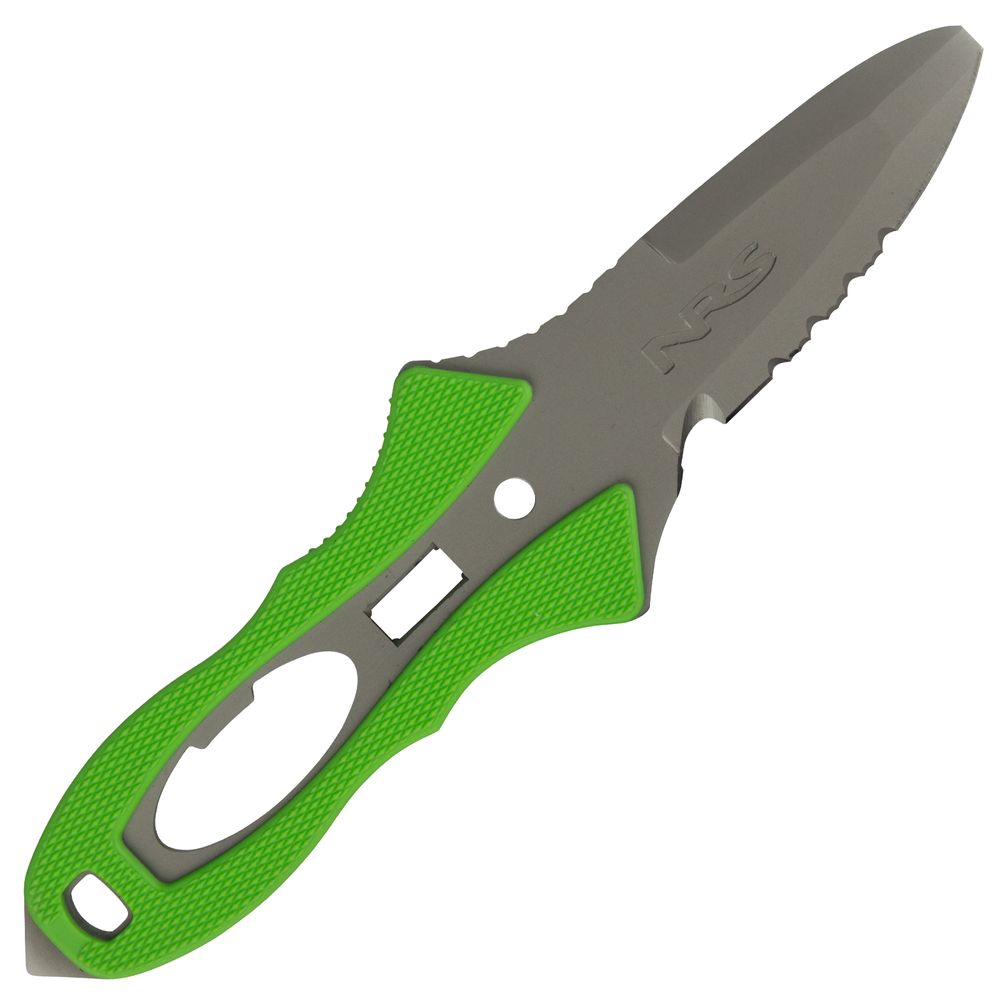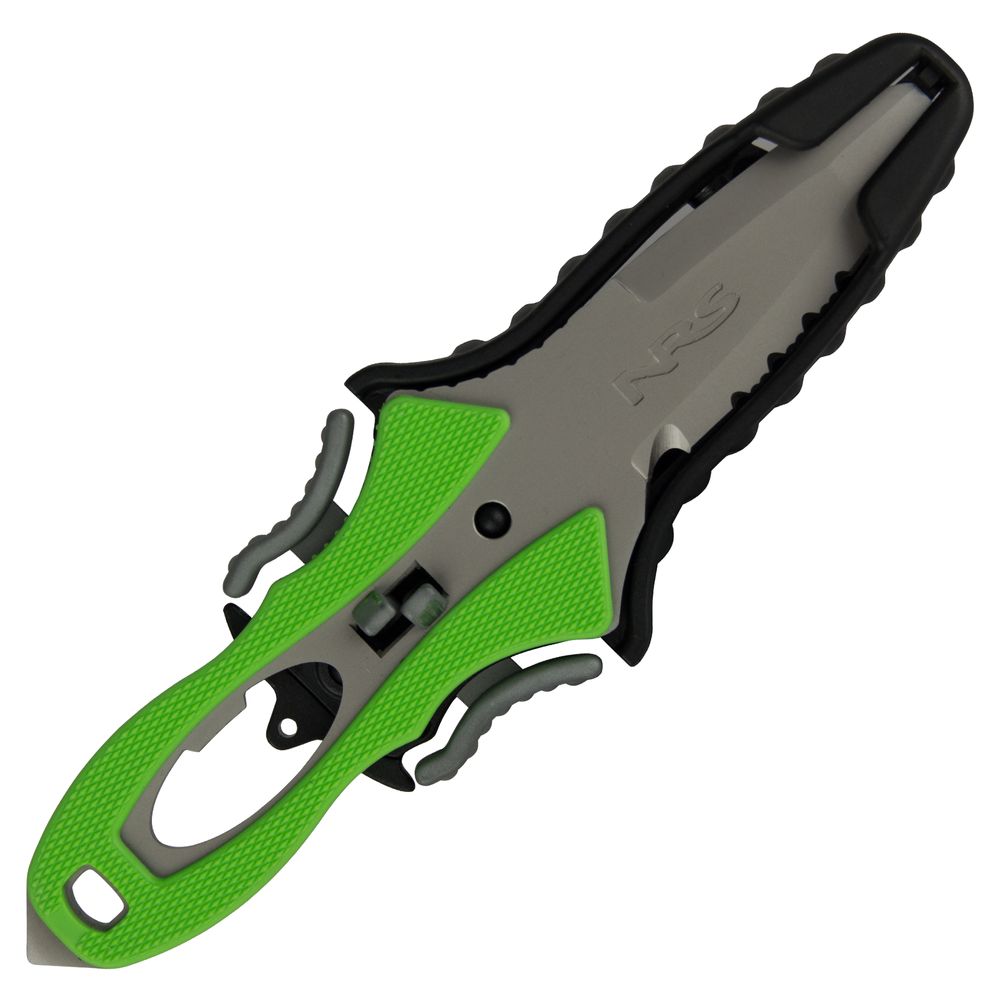 ---
When I replace the NRS Pilot I currently use, I think I'll get this one.
The blade material is the patented AUS 4, which is a stainless steel. I couldn't find any information on the exact composition, however I did find that it is an incredibly sharp blade. The serrated teeth are much sharper (and more aggressive looking) than the NRS Pilot.
One feature I love about this knife is the finger hold, which gives a more secure grip. I prefer the rubber-like handle of the NRS Pilot, but with the finger hold this one is easier to use in water.
Similar to the above, a common criticism of this how secure the sheath is. When attaching the sheath to the lash tab of your PFD, secure it with a zip tie. The real problem, however, is that the knife itself is secured to the sheath with a little locking screw which nests into a divot in the sheath. If the knife hits anything, like your paddle while you're swimming in rapids, there's a good chance the knife will pop right out.
Specs: Blade
Blade Length – 60.3 mm
Blade Thickness: 3.3 mm
Blade Edge – Blunt Tip w/Triple Point™ Serrations
Blade Material – AUS 4
Full Tang: Yes
Specs: Handle and Sheath
Handle Material – Glass Reinforced Nylon
Sheath Material – Glass-Reinforced Nylon
Spec: Dimensions
Length – 146 mm
Knife Weight – 96.4 g
Sheath Weight – 31.2 g
Check prices at Amazon
---
The Stohlquist Squeeze Lock Knife is considered the best kayaking knife… ever. A big part of its praise for being the best kayak knife comes from how secure the knife is within the sheath, and how secure the sheath attaches to a PDF. Unlike the previous two knives, it's virtually impossible for the knife to pop out accidentally.
The knife has all the others features of a quality river knife: stainless steel blade with a serrated edge and blunt tip and a grippy plastic handle.
A common critique of this knife, however, is that it doesn't have a sharp blade. The blade material is 304 series stainless steel, which isn't as hard as a 400 series stainless steel (which the NRS knives are made with).
Specs: Blade
Blade Length – 3″
Blade Edge – Blunt Tip w/ Serrations
Blade Material – 304 series stainless steel
Full Tang: Yes
Spec: Dimensions
Check prices at Stohlquist and Amazon
---
NRS Neko Knife
The Neko is very similar to the Pilot (also by NRS). The biggest differences are the size (this knife is 40 mm shorter than the Pilot) and sheath.
The knife comes with an option for a blunt tip (pictured below) or a pointed tip.
Specs: Blade
Blade Length – 57.2 mm
Blade Edge – Blunt Tip, smooth and serrated blade
Blade Material – 420 HC Stainless Steel
Full Tang: Yes
Specs: Handle and Sheath
Handle Material – TPU Overmold
Sheath Material – Fibreglass-Reinforced Nylon
Spec: Dimensions
Length – 146 mm
Knife Weight – 82 g
Sheath Weight – 17 g
Compare prices at Backcountry and NRS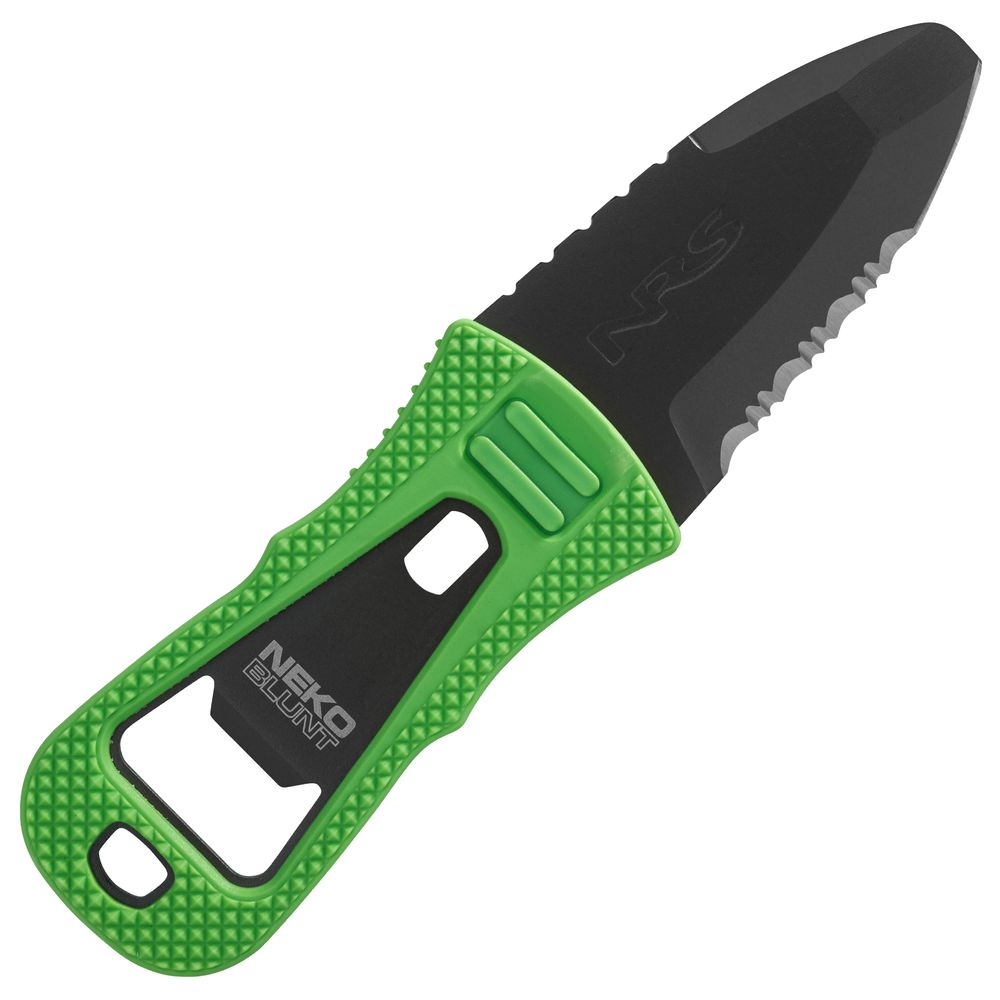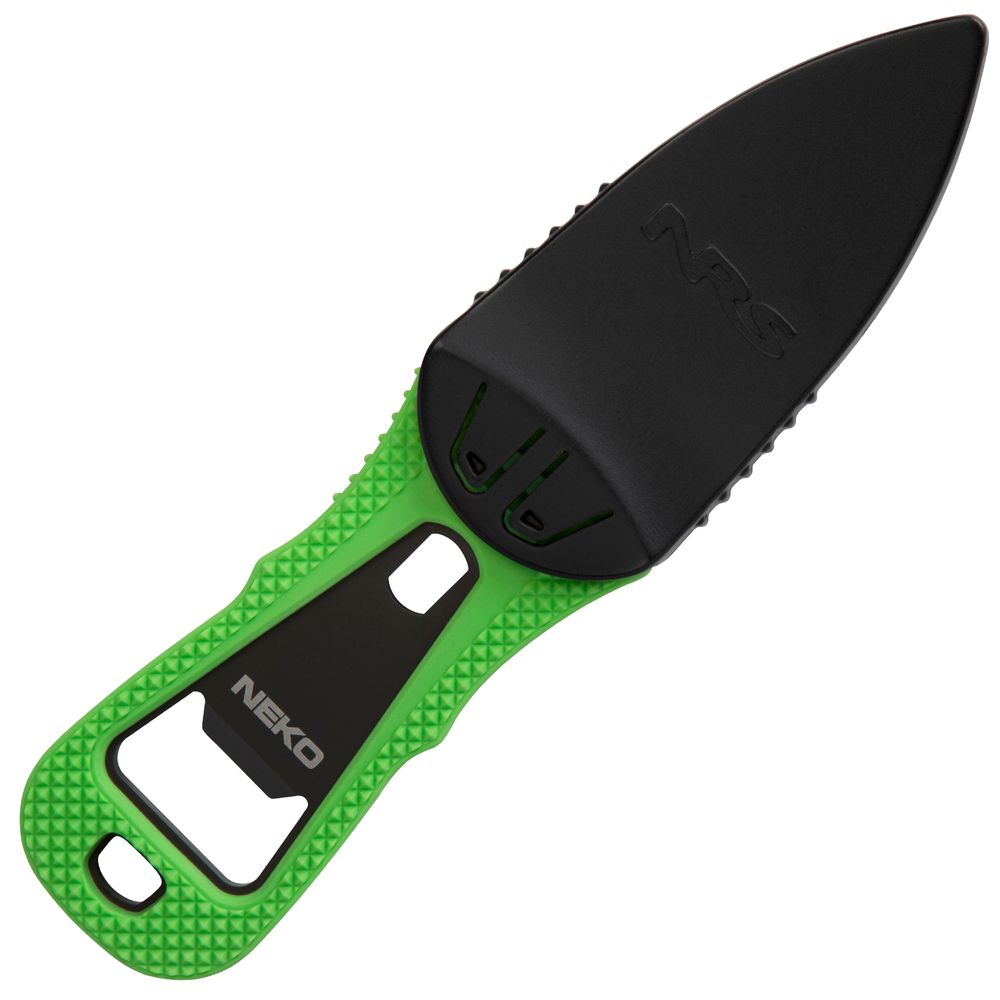 ---
Final Thoughts on the Best Rescue Knife & Choosing a River Knife
I hope this post has been helpful in your understanding of river knives. As long as you are buying a proper river knife, rather than a utility knife, you don't need to worry too much about the specifications. All of the knives listed in the "best rescue knife" section are great and you can't go wrong with any of them.
Let me know which knife from the best rescue knives listed above would you opt for.
Best of luck in your whitewater endeavours and don't forget about whitewater rescue training!
[optin-monster slug="kvmzhjkrfulwjooir1yr"]