A throw bag is an essential piece of gear for any whitewater paddlers. Kayaking, canoeing, rafting – any activity that has people going through moving water. Since it's a piece of safety equipment, it's important to have a reliable, high quality throw bag that you know how to use and matches the trips you'll be taking.
In this post I'll do a comparison of the best throw bags currently on the market. If you aren't super familiar with throw bags though, I've also included a section on the different properties of throw bags and what to look for in your own. At the end, I've also included some information on additional whitewater safety gear and suggestions for further reading.
What do I know about throw bags? I was a canoe guide for several summers and have guided on rivers like the Missinaibi and Noire. I am a certified Whitewater Rescue Technical and Wilderness First Responder.
This post may contain affiliate links. If you make a purchase through one of these links, I may receive a small commission at no extra cost to you. Your support is much appreciated! You can learn more by reading my full disclosure.
---
Best Whitewater Rescue Throw Bags 2022
In the following section, I've included the product specs for six different throw bags that are highly reviewed, plus my own experience with them.
The bottom line: All throw bags for water rescue from reputable whitewater safety companies are of good quality. Thus, which is the best water rescue throw bag depends on your specific requirements and use. Choose a throw bag that matches your needs and the specific paddling you do.
---
Comparison Table
Note: In the above table, polypropylene has been shorted to "PolyP". If you don't know what polypropylene is, jump down to the section on 'float'.
My favourite: The NRS Standard has always been my favourite, but honestly after writing this post I've convinced myself to buy the North Water Pro next. I didn't appreciate how strong it was for its weight until now.
---
NSR creates the gold standard for whitewater rescue gear, including throw bags. Their Standard Rescue Throw Bag is the best rescue throw bag for experienced paddlers tackling intermediate-difficult rapid sets for moderate length trips.
For example, this would be a good canoe throw bag for a two week canoe trip where the difficulty of rapids mean there's a good chance of pinning a boat and the river is somewhat wide.
The mesh makes drainage faster, which is really nice, and the bag is easy to repack with rope. One drawback is that it's heavy for the strength of the rope. (For reference, the one below by North Water is stronger and half the weight).
Check Prices at NRS | Check Prices at Backcountry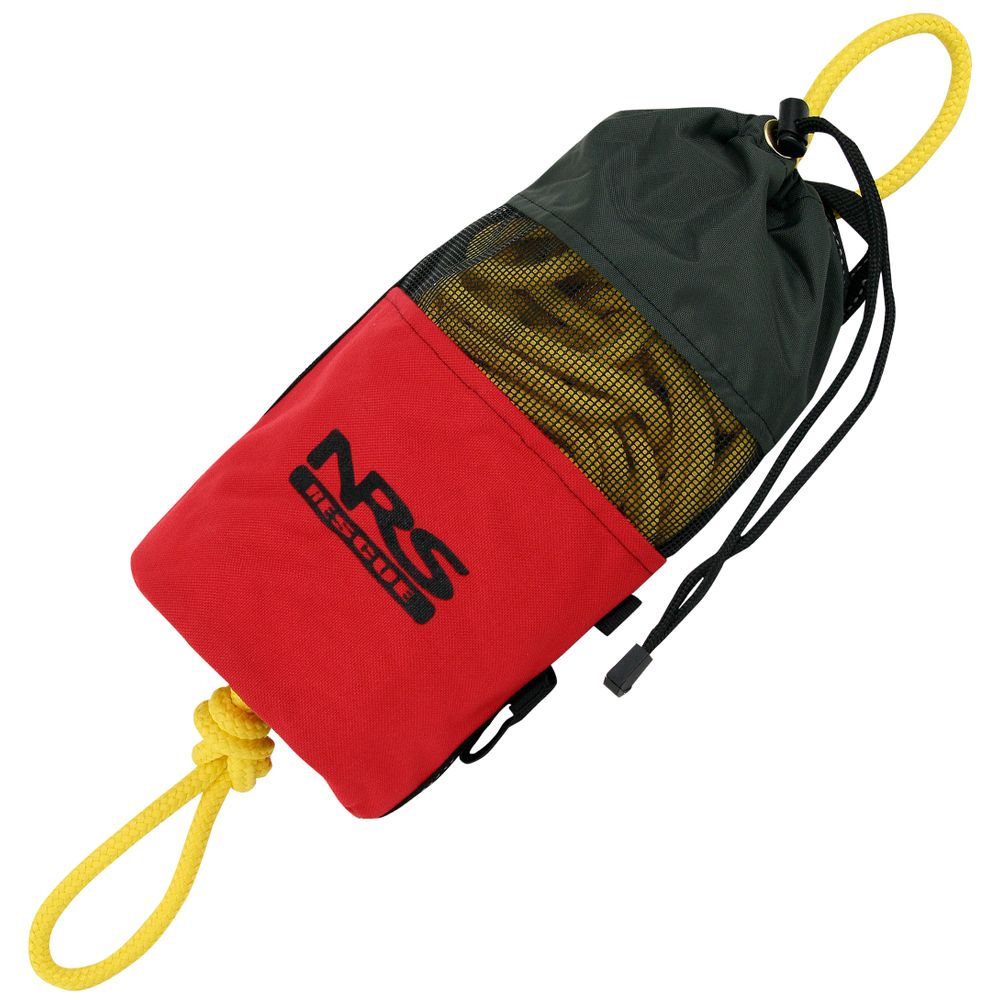 Quick Facts
Tensile Strength:
861 kg
Diameter:
10 mm
Length:
22 m
Weight:
1.020 kg
Material:
Polypropylene
Price:
$$ (Check Price Here)
Pros:
Foam flotation in bag
Good draining
Cons:
Heavy for its tensile weight
Where to Buy:
NRS Website
---
This is an excellent, professional throw bag and is best for whitewater expeditions. It is by far the strongest on this list and is super heavy. I've had it on one trip and thankfully never had to use it in a rescue situation because I think I'd really struggle to throw it very far.
That said, if you're paddling in rapids that could easily pin or wrap your boat, or you're working as a whitewater professional, the strength of rope makes it perfect for inclusion in a mechanical advantage system. For most paddlers though, I think the extra strength isn't necessary and not worth the weight.
If you aren't familiar with what a mechanical advantage system is, read this post.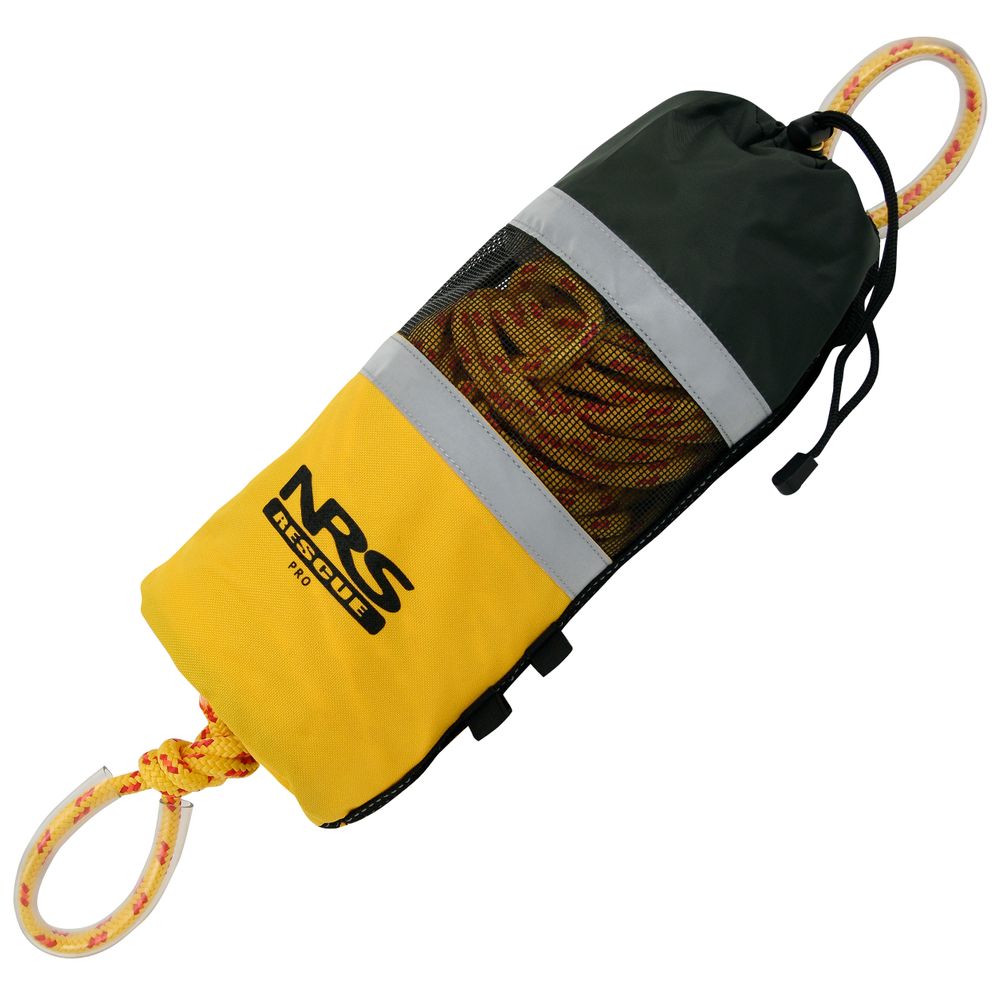 Quick Facts
Tensile Strength:
2375 kg
Diameter:
10 mm
Length:
22 m
Weight:
1.162 kg
Material:
Polypropylene Sheath
Spectrum Core
Price:
$$$ (Check Price Here)
Pros:
Foam flotation in bag
Good draining
Plastic casing on end loops
Cons:
Very heavy
Expensive
Where to Buy:
NRS Website
---
This throw bag by MEC is great for recreational trips and beginner whitewater paddlers. It has decent strength and isn't too heavy, plus it comes at a really attractive price point (~$25 last I checked).
I've had this throw bag included when I've rented whitewater canoes and am paddling in a non-remote place (like a provincial park). It's good for pulling people out of water or tying boats together.
This throw bag wouldn't be suitable on longer expeditions or if used in a mechanical advantage system, however. The rope just isn't long or strong enough. In addition, the bag doesn't have any mesh, so there isn't great drainage.
Quick Facts
Tensile Strength:
575 kg
Diameter:
8 mm
Length:
15 m
Weight:
594 g
Material:
Polypropylene
Price:
$ (Check Price Here)
Pros:
Foam flotation in bag
Reflective Strips
Inexpensive
Cons:
Poor drainage
Not super strong
Not super long
Where to Buy:
MEC Website
---
North Water makes excellent, professional-grade throw bags and their Pro Throw Line fits the bill. There are actually eight different variations of this bag, which are all listed here. I've included the Pro Throw Line with SpectrA (rope material) in this guide.
With SpectrA, the rope is thick and incredibly strong (almost 2000 kg of tensile strength!), making this one of the strongest ropes on this list. It is excellent for unpinning boats with a mechanical advantage system. Plus, the throw bag weighs less than 500 g (I don't know how they managed so light of weight) which I think makes it better than the NRS Standard Pro.
You could choose a variation with their SprectrX rope material, which would offer less strength and but cut down on weight. Another variation has a length of 35 m, which for most of us would be unnecessary (I can't even throw that far), but paddlers on wide rivers might be interested in this.
Although I didn't notice this personally, others have said that the mesh isn't particularly durable and shows wears and tears quickly. I've also heard complaints of it being difficult to repack the rope in the bag because of a narrower opening.
Check Prices at North Water | Check Prices at MEC
Quick Facts
Tensile Strength:
1996 kg
Diameter:
9.5 mm
Length:
23 m
Weight:
465 g
Material:
Polypropylene Sheath
Spectra Core
Price:
$$$ (Check Price Here)
Pros:
Foam flotation in bag
Reflective Strips
Good drying
Extremely strong
Cons:
Expensive
Narrow opening
Where to Buy:
MEC Website
North Water Website
---
This throw bag is best for budget paddlers who won't be doing challenging rivers. I think it's also great for flatwater paddlers to have on hand, as rope can be helpful for tying boats to shore or securing gear. It's lightweight and inexpensive, making it super easy to bring on trip with you.
Its length and strength make it unsuitable for longer trips or whitewater expeditions.
Check Prices at North Water | Check Prices at REI
---
I still can't believe this tiny, tiny little throw bag can support 800+ kg. Astral's throw rope is the smallest I've ever tried (it even fits into the pocket on the BLUEJACKET life jacket). It's super easy to throw even when it's wet. The rope isn't very long, so you'll want to use this on narrow rivers.
The small diameter of the rope can make it hard to grip onto with wet hands, and apparently (though I haven't experienced this myself) is more likely to cause rope burn than thicker ropes.
I think this rescue throw rope bag is perfect for whitewater day trips because it's so small and yet strong enough to be used in a boat rescue (though not necessarily strong enough for all boat rescues and mechanical advantage systems).
Quick Facts
Tensile Strength:
816 kg
Diameter:
7 mm
Length:
14 m
Weight:
300 g
Material:
Polypropylene
Price:
$$ (Check Price Here)
Pros:
Fits in Astral life jacket
Extremely small / compact
Inexpensive
Great strength for weight
Cons:
Small diameter
Where to Buy:
Astral Designs
---
Purpose of a Throw Bag
Put simply, a whitewater throw bag is a bag stuffed with a rope that floats. The whitewater rescuer holds one end of the rope with one hand and throws the bag with the other. Since the rescuer has hold of one end of the rope, the rope leaves the bag as the bag soars through the air.
This is helpful during a whitewater rescue because you can use it to get a swimmer out of moving water. You throw the throw bag to them, they grab onto the rope and get pulled into shore.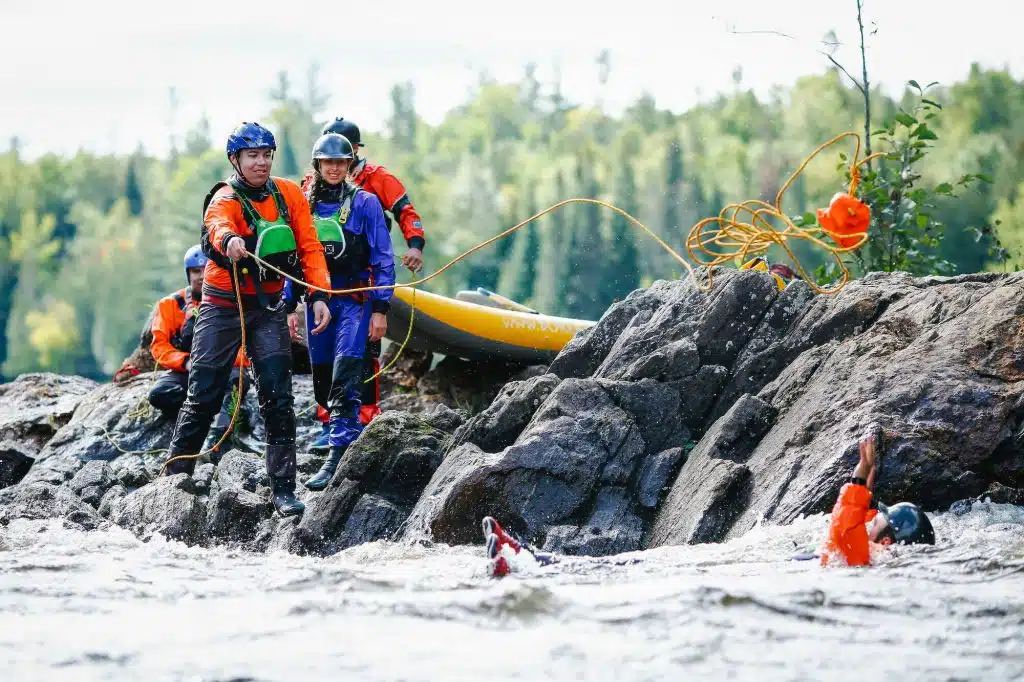 ---
Throw Bag Properties
Throw bags have four main properties: Float, Visibility, Size and Strength. There are other properties like the material of the bag, if it has a buckle on it, etc. However float, visibility, size and strength are the most important because they affect how helpful the throw bag rope will be when being used to pull someone or something out of the water.
Float
It would be pretty useless to throw a swimmer a rope only to have it sink to the bottom. That's why most throw bag ropes are made with polypropylene, which is incredibly buoyant and allows the rope to float on the surface of the water.
The downside to polypropylene kayak throw bag is that it isn't super strong and doesn't do well with friction (it has a low melting point, so any heat generated with fiction could melt it). So if you're wondering if a kayak throw rope can double as a climbing rope, that would be a hard no.
Throw ropes typically come in two varieties.
The first variety has a high polypropylene content, which makes it very buoyant and lightweight, but less strong. The Astral Throw Rope is a perfect example of this. It is extremely light and will have great flotation, but is not very strong.
On the other hand, throw ropes can also have a polypropylene sheath around another material of rope. This makes them less buoyant and heavier, but very strong. An example of this would be NRS Pro Rescue Throw Bag.
The material best for you will come down to the strength of rope you need, which I'll discuss further down.
Size of Rope
The size of the rope includes the diameter of the rope and the length of the rope. The diameter and length can affect the weight of the bag and the strength of the rope.
Diameter: Ropes with a thin diameter are typically weaker. Also, it can be hard to grip a wet rope if the diameter is too small. The Astral Throw Rope has the thinnest diameter on the list, at only 7 mm.
Length: If you'll be using the rope in a mechanical advantage system or on a wide river, you'll need to go with a longer rope. For example, the North Water Pro can be up to 35 m long.
Rope Strength
The rope in a throw bag is typically used for two things: rescuing people and rescuing boats. The force exerted on the rope when a person grabs on is minimal, and all throw bags ropes are strong enough to accommodate this.
The force exerted when rescuing a boat, on the other hand, can be huge. Say you have a canoe that tips in the rapid and the hull (the bottom) is facing away from a large rock. The water is rushing into the inside of the canoe, pushing the canoe against the rock with a ton of force.
This is called a "wrapped" canoe, because, with enough force, the body of the canoe will actually bend around the rock, potentially breaking (canoes are actually quite flexible, but with enough force, they will break).
The strongest throw bag on this list is NRS Pro Rescue.
On two occasions I've had to use a rope for retrieving a pinned or wrapped canoe, in which case I need more strength than that. So I typically guide with two types of throw bags on hand. (There are two guides – typically me and a male – on my trips and the male carries the heavier throw bag.)
Tip: Have rescue throw bags with two types of rope. The shorter and lighter ones can be used for catching swimmers. The longer and thicker one can be used for unpinning boats.
Visibility
Finally, throw ropes are almost always yellow because that colour makes them the most visible. Say you throw the rope to a swimmer but they don't catch it – if they can see where the rope landed, they can swim toward the rope and then grab it. But if they can't see the rope then it isn't any good to anyone.
The throw bag itself must also be visible so the swimmer can see it coming at them. Usually, they're either red or yellow with black mesh.
Other Properties
Here are a few other properties about throw bags. The vast majority of throw bags have a similar design to them.
Synched Open: The synched opening means the rope won't fall out when it's not being used, but can be quickly and widely opened so the rope can fly out easily.
Hip Belt and Release Buckle: Some throw bags have a hip belt and release buckle to secure it around their waste when they aren't using it. The release buckle has a bright coloured ball attached to it, so you can quickly grab the ball, pull and the belt releases.
Drainage / Dry Time: This considers how quickly the bag and rope will dry. Typically, throw bags with a lot of mesh will dry quicker as they provide good drainage. This is helpful because it's harder to throw a wet rope than it is to throw a dry one.
Tip: Even the best whitewater throw bag is useless if you don't know how to use it. Please consider taking a swiftwater rescue course. Read this post if you want to learn more about them. Knowing what to do in an emergency, especially one involving moving water, can save someone's life.
---
Additional Whitewater Safety Gear
In addition to a throw rope, there is other important rescue gear you need to have on you when paddling in moving water, which I've explained below. I'll compare products in subsequent buying guides, but I've included the products I use.
Rescue Life Jacket
Regardless of what kind of water you are paddling, I am a huge advocate for always wearing a life jacket. For moving water, I have a rescue life jacket, which just means it has a D-ring on the back with a quick release.
Say I had to jump into the water as 'live bait', the rope gets tied to a carabiner, which is secured to the D-ring on the back. If I'm in trouble and need to get off the rope quickly, I pull the quick release and I'm no longer tied to the rope.
That's something you'll learn if you take a whitewater course. I love the Astral GreenJacket because it's comfortable and has a huge pocket in the front.
Helmet
Please, please, please – if you paddle in moving water, always wear a helmet. I see many paddlers on social media going down Class I and Class II rapids without a helmet. It gives me so much anxiety watching them.
If your boat tips and your head goes underwater and hits a rock, your helmet could save your life. I always paddle with one, and this is the one I use: NRS Havoc Helmet
Knife
You should always carry a river knife when there is rope involved because Rope + Water = High Risk. What if the rope got tangled around your legs and snagged on the boat? This could trap you. But if you have a knife, you can cut yourself free.
I've had to use my knife to cut a throw bag rope when unpinning a canoe. I keep the NRS Pilot Knife in a sheath on my life jacket.
Dry Suit
I personally don't have a dry suit yet, but it's on my list of upcoming purchases. It's really only needed if you paddle in spring or autumn, as the water can get really cold. However, rescuers will also wear them when they'll be in the water for long stretches of time.
You may have noticed that I mostly buy NRS products when it comes to whitewater safety. They're the leaders in the industry and produce extremely high-quality gear.
---
Whitewater Rescue Courses
As I mentioned above, it is so important to get rescue training if you're going to be paddling in whitewater. The training will teach you how to throw a throw bag (yes, there is a technique to it), how to stuff a throw bag or a water rescue bag and how to catch the throw bag rope when you're swimming. It will also teach you how to build a mechanical advantage system (for unpinning boats) and help you develop comfort swimming in rapids.
Check out this post if you want to learn more about courses. I do all my whitewater courses with Boreal River Rescue (based in Ottawa) and highly recommend them.
---
Further Reading
If you want to learn more about whitewater rescue and paddling in moving water, here are some articles to read next.