I can't think of anything more classically Canadian than canoe tripping (perhaps maple syrup, but canoe tripping would be a close second). And since canoeing Canada is so quintessential, I thought I'd put together a bucket list of the most incredible and iconic canoe trips in Canada.
Meandering along winding rivers, the kind with spiny black pine trees lining the shoreline and bends so frequently you can hardly see more than a hundred strokes in front of you. Or wading over large lakes with near-black water, bordered by rocks of granite and quartz that glisten in the sunlight. Moving with an uncontrollable force through towering canyons and overbearing mountains ranges.
Tip! If you're looking for trip reports on Canadian canoe routes, I suggest checking out Trip Reports. It's a growing database of backcountry trip reports, most of which are canoe routes!
---
Whitewater Canoe Trips in Canada
I've started the list with whitewater paddling – in other words, river trips. I've selected four rivers that I think epitomize Canada canoeing: rivers that provide an unparalleled opportunity for connection with nature and disconnection from society.
Nahanni River
The Nahanni River is possibly the most quintessential paddling route in Canada. Located in the Northwest Territories, the Nahanni River takes you through imposing canyons and weather-worn mountain ranges, and lays witness to the powerful Virginia Falls (twice the height of Niagara Falls).
There are many outfitters with guided trips on the river – both by canoe and raft. The prevalence of rafting allows anyone of any skill to enjoy the river. If you want to paddle a spectacular northern river, the Nahanni River will deliver in spades. Watch the video below from Black Feather – I've watched it so many times and I still get chills!
Location: Northwest Territories

Duration: 7-21 days

Difficulty: Intermediate-Advanced
Recommended Reading: Dangerous River: Adventure on the Nahanni
---
Mountain River
The reason Mountain River is on this bucket list is because it's the favourite of the guides at Canoe North Adventures, praised for its seclusion and amazing whitewater. These guides get to paddle a lot of different arctic rivers, so if it's their favourite, it's definitely on my list.
Mountain River takes you through six canyons with incredibly fast current and, according to the guides, unbelievable whitewater rapids. All while surrounded by rolling mountain ranges and wildlife. If adrenaline is what you're after, this is some of the best canoeing in Canada.
Location: Northwest Territories

Duration: 25 days

Difficulty: Advanced
---
Upper & Lower Horton River
The Horton River is the most northern river in mainland Canada and it is an excellent place to spot wildlife like caribou, muskoxen, wolves and grizzly bears. You can either do the upper or lower portion of the river, but frankly, I'd like to do both.
Location: Northwest Territories

Duration: 12-25 days (depending if you do one or both sections)

Difficulty: Advanced
Recommended Reading: The Last Wilderness: 600 Miles by Canoe and Portage in the Northwest Territories
---
Missinaibi River
Designated as a Canadian Heritage River, the Missinaibi River is one of the most iconic and popular options for canoeing in Canada. It is an excellent river for intermediate paddlers to do unsupported. It's remote, but not inaccessible. It has some difficult portages and Class III rapids, but also long stretches of smooth water and beautiful scenery.
Grab a copy of Hap Wilson's Journey to the Northern Sky, which has detailed maps of the many rapids and interesting information on the river, and be on your way. I highly recommend doing the river from Lake Missinaibi all the way to Moosonee.
The first section of the river has amazing rapids and stunning Canadian Shield geography, whereas the second section is wide and winding with few rapids but a northern character.
Location: Ontario

Duration 9-20 days

Difficulty: Intermediate
Bloodvein River
The Bloodvein River is another Canadian Heritage River, and it flows from Woodland Caribou Provincial Park in Ontario to Lake Winnipeg in Mantioba. The river is characterized by excellent whitewater, classically beautiful Boreal Forest, and exposed granite rocks dotted with Indigenous pictographs.
Location: Ontario / Manitoba
Duration 12-15 days
Difficulty: Intermediate
Canada Canoeing: Other Whitewater Areas of Note
If I was to list every single river I'd like to paddle, this post would go on forever. Here are some other rivers on my never-ending to-do list: Hayes River (Manitoba), Keele River (Northwest Territories), Yukon River (Yukon) and Churchill River (Saskatchewan).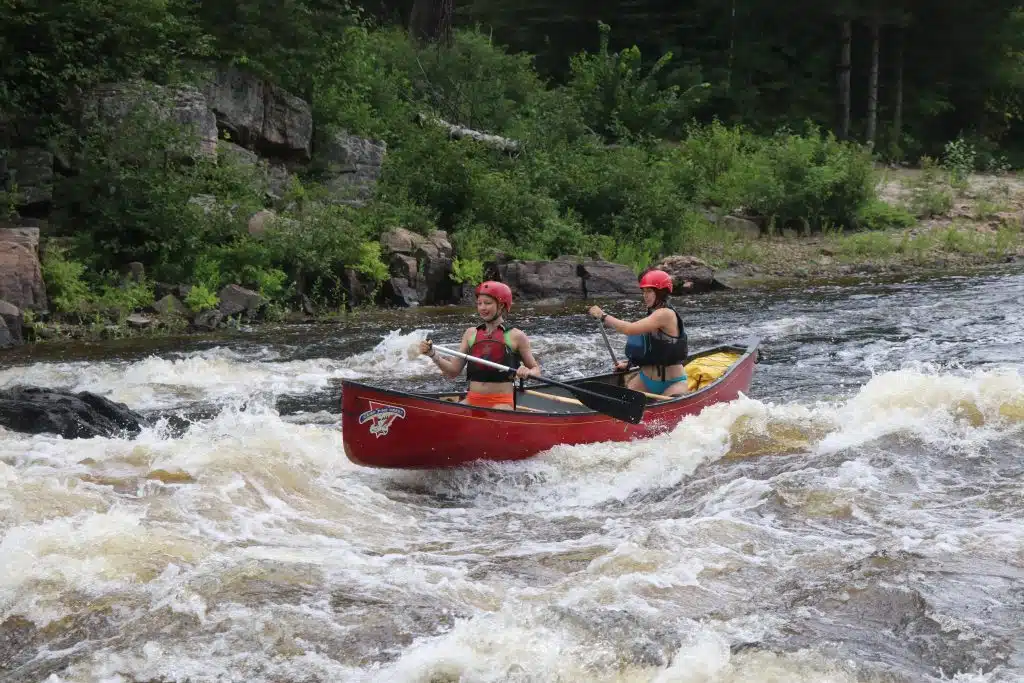 This post may contain affiliate links. If you make a purchase through one of these links, I may receive a small commission at no extra cost to you. Your support is much appreciated! You can learn more by reading my full disclosure.
---
Flatwater Canoe Trips in Canada
Despite my growing preference for whitewater canoeing, there will always be a place in my heart for flatwater paddling. There are far too many lake networks in this country to paddle them all, but a few iconic areas are worth a place on any canoeist's bucket list. As seeing as most canoeists stick with flatwater, there are tons and tons of incredible destinations. This, my friends, is Canada canoeing at its finest.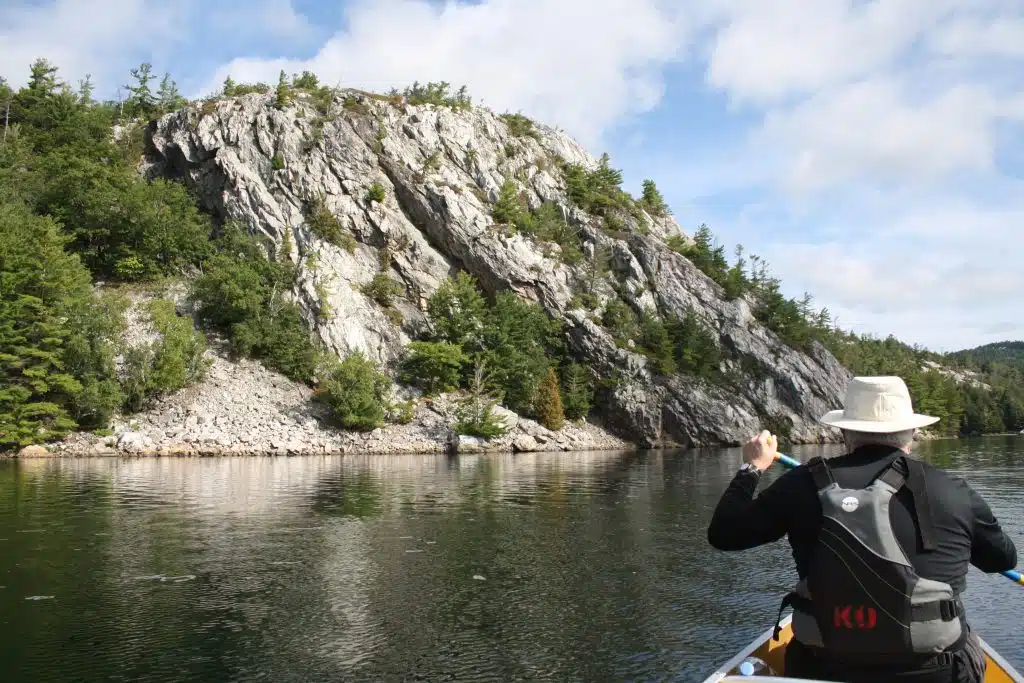 Killarney Provincial Park
I think Killarney is the most beautiful place in Ontario, and one of the most beautiful places in Canada. The scenery is striking; lakes the colour of Gatorade, hills that sparkle silver in the sunlight, windswept pine trees lining the shores.
In autumn the trees change into a kaleidoscope of colours. Killarney is so beautiful, that it is home to OSA (Ontario Society of Artists) Lake and Artist's Lake due to its significance to the Tom Thompson & The Group of Seven (Canada's famous landscape painters).
When I first paddled Killarney, I did a 12 day trip and experienced over 3/4 of the park. It also has some amazing weekend trips.
Location: Ontario

Duration: 3-12 days depending on route

Difficulty: Novice
Additional Resource: A Paddler's Guide to Killarney and the French River
Bowron Lakes Circuit
British Columbia may not have many canoe routes, but the routes it does have are spectacular; Bowron Lakes is no exception.
This canoe routes takes you through six major lakes and two rivers, all of which is connected through a series of portages. The major difference between this canoe trip and those in eastern Canada is that you're paddling at the foot of the Cariboo Mountains – expect to see pointy peaks and glacial lakes!
Location: British Columbia
Duration: 6 – 10 days
Difficulty: Intermediate
Temagami
Temagami isn't technically a park, but has campgrounds and portages maintained by the Friends of Temagami. Hap Wilson, one of Canada's most iconic canoeists, calls Temagami home – and for good reason.
I've done two different two-week trips and would still go back for more. Some of my favourite destinations in Temagami include Paradise Lagoon, Wolf Lake, and the hike up Ishpatina Ridge (tallest peak in Ontario).
Definitely check out Hap Wilson's comprehensive book on wilderness routes in Temagami.
Location: Ontario

Duration: 7-12 days depending on route

Difficulty: Intermediate
Additional Resource: Temagami – A Wilderness Paradise
Algonquin Provincial Park
Algonquin Provincial Park is the Creme de la Creme of Canada canoeing. It covers 7,000 square kilometers and is home to more than 2,000 kilometres worth of canoe routes.
Need ideas for canoe routes in Algonquin? Check out our database of Algonquin Park trip reports.
Location: Ontario

Duration: 3-7 days depending on route

Difficulty: Novice

– Intermediate
Additional Resource: A Paddler's Guide to Algonquin Park
Quetico Provincial Park
Location: Ontario
Duration: 5-12 days depending on route
Difficulty: Intermediate-Advanced
Woodland Caribou Provincial Park
Woodland Caribou Provincial Park is an excellent destination for intermediate paddlers and it's the only flatwater destination still on my to do list.
The park is located on the border of Ontario and Manitoba, making it reasonably accessible while still providing opportunities for solitude and silence – the park contains 2,000 km of canoe routes and receives only 1,000 paddlers each season.
This is what makes Woodland Caribou spectacular, in my opinion. You're nestled amidst the beauty of the Boreal Forest, which paddlers have long cited as having a certain magical feeling one can't quite articulate. And you can experience it without interruption.
While Killarney and Algonquin may feel a tad commercialized and you're likely to encounter other paddlers, Woodland Caribou remains a little known secret. However, this is also why I believe your skill level needs to be higher; if you run into trouble, help is further away.
Regardless of your level of experience, I recommend reaching out to Red Lake Outfitters if you are considering a trip here. They are the definitive experts on Woodland Caribou and offer guided trips, shuttle services, route planning, gear and more.
Location: Ontario
Duration: 7 – 21 days depending on route
Difficulty: Intermediate
Canada Canoeing: Other Flatwater Areas of Note
If the opportunity came, I'd also do a canoe trip in Quetico Provincial Park (Ontario) and I'd love to do another trip around Georgian Bay Islands National Park (Ontario). However, at this point I've grown a bit tired of flatwater paddling so I'd rather dedicate my time to whitewater. That said, if you haven't done much Canada canoeing yet, there are tons of options to get you started.
---
Canoeing Canada – Final Thoughts
I hope this post has introduced you to some new places and wonderful places to go canoeing in Canada and perhaps even added a trip or two to your bucket list!
What are you thoughts? What are your favourite destinations for canoe trips in Canada? Let me know in the comments below!