In all my years of canoe tripping, I had never paddled amidst the reds, yellows and oranges of a Precambrian Shield autumn. That changed this October, when I joined a five day canoe trip on the Coulonge River with nine new faces met through the Wilderness Canoe Association.
This post may contain affiliate links. If you make a purchase through one of these links, I may receive a small commission at no extra cost to you. Your support is much appreciated! You can learn more by reading my full disclosure.
In the weeks leading up to the trip, I was met with surprise when I told others about my plans to paddle and camp in the Quebec backcountry. My millennial co-workers, other young professionals recently graduated, sought out European beaches and South American cities for their holidays. Why I would spend my precious vacation days in Canada, outside in the chilly autumn air nonetheless, was unimaginable.
For those who don't grow up on the pink granite rocks and dark green waters of the Precambrian Shield, it is difficult to understand the magnetic attraction this place can hold. How, after all this time, I have still not grown tired of the spiny pine trees and the smooth curve of  shoreline. How I find novelty in such familiar scenery. Familiar, yes, but never repetitive. The colour of the leaves alone is enough to make the whole scene new.
Indigenous groups in the Coulonge River region, the Algonquin and the Mohawk, believe in a deep spiritual connection with the land. In the land one finds home. This is a sharp contrast to Europeans who have long viewed North America as a productive means to an exploitative end. A land to be farmed, extracted, built upon.
My heritage would predispose me to the latter. Yet, as I paddle on the rivers and lakes of the Precambrian Shield, carved by ancient glaciers through some of the oldest rocks in the world, I believe I am closest to understanding an Indigenous frame of mind. Perhaps I will only ever feel a fraction of the connection between people and place the way the Algonquin and Mohawk do. But that fraction is more than enough, and it draws me to return, time and time again.
And now to see it in the autumn, when leaves succumb to dropping temperatures and change their clothes accordingly. When frost lingers in the morning, clinging, sparkling. Beautiful on the stems of leaves; cumbersome on the fly of my tent.
Nonetheless, Quebec must be one of the most beautiful places in Canada in autumn.
Even in my many layers of technical clothing with fancy names – Gore-Tex, merino, Polartec – I feet my bones chill, my chest tighten. I must wrap myself in several layers if I am to sleep through the night. To thrive on a land before the advent of such convenient comforts is beyond my comprehension.
New to canoe camping? Here's how to get started.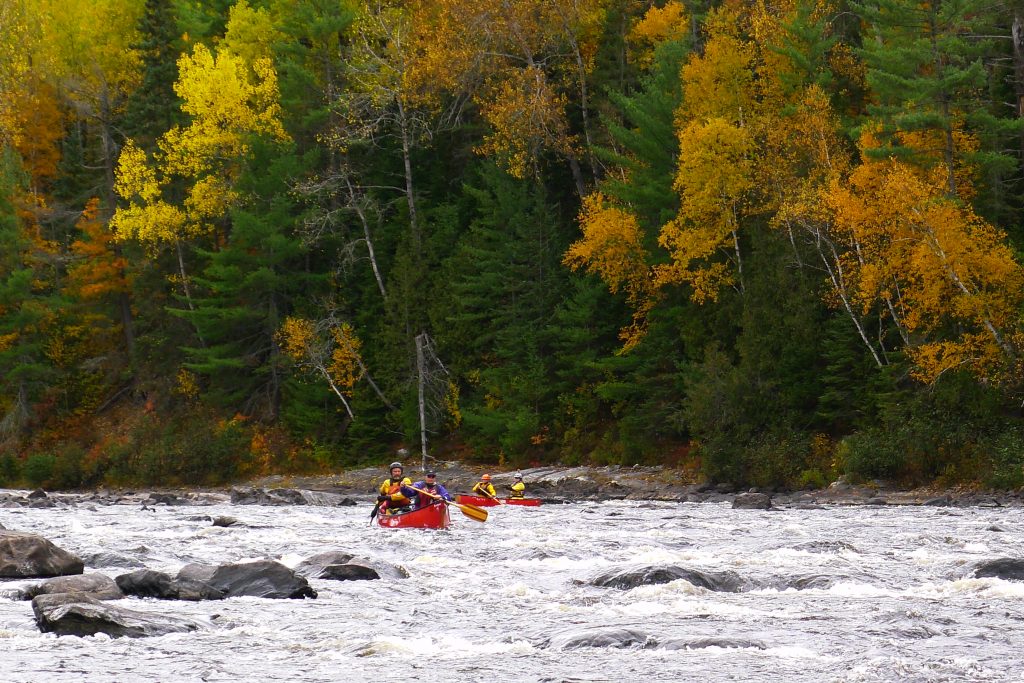 On the third day it rains without pause. The water soaks through my socks and makes its way under my jacket and down my forearms. For hours I question the numbing in my toes. You can't get frost bite at this temperature, right? How long without feeling until nerve damage sets in? (A tendency toward melodrama is a particular gift of mine.) My medical training would tell me "no, it is not cold enough for frost bite".
It is, however, cold enough for hypothermia. After lunch we gather in a circle and one canoeist leads us in the Penguin Dance, a series of chants and movements to get all of us warm. It would be quite the scene for a moose passerby. Ten people, ranging in age from 24 to 65, covered in colourful plastic suits, jumping up and down singing about penguins. (Though I guess any modern canoeist activity is quite a perplexing scene for a moose.)
But despite this chilly discomfort, I would do it all again for another glance at orange and red flames propped high on granite cliffs. To see dark green spruce trees peaking out before a yellow aspen backdrop.
After five days spent paddling on the Coulonge River, my connection the shield and forest and river remain unchanged. Back home I procrastinate on Google Maps, casually searching for my next destination. I don't believe I'll ever tire of paddling Canadian waters. How can anyone tire of home?
Thank you to all the new paddlers I met on this trip for your wonderful company, invaluable knowledge and delicious food. A special thanks to Jeff, Bob, Barb and Sandro whose photos I have borrowed to illustrate such beauty. The photos you see in this blog post are courtesy of them.