If you're looking for outdoor adventures like wildlife spotting, paddling and hiking near Kingston, I have the destination for you. And unlike Algonquin, it's not going to involve 1) 3+ hours of driving, 2) huge crowds of people, or 3) various fees and permits.
Look no further than the Frontenac Arch Biosphere. With hundreds of lakes, thousands of islands and a provincial park, the Frontenac Arch Biosphere is a FABulous destination for outdoor adventurers alike (pun intended, sorry).
In this post, I'm going to introduce you to the unique and ecologically significant region that makes up the Frontenac Arch Biosphere, and some outdoorsy day trips you can take from Kingston. I'll also touch on a super helpful (and totally free) planning tool you can use to make the most of your trip.
This post may contain affiliate links. If you make a purchase through one of these links, I may receive a small commission at no extra cost to you. Your support is much appreciated! You can learn more by reading my full disclosure.
This post is done in collaboration with the Frontenac Arch Biosphere Network, a not-for-profit organization tasked with protecting and promoting the sustainable development of the region.
---
Welcome to the Frontenac Arch Biosphere
The Frontenac Arch Biosphere is an incredible place. Encompassing an area of 2700 square kilometres, the Frontenac Arch Biosphere stretches from Gananoque in the west to Brockville in the east, from the St Lawrence River to its south and the Rideau Lakes in the north.
What is a Biosphere? Appointed by UNESCO, a Biosphere is a living laboratory used to research and promote the sustainable interaction between people and nature. There are 19 Biospheres in Canada.
The Frontenac Arch is a giant, ancient land bridge made of granite that stretches from the northern Canadian Shield to the Adirondack Mountains. To the First Nations indigenous to the area, the Frontenac Arch is called "backbone of the mother", in order words, Mother Nature's spine.
The land is rocky and rugged, with lakes and islands dotting the landscape. To the southern part of the FAB is the Thousand Islands and the intersection between the land bridge and the St Lawrence River. Forests are abundant here, as is wildlife.
Although designated a Biosphere Region by UNESCO, the area is not protected from development. The community, its leaders and the FAB Network work hard to raise awareness and protect this geographically unique region and the thousands of species it is home to.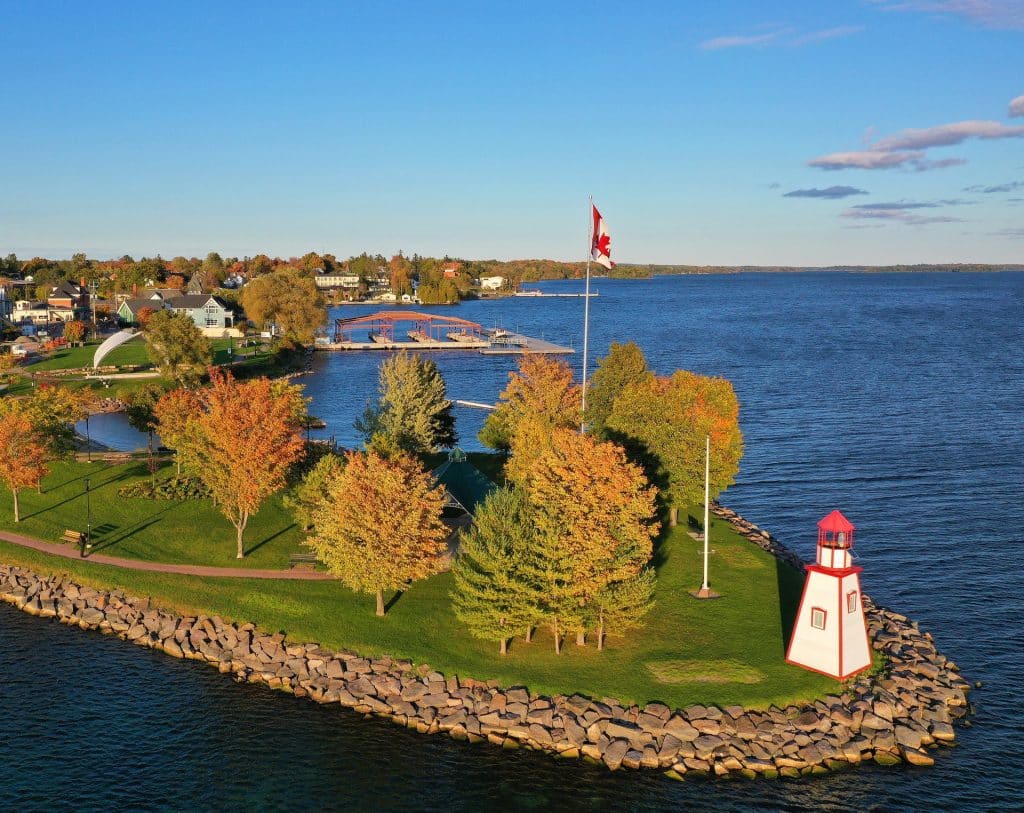 ---
FABExperiences: The Ultimate Planning Tool
The FAB Network has come out with an incredible free tool for planning day trips and weekend trips to the biosphere. FABExperiences provides interactive maps and 'Story Maps' to help locals and visitors plan their trip from start to finish. To promote sustainability, FABExperiences highlights unique, local businesses and underrated experiences throughout the region.
If you're specifically looking for hiking trails and conservation areas, there's a dedicated map. Click on any icon or trail/park name for information.
Fun Fact: The Frontenac Arch Biosphere covers the intersection of five different forests and the transitions from St Lawrence Lowlands to the Canadian Shield, making it one of the most versatile places to hike in Ontario.
While the Hiking Map is good, the best part about the site is the "Story Maps". These are interactive maps with highlighted attractions – hiking trails, paddling routes, cool businesses, lookout points, historical sites and more – grouped together by geography into a single Story. This makes it really easy to plan a full day or weekend trip.
Here is the start of the Story Map for Leeds & The Thousand Islands Paddling Experiences. As you scroll down, the Story Map will highlight different destinations and provide photos, information and a link to the website.
I spent a ton of time going through all of the Story Maps on the site in order to plan different day trips from Kingston.
---
Day Trips for Paddling and Hiking Near Kingston
The town of Seeley's is one of the best day trips from Kingston, and an especially good choice if you're looking for some paddling and hiking near Kingston. Seeley's sits on the shores of Seeley Bay and Broad Bay, a collection of bays separating Cranberry Lake to the southwest and Whitefish Lake to the northeast. Seeley's is about 35 minutes (38 km) from Kingston.
Start your day with a cup of coffee from SHaBean Coffee Roastery (#2) where they roast their own coffee beans in-house. Once you're nice and caffeinated, head to the public boat dock to get your canoe or kayak in the water. If you don't have your own boat, you can rent one from Sunny Acres Resort and Marina.
There are a few places to paddle from Seeley's, like Morton Bay (#3) which is about 7 km away. Morton Bay takes you through north Murphy's Narrows toward Whitefish Lake. The bay features rocky granite outcrops and, best of all, access to Rock Dunder Lookout. Look for a landing between Rock Dunder peak and Floods Island. From there, walk uphill under you intersect the Rock Dunder Summit Trail. The view from the top is incredible – this is one of the most underrated hiking trails near Kingston!
After you've finished your paddling and are back in Seeley's reward your efforts with an ice cream cone from Konez Ice Cream (#8). These are not your typical run-of-the-mill ice cream cones – these are one-of-a-kind sundaes loaded with toppings.
Experience a wonderful day trip from Kingston by stopping in Sydenham on your journey to Frontenac Provincial Park. Sydenham is a quaint town just 30 minutes (28 km) north of Kingston with tons of unique, local businesses.
On your way to Frontenac, stop at Grains & Goods Bakery (#10 on the Story Map) in Sydenham, a farmstead growing Red Fyfe wheat and rye. They produce incredible loaves of bread and traditional pastries. Pick up a loaf to prepare sandwiches for your afternoon hike! Just be mindful that the farmstead has limited hours – on weekends, it is only open 10 am – 1 pm on Saturdays.
While you're in Sydenham, you can also check out the Cataraqui Trail (#7 on the Story Map). The Cataraqui Trail is 104 km trail, of which 7 km passes through Sydenham – this is a great option for those looking for urban biking and hiking trails near Kingston.
For some great hiking near Kingston, hike the Arkon Lake Loop Trail (#2 on the Story Map). This is an 11 km hike that passes through the lush forest of Frontenac Provincial Park, home to dozens of species of trees and wildflowers, and wildlife like deer, painted turtles, loons and herons.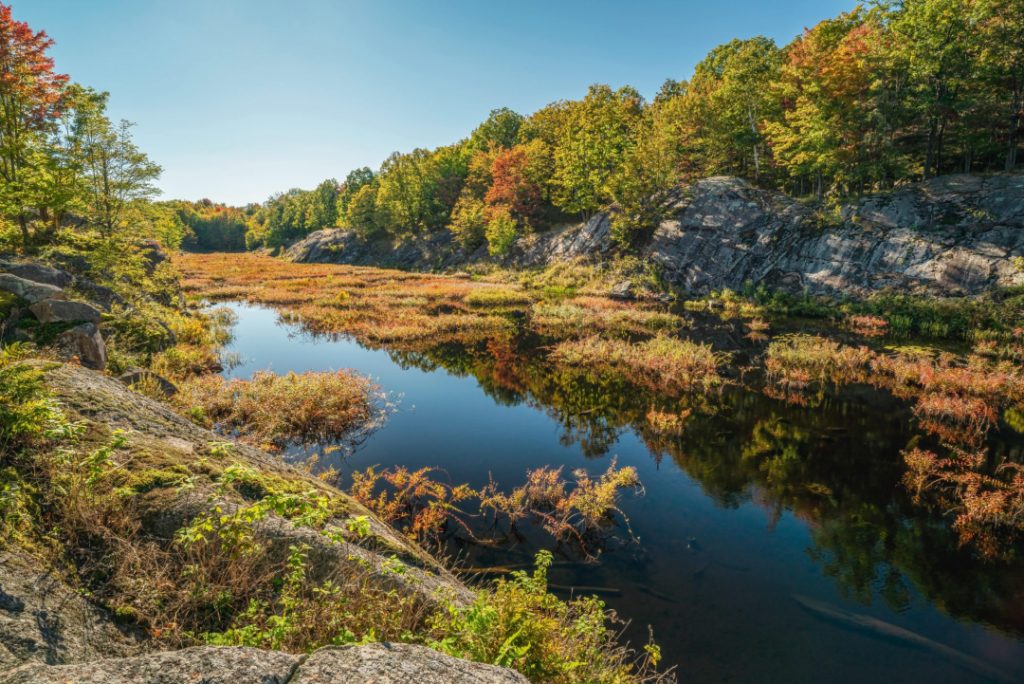 The last day trip I'll touch on is Frontenac Provincial Park. Although the park is only about 50 sqkm, there is more than 100 km worth of hiking trails, making it a premier destination for hiking in Ontario. And with the park only a 45-minute drive north, that means there is a great opportunity for hiking trails near Kingston for you to explore.
FABExperiences has pictures and descriptions for the three primary day hiking trails, plus a downloadable map of the park's trail system.
The most common day hikes are the Tetsmine Loop and the Corridor Trail, both of which are about 11 km in length and take about 2.5 hours to do. Tetsmine Loop passes by what is left from several mica mines and is a particularly unique trail in southern Ontario.
Both of the above trails could be hiked in a single day and would show the versatility of Frontenac Provincial Park.
The longest of the three trails is Slide Lake Loop, a 26.6 km loop in the southeastern corner of the park, which takes almost 6 hours to complete. It can also be hiked as an overnight trip (as was done in this trip report) and permits can be booked through Ontario Parks Reservations.
If you wanted to turn your day trip Frontenac Provincial Park into a weekend, you could either camp in the park or you could stay at the Snug Harbour Resort. The resort hosts 12 charming and rustic cottages, each with a beautiful view of Desert Lake. From Snug Harbour, you down the road from Frontenac Outfitters and you're close to three of the four trailheads.
---
Other FABulous Attractions and Hiking Near Kingston
As a hiker, paddler and backcountry camper, those are the experiences within the Frontenac Arch Biosphere that most resonate with me, but there are dozens of other options.
Take a self-guided wildlife photography tour, hiking at Charleston Provincial Park on the lookout for deer, turtles, osprey and other native animals. Before or after your hike, take a detour to the nearby Wildlife Museum. Oh and the Maple Leaf Restaurant in Gananoque isn't far and is very tasty.
Or spend a weekend in Leeds exploring historical sites like the Old Stone Mill and the Railway Museum of Eastern Ontario. If I still haven't provided enough hiking ideas for you, Leeds is nearby to a different section of the Cataraqui Trail and Threshold Forest, a private 25 acre forest open for hikers.
---
Are You Ready to Visit the FAB?
I hope this blog post has you excited for the many outdoor activities that are possible in the Frontenac Arch Biosphere. It's a truly spectacular region and is worth exploring. Head over to FABExperiences and check out their Story Maps and interactive maps to help plan your trip.
And if you'll be exploring the region, please remember to Leave No Trace (stay on established trails, pack out garbage) and visit a local business on your way there or back. The FAB only exists because of the wonderful people supporting its environment and communities!