Outdoor enthusiasts, and canoeists especially, are both easy and impossible to shop for. Sure, you can get them more of the standard canoeing gear – there is a seemingly endless list of pieces of canoeing gear. But that isn't necessarily fun or creative. So to help you out, I've compiled a list of unique gifts for canoeists that will really made your paddlers' day.
I've divided this post into three parts: canoe-related books, canoe-inspired art, and fun canoeing gear someone might not necessarily purchase for themselves.
Although this post is specifically targeting gifts for canoe lovers, many of these gifts would be a great gifts for campers and kayakers too.
---
Canoeing Novels, Non-Fiction and Guidebooks
Does anyone else love getting canoe-inspired books? There are hundreds of excellent canoeing books, but I've included the best / most iconic / best-for-gifts below.
Path of the Paddle by Bill Mason
Bill Mason is easily Canada's most iconic canoeist (he was even featured on the Canadian postage stamp in 1998). He paddled extensively throughout Canada and the United States, produced over a dozen films and wrote three books.
Two of his books, in particular, are worth calling out. Path of the Paddle is an illustrative guide to paddling techniques (some of which he pioneered). Song of the Paddle is about wilderness camping. Either book would make an excellent gift for canoeists.
Check availability of Path of the Paddle or Song of the Paddle.
This post may contain affiliate links. If you make a purchase through one of these links, I may receive a small commission at no extra cost to you. Your support is much appreciated! You can learn more by reading my full disclosure.
Hap's Maps (Canoeing Guidebooks)
I think this is an excellent gift for canoeists who are getting into whitewater canoeing. Hap Wilson has written the most incredible, comprehensive river guidebooks I've ever used. He hand draws every sizeable rapid set and provides detailed recommendations on how to paddle them.
Here are a few of my favourites:
Seriously, his guidebooks are a Canadian icon. Paddlers young and old are familiar with "Hap's Maps" and they're an essential resource when planning wild river canoe trips.
Paddle Your Own Canoe: An Illustrative Guide to the Art of Canoeing
This book contains over 600 beautiful photographs illustrating the art of canoeing. Regarded as the most comprehensive book on canoeing techniques, Gary & Joanie McGuffin cover everything from choosing a canoe and learning the paddling strokes, to portage and self-rescue techniques.
Even if you're an experienced canoeists, the photos and illustrations are beautiful enough to warrant a place on your coffee table. >>Check availability here.
River of Fire: Conflict and Survival on the Seal River by Hap Wilson
I'm actually reading this book right now and man, am I hooked. This is the exciting (and alarming) true story of Hap Wilson's trip on the Seal River. Before satellite phones and GPS, Hap and his group paddled right into the belly of the worst forest fire in Manitoba's recent history. Add to that a fatally incompetent co-guide and two inexperienced journalists, and you've got a recipe for disaster. >>Check availability here.
Waterproof Map Case
Waterproof Map Case: Though not the most glamorous gift, a waterproof map case is an incredibly practical gift. Only some maps have a water-repellant coating on them, and very few are actually waterproof. This will help keep their maps in good conditions for years of canoe tripping.
The Voyageur's Backcountry Cookbook
If you'll allow me one moment of shameless self-promotion, I wrote a backcountry cookbook and it would make an excellent stocking stuffer (the print version) or gift to someone far away (the digital version). The cookbook goes over meal planning, prepping, dehydrating and cooking for long canoe trips. You can learn more about it here. You can also purchase it using the link below.
---
Gifts for Canoeists: Gear
Holidays and birthdays are the perfect opportunity to give someone gear they would love, but don't necessarily need. Here are some pieces of gear and canoe accessories that would be perfects gifts for canoe lovers.
Helinox Camp One Chair
I can't believe how long it took me to finally get myself a proper (lightweight) camp chair. They are so comfortable, especially while feeding the fire or chopping ingredients. And they don't add too much space and weight either (watch this video to see how small it packs).
Personally, I love the Helinox Chair One (it's the one I have!) so I recommend gifting that one. >>Check availability here.
Aeropress Coffee Maker
This is hands down the best camp coffee maker I have ever tried. It's fancy (and patented) design gives you a perfectly brewed coffee in one minute. ONE MINUTE! It uses a micro-filter, which prevents little grounds from getting through (unlike with a French Press). It's also super easy and quick to clean. >>Order one now!
Reusable Silicon Food Bags
Canoe camping uses an alarming number of plastic bags. There is a reusable alternative, though it's a little pricey and hard to justify buying for yourself. That's where you come in. Gift your paddler some reusable silicon food bags. Check out the 56-ounce bag standup bag or the 15-ounce sandwich bag. This may be one of the most environmentally friendly gifts for canoe enthusiasts that you can get.
Camping Dutch Oven
There are hundreds of excellent canoe trip recipes you can unlock when you have a Dutch Oven. Say goodbye to endless rice, beans and oatmeal, and say hello to cinnamon buns, freshly baked bread, frittatas and pies.
A camping Dutch Oven is a cast iron oven specifically designed to sit on the embers of a fire. They're surprisingly lightweight for what they do (I like this one and it weighs less than 6 lbs).
Apparently this one is a little nicer, but it's also much more expensive.
(If you want some Dutch Ovens recipes to go with it, get my backcountry cookbook too.)
Paddling Gloves
If your paddling friend ever complains of blisters or callouses from paddling, they may like a pair of paddling gloves. I personally don't like to wear gloves because they make my hands feel sweaty, but others I know really like them. This pair of gloves are made of neoprene, so even if they get wet they will still be comfortable to wear.
GoPro Action Camera
I was given a GoPro for Christmas two years back and it's become one of my favourite things to bring on canoe trips. With a helmet mount, you can film all the incredible rapids sets and compile them into a super fun YouTube video.
I have the GoPro Hero 7, which I really like, but the latest version is the GoPro Hero 9. It's apparently way better (5K, live streaming, with two touch screens), but it also comes with a higher price point.
And fortunately for the clumsy paddlers (myself), GoPro is waterproof and fairly drop resistant. If I can keep mine intact for two years, anyone can!
---
Gifts for Canoeists: Canoe-Inspired Art
Next on the agenda is canoe-inspired art. How nice is it to fill a home with pieces by local artists that celebrate the beauty of the natural world and our adventures within it?
Custom Hand Painted Canoe Paddle
Vicky is an artist in Mississauga, Ontario and she hand paints the most beautiful paddles I've ever seen (check out this example and this example). She also does custom paddles too!
Honestly, I think I'll buy one once I move into my next apartment. They are so incredible.
Since they're hand-painted, you'll want to order one early to ensure you get it in time for Christmas. One thing to note: these paddles are meant for hanging on the wall (they aren't treated to be used in the water). >>Check them out here!
---
Portage Sign
Is it just me that thinks this would be a super cool sign to have in your hallway or mudroom? (I actually have an orange campsite on my bedroom door, so you know my decorating style.) Anyways, this aluminum sign is detailed with vinyl and made right here in Ontario. I think it would be a great stocking stuff or gift for a good friend. >>Order your own here.
---
Canoe-Inspired Hardcover Notebook
How perfect would it be to record your canoe adventures in a canoe-inspired notebook? There are tons of beautiful designs (check out more here).
---
1922 Map of Algonquin Provincial Park
If you're a fan of Algonquin, you may be interested in this old school map of the provincial park. It's by an artist in Toronto, Ontario and illustrates the major roads and waterways around Algonquin in 1922. The large size looks like it be great on the wall.
Nature-Inspired Phone Case
Think about outdoor adventure wherever you go with a canoeing-inspired phone case! I used to have the most wonderful phone case – it was a beautiful river with mountains and pine trees in the distance. Literally everyone complimented me on it. Too bad I couldn't find it for my new phone model, but I'd definitely consider getting one of the ones pictured.
If any of the case picture below intrigue you, here are the links:
---
Stainless Steel Mug with Adjustable Handle
A pet peeve I have with camping with a mug is that the handle is so gosh darn annoying to pack. I really like that this mug has an adjustable handle. Pull out the handle when you're using it, or tuck it in when you're packing it up.
I don't like the design as much as the one above, but I must admit the handle is useful. >>Check prices here.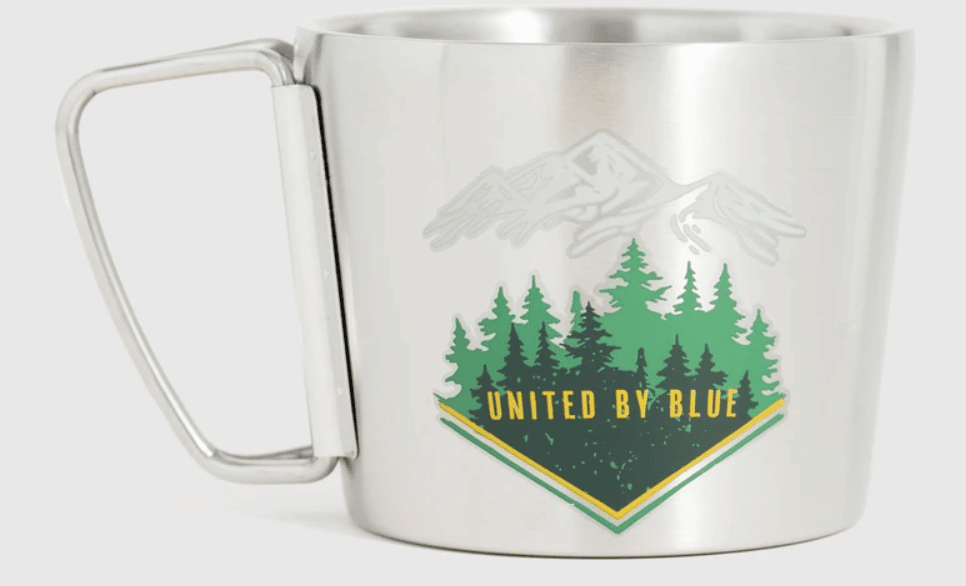 ---
Canoe Enamel Pin
Want just a little canoeing gift? This adorable canoe-inspired pin is perfect. There's a joint where the paddle crosses the canoe, so you can actually move the paddle like you were canoeing. And at under $15, this would be a great stocking stuffer! >>Check prices here.
---
Canoe-Themed Cuff Links and Jewelry
For the suit-wearing paddlers out there, how great would it be to have a pair of canoe-themes cuff links? The first design pictured is a pair of Wooden Paddle Cuff Links designed by an artist in Vancouver, British Columbia. The second is a pair of Algonquin Portage Sign Cuff Links crafted by an artist in Toronto, Ontario.
Or if jewelry is more their style, there are tons of options for canoe- and nature-inspired jewelry. I personally love the two pictured below. The first one (the canoe necklace) is by an artist based in the Adirondacks in New York State. The second is a clay-sculpted necklace by an artist in Minnesota. Both artists have numerous designs and styles, so there's plenty to choose from.
---
Gift for Canoeists: Clothing
Atom AR Hoody
I don't know what it is, but this jacket is a guaranteed crowd-pleaser. Everyone I know who owns it RAVES about it (I'm getting one for myself once they go on sale).
These synthetic down jackets are sleek enough to wear about the city, but the technical down makes them warm enough for layering in autumn and springtime. Also if you get it wet, I'm told it dries remarkably faster than other down / synthetic down jackets.
---
Gifts for Canoeists: Final Thoughts
I hope this list has been helpful and you have a better idea of what gift to give the canoeist in your life. When in doubt, anything with a canoe painted on it will likely be a winner.