The Pacific Crest Trail rose to prominence after the film Wild, in which Reese Witherspoon portrays Cheryl Strayed on her walk from the Mojave Desert to Washington State. The film illustrates moments of hardship and challenge found on the trail, but with so many people hiking the PCT each year, it is easy to forget just how difficult the PCT is. So what is it really like to hike the Pacific Crest Trail?
To answer this question, I interviewed Heather Porter, a rad Aussie gal I've admired from afar for a while now. In 2018 she quit her job, flew to the United States and set off to hike the Pacific Crest Trail alone. Starting at the Mexican border, she hiked through extreme environments – like scorching deserts and snow-covered mountain ranges – to reach the Canadian border.
In this interview, I asked Heather to reflect on what it is really like to hike the PCT, and Heather answered with candour and vulnerability.
This post may contain affiliate links. If you make a purchase through one of these links, I may receive a small commission at no extra cost to you. Your support is much appreciated! You can learn more by reading my full disclosure.
What made you decide to quit your job and hike the Pacific Crest Trail?
It was a pretty sudden decision to leave everything to go and hike the PCT. Just 5 months after learning the trail existed I found myself on a plane to LA from Sydney, Australia bawling my eyes out in a brief panic of "what have I done?!"
Interestingly, this wasn't because of some life crisis. I felt ready to travel and do something big, the idea of the PCT fell into my lap and suddenly I was totally consumed. I'm a strong believer that if something gives you butterflies then it's worth pursuing, so I followed my own advice. Conveniently I was in a job I was ready to leave and single at the time. I saw a window of opportunity so decided to climb through it. You can read about the thought processes here.
Ideas never seem as crazy when they are yours, but everyone around me thought it was insane. So often I was told "you are so brave", to which I would reply "no, just curious".

Were there moments at the beginning where you thought "I don't know if I'll be able to do this?"
Surprisingly no. I was excited by the idea of learning if I was capable of finishing, but in reality, I never once considered the fact that I might not make it. My eyes were locked on the prize, and my body was committed to making it happen.
Every situation that could have been overwhelming instead felt exciting I was on a great big adventure. The hurdles were there to keep it interesting. I was drawn to the seemingly impossible size of the hike. I remember being totally amazed and impressed with myself when I walked the first 300 km (186 miles). I thought I was invincible.
I had no grasp of just how tiring the following 3,900 km would be. I just focused on rinsing and repeating for the next 5 days ahead. Ignorance is probably a small part of it, but bite sized goal setting was the big contributor to success. The next town was always the focus, not Canada which was 5 months of walking away.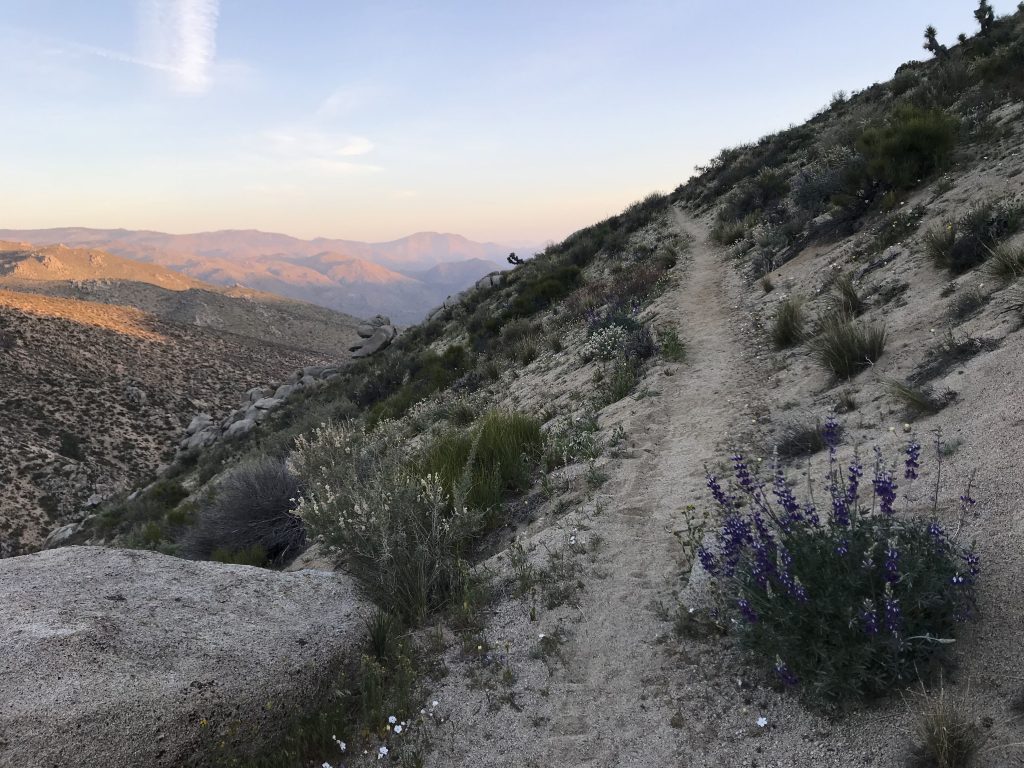 It takes a determined spirit to hike 4,000 km – were there any challenging moments that nearly broke your spirit?
By the end I was racing to finish. I made it to the border with 2 days left in my visa and 5 days before my identical twin was due to have her first baby back home.
In my last few weeks, I pushed my body harder than I ever knew I could. I was hiking back to back 50 km days through the Northern Cascades in Washington, which is known for huge elevation changes; it's considered the final test on the trail. I felt like I was loosing grasp.
Injuries were popping up as my body begged for me to finish, and my mental voice started to yell. She was tired and wanted to stop, but I was determined and was literally arguing out loud to myself. I fought hard against my body just wanting to take a break.
My heart broke when 3 weeks from the end we got the news of a fire closing the end of the trail. I had hiked for almost 5 months to get there, visualizing my finish at the Northern Terminus almost every day. What do you do when a goal like that is taken from you?
I sulked for a day and I cried a lot (while walking). I was forced to reflect heavily on the journey so far and pretty quickly realized that finishing at the terminus (or not) didn't take away from the other 4,000 km I'd just walked. I re-adjusted my sights to find alternative trails so I could still walk to the Canadian border and became completely dedicated again.
In the end, I was in the final town and, within an hour of leaving for the alternative trail, I got news that the fire was under control and the final leg of the PCT had reopened. Not giving up when the going got tough paid off, and I got to finish at the Northern Terminus after all.
All that change was so mentally exhausting but ended up being one of the most impactful lessons on the trail.
What section of the trail was the most challenging?
The Sierra Nevada Mountain Range was 100% the most challenging. I waited out snow storms for 3 weeks which didn't let up. Since I didn't have time to wait any longer I entered with a group and walked for 2 days in a white out blizzard. It was intense. I'd never been in altitude before, let alone used an ice ax, but managed to summit Mt Whitney (4,421 m),
the highest peak in the lower 48 states.
I made it through that leg to the next town. Ahead was another week of high snow, post holing (sinking knee-deep in the snow with each step) and suffering through the altitude with a full pack. I went out there looking for a challenge and I finally found it.
I met my match and made the heartbreaking decision to leave the group we formed, and I hitchhiked 1,000 km up the trail and walk backwards to that point allowing the snow to melt. It felt like I was admitting defeat.
It ended up being the best decision though. One of the girls came with me and we stayed together for the rest of the trail. We found ourselves in the middle of the PCT with hardly anyone around with beautiful weather. We became sisters out there.
How did you train for the PCT? What physical and emotional preparation did you have to do?
I come from a background of adventure racing which kept me pretty fit. Adventure racing is similar to triathlons except it's trail running, mountain biking and kayaking, and is a 24 hour race which you orienteer with map and compass. So after two years of training for three disciplines and weekly personal training I was in good shape.
Once I decided to hike the PCT my personal training focus shifted to more single leg work and weighted exercises. I also had never hiked for longer than 3 days, or even on my own, so went on a few overnight hikes to test my gear and independence. You can read about my first (hilarious) solo overnight hike.
The mental side I put a little more work into. Before I left I asked my best friend to write me a letter to read if I ever wanted to give up on the trail. Obligingly, she wrote me multiple letters for various occasions, which all became silent objects of resilience, each staying unread.
Every possible moment could have been suitable, but still didn't seem like the worst I was going to face. It's comforting to know I never needed them, so it was even more heart-warming to read from the safety of the end. I shed a small, grateful tear when discovering they were full of jokes and love and supportive comments giving me permission to stop if I needed to. They were perfect.
I also wrote myself a letter. It was a pep talk which reminded me of my "why", and what I was seeking: a challenge. I was doing this because I wanted to learn if I was capable, to experience living in the wilderness, the disconnection, and to find my true unfiltered self.
I wanted to meet a wild Heather. Eventually I did, and funnily enough I realized she's me – just grubby faced, with unshaven legs, stubborn, determined, and in love with pursuing a world of possibility.
What physical challenges should someone planning to do the PCT expect? How did your body change over the journey?
Well, it's going to hurt. The whole time. But you get used to it and the pain eventually just becomes white noise as your body adapts to its new normal of extreme overuse. I wrote a whole blog post about the physical toll thru hiking took on me.
The most significant physical challenge was injury. Your body gets very used to walking, the pack pains go away but is eventually replaced with some knee pain and foot pain. Tendon damage or even stress fractures in your feet are common if you start out too fast.
I started on just 17-20 km days, then slowly 30 km became the new normal, then 40 km, and crazily 50 km at the very end. Your fitness on the trail improves drastically, but fatigue and nutrition needs to be managed properly to stay in prime physical condition.
What emotional challenges should someone expect? How did you overcome these?
I cried often out there, for all kinds of reasons. Frustration, beauty, pain. It was a space where all of my thoughts and feelings were free to flow. I also laughed a lot. There was a huge weight lifted out there where suddenly self-expression could come out however it felt.
The highs were so high out there, and the lows were so low. I always jokingly tell people that there's no corner of my brain unexplored, then look them in the eye and say "no, seriously".
The mental grind (see blog post) was brutal. Scenery became repetitive and hiking became a job. On the longest, loneliest and most tiring days I would catch me out arguing with myself. The mental voice was so mean with constant "you can't do this" comments, to which I would defensively answer out loud "yes I can".
You literally go crazy, it's such a weird shifted reality to be living out there where nothing really matters and the main people in your life are just cut off. It's intense personal development.
What advice do you have for someone embarking on the PCT?
It's often said out there "Hike your own hike". I never truly got what that meant until I finished and reflected back on when I'd gone my way instead of following the crowd.
Flipping to get out of the snow storms in the Sierras is an example, or carrying a heavier pack than most others. It's something that is always going to guide me through life now. You really just need to be yourself out there, with your honest reason why and stay true to that.
Everything out there is testing you, there are hurdles and hiccups and impossible days. But just remember, no one ever talks about a hike that went perfectly to plan.
You can read more about Heather and hiking the PCT on her blog This Rambling Rover.