Over the weekend, I hiked the Mist Trail to Vernal Falls and Nevada Falls. I can confidently say, as of now, this is my favorite hike in Yosemite National Park.
It's got everything you'd expect in a Yosemite hike – striking white and grey granite mountains, roaring waterfalls, tall pine trees, so many colorful wildflowers, and a bright blue river coursing down the trail.
---
Quick Summary of the Trail
| | |
| --- | --- |
| Rating | Moderate – strenuous but not technically difficult |
| Trailhead | Happy Isles Trailhead (Shuttle Stop 16 on the Yosemite Valley Shuttle System) |
| Time Required | 3 – 5 hours |
| Length | 5.4 miles or 6.0 miles depending on route (on details below) |
| Elevation Gain | 2129 ft or 2600 ft depending on route |
| Seasons | Best time of year is April through June, but July through October is also nice. |
This post may contain affiliate links. If you make a purchase through one of these links, I may receive a small commission at no extra cost to you. Your support is much appreciated! You can learn more by reading my full disclosure.
---
The Mist Trail is also one of the more accessible hikes in Yosemite. The trailhead is in Yosemite Valley with shuttle access, you don't need a permit to hike the trail (though you do need a reservation to enter the park – more on that below), and the first section of the hike is partially paved.
It's still a challenging hike. There is up to 2600 ft of elevation to climb over 3 miles. But I think the Mist Trail offers the best bang for your buck: there's a large variety of amazing views spread out over a medium-length hike.
Over the course of 6 miles, you'll get stunning views of three different waterfalls and visit two of them – Vernal Falls and Nevada Falls – directly. If 6 miles is a little much for you, there is an option to do 4 miles instead and only visit Vernal Falls.
The Mist Trail is also one of the most popular hiking trails in Yosemite. The upside is this means you'll never be alone on the trail; the downside is that it can get very busy, especially the first section.
This Mist Trail Hiking Guide will cover the following:
Mist Trail: 4 Route Options
Trail Map
How to Get to the Trailhead
Step-by-Step Trail Guide
Best Time to Hike
Tips and FAQs
---
Mist Trail: 4 Route Options
Okay, let's dive right into the Mist Trail and your route options. You can hike part of the Mist Trail to Vernal Falls or hike the full trail to both Vernal Falls and Nevada Falls.
Here is a quick overview of the various ways to hike the Mist Trail. You basically have four route options for visiting the waterfalls. I most recommend Route #1 and if that's too long, do Route #4.
1. Vernal and Nevada Falls via Mist Trail and JMT (Loop)
This route option goes up the Mist Trail and down to Clark Point via the John Muir Trail.
The great thing about doing the loop is you get to come down via the John Muir Trail. It's much more gradual and doesn't have steps to climb down, so it'll be much easier on your knees. It's also less busy and Clark Point is beautiful (my favorite viewpoint of the whole trail!). I highly recommend this route!
It took Nadine and me 3 hours and 15 minutes to do the full trail, including a 10-minute break at each of the two waterfalls.
📸 Note: All of the photos in this blog post were taken from this route. This is the best option for the most viewpoints!
2. Vernal and Nevada Falls via Mist Trail (There and Back)
This route goes up to Nevada Falls and back down along the Mist Trail. I strongly discourage you from doing this route. Going up the steep steps is one thing, going down them is just brutal.
Plus, the trail is super busy with everyone going in the opposite direction. If you're visiting Nevada Falls, so the loop we did.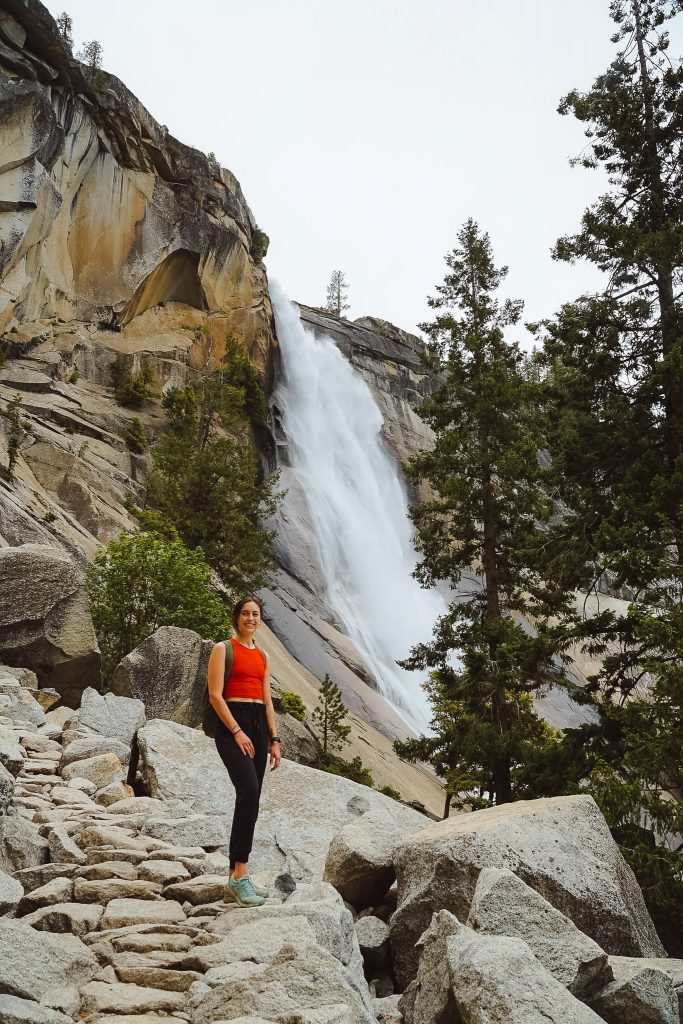 3. Vernal Falls via Mist Trail (There and Back)
Time Required: 2 to 3 hours
Distance: 4 miles
Elevation Gain: 1279 ft
AllTrails Map: Vernal Falls
If you're looking for something shorter, you can do the Mist Trail to Vernal Falls and turn around there. However, this route requires you to go down the steps along Vernal Falls. Similar to my criticism for Route #2, going down the steps sucks. If you only want to do Vernal Falls, choose Route #4 instead.
4. Vernal Falls and Clark Point via Mist Trail and JMT (Loop)
Time Required: 2.5 to 3.5 hours
Distance: 4.2 miles
Elevation Gain: 1551 ft
AllTrails Map: Vernal Falls
This route also goes to Vernal Falls, however, it connects to Clark Point through a section of the John Muir Trail to form a loop. This allows you to avoid walking down the steps along Vernal Falls.
Plus, you still get a great view of Nevada Falls from Clark Point. Between the two options for Vernal Falls, choose this route!
Bonus: Vernal Falls Foot Bridge
If all of the options above are too long of a hike, you can turn around at the Vernal Foot Bridge (about 0.8 miles into the hike). Along the trail, you can see views of Yosemite Falls. From the bridge, you can see the Merced River. There is water and a restroom at this point too.
This route doesn't actually take you onto the Mist Trail (the Mist Trail starts right after the foot bridge), but it does provide a great hiking option if you're new to hiking or hiking with kids.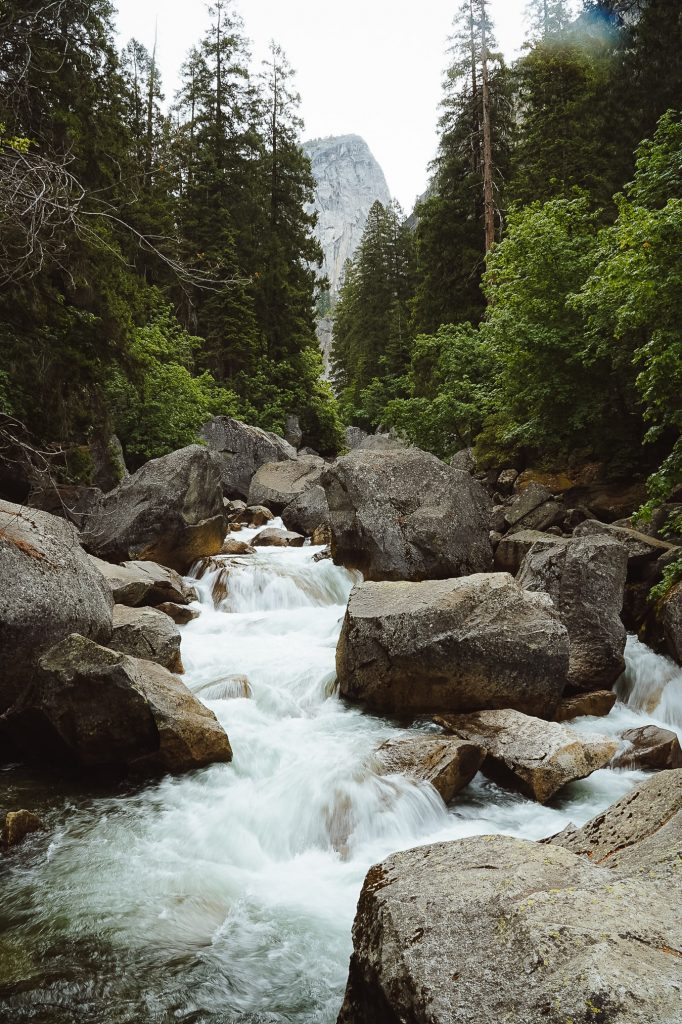 ---
Mist Trail: Vernal Falls and Nevada Falls Map
If you're doing the route we did (Route #1), here is the map and elevation profile.
The Mist Trail is quite easy to follow, especially on the way up to Vernal Falls. The trail is well marked, with sign posts at all junctions telling you which direction to go.
After Vernal Falls, you do need to know which trail / marker you're heading towards, especially if you're taking the John Muir Trail down (which you should, see above).
So it was helpful to have the map downloaded to ensure we were taking the right turns at the right junctions.
❗Note: There isn't cell service along the trail, so I downloaded the map on AllTrails to have it available offline. You need a Pro account for this ($35 per year) which has been well worth the cost.
---
Getting to the Mist Trail
There are three steps to access the Mist Trail.
Getting to Yosemite National Park
First and foremost, you'll need to get yourself to Yosemite National Park. Physically getting to the park is straightforward enough, however, there is one important thing to know.
You need a reservation to enter the park between 6 am and 4 pm during peak season.
You can book your reservation at Recreation.gov. 70% of reservations can be made at the start of the season (for Summer 2022, this was on March 23). The remaining reservations are available 7 days prior to your desired entry date.
If you have a campground reservation or a wilderness permit, this counts as your reservation. For this trip, I had a night booked at Hodgdon Meadows and a night at Wawona.
❗Remember to bring photo identification for the name the reservation is booked under, as you'll need this when you check-in at the park's entrance gate.
If you have booked a campground reservation or wilderness permit, you still need to pay the park's entrance fee. (I don't know why this isn't included when you book, but oh well.) I had an annual park pass, so I was able to avoid this fee.
Getting to Curry Village
Okay, now that you're in the park it's time to get to Curry Village. Google Maps does a good job of directing you to Curry Village, which is an offshoot of the Yosemite Valley Rd. It took about 20 minutes to reach Curry Village from Big Oak Information Station (where we checked in).
Parking at Curry Village can be a little tricky, especially in the late morning and early afternoon. As always, it helps arriving early. There are bathrooms and food at the parking lot, though cell reception is very limited.
Getting to the Mist Trail Trailhead
From Curry Village, you need to take the shuttle to Happy Isles / Mist Trail. Get on the shuttle at Shuttle Stop #14 and get off at Shuttle Stop #16. The drive takes only a few minutes.
Once you're off the bus at stop #16, walk across the bridge in front of you and you'll see signs for the Mist Trail.
❗ Note: If you reach the Curry Village and there's no parking available, you can park at another lot in Yosemite Valley and take the shuttle from another stop. Check out the map below for all shuttle stops.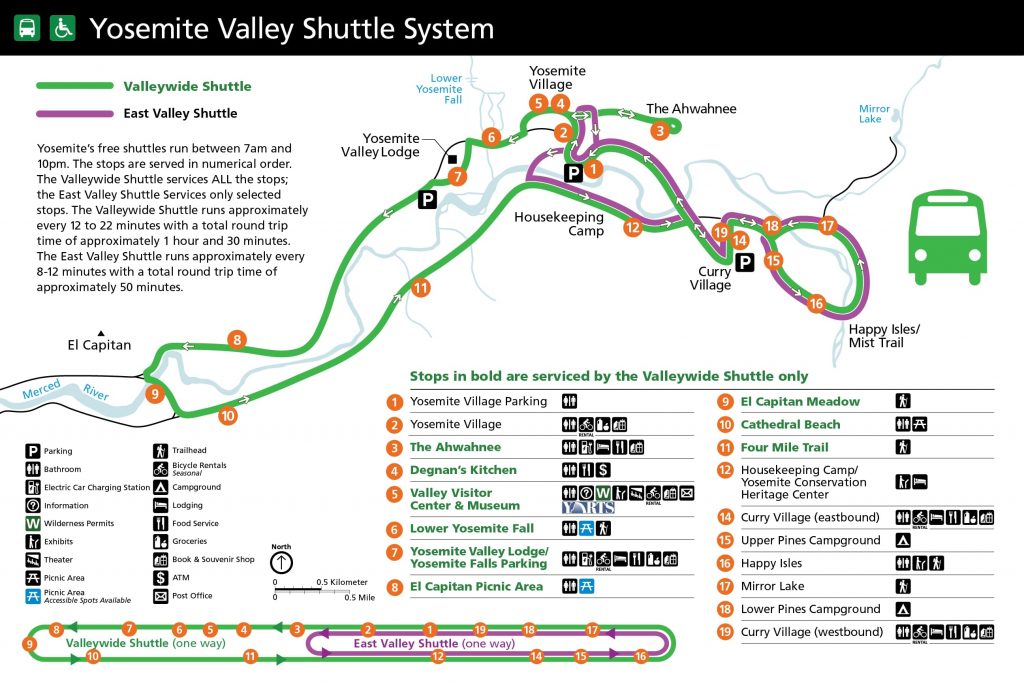 ---
Hiking the Mist Trail – Step by Step Guide
Trailhead to the Foot Bridge
The trail kicks off with a steep incline. I was surprised to find the trail is mostly paved in this section, so although it's a slog uphill, the trail itself is very even. We saw young kids walking this section with their parents.
To make up for the exhausting uphill, you get a great view of Yosemite Falls across the valley. There are a few nice moments along the way – when you take breaks, turn around to check out the view.
This section lasts about 0.8 miles and bring you to a foot bridge crossing the Merced River. Across the foot bridge, there is a restroom and water taps to refill your water bottle before you continue your hike.
Foot Bridge to Vernal Falls via Mist Trail
From the bridge, the top of Vernal Falls is 0.7 miles away. However, you'll start getting views of the falls much sooner.
The trail is no longer paved in this section, but it continues being relatively even, with rocks steps guiding you up.
Between mile markers 1.2 and 1.3, you get very close to the waterfall and the trail gets noticeably steeper. Here the steps between steeper and the ground becomes slippery from the mist. A lot of people stop around here to take their first close-up photos of the waterfall.
❗Be Careful: The steps beside Vernal Falls are incredibly slippery due to the mist! Some sections have a handrail to hold onto, but not all sections. Wear proper footwear and take your time, please.
The last 0.5 miles to Vernal Falls is more gradual, and thankfully there isn't any mist on the trail so it isn't as slippery. There's a slight downhill walk as you approach Emerald Pool, the pool right above Vernal Falls.
There are several signs warning people not to swim here (I feel like this should be common sense). It is a great place for a break however. We had a power bar, sipped some water and rested before starting the second half of the uphill climb.
Vernal Falls to Nevada Falls
This section runs from mile markers 1.5 to 2.7. I think this section was actually easier than the previous one. It isn't as steep and it isn't as busy. There's still a ton of rocky stairs to climb as you make you're way up to the top of Nevada Falls, but they're wider and not as high.
The exception to that is mile marker 2.2 to 2.3, which has a lot of switchbacks and a lot of elevation gain. This was a tiring section. But it also had a great up-close view of the falls.
At mile market 2.5, there's a fork in the trail. If you're going to Half Dome or doing a backpacking trip, you'll head to the left. For Nevada Falls, go right.
From here, there's 0.2 miles to the foot bridge over the Merced River, right above Nevada Falls. The opening after the bridge is a great place to sit down, have a snack, drink some water and rest.
Nevada Falls to Clark Point via the John Muir Trail
This section runs from mile marker 2.7 to 3.9 and was definitely my favorite section of the trail.
For starters, it's (almost) all downhill from here. Once you leave Nevada Falls, there is a brief period (about 0.3 miles) of uphill hiking. After that, the trail gradually descends for about 0.9 miles until you reach Clark Point. During this section, the trail was wide and flat with minimal steps or rocks to navigate.
This 0.8-mile stretch had my favorite viewpoint of the entire trail: Nevada Falls flowing below Liberty Cap. There were some beautiful wildflowers around here too.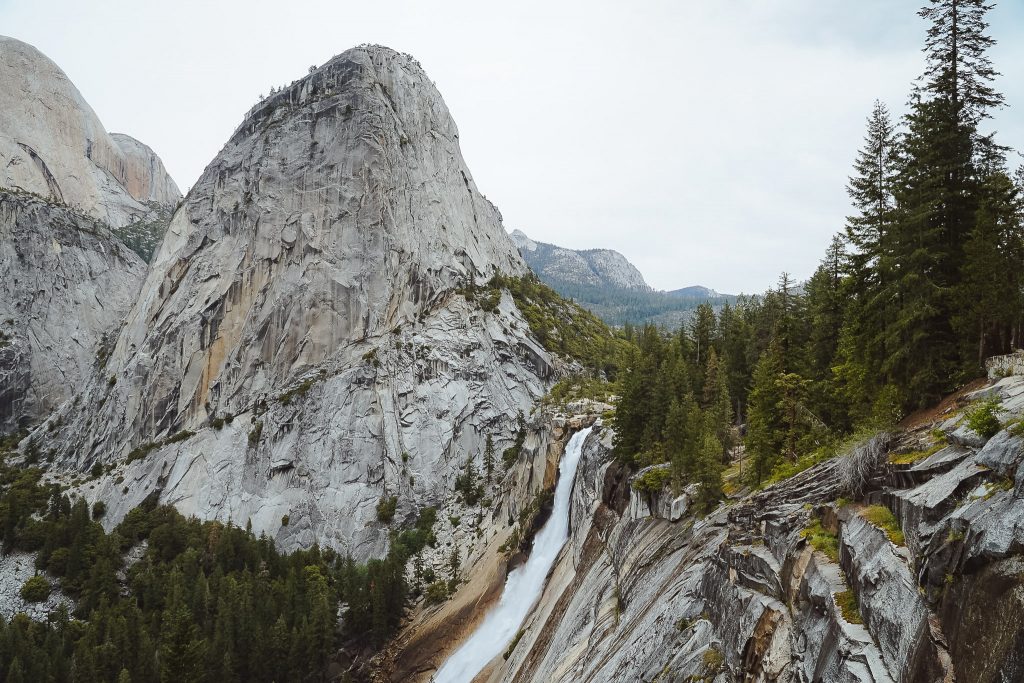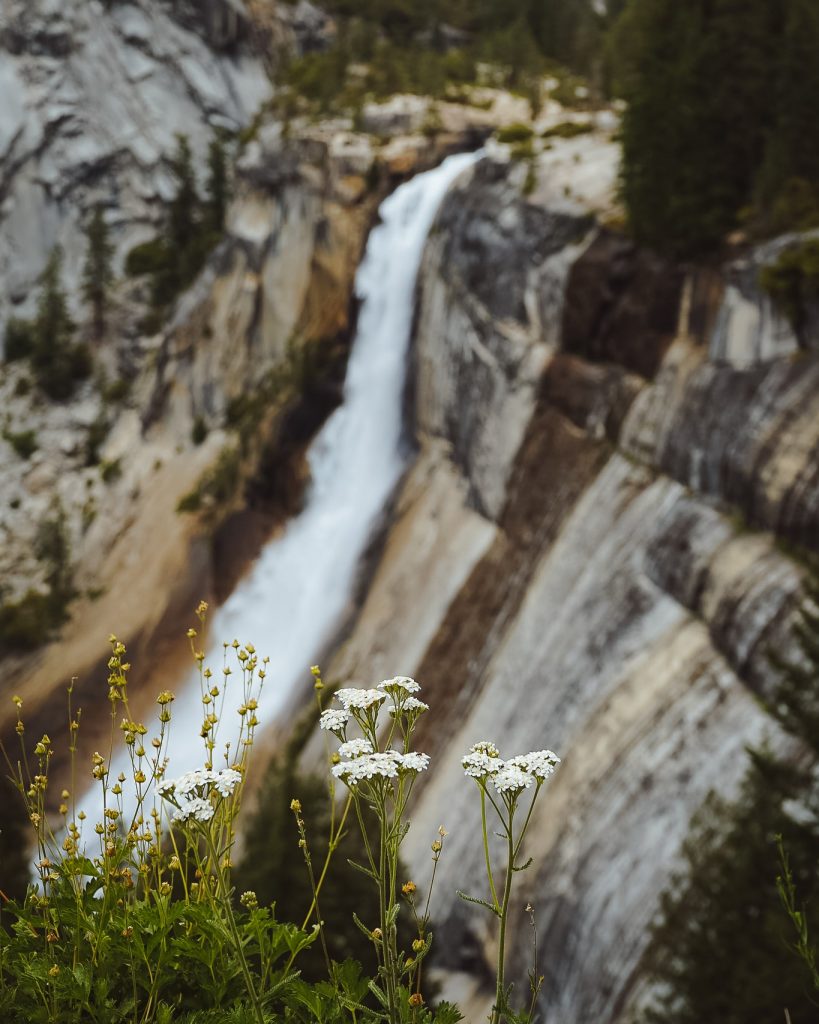 Clark Point to Foot Bridge
After Clark Point, the trail begins a series of switchbacks that aren't particularly noteworthy. The trail moves into the forest and there aren't any views of the waterfalls anymore.
That said, I was thankful to be doing 1.2 miles of gradual switchbacks, rather than climbing down the slippy steps of the Mist Trail!
Foot Bridge to Trailhead
By this point we were back in familiar territory. We made a quick stop at the restrooms here before making our way down the find section.
There were SO MANY PEOPLE. There must have been at least one hundred people on the trail in between the foot bridge and the trailhead.
We didn't think much of it, however. We descended the trail quickly, passing panting uphill hikers thankful we were on the descent.
After reaching the trailhead, we walked to the shuttle stop and hopped on the Purple Route bus. We were back at the Curry Village parking lot within ten minutes.
❗The shuttle only runs clockwise, so you get back on the shuttle at the same place you hopped off the shuttle and go around the loop before arriving back at the Curry Village parking lot.
---
Best Time to Hike the Mist Trail
Best Time of Year to Hike the Mist Trail
The best time of year to hike the Mist Trail is between April and June because the waterfalls are flowing their strongest during this time due to melting snow.
During the winter months (typically November through March), there is snow pack on the trail and hiking is not advisable. The summer and fall months are snow-free, but the waterfalls won't have nearly as much water flowing through them. Thus, spring is the perfect time of year to hike the Mist Trail.
Plus, the temperatures tend to be very pleasant during this time.
Best Time of Day to Hike the Mist Trail
There's no way around it – the Mist Trail is busy. To minimize the number of people on your hike, the best time to hike the Mist Trail is early in the morning.
If you're comfortable with (and prepared for) hiking in the dark, you could also start in the early evening and watch sunset from Clark Point before heading back down.
We started at about 8:30 am in the morning and still encountered at least fifty people between the trailhead and Vernal Falls. There were signficantly fewer people after Vernal Falls. By the time we got to the foot bridge ~3 hours later, there were at least twice as many people.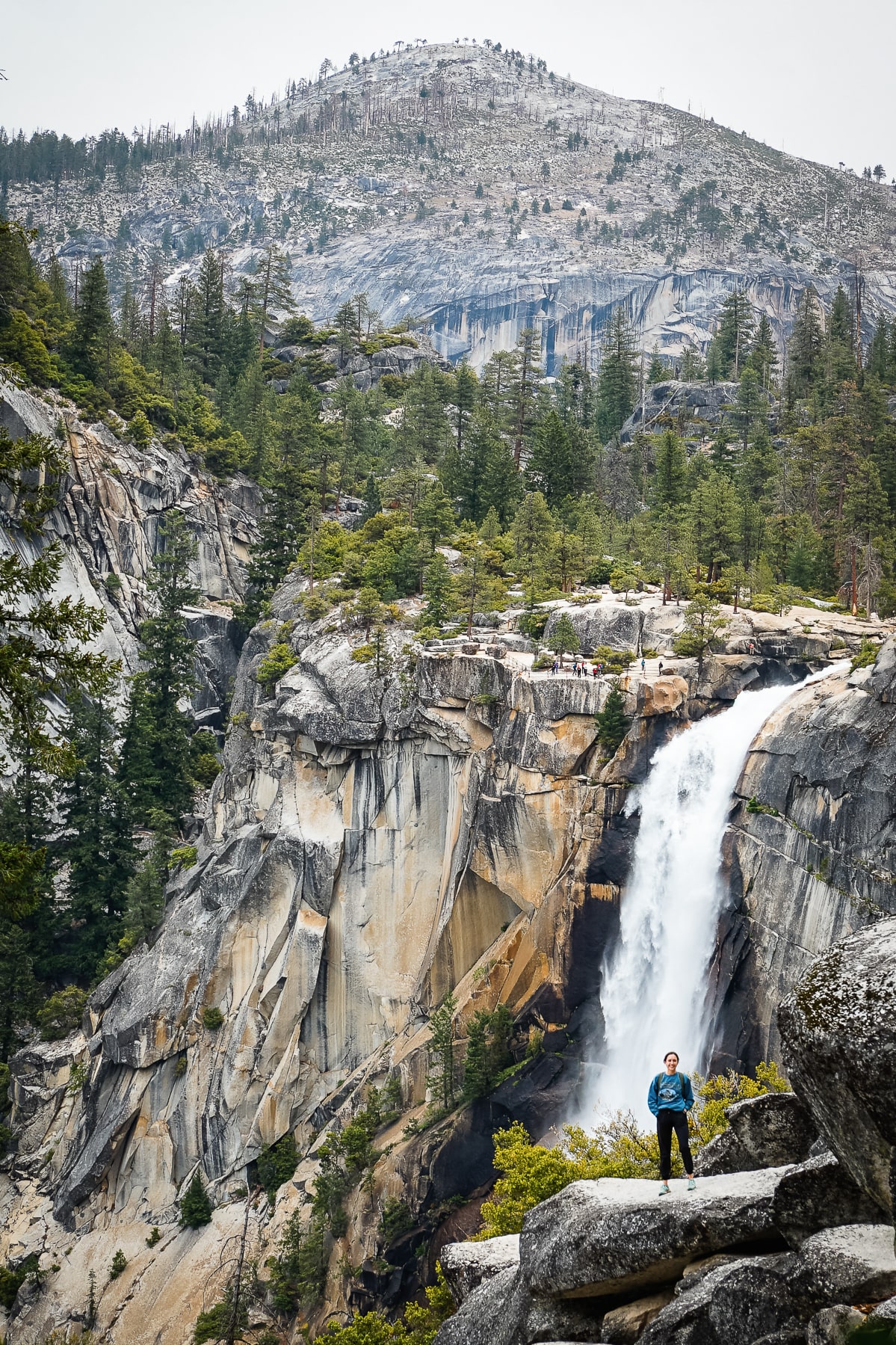 ---
Tips and FAQs for Hiking the Mist Trail
How long does it take to hike the Mist Trail?
The full Mist Trail takes between between 3 and 5 hours to hike. Most hikers take 4 hours to hike the trail, including breaks at the top. When I hiked the trail, we took 3 hours and 30 minutes, including two ten-minute breaks at each waterfall.
How difficult is the Mist Trail?
The Mist Trail is a physically strenuous hike and is rated as difficult by AllTrails. It is not technically challenging as the trail is well marked and easy to follow, and does not contain any dangerous or scrambling sections. However, the elevation gain and steep steps make it a tiring hike.
The most challenging part of the hike is the part adjacent to Vernal Falls, where the steps are steep and the rock is slippery from the mist coming off Vernal Falls (they call it the Mist Trail for a reason!). There is a railing for much of this section to help.
What about going down the Mist Trail the way you came up?
As I detailed above, I would strongly encourage you to go down via the John Muir Trail. The steep steps by the falls are difficult to descend and it is a very busy section of the trail. The JMT section, on the other hand, descends gradually and is less busy. Plus you'll get great views of Nevada Falls from Clark Point.
Do you need trekking poles?
You do not need trekking poles for this route. I did not use trekking poles, nor did my hiking partner. We did see a few hikers using hiking poles, though.
If you're used to using hiking poles then I recommend you bring them with you. I would suggest bringing a backpack you can store them in during the Vernal Falls section. It's easier to hold onto the handrails when you don't have to carry trekking poles.
---
Final Thoughts on the Mist Trail
I hope this hiking guide has been helpful and you're excited to tackle the Mist Trail! As always, if you have any questions about the trail, leave a comment or send me a message on Instagram.