Oh, Temagami. This remarkable stretch of boreal forest has intrigued paddlers for centuries. Today, every canoeist I meet has either paddled it or has plans to paddle it. It's an area so vast and with so many waterways that no single post could ever come close to capturing all of the Temagami canoe routes.
Instead, I'll touch on just a few route options but also go over the resources you'd need to build your own canoe route from scratch. One of the best things about Temagami is that there are only a handful of "established" routes – this place lends itself well to creativity and a "choose your own adventure" style of canoe tripping.
So without further ado, in this post I'll go over:
Temagami Area: First Nations, Provincial Parks & Crown Land
Resources (maps and guidebooks)
Temagami canoe routes idea
Outfitters in the Temagami area

Tips for having the best Temagami canoe trip!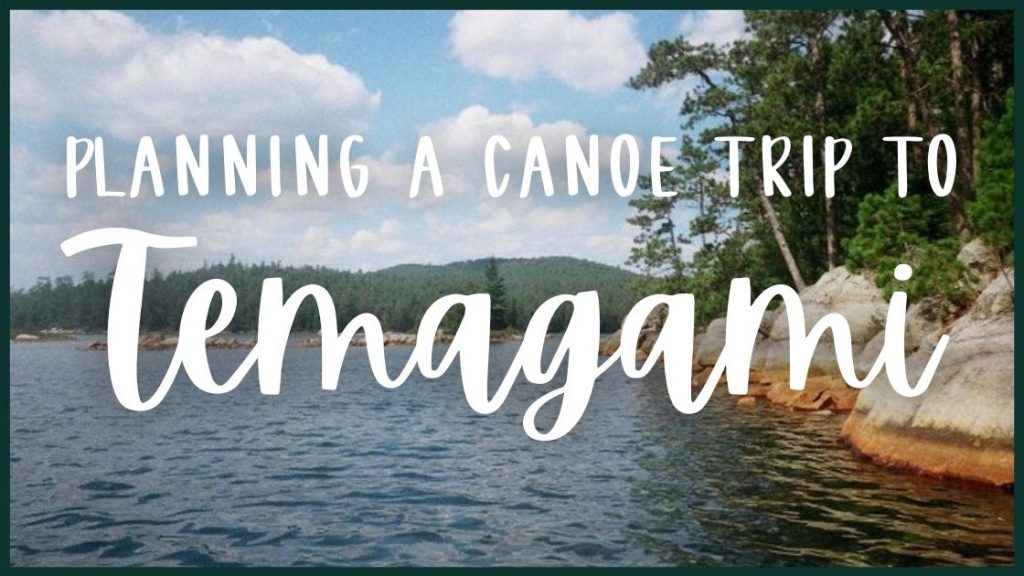 This post may contain affiliate links. If you make a purchase through one of these links, I may receive a small commission at no extra cost to you. Your support is much appreciated! You can learn more by reading my full disclosure.
---
All About Temagami
First Nations in Temagami
Before we get into the distinction between crown land and Ontario Parks land, and how it affects canoe routes, let's briefly address whose land this actually is.
The Temagami area has been stewarded by the Omàmìwininìwag (Algonquin), Cree and Anishinabewaki for thousands of years (source). Today, there is a handful of First Nations throughout Temagami and the surrounding area, like Temagami First Nation and Wahnapitae First Nation. Although the government may not recognize it, the land remains a central part of their history and culture, and they continue to be its steward.
So keep that in mind when paddling and camping in Temagami. Always be respectful toward the land, leave no trace and be thankful that such an incredible place exists!
Note: Pictographs or Indigenous rock art, which is often thousands of years old, can be found throughout the Temagami area. Please be respectful of these areas and do not touch the art itself. There have been terrible cases of vandalism toward pictographs in both Canada and the US.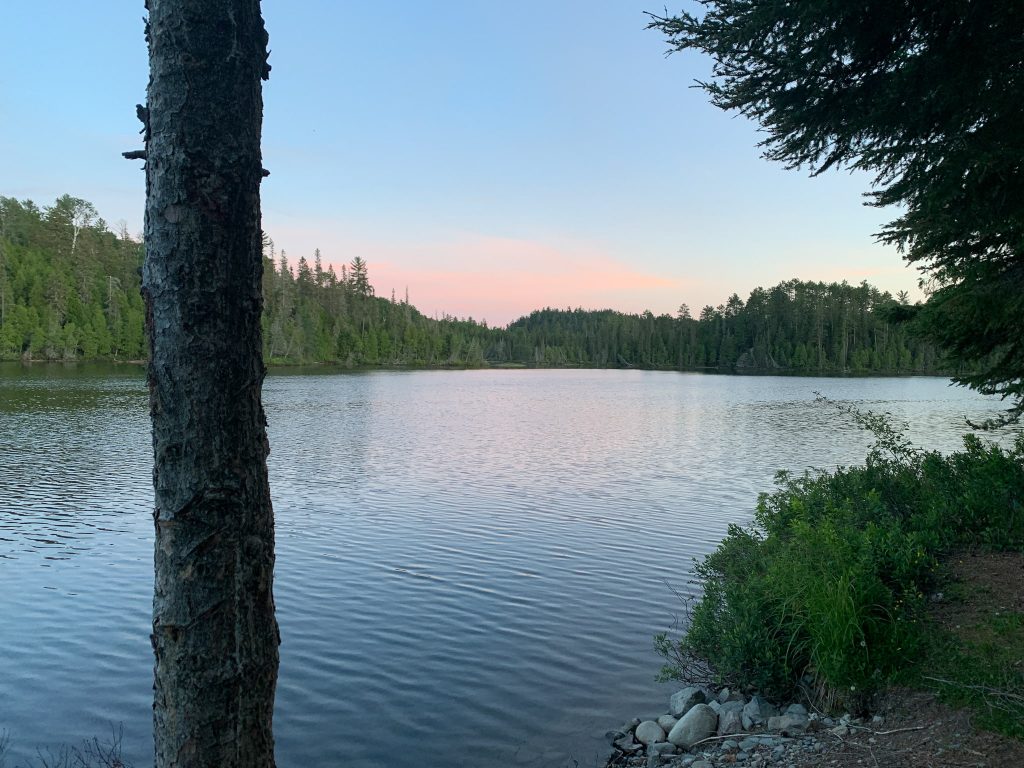 An Intersection of Parks and Crown Land
Temagami is an enormous and expansive tract of wilderness in near-North Ontario. The region officially spans 16,000 square kilometres – from North Bay and Sudbury in the south, stretching almost all the way to Timmins – and it's home to some 4700 kilometres of canoe routes.
Of that land, about 1000 km2 is part of Ontario Parks. In total there are eight provincial parks (five backcountry and three non-operating).
Solace Provincial Park: 59 km2
Makobe-Grays River: 14 km2
Lady Evelyn-Smoothwater: 724 km2
Sturgeon River: 80 km2
Obabika River: 205 km2
Montreal River (non-operating): 0.5 km2
Wanapitei (non-operating): 34 km2
Temagami River (non-operating): 34 km2
Despite the provincial parks only making up about 7% of the land, the majority of the well-known canoe routes cross into the parks at some point. This is partly due to access: the 5 backcountry sites are very close to both Sudbury and North Bay, there are tons of access points and the two outfitters are in this area. It's also due to so many popular features lying within or right outside the parks, like Ishpatina (the highest point in Ontario) and Wolf Lake (home to the largest old-growth red pine forest).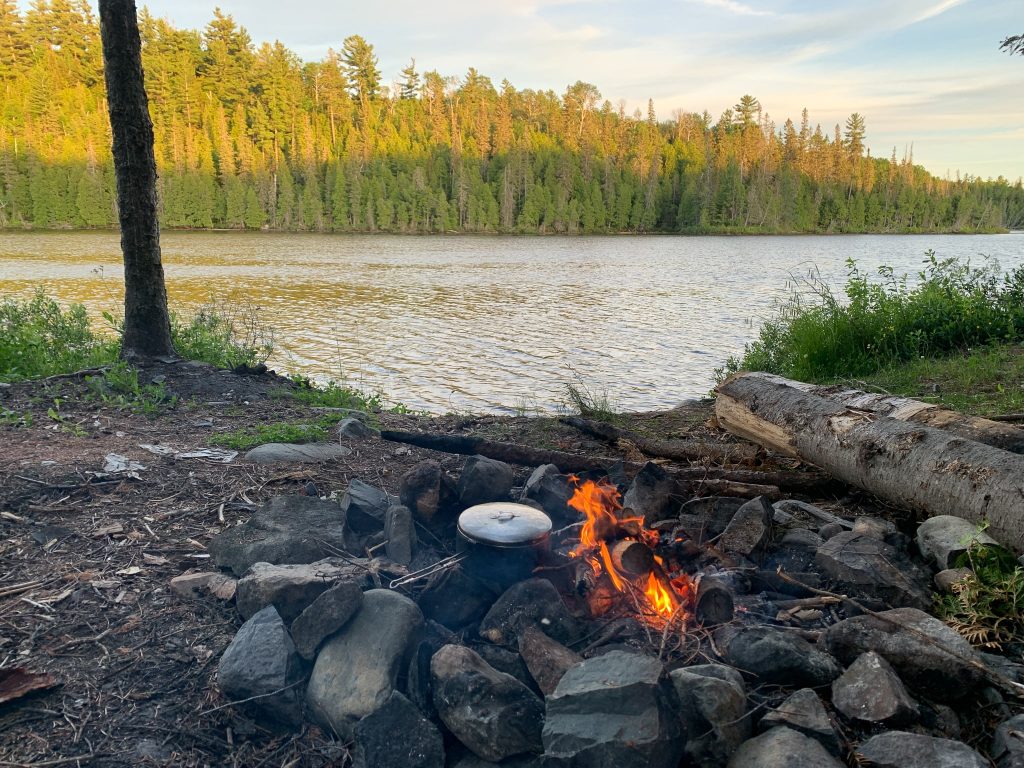 Reservations
All this to say, it's very likely you'll find yourself planning a canoe trip that passes through both crown land and provincial park. That means you'll need to reserve a backcountry camping permit for the nights you're in a provincial park and you'll want a good map to help you find campsites on crown land.
You can book reservations through the Ontario Park Reservation System. Select "Backcountry" on the far right and then select "Temagami" from the dropdown menu. You can book nights in different provincial parks all in the same reservation.
And remember you don't need reservations for non-operating provincial parks!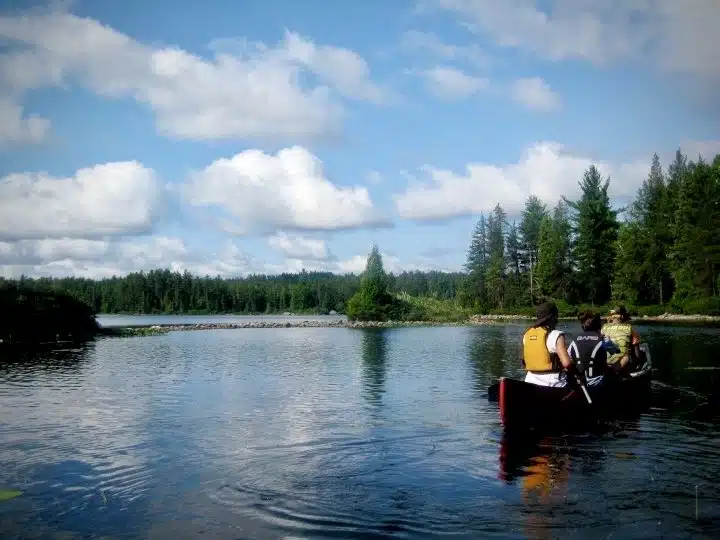 ---
Resources for Planning Temagami Canoe Routes
Temagami Guidebook
Look no further than Hap Wilson's Temagami: A Wilderness Paradise. Hap is the definitive expert on all things Temagami, having paddled and guided in the area for decades. The guidebook contains tons of canoeing, kayaking and hiking routes in Temagami (both the iconic and the hidden gems).
He and Andrea Wilson still live in Temagami, operating Cabin Falls EcoLodge on Lady Evelyn River.
Maps
Online Maps: Ottertooth has an excellent, interactive & digital map of the Temagami region. This is great for route planning, but I still recommended bringing a topographic map on the trip with you. Click here to access the map.
Paper Maps: There are a couple of companies making paddling maps for the Temagami area, though I've only ever used the Adventure Map series by Chris Mar. There are four maps in total.
Roll Up Maps: The Friends of Temagami have a huge paper map that is excellent for planning canoe trips. Although it's way too big to bring on your actual canoe trip. The map has tons of hidden gems and field notes, and 100% of the proceeds go towards Temagami conservation efforts. Click here to learn more about this map.
Trip Reports
You can find recent trip reports on different Temagami canoe routes in the Temagami section of Trip Reports. There are only a few there currently, but we're working on adding more!
---
Temagami Canoe Routes
The thing about Temagami is that it really is a "choose your own adventure" type of place. How you build your route will be largely dependent on your experience, access point and length of trip. If there is ever a time to get creative in building a route from scratch, this is it!
However, there are some particularly great destinations in Temagami and a few common canoe trips. For each of the below, I've specified a destination in the park and an access point you could use as a starting point.
If you want a little more guidance in building Temagami canoe routes, I highly recommend 1) ordering Hap's book, and 2) joining Trip Reports where we have recent day-by-day reports on specific routes.
Ishpatina Ridge
Ishpatina Ridge is the highest point in Ontario and it's located right in Lady Evelyn-Smoothwater Provincial Park. There's a hike up to the top of it which offers a great view of the rolling hills below. There's also a classic Temagami fire tower at the top.
For a shorter trip, Gervais Landing would be a great place to start. This would involve a brief moment on Sturgeon River, followed by lake hopping from Hamlow Lake – Woods Lake – Scarecrow Lake (and the many smaller lakes in between them) and returning the way you came.
This could be done as a 3 or 4-day there-and-back trip.
For a longer trip, you could follow the above route to Smoothwater Lake and then make a big loop through Lady Evelyn and Solace provincial parks, as described in this trip report. That's a total of almost 100 km (and a whole lot of portaging) best done over 7 to 10 days.
Alternatively, you could start at access point Gamble / Chance which is right in the park. A route like this might look like Gamble Lake – Junction Lake – Sunnywater Lake – Scarecrow Lake (and the many smaller lakes in between them).
I don't know anyone who has this particular route as it looks like it has a TON of portaging, so if you try it let me know how it goes.
Maple Mountain
Similar to Ishpatina Ridge, Maple Mountain is also home to a fire tower and a lovely view. The Maple Mountain fire tower is no longer in use, though it was "manned" at one time.
The ranger slept in a cabin by Hobart Lake and hiked to the tower every morning and returned to the cabin after work. What remains of the cabin can still be seen at the base of the trail to the tower.
I visited Maple Mountain on a canoe trip in 2014. On this trip, we camped on Hobart Lake and paddled to the trailhead on a rest day. It's a half-day hike, so you don't need to dedicate a full rest day for it (though this is a beautiful area if you do decide you need a break).
This particular trip was long: we started at Mowat's Landing and ended at the town of Temagami 12 days later, passing briefly through the park (specifically to do the hike) and Obabika River Provincial Park.
If you want a shorter trip and one that doesn't require a shuttle, I suggest starting and ending at Mowat's Landing and paddling to Lady Evelyn Lake – Katherine Lake – Lady Evelyn River – Diamond Lake – back to Lady Evelyn Lake, as was done in this trip report.
Anecdote: Maple Mountain is so similar to Ishpatina Ridge. How similar? Well, for five years I've been telling everyone that I've hiked Ishpatina Ridge. It was only in researching this post and reviewing the 2014 canoe route that I realized Maple Mountain and Ishpatina Ridge are not the same things. Who knew there were two almost identical fire towers, with two almost identical views in the same provincial park?
Lady Evelyn River
Speaking of Lady Evelyn River, this in and of itself is a sought-out destination. It is a part of the park I haven't been to and is highest on my Temagami to-do list.
According to this trip report, Lady Evelyn River is less a river and more a series of alternating flatwater and waterfalls. The flatwater sections have so little current that they can be paddled in either direction (the group that wrote the trip report went upriver).
The river is dotted with waterfalls – like Fat Man's Falls, Bridal Veil Falls and Cabin Falls – that need to be portaged around.
And when I mean portage, I mean drag/push/carry/squeeze/throw your canoe from one end to the other. These are not your well-maintained Algonquin-style portages!
Note: Cabin Falls is the location of Hap Wilson's eco-lodge. Perhaps that would be a nice place to stay for a couple of rest days.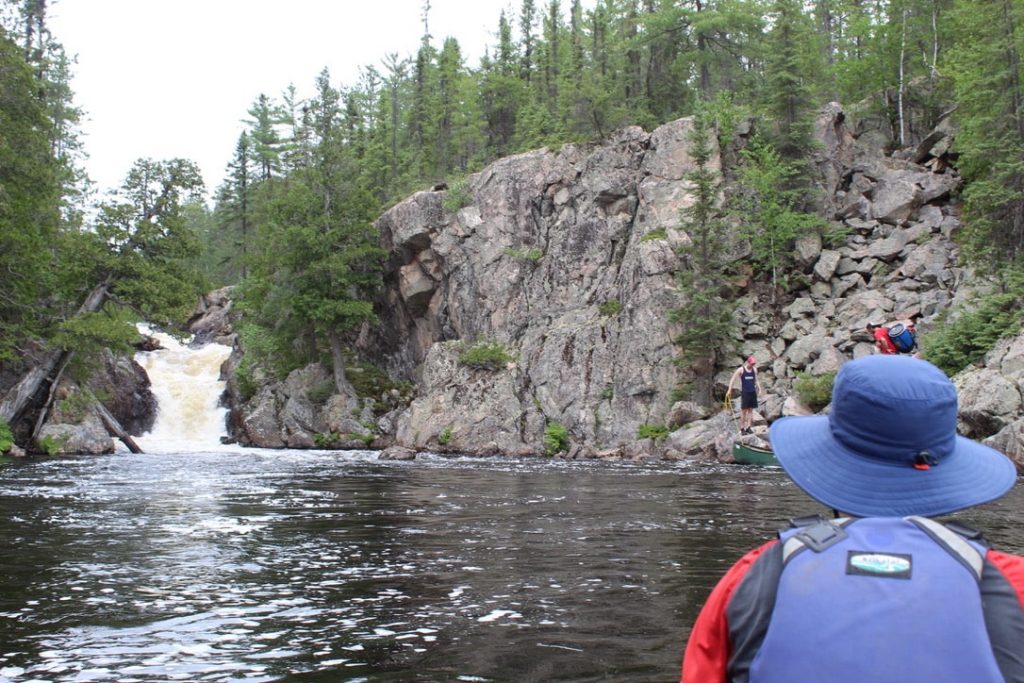 Wolf Lake // Paradise Lagoon
This is so cliche, I know, but Wolf Lake is my favourite place in the park. This was the highlight of my first canoe trip; we'd been paddling and portaging for 8 gruelling days under the promise that Wolf Lake and the nearby Paradise Lagoon would make it worth the effort. And boy oh boy, it was.
Wolf Lake is an incredibly beautiful area and home to the largest old-growth red pine forest in the world. I remember there being these exposed granite hills in one area that glistened in the sun; the whole area is just stunning.
I later learned that you don't need 8 days to reach Wolf Lake. In fact, you could do Matagamasi Lake – Silvester Lake – Wolf Lake in as little as 15 km each way (as described in this trip report).
Sturgeon River
Temagami isn't known for its whitewater, however the Sturgeon River does offer experienced paddlers an exciting 60 km or so of rapids to paddle.
You could make the Sturgeon River a loop trip. This would make it a long trip – more than 150 km total but would allow you to forgo a shuttle (read this trip report for an exact route).
You would start at Kukagami Lake or Matagamasi Lake and paddle north through Wolf Lake and up to Stouffer Lake. From there you'd meet the Sturgeon River and paddle south, eventually reaching Kelly's Portage and eventually getting back to where you started.
Anecdote: I've paddled a small chunk of the Sturgeon River (the non-whitewater part of it) to get to Kelly's Portage, which connects Sturgeon River – Maskinonge Lake – Matagamasi Lake (from which point you can circle back to Wolf Lake). I remember the 3 km portage being the hardest thing 15-year-old-Mikaela had EVER done.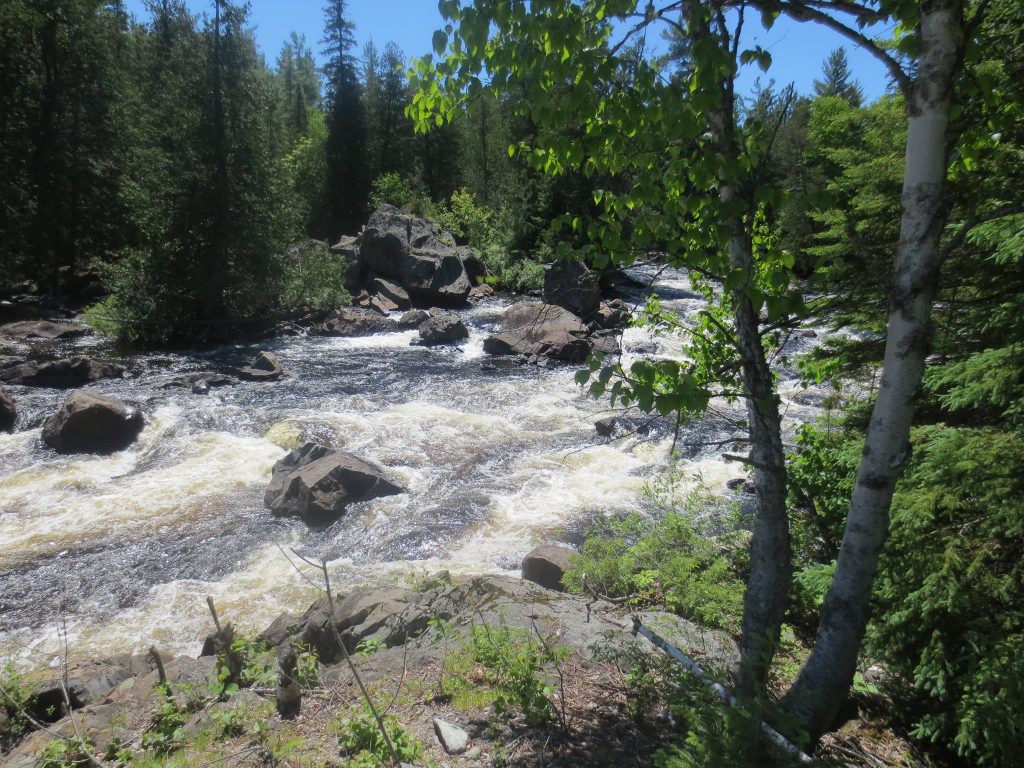 Temagami River
Temagami River is less remote than the other destinations on this list, being just a short distance from Highway 64 and Highway 539, and isn't what most people think of when planning a trip to Temagami.
That said, I wanted to include it in this post after watching this Youtube video about the river. As you'll see in the video, there's a healthy dose of Class II and Class III rapids and some beautiful canyons.
It's a short river so not suitable for those looking for a long trip. Rather, it would be great for anyone looking to fine-tune their whitewater skills; Temagami Outfitters even runs a whitewater clinic here.
---
Outfitters in Temagami
Whenever I've paddled Temagami, we've always had our own gear and have coordinated a self-shuttle. However, there are a few outfitters in the area who can help out if you don't have a boat or don't want to self-shuttle.
Smoothwater Outfitters and Lodge: Smoothwater is located on James Lake, just a little north of the town of Temagami. They offer complete outfitting, partial outfitting and shuttle services. As the name suggests, they also have a lodge. This would be a great place to stay the night before a trip.
Temagami Outfitters: These guys are located right in the town of Temagami. They can help you with partial or complete outfitting (including meals) and shuttles. They also have guided trips and offer whitewater paddling clinics.
Lakeland Airways: Among other things, Lakeland provides floatplane shuttles throughout the Temagami Region. You could fly into and out of a hard-to-access lake on either side of your trip, or you could fly into a lake and paddle back to your vehicle. They also do canoe rentals.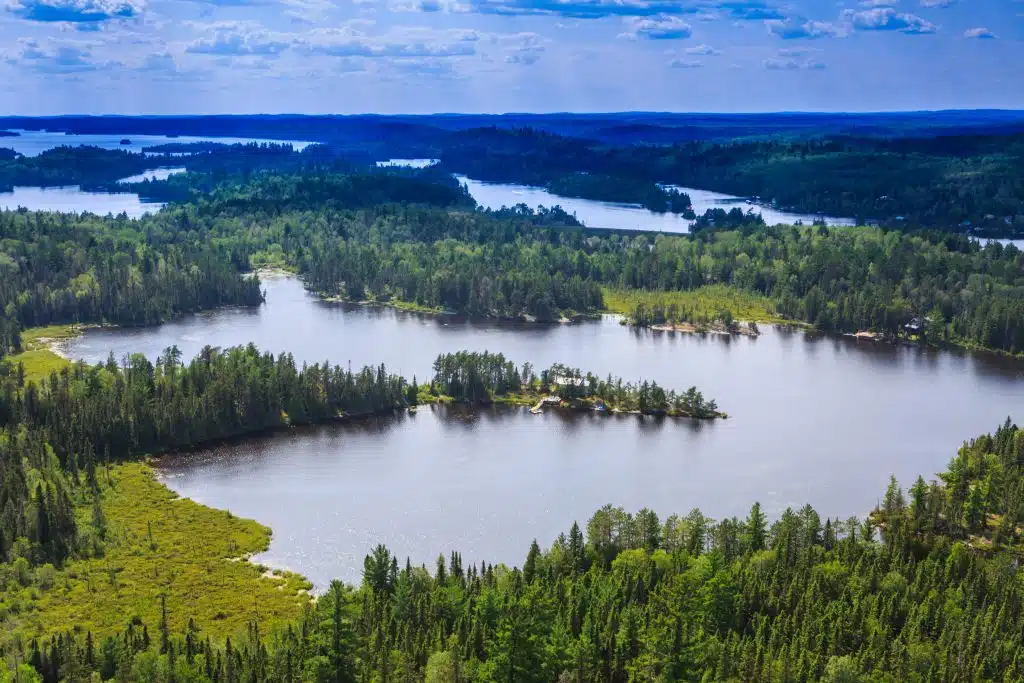 ---
Tips for Planning a Trip to Temagami
This is not Algonquin: The portages are not maintained like they are in Algonquin. You won't find wide trails or canoe "rests"; more often you'll be moving over rocky terrain, perhaps with blown down trees from the previous winter.
Get the guidebook! As I said above, this is just the tip of the iceberg. Hap's guidebook, Temagami: A Wilderness Paradise, goes into WAY more detail and is the quintessential resource for planning a Temagami canoe route.
Leave it better than you found it. It is so so so important that you practice Leave No Trace principles when you're camping in Temagami. It matters everywhere, of course, but it's especially important in areas that aren't actively managed. If you need a refresher, read this post.
On a budget? Many of the popular sites adjacent to the provincial parks can be visited for a day trip while camping in crown land. There are no fees to camp on crown land, so this is a great way to save some money. Alternatively, you can alternate between crown land and provincial park campsites to keep reservation fees down.
---
Temagami Canoe Routes & More: Final Thoughts
I hope this post has been helpful and you're ready to start planning your Temagami canoe trip!
Also, writing this post inspired me to go digging for photos from my first canoe trip back in 2010 – photos I hadn't seen since then. Boy oh boy, I was not disappointed. Please find below a collection of awkward, digital camera photos of me and my group.