On my first overnight hiking trip, my backpack weighed an insane amount – something like 50 lbs – and it was brutal. I struggled to get it on my shoulders and it dug into my shoulders. Although it amazes me that some people can hike hundreds of kilometres with a backpack exceeding 50 or even 60 lbs, I knew I needed to move towards ultralightweight backpacking if I was going to continue.
Ultralight Backpacking Attempt #1: 18 kg / 40 lbs in a 55 L Backpack
Last year I did a few backpacking trips with a 55 L backpack that weighed closer to 35 or 40 lbs. That was better, but still not where I wanted to be. We hiked 18 km on one of the days and I was okay but the discomfort felt super unnecessary. In the photos below you can see what my backpack looked like on one of the trips.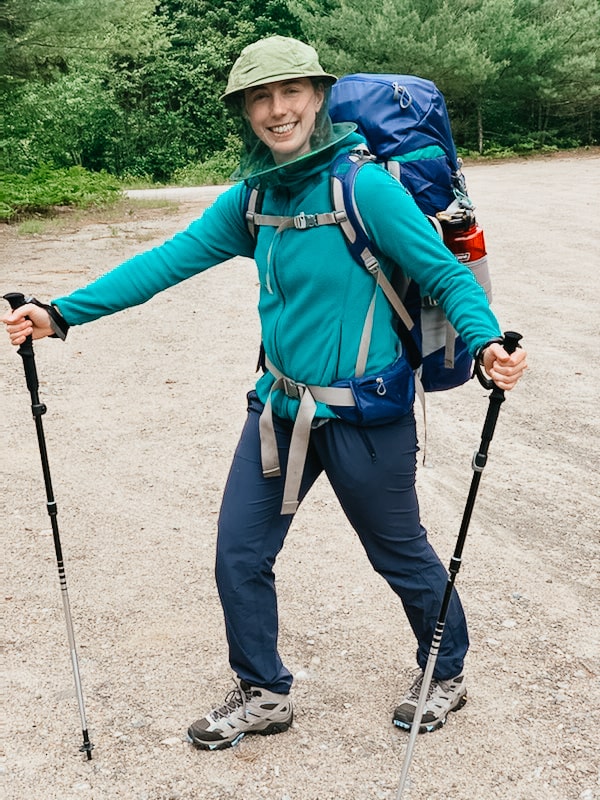 This post may contain affiliate links. If you make a purchase through one of these links, I may receive a small commission at no extra cost to you. Your support is much appreciated! You can learn more by reading my full disclosure.
Ultralight Backpacking Attempt #2: 10 kg / 22 lbs in a 36 L Backpack
In preparation for my next trip – a 2 night, 32 km trail – I got serious about getting my pack weight down. I upgraded a few pieces of gear, but most of the savings came from only bringing what I actually needed (specifically around clothing and toiletries). There is still some room for improvement, but overall I'm much happier with how I'm going into this next trip.
I'll update the post after the trip with how it went!
---
Ultralightweight Backpacking Gear List
Below you will find the gear I'm using to achieve a base weight of 10.03 kg, with 8.25 kg in backpacking gear + 1.78 kg (camera gear). This does not include food, however, it does include a full fuel canister. I expect to carry 750 g of food for each day of my backpacking trip.
Sleeping & Shelter
Total Weight for Sleeping & Shelter: 2.90 kg
Tent: I'm using the MSR Hubba Hubba NX 2P (1.76 kg). I'd like to upgrade to a lighter weight 1P tent, but for now I'll continue using the MSR. I do like the space that comes with a 2 person tent and the MSR is really light for what it is.
Sleeping Bag: Since I'll be backpacking in the summer (where the overnight temperature is forecasted to be 14C), I'm choosing to use the Sea to Summit Reactor Fleece Liner (420 g) instead of a sleeping bag.
Sleeping Pad: I'm currently using the Therm-a-rest ProLite Plus (650 g) which has an R-value of 3.2. This sleeping pad is great for canoe camping but I find it too bulky for backpacking. The next piece of gear I buy will definitely be the Therm-a-Rest NeoAir XLite (360 g) which has an R-value of 4.2 and packs significantly smaller than the ProLite Plus.
Pillow: Most ultralight backpackers would consider a pillow unnecessary, but I really like having one. I'm using the Sea to Summit Aeros Down Pillow Regular (70 g)
Cooking & Equipment
Total Weight for Cooking & Equipment: 2.80 kg
Kitchen Kit: I use the small pot and bowl from the GSI Base Camper Kitchen Set. I know I could get my pack weight down a little bit by using an integrated stove system (like the MSR WindBurner) but I haven't gotten around to upgrading it. Inside the pot, I pack a spoon and bowl, plus my stove (the MSR Pocket Rocket), fuel canister and lighter. I also bring a garbage bag, plastic bag, dish soap and a sponge. In total, my kitchen kit weighs 1.04 kg.
Water Purification: On my canoe trips or on group hikes I've used the Platypus Gravity Works, but since I was really trying to cut down on weight I brought Aqua-tabs instead of a water filter for this backpacking trip. I like how the Aqua-tabs take up literally no space and weigh nothing, and I don't notice the after taste others complain about (20 g).
Backpack: I'm using the Deuter Futura 36 L (1.58 kg). It's not the lightest backpack, but I really like how supportive the back panel and straps are. It makes carrying the backpack a lot more comfortable.
Mug: I have a camping mug attached the to outside of my backpack (130 g).
Clothing & Footwear
Total Clothing & Footwear Weight: 1.65 kg
Base Layers: I always bring a base of base layers on trip, but now I bring a slightly warmer pair since I'm using a sleeping bag liner as a stand-alone sleeping bag. The top is Smartwool Merino Wool 250 Base Layer Top (200 g) and the bottoms are Icebreaker Merino 260 Tech Thermal Pants (220 g).
Fleece Sweater: As much as I love the technical sweaters by Patagonia and Arc'teryx, they tend to be a little bulky and heavy. Instead, I'm bringing a Kari Traa Bruse Fleece, which I've weighed to be 200 g.
Rain Jacket: I use the Marmot Minimalist Jacket, which is a simple GORE-Tex rain jacket (390 g).
Tevas: I have a pair of Teva Hurricane XLT Sandals (500 g) attached to the outside of my backpack.
Extra Wool Socks + Underwear: I have one pair of extra wool socks and two extra pairs of underwear. In total, all this weighs 140 g.
For the purposes of calculating pack weight, I'm not including the clothing I'll be hiking in (hiking pants + a merino wool t-shirt and bug shirt). Nor am I counting my hiking boots and trekking poles since I'll be using those.
Other Items
Total Other Items: 0.90 kg
Toiletries: Currently, this includes toothbrush, toothpaste, sunscreen and bug cream. I'm using small bottles for everything, so all my toiletries weigh in at about 150 g.
First Aid Kit: I have a homemade first aid kit in a large Ziploc bag (520 g). It contains things like a pocket first aid manual, bandaids, gauze, alcohol wipes, tensor bandage, medicine (Tylenol, Advil, Gravol, etc).
Other Safety Items: I also carry a knife, a compass and a headlamp with two extra AAA batteries (230 g).
Camera Gear
Total Camera Gear Weight: 1.78 kg
Phone + Charger + Power Bank: My power bank is super heavy (and powerful) because I need it to charge my GoPro each day in addition to charging my phone. All this weighs 850 g.
GoPro + Charger: I film with a GoPro and it plus the charger weigh 200 g.
DSLR: I have an old Canon Rebel that weighs 730 g. I'm in the process of upgrading to a mirrorless camera (partly to take better photos but also to have a lighter camera set up).