There are few things as exhilarating as plowing through a huge rapid, feeling the drop as the waves swirl up on either side of you. I've been paddling white water for almost a decade now (I even worked as a whitewater guide) and I'm still not tired of that feeling.
In preparation for your first white water rafting adventure, I've put together a guide on what to wear white water rafting. I've also included what other items to bring with you, some tips and answers to FAQs, to ensure you have the best experience on the water.
You can use the following links to skip down the section you're interested in:
This post may contain affiliate links. If you make a purchase through one of these links, I may receive a small commission at no extra cost to you. Your support is much appreciated! You can learn more by reading my full disclosure.
---
What to Wear White Water Rafting
White Water Rafting in Warm Weather
Bathing Suit – First and foremost, I recommend wearing a bathing suit as your first layer, even though you'll be wearing additional clothing over them. You will most definitely get wet while rafting! I prefer wearing a sports bra instead of a regular bikini top. I find them to be more secure and more comfortable to wear under a life jacket.
Quick Dry Shirt – On the top, wear a quick dry t-shirt. I usually choose a polyester gym t-shirt. Don't wear a cotton t-shirt, as cotton absorbs moisture and dries very slowly. When your shirt inevitably gets wet, cotton will stay wet and feel heavy all day.
I also recommend choosing something that covers your shoulders and chest for two reasons. The first and most obvious reason is that it will prevent you from getting a sunburn. The second, less obvious, reason is that it will prevent chaffing and irritation between your skin and the life jacket.
Quick Dry Shorts or Pants – On the bottom, wear some quick-dry shorts or pants over your bathing suit (if your bathing suit bottoms are board shorts style this isn't needed). I typically opt for loose shorts or a pair of athletic leggings.
Footwear – I'd suspect the most common question first-timers have is "what shoes do you wear white water rafting?"… or do you even wear shoes at all? Most rafting companies will have you wear shoes within the raft. In my experience, the best shoes are waterproof sandals that have secure back straps, like Chacos or Tevas.
The back strap is important because it keeps the shoes secure on your foot while you're kneeling in the raft or swimming through the waves. Waterproofness isn't necessary, however, I find waterproof sandals are more comfortable because they dry quickly so you're feet aren't soggy afterwards. Plus, they tend
PFD and Helmet – The rafting company will provide you with a life jacket and helmet.
Tip: If you have long hair, consider tying it in one or two braids. Ponytails and buns don't typically fit under a helmet and long hair can get caught in the helmet buckets or get in your face during the rapids.
White Water Rafting in Cold Water
What you wear for white water rafting in cold temperatures is a little different.
Wet Suits – In moderately cold weather, the rafting company will likely provide you with a wet suit. This can be worn directly over a bathing suit. They might provide you with neoprene booties as well, so your feet stay warm.
Drysuits – Most rafting companies don't operate in very cold environments. If you're curious though, typically people wear drysuits when paddling in very cold temperatures.
Drysuits differ from wet suits in that they block out all water, keeping you completely dry. There are made from a trilaminate material, with latex gaskets around the wrists and neck to keep water out. They aren't very comfortable to wear. Underneath the drysuit, people usually wear base layers to wick away sweat.
Footwear – Footwear is also a little different in cold temperatures. If you don't have neoprene booties and aren't provided with them, wear a pair of wool socks with your sandals. Wool is very good at keeping you warm even when wet.
If you're provided with neoprene booties, the rafting company will likely recommend you wear sandals over them since the booties don't provide any traction and are uncomfortable to wear on rocky or uneven surfaces (plus, neoprene is someone delicate, so the rafting company doesn't want them to get holes).
Paddling Gloves – In very chilly temperatures, some people wear neoprene paddling gloves. I like wearing them when it's both cold and raining. But if it isn't raining I don't like wearing gloves because they limit dexterity.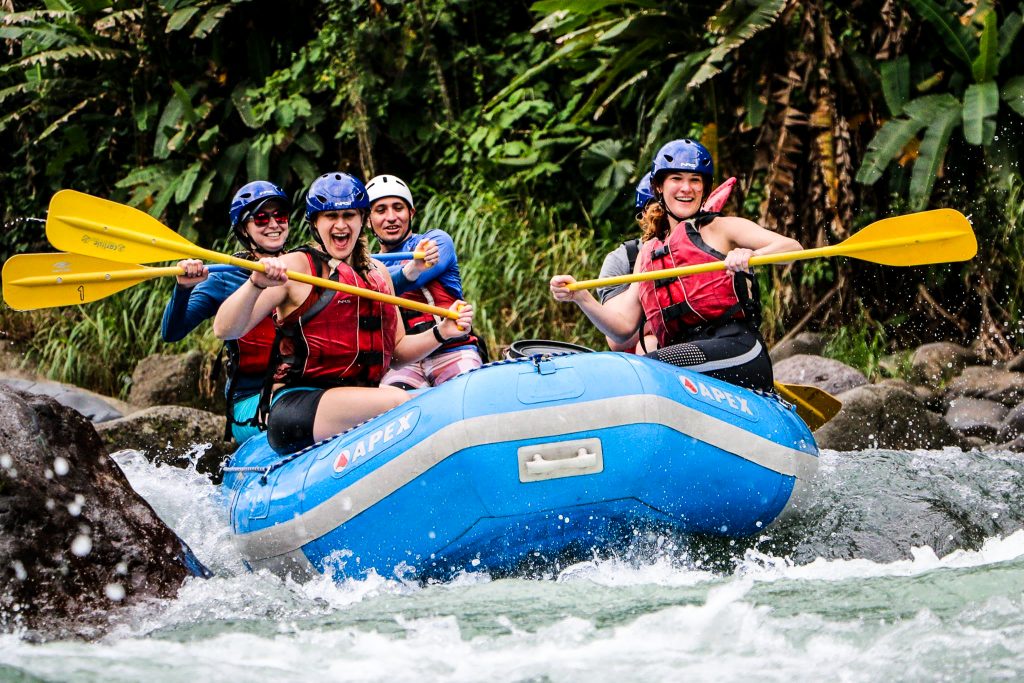 ---
What NOT to Wear White Water Rafting
Cotton – As I mentioned above, cotton is one of the worst materials you can wear white water rafting. Cotton naturally absorbs and retains moisture, so after you've been splashed by the first wave, you'll be wet the rest of the trip and through lunch. For short trips in warm weather, this may not matter (and might even be refreshing). But in general, I advise people to stay away from cotton.
Glasses (without a strap) – Oh, glasses. These can be tricky. If you're like me and detest contacts, you may be forced to wear your glasses in the raft with you. But it's easy to lose your glasses if you get splashed with a huge wave or get dumped in the water. I have a little strap that is attached to the arms of my glasses, so if they fall off my face they will still be around my neck (like a lanyard). I'm definitely not winning any awards for the most fashionable paddler, but at least I have my glasses.
Running Shoes – Running shoes will be uncomfortable to wear while rafting because once they're wet, they feel soggy and heavy. They can also be annoying to swim with.
Sandals without Backstraps (i.e. Flip Flops) – If you don't have straps securing your sandals in place, good luck holding onto them if you go for a swim.
Jewelry – With the exception of small earrings or necklaces, I'd advise removing any jewelry prior to your rafting adventuring.
---
Additional Things to Bring White Water Rafting
Dry Bag with a Carabiner – If you aren't familiar with dry bags, these are essentially durable plastic bags that, when buckled shut, are completely waterproof. Most of them have an attachment for a carabiner, so you can secure the dry bag to a boat. If you're going out for a full day of rafting, you might want to bring a few items (like sunscreen, a camera or snacks). A dry bag is perfect for keeping these items dry and secure in the raft.
Before you go and purchase a dry bag though, ask the rafting company if they provide dry bags (many do) or if there is a way for you to bring one with you in the raft (this should be fine, but it helps to double-check ahead of time). Also, dry sacks come in a variety of sizes, but for this purpose, you only need a 5L dry sack (the smallest size).
Water Bottle with a Carabiner – Similar to the above, bring a water bottle with a carabiner so you can attach it to the raft.
Sunscreen – Sunlight reflects off of water, so you're more likely to get sunburned on the water than on land. Apply sunscreen before you start rafting and bring some in your dry bag if you'll be out for a long day.
GoPro with an Attachment – White water footage looks amazing, so I bring a GoPro on all of my trips now (you can see my white water videos on my YouTube channel). Since I do a lot of white water trips, I always bring my own helmet with a GoPro attachment. If you'll be using a helmet from the rafting company, you can GoPro attachments that attach to a life jacket or are worn around your chest.
Change of Clothes – I so often forget about this one! Bring a change of clothes to wear after the rafting. It's so nice to get back to your car and remember you have a warm fleece sweater, dry socks and slip-on shoes to wear. Many rafting companies will have a change room (and sometimes a shower) for you to take off your wet clothes and change into dry clothing before you leave.
Towel – Although some rafting companies will provide you with one, bring a towel just in case.
---
Whitewater Rafting FAQs
How much experience do you need?
The great thing about white water rafting is that you need absolutely no experience to get started. Your rafting guide steers the raft and will call on your paddling to move the boat forward. A lot of the time the river's current is so strong that you don't have to do much (if any) paddling to move forward.
In contrast, white water kayaking or canoeing requires much more skill for the individual participant because there are fewer people in the boat and the boats are much tippier. Read this post if you'd like a more thorough explanation of the differences between rafting, kayaking and canoeing!
All this makes white water rafting a fantastic way for beginners to safely experience the force of the river!
Note: I'm talking about participants on a commercially guided rafting trip. Steering and managing a raft is not easy, so rafting guides have a tremendous about of skill and experience. In addition, challenging rapids (like Class V rapids) require the entire boat to be skilled paddlers, though these aren't often paddled on commercially guided trips with beginners.
Are you inside the raft at all times?
While it's not common for rafts to tip, though it is common for people to swim alongside the raft. This happens in two ways. First, you may go through a huge wave and fall out of the raft. That sounds scary, but it's actually a ton of fun. Your rafting guide will usually ask everyone what their comfort level is and choose a route down the rapid that matches the group's preferences.
If there are lots of daredevils in the group who want to experience the biggest waves, the guide can aim the raft at the biggest part of the wave. Here you'll have a greater chance of falling out because the ride will be so bumpy and there will be so much water around you. You'll always be safe though!
If the group wants a smoother ride, that can usually be accommodated too. There is never a guarantee that someone won't fall out, but it's not very common if the guide is choosing tamer routes down the river.
Finally, there is often an opportunity to swim alongside the raft in between rapids. This is a great way to cool down and relax while feeling the current of the river.
What is the norm around tipping white water rafting guides?
It is customary to tip guides in the outdoor industry. Tipping can make up a sizeable amount of a guide's income (when I was guiding, about 1/4 of my income came from tips and this was on the lower end). A general rule is to tip 15% of the total cost of the trip before taxes. If there is more than one guide on your trip, you can still tip 15% and the two guides will split the tip between them.
Some people feel awkward handing their guide cash at the end of the trip, but it doesn't have to feel awkward! You can tip your guide at the end of the trip when you're saying thank you and getting ready to leave.
---
What to Wear White Water Rafting – Final Thoughts
I hope this post has been helpful and you feel prepared for your upcoming rafting trip. If you have any additional questions or concerns, please send me a message or comment below. I love talking about white water paddling so I'd be happy to help!