If you love outdoor gear like me, you'll know there is way more canoeing gear than just the boat and paddle. In this post, I want to introduce you to some of the coolest, most helpful and pretty much the best canoe accessories I've used or been introduced to. These will improve your own canoe trips or will work as the best canoe gear gifts for your paddling friends.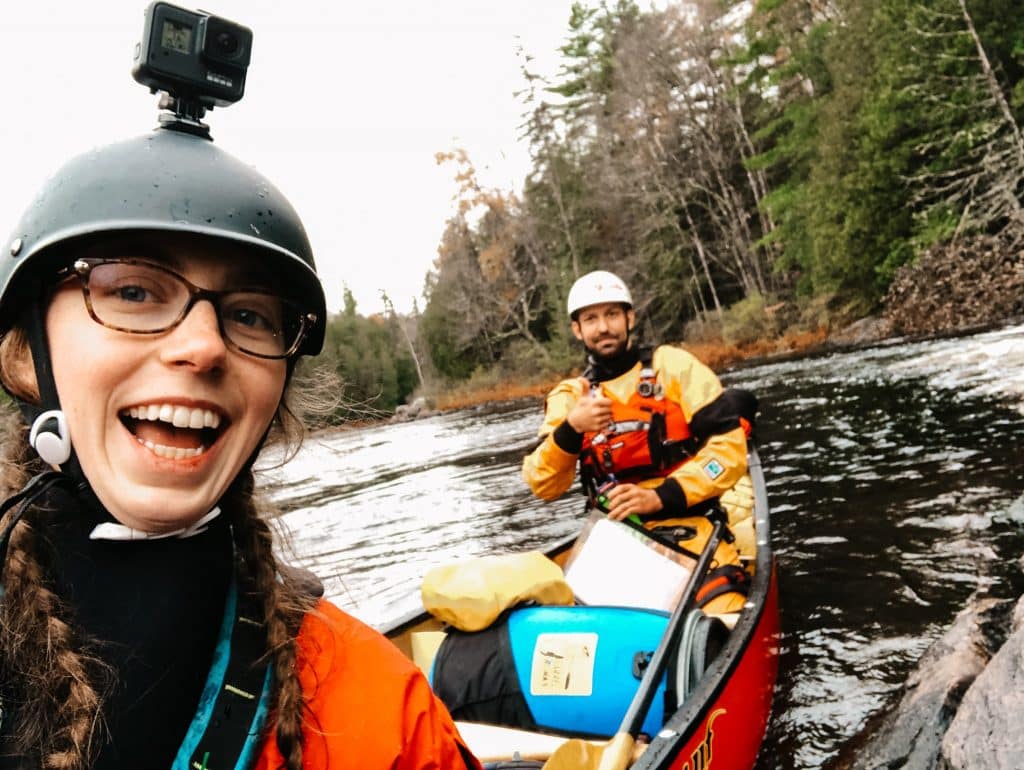 This post may contain affiliate links. If you make a purchase through one of these links, I may receive a small commission at no extra cost to you. Your support is much appreciated! You can learn more by reading my full disclosure.
---
15 Awesome Canoe Accessories for your next Canoe Trip
Transparent Dry Sack
Don't lose small personal items in your barrel, dry sack or backpack again. I like to keep anything I might need during the day (rain coat, Aqua-tabs, a granola bar, camera, etc.) in a transparent dry sack.
I'll also keep all the little items that I don't want to misplace (toothbrush, bug spray, notebook).
It can be difficult to find a transparent dry sack, so I recommend going with the Baja View Dry Bag. It's the most reliable dry sack company out there and they have three sizes of transparent dry sack.
---
---
Food Barrel Cooler
This 60L Barrel Cooler fits right inside a 60 L food barrel and is perfect for keeping produce or meat cool on short canoe trips. They're also machine washable, so easy to keep clean.
I haven't used one yet myself (it's on my wishlist), but some of my canoeist friends have it and cannot stop talking about how handy it is for keeping steaks cold and peppers from getting squished!
Read more: The Ultimate Guide to Canoe Camping
---
Whitewater Canoe Air Bags
If you're early in your whitewater canoeing journey, you may not be familiar with air bags. These inflatable bags sit at the front and back of the boat (in front of the bow paddler and behind the stern paddler).
Their job is to prevent water from entering your canoe when you go over a big wave. As the water splashes over the gunwales, it hits to inflated bags and doesn't go into the canoe.
If you find water is getting into your canoe, especially at the bow, consider getting an airbag. I've always used the NRS Canoe Flotation Bag and can recommend it as being one of the most useful canoe equipment to take along with you.
---
[optin-monster slug="cdizbfbn616zzsjktlef"]
---
Tilley Hat
Call me old fashioned, but I am absolutely obsessed with Tilley Hats. My dad and my grandpa always wore them, and I've since taken one from them and made it my canoeing hat.
The wide brim offers exceptional sun protection, plus they are water-resistant, come with a cord (so you won't fear the wind) and they float. Best of all, they are guaranteed for LIFE. So if you somehow did manage to damage yours, you can just get a new one.
This is the one I use and I absolutely love it.
---
Map Case
Although many maps are made with some degree of water resistance, at the end of the day your map is important and deserves a waterproof case.
Get a totally transparent map case so you can easily read your map while you paddle. I also keep a copy of my route card and emergency numbers in here.
I like this map case because it closes with a velcro roll-top, which I have found to be much more reliable for keeping water out.
---
30 L Canoe Barrel
Most people only canoe with 60 L barrels, but I almost always canoe with a 30 L barrel as well (specifically, the Recreational Barrel Works 30 L Barrel).
If I have multiple food barrels, I like to keep lunch food and snacks in a 30 L barrel. Since I'm usually having a floating lunch or a quick bite to eat on the shore, a 30 L barrel is helpful for quickly finding what you need.
On longer trips, I use the 30 L barrel as a first aid kit. It ensures everything stays dry (including the satellite phone and GPS).
If you're an ultralight packer, you could also use the 30 L for your personal gear (but I'm too much of an over-packer for that).
---
Yoke Pad
Make portaging a little more comfortable with a yoke pad.
A yoke pad attaches to the yoke of your canoe, and sits in between your shoulders and the yoke when you're portaging. Honestly, they get mixed reviews. Some people swear by them; other's can't stand them.
Personally, I like them for short portages. Long portages are uncomfortable no matter what you do, so canoe attachments like the pad make little difference there.
There are a few different brands making the best canoe pads, but I've had a positive experience with the Level Six Yoke Pad (I also use the Level Six Barrel Harness).
---
Canoe / Kayak Sail
If you've ever been a windy river or bay, you'll know the joys of having the winds at your stern. (And the sorrows of having it at your bow.)
Most of use just hold up a tarp and hope the wind catches a little of it. Sometimes that's super successful, and other times it just doesn't take.
But what if you had a Downwind Wind Sail Kit specifically made for catching the wind as it sweeps in from behind you?
It may feel a little silly buying this for yourself, but I think this would be a super fun gift to give a canoeists.
---
Padded Canoe Seat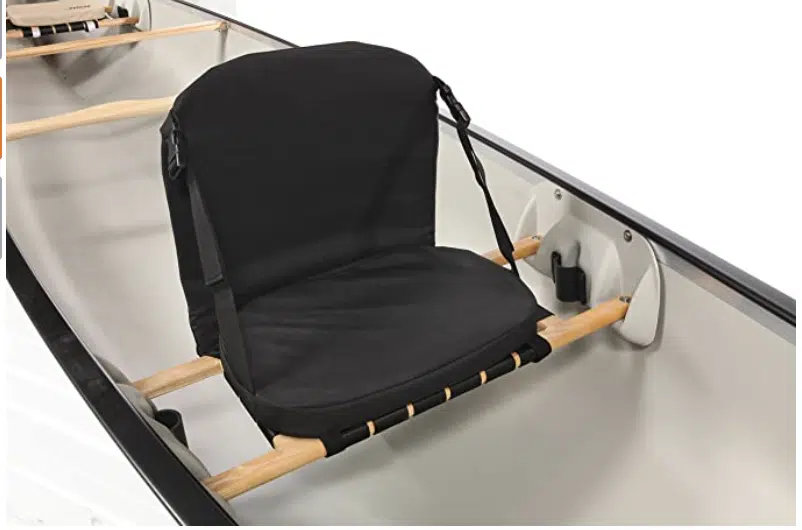 This is a kind of product I've never used before (so I won't give it a formal endorsement) but I think it would be super cool to try if you found canoe seats uncomfortable and were going for a leisurely paddle.
The one pictured is the Pelican Sport Padded Canoe Seat, which hasn't gotten great reviews but with a flexible return policy could be worth trying out.
---
River Knife, Throw Bag and Carabiners
Even if you don't use them for whitewater safety purposes, it can be really helpful to have a knife, a throw bag and a couple of carabiners on your life jacket.
I most often use my river knife for cutting salami and spreading cream cheese at lunchtime. But I am prepared should I ever need to cut a rope.
The throw bags and the carabiners are helpful for securing boats together or to shore. For example, if you come to a campsite with a really steep takeout, you could secure all the boats to shore with a rope and carabiner, instead of trying to get them onto the campsite.
This is the knife I recommend: NRS Pilot Knife.
For throw bags, read this post to decide which one is best for your purposes.
---
What are your favourite canoe accessories?
Comment below if there are awesome canoeing accessories or cool canoeing equipment I'm missing!