One of the hottest debate topics in the outdoor community is what to do about bears when backcountry camping. Should you do a hang your food? What about carrying bear spray? Can scented products like toothpaste go in your tent? What should you do about bears in Algonquin Park, an area that gets a lot of human and bear activity?
In this post, I'll throw in my two cents and go over what I have found to be the best practices for minimizing negative black bear encounters in Ontario.
I'm specifying "black bears" and "Ontario" because it's important to remember that what you do about bears varies by location and type of bear. While many of the principles in this blog post apply to grizzlies and polar bears as well, those bears require a few additional precautions and I'm not an expert at camping in those territories.
So without further ago, here is my best advice for bear proofing your campsite!
This post may contain affiliate links. If you make a purchase through one of these links, I may receive a small commission at no extra cost to you. Your support is much appreciated! You can learn more by reading my full disclosure.
---
Don't Attract Bears in the First Place: How to Prevent Bears from Coming to Your Campsite
Everyone loves to immediately jump to the discussion "to bear hang or not to hang?" But the most important part of protecting your food from bears is by preventing them from coming to your campsite in the first place.
So first and foremost, here are some ways to prevent bears from coming to your campsite.
---
Don't Camp at a Site with Signs of Bear Activity
If the campsite looks like it's been recently visited by a bear, you shouldn't stay there. So what are signs of recent bear activity?
Bear Poop
Bear poop is tubular (like human's) but larger – typically 5-12 inches long and 2 inches in diameter. It usually appears in a big, loose pile about the size of your hand. Bear poop is either brown or black, and you'll usually see signs of vegetation, insect parts, berries and maybe the remains of small mammals.
Bear Markings on Trees
Sometimes you'll see gashes, scratches and missing bark on a trees, indicating a bear has been in the area. This website and this website both have some good pictures for identifying bear markings. Bears mark trees for a variety of reasons – marking territory, showing off their size, scratching their fur to help with shedding in the spring.
Prior to canoeing on the Missinaibi / Moose rivers, I didn't think much of camping near bear markings. On that trip we did a nature walk with the mayor of Moosonee (someone who has lived and camped along the Moose River for years) and he explained that you should do a check for bear markings when you first arrive at your campsite. If there are lots of markings, better not to stay there. And you never want to pitch your tent at the base of a tree with bear markings.
---
Keep Your Campsite Clean of Food Scraps
It's important to keep your campsite, especially the area around your campfire, free of food. Here are a few quick tips to keep your site food free:
Keep all food and food preparation in a dedicated area – this minimizes the chances of you accidentally leaving food out overnight
Be really careful pouring things, like grain products and sauces, and if you do spill something, do your best to clean everything up
Ensure there are no food scraps in your campfire, and if there are, either put them in your garbage bag or burn them until there is nothing but ash in your fire pit
---
Dump Your Dish Water at Least 200 ft from Your Campsite
If you've been following me for a while, you'll know I LOVE to talk about the Leave No Trace method of doing dishes, and that the last step is disposing your dirty dish water.
In addition to this being good for LNT, correctly disposing of your dirty dishwater will keep bears away from your campsite. Once you've finished doing your dishes, go 200 ft from your campsite and dig a cat hole. Carefully pour your dirty dishwater into the hole, being careful not to let any food particles fall in. Once the water has been dumped, fill the cat hole and place the food particles in your garbage bag.
---
Don't Clean Fish at Your Campsite
This is a big one: you should never clean fish at your campsite. Bears love fish and cleaning fish leaves a lot of fishy-smelling-waste. I don't do much fishing on trip, but when we have, we always go quite a ways away to clean the fish.
---
What should you do about scented products?
I typically try to avoid scented products on camping trips, however sometimes it's necessary. So what should you do about these products – leave them with your personal gear or with the food?
There are a few schools of thought here. Personally, I leave my scented products – like sunscreen and toothpaste – in my tent with me (although I do have them in a small dry sack). I've never heard of a case where a bear came to someone's campsite because they smelled peppermint toothpaste through its packaging and a bag.
Though if you have heard of this before, leave a link to the story in the comments – I'll check it out.
---
---
Methods to Protect Your Food Overnight
Once you've done everything you can to prevent your campsite from attracting bears, it's time to deal with your food. What method should you use to protect your food overnight?
This is a topic of hot debate in the outdoor community. Many people have strong beliefs on what they think everyone should do. My opinion is… that it depends on where you are. Specifically, it depends on how much human and black bear activity the location gets.
If you're camping in an area that gets a lot of human activity, it's likely that black bears have come to associate that area with humans and human food. In these areas, it is so important that you do some method of bear protection – whether it's a bear canister, bear hang or another method.
If you are camping in an area that gets very little human activity, it's less likely that bears have come to associate that area with humans and their food. In these areas, you can be a little more relaxed with your bear protection.
---
Option 1: Provided Bear Vault / Bear Hang
Some campsites, typically those that get a lot of human activity and don't have a lot of options for bear hangs, will provide you with facilities to safely store your food and scented products overnight.
For example, the backcountry campsites in Bruce Peninsula National Park have a large, steel structure for bear hangs. There is a cable and and carabiner-type clip for you to secure your bag to, and then you pull the other end of the cable to hoist up your bag. If you watch this video, there is some footage of a bear bear structure at 8:46.
Other campsites may have bear vaults, which are large metal boxes that require some dexterity to open. You can store your food in these over night.
When should you use a provided bear vault / bear hang?
If you park has gone through the trouble of building a bear hang / bear vault, you should always use it.
---
Option 2: Self-Built Bear Hang
A bear hang is an old (and arguably, outdated) method for keeping your food away from bears. It involves hanging your food from a tree, such that the food is at least 6 ft above the ground and 3 ft from the tree trunk.
In theory, even if a bear suspected food was in your bag, it wouldn't be able to get to the food (however, there is footage of bears climbing trees and gnawing through ropes to bring down bear hangs).
The reason why the bear hang gets criticized is that 1) it's time consuming, 2) it's difficult to find suitable trees, and 3) most people do it wrong.
I won't go over the specifics of actually doing a bear hang, since there are easily a hundred videos on YouTube demonstrating it.
When should you do a Bear Hang?
Bear hangs are extremely popular with backpackers, and somewhat popular with canoeists, especially in areas that get a lot of human activity.
The reason they are so popular in areas with lots of human activity is that bears are more likely to be accustomed to checking campsites for food. People who go to campsites and leave garbage / food scraps teach bears that this campsite may have food in the future. Over time, bears become habituated to searching campsites for food – and they may come during your stay.
So you need to do something to protect your food, and bear hangs are the most widely recommended method.
Personally, I only do bear hangs when I'm backpacking (since I don't have a food barrel with me). When you are doing a bear hang, you should always hang your food in an bear- and rodent-proof container, like a bear canister or bear-proof bag, instead of your backpack. You don't want mice or squirrels chewing through your expensive backpack to get to your food.
Should you hang food barrels? I typically advise against hanging food barrels. Food barrels can be insanely heavy, so the risk of it falling and hurting someone is greater than with a backpack. If you want to hang your food, take it out of your barrel and hang it in a durable rodent-proof bag.
Option 3: Bear Float
A bear float is when you secure your food inside a canoe, tie a rope between your canoe and to a tree, and then push the canoe away from the shore. The thinking here is that a bear is unlikely to detect your food if it's floating in the water. And if a bear did stumble upon your food, it's unlikely they'd be able to get it out.
Although I've tried it a few times, this method has never made a ton of sense to me. For starters, I don't love leaving a canoe in the water overnight (what if my knot comes undone and I lose both my food and a canoe?). Second, the canoe usually ends up getting pushed to the shoreline anyways, so it isn't really doing its job.
When should you do a bear float?
I guess you could consider it if there was no place to do a bear hang and you don't like any of the other methods listed below. However, I personally don't have a situation where I do a bear float.
---
Option 4: Secure your Barrels to a Tree
This is the method I use most often on canoe trips because it's easy to do and quite reliable.
In this method, you walk your food barrels away from camp (at least 100 ft) and secure the barrel to a tree using the barrel harness. I like this method because it doesn't involve hanging or floating the barrel, but a bear can't just walk off with the barrel either.
When would you use this method?
This method works when you are canoeing in an area that doesn't get a lot of human activity.
For example, we used this method a lot on the Missinaibi River. We were staying at campsites that only see a handful of paddlers each year. That means it's unlikely that any bears have come to associate the campsite with humans and human food.
In addition, I personally use this method in areas that do get a lot of human activity when the following conditions are met:
The barrel is secured far away from the campsite (specifically, the cooking area and fire pit)
The is no sign of recent bear activity
The food inside my barrel is in airtight containers, and there's no loose food or crumbs in the barrel (barrels are not quite scent-proof)
I'm comfortable with this method in places like Algonquin for a couple reasons. For starters, the bear is habituated to the campsite, not the random tree in the forest where I've secured my barrel. Second, the barrel is attached to the tree. I've heard stories of bears dragging a food barrel away from a campsite, but I've never heard of a bear unclipping a harness.
---
Option 5: In the Barrels at the Campsite
In this method, you basically just keep your food in a barrel, leave it at your campsite and hope for the best. If a bear (though more often a critter) tries to open up your barrel, you'll hear it and can shoo them away.
When you should use this method?
This method should only be used in areas that see very, very little human / bear activity. You should NOT rely on it in a busy place like Algonquin.
Fore example, we used this method when my group paddled the Coulonge and Dumoine rivers in October. We were in an area that gets very few paddlers each season, and paddling at a time of year when bears aren't particularly active.
Pro Tip: When I have my barrels close to the campsite, I'll lean paddles against it (kind of like a teepee) so if an animal tries to get at the food, they'll knock over the paddles and get scared off.
---
Option 6: Sleep with Your Food
I've never done this last one, but I find it quite interesting. There's a very accomplished hiker, Andrew Skurka, who has done tens of thousands of miles of camping across the world and he… sleeps with his food.
He puts it in a bear proof bag and places it under his knees to relieve back pain. Or sometimes he uses it as a pillow. Which seems crazy, but he goes over how it doesn't actually attract animals and it can be more effective than a bear hang (when camping in places with low bear activity – so not a place like Algonquin).
I won't go into more detail, but I encourage you to read his article on it. It's very interesting.
---
What to do if you encounter a bear on your camping trip?
Keep your distance
Never approach the bear or attempt to charge at the bear. Leave a healthy amount of space between you and the bear.
Make a lot of noise and appear bigger
If I see a bear near the campsite and we haven't acknowledged each other yet, I make noise at an increasingly loud volume. I don't want to to startle it with a sudden scream, but I want it to be aware that I am there. Usually I'll start singing and get increasingly loud. This typically results in the bear scurrying away.
If I notice the bear and we've made eye contact, acknowledging each others' presence, I'll make noise and raise my hands in the air. If I can reach a pot or pan, I'll grab them and bang them together. If I have trekking poles, I'll wave them in the air to make myself seem larger. I don't turn my back to the bear and I don't come towards it or pretend to charge. If I'm camping with multiple people, we try to make it so that we're all visible – a bear is more likely to attack an individual or two, than it is to attack a group of five or six.
In every bear encounter I've had, this has been effective at making them turn around.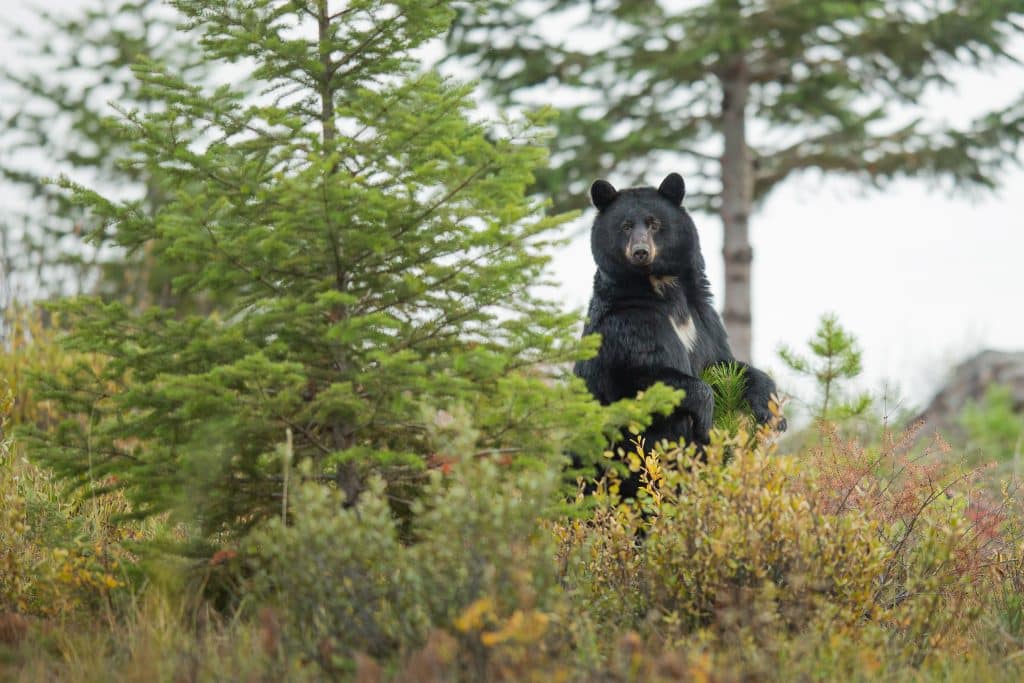 If there may be an attack, try to identify the gender of the bear
We typically think of protective mamas as being the dangerous bear, but that's actually far from the truth. A study of bear attacks in Canada between 1992 and 2009 found that male bears accounted for 92% of all fatal bear attacks (source).
If the bear is a female, or if you see cubs, you want to make yourself as unthreatening as possible. Back away slowly, making some noise but not being aggressive. If they do charge, you want to play dead by curling up in a ball on the ground – in most cases a female will stop an attack if you play dead.
If the bear is a lone male, you want to be confident, make a lot of noise – banging sticks, pots and pans together – and appear very large. In this case, you want the bear to believe that YOU believe you would win in a fight. This is usually enough to make it leave.
Should you carry bear spray? In western Canada, bear spray is an important tool for protecting yourself against brown / grizzly bears. However, it typically isn't needed in eastern Canada where we have black bears. That said, there are a few people who advise bringing bear spray every time you're in the backcountry. It comes down to your personal comfort levels. If I'm solo, I like bear spray, but I've never carried it on a group trip.
---
Bear Proofing Your Campsite – Final Thoughts
I know that everyone approaches bear proofing differently, and it can be a super controversial topic, so I'm interested in what you think. Do you still love the bear hang? Do you carry bear spray even in Ontario? Let me know in the comments!
Read more camping tips: