I've just returned from a wonderful camping trip in Bruce Peninsula National Park. I'd been told the park was beautiful (and it was!) but many people warned me about how crowded it would be. Outside of the hour I spent at The Grotto, however, I saw very few people.
I highly recommend coming here and staying at one of the two backcountry campsites. But if hiking isn't your jam, there is also a front country campground you can drive into you. However, you do it, definitely spend the night in the park!
In this post, I'll tell you about the front country and backcountry camping options at Bruce Peninsula National Park (and the front country options just outside the park). And I'll include information on reservations, permits, parking, facilities and more.
I'll go into detail about the different hiking trails. And I'll provide some tips for backcountry camping because this requires a little more planning than staying at a campground. I've also created a video of the entire trip, where I talk about the route, the campsites, the challenges and more. So without further ado, let's go hiking!
---
Bruce Peninsula Camping: Trip Video
Here is a video I made about camping at Bruce Peninsula National Park. I did a two day backpacking trip in the park and stayed at a campsite in High Dump.
In the video you'll see the striking scenery of Bruce Peninsula, the campsites and surrounding facilities, and the trail itself. I've also included little anecdotes and behind-the-scenes moments from my backpacking trip.
---
About Bruce Peninsula National Park
Bruce Peninsula National Park is one of five national parks in Ontario. It is located on Bruce Peninsula, which is a a long peninsula pointing northwest into Lake Huron. On the east side of the peninsula is Georgian Bay.
Bruce Peninsula National Park is on the northeast side of the peninsula and is characterized by steep cliffs, rocky caves and tropical blue water.
Quick things to know about Bruce Peninsula National Park camping:
There is

one

campground for car camping: Cyprus Campground
There are

two

campgrounds for backcountry camping: Stormhaven and High Dump
In all cases, you need to reserve your campsites in advance
TIP: Campfires are prohibited when backcountry camping in Bruce Peninsula NP. If you want a warm meal, you'll need to bring a backpacking stove.
This post may contain affiliate links. If you make a purchase through one of these links, I may receive a small commission at no extra cost to you. Your support is much appreciated! You can learn more by reading my full disclosure.
---
How to get to Bruce Peninsula National Park
The national park is located at the top of the peninsula, and the easiest way to access the park is by driving. During weekends in the summer, there can be shuttles from Toronto, but this is more for day trips to the Grotto, not for camping.
When putting the destination into Google Maps, don't just search "bruce peninsula national park". There are two different destinations in the park, depending on what you're doing:
Visitor's Centre: This is where you go if you want to learn about the park or if you will be spending time in the adjacent Five Fathom National Marine Park.
Cyprus Lake Campground and Day Use Parking: This is where you go if you have a reservation for camping (either car camping or backcountry). Once you turn into the park, there is an entrance gate and a park ranger.
Tell the park ranger what you're here to do (day hike, car camping, backcountry camping) and they will direct you to where you need to go to either park or pick up your permits. They will also give you a map and visitor's brochure.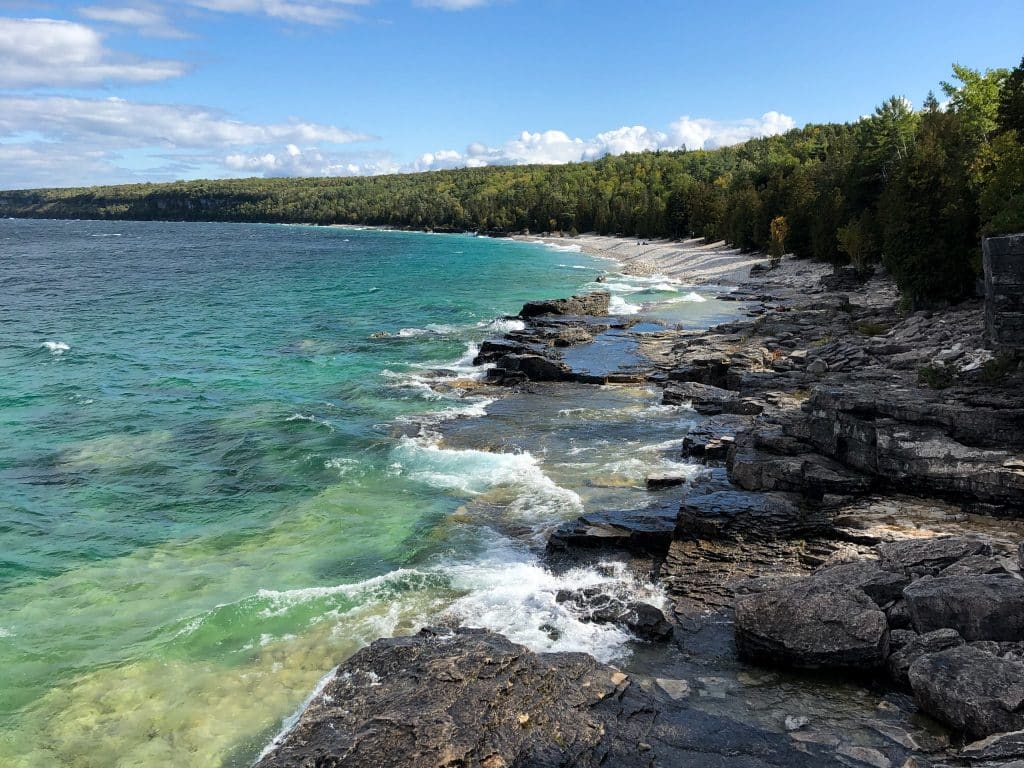 ---
Bruce Peninsula Map
When you arrive at the park gate, the ranger will provide you with a map of the park. This map contains the trails and locations of campsites. To help you plan, however, I've also included the main locations in the park on the Google Map below.
---
Bruce Peninsula Hiking
Before we dive into Bruce Peninsula National Park camping, let's talk about the hiking trails. Where you choose to camp will be dependent on which hiking trails you want to do.
Hiking is the best (and only) way to get around Bruce Peninsula National Park (unless you are an experienced kayaker perhaps).
By far the most popular Bruce Peninsula hiking trail would be The Grotto. This is the destination people are referring to when they talk about how crazy busy the national park gets. There are a few other easy hikes in this area as well.
But if crowds aren't your thing, I definitely suggest walking a section of the Bruce Trail.
Bruce Peninsula Hiking Difficulty
The most popular trails are marked as easy. These are wide, mostly flat, trails that go directly from the parking lot to a particular site (i.e. the shoreline, the Grotto, a lake).
The Bruce Trail traces the shoreline for the entire length of the park and is marked as difficult. There are lots of uneven or steep sections. This trail should only be attempted by people with a decent level of fitness and have hiked before.
In all cases, proper footwear is a must. If you're only doing the easy trails, you should wear running shoes at a minimum. If you're doing the Bruce Trail, you should wear hiking boots / hiking shoes / trail running shoes. Need hiking boots? Read this.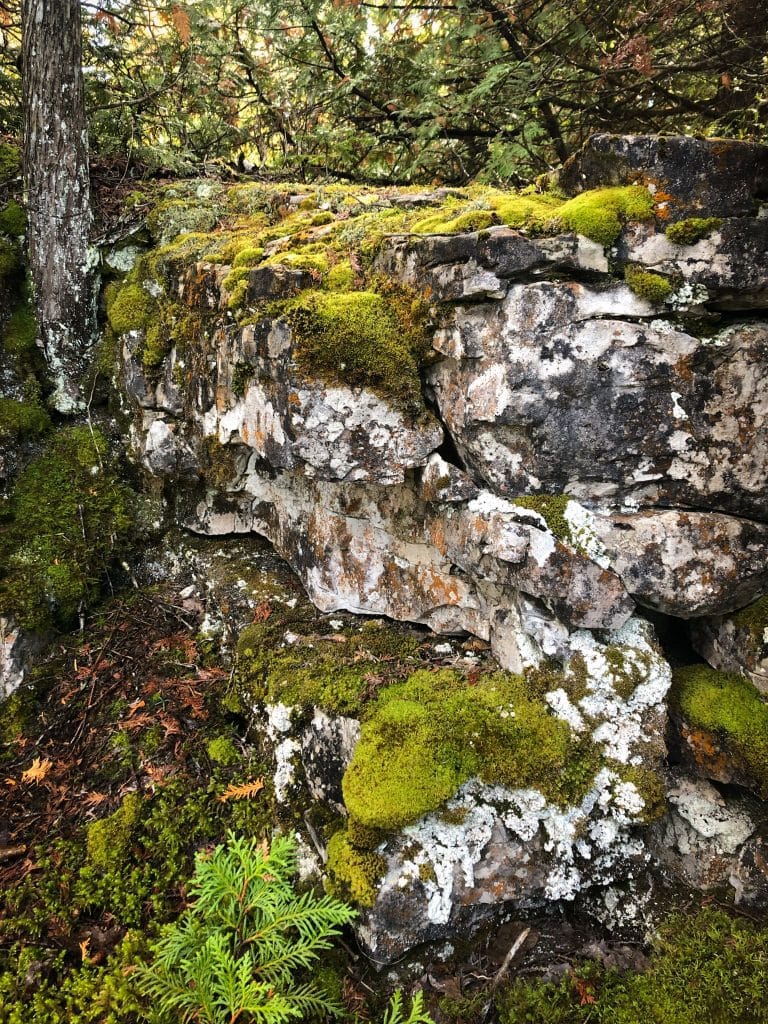 Bruce Peninsula Hiking Trails
I've included a brief description of the hiking trails below, however, you can find more info on the Parks Canada website.
The Grotto via Marr Lake / Horse Lake – This is the most popular trail in the park and a relatively easy one. This loop starts from the parking lot at Cyprus Campground. If you go clockwise, you'll take the trail to Marr Lake and the nearby Boulder Beach before reaching Grotto. Then you'll return via the trail to Horse Lake. You can also make a quick detour to Halfway Rock Point.
The loop is 3 km and takes between 1.5 to 3 hours to complete, depending on the hiking speed. Part of the trail is wide, smooth and flat. However, some parts become very rocky. Take your time and be careful!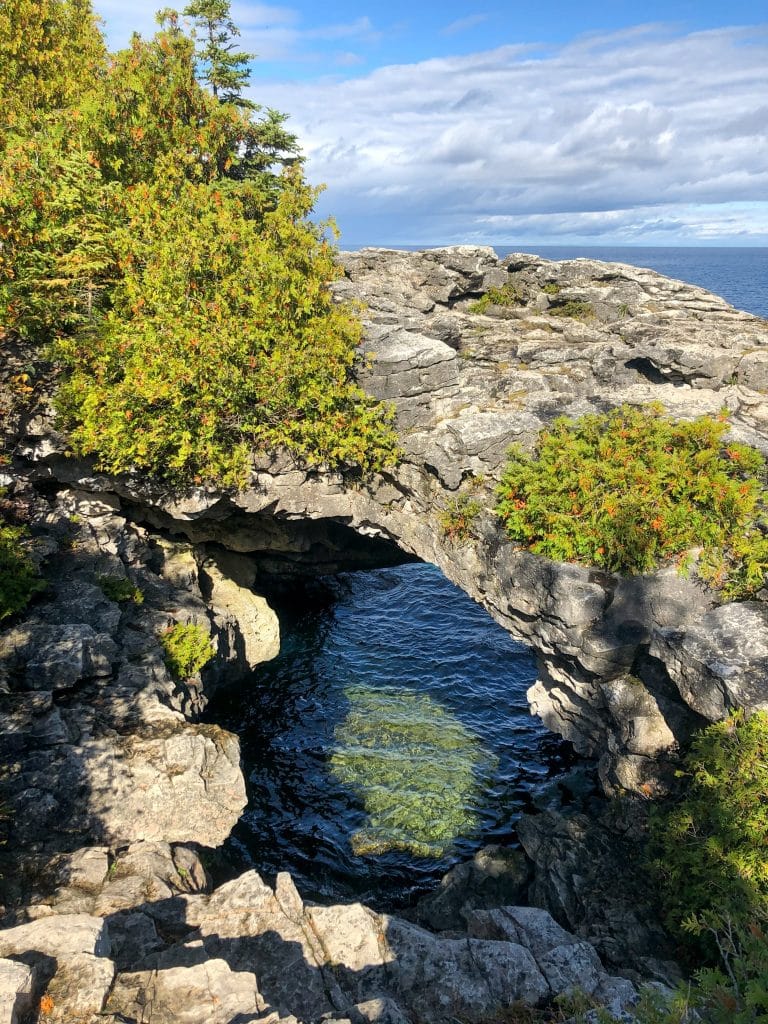 Cyprus Lake Loop – If you want something less rugged, you can go around Cyprus Lake. This is a 5 km loop that takes about 2.5 hours.
Halfway Log Dump – You can park at Halfway Log Dump and do a quick (~30 minute) walk to the rocky beach. You can also walk along the Bruce Trail in either direction, but you'll need to return the same way you came. This is a great alternative if you arrive for a day trip and the Cyprus Campground Parking Lot is full.
Bruce Trail – The Bruce Trail enters the national park at Crane Lake and then traces the coastline to Little Cove. This is the trail you'll be on if you're hiking to either of the backcountry campsites. The trail is fairly rugged and the park deems it "difficult". There isn't a lot of elevation gain, however, it is incredibly rocky and becomes slippery in the rain.
Do you need trekking poles? I didn't use trekking poles, but about 1/3 of the backpackers I passed did. There were a lot of parts where it was easier to use my hands to grab rocks, hold onto trees, etc. So I personally don't think trekking poles are needed, but if you're new to backpacking you might like them when getting used to carrying a backpack. >>These are the ones I own.
---
Bruce Peninsula Camping – Backcountry
There are two options for backcountry camping in Bruce Peninsula National Park: Stormhaven and High Dump. There are three parking lots and no shuttle services between parking lots. That means you need to end where you start, so keep that in mind when choosing your route.
If you want to know specifics about backpacking in Bruce Peninsula National Park, check out this page on the Parks Canada website.
Facilities at the Campgrounds
Both High Dump and Stormhaven have nine campsites. Each campsite has a wooden tent platform, guaranteeing a flat place for you to put your tent. There is considerable distance between each campsite. I barely saw the group next to me and couldn't even hear their dog.
There is also a composting toilet that is in (surprisingly) excellent shape – very clean and well-stocked with toilet paper. (Though I suggest bringing your own just in case.)
Each campground also has a pole and wires for doing bear hangs. This makes it easy to keep your food away from bears and raccoons.
There is no running water at either campsite. You must gather water from Georgian Bay, so bring a water pump / filter or be prepared to boil your water. >>This is a good filter for lightweight backpacking.
Tip: The waves are really big, so you'll get wet when you try to fill your pot. To avoid getting weight, bring a pot with handles and tie a long rope on it, and throw your pot into the water and reel it back in. My pot didn't have handles so it was super annoying getting water. >>I'd recommend taking something like this.
Campground Rules
Here are some rules to follow when backcountry camping at Bruce Peninsula National Park.
Please pack out all of your garbage. Although there is a small garbage can in the washroom, you shouldn't put any garbage (like food wrappers or scraps) into it.
Don't throw anything but toilet paper and the provided wood chips into the composting toilets. Composting toilets can't digest paper towels, tampons / pads and other garbage. That means someone from Parks Canada has to fish those items out of the toilet. Be kind.
There are no campfires permitted in Bruce Peninsula National Park. You should bring a gas stove to cook over. I know this is disappointing, but the fires damage the fragile environment. I encountered a few makeshift campfires on the beach so I know people break the rules. Please don't be like them. >>This is the lightweight, inexpensive stove I brought.
Permits, Parking and Fees
You should book your backcountry camping site online and in advance, as there are limited sites. The reservation fee is $11.50 when you book online. You can book your site through the Parks Canada booking portal.
When you arrive at the park, head to the backcountry permits office (right after the gates into Cyprus Campground). Here you will pay for your overnight pass ($10.02 per person, per night) and your overnight parking pass ($11.95 per night).
The park ranger will also ask you where you want to park your car, which will depend on the route you choose. If you're not sure, ask them which one they recommend (I did this).
---
My Route
I highly recommend the route I took – I saw about half the park in a relatively short amount of time. I did the two night trip listed below:
Day 1: Halfway Log Dump parking lot to High Dump
Day 2: High Dump to Stormhaven (and then a quick detour to the Grotto)
Day 3: Stormhaven to Halfway Log Dump parking lot.
However, rather than staying at Stormhaven for a second night, I passed through it and went back to the parking lot. So in essence, I did the two night trip in one night. This meant I had A LOT of hiking distance to cover. I don't recommend doing the hike this quickly unless you are short on time.
Further below I have included sample routes for 1, 2 and 3-night trips.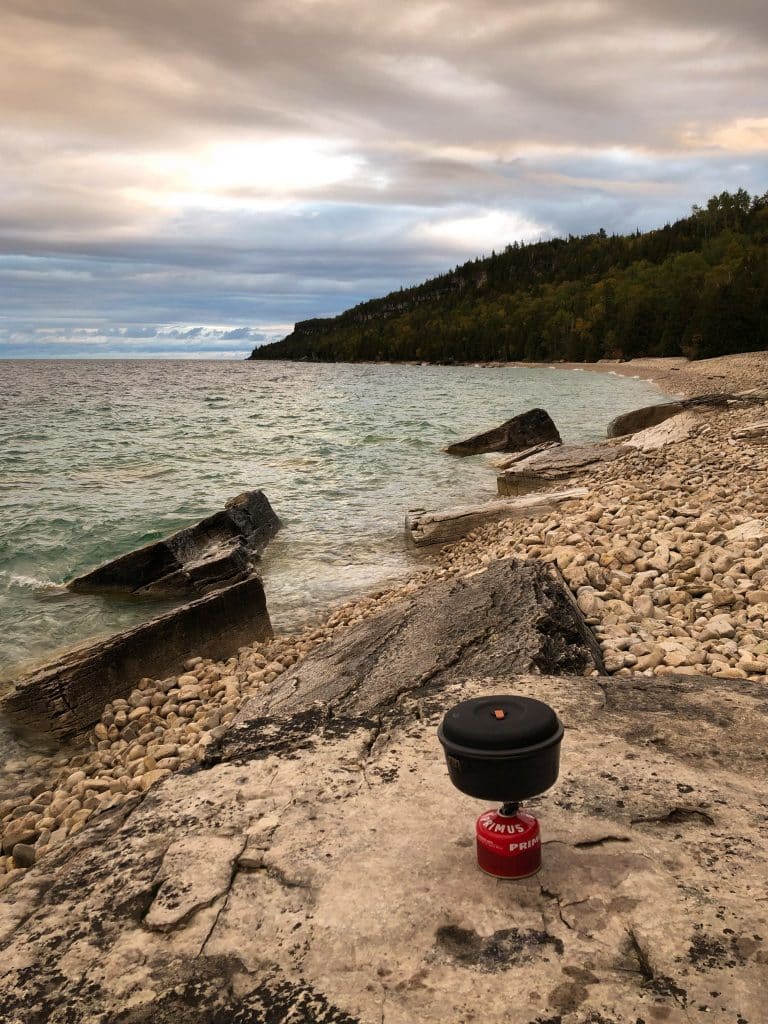 Camping at High Dump
The Bruce Trail enters Bruce Peninsula National Park on the east end of the park, at Crane Lake parking lot. From Crane Lake, it is a 7.9 km to High Dump.
There is also a parking lot at Halfway Log Dump, which lies in between High Dump and Stormhaven. It is 6.2 km from Halfway Log Dump to High Dump.
I did the second option and parked at Halfway Log Dump. The Crane Lake – High Dump section of the trail is apparently easier, but not nearly as scenic because it isn't along the coastline.
The trail from Halfway Log Dump to High Dump was my favourite section of all the hiking I did, so I highly recommend choosing a route that takes you along this section of the trail.
I absolutely loved High Dump. The campground itself is down a side trail off of the Bruce Trail. It feels very "last corner of the Earth". The campsites are in the forest, but there is a rocky beach that's great for getting water and making dinner.
The campground has the following facilities: composting washroom, tent platforms and bear hang station.
If you watched the video above, you would have seen just how steep it is getting down to the campsite. Be careful as these rocks can be really slippery.
Camping at Stormhaven
Stormhaven is the second (though more popular) destination for backcountry camping in Bruce Peninsula National Park. I went through the Stormhaven campground but didn't stay there myself.
Stormhaven is just 3 km from Halfway Log Dump and about 4 km from Cyprus Lake Campground. The shorter distance is likely what makes it more popular than High Dump (or maybe it's the name, because "high dump"? Why would you name something that?).
Since I did the hike from Halfway Log Dump to Grotto, I hiked both sides of Stormhaven. The trail here is wonderful. Rocky in places (definitely be careful in the rain), but some great views of the cliffs.
Stormhaven has all the same facilities as the above, including composting washrooms, tent platforms and a bear hang station.
One word of caution! When I went through the campground I saw that some sights are down by the water and some are high up near the trail. Definitely choose a site down at the water!
Bruce Peninsula Backcountry Camping Route Ideas
One Night at High Dump (Harder):
Park at Halfway Log Dump
Day One: Halfway Log Dump to High Dump (6.2 km)
Day Two: High Dump to Halfway Log Dump (6.2 km)
One Night at Stormhaven (Easier):
Park at Halfway Log Dump
Day One: Halfway Log Dump to Stormhaven (2.7 km)
Day Two: Stormhaven to Halfway Log Dump (2.7 km)
Note: You could also park at Cyprus Lake Campground for a similar distance of hiking
Two Nights:
Park at Halfway Log Dump
Day One: Halfway Log Dump to High Dump (6.2 km)
Day Two: High Dump to Stormhaven (8.9 km)
Day Three: Stormhaven to Halfway Log Dump (2.7 km)
Three Nights:
Park at Cyprus Lake Campground
Day One: Cyprus Lake to Stormhaven (3 km)
Day Two: Stormhaven to High Dump (8.9 km)
Day Three: High Dump to Stormhaven (8.9 km)
Day Four: Stormhaven to Cyprus Lake Campground (3 km)
Read Next: Complete Guide to Hiking the Highland Backpacking Trail in Algonquin
---
Bruce Peninsula Camping – Front Country Campgrounds
If backcountry camping isn't your thing, there is one campground (with three sections) for front country camping in Bruce Peninsula National Park. The Cyprus Lake Campground contains more than 230 sites throughout three sub-campgrounds (Birches, Poplar and Tamaracks).
You should definitely book your campsite in advance. You can do so through the Parks Canada booking portal.
Each campsite has its own fire pit and picnic table. There are also washroom and shower facilities. There are not, however, electric sites for trailers. From my understanding, the campsites are suitable for car camping and tent trailers but are not suitable for large RVs.
Note: Unlike at the backcountry campsites, you can have open fires at Cyprus Lake so long as they are in the fire pit.
What is front country camping? Front country camping means campgrounds that can be accessed with a vehicle. So if you see "front country camping" think car camping or RV camping.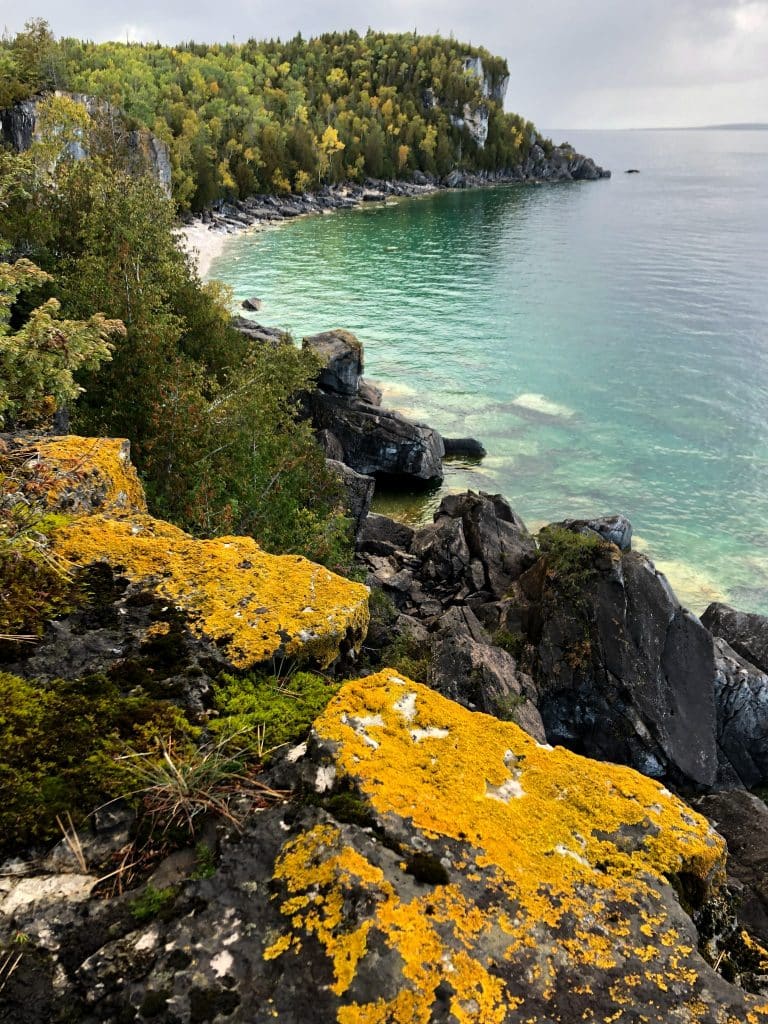 ---
Campgrounds Outside of Bruce Peninsula National Park
I definitely recommend camping in Bruce Peninsula National Park. However, if you'd rather stay at a campsite outside the park, there are a ton of options. I haven't stayed at any of these properties myself, so I can't attest to how nice they are.
Tobermory Village Campground – This campground is directly southeast of Tobermory. They have both electric and non-electric campsites, washrooms and free showers. There is even a pool! However, there is no direct water access and the sites appear very close together.
Lands End Park – This campground is located just east of Tobermory, almost at the most northern point of the peninsula. The campsites are predominately wooded, ensuring privacy from other campsites. The campground has both electric and non-electric campsites, washrooms and paid showers. Unlike other campgrounds in the area, Lands End Park has its own water access to lake Huron.
Mountain Trout Camp – This campground is southeast of both Tobermory and the national park. It's located on Gillies Lake, so you have some water access but it's not Georgian Bay / Lake Huron. They have both electric and non-electric sites, in addition to cabins and trailers for rent. They rent canoes and kayaks and have a private beach on Gillies Lake.
---
Bruce Peninsula Camping Packing List
This is thee equipment I brought for my backpacking trip. If you will be staying at the front country campground may need different gear (i.e. you won't need the sleeping equipment if you're in an RV, and you don't need a 50 L backpack).
Sleeping Equipment:
Tent
Sleeping Pad (inflatable, with an R-value of 3.4)
Sleeping Pad (foam, with an R-value of 2.0)
Sleeping Bag (rated to -9C)
Compressible Pillow
If camping in cooler temperatures, ensure you have a sleeping pad warm enough. My usual sleeping pad wasn't warm enough so I also brought this foam sleeping pad, and together they were perfect.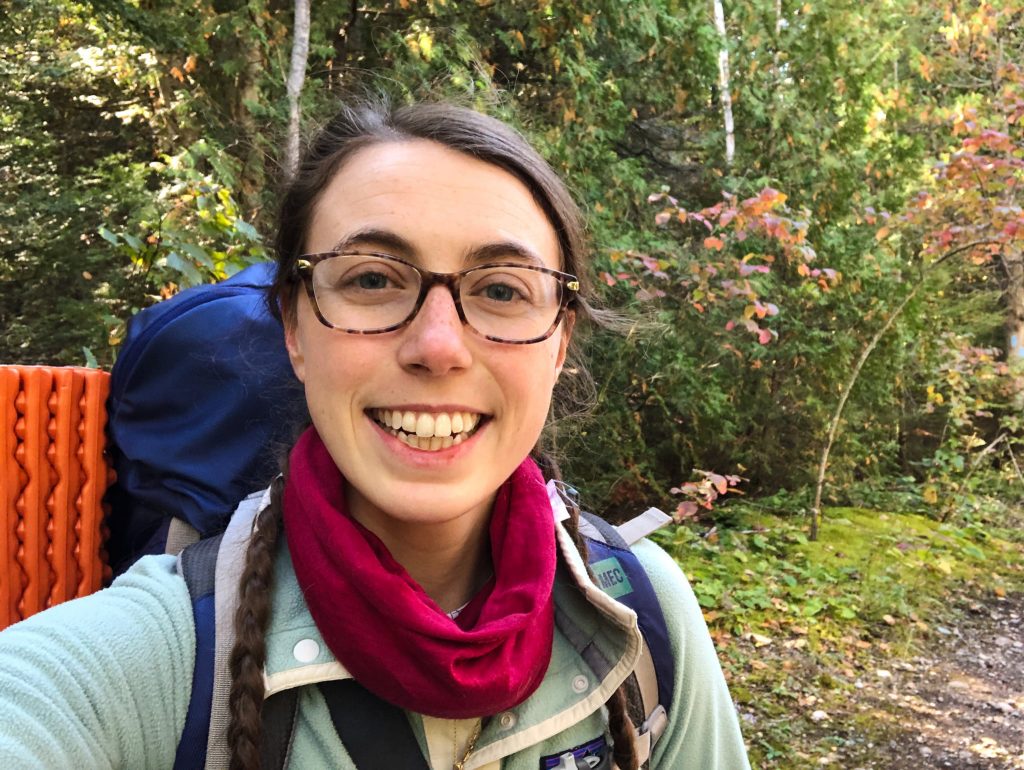 Cooking Equipment:
Stove + Fuel + Matches / Lighter (I used this stove)
Small Pot (preferably with handles)
Water Filter
Spork + Bowl
Dried Meal (packaged or homemade)
Knife
Coffee Thermos (optional)
Clothing:
Hiking Shoes + Wool Socks
Hiking Pants or Leggings
Quick Dry T-shirt
Fleece Sweater or Down Jacket
Rain Coat
Staying warm: If hiking in the spring or fall, I really recommend getting a merino wool hiking shirt. You're going to get sweaty, and merino wool will keep you warm while it dries. Polyester or other synthetic materials will cool you while they dry. >>I like this one.
Other:
---
Camping Bruce Peninsula National Park – Final Thoughts
I am definitely of the optional that camping Bruce Peninsula National Park should be on any Ontarian's bucket list. This is a stunning part of the province with excellent backcountry and front country camping facilities.