Backpacking is a constant balancing act between comfort and weight, and I'm always on the lookout for ways to improve my comfort out in the wild without adding pounds of extra weight to my pack. So in this guide to finding the best backpacking chair, we'll be discussing just those things.
If you're heading out into the wild for one or two days, you can likely get away with any backpacking camp chair. But if you're doing out for longer, an ultralight camp chair will be necessary.
In this guide to the Best Backpacking Chair of 2022, I'll take you through the best lightweight camp chairs and how to choose a backpacking chair that's going to be the best for your needs. 
Okay, enough chit-chat. Let's dive into my Best Backpacking Chairs Reviews!
This post may contain affiliate links. If you make a purchase through one of these links, I may receive a small commission at no extra cost to you. Your support is much appreciated! You can learn more by reading my full disclosure.
---
My Top Pick for the Best Hiking Chair 2022
In a hurry? My top pick of these ultralight camp chairs is the Helinox Chair Zero. I actually own the bigger one (the Chair One), but after trying the Chair Zero I wish I had this one. It's just as comfortable, but packs smaller and is way lighter.
This is the perfect camp chair if you're looking for a light option that packs incredibly small, but still delivers great quality and support.
With its light aluminum frame, this chair weighs just over 1 lb. It packs up very small (not much larger than a water bottle) and best of all comes with a 5-year guarantee. It's also great value for the price.
You can read more in my full Helinox backpacking chair reviews below, or click on the link below to shop this chair now.
Check prices at Backcountry | Check prices at MEC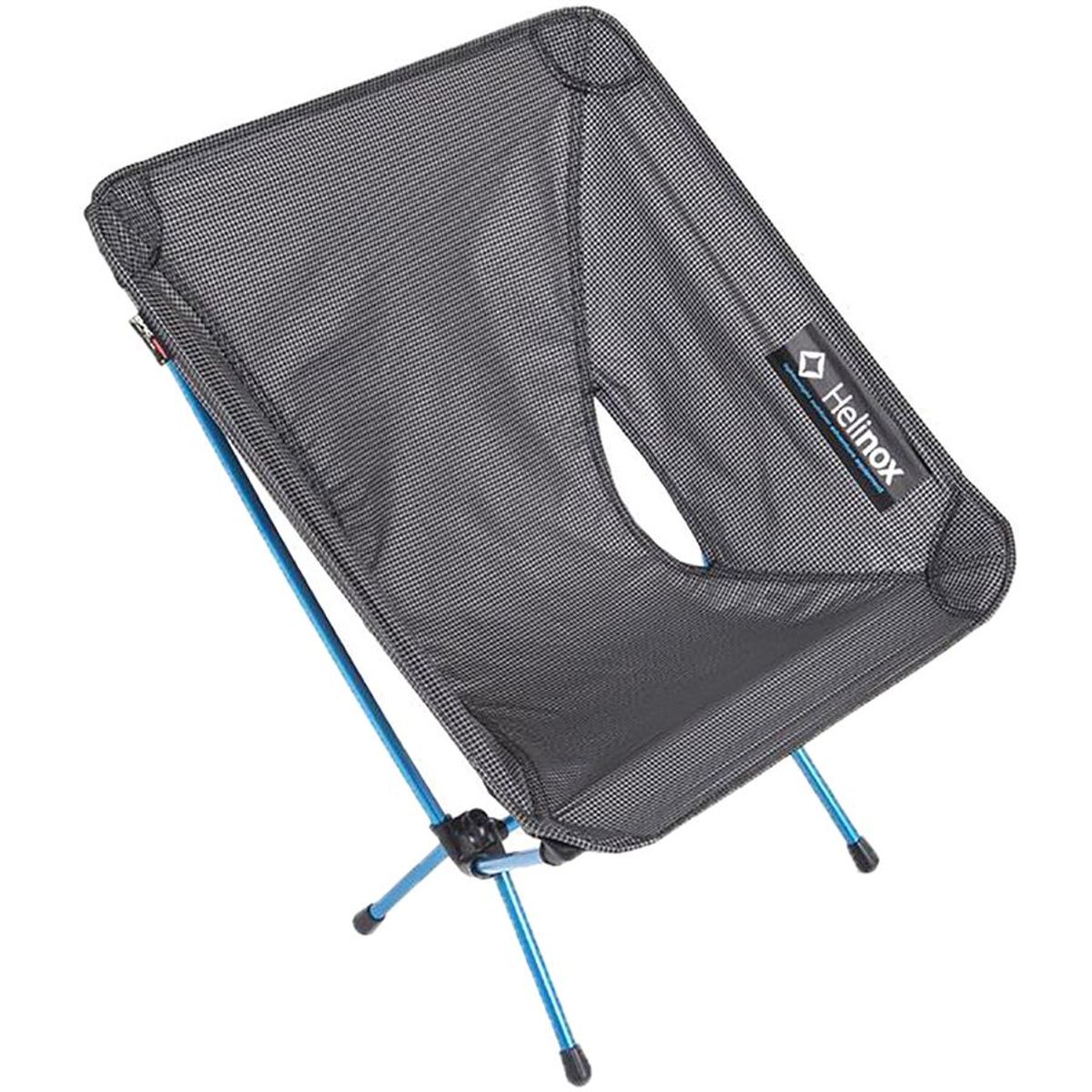 ---
Best Lightweight Hiking Chair – Comparison Chart
Use this comparison chart to compare the best lightweight camp chair options for you. Clicking on one of the links will take you through to online retailers to buy or find out more.
---
Top 10 Backpacking Chair Reviews
Read this section for detailed reviews of the top backpacking chairs.
If you're looking for the very lightest hiking chair (if you can call it a chair), then you'll love the Therm-a-rest Z-seat pad.
Designed to keep you protected from cold, damp or just uncomfortable ground, this best camping seat pad is no-frills insulation superlight foam that folds out to sit on, directly on top of the floor.
Weighing just 2 ounces, you'll hardly notice any weight difference in bringing this along on your camping trip. When it's time to pack up, the foam pad folds into a z-like shape and is kept compact with a bungee cord, making it easy to fit into a side pocket or strapped on to the base of your backpack.
The Z-Seat is hugely popular (you've probably seen it on Instagram) but personally, I don't consider this a camping chair. For the ultralight backpackers, sure this works, but for the rest of us seeking comfort, we can do better.
Pros:
Great price (~$20)
Super light and compact, perfect for ultralight backpackers
Cons:
Not suitable if you want to be elevated from the floor or don't want to sit cross legged
Not comfortable for long periods of time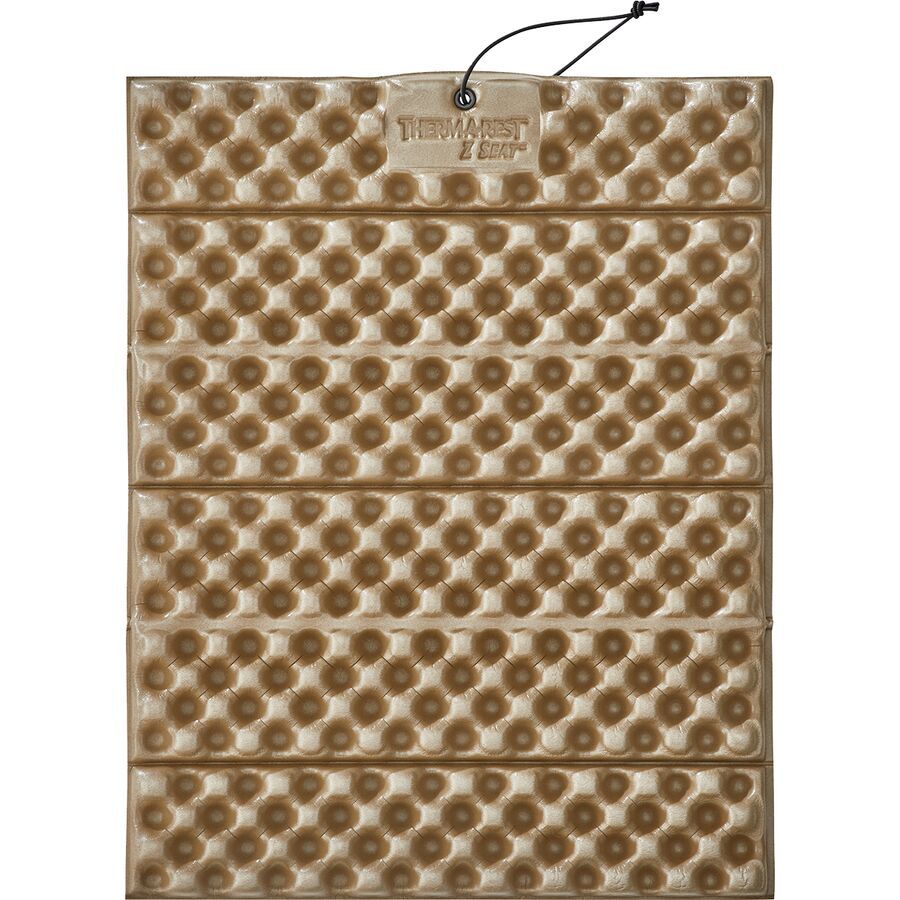 ---
There are some great creative solutions for the best ultralight backpacking chairs, such as this converter from Therm-a-Rest which allows you to convert your existing Therm-a-Rest sleeping mat into a chair with back support.
Weighing only 10 ounces (290grams) this clever device uses ultralight nylon and fibreglass poles to provide rigid back support while using your sleeping pad for padding. Consider it a halfway house between a camping chair and a seating mat – this backpacking chair review won't lift you off the ground much, but it does provide a solid backrest.
Similar to the above, I don't love this option because you're still sitting on the ground.
Pros:
Light and convenient to carry, can attach to the back of a barrel or backpack easily
Affordable price
Cons:
Only works with specific models of Therm-a-Rest mats so check carefully if your one is compatible
Kind of feel like you're doing one long crunch to stay upright
Not suitable in damp or sandy environments, since you'll have to sleep with the sleeping pad at the end of the day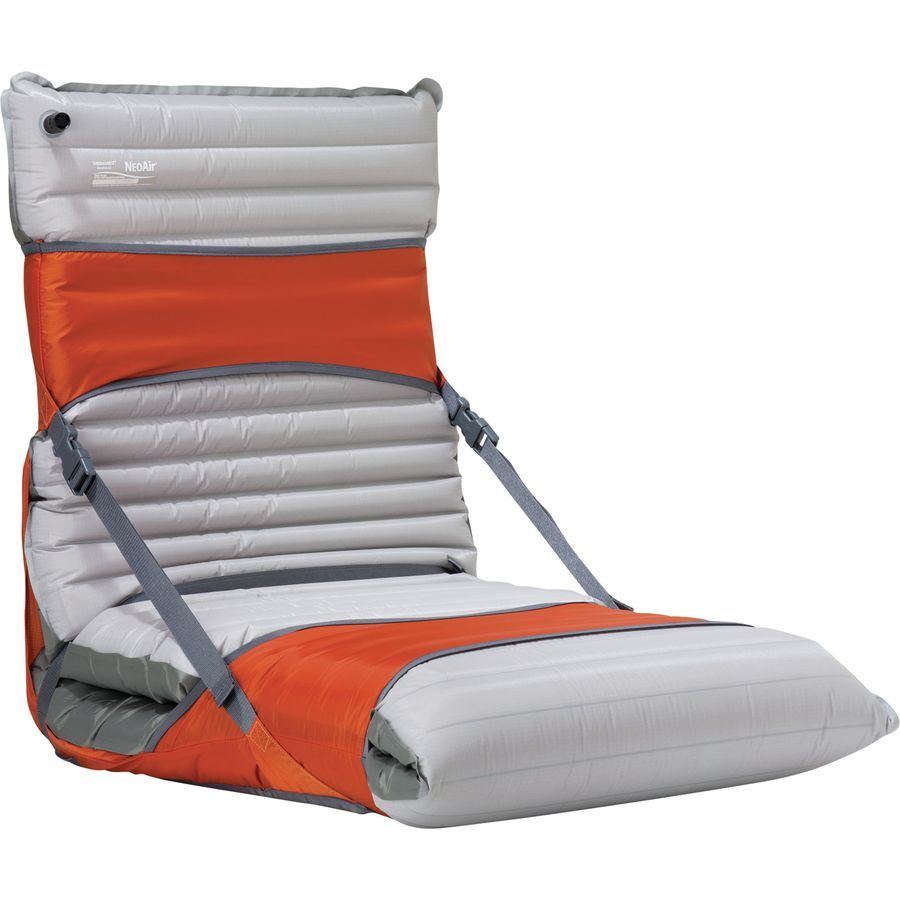 ---
My favourite! And this one is actually a chair! If you're in search of the best ultralight backpacking chair, you'll definitely want to consider the Helinox Chair Zero – here is why it is the top backpacking chair review in this guide.
The best thing about this small hiking chair is it's super light and folds up super small – it weighs around the same as a small bottle of water and takes up the same amount of space, weighing just 1 lb 03 oz or 490 grams. The frame is made from lightweight aluminum alloy and can handle a max weight capacity of 265 lbs.
I love this chair for camping trips. It is the best lightweight camping chair, especially where you want a proper chair to relax in at the end of the day but are tight on space and extra weight.
Pros:
Extremely comfortable, especially when sitting around a fire or cooking
5 year warranty
Super light and smallest camping chair
Cons:
One of the most expensive options
Narrower, not as comfortable at the Chair One
Heavier than the sit pads and ground chairs
Check prices at Backcountry | Check Prices at Amazon
---
The Helinox Chair One is another contender for the best lightweight hiking chair, and the one I currently use.
Compared to the Helinox Chair Zero (above), the One is heavier (it is a full pound heavier) and takes up more space, however if you want a comfortable chair to sit in and can handle the additional weight, this is the one to go for. This model is much more spacious than the Chair Zero and your limbs will thank you after a long day hiking if you bring this along.
Holding up to 320 lbs, the frame is made from advanced aluminum alloy, the seat is made from UV resistance high quality rip stop polyester that is also machine washable, and there's a zippered carry case to keep it snug inside your backpack.
Pros:
Extremely comfortable, great quality chair (comes with 5 year warranty)
More spacious than other ultra lightweight backpacking chair options
Cons:
On the heavier and more expensive side
Check prices at Backcountry | Check prices at MEC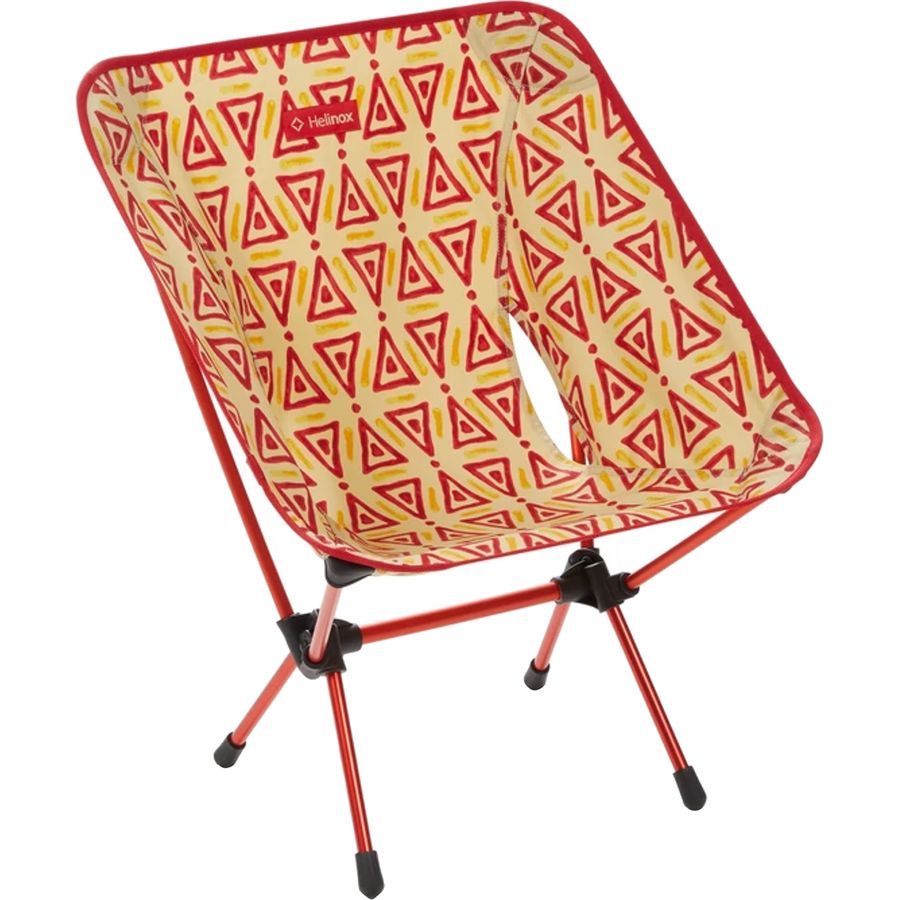 ---
Our third and final Helinox backpacking chair is the Ground Chair. This chair has you sitting almost on the ground – the shorter legs take off weight while still allowing the chair to be wide and comfortable.
At 1 lb 7 oz, this one a little heavier than the Chair Zero, but still lighter than the Chair One.
Pros:
Very small and lightweight for a proper chair
Pretty comfortable
Cons:
You're sitting very close to the ground
Bit expensive
---
If you're looking for a lightweight seating pad with a little more comfort, then the REI Co-op Flash Sit Pad is well worth considering. With this seating pad you get the experience of a plush cushion to sit on without compromising on weight or bulk.
Made from sustainably produced polyester, this mat weighs just 3 ounces and deflates into a small stuff sack (provided). The mylar insulation layers retain heat and the weld-through construction helps maintain a plush feeling of comfort while increasing stability. Best of all, you can fold it over to use as a pillow as well.
Pros:
Small and lightweight
Good insulation from cold on the ground
Can be used as a pillow
Inexpensive
Cons:
No back support and you're still sitting on the ground
---
If you're looking for a minimalistic camping chair that will provide reliable back support without the bells and whistlers, then you'll want to check this REI ultralight hiking chair out, one of the best selling REI backpacking chairs.
Designed without legs, this ground chair is simple to use – it's great if you want to have back support while sitting on a picnic bench, on a rock, or even inside your tent. However, I find it uncomfortable for long stretches of time because I feel like I need to use my core muscles to keep myself from falling back.
The chair weighs 1 lb 9 oz and features fiberglass poles to keep the back rest firm.
If you like this style, SLPS Mountaineering makes a very similar one. You can view it here.
Pros:
Affordable and sturdy design
Cons:
Does not fold up small – only folds in half unlike other lightweight hiking chairs
Weighs as much as actually camping chairs, so you're sacrificing comfort but not saving on space / weight
---
If you're looking for lightweight stools for backpacking, then you'll love this ultralight backpacking stool from Big Agnes. 
Made from 70 denier ripstop nylon, this lightweight hiking stool weighs just under 1.2lbs and has a weight capacity of 250lbs. The stool features shock-corded architecture for simple setup and takedown, as well as a color-coded frame to make setup even easier.
This is definitely one of the best backpacking stool options thanks to its host of features, which also include waterproof coating, high tenacity yarn for extra strength and excellent all-round reviews.
Pros:
High quality, thoughtful design
Strong fabric that's waterproof
Cons:
More expensive than some other stools on the market
Check prices at Backcountry | Check prices at Amazon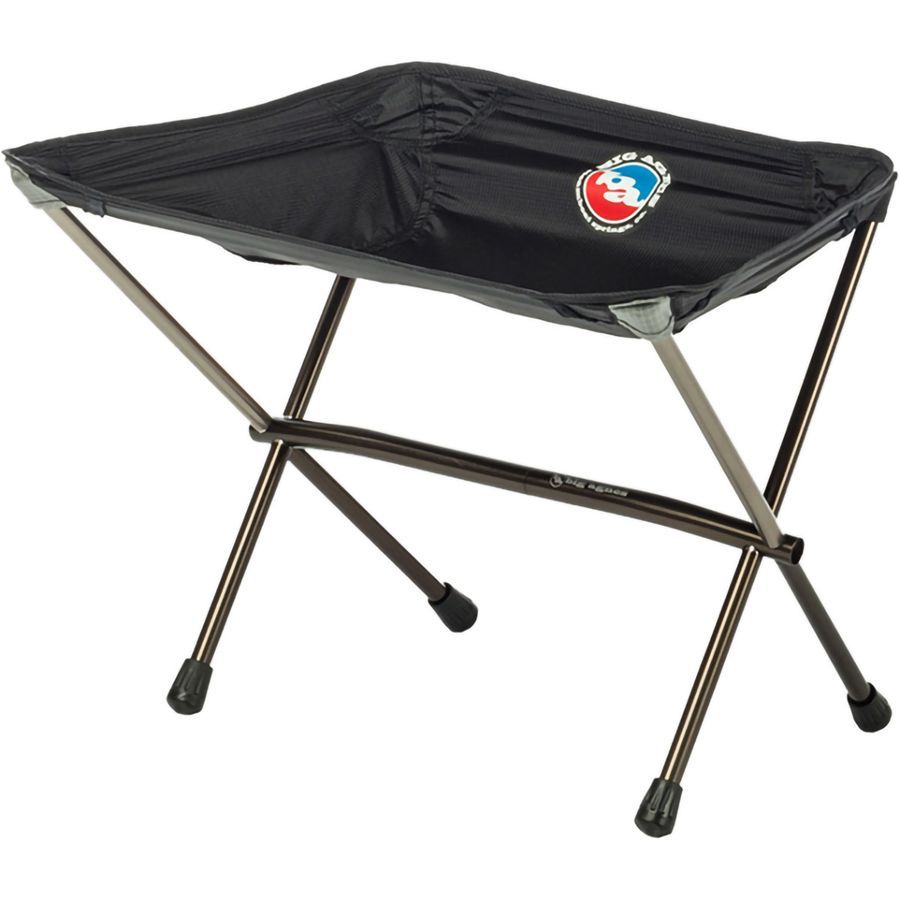 ---
Next on the lightweight camping chair backpacking wishlist is this Big Agnes Skyline UL chair.
Featuring ultralight 70 denier robic nylon and yarn, the Big Agnes chair is similar in build to the Big Agnes stool above and is rip-stop safe for extra strength against tears. There's a waterproof coating to repel against rain or liquid spillage and an ultralight aluminum pole system.
Weighing 1 lb 11 oz, this is a good lightweight chair, although there are lighter options in this guide. What I love about this Big Agnes camping chair is the stable seat with 4 legs and its easy assembly – which is even colour-coded to help you put the chair up easily.
Pros:
Strong, sturdy and robust camping chair
Great quality fabric that's waterproof and anti-tear
Cons:
It's comparable to the Helinox Chair One in size and weight, but not as comfortable
---
Our third and final chair from the Big Agnes chairs is the Mica Basin. This Big Agnes camp chair is most comparable to the Helinox Chair One (though it is slightly bigger and slightly more expensive).
Made of 100D nylon and 300D polyester, with aluminum supports, this is a sturdier, more durable chair than the Skyline UL above. However, that requires some additional weight: the Mica Basin is 2 lb 3 oz, making it the heaviest chair on this list.
Pros:
Super sturdy chair
Very durable, water-resistant fabric
Cons:
It's one of the more expensive chairs on this list
Heaviest chair on this list
---
What to Consider Looking for the Best Ultralight Camp Chair
Below I'll cover what the most important things are to look out for when looking for the best ultralight backpacking chair for you.
When researching best hiking chair options online, you'll quickly see that there are a huge range of different products available, at different price points and quality levels. Here are some of the main points to consider before deciding on your perfect outdoor seat.
Types of Backpacking Chair
There are essentially 3 different types of lightweight backpacking chairs that you'll find available on the market and in this guide.
Sit Pad
The best backpacking sit pad provides basic protection between you and the ground and is an insulated pad that folds up super small, that you can get out when you want to sit down.
The advantages of this type of best backpacking seat are that they are super small and light to carry (so perfect for hiking) and they provide good insulation between you and the ground, helping to keep you warm (and dry when the ground is damp) and they also help protect your pants from dirt!
Sit pads are also the cheapest type of lightweight backpacking chairs, with many costing $30 or less.
Sleeping Pad Converters / Ground Chairs
The second type of backpacking camp chairs included in this guide are sleeping pad converters which allow you to use your sleeping pad as a chair or backrest. They keep the pad folded in place for extra support.
These converters are also super lightweight and inexpensive, and allow you to make the best of the camping gear you already have. They're perfect if you're looking for the very lightest backpacking chair.
On the downside, they only work with certain brands and sizes of sleeping mat (usually specific models of thermarest) and getting them setup requires removing your sleeping mat from your bag as well as the converter.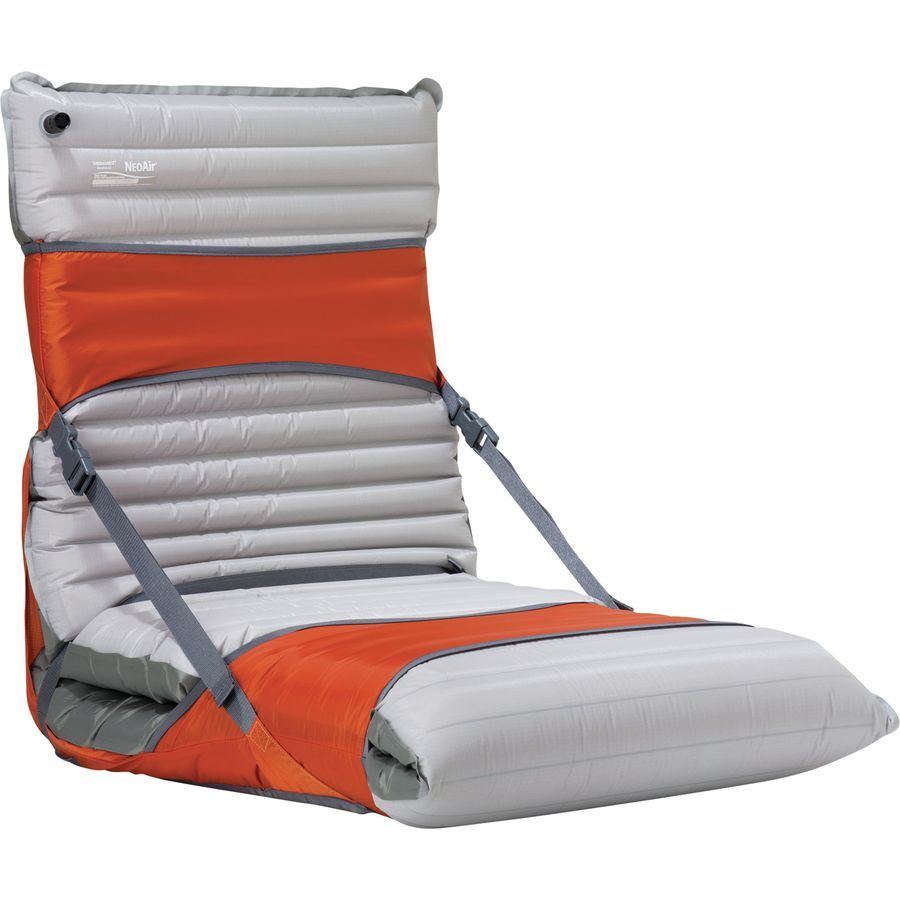 Similar to sleeping pad converters are ground chairs. They don't use a sleeping pad, but do have you sitting in a folding chair on the ground.
Lightweight Camping Chairs & Stools
Last but not least, I have included my favorite lightweight hiking chair options – these best camp chairs for backpacking have a lightweight aluminum frame and unfold to create a comfortable seat that is perfect for when you want to be raised above the ground.
You can also find many backpacking stools available with aluminum frames – similar to the chairs but without the backrest.
Lightweight camping chairs and ultralight camping stool options are great for sitting on the beach, by the lake, on a fishing trip, or essentially any occasion where you want a quick and lightweight chair that raises you off the ground and will be comfortable enough to sit in for a few hours.
The only downsides to these chairs are that they generally cost more than the above two options, and because there is a frame involved, they will weigh more and take up more space. However, if you want a dependable seat, it's well worth looking at these and there are some great compact backpacking chair options around.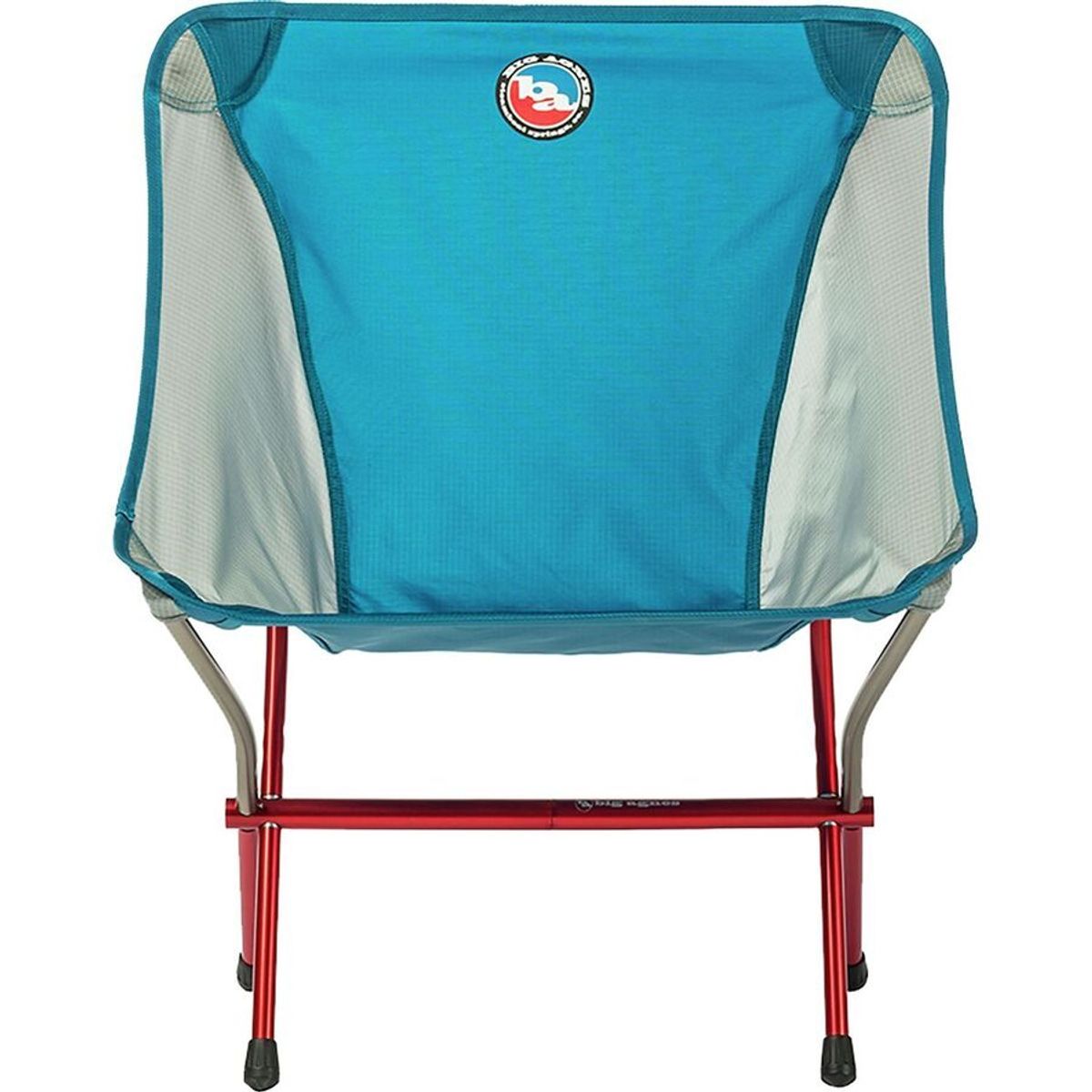 Weight
How much the best ultralight camping chair weighs depends on the type that it is. You can expect the best backpacking pad to weigh less than one pound, but if you're looking at the best backpacking camp chairs, then you can expect something more like 1.5 – 2lbs in weight.
You can also expect to pay a little more for the best lightweight backpacking chair that has a quality build – look for models that have a good guarantee and are tested for strength to avoid getting something flimsy that might collapse. After all, there's no point looking for something super lightweight if it's not strong enough for your intended use.
Size
Depending on the type of small backpacking chair you are after, the size will vary considerably. There are two main dimensions to consider here, one being the size of the packed up chair to fit into your backpack, and the other being the dimensions once the chair or mat is ready to use and unfolded (where applicable).
One thing to pay attention to is the height of the chair off the ground if you do not want to be too low to the ground.
If you're looking for a high back backpacking chair you would need to look for a chair with extra back height. Sleeping pad converters can be a good option for this as they tend to use the full length of the mat and provide the support that goes higher up your back as well.
Frequency of Use
Last but not least, when looking for the best backpacking camp chair for you, consider how you are going to use it and how often you are going to be using it.
If instead of looking for the best chair for backpacking, you're looking for a chair that's best for occasional use, then you may well find that a backpacking seat pad fits your needs just fine, and you don't need to worry about it taking up too much extra space in your bag.
If, however you want a backpacking chair that you can take out and use everyday for a longer trip, then it might be better to go for a more substantial backpacking chair that you will feel comfortable sitting for long periods of time in, without needing to sit in a cross-legged position or with your legs out straight on the ground.
Final Thoughts on Lightweight Backpacking Chairs
I hope this post has been helpful and you find your dream backpacking chair! Here are some other guides you might find helpful:
Best 2 Person Tent for Backpacking Guide & Reviews (2020)
10 Essentials for Hiking and Camping: Explained
9 Best Women's Leggings for Hiking in 2020