I am a firm believer in making great food on camping trips. After a long day, nothing lifts spirits like a warm bowl of something delicious. When I first started camping, bland rice and bean dishes were a staple (and I really disliked those first few trips). Boy, do I wish I'd had one of these camping cookbooks back then!
Now I make chilli from entirely dried ingredients and pair it with homemade garlic bread. I make shepherd's pie with creamy mashed potatoes and rehydrated peas and carrots. I can do oatmeal a dozen different ways. So if you're wondering whether it's worth it to get your own camping cook book, the short answer is Yes. Yes, it is worth it.
In this post, I'll introduce you to 10 of the best camping cookbooks. I've selected camping cook books that are perfect for a variety of different types of trips: car camping / road trips, canoeing / kayaking trips, backpacking and wilderness survival.
This post may contain affiliate links. If you make a purchase through one of these links, I may receive a small commission at no extra cost to you. Your support is much appreciated! You can learn more by reading my full disclosure.
---
Summary: Top Picks for Best Camping Cookbooks
I'm not going to include my own cookbook, The Voyageur's Backcountry Cookbook, in the table above (that'd be a little cheeky, wouldn't it). That said, I do think it is the best option if you want to have excellent food on long canoe trips or to learn the fundamentals of meal planning, dishes and food storage in the wilderness.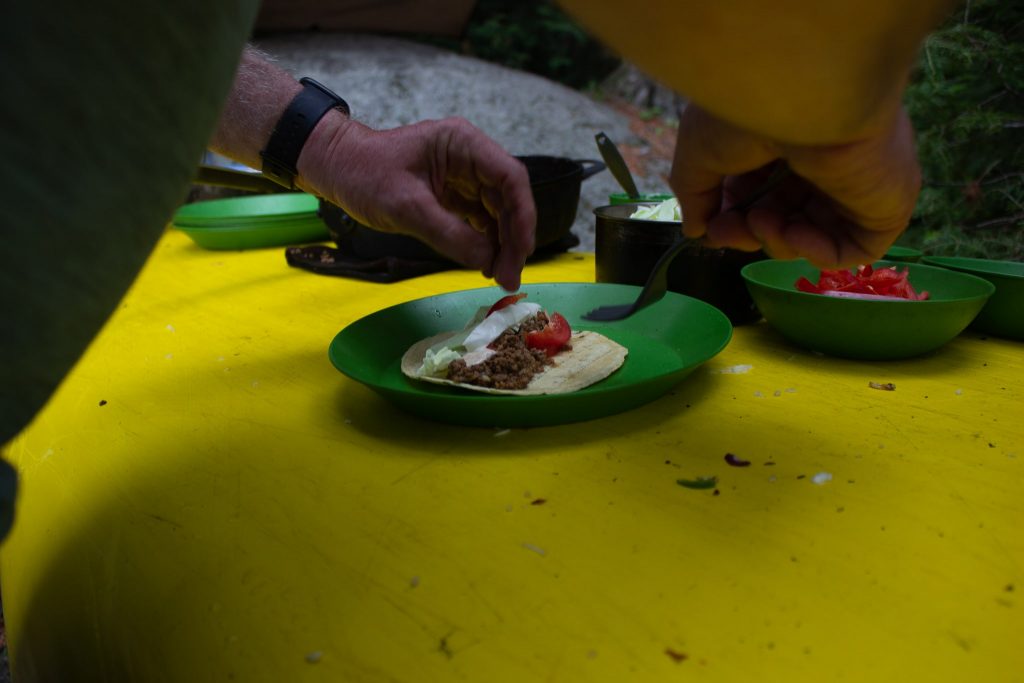 ---
10 Best Camping Cookbooks: Reviews
By Emma Frisch
This cookbook is an excellent starting point for any camper. This camping recipe book pairs detailed recipes and food prep tips with beautiful photography of finished dishes (something many other cookbooks lack).
There is a sample shopping list and menu, an explanation on how to pack a cooler and build a fire, and other tips to improve your camp cooking. This hardcover campfire cooking book is beautiful enough in its own right that it would make a great gift to give an outdoor adventurer.
Best For: Campground Camping
Check availability and prices here.
---
By Kate Dunbar
If your camping usually takes place in a van or RV, this is the camping cookbook for you. This RV book is full of gourmet recipes (seriously, they could be in a restaurant) that have been adapted from the kitchen to the campground.
However, if you're more of a wilderness camper or don't like recipes with lots of steps and many ingredients, you will not like this book. I personally don't use this book because the recipes just don't apply to my style of camping.
Best For: Road Trips and RVers
Check availability and prices here.
---
By Marnie Hanel and Jen Stevenson
This camping cookbook contains more than 75 recipes that cover all aspects of cooking outdoors: hearty breakfasts, easy lunches and snacks, gourmet dinners, desserts and fancy drinks. It also covers tips on building fires (and how to build cooking fires, specifically) and a packing list.
One critique the books gets is that a lot of the recipes – while delicious – require a ton of prep work (both at home and at the campsite) and include many (sometimes expensive) ingredients.
Best For: Car Camping and Campground Cooking
Check availability and prices here.
---
By Mikaela Ferguson
If you want to take longer trips in the wilderness, this is the best backcountry recipe book for you. I wrote The Voyageur's Backcountry Cookbook to introduce novice and intermediate canoe and kayak trippers to the fundamentals of meal planning for long trips.
This digital camp cookbook goes over meal planning and nutrition, food preparation and dehydration (and dehydrating with an oven), and recipes for long trips. It also touches on lightweight kitchen gear, how to do dishes Leave-No-Trace style, and how to avoid animal encounters.
If you are into ultralight camping, backpacking or long canoe trips, this is the perfect camp cooking book for you.
At $11.99 for a digital copy, this is also the cheapest cookbook on this list.
Best For: Cooking on Long Backcountry Trips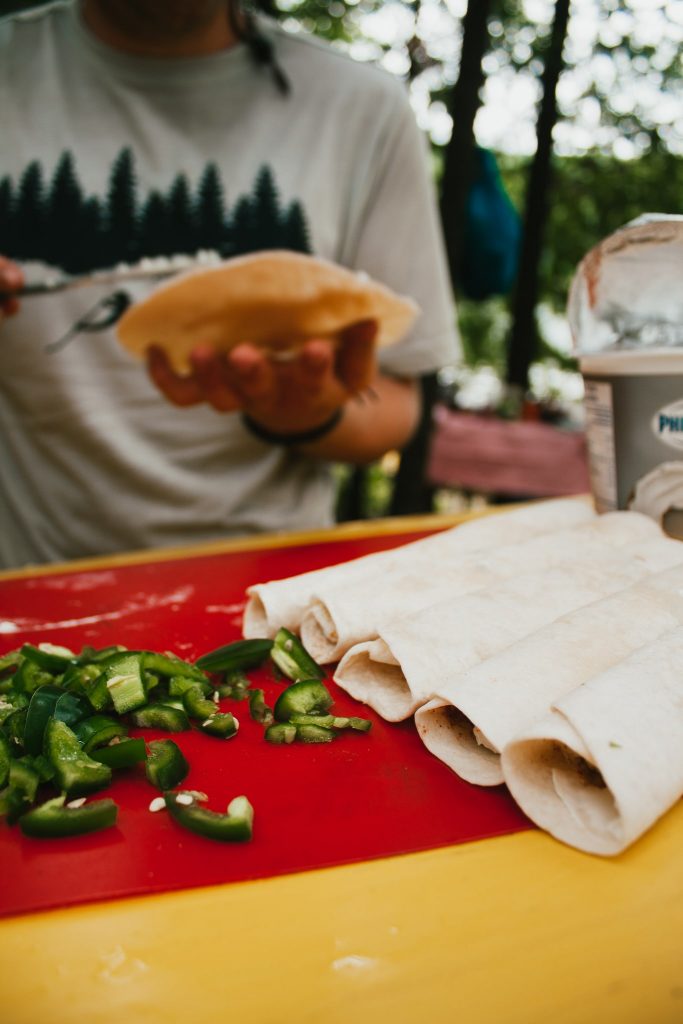 ---
By Dave Canterbury
Canterbury is a world class survivalist and this book is all about surviving – and thriving – in the wilderness. It's geared toward cooking in the wild with minimal ingredients, only using what you can carry and leveraging the environment around you.
The book contains lessons on how to hunt and forage (though it should be noted that it's just an overview and suitable for beginners – advanced bushcrafters won't find this section comprehensive enough).
There is also an accompanying coloured photo guide for identifying plants. But again, this is fairly basic so best suited for beginners.
In addition to teaching you how to hunt and gather, and what to find, there are also wilderness camping recipes on what to make. Overall, this is a great book for the novice bushcrafter.
Best For: Survivalist Cooking
Check availability and prices here.
---
By Kevin Callan and Margaret Howard
Kevin Callan is a bit of a canoeing icon in Ontario, having published several guide books on popular canoeing destinations in the province. Together with Margaret Howard, a nutritionist, they have developed a cookbook full of nutritious meals perfect for the backcountry.
The recipes are easy and lightweight, but don't compromise on taste or sophistication. This is an excellent cookbook for backpackers, canoeists and wilderness survivalists.
Check availability and prices here.
---
By Terry Lewis
Bringing a Dutch oven on camping trips totally changed my life (my camping life, that is). There are so many recipes that you can do when you have a Dutch oven – like fresh bread, cinnamon rolls, stew and more.
This book brings Dutch oven cooking to the next level. We're talking full pies, baby back ribs and more. A lot of the recipes are too much work for me, so I stick with my quick and easy Dutch oven meals. However, if you're car camping or have a lot of time on your hands, this book with some of its best car camping recipes will teach you to make some remarkable dishes.
Best For: Car Camping, Road Trips and Short Canoe Trips
Check availability and prices here.
---
By Christine Conners and Tim Conners
For the ultra-lightweight backpackers out there, this is the ideal backpacking recipe book for you. The Conners have backpacked extensively and have perfected the art of tasty backcountry meals that don't weigh a lot.
There are tons and tons of recipes in this cookbook, in addition to information on nutrition, serving size, packing and – perhaps most importantly – how much each recipes weighs.
Best For: Backpacking
Check availability and prices here.
---
By Linda Frederick Yaffe
There are over 180 backpacker recipes in this cookbook, plus information on dehydrators, stoves and water purification. The recipes are mostly geared toward cooking at home and dehydrating full meals, which is great for quick trail meals. If you're like me, though, and enjoy the actual cooking part of camping, this probably isn't the cookbook for you.
The common critique for this book is that it doesn't contain any of the nutrition information or weight of the recipes, both of which are super important for long distance backpackers.
Best For: Backpacking
Check availability and prices here.
---
By Julie Mosier
This cookbook is all about dehydrating food for camping trips and goes into a lot more detail than the other books on this list. Unless you're interested in dehydrating exclusively, I wouldn't recommend this book over others on this list. Dehydrating is really easy to learn and just takes a little practice, so I don't think this book is super necessary. That said, if dehydrating is what you're after, you can't go wrong with this one.
Best For: People Interested in Dehydrating
Check availability and prices here.
---
Camping Cookbooks: Additional Resources
Here are some other resources I've written on cooking in the backcountry:
How to Dehydrate Food for Camping Meals (without a dehydrator)
8 Recipes to Make ~Not Boring~ Oatmeal on Camping Trips
And don't forget to check out my own cookbook, The Voyageur's Backcountry Cookbook.