Here is a staggering figure: there are 340 Ontario Provincial Parks and 295 conservation reserves. With so many available, how do you know which parks to visit and how you should spend your time there? Well, that's where this post comes in: Today I'm going to go over the best Ontario Provincial Parks for camping, hiking and paddling.
Now, I haven't been to all of the provincial parks in Ontario, nor do I know of anyone who has, though I have been to a lot of them. I've also pitched the question – What are the best provincial parks in Ontario? – to members of my Facebook Group and followers on my Instagram and have gathered their recommendations too.
I've grouped the parks into the following categories:
This post may contain affiliate links. If you make a purchase through one of these links, I may receive a small commission at no extra cost to you. Your support is much appreciated! You can learn more by reading my full disclosure.
Note: Where relevant I've linked to my sister website Trip Reports, which is a membership website that provides extremely detailed trip reports for backcountry camping routes in Canada. These reports will be incredibly useful if planning a backcountry trip in any of the best Ontario Provincial Parks.
---
Best Ontario Provincial Parks: Map
---
Best Provincial Parks in Ontario: All Around
I consider Algonquin and Killarney to be all around rock star parks. This is easily the best Ontario parks camping within a short-ish drive from the cities and offers both paddling and hiking options.
Algonquin Provincial Park
Algonquin is the Creme de la Creme of provincial parks in Canada. I'm hesitant to say it's the best provincial park in Ontario – because there are some things about it that I don't love – but it is the oldest (established in 1893) and the biggest (covering nearly 8,000 sq km).
Canoeing is the name of the game in Algonquin; the park boasts over 2,000 km of canoe routes. I won't list them all here, but you can see a full list of trip reports for Algonquin canoe routes here.
In addition to canoeing, Algonquin has a few day hikes and backpacking routes that are worth noting, like Barron Canyon, and the Western Uplands and Highland Backpacking trails.
Nearby Parks worth Checking Out:
Arrowhead Provincial Park – Known for good snowshoeing and short hiking trails; there is also car camping available.
Lower Madawaska Provincial Park – Non-operating park with excellent whitewater paddling.
Driftwood Provincial Park – North of Algonquin, this is a small park with car camping right on the shores of the Ottawa River – lovely in October!
---
Killarney Provincial Park
Killarney Provincial Park is what I consider to be one of the best provincial parks in Ontario. The only drawback is that everyone knows of Killarney's major and the park can get a little busy. Consider weekday trips, off-season and less traveled routes (see all Killarney trip reports here).
Similar to Algonquin, there are a ton of canoe routes in Killarney. Here is a full list of trip reports for Killarney canoe routes.
In addition to its excellent canoe routes, Killarney also has a few hikes that are worth mentioning, like The Crack, Silver Peak and the 78 km La Cloche-Silhouette Trail.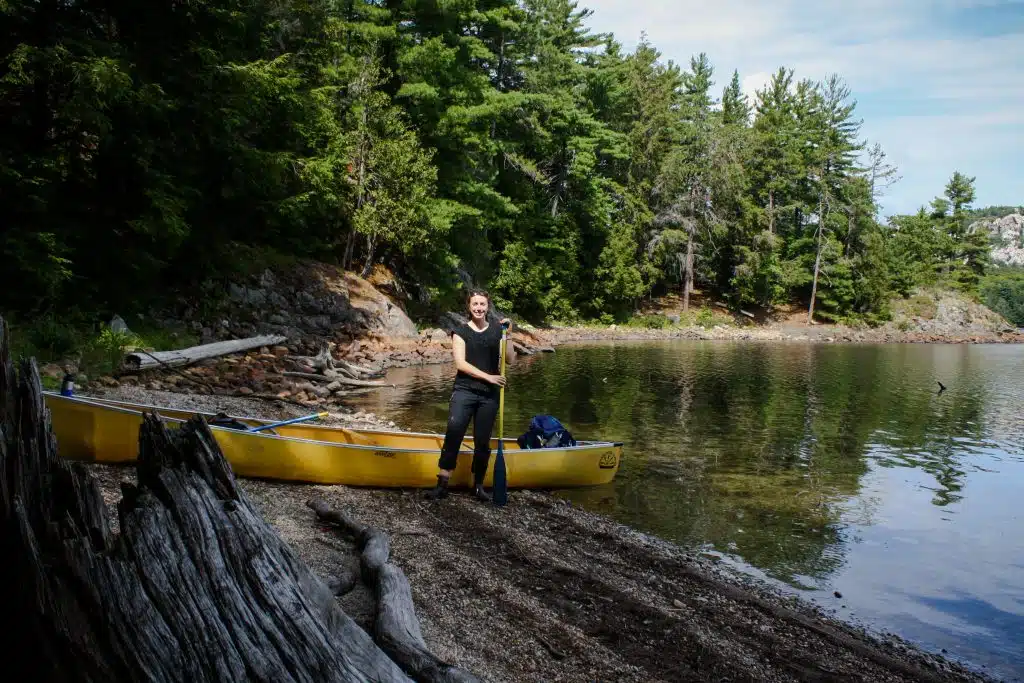 Nearby Parks Worth Checking Out:
La Cloche Provincial Park – Small non-operating west with canoe-in or hike-in campsites.
Killbear Provincial Park – One of the most popular provincial parks with car camping and a few short hiking trails.
Grundy Lake Provincial Park – Lots of small lakes for novice canoe trips, plus car camping.
---
The Best Provincial Parks in Ontario: Hiking & Backpacking
The following are the best Ontario parks for hiking & backpacking.
Sleeping Giant Provincial Park
Sleeping Giant Provincial Park rests at the end of a peninsula jutting out into Lake Superior. With over 100 km of trails, the park has excellent hiking options, ranging from short walks under 1 km, to full day hikes and even a multi-day backpacking route. There are two viewpoints – Top of the Giant Trail and Thunder Bay Lookout – that offer stunning views of the largest and wildest of the Great Lakes.
Canoes and kayaks are available to rent, and there are several trails for biking as well. If birding is a particular pass-time of yours, ensure you bring your binoculars – Sleeping Giant Provincial Park is home to over 200 bird species.
Kabeyun Trail: Covering 37 km (74 km round-trip), the Kabeyun Trail is "the backbone of the park's trail network" and requires several days to complete, the exact number dependent on your hiking speed. The rugged trail begins at Thunder Bay Lookout. From there is passes several bays – the Clavet, Hoorigan and Sawyer – and traces the tip of the Sibley Peninsula before ending at the South Kabeyun Trailhead. This trail is not for the faint of heart! It's challenging and requires prior backpacking experience and proper planning.
Read the Kabeyun Trail trip report here
---
Lake Superior Provincial Park
As the name suggests, this park is situated on the northern shores of Lake Superior. This is easily one of the most beautiful parks in Ontario. Although it isn't a large provincial park, it has numerous hikes – including a multi-day backpacking trail – and a paddling route for experienced kayakers / canoeists.
Coastal Trail: The Coastal Trail is a rugged 65 km trail that traces the Lake Superior coastline. This hike is characterized by the exposed granite of the Canadian Shield, long stretches of pebbly beaches, unpredictable weather and huge lake swells. It also offers a level of wildness and isolation that's hard to find in southern parts of the province. This is a challenging trail, suitable for experienced backpackers with a good level of hiking fitness.
Read Lake Superior Coastal Trail trip report here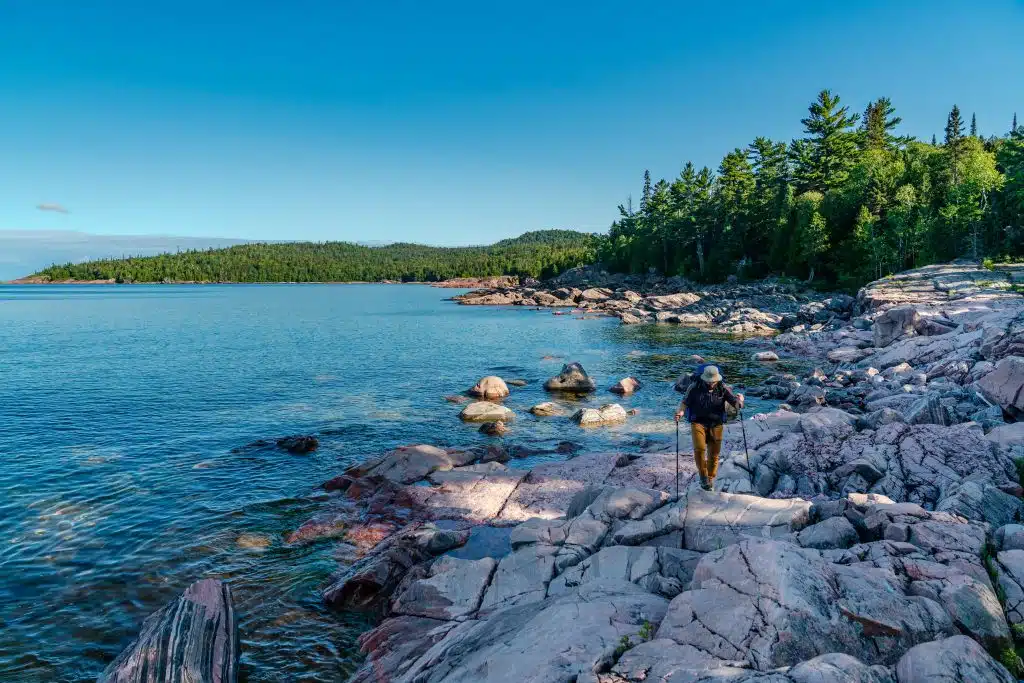 ---
Kakabeka Falls Provincial Park
Kakabeka Fall Provincial Park is located a little west of Thunder Bay and is named after Kakabeka Falls – which at 40 m high is the second highest waterfall in Ontario. This is a small provincial park with five different hiking trails, the longest of which is 4 km. Here are two of the most popular: Boardwalk Trail and Mountain Portage Trail.
Kakabeka Falls has three campgrounds – Whispering Hills, Riverside and Fern's Edge – for car and tent camping. Some of the campsites are pull-throughs with electrical hookups and are suitable for trailers.
---
Silent Lake Provincial Park
Silent Lake Provincial Park is a small park nestled in between Kawartha Highlands PP and Algonquin PP. It offers two campgrounds for car camping, in addition to some semi-backcountry walk-in campsites. Even if you don't want to camp, this is a great park to visit if you want to do a little day hiking: Lakehead Loop Trail, Bonnie's Pond Trail and the 15 km long Lakeshore Hiking Trail.
---
Hardy Lake Provincial Park
Hardy Lake Provincial Park appears small and unassuming. Yet Hardy Lake offers two wonderful hiking trails for novice and intermediate hikers and isn't too far from Toronto, making it a suitable destination for a day trip from the city. There are two options for hiking the loop: Full Hardy Lake Loop Trail (9 km) and Hardy Lake Short Loop Trail (3 km).
Nearby Parks Worth Checking Out:
Six Mile Lake Provincial Park – This is a small provincial park without a ton to do, however it does have seven campgrounds for car camping.
Gibson River Provincial Park – There's a great canoe route around Gibson River and Six Mile Lake, which will take you through Gibson River Provincial Park.
---
Komoka Provincial Park
This is another small provincial park, with just a few trails and no camping available. Southwestern Ontario doesn't exactly have a lot of parks to choose from, and I think Komoka is the best Ontario Provincial Park for day hiking in this region so I'm including it on the list. The longest trail is just referred to as "The White Trail" as it is denoted by white markings throughout. I do this this hike very often when I'm in London.
---
Mississagi Provincial Park
Mississagi Provincial Park is a bit of a hidden gem. Located halfway between Sault Ste. Marie and Sudbury, this park has a rocky landscape with old and new forest, and sparkling blue water with excellent fishing.
It has both backcountry and car camping, over 40 km of hiking trails and an option for short canoe trips. There are five backcountry campgrounds, all of which can be accessed from the trails and two of which can be accessed by boat.
MacKenzie Trail: This is a great 22-km backpacking trail that is suitable for beginners. Don't be fooled by the short distance – the rugged nature of this trail means you'll be hiking much slower than you're used to. Ontario Park recommends 3 days.
Nearby Parks Worth Checking Out
Mississagi River Provincial Park – Non-operating park with several options for canoeing.
Aubrey Falls Provincial Park – Non-operating park with some canoeing and a beautiful waterfall.
Blind River Provincial Park – Non-operating park with two canoe routes, a small canyon and waterfall in Matienenda Lake.
---
Best Provincial Parks in Ontario – Paddling
Bon Echo Provincial Park
Bon Echo is a very popular provincial park northeast of Toronto, and has become a popular alternative to Algonquin Provincial Park. The main feature of Bon Echo is Mazinaw Rock, a 100 ft high cliff that is home to more than 260 Indigenous pictographs.
Due to its small size, there aren't many options for multi-day adventures. There are a total of 25 paddle-in campsites and two campgrounds for car camping. One of the campgrounds also offers a few walk-in sites, if you want additional distance between other people.
Kishkebus Canoe Route: This day paddle is a total of 21 km and requires about 6 hours to complete, so ensure you get an early start. On the route you'll paddle passed the Indigenous pictographs and rock cliffs. Though be aware there is one 1.5 km portage.
---
Massassauga Provincial Park
Massassauga is an interesting provincial park because it covers a mix of lakes and Georgian Bay shoreline, meaning a single canoe trip could bring you through small lakes, big lakes and massive bays. This concentrated variety is attractive to many paddlers. Another reason this park is attractive is that you can design a route with relatively few portages, none of which are very long. For example, this Massassauga canoe route is 3 days and 35 km, but only have 3 portages – the longest of which is 780 m.
Because Masassauga is quite small, there aren't a ton of backcountry campsites and as such, campsite reservations need to be booked earlier.
Check out the canoe route here
---
Lady-Evelyn Smoothwater Provincial Park
I think of Lady-Evelyn Smoothwater Provincial Park as the gem of the greater Temagami network. Temagami is a region of both crown land and Ontario Provincial Parks that is larger than Belgium – offering an infinite number of canoe route possibilities.
If you're thinking of visiting Lady-Evelyn Smoothwater, you'll definitely want to grab a copy of Hap Wilson's Temagami Canoe Routes. A modern canoeing legend, Hap has lived and guided in Temagami for something like 40 years and currently runs an eco-lodge right around Lady Evelyn-Smoothwater.
This canoe route starting at Sturgeon River is long (97 km) and goes right through Lady-Evelyn, making a detour to hike Ishpatina Ridge, the highest point in Ontario. On the other hand, this canoe route hugs the eastern side of the park and takes you up Lady-Evelyn River, which has several portages but provides stunning views of several chutes and falls.
Nearby Parks Worth Checking Out:
Solace Provincial Park, Sturgeon River Provincial Park and Obabika River Provincial Park are three nearby provincial parks. Many canoe routes that pass through Lady-Evelyn will also pass through one or two of these parks.
---
Kawartha Highlands Provincial Park
Kawartha Highlands is one of Ontario's newest provincial parks and is the second largest park, after Algonquin. And similar to Algonquin, this is a great park for canoe camping. Frankly, I wasn't expecting much of Kawartha Highlands – it seems too close to the GTA to offer any feeling of wilderness – but after one trip there I totally change my opinion. Sure, there are the occasional cottages and it tends to get busy, but it's a beautiful park and an easy drive for a weekend trip. There are a few canoe routes, like the popular Serpentine Lake Loop and Buzzard Lake Loop.
This provincial park only offers backcountry camping; at this time there is no option for car camping.
Nearby Park Worth Checking Out:
Petroglyphs Provincial Park – Small park only suitable for day use. This park is home to the largest collection of Indigenous rock carvings, also called Petroglyphs.
---
French River Provincial Park
The French River is a Canadian Heritage River, notable for the significant role it played in the fur trade. The river begins at Lake Nipissing and flows to Georgian Bay, just east of Killarney Provincial Park. Unlike many other rivers in Ontario, the French River has a mostly calm and meandering flow, with tons of rocky islands and outcrops dotting its shorelines. There are a few whitewater rapids though.
Shortly after the river crosses Highway 69, it breaks into several channels offering multiple ways to reach Georgian Bay. This is an excellent provincial park for canoeing, history and beautiful scenery.
I almost visited this park with my family, but COVID got in the way of those plans. It's still on my bucket list though, especially after watching the amazing documentary by Pete Park (who also wrote the French River trip report for my site).
Read the French River trip report here
---
Spanish River Provincial Park
The Spanish River is excellent for the intermediate canoeist or the novice whitewater paddler. The river has a nearly continues stretch of swifts, punctuated by Class I and Class II rapids. There aren't any bigger rapids than that, which means minimal obstacles to portage around and a safe river to test out your skills.
The river has a few route options, some of which are only accessible by train. The campsites are primitive, backcountry sites and you won't find any facilities throughout the park. This makes the Spanish River a great option if you want backcountry camping not too, too far from Toronto. However, this provincial park isn't suitable for novice, inexperienced campers.
Photos courtesy of MHO Adventures, my favourite guiding company.
---
Missinaibi Provincial Park
I'll always have a soft spot in my heart for my beloved Missinaibi Provincial Park. The Missinaibi River is perhaps my favourite place in all of Ontario (tied with Killarney) and the destination of the four-week canoe trip I guided in 2017. Water from the Missinaibi River flows over 500 km to James Bay, and there are a few route options for trip between 1 and 3 weeks long.
Read the Missinaibi River trip report here
The main reason people come to Missinaibi Provincial Park is to canoe the Missinaibi River, however there are also options for camping on Missinaibi Lake itself. You can choose from a backcountry, paddle-in site on the lake, or there is car camping at Barclay Bay. From here you can explore Missinaibi Lake by canoe – one of the main attractions is Fairy Point, which features more than 100 Indigenous pictographs.
---
Woodland Caribou Provincial Park
Woodland Caribou Provincial Park is a massive park along the border of Ontario and Manitoba. Although there aren't as many canoe routes as in Algonquin, Woodland Caribou is much more remote and, as a result, gets significantly fewer people each year. There's only a few drive-in access points; many of the canoe routes require float planes to access. I haven't been to Woodland Caribou myself, but when I asked my FB group what provincial park they most wanted to visit, an overwhelming number selected Woodland Caribou.
Due to the remoteness, this provincial park should only be paddled by experience canoeists.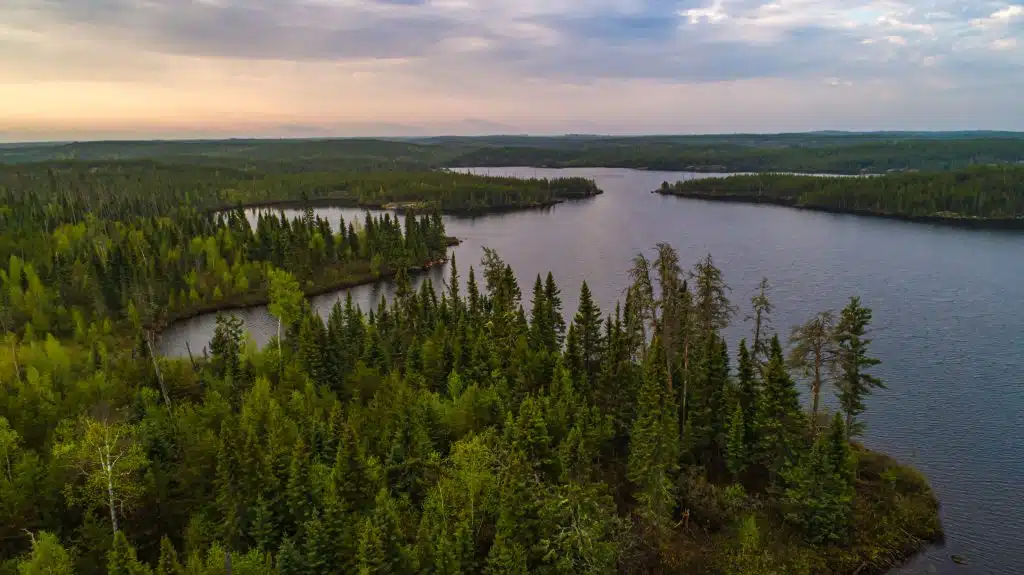 ---
Quetico Provincial Park
Quetico and canoeing go hand in hand – think of Quetico Provincial Park like a cross between Algonquin and Woodland Caribou. Quetico is much more remote and less busy than Algonquin, however it's much more accessible than Woodland Caribou. This sweet spot makes Quetico one of the best Ontario Provincial Parks for intermediate canoeists.
There are hundreds of possible canoe routes in Quetico. One route idea would be the Beaverhouse Lake to Your Lake Loop, which can be done in five days. Another option for more experienced paddlers looking to explore a big chunk of the park would be Basswood Lake to French Lake, which begins at the Canada-US border and goes 140 km north to the park office.
If long distance canoeing isn't your jam, there is a campground in Quetico. My family stayed there when we did our road trip from London, ON to Regina, Saskatchewan. We had a great time and really enjoyed the last few days in boreal forest before driving through the Prairies.
Read all Quetico Trip Reports Here
---
Wabakimi Provincial Park
Wabakimi is an underrated provincial park in my opinion. I haven't been to it myself, but everyone I know who has been here raves about it – yet it doesn't get nearly the same attention as Woodland Caribou or Quetico. Wabakimi Provincial Park is located directly north of Thunder Bay and offers a lot of options for canoe routes. Since it's more remote than canoeing destinations in southern / central Ontario, you'll want to ensure you have the skills and experiences to execute a canoe trip here safely.
---
Best Ontario Provincial Parks – Beaches
Sandbanks Provincial Park
I'm not much of a beach person, but I must admit that I'm keen to visit Sandbanks Provincial Park someday. I hadn't even heard about it until someone messaged me saying that, in their opinion, this was the best provincial park in Ontario for the minority of people who don't like canoeing or hiking, and prefer to just relax when they camp. Fair enough.
Sandbanks' so claim to fame is that it is home to the largest fresh water sand dune system in the world. It has remarkable smooth sandy and warm waters. You'll forget you're on Lake Ontario, just a few hundred kilometres from the GTA. There are over 500 campsites spread across 5 campgrounds, perfect for car camping and trailers. There are no backcountry campsites.
---
Pinery Provincial Park
I'll have to double check with my parents, but I think Pinery Provincial Park was one of the first we ever camped at. That must have been some 20 years ago. And due to its proximity to my hometown of London, I've made quite a few day trips to the park since then.
Pinery doesn't offer backcountry camping, but it does have a lot of campgrounds, making it a great please for families or beginner campers.
---
Wasaga Beach Provincial Park
I have mixed feelings about putting Wasaga Beach on this list. On the one hand, it's the longest fresh water beach in the world – so on that account it definitely should be included; on the other hand, the area has become synonymous with partying so it's not exactly a park to go to if you want peace and serenity. I'll let you decide.
Anyways, the last time I was in Wasaga Beach was over a long weekend in the summer and even though the town was in peak party-time, I still really enjoyed the beach itself. The Lake Huron waters are warm to swim in and the sand is excellent and not super pebbly like you find at some of the other beach parks.
---
Honourable Mention: Polar Bear Provincial Park
I don't know of a single person who has ever been to Polar Bear Provincial Park, but with a name like that, it must be something special, right? If anyone has been there – and has photos to share – please get in touch. I would love to know more about this park!
---
Best Ontario Provincial Parks – Final Thoughts
I hope this post has introduced you to some new Ontario Provincial Parks to explore. In order to experience the parks in the best way possible, I highly recommend backcountry camping over car camping. Here are some resources you'll find helpful for camping in Ontario Provincial Parks:
What do you consider to be the best Ontario Provincial Park? Did I leave any out? Leave a comment below with your top choices!